Bonjour à tous, voici l'actualité de la semaine sur Disneyland Paris.
Hi everyone, here are the news of the week from Disneyland Paris.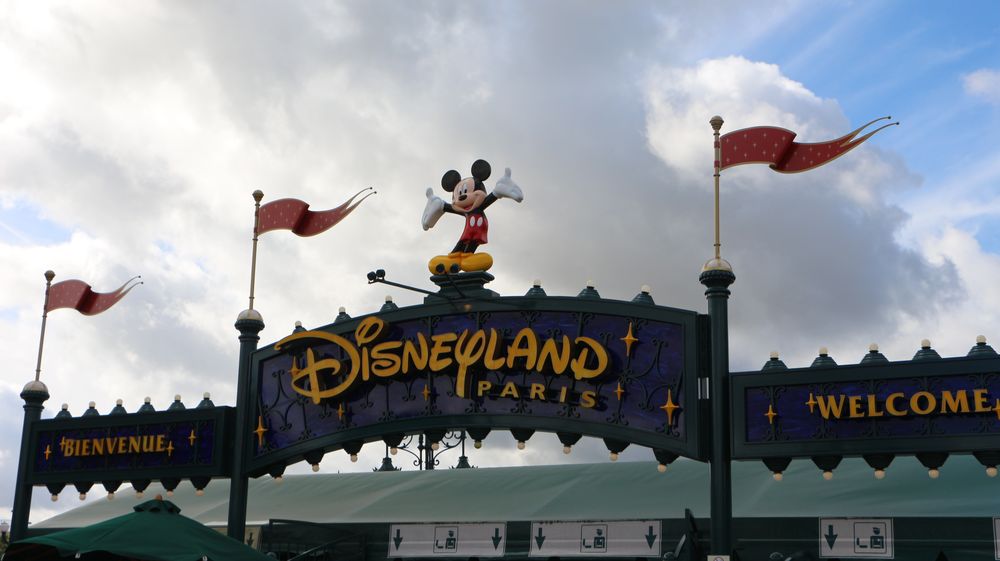 Mais avant de commencer, nous vous proposons en bonus, de (re)découvrir la parade «Paint the Night » de Disneyland en Californie comme vous ne l'avez jamais vue.
But before start this article, we propose to (re-)discover the parade « Paint the Night » at Disneyland in California likeyou've never seen.
16 septembre, Halloween arrive…. Mais seulement sur des affiches promotionnelles.
16 September, Halloween arrive, but just a poster.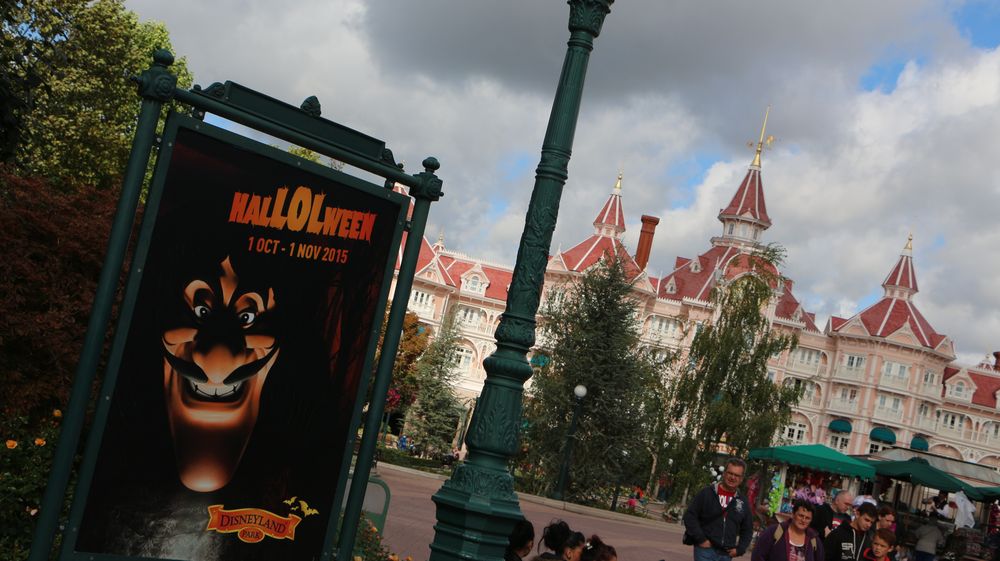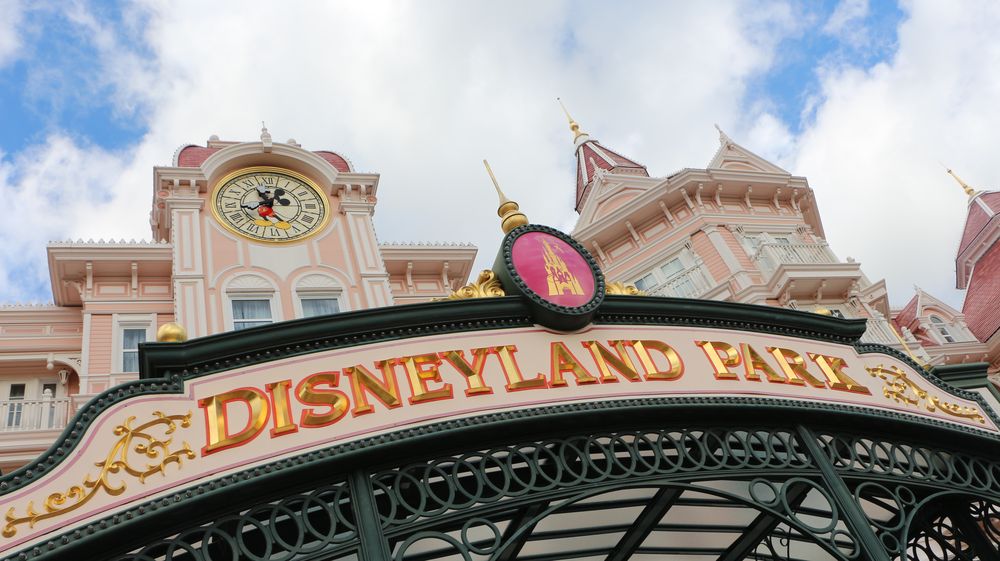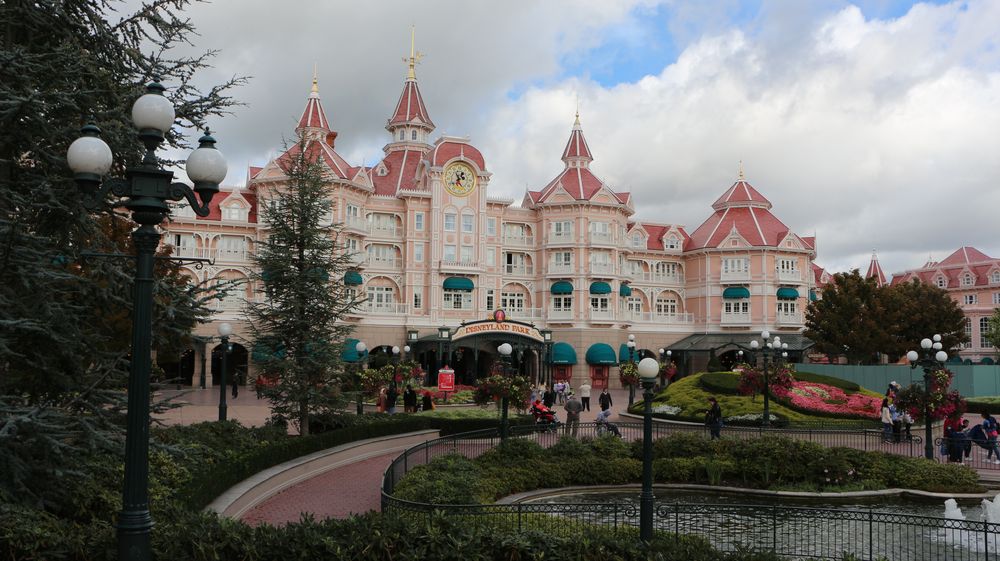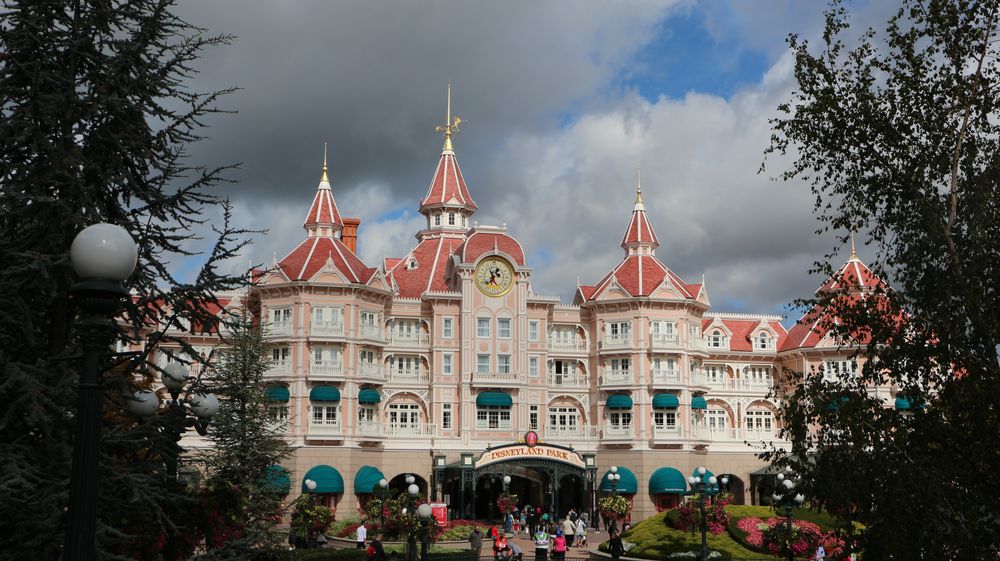 Une fois rentré dans le parc, on remarque les travaux au niveau du magasin « Plaza West Boutique ».
Once in the Park, we see of work on the store « Plaza West Boutique ».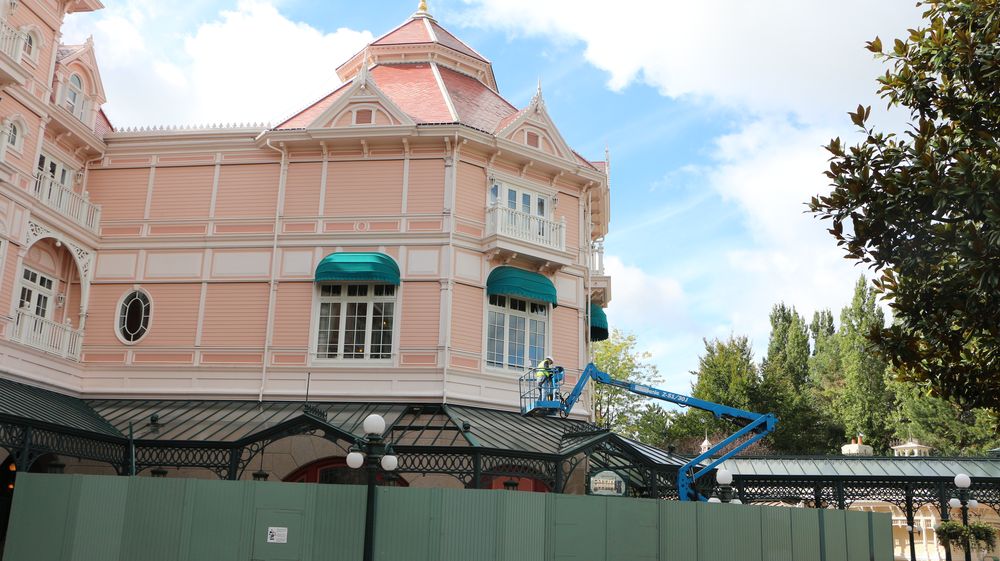 Mais surtout ce que l'on remarque c'est le chantier  de la gare de Main Street lancé pour plusieurs mois, nécessitant  la fermeture de Disneyland Railroad.
The surprise of the day is the rehabilitation of Main Street station for several months causing the closure of the attraction « Disneyland Railroad ».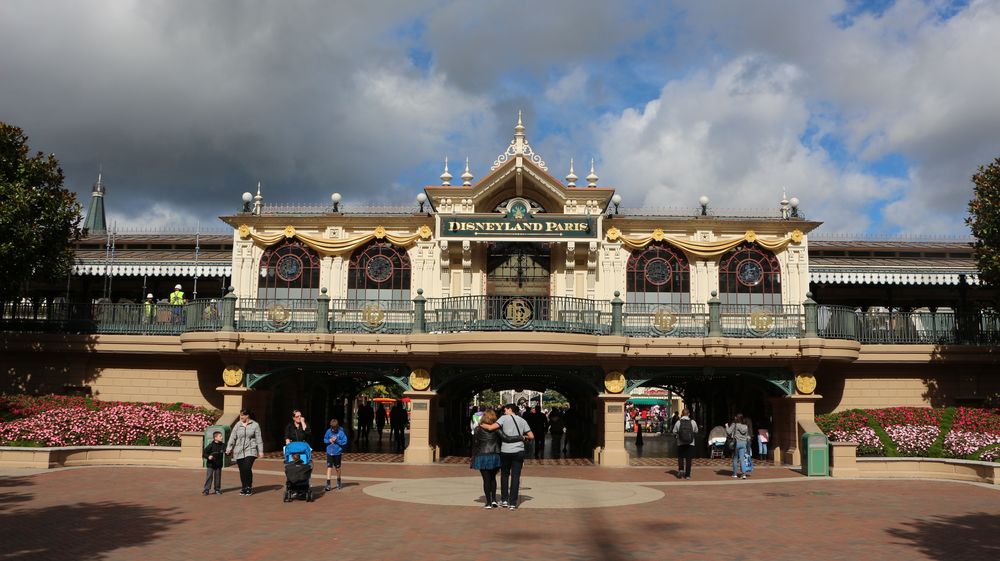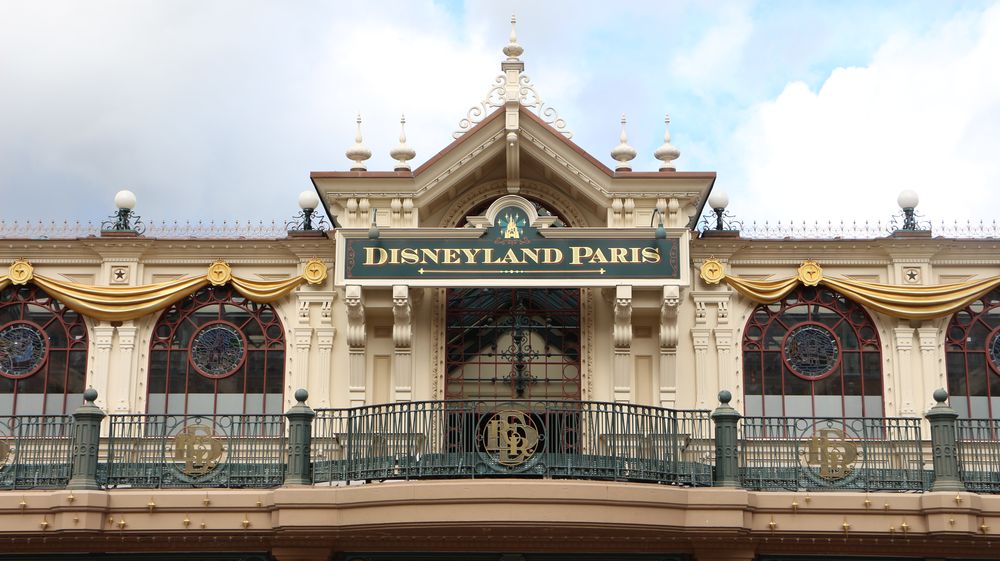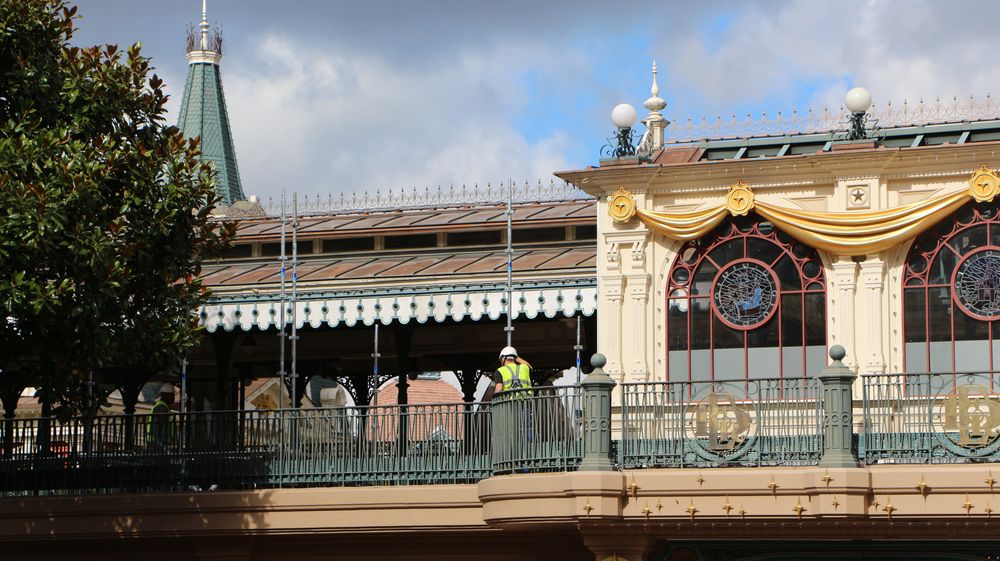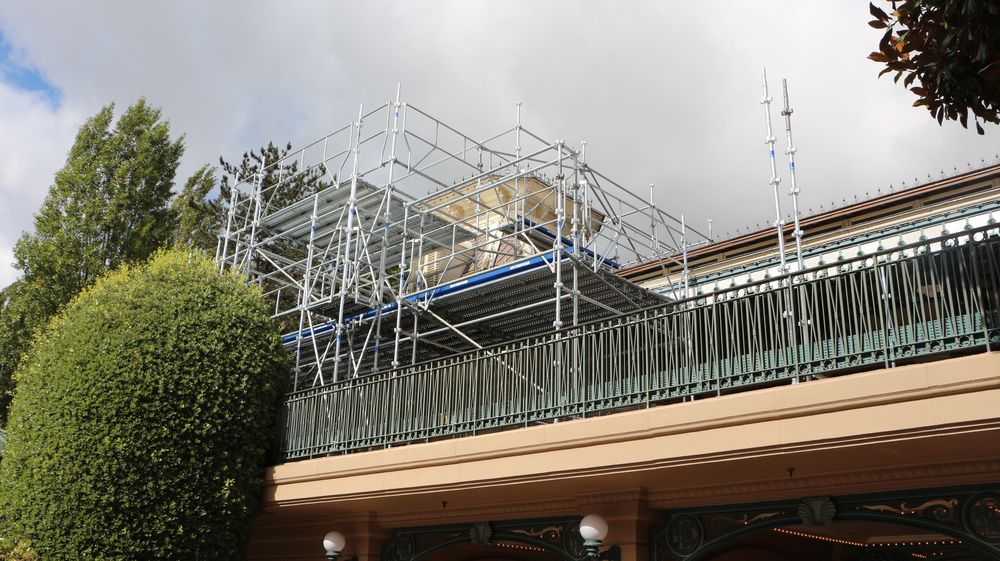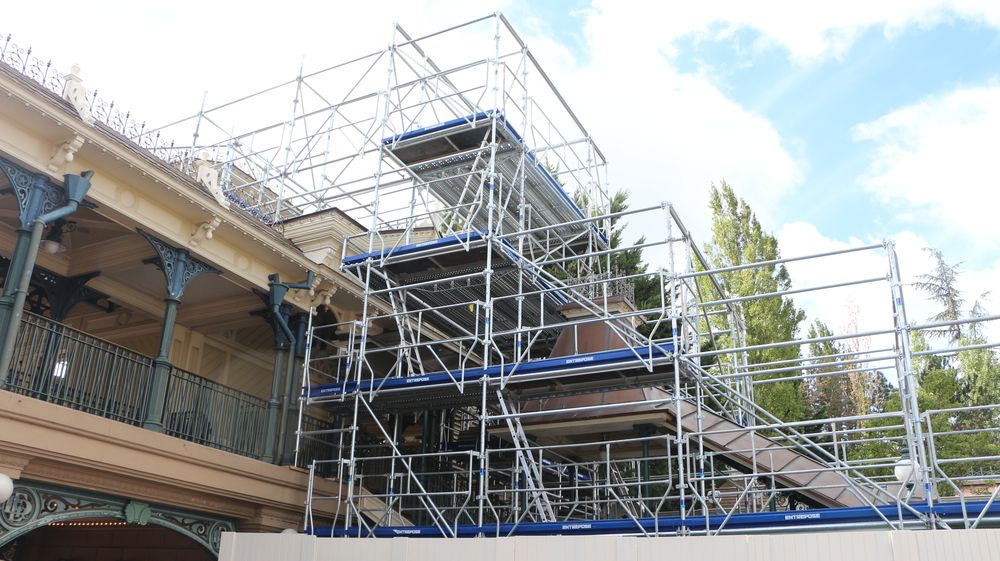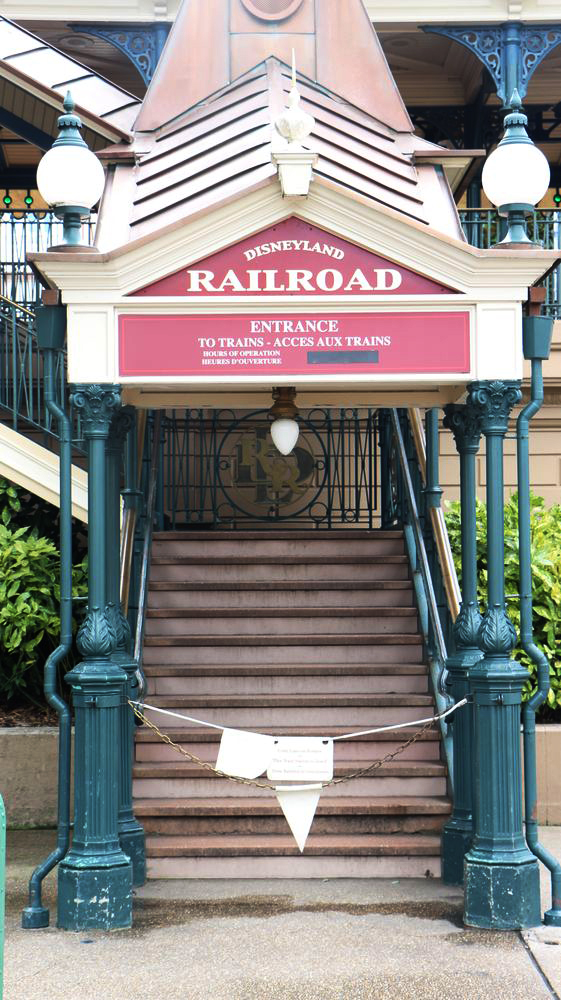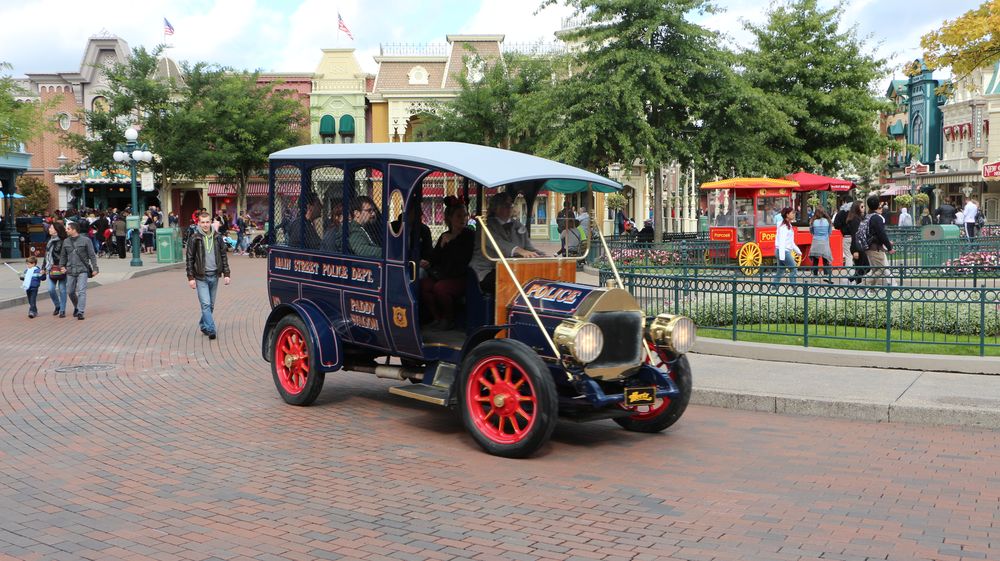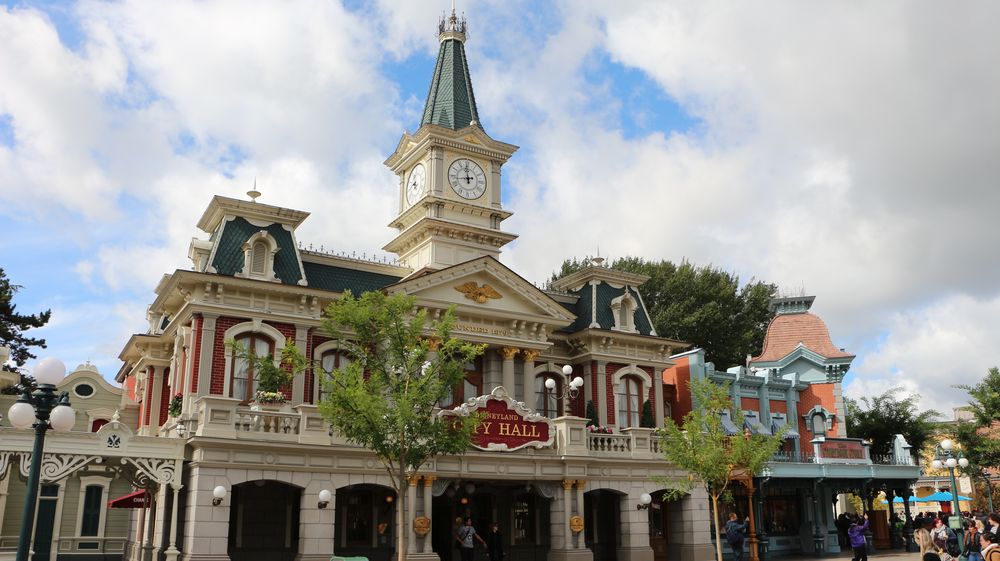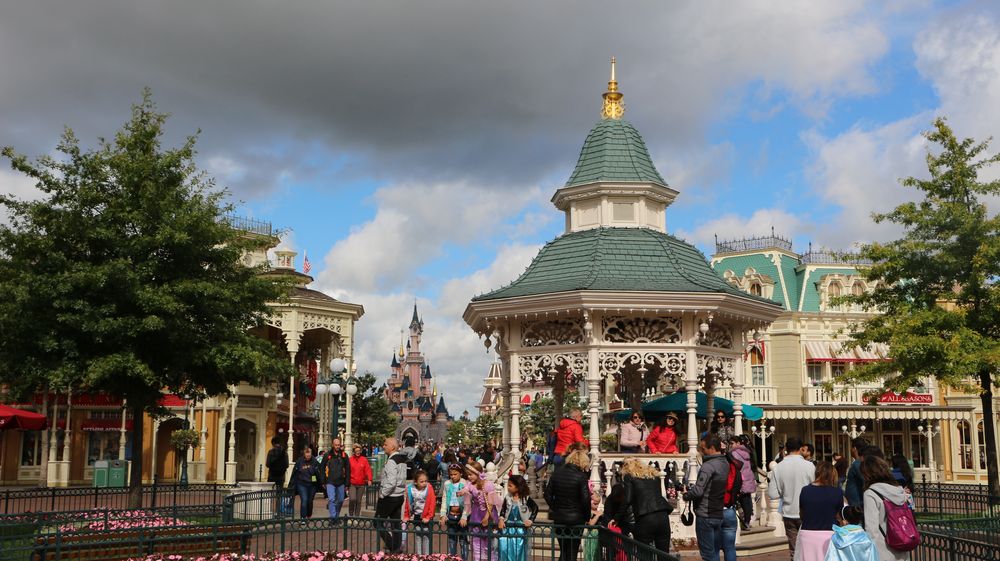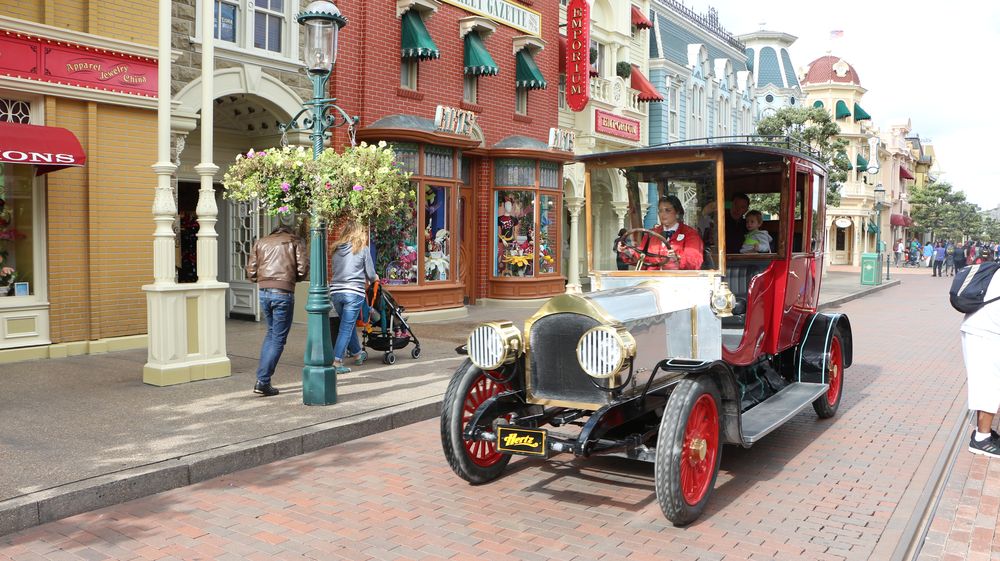 Sur Main Street USA, la façade du « Disney Clothiers LTD » a été rafraîchie. Actuellement c'est le tour de celle du Main Street Motors.
On Main Street USA the facade of the «Disney ClothiersLTD» in to been refreshed while the « Main Street Motors » starts to receive in turn of attention of the maintenance team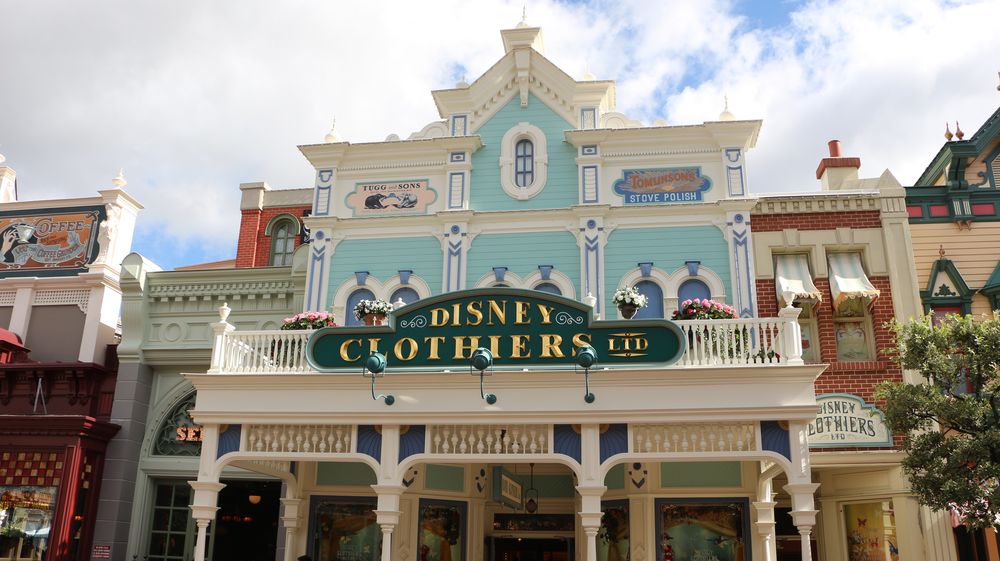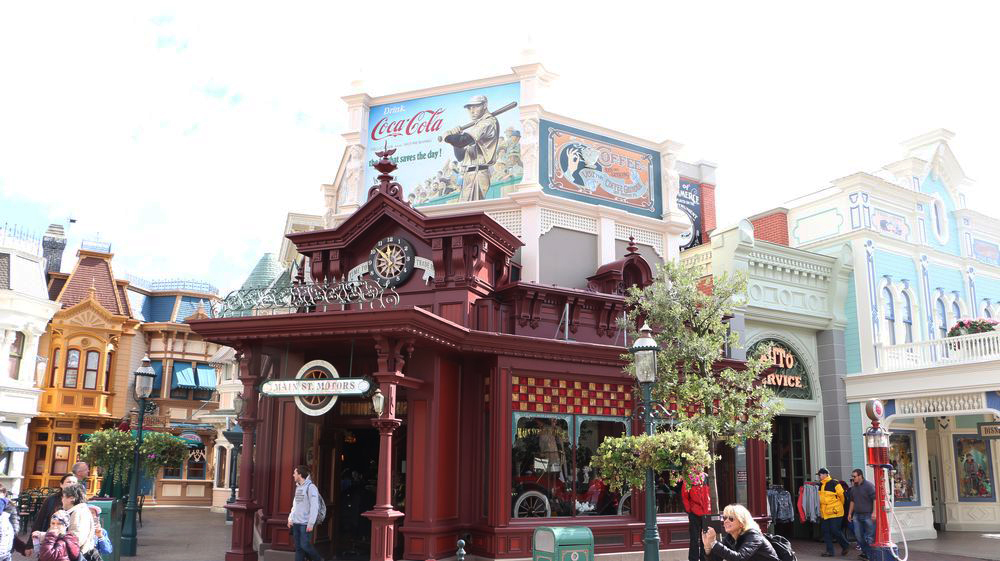 Le trottoir devant l'entrée du restaurant Walt's est en rénovation et pour faciliter l'accès la marche est supprimée.
The sidewalk at the entrance to the restaurant « Walt's » is beingremade to facilitate displacements.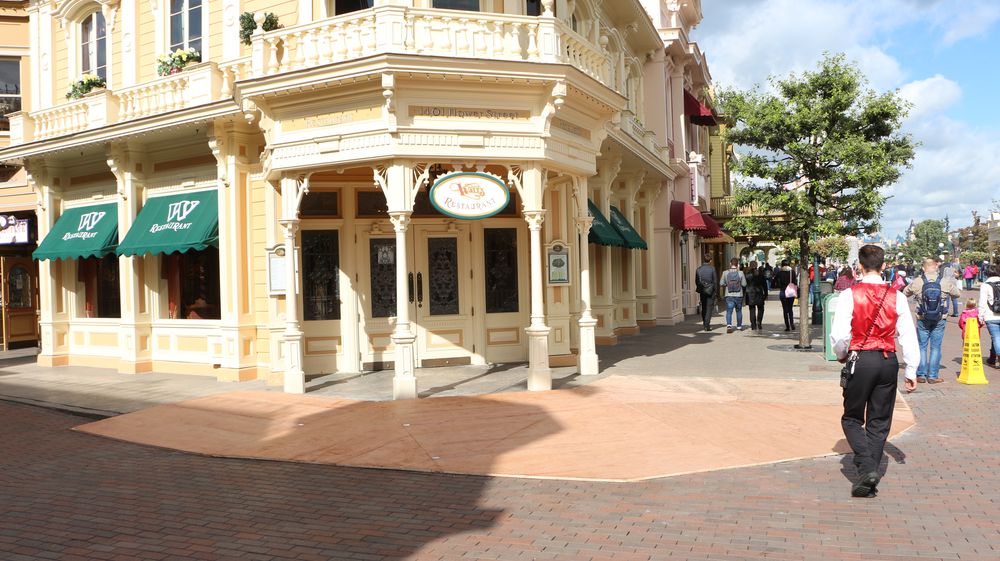 Au niveau de la terrasse du « Market House Delicatessen » les bâtiments ont été rafraîchis. Cela dit deux trois détails restent à régler.
Near of the terrace of the « Market House Delicatessen', the buildings have also received the attention necessary for to have the impression of like-new. However two three detailsrest.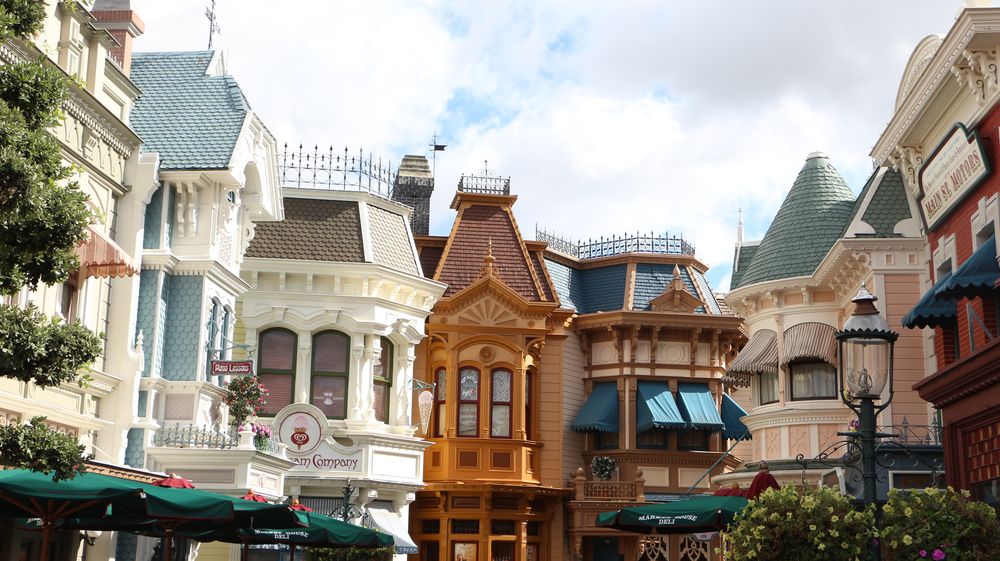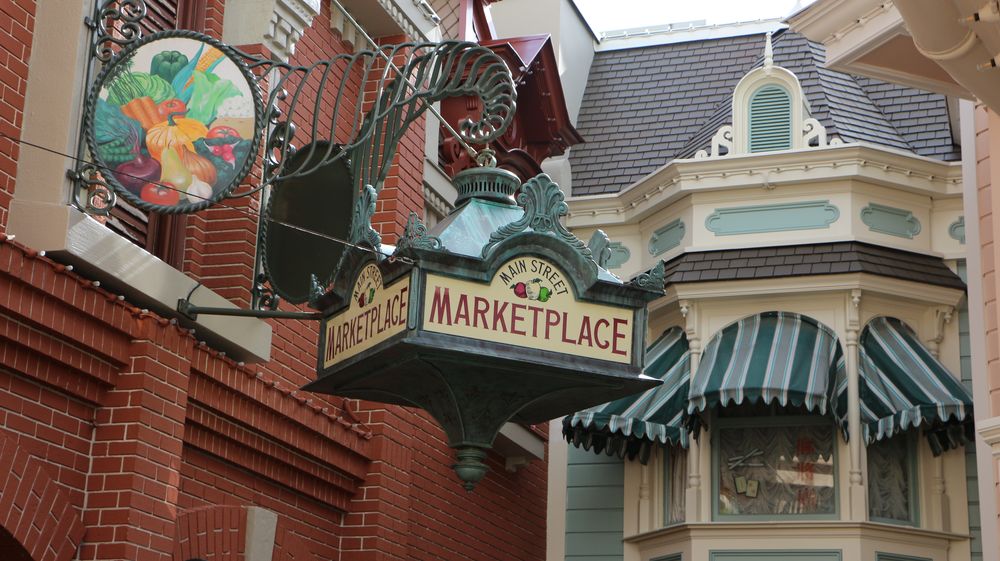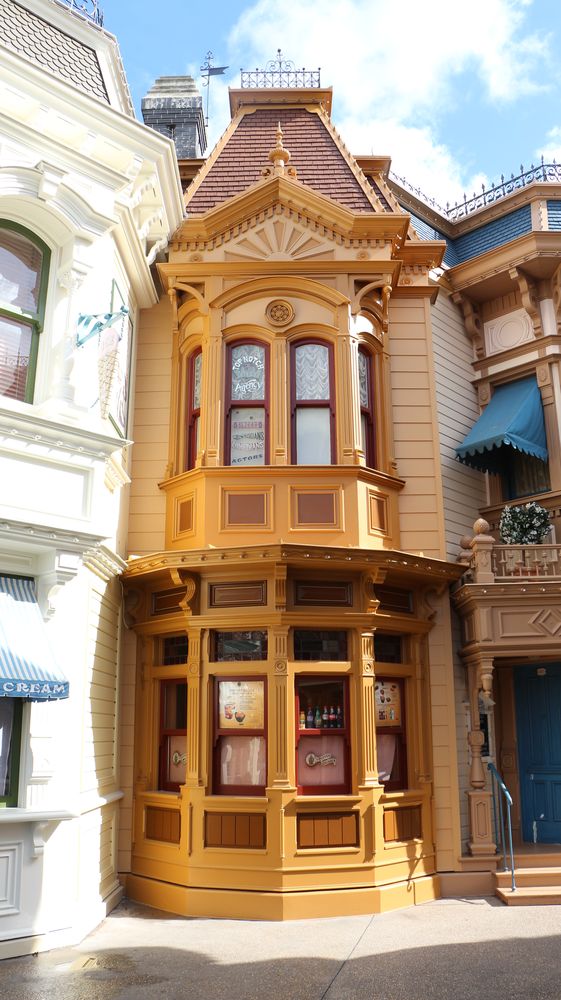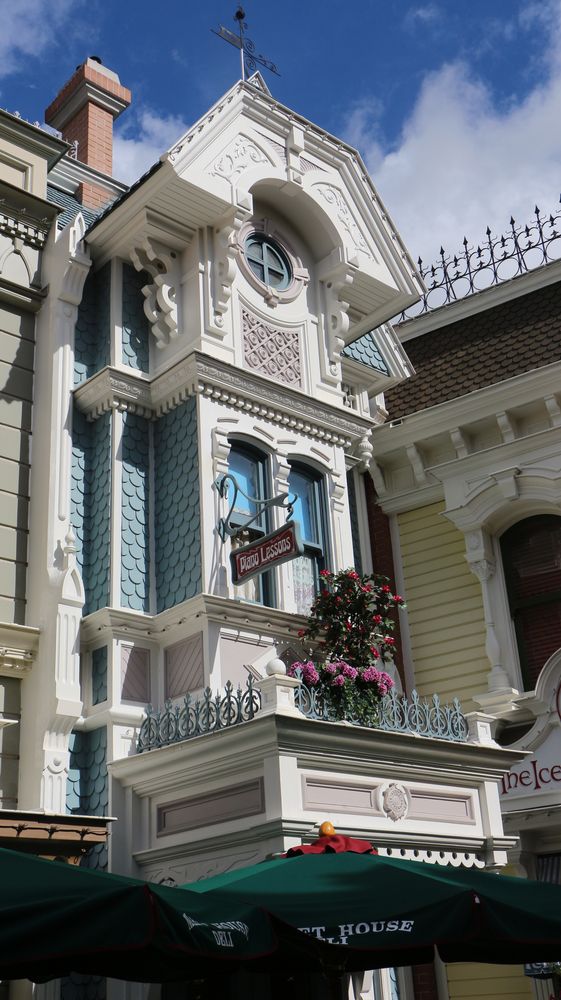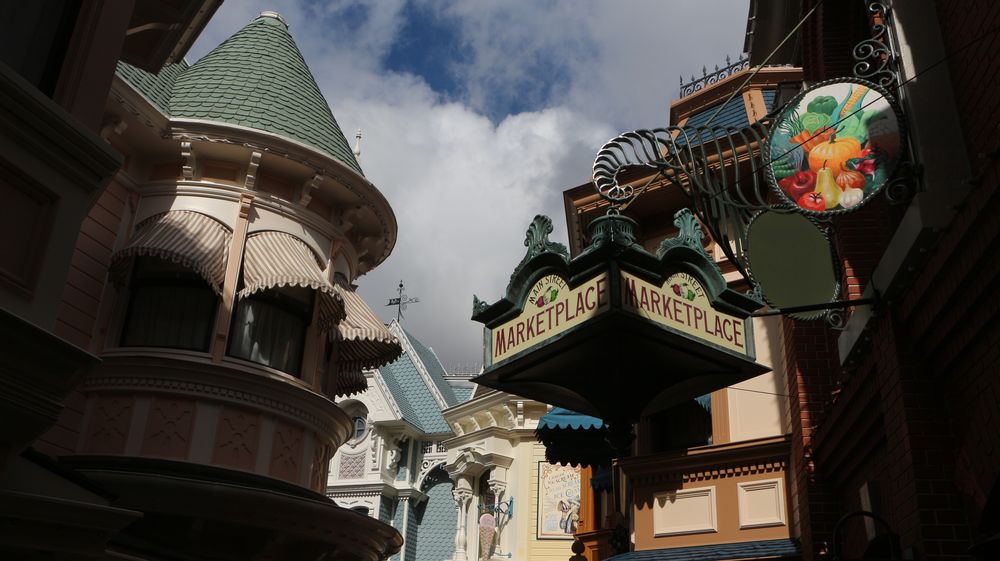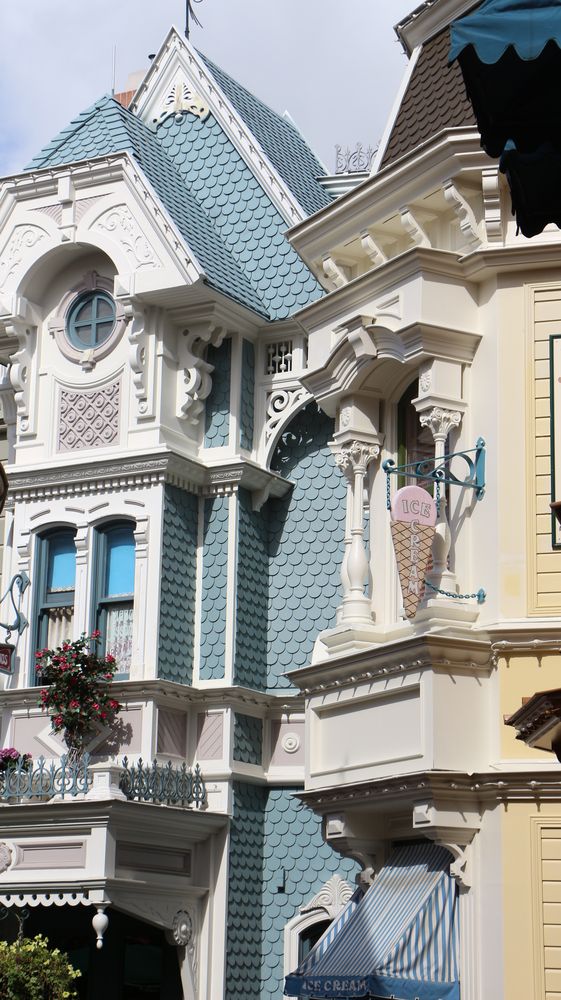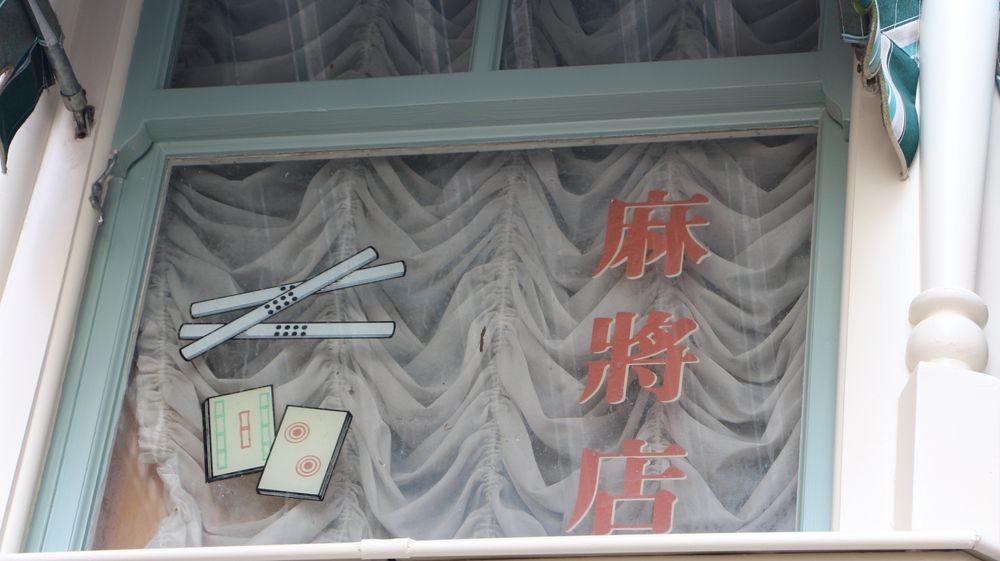 Depuis Central Plaza on peut remarquer les échafaudages de « it's a small world ».
In Central Plaza we can notice the scaffoldings of « it'sa smallworld «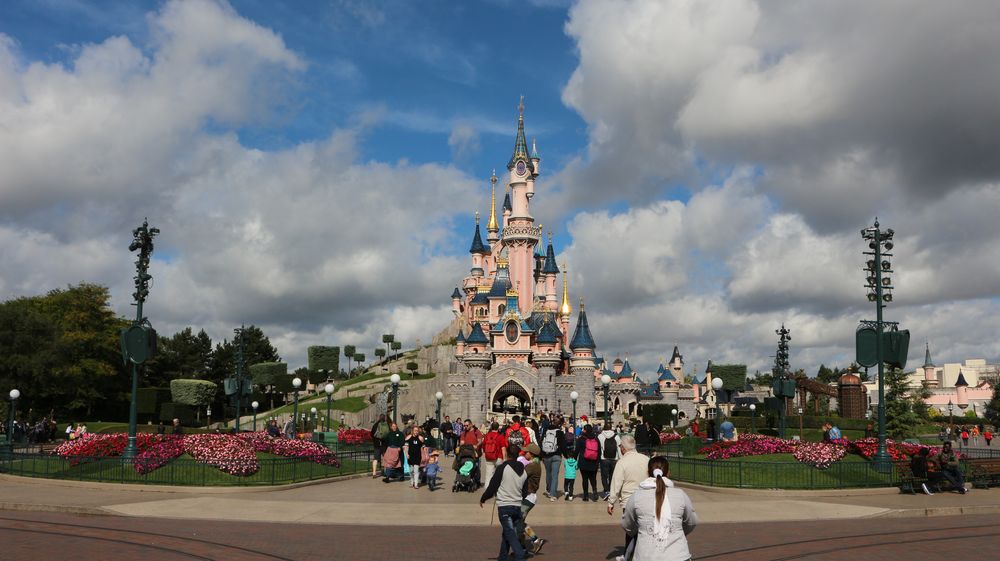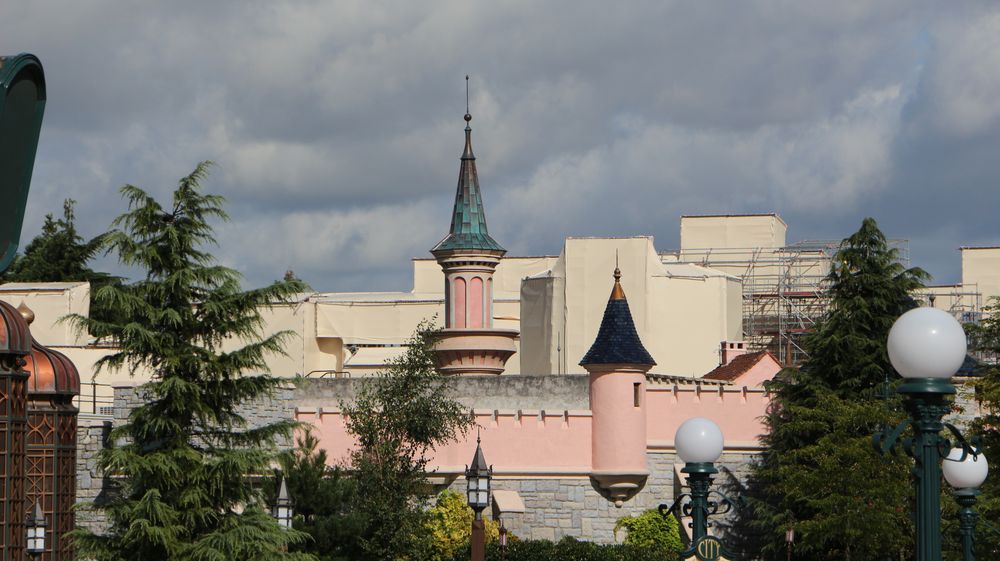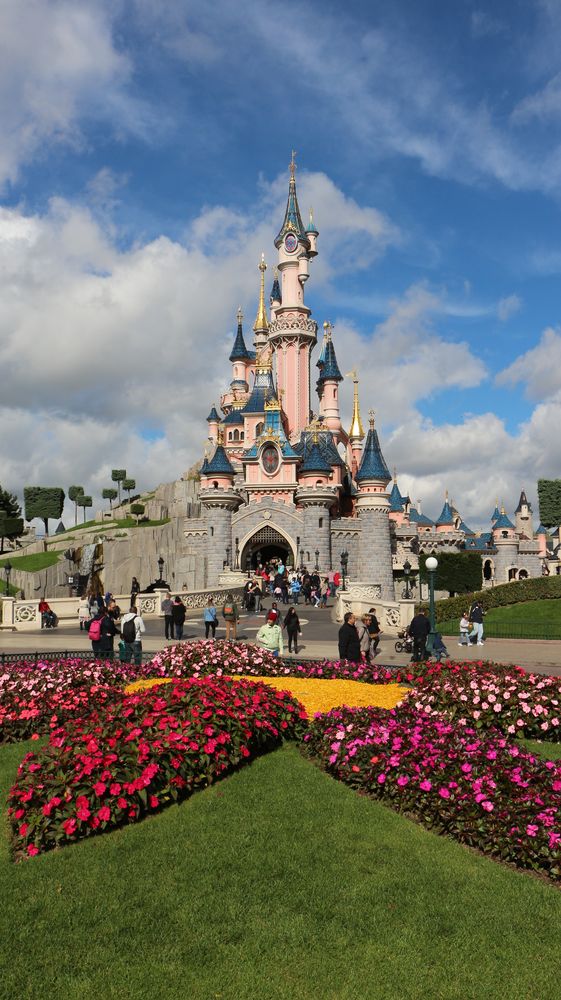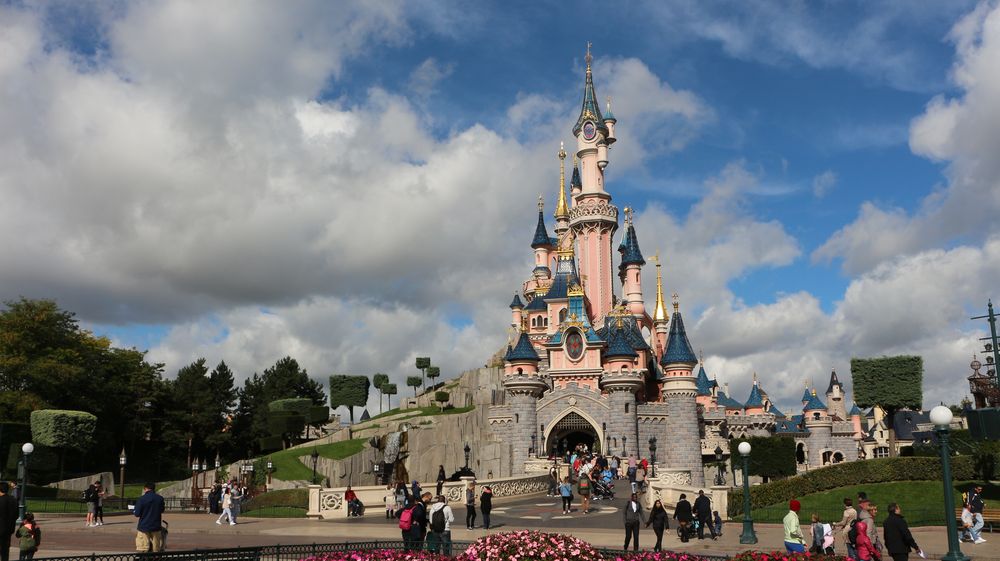 Rien n'a changé à l'entrée de Frontierland
Nothing changes at the entrance of Frontierland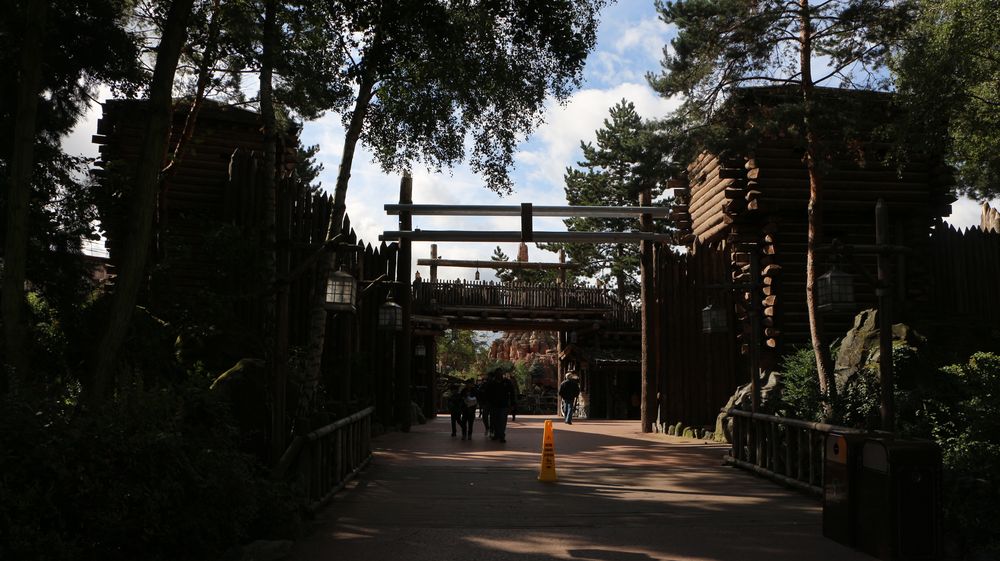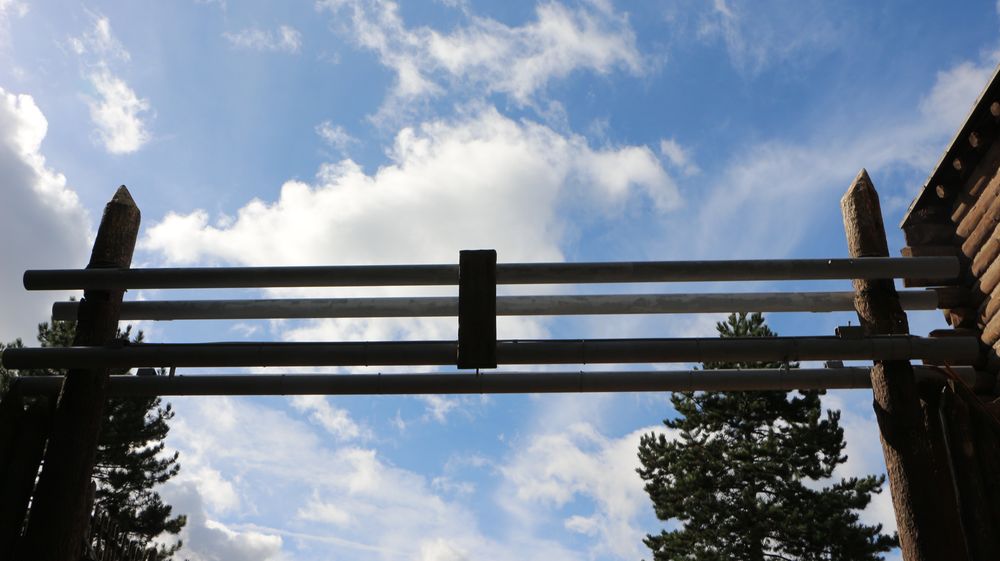 Le Restaurant « The Lucky Nugget Saloon » continu sa rénovation de façade. Les rambardes sont aux nouvelles couleurs et seuls les logos du saloon sont à refaire. L'enseigne provisoire du restaurant est absente.
On peut voir le changement de la palette de couleurs entre le premier (ancienne) et le deuxième niveau (nouvelle).
The Restaurant 'The Lucky Nugget Saloon» continuous itsrenovation of facade. We Note that the railings of the balconyare in new colors , only the logo of the saloon on the facadeare still not repaints. The provisional sign of the restaurant ismissing.
We can see the change of the palette of color between the first (old) and second (new) floor.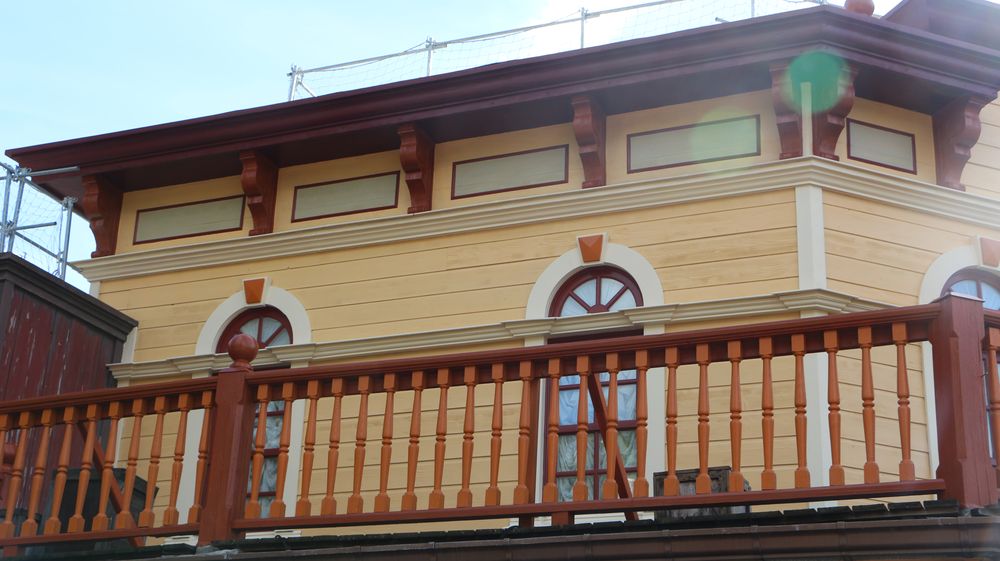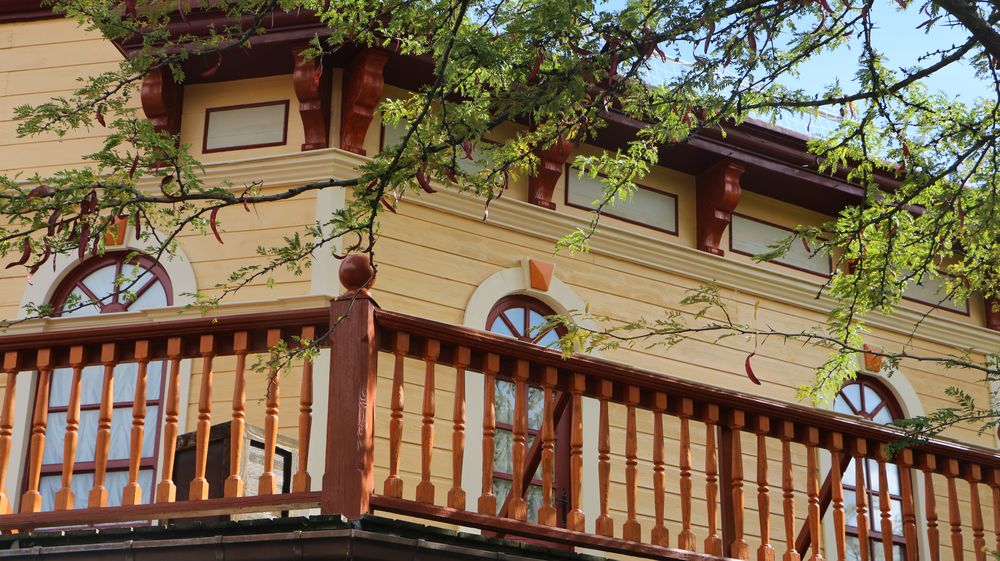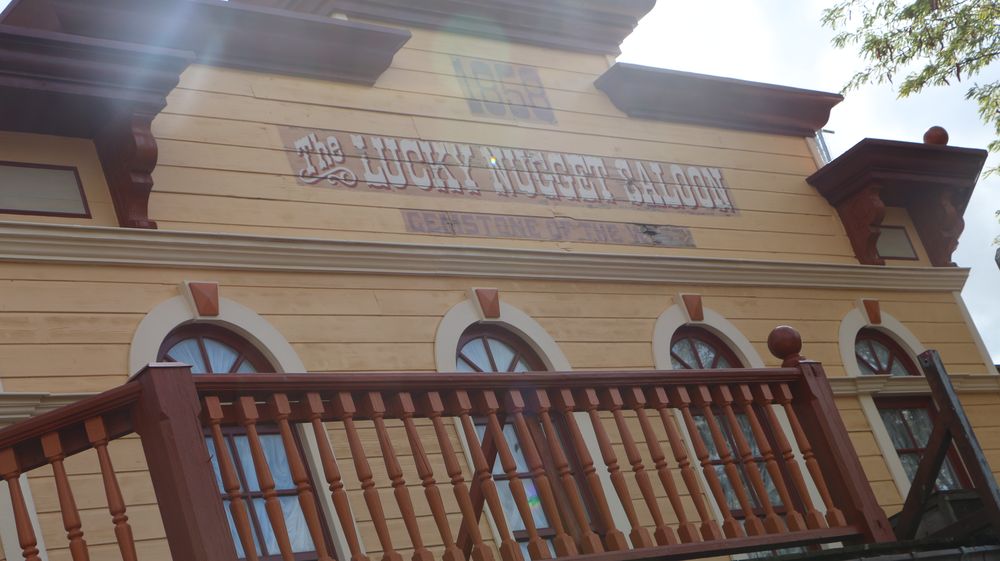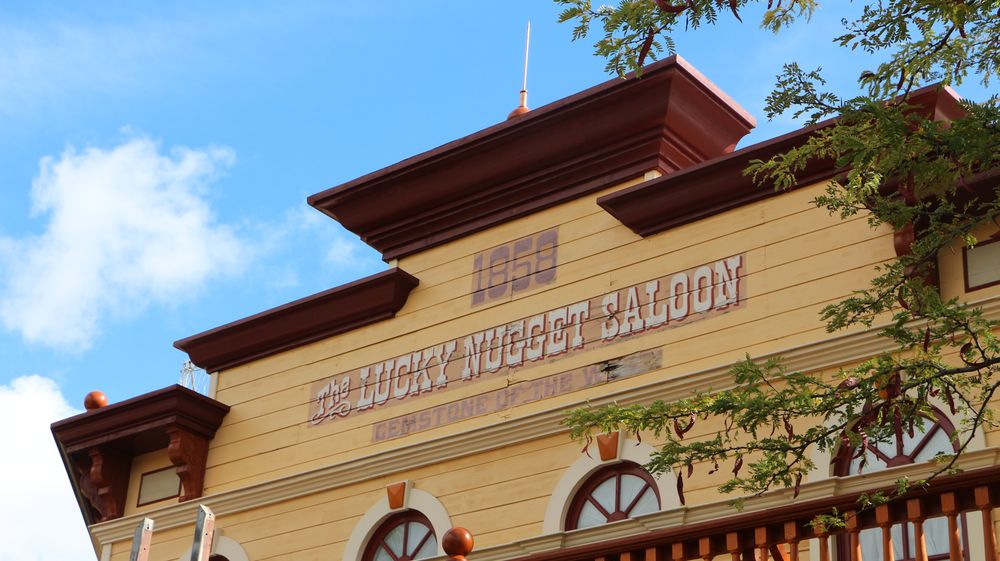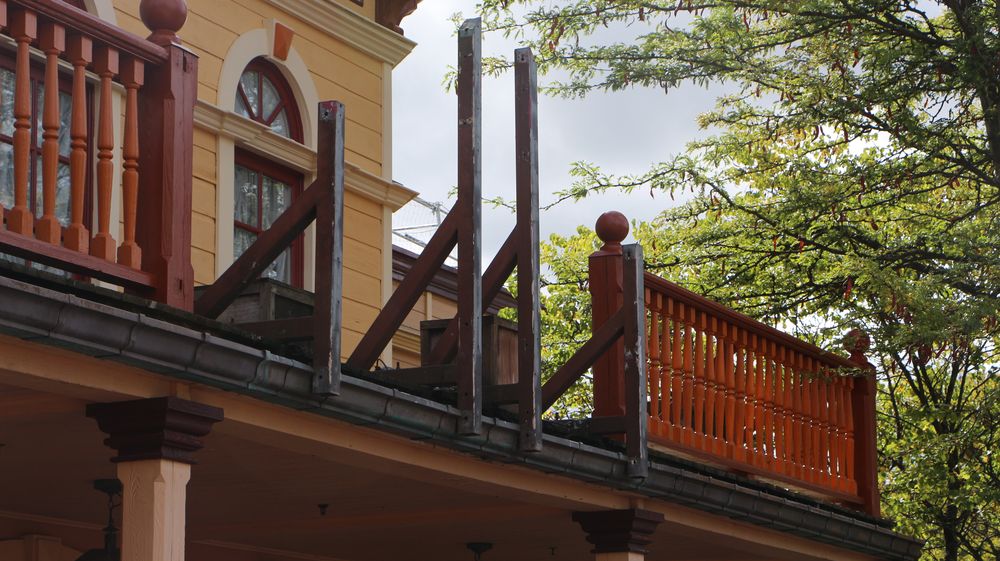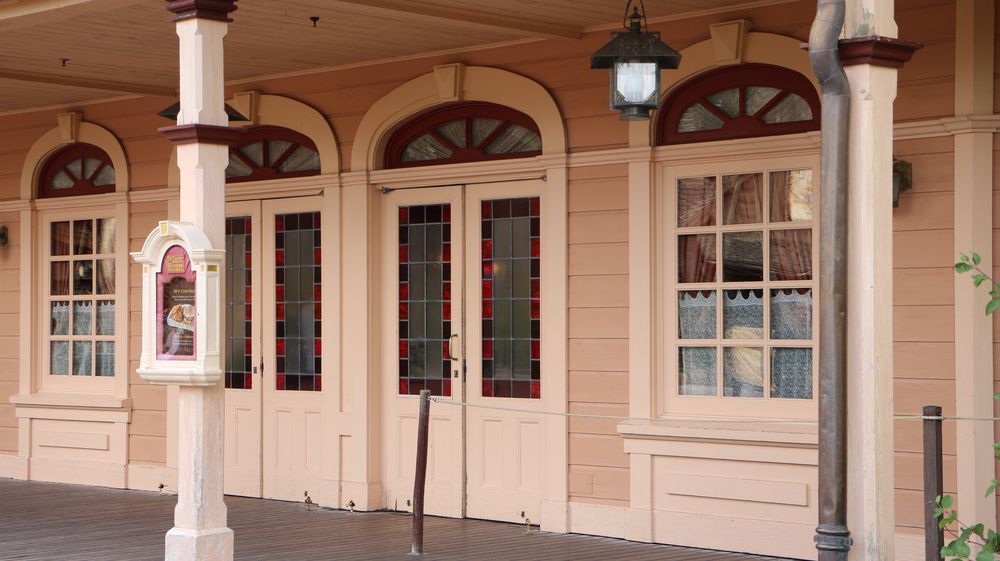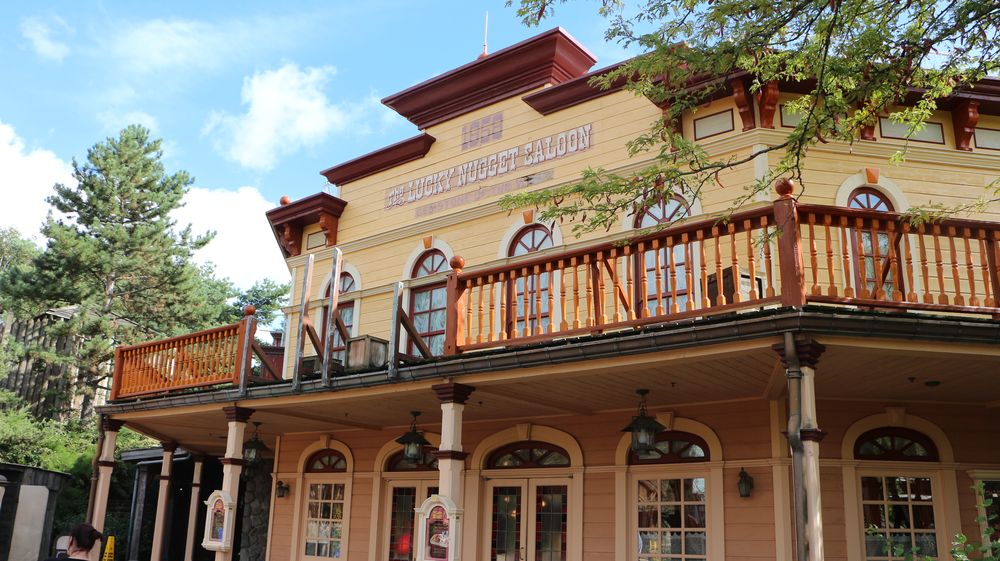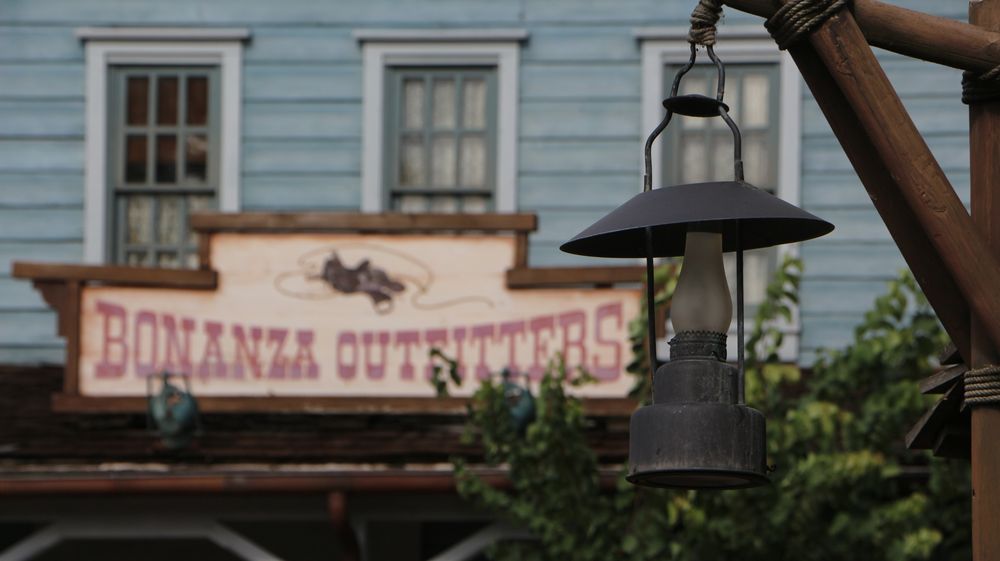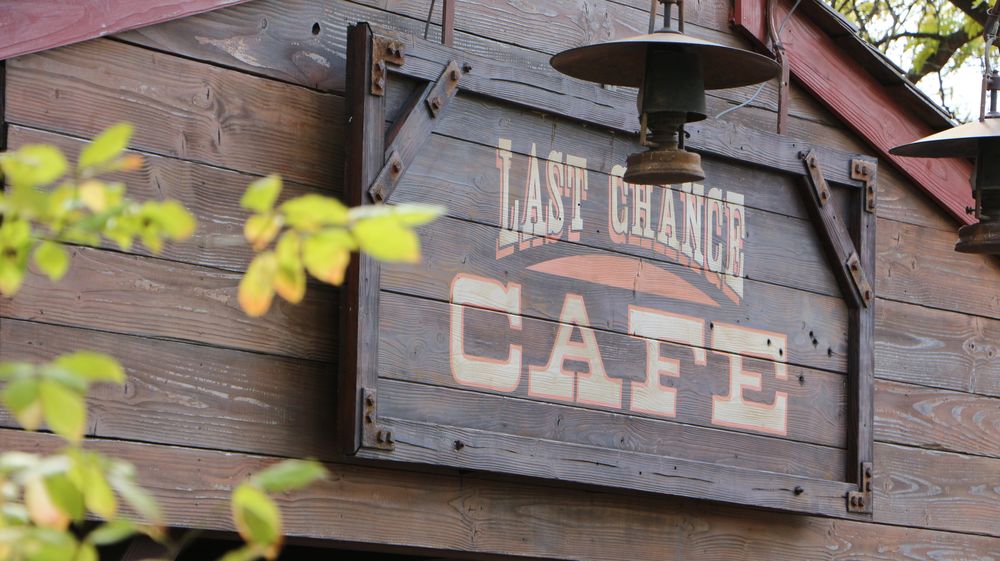 Le restaurant mexicain « Fuente Del Oro » rentre en rénovation. Là aussi les retouches de peintures jaunes vifs! ont été faites sur la partie supérieure dans le font de la cour.
The Mexican restaurant « Fuente Del Oro » is now in renovation. The touch-ups of paint were done on the upperportion of court with a bright yellow!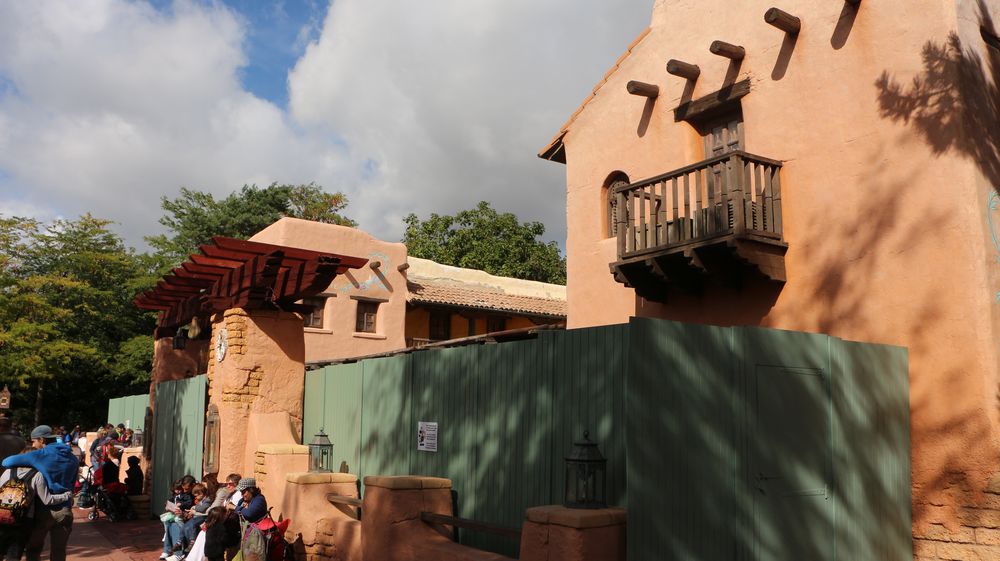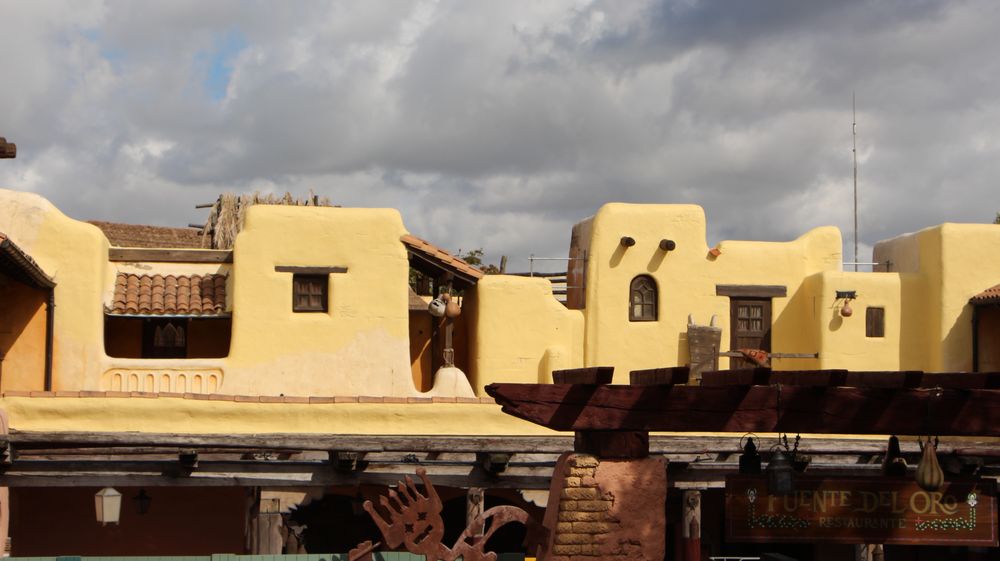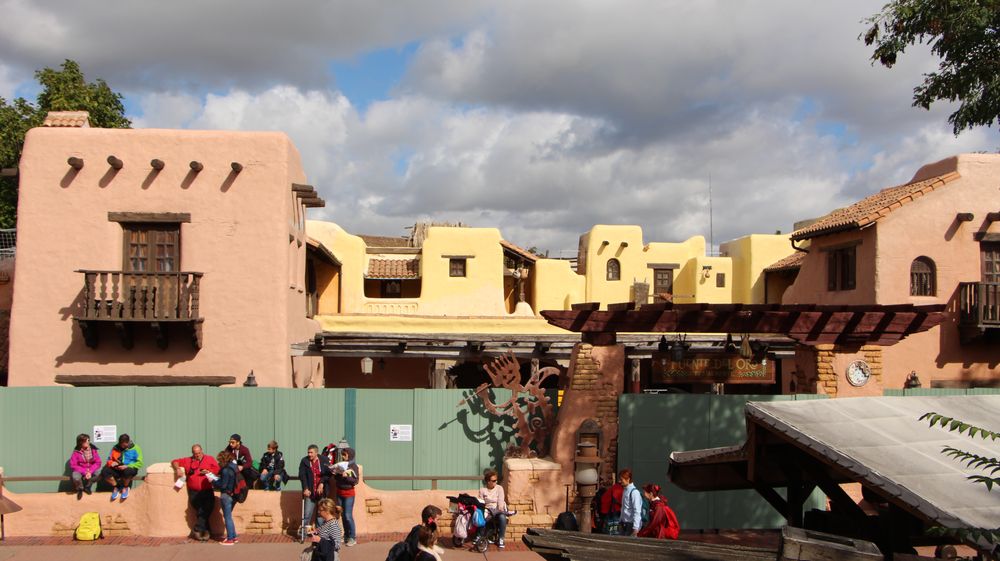 Dans la file d'attente du « Big Thunder Mountain » les filets installés pour éviter que les visiteurs jettent leurs déchets ne sont pas efficaces.
In the queue for the « Big Thunder Mountain », nets installed to prevent that  the visitors throw their waste are not veryeffective.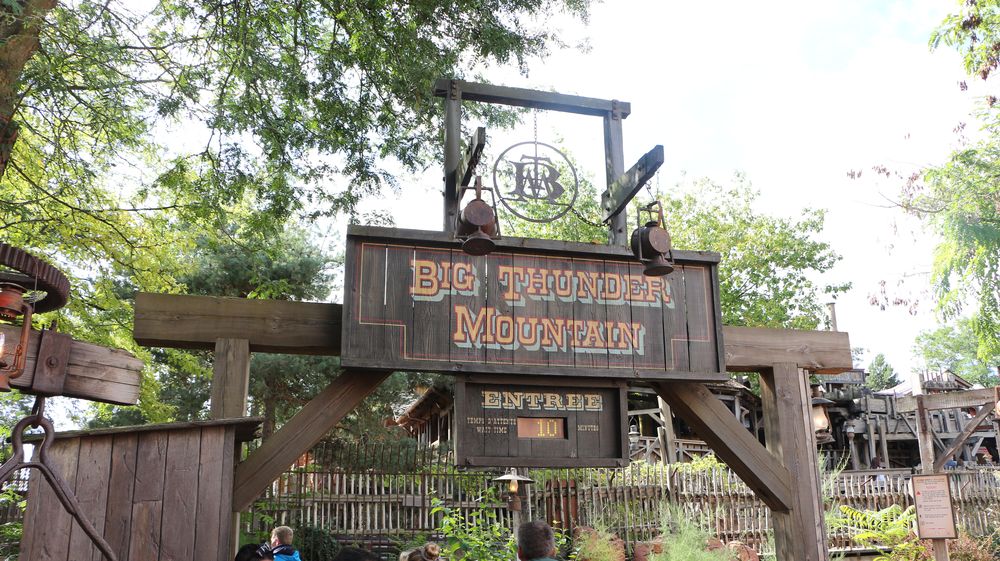 Depuis plusieurs mois, les installations pour vider le lac de Frontierland sont en place avec l'attraction Thunder Mesa Riverboat Landing qui est fermé dès aujourd'hui.
For several months, facilities to empty Lake Frontierland are installed with the attraction Thunder Mesa Riverboat Landing which is closed today.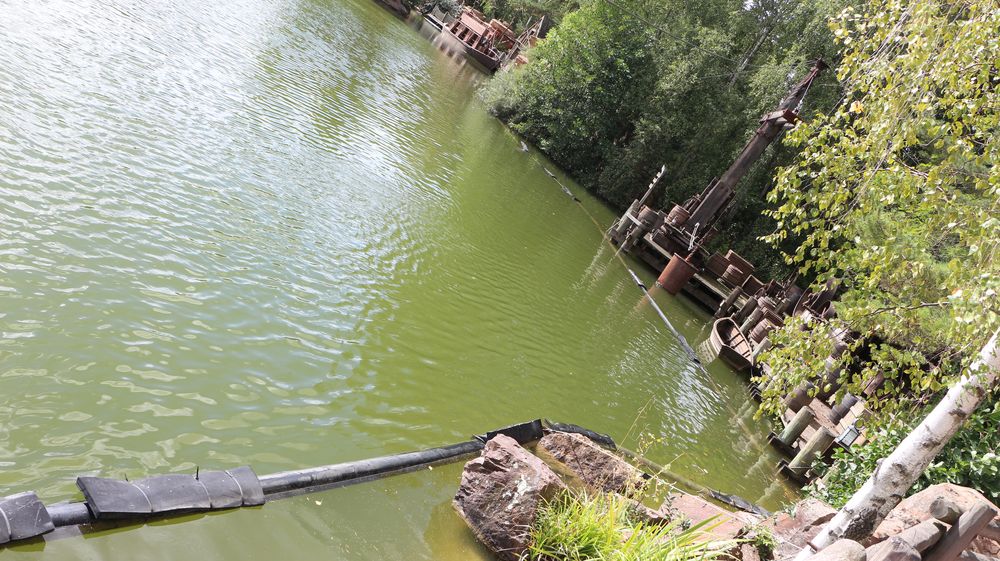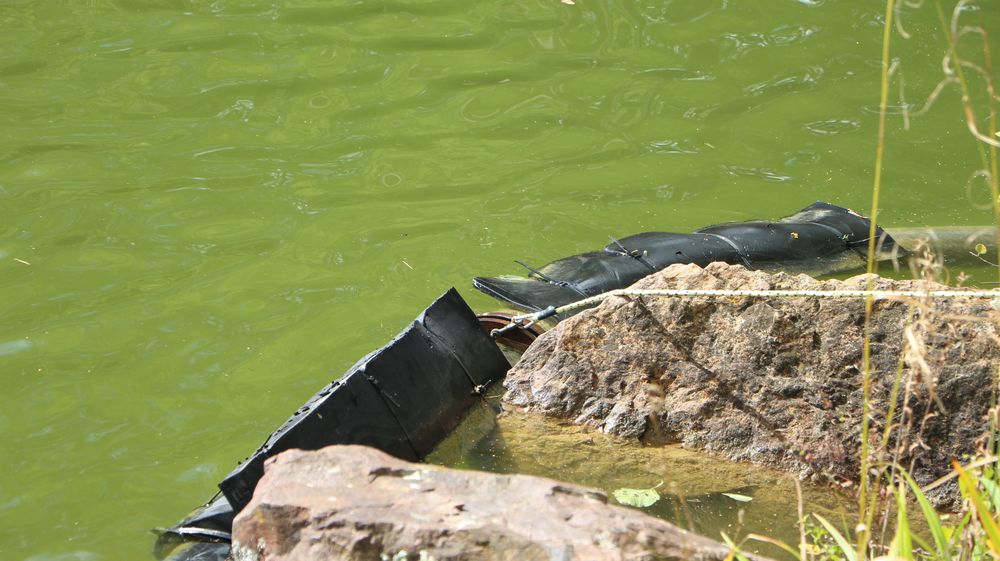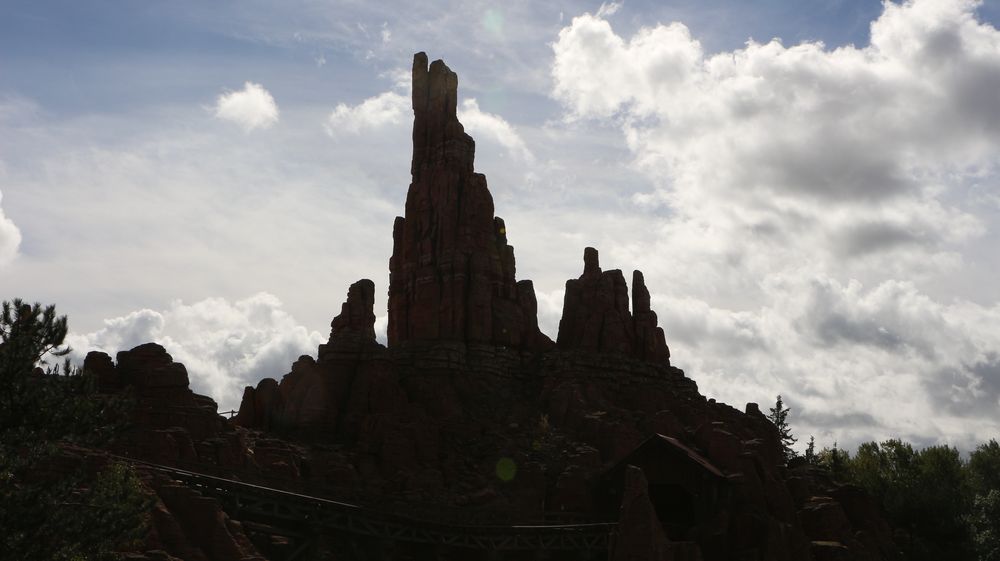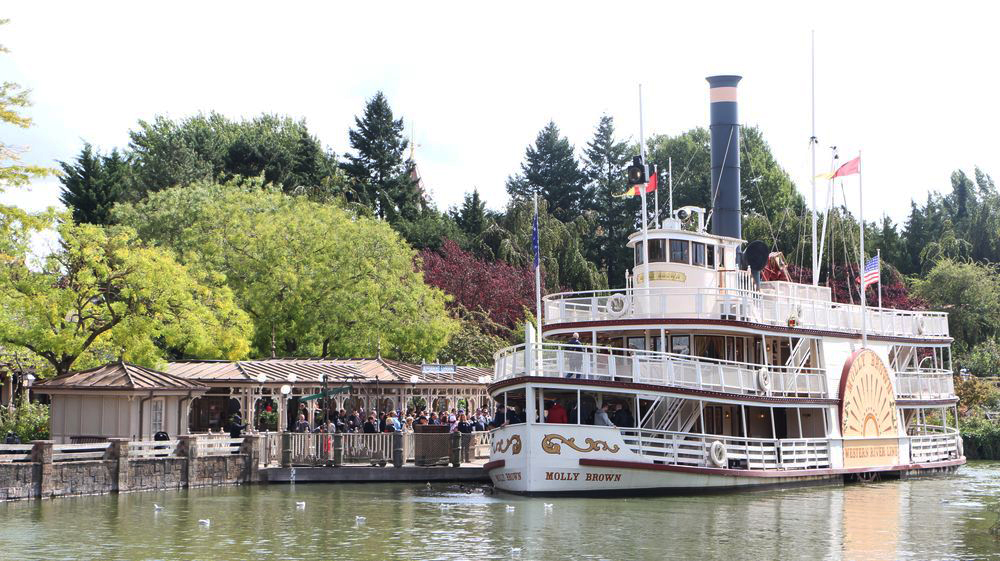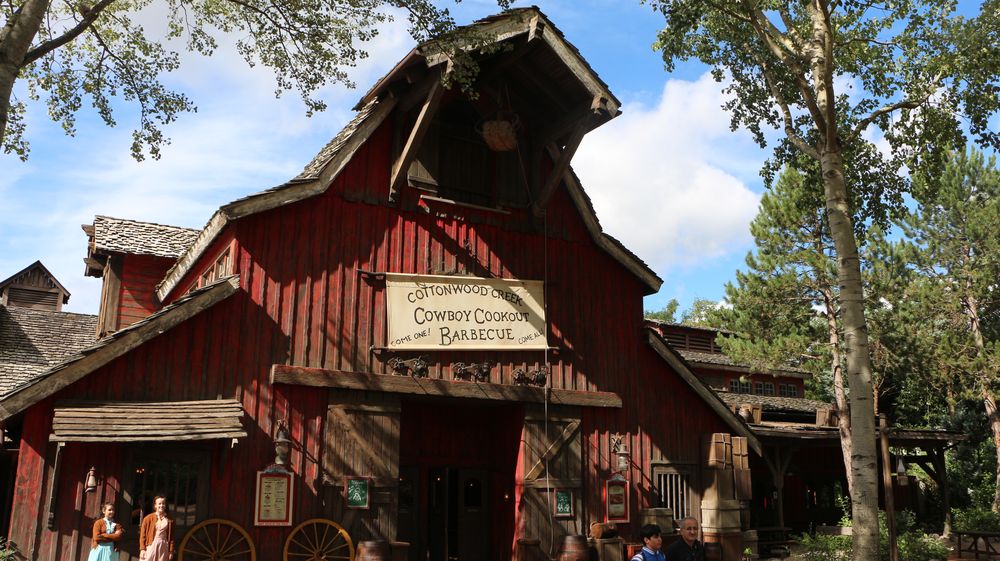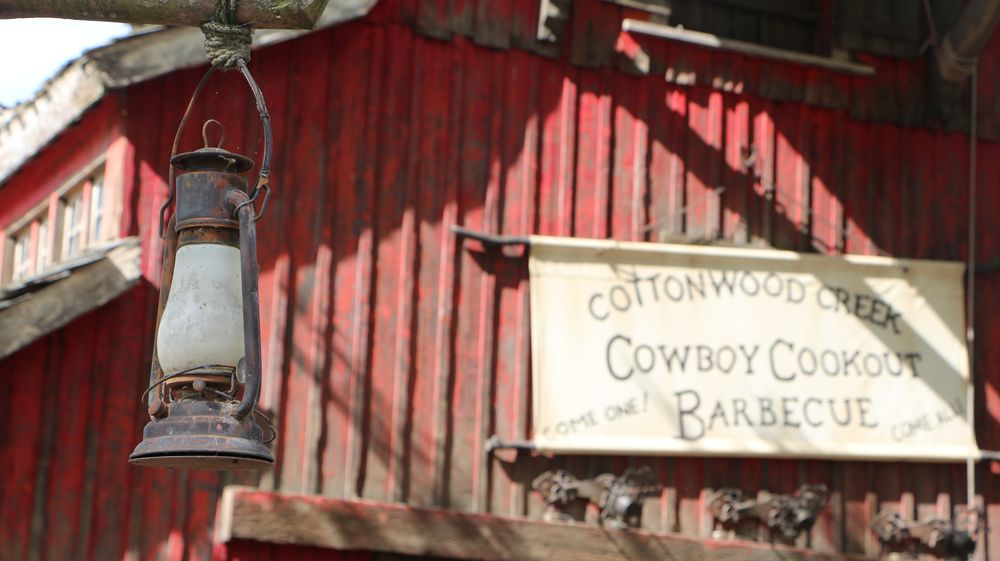 Frozen Summer Fun c'est fini, mais voici quelques chiffres de la saison passé :
– Plus de 29 km de tissus, froufrous, velours et satin ont été utilisés pour les costumes traditionnels du spectacle
– Près de 171 représentations de « Frozen Sing-Along » ont été effectuer devant plus de 750 000 spectateurs durant cette première saison estival congelée!
– Près de 58 kg de paillettes auront été nécessaires pour les décors sur scène.
Frozen Summer Fun is over, but here are some figures of the season:
-More than 29 km from tissues, frilly, velvet and satin were used for the traditional costumes of the show
-Around 171 performances of « Frozen sing-along » were performing before more than 750,000 spectators during this first frozen summer season!
-Around 58 kg of glitter will have been necessary for the scenery on stage.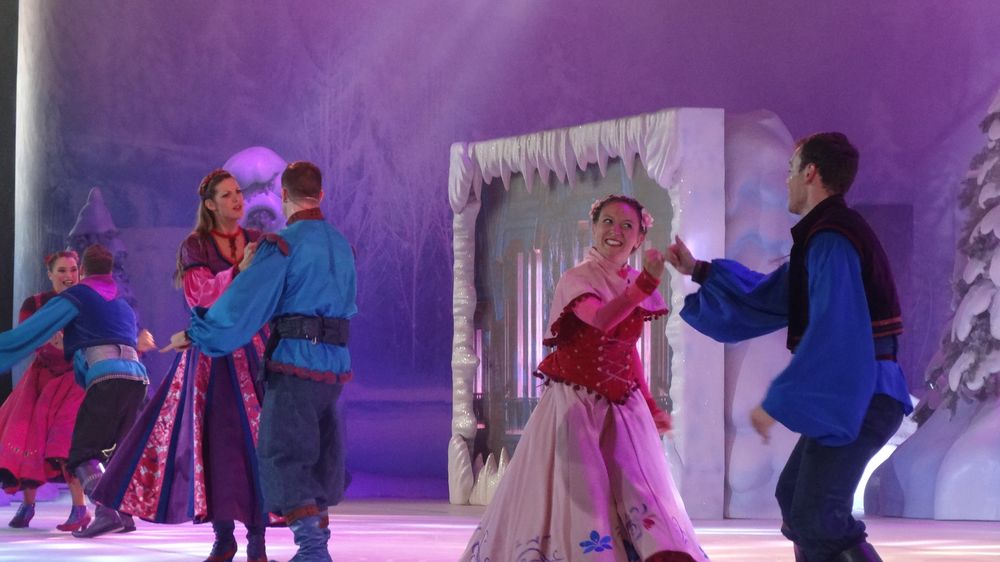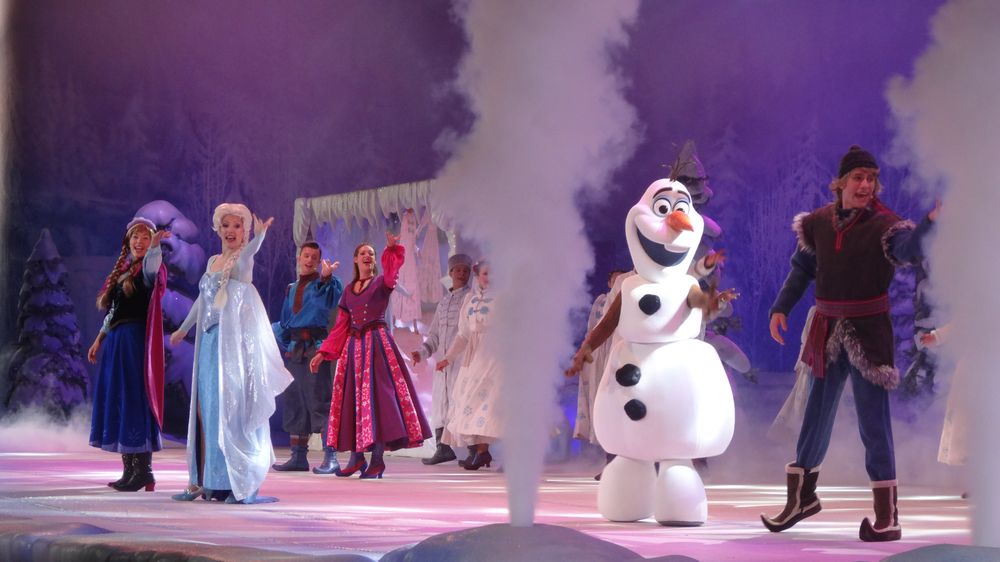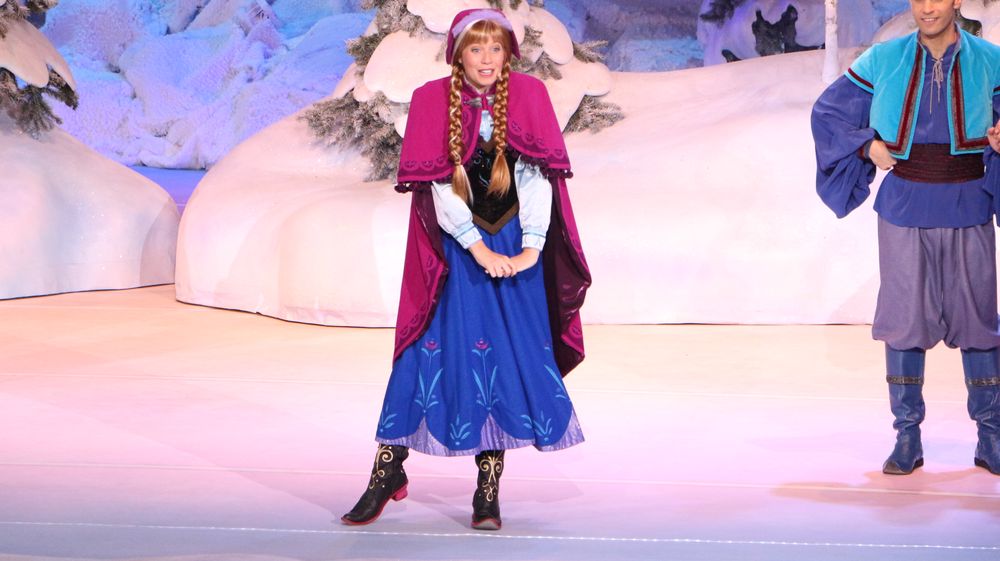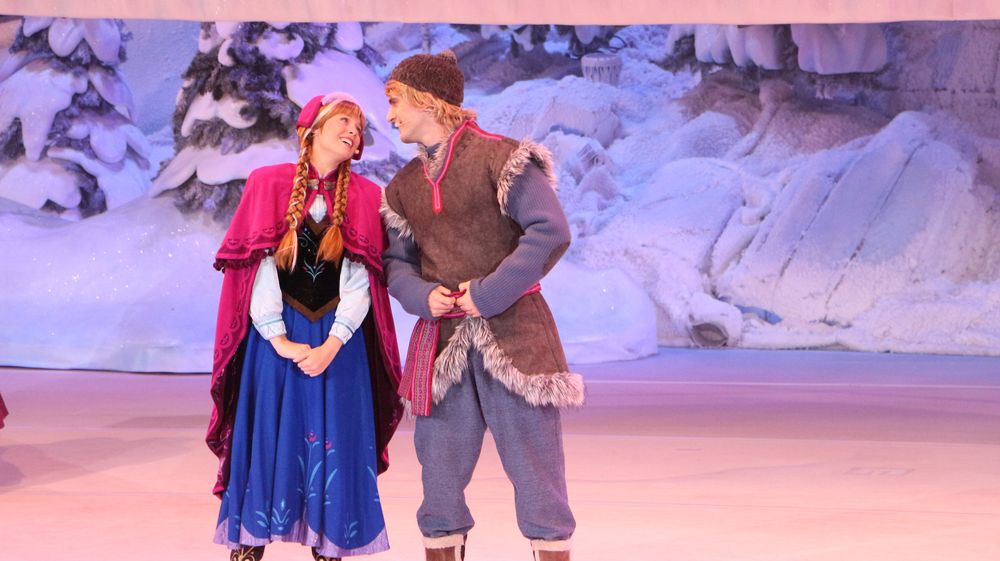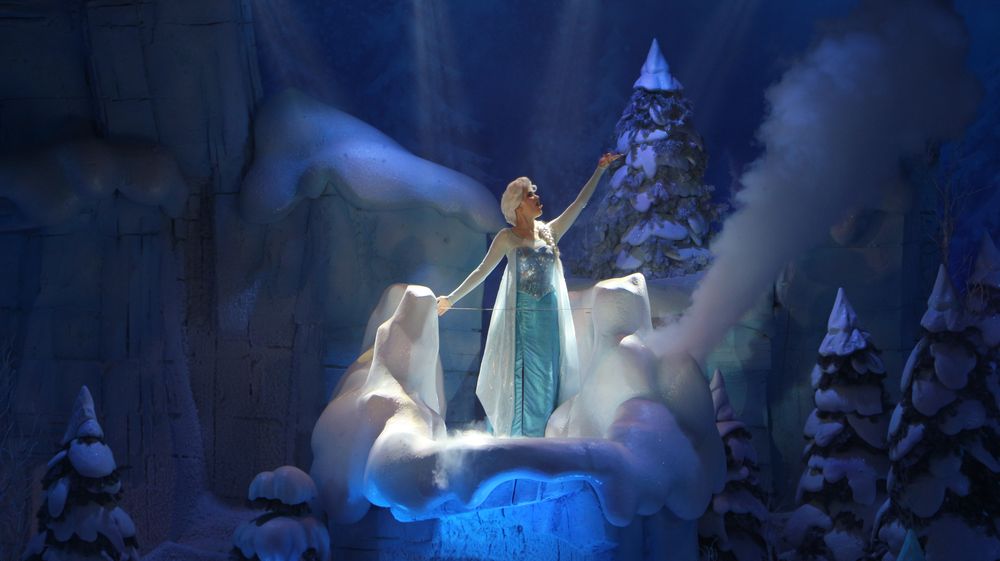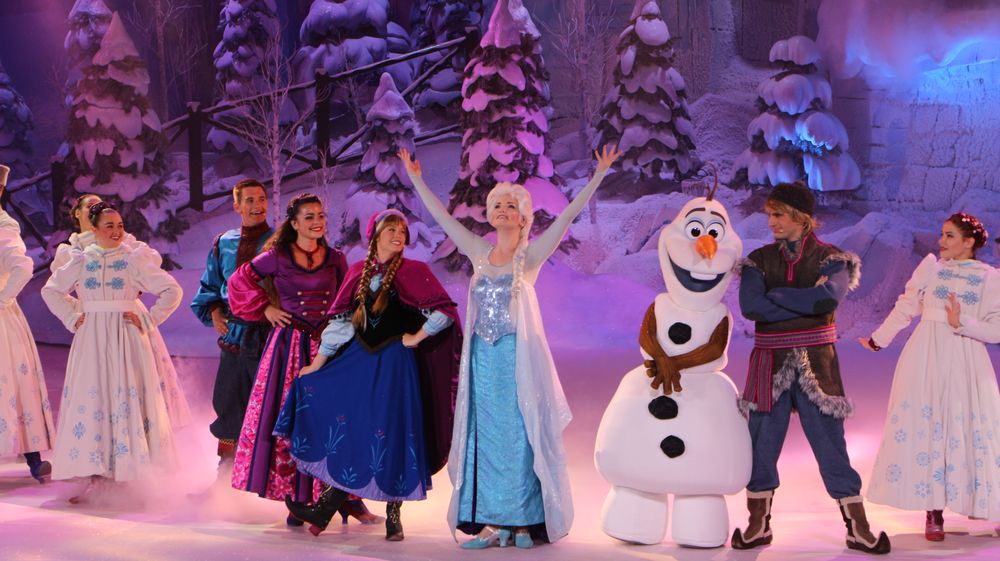 Actuellement La place du marché est fermée, tout comme la gare et le Chaparral Theater. La zone est vide de toute activité.
The market place is now closed, as the station and the Chaparral Theater. The area is empty of any activity.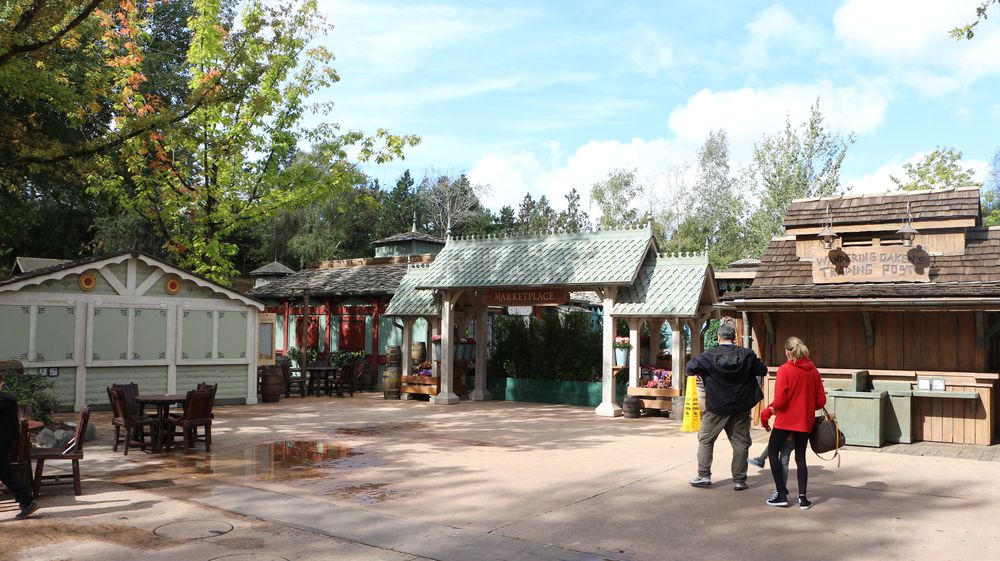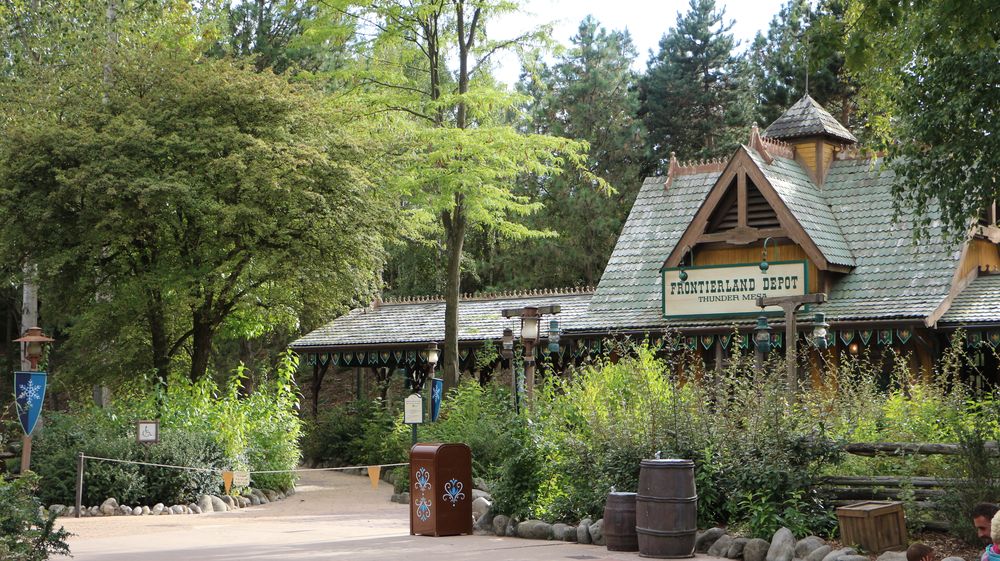 Les décors mobiles et écrans géants son maintenant protégés sous des bâches pour deux mois en attendant l'arrivée de la saison hivernale et être à nouveau opérationnel.
The sets and the giant screens its now protected under plastic for two months coming and wait the arrival of the winterseason to be operational again.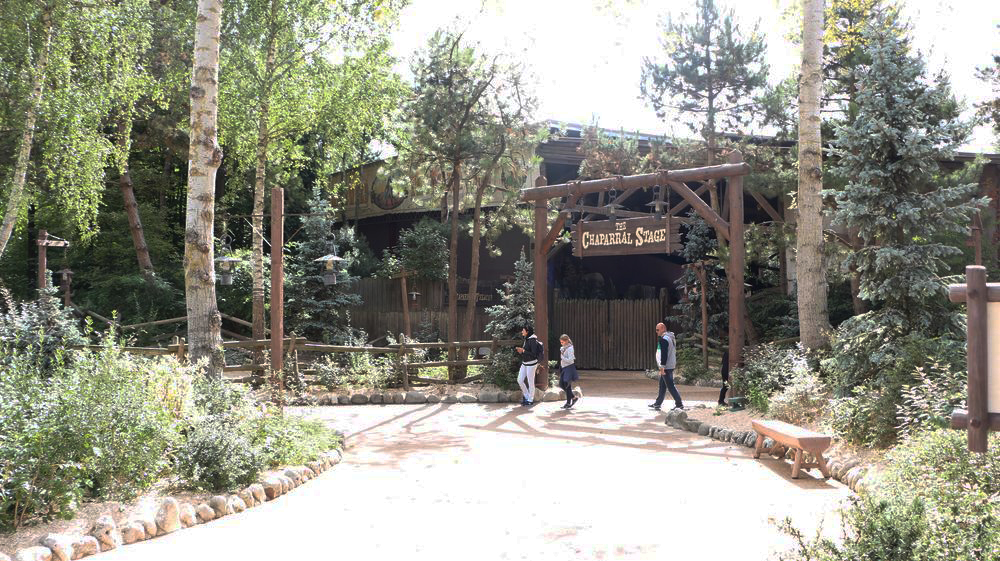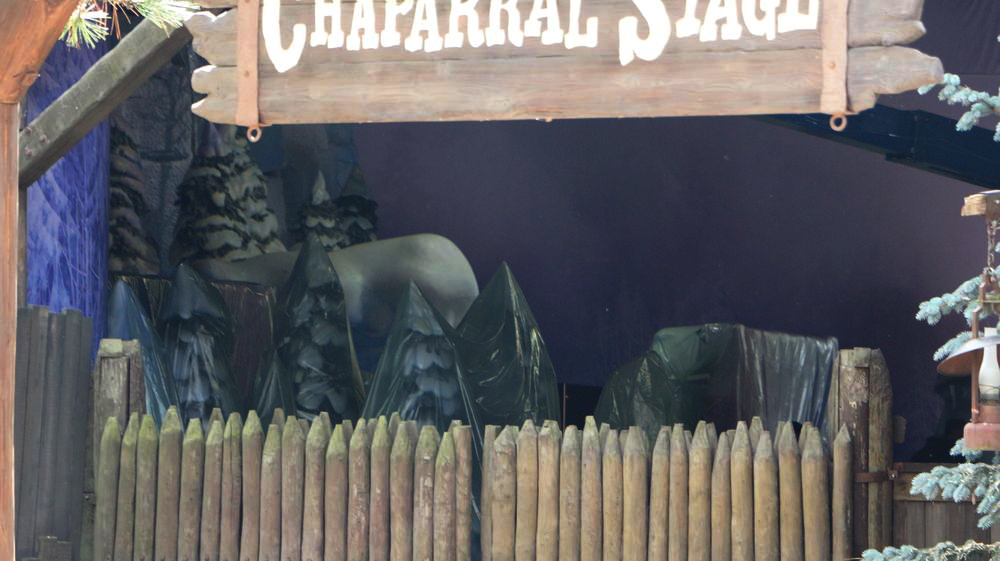 On notera que le panneau a été installé à l'envers à l'entrée de Cottonwood Creek Ranch.
The Panel been installed upside at the entrance of CottonwoodCreek Ranch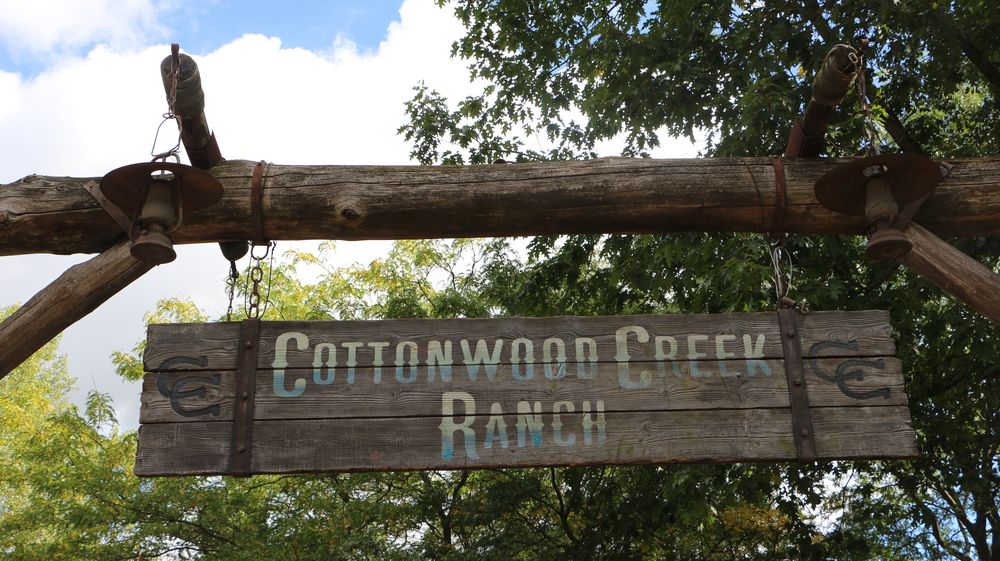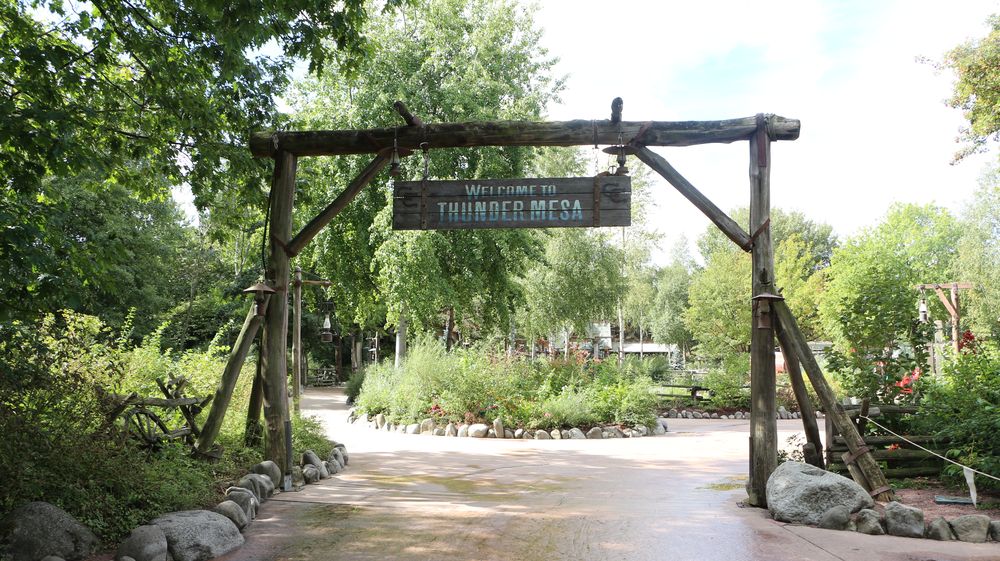 L'aire de jeu de Pocahontas est fermée…
Pocahontas The playground is closed …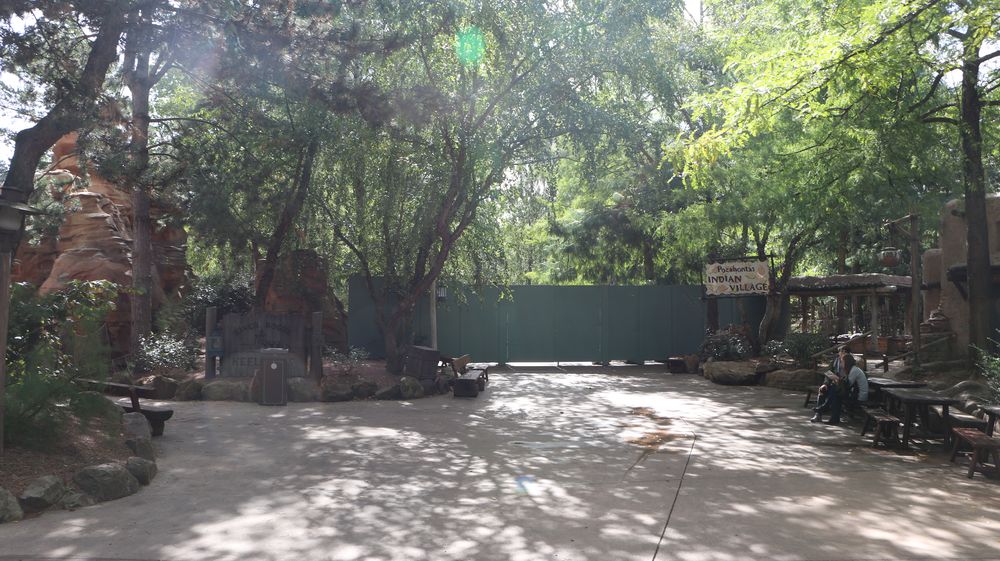 …tout comme le restaurant « Colonel Hathi's Pizza Outpost ».
… The « Hathi's Pizza Outpost » restaurant also (adventureland).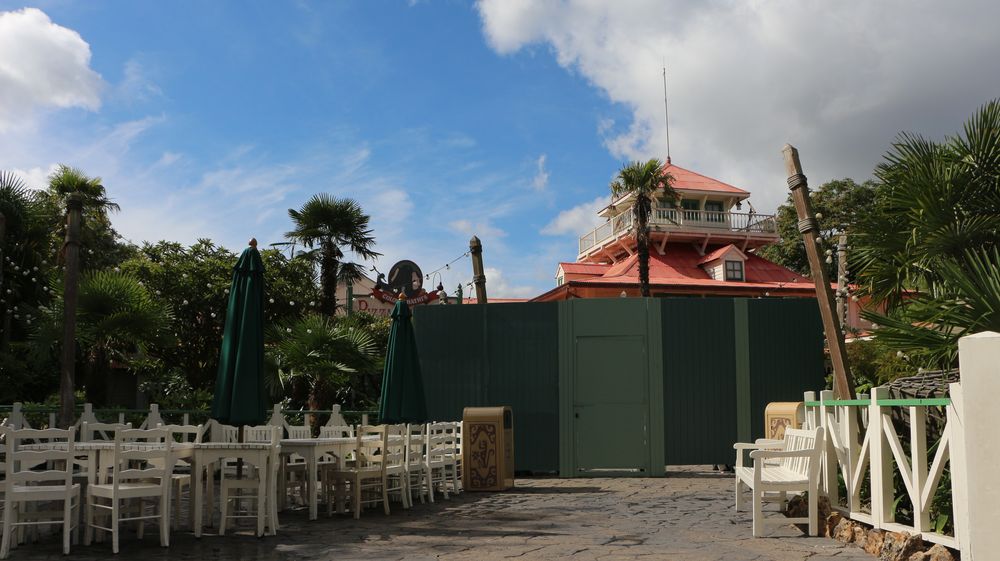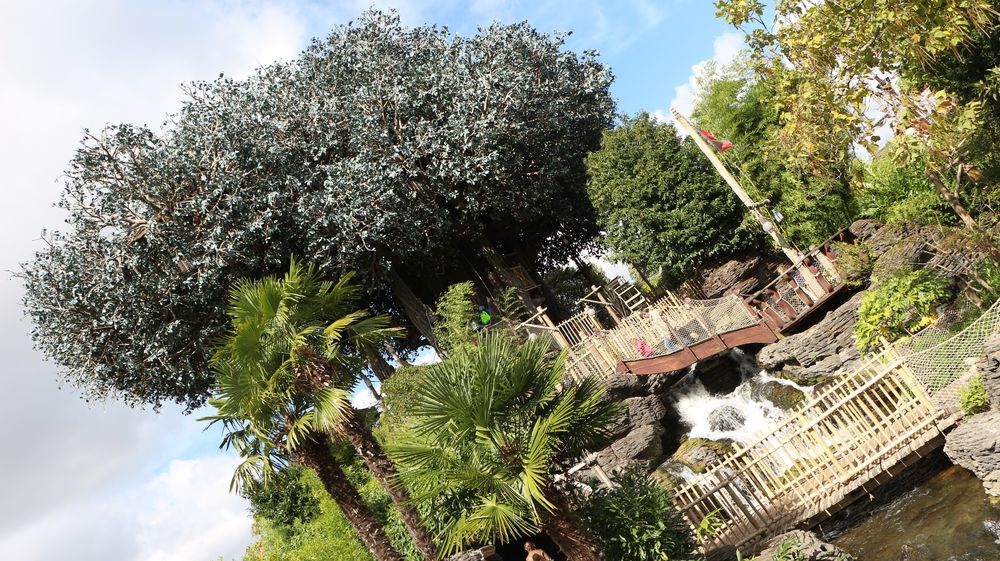 Le stand permanant « Café de la Brousse » est sortie de rénovation, il est comme neuf, mais comme les ¾ de l'année il est fermé.
The permanant stand « Café de la Brousse » came out of renovation, it is like new, but as three quarters of the year it isclosed.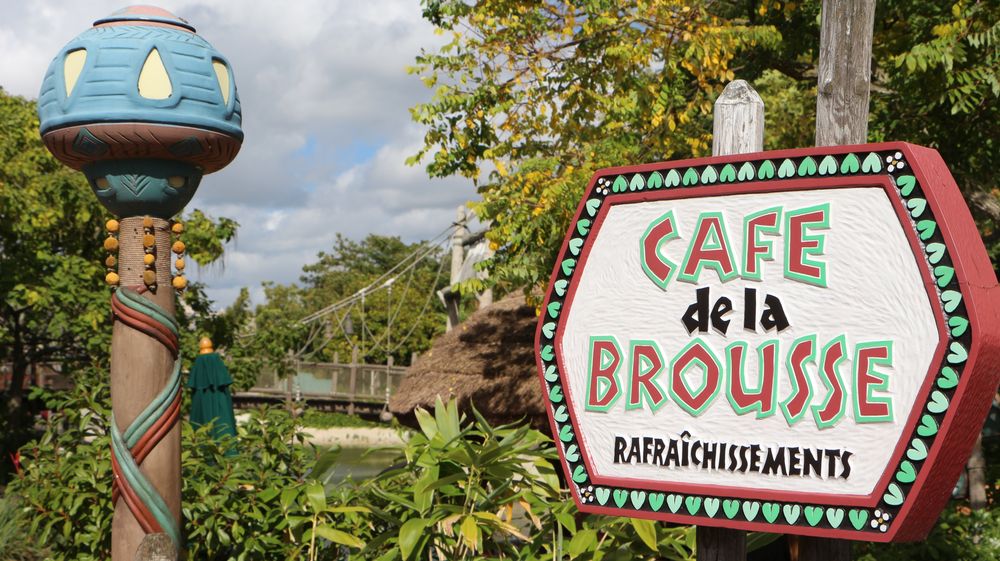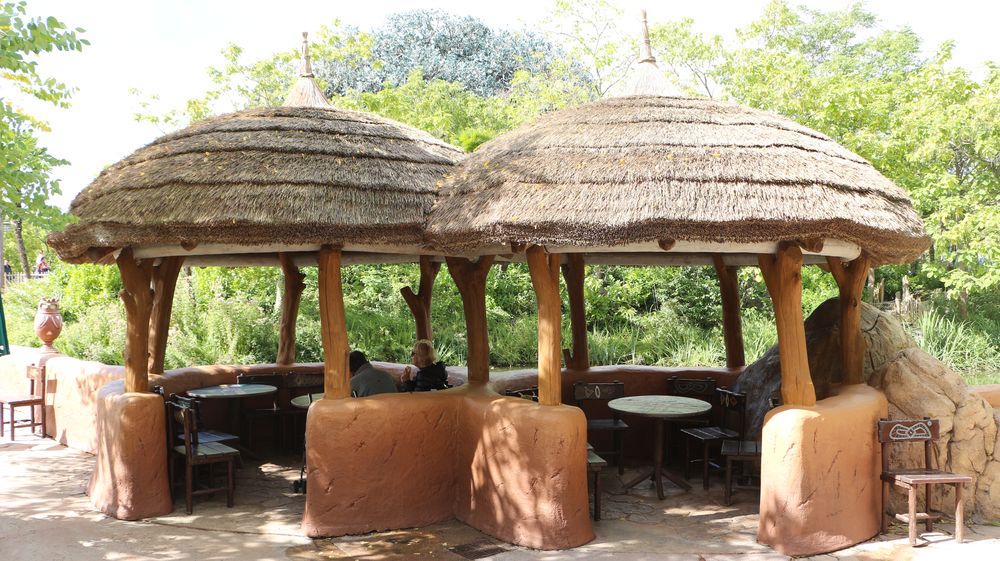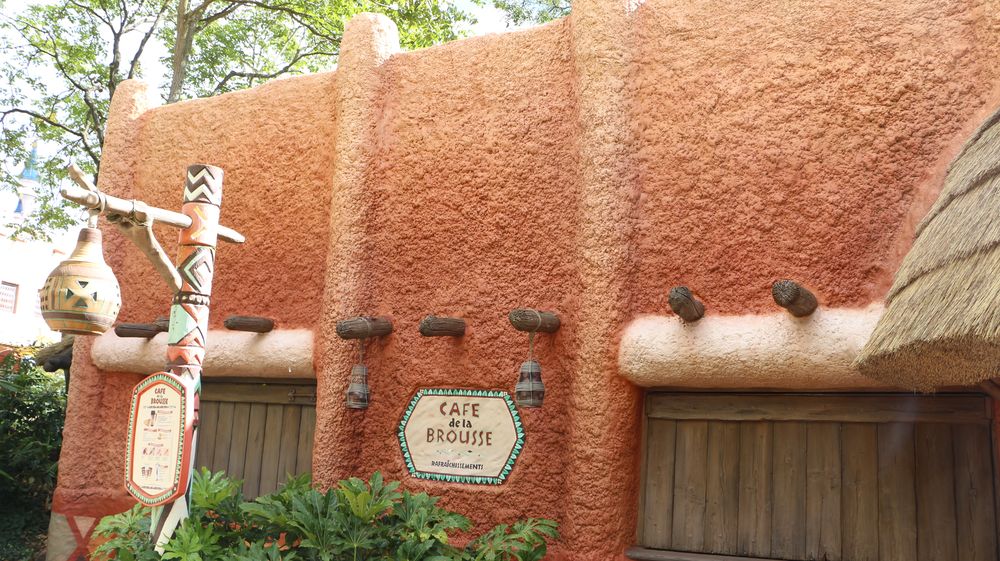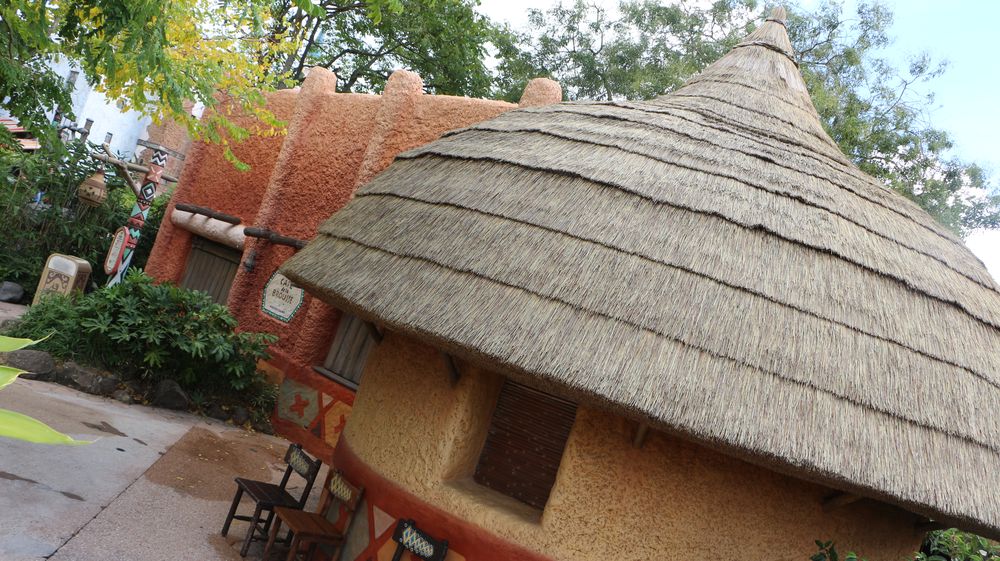 « Pirates of the Caribbean » entre aussi en rénovation.
« Pirates of the Caribbean » return to annual renovation.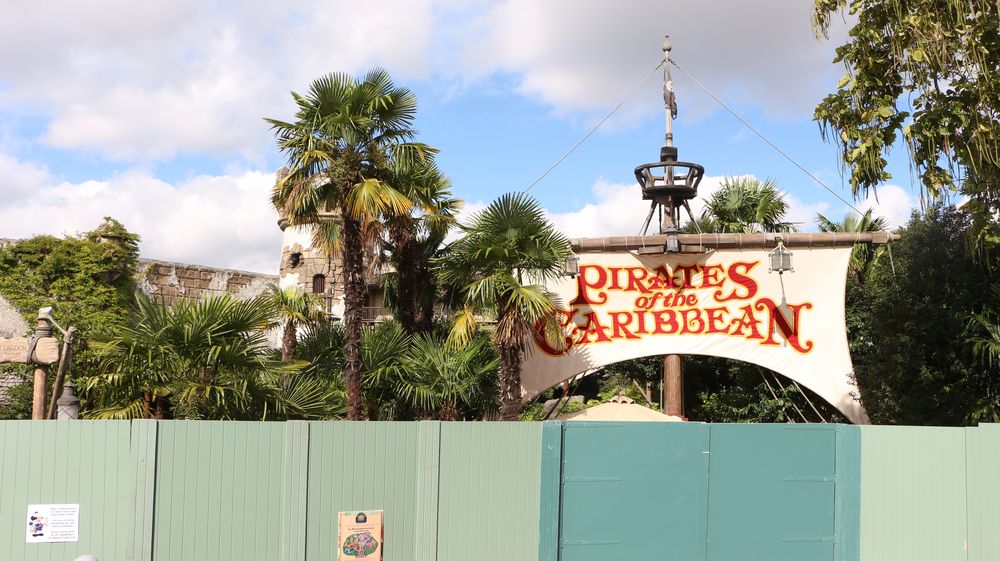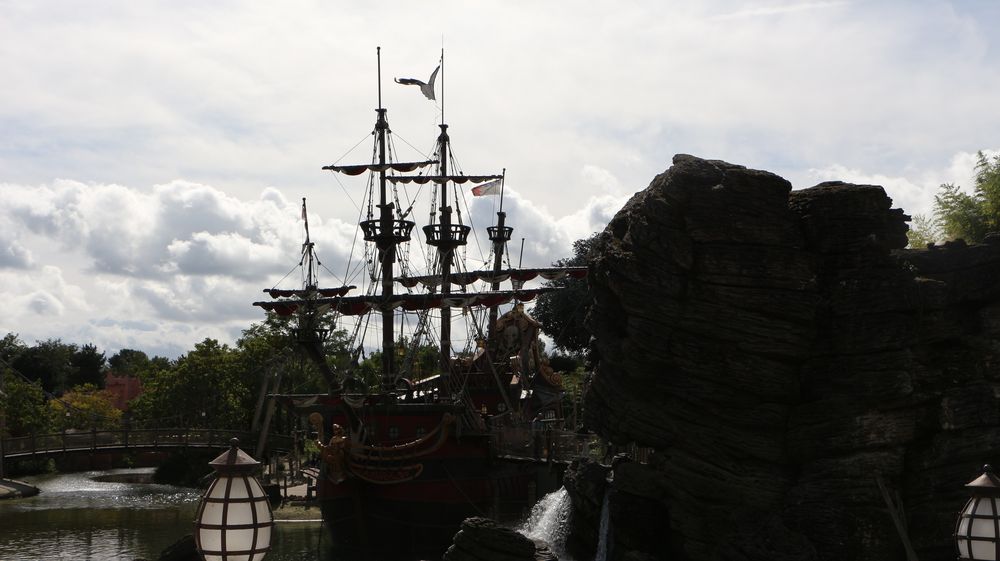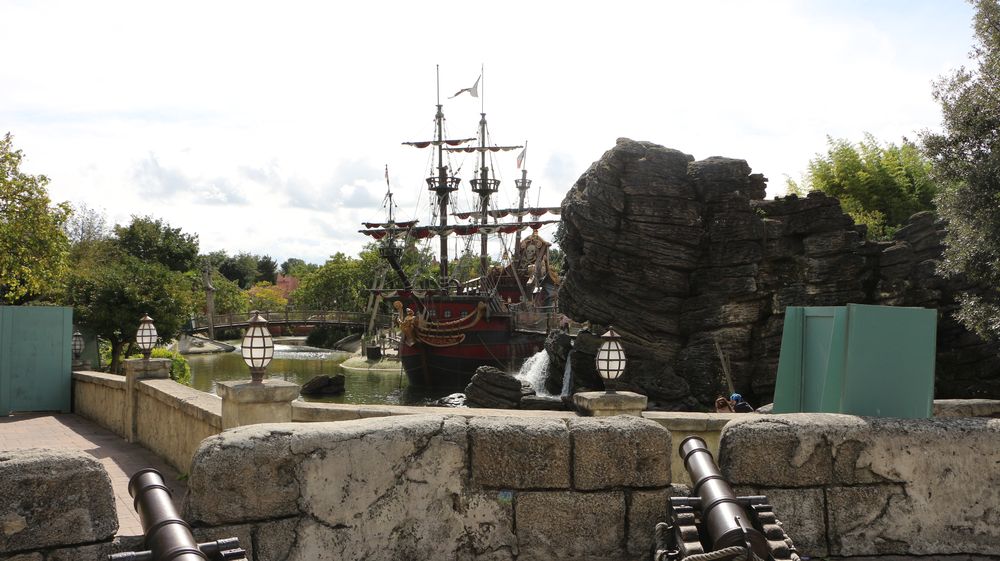 A Fantasyland, l'épée de merlin est protégée pour installer le décor d'halloween.
In Fantasyland, the fences came around the sword of Merlin for installation of Halloween decor.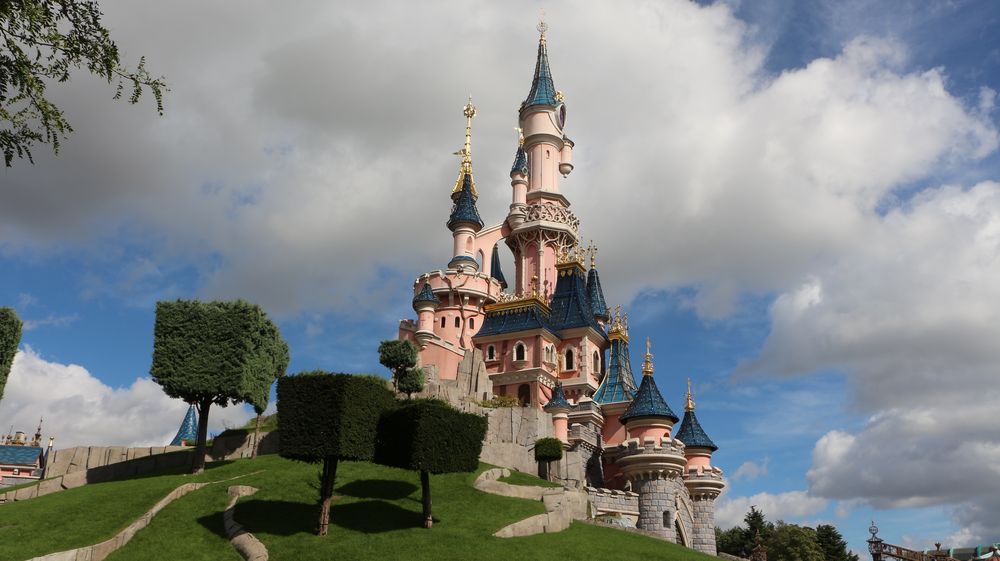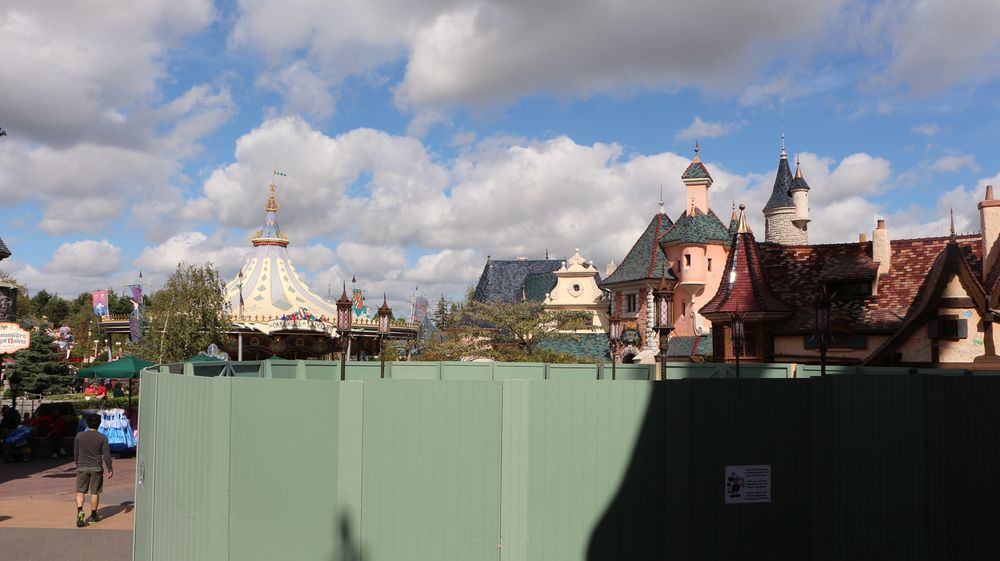 Au Carrousel, mise en place de rambardes à la place des haies.
At the Carrousel, with the arrival of guardrails hedges wereremoved.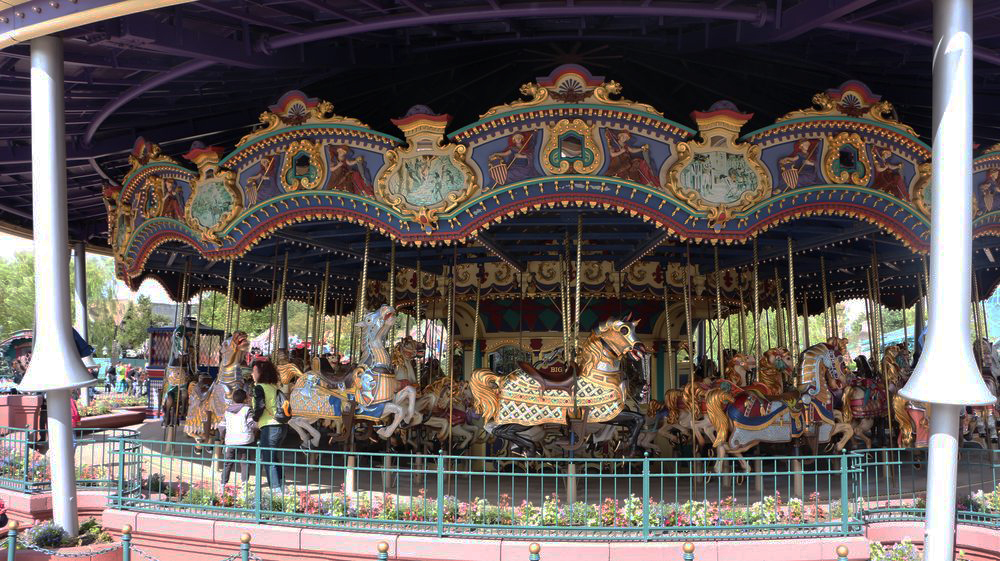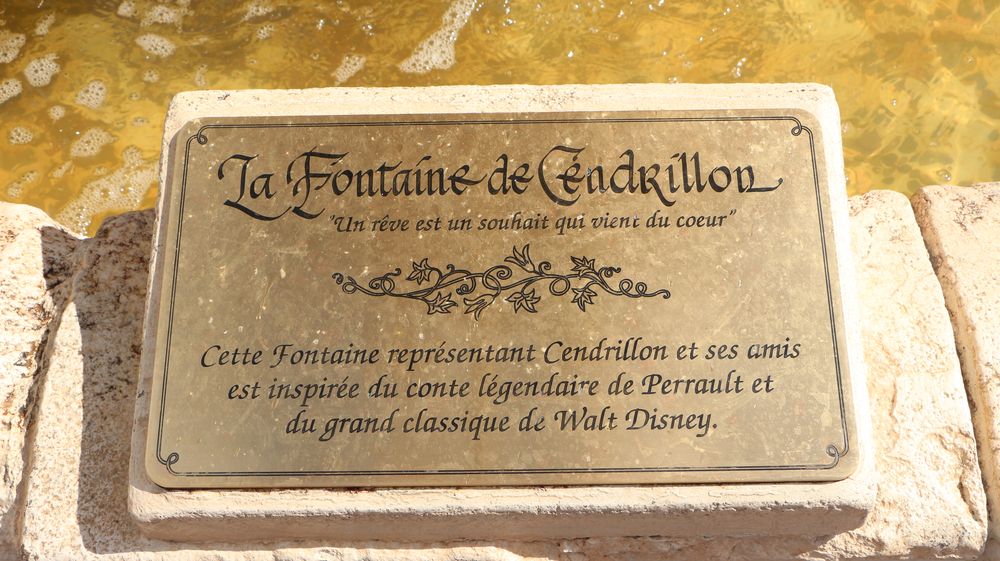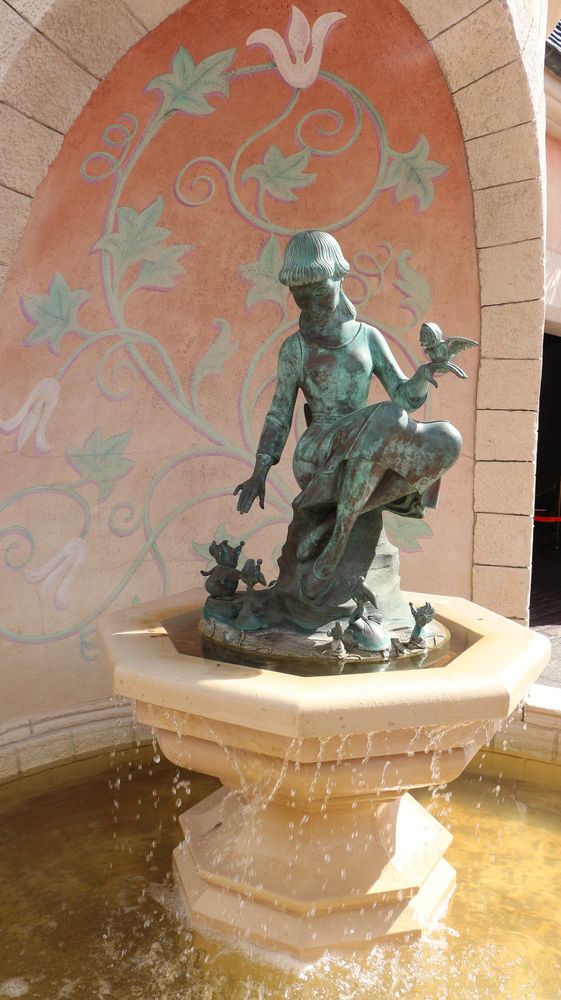 Le bassin de Fantasyland est passé du blanc au vert en moins de 3 mois.
The Fantasyland basin is already  green in less than threemonths.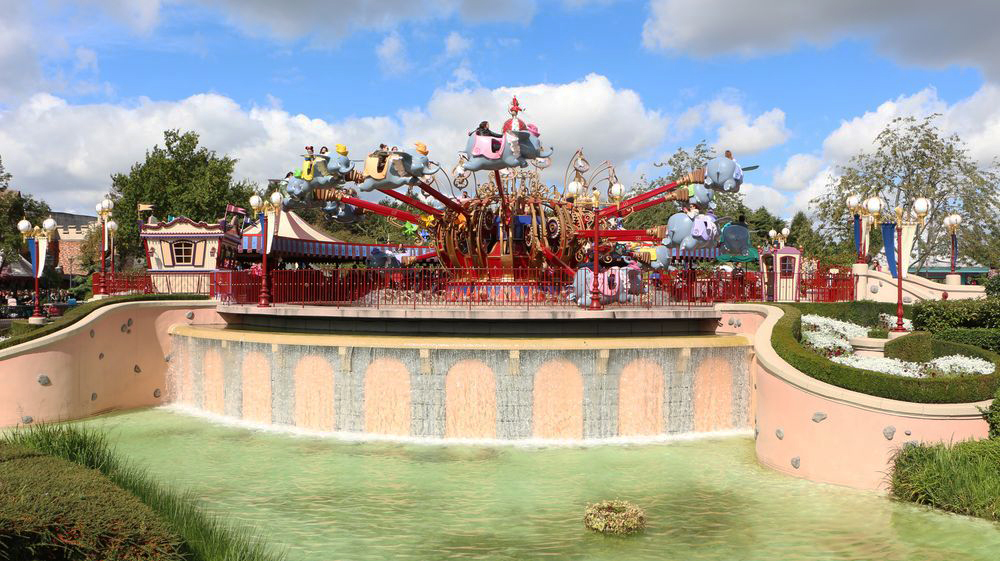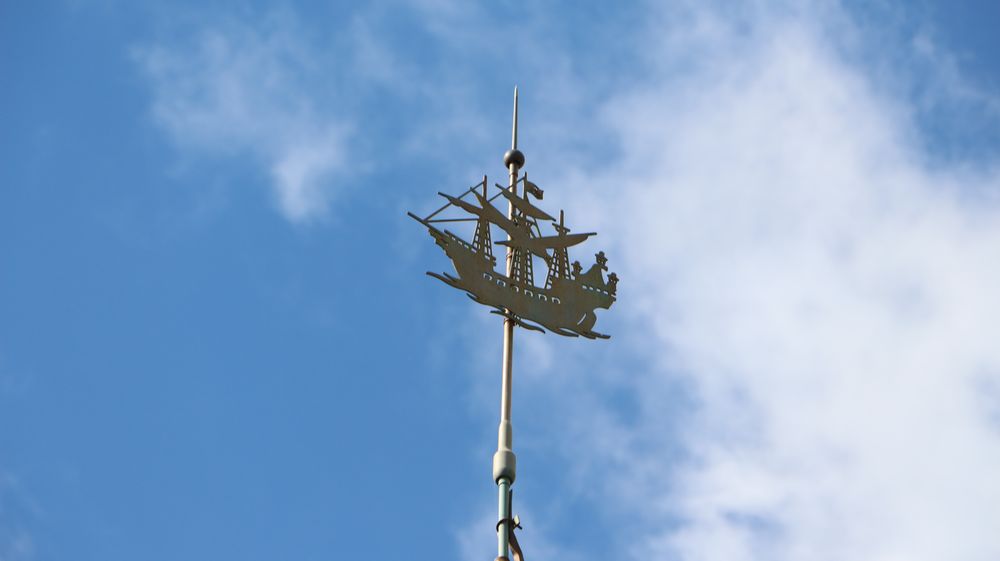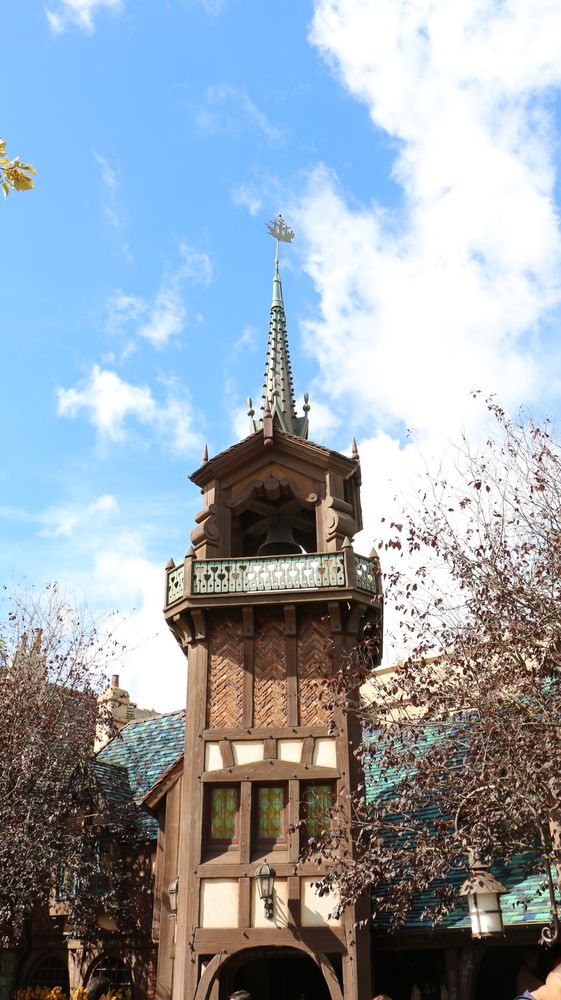 Le Pavillon des Princesses est fermé pour réhabilitation jusqu'au 2 octobre. On peut voir les princesses près du puits du château et face au Plaza Garden restaurant de 10h à 15h.
Le Pavillon des Princesses is closed for renovation untilOctober 2, but we can now see the princesses near the well  of the castle and facing the Plaza Garden restaurant from 10am to 3pm.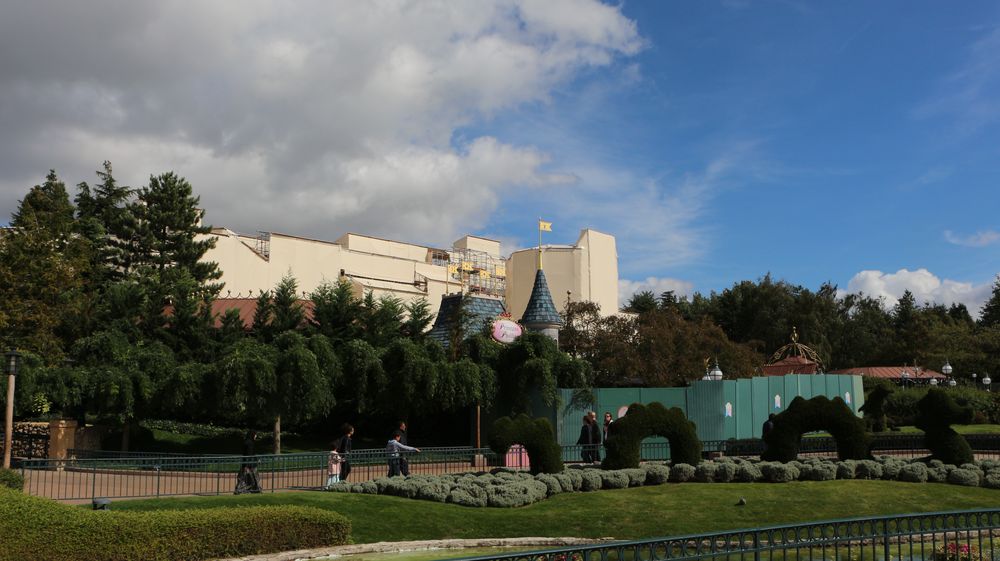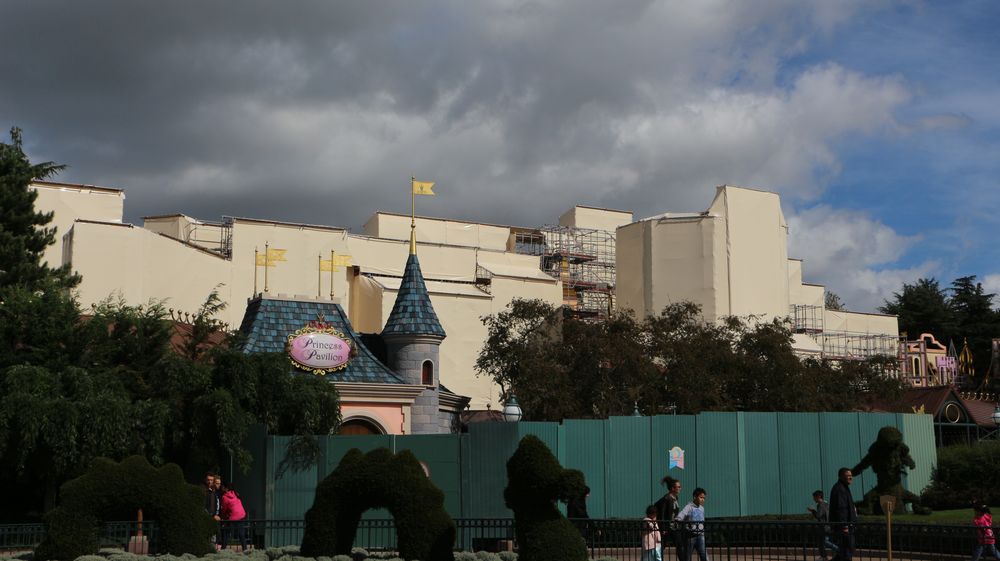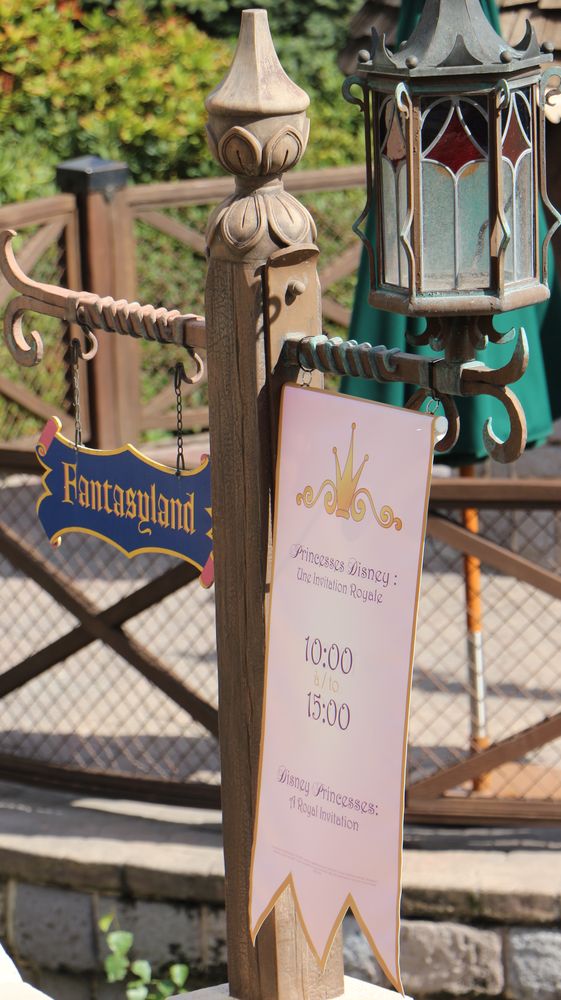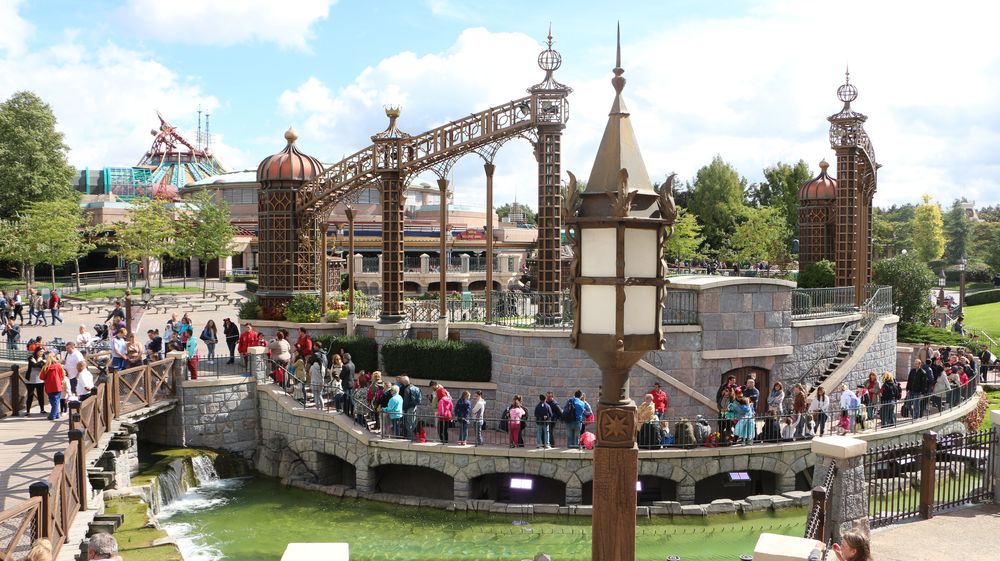 « it's a small world » est maintenant sous bâches. Des échafaudages sont visibles au niveau de la fontaine à l'entrée de l'attraction.
« It's a small world » is now almost entirely invaded by the scaffolds on the façade. Scaffolds are also visible at the fountain at the entrance of the attraction.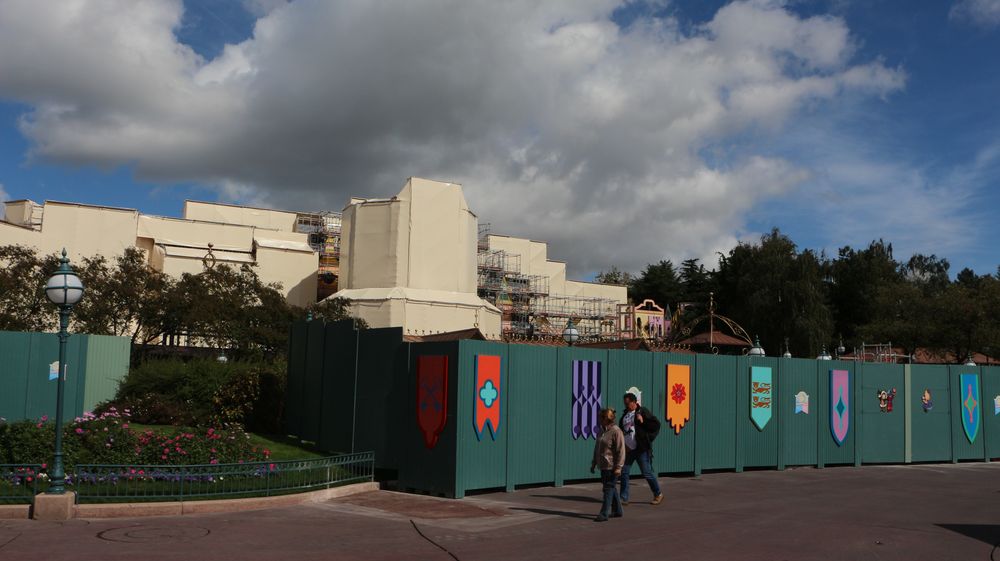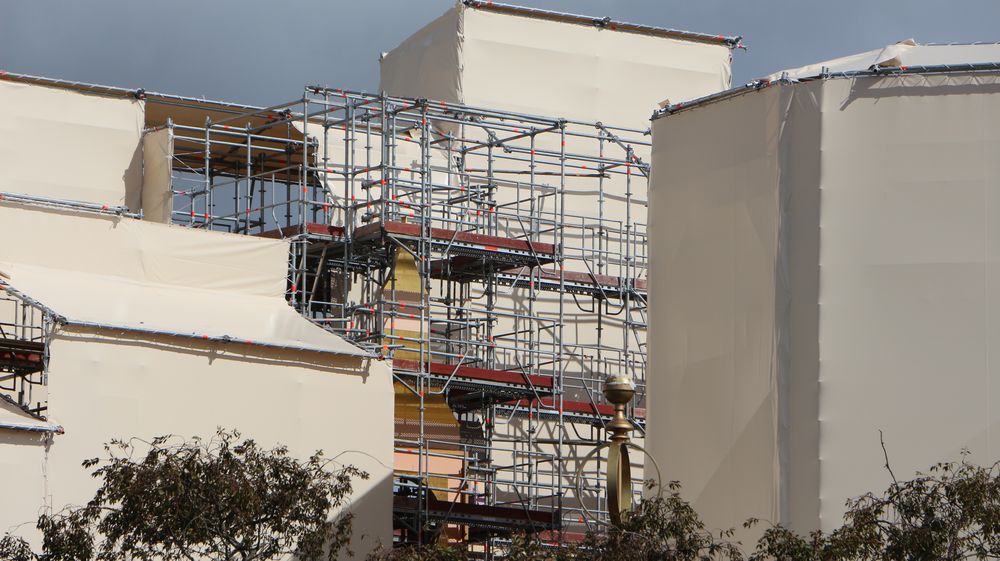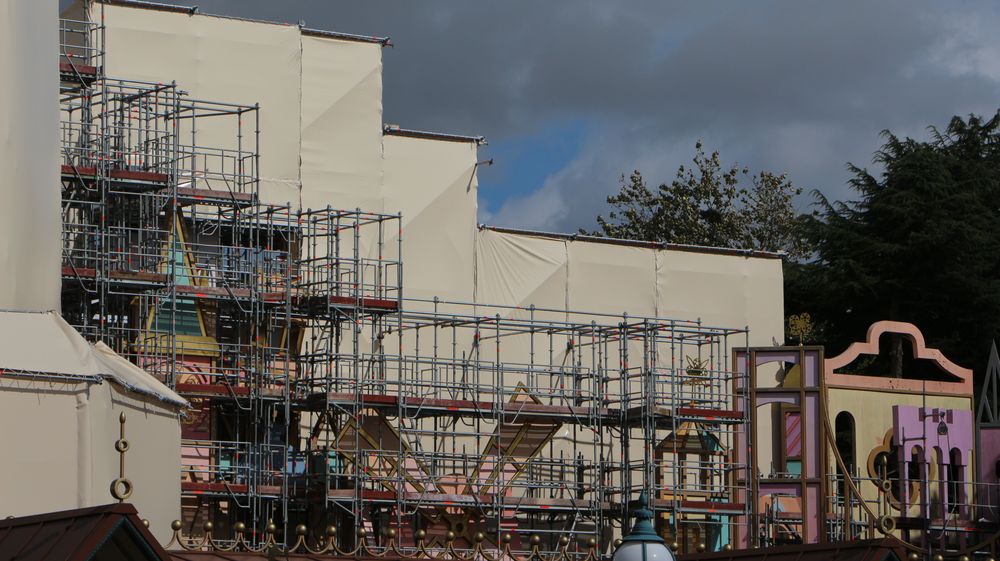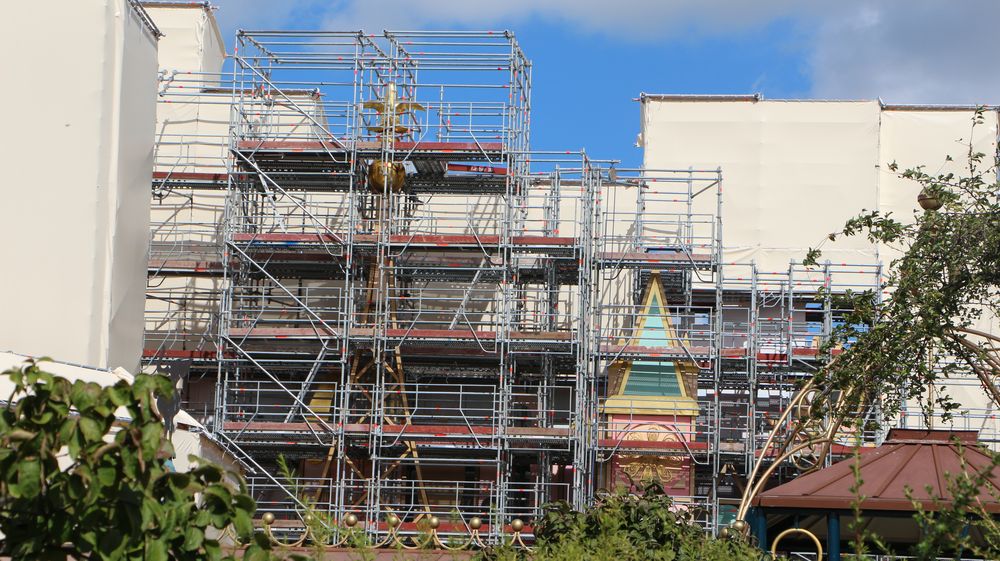 Dernier coup de peinture à l'entrée de fantasyland coté Castle Stage. La différence de rose est visible autour des fresques.
The last touch-up of paint performed on the input side of fantasyland Castle Course to show its limits bypassing the frescoes already present before. The difference of pink isvisible .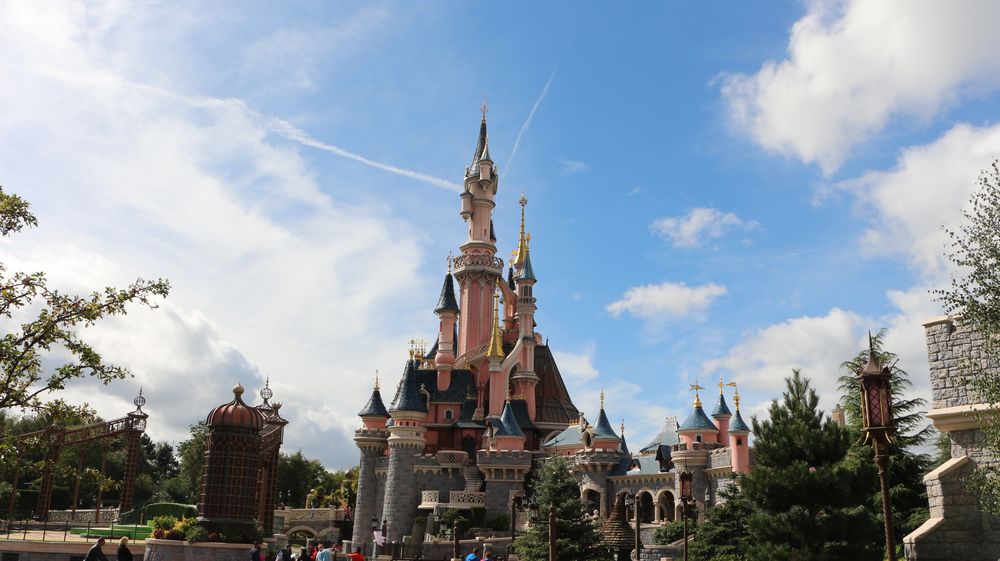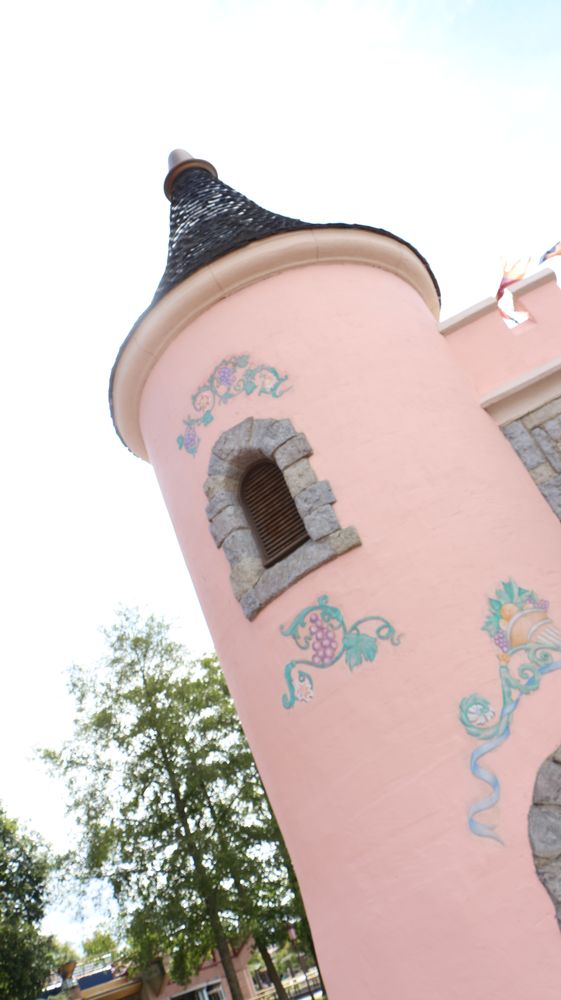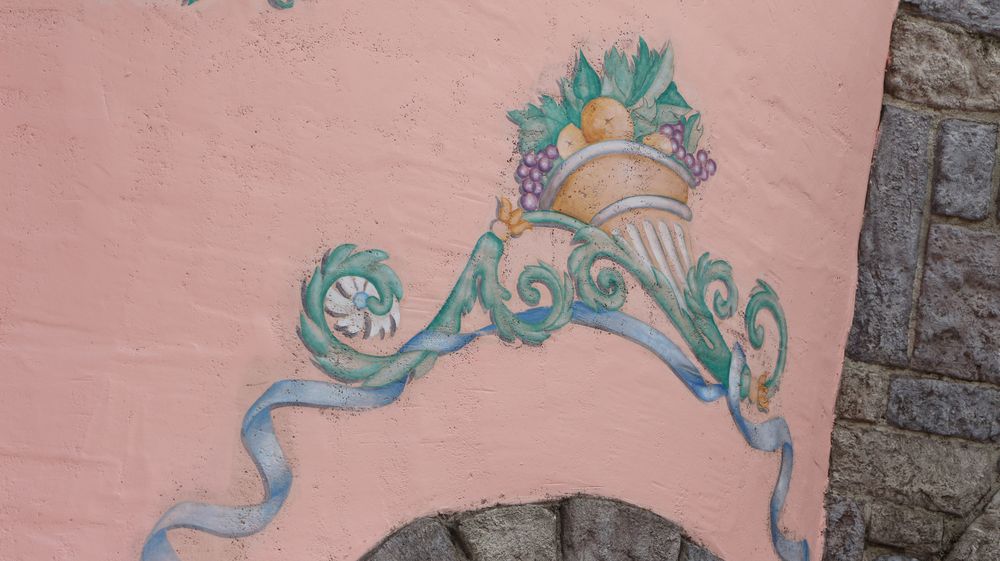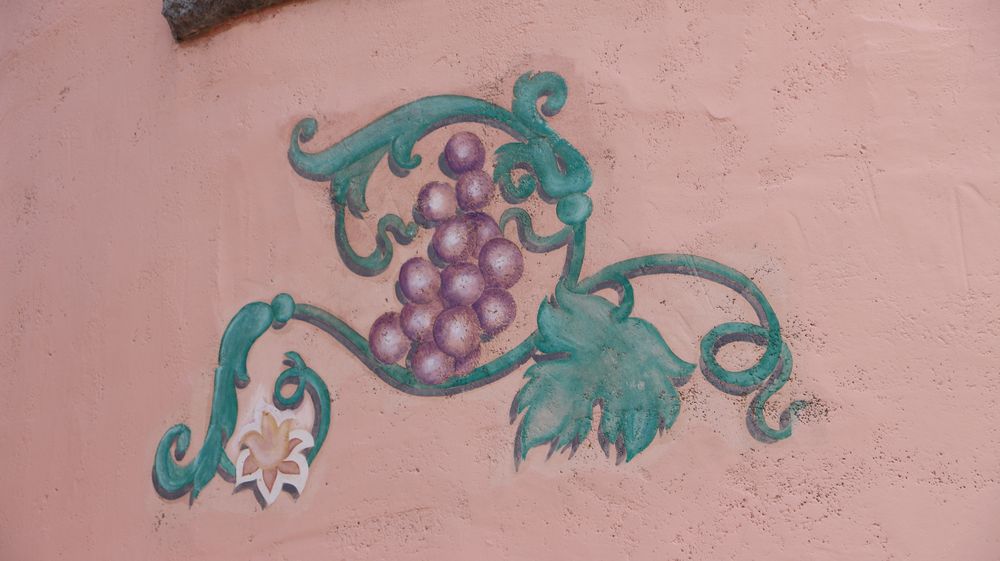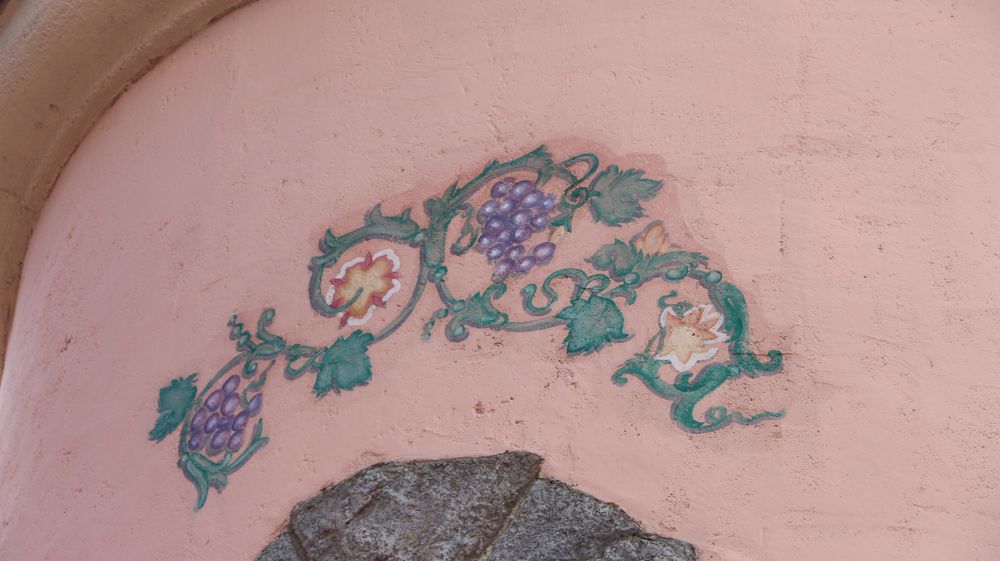 Rien à signaler à Discoveryland mis à part le colis suspect à l'entrée du land. Un chien renifleur fera une intervention, fausse alerte.
Nothing to report in Discoveryland, but aside the suspiciouspackage at the entrance of land. A sniffer dog will make an intervention, false alarm.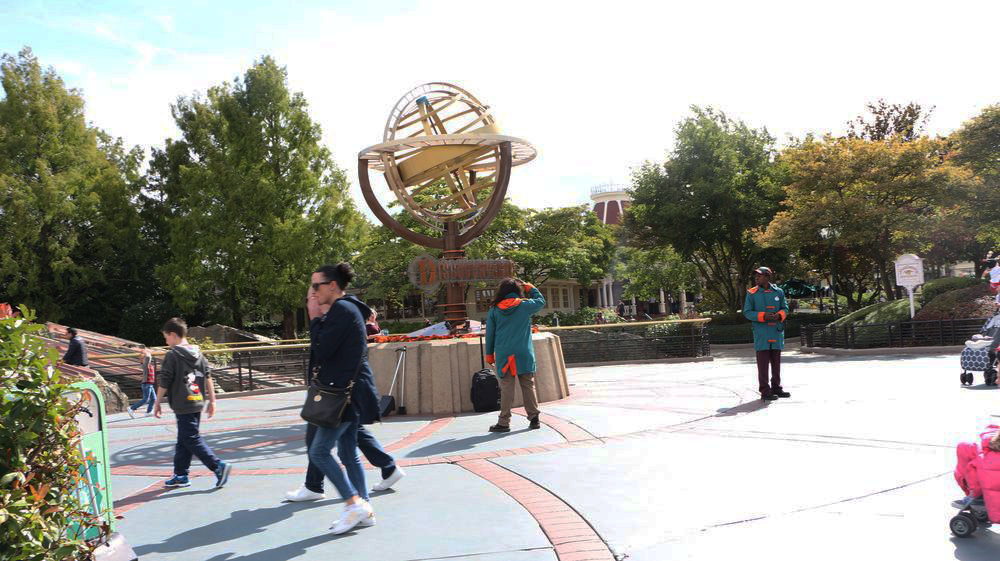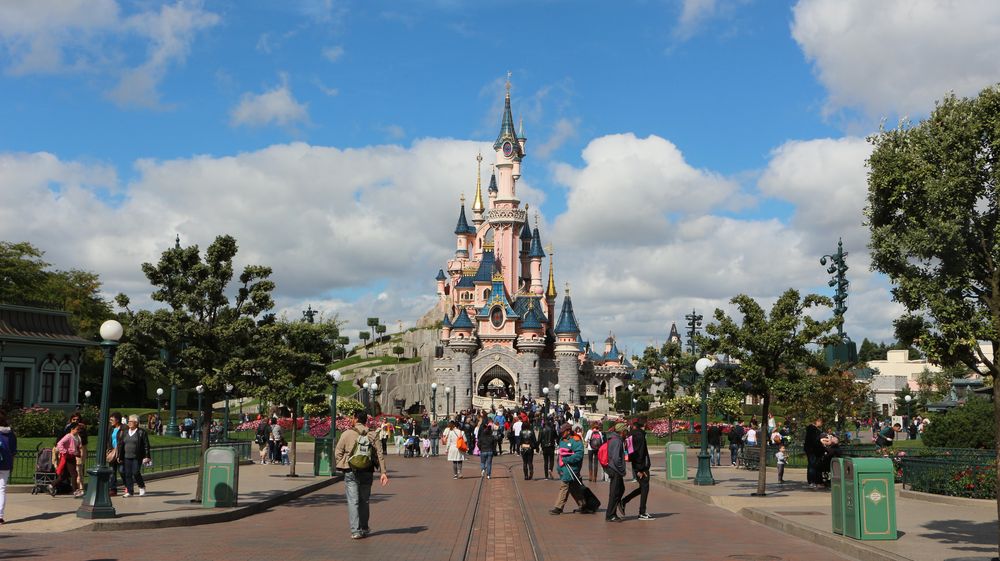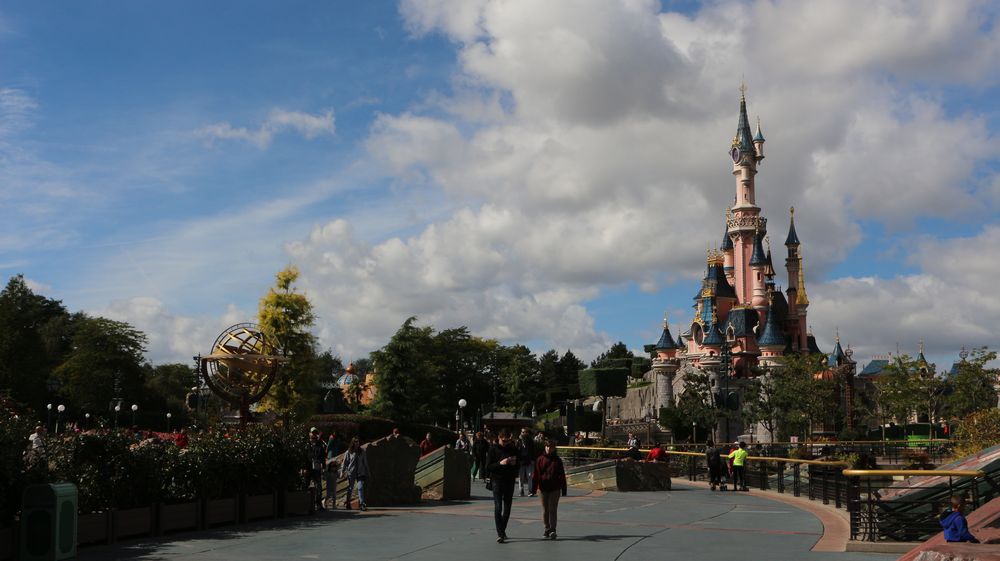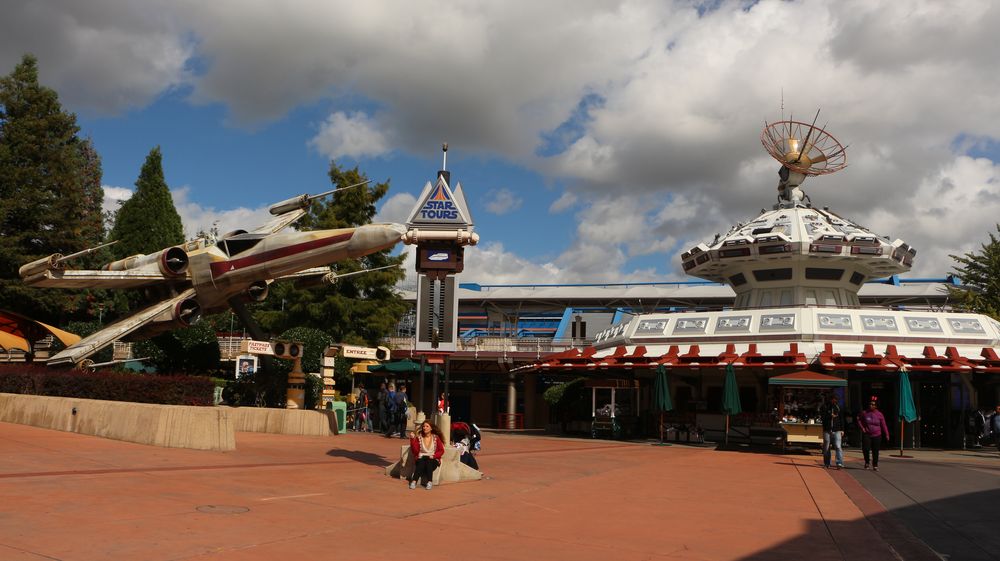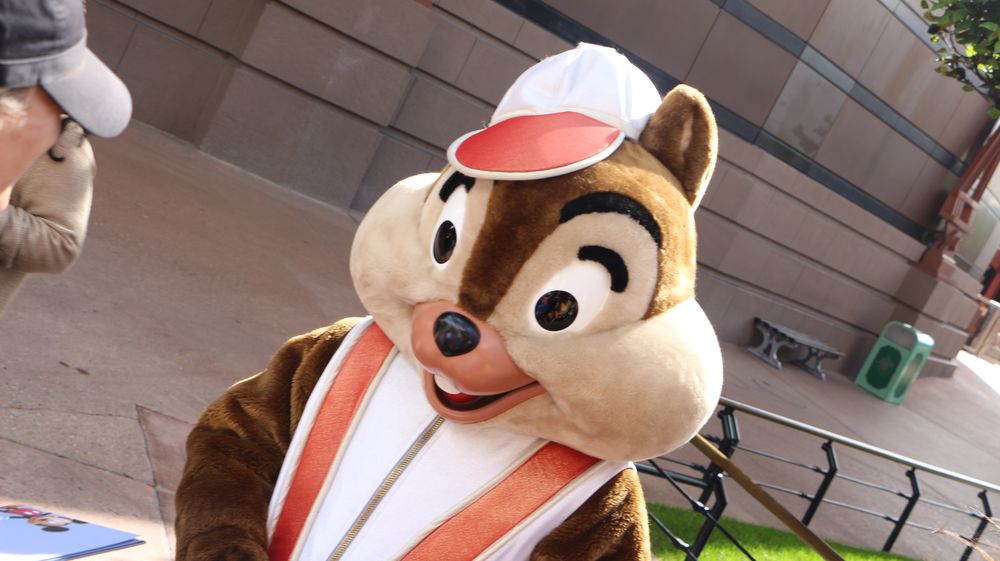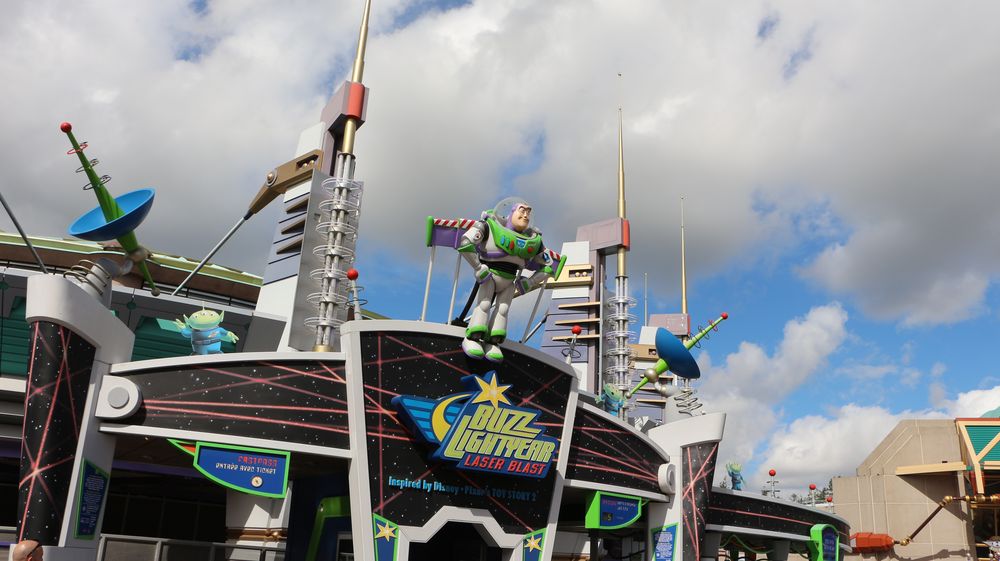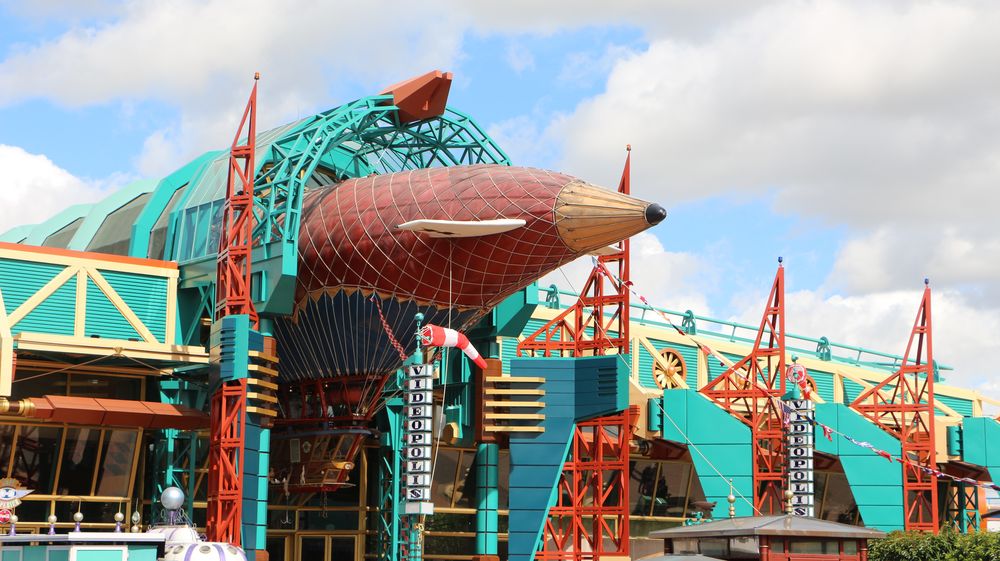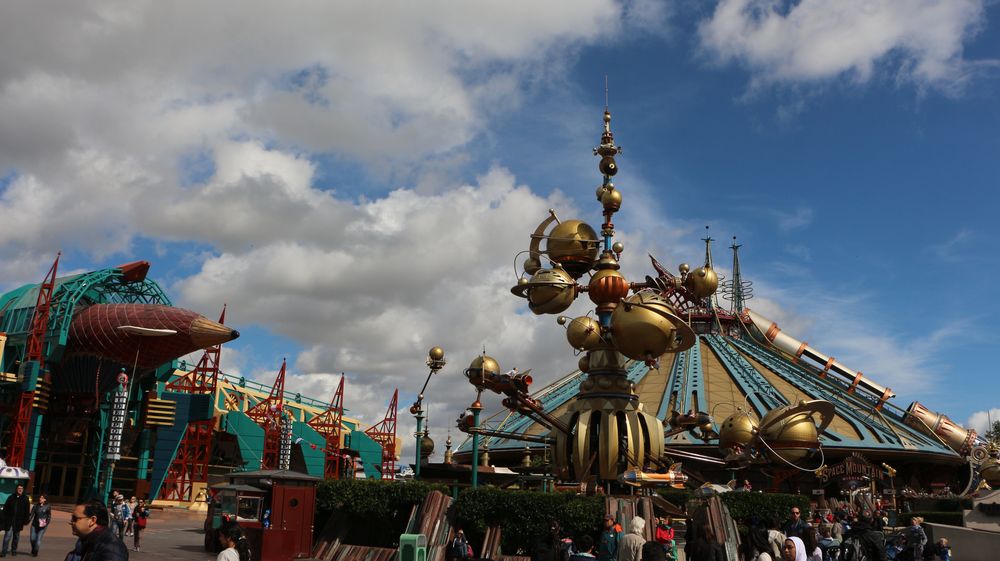 Noël est arrivé en boutique…. Mais on attend toujours les produits pour Halloween.
Christmas Merchandise is come back in the shops …. But weare still waiting for Halloween products.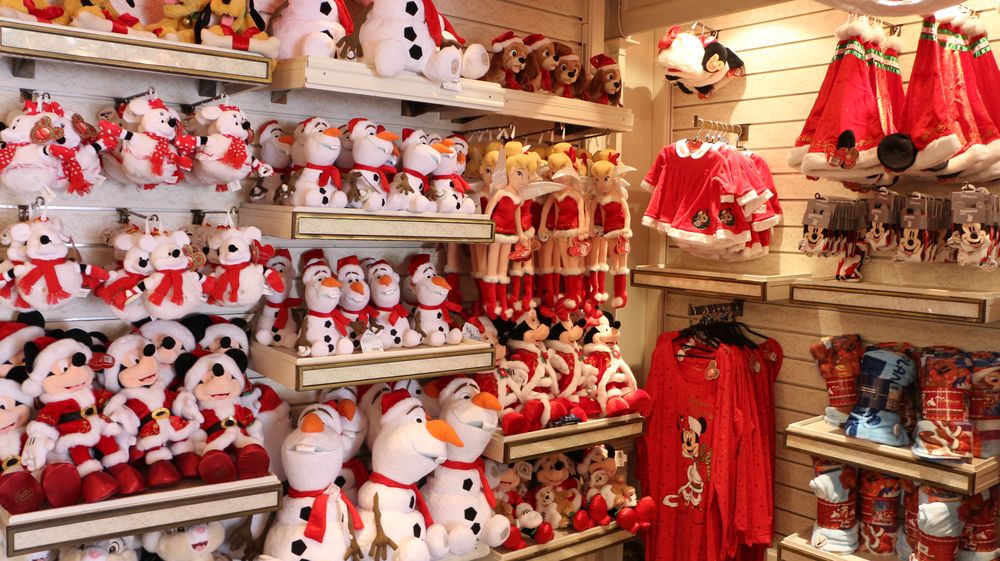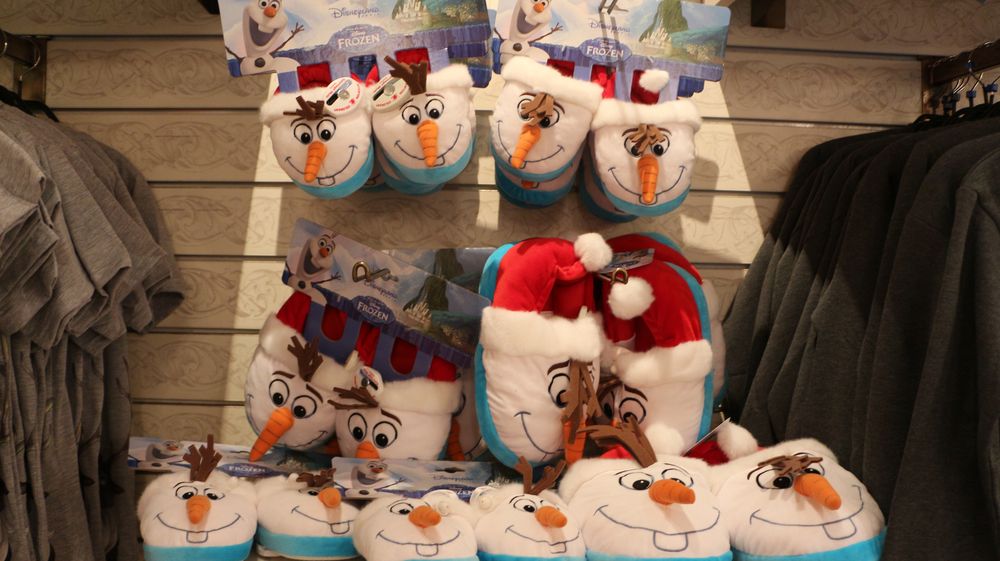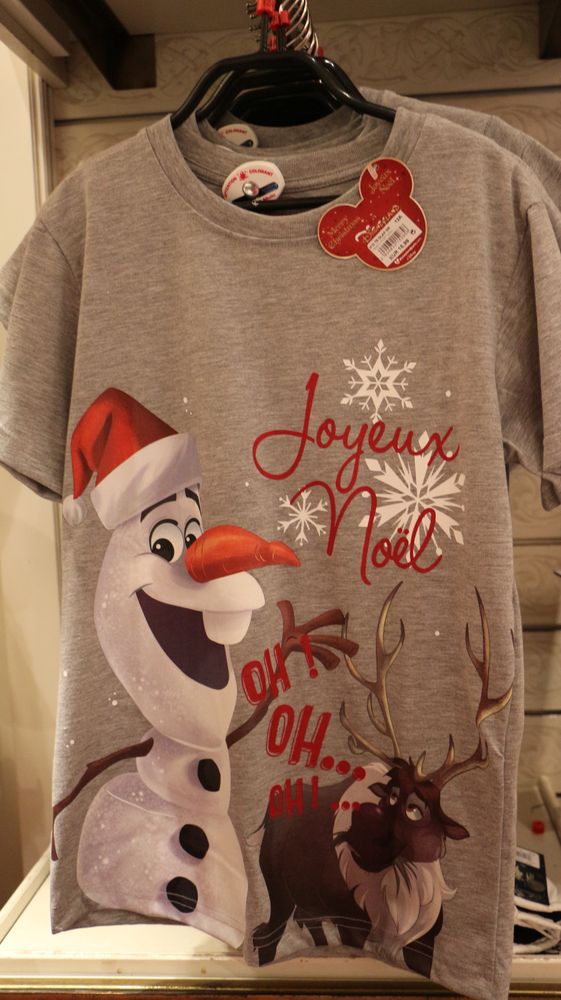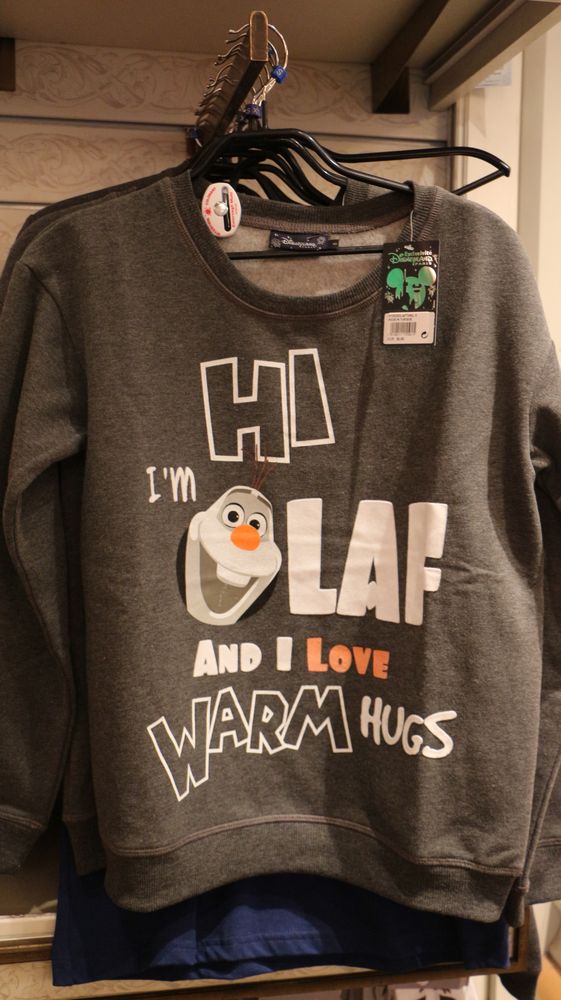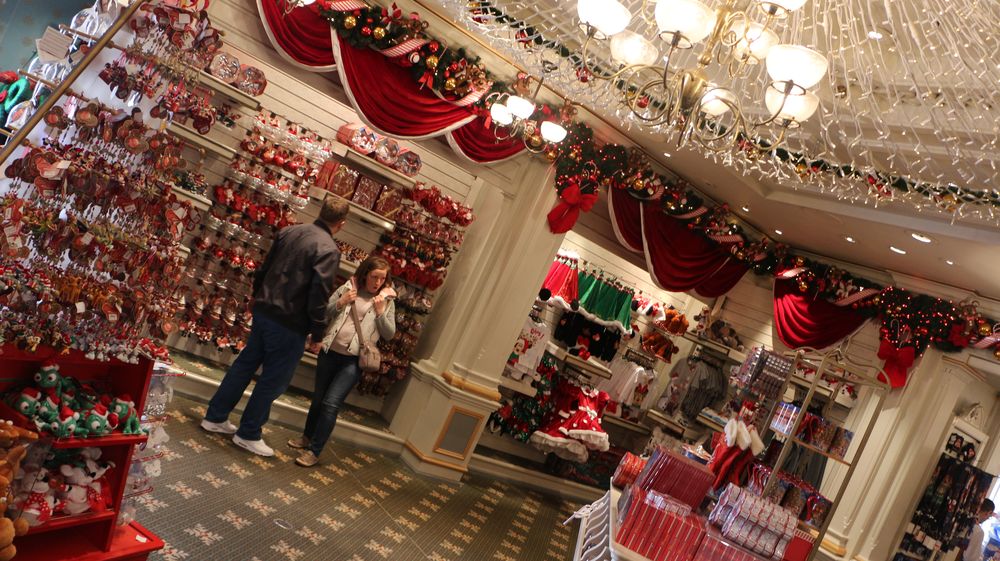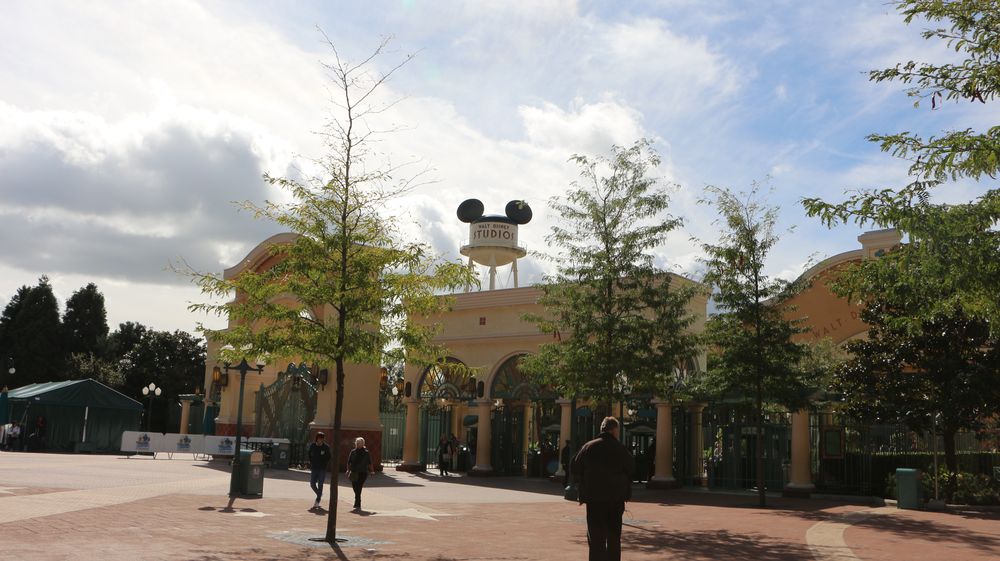 Au parc Walt Disney Studios Animagique progresse doucement avec pour nouveauté une couche de peinture dans la partie intérieure des rubans à l'entrée de la salle de spectacle et au dessus de l'entrée de la zone d'attente.
At Walt Disney Studios, Animagique little progress with a coat of paint in the interior of the rotating ribbons at the entrance and the first coat of paint above the entrance to the waiting area.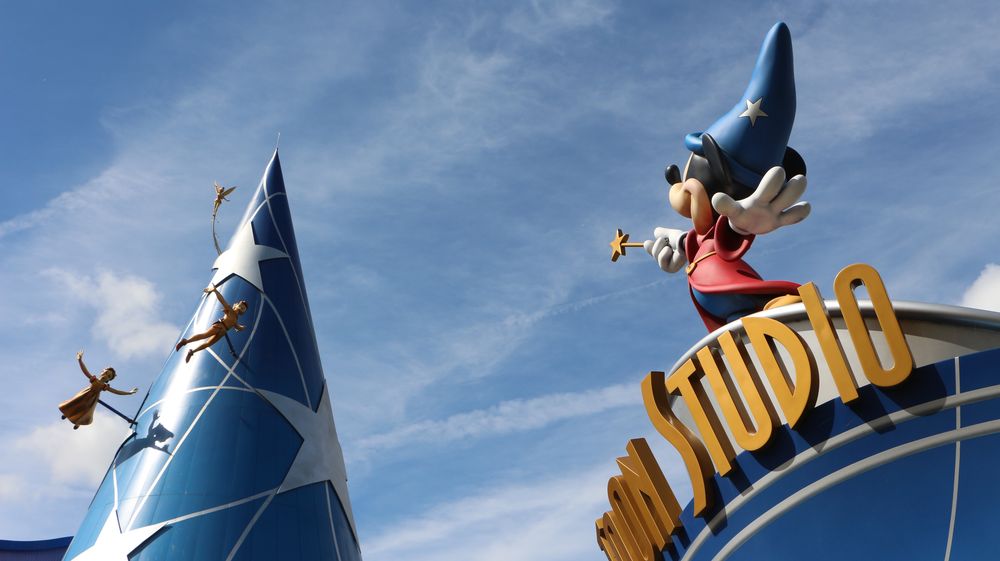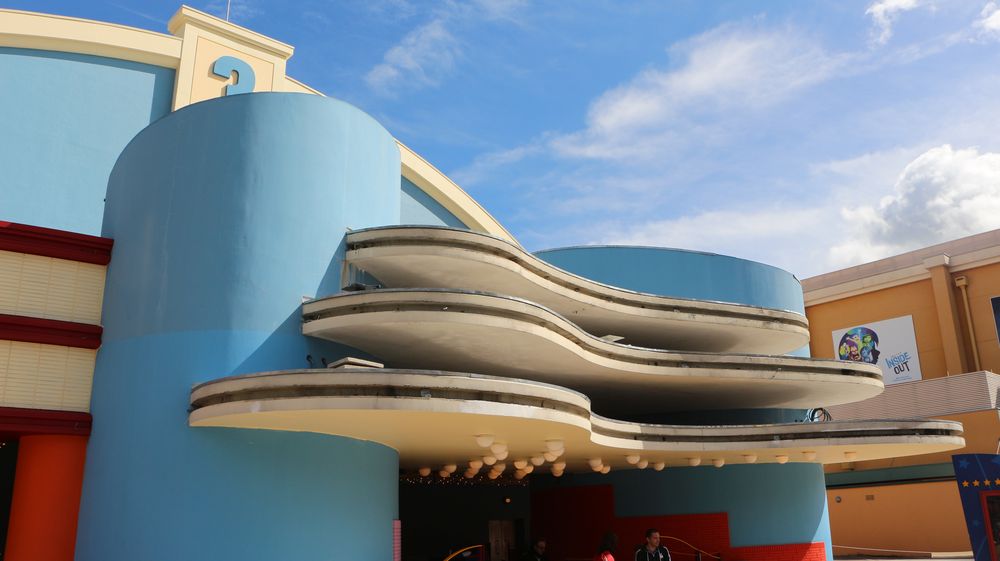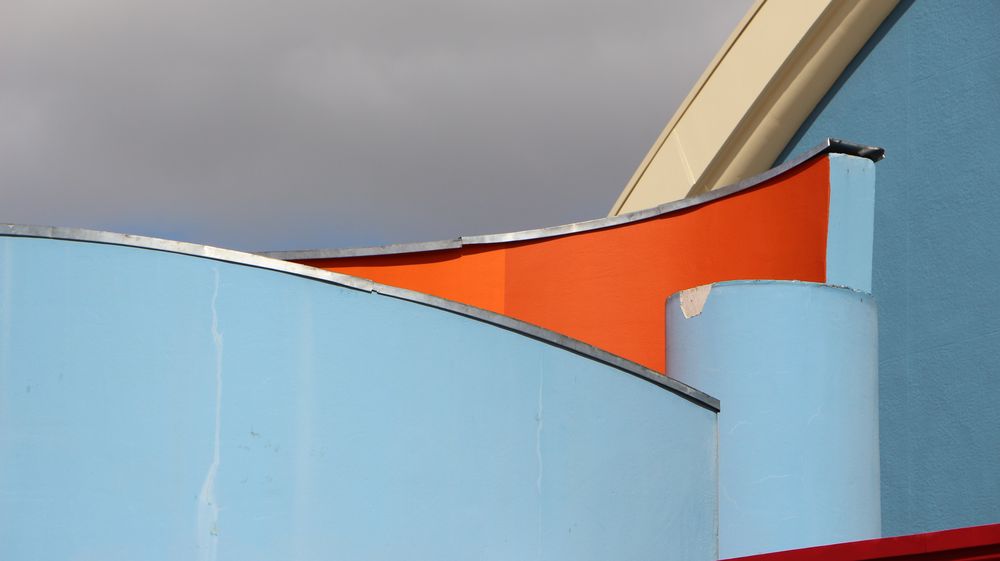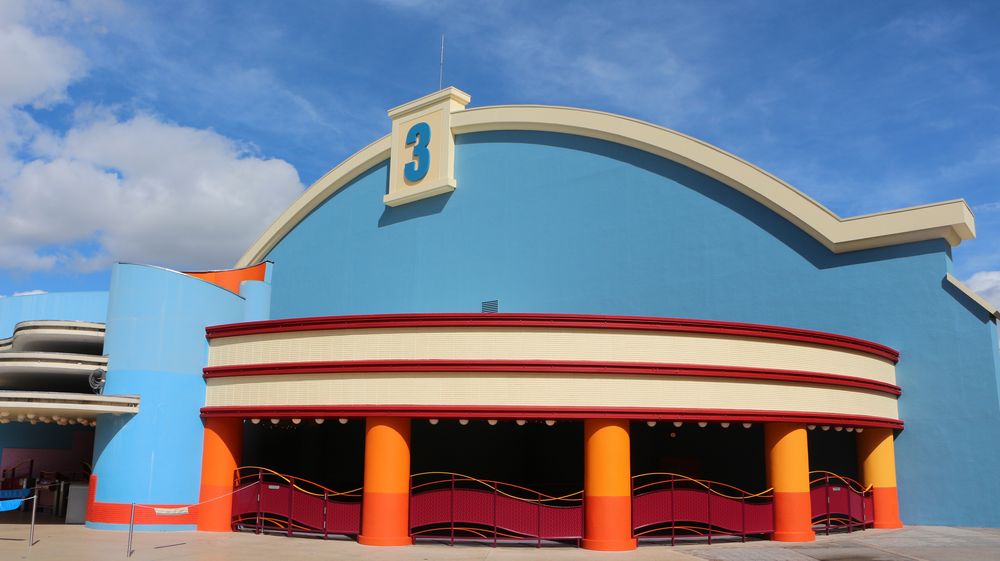 Crush's Coaster en fermé pour rénovation annuelle.
Crush's Coaster is closed for the annual renovation.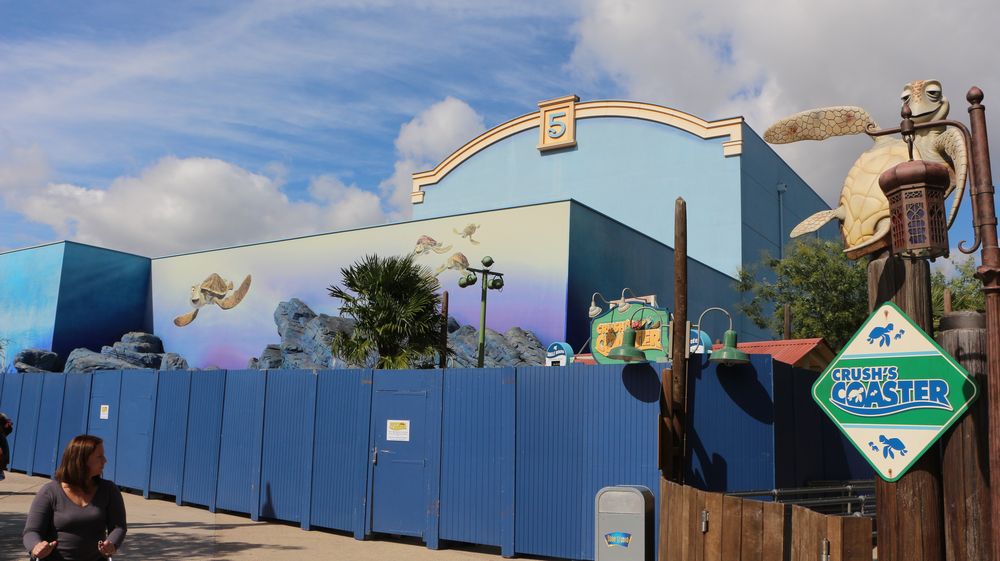 Sinon rien à signaler dans le parc, que ce soit à Toy Story Playland ou à Ratatouille.
Otherwise nothing to report in the park, nothing in PlaylandToy Story and in  Ratatouille.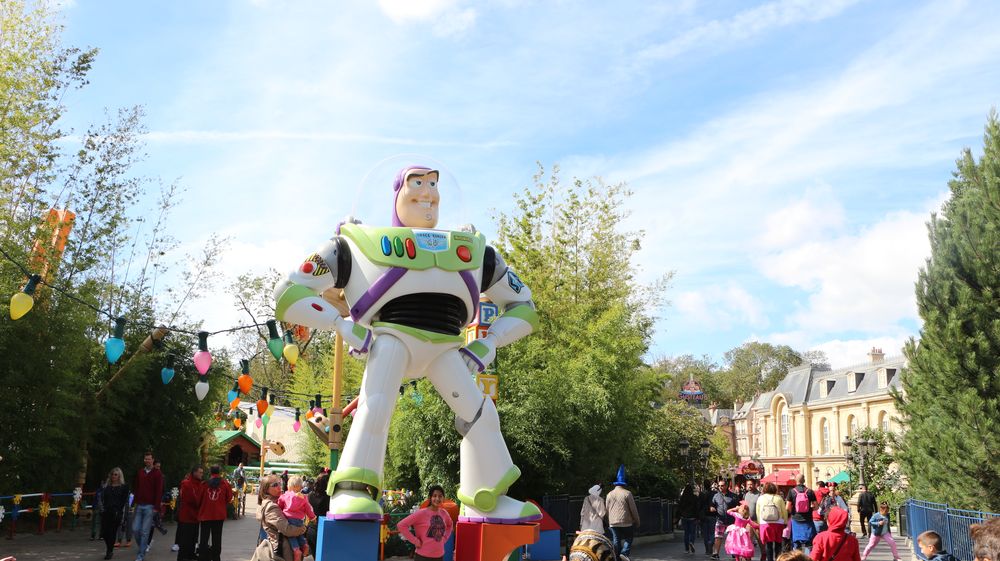 La scène de « Place des Stars » est totalement démolie.
The Stage in « Place des Stars » (place of Stars)is now totally demolished.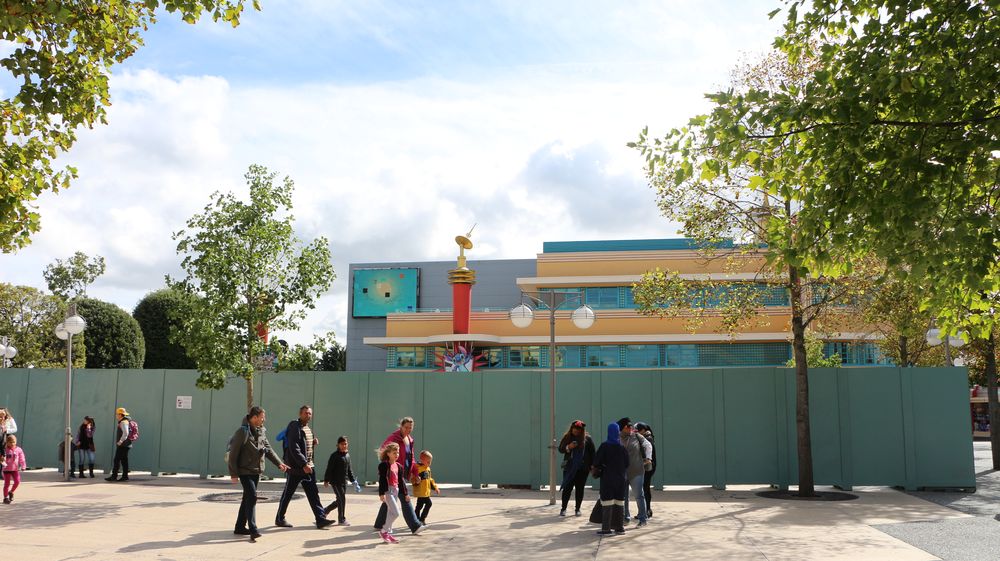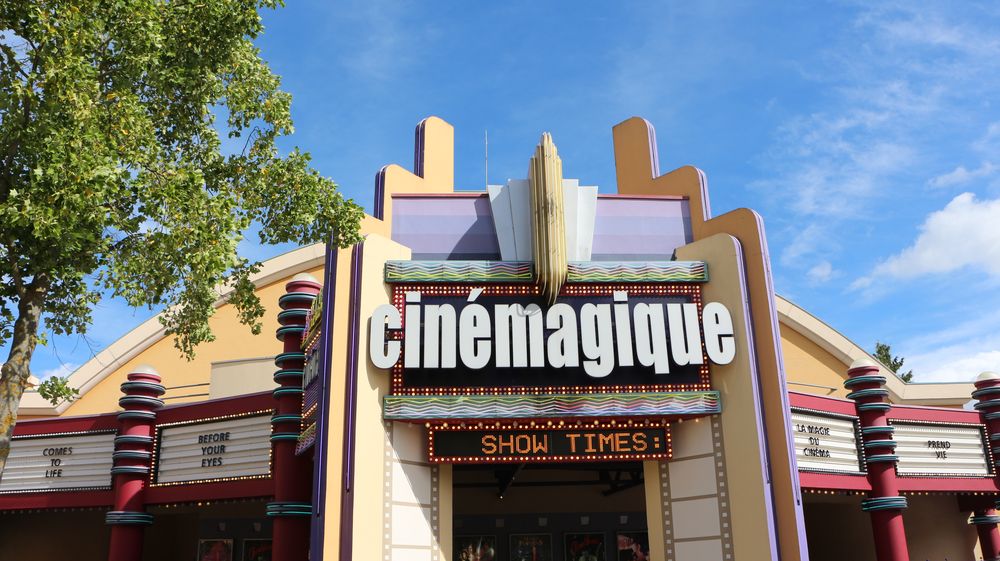 Passons par le Disney Village pour rejoindre l'hotel Newport Bay Club
Let's go to the hotel Newport Bay Club.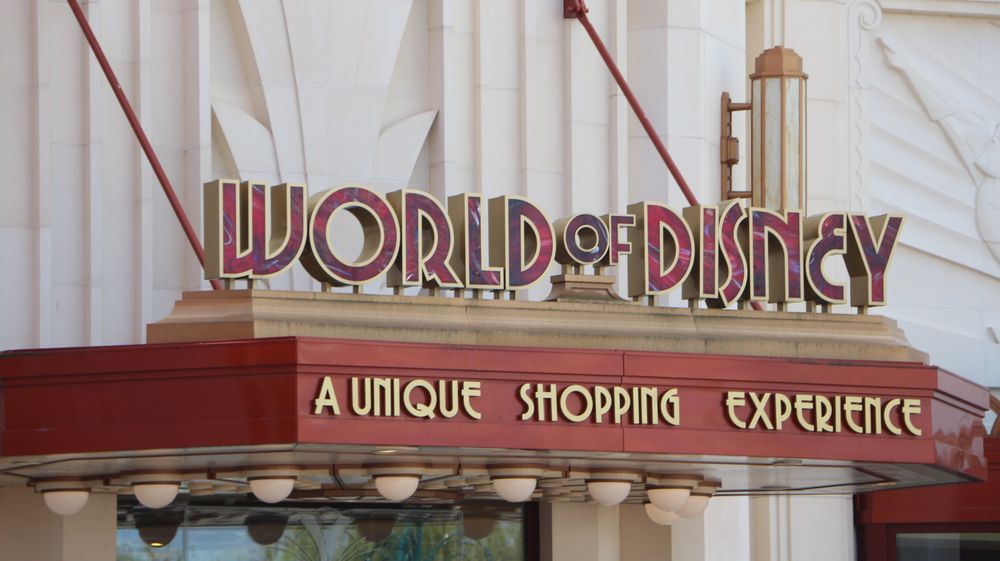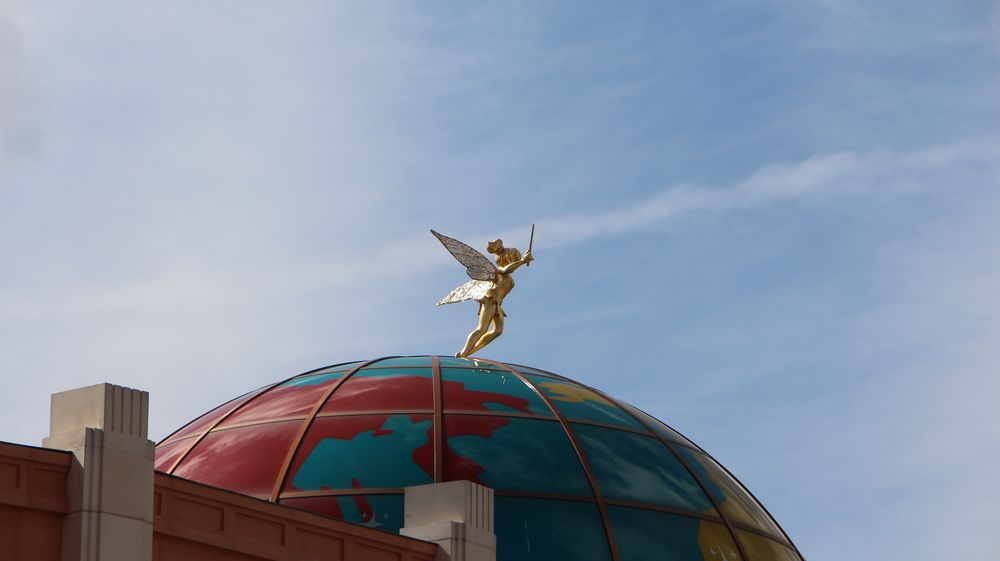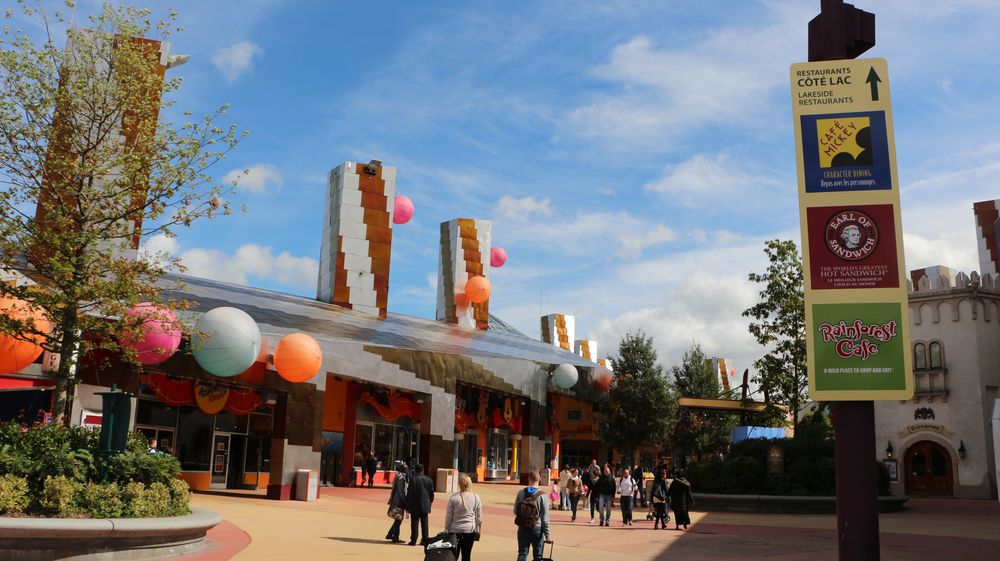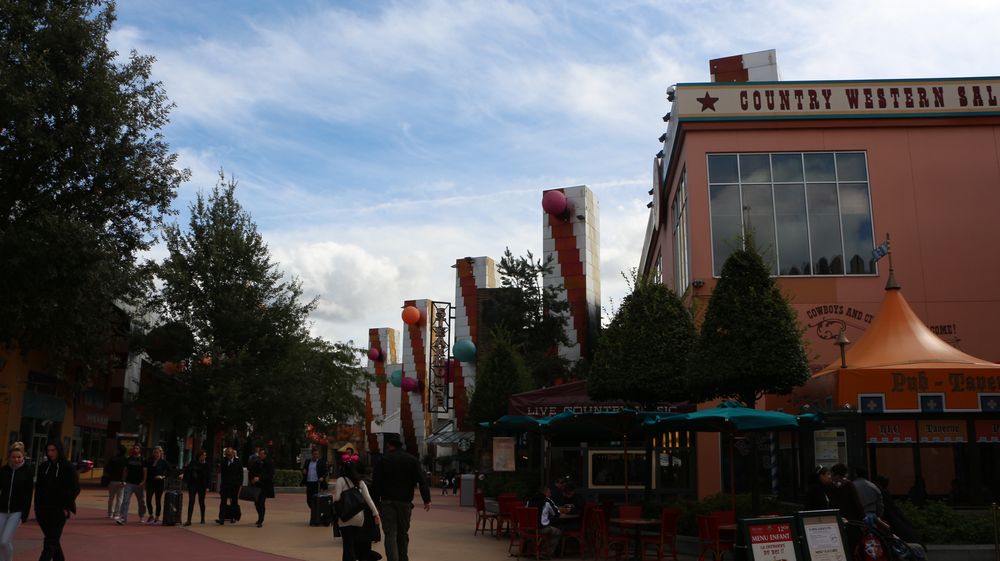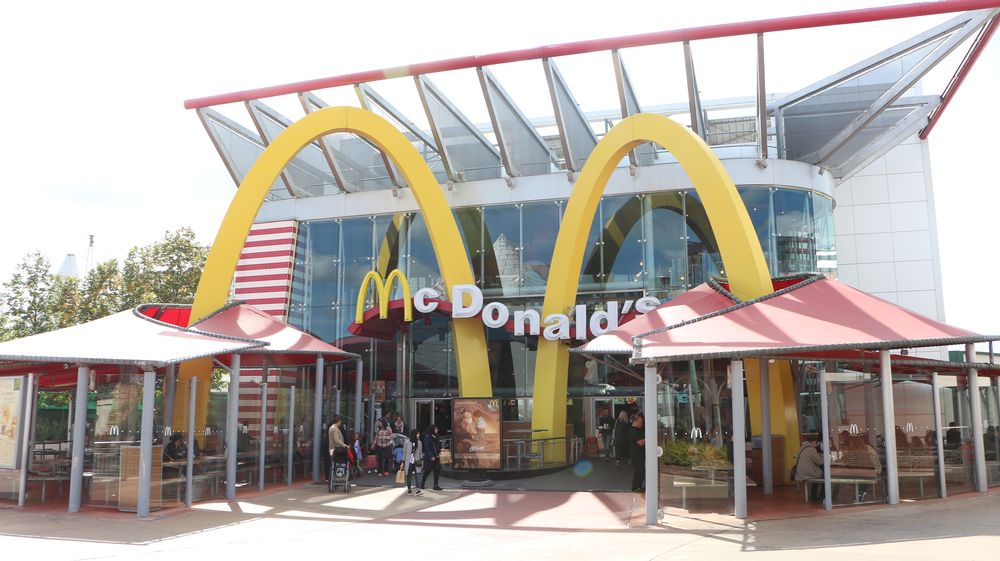 A l'hôtel New-York, plusieurs chantiers sont en cours au Rockefeller Plaza. Le premier concerne la fontaine à l'entrée de l'hôtel avec la rénovation des sols de la place. Le second (visible sur notre photo) est le remplacement du sol béton par un sol pavé le long de la rive new-yorkaise coté hôtel.
At the New York Hotel, several projects are underway at the Rockefeller Plaza. The first is the fountain at the entrance of the hotel with the renovation of the floor instead of the hotel. The second (shown in photo) is the replacement of the concrete floor by pavers along the New York shore side hotel.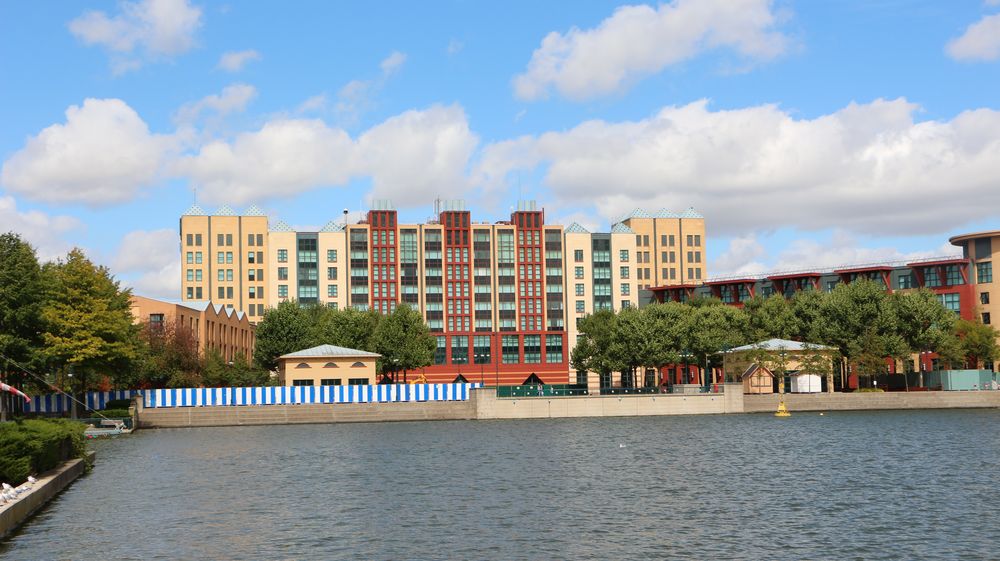 La réhabilitation des sols de la promenade du Lac Disney se poursuit en allant de l'hôtel New-york au Sequoia Lodge en passant,  sauf sur les ponts, du béton aux pavés .
This soil rehabilitation continues on the promenade of the lakeDisney from the Hotel New York to Sequoia Lodge.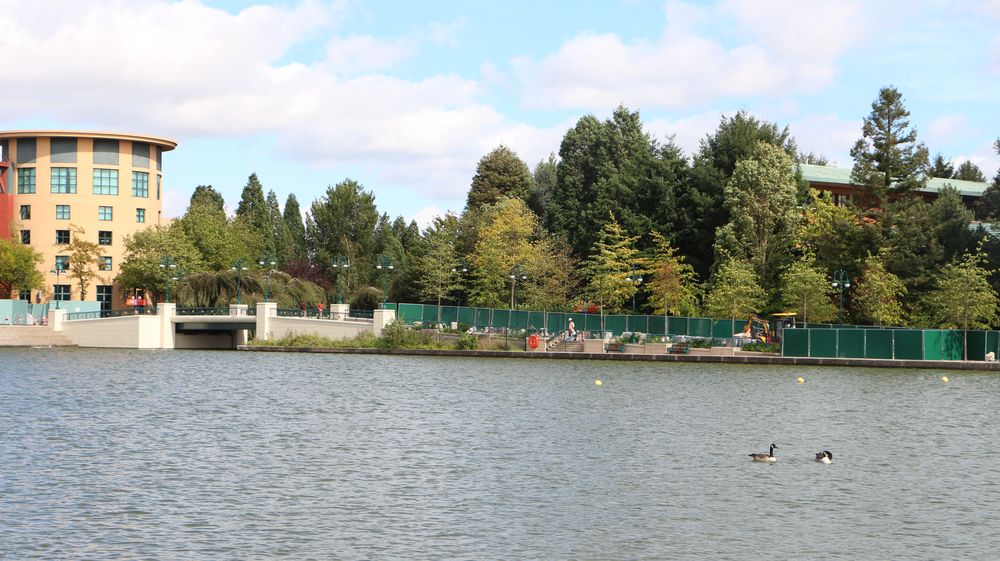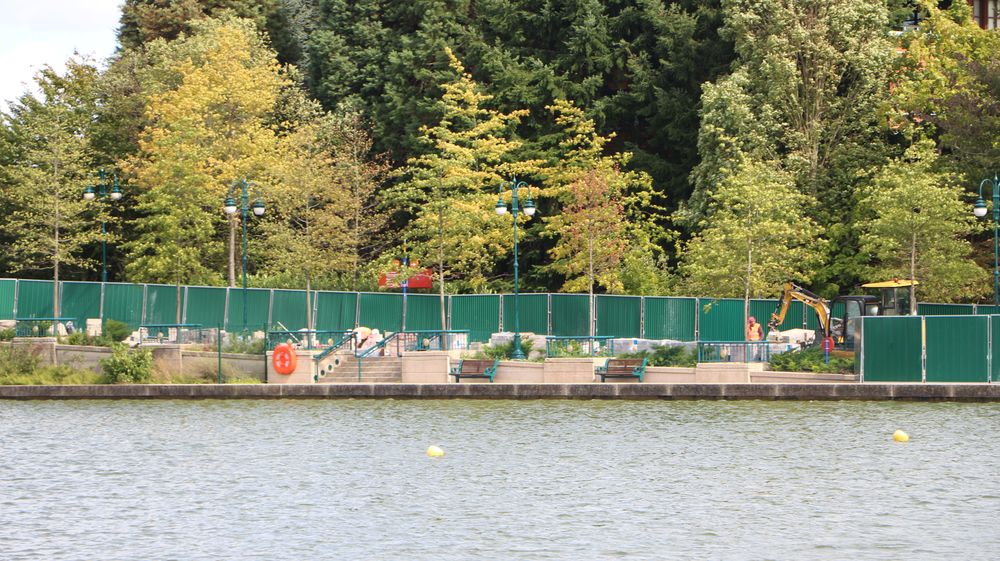 Et Enfin, la rénovation du pont joignant le Sequoia Lodge au Newport Bay Club touche bientôt à sa fin avec les dernières touches de peinture.
Finally the renovation of the bridge joining the Sequoia Lodge in Newport Bay Club arrives coming to an end with the final touches of paint.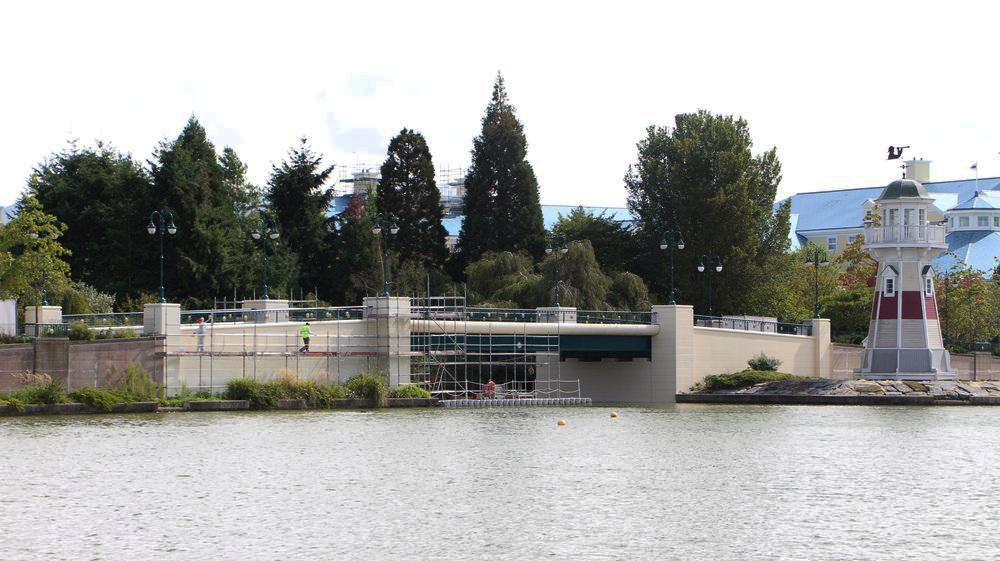 La rénovation du Newport Bay Club se poursuit touchant même pratiquement à sa fin après deux ans de travaux. Du côté de l'aile Est, les échafaudages ont disparu contrairement à l'aile Ouest et du bâtiment central. La pose du nouveau revêtement de façade est quasiment achevé. Mais attention, la tour de l'horloge et le auvent du hall côté parking le travail reste à faire.
The renovation of the Newport Bay Club continues and it'seven touching virtually to an end after two years of continuouswork. On the east side, the scaffoldings has completelydisappeared while west side the central building, the installation of the new facade coating is almost complete but beware, only lake side is in the enf because for the clock towerand the lobby of the parking side is in progress.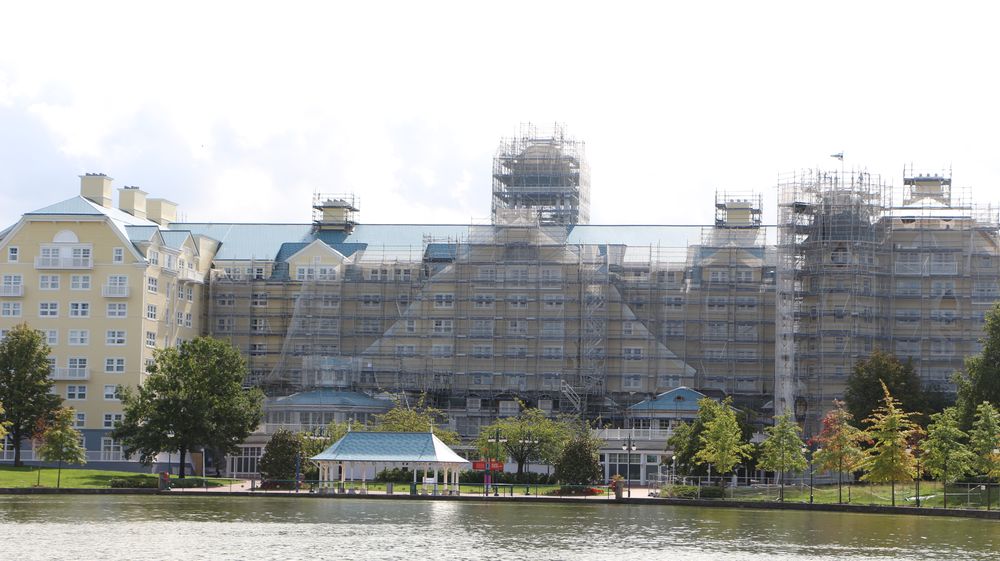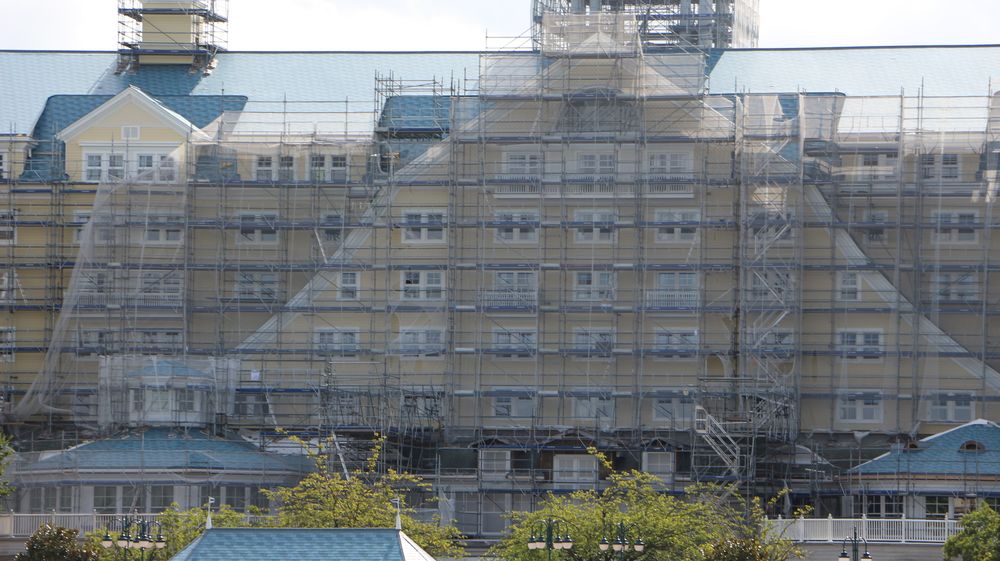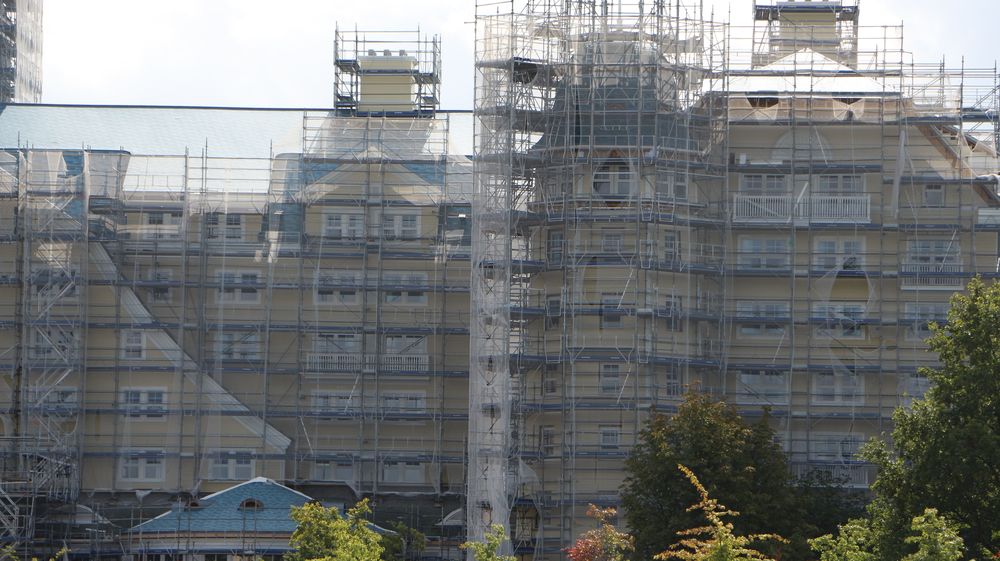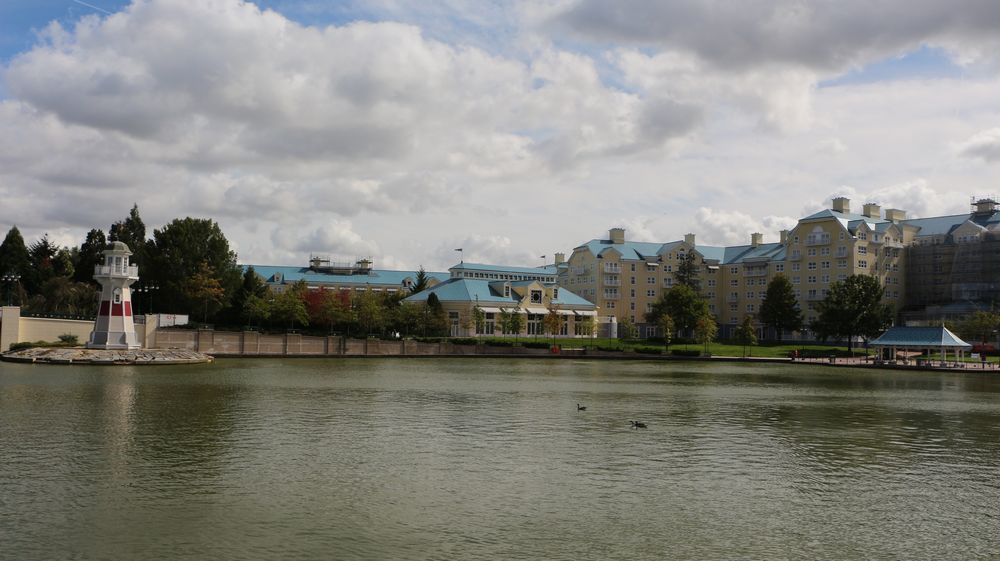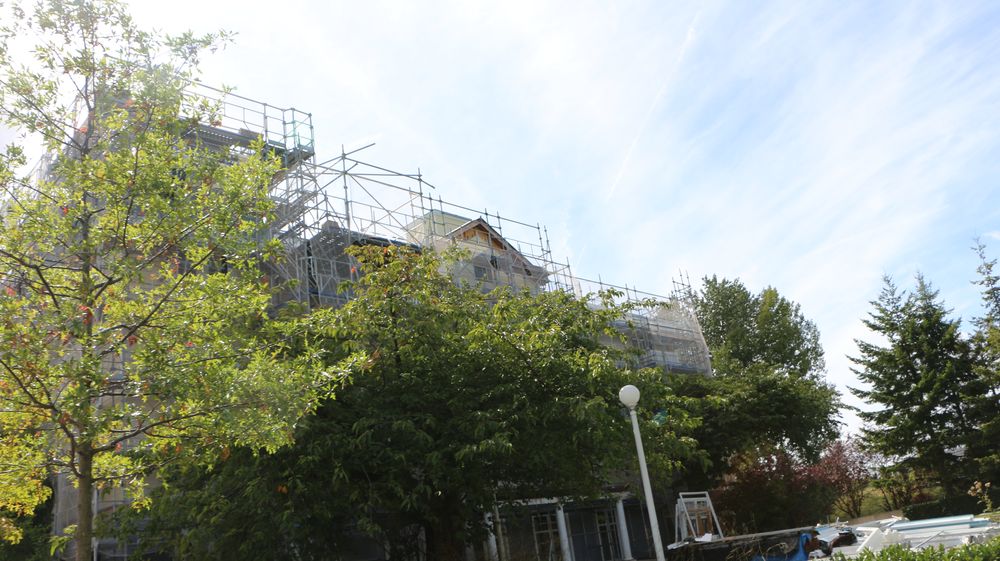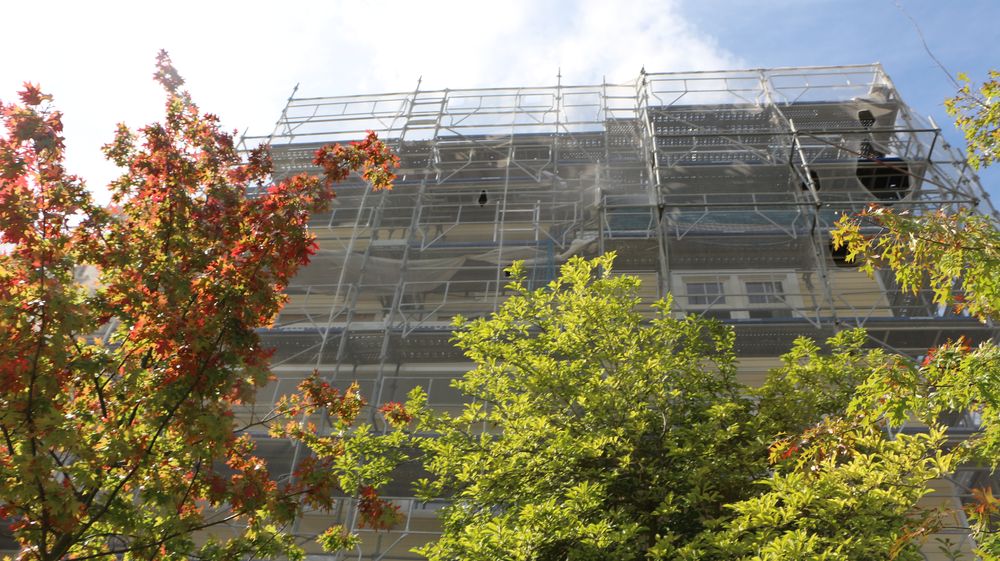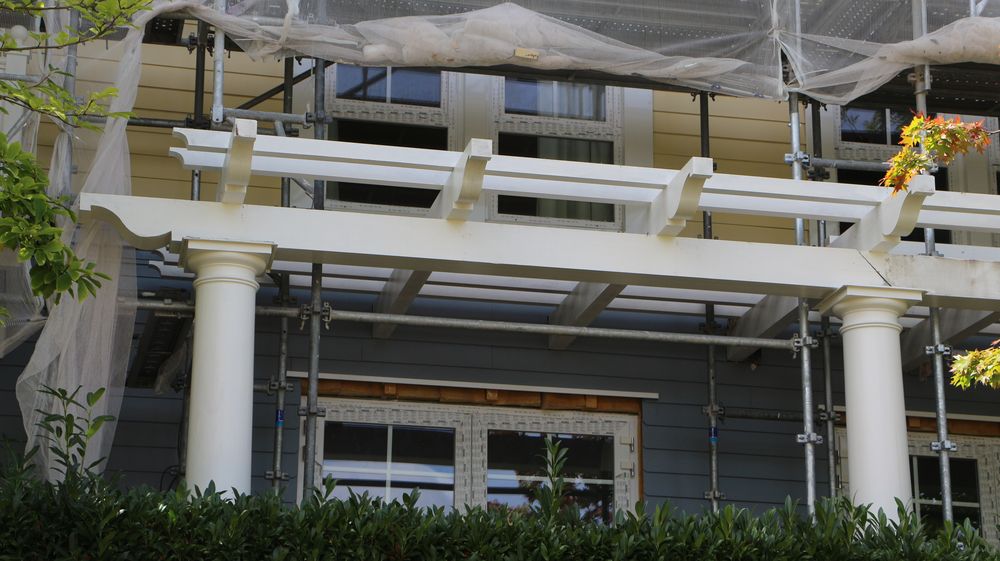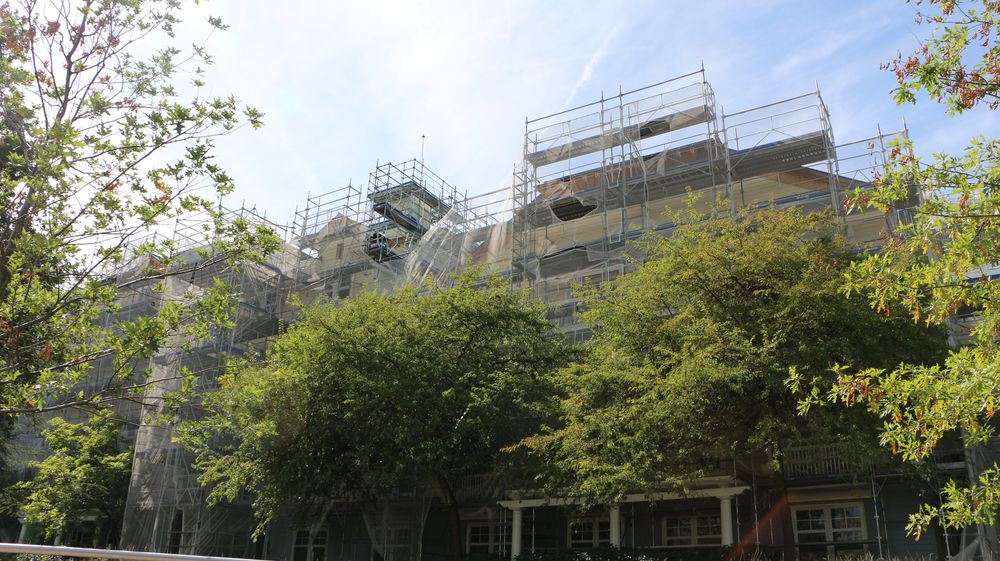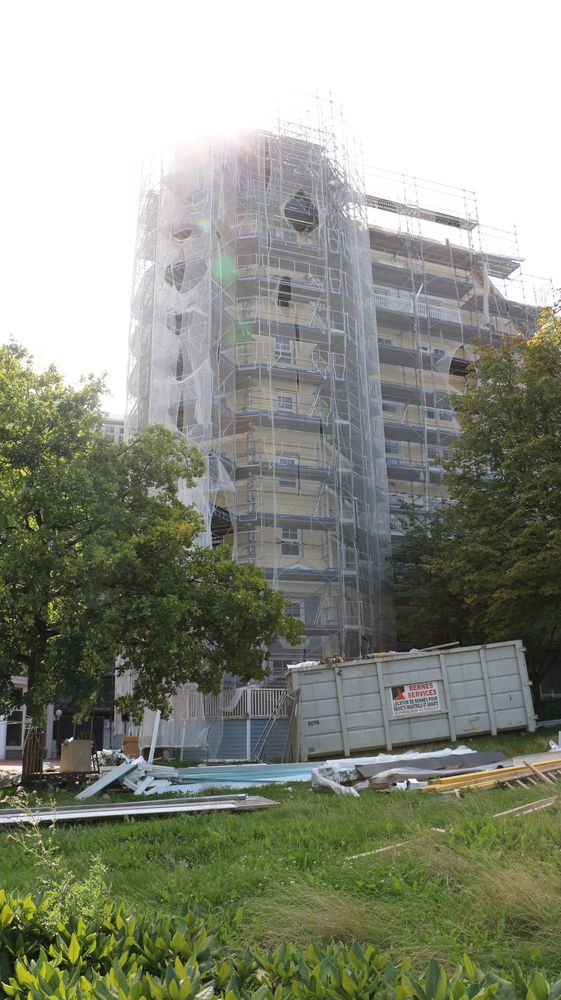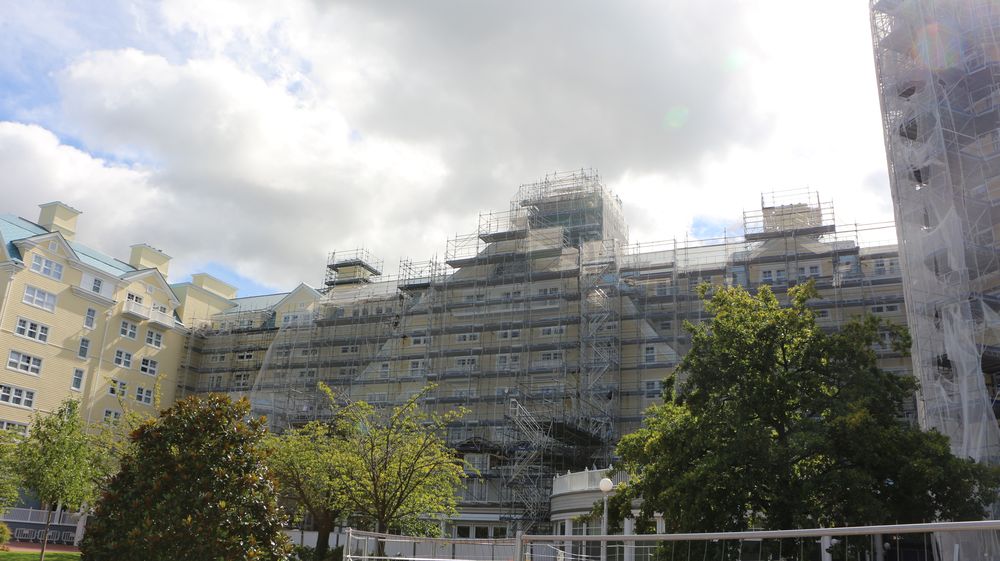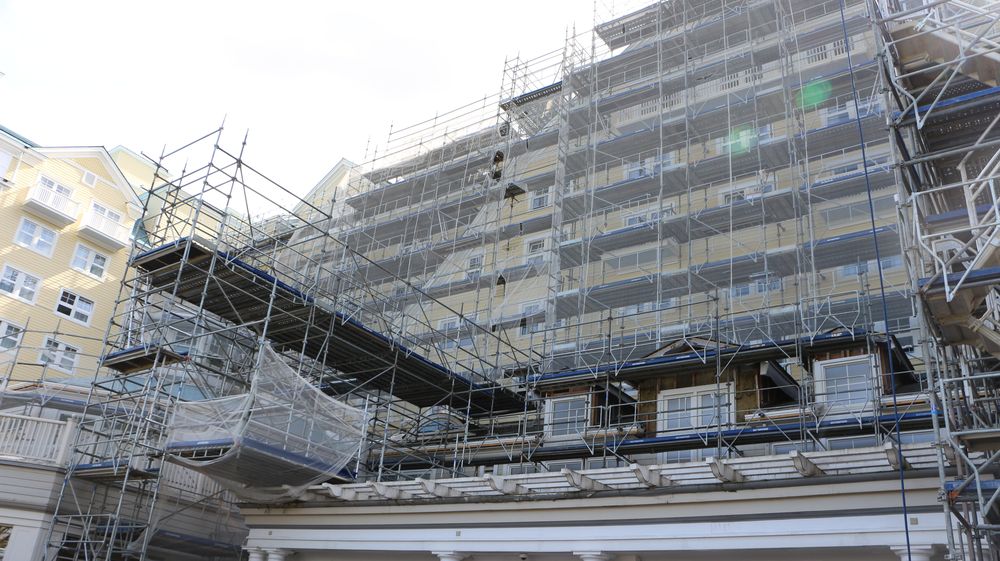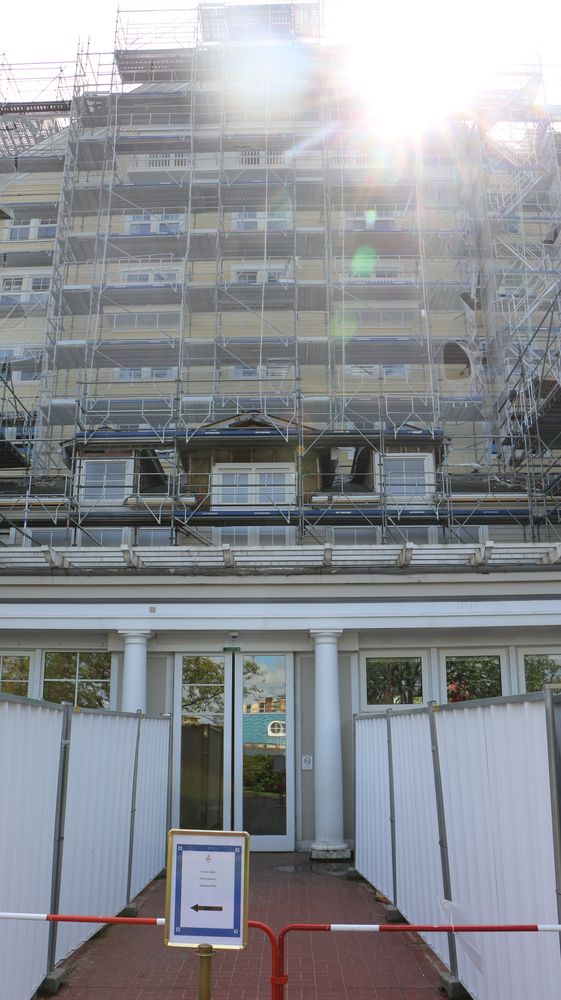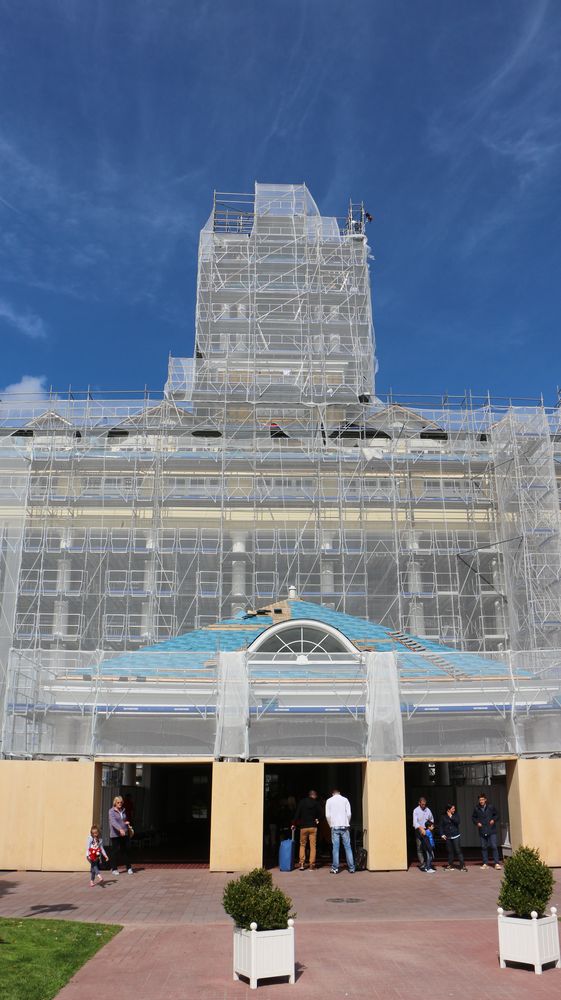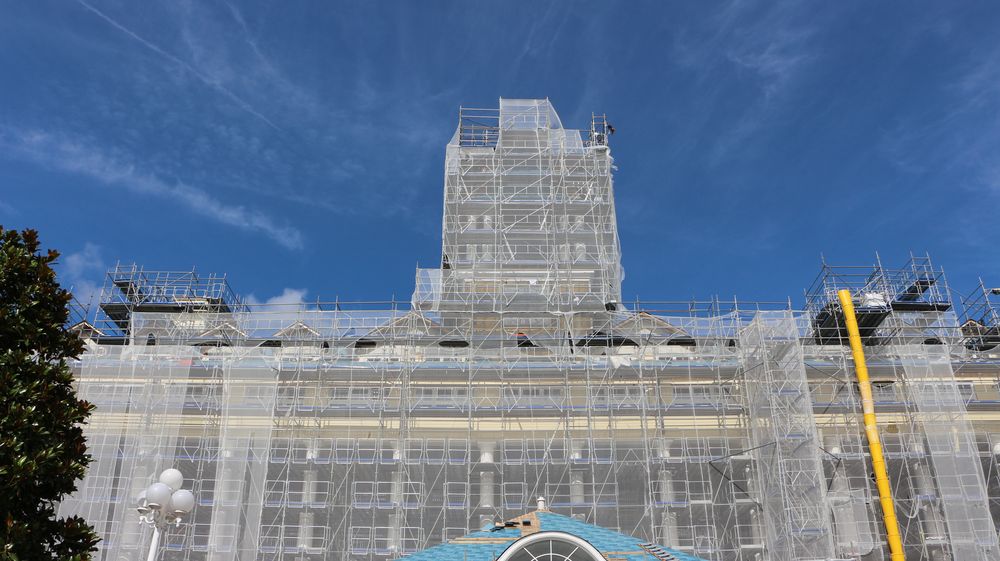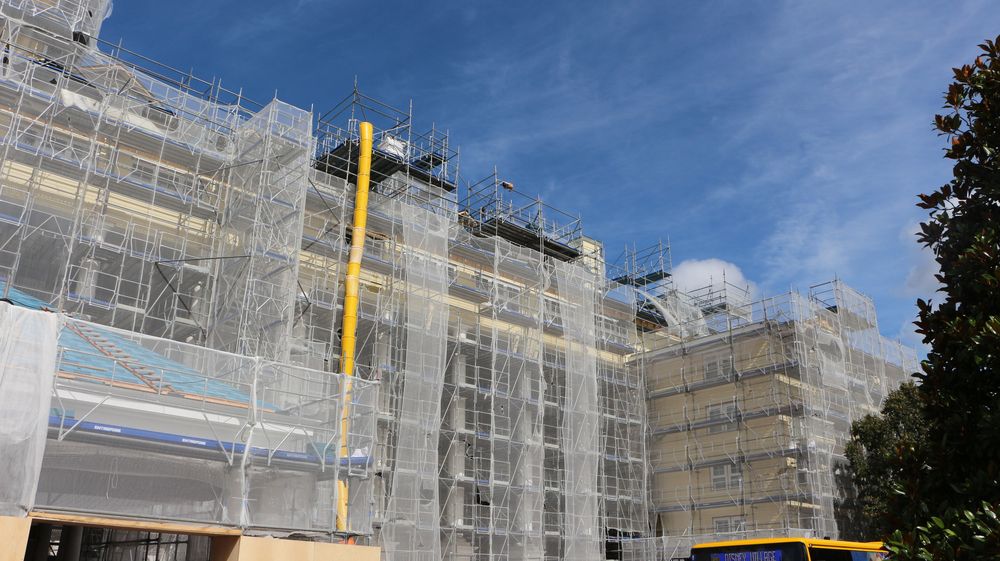 À l'intérieur, la rénovation du grand hall se termine, il ne reste plus que des petits détails.
Inside, the renovation of the main hall is over, there remainsonly the little retouchings.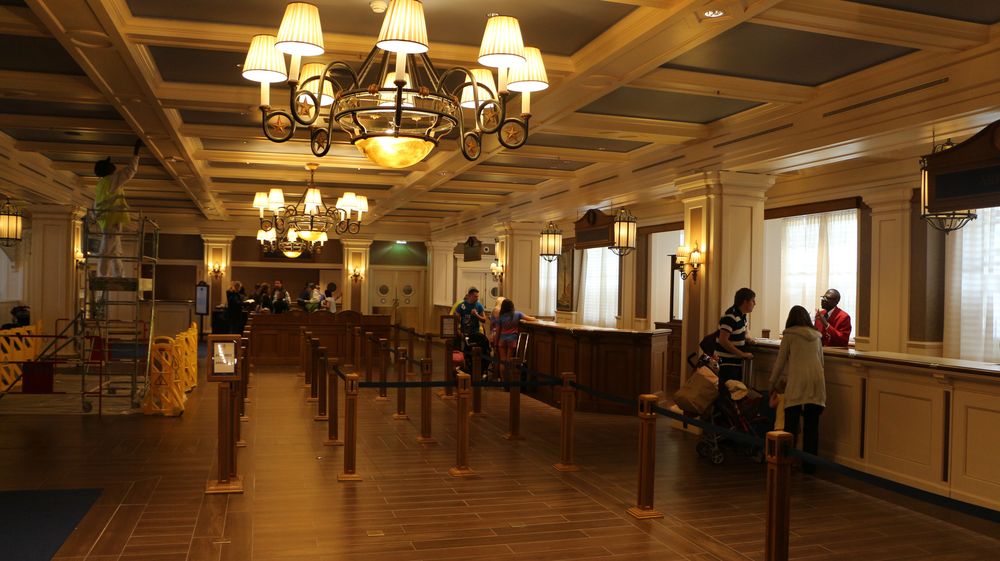 Et pour terminer, nous vous proposons en bonus, de (re)découvrir la parade «Paint the Night » de Disneyland en Californie comme vous ne l'avez jamais vue.
And finally to end this article we propose to (re-)discover the parade « Paint the Night » at Disneyland in California likeyou've never seen.
Merci de votre fidélité.
A bientôt
Thank you for your loyalty.
See ya real soon.