Bonjour à tous, voici le retour de la saison d'Halloween et de noël 2022 de Disneyland Paris.
Avec l'arrivée d'halloween et de noël, le programme du 30eme anniversaire est légèrement modifié. Le spectacle « Dream…and Shine Brighter!» est arrêté et reprendra en Janvier.
Hello everyone, here is the return of the 2022 Halloween and Christmas season of Disneyland Paris.
With the Halloween and Christmas season, the 30th anniversary program is slightly modified. The show « Dream… and Shine Brighter! » is stopped until January.
En attendant son retour, c'est une version super light qui le remplace avec « It's Time to Shine » d'octobre 2022 à janvier 2023.
While waiting for its return, it is a light version that replaces it with « It's Time to Shine » performed from october 2022 to january 2023. This is not a show or a parade, but a Happening.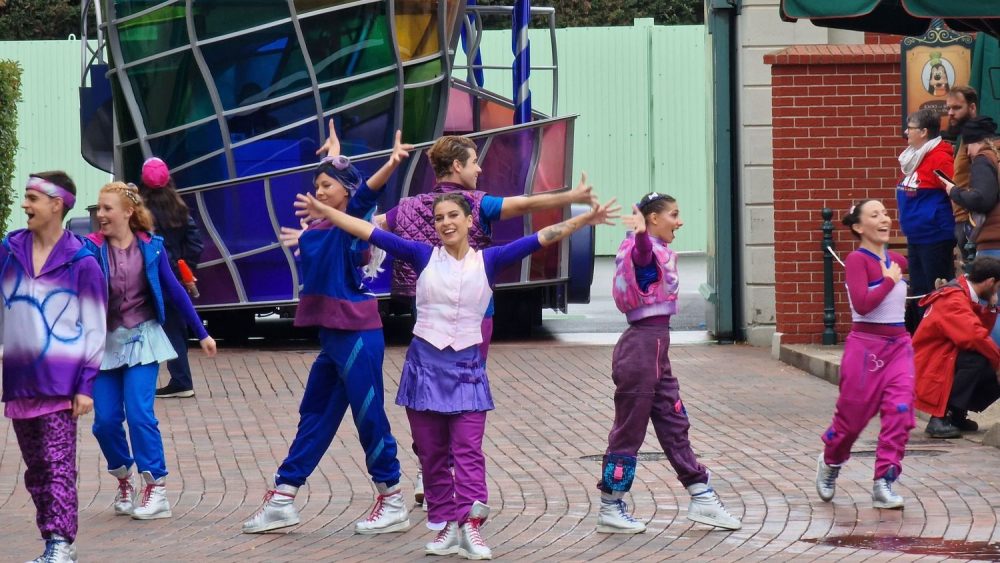 The Happening is too short and need more characters.
Now…
Halloween 2022
Cette année, nous avons constaté une nouvelle fois des diminutions partout : décorations, personnages visibles, spectacle et bonbon !
This year, we have once again seen decreases everywhere : decorations, meet and greet, show and candy!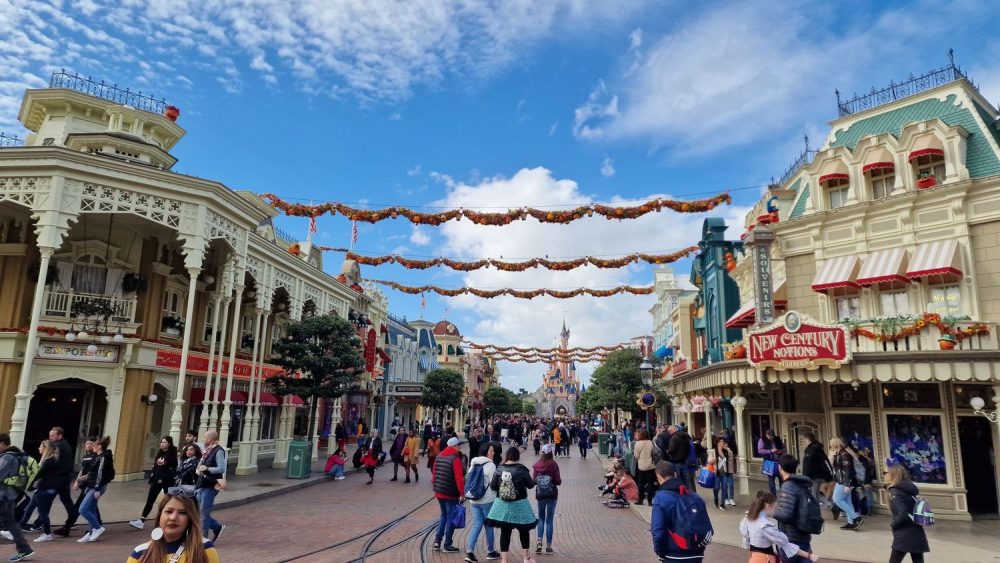 Parade
Aucun changement notable sauf les femmes tournesol dont leurs costumes ont été actualisé.
No noticeable changes except the sunflower women whose costumes have been updated.
On notera, encore une fois, que la parade effectue un arrêt sur Central Plaza, ce ShowStop est, comme pour la parade de noël, est un élément qui semble bien, mais qui en vrai réduit l'expérience globale du visiteur.
La parade n'étant pas grande, elle se divise en 2 groupes de 2 sur Central Plaza et les chars se positionnent de chaque côté et s'arrêtent pendant 7minutes pour un show de 4 minutes.
Problème, les visiteurs ne peuvent voir tous les chars et personnages en même temps sur Central Plaza. Mais aussi, les visiteurs sur Main Street ne comprennent pas que la parade s'arrête et finalement ils vont sur la route de la parade pour voir et perdent leurs places.
Plus globalement, 7 minutes d'arrêt sur central Plaza c'est 7 minutes de parade en moins. Et quand une parade n'a que 4 chars. 7 minutes c'est énorme ! 7 minutes à l'échelle du parcours, ça permet à plus de visiteurs prendre le temps de voir les détails des costumes des chars, de voir les personnages et les interactions entre eux.
Halloween comme Noël, le ShowStop de Central Plaza qui bénéfice partiellement qu'a une partie des visiteurs, ce n'est pas l'idéal. Pour personne en vrai.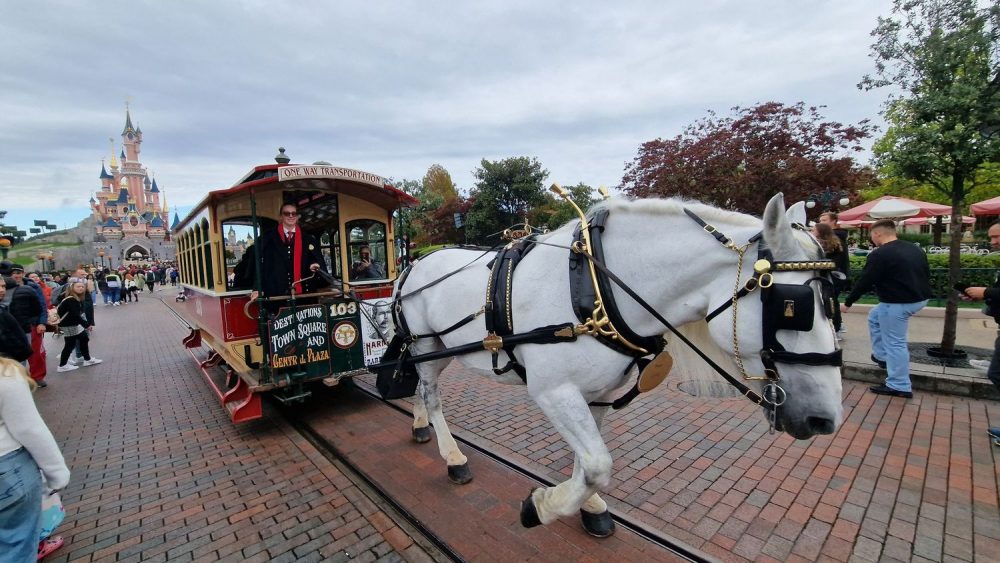 Once again, the parade makes a stop on Central Plaza, this ShowStop is, as for the Christmas parade, is an element that looks good, but that actually reduces the global experience of the visitors.
The parade is not big, it is divided into 2 groups of 2 on Central Plaza and the floats are positioned on each side and stop 7 minutes for a 4-minute show.
Problem, visitors cannot see all the floats and characters at the same time on Central Plaza. Also, visitors on Main Street do not understand that the parade stops and eventually they go to the parade route to see and lose their places.
With 7 minutes stop on central Plaza, this is 7 minutes less parade. And when a parade has only 4 floats. 7 minutes is huge! 7 minutes it allows more visitors to take the time to see the details of the costumes, of the floats, to see the characters and the interactions between them.
Halloween like Christmas, the Central Plaza ShowStop that partially benefits some visitors, it is not ideal. For no one.

Si vous voulez voir le comparatif entre la première édition de cette parade en 2013 et aujourd'hui, tous les costumes d'origines des danseurs ont maintenant été actualisé.
Aussi, vous pouvez voir qu'en 2016, la parade était composée de 3 chars et durait plus longtemps que la parade de 2018, composé de 4 chars et dont les Show Stop ont commencé cette année-là.
If you want to see the comparison between the first edition of this parade in 2013 and today, all the original costumes of the dancers have now been updated.
Also, you can see with the Parade of 2016 (with 3 floats) is longer than the 2018 parade (with 4 floats) whose ShowStop started that year.
Castle Stage
Cette année, c'est la déception ! Halloween est connu pour être une saison à spectacle sur paris. Mais cette année, c'est très simple, il n'y a rien !
Les personnages sont mis sur scène pour simplement les introduire avant de lancer la rencontre de personnages. Et ne cherchez pas les bonbons, ils ne sont plus distribués
This year, it's disappointment! Halloween is known to be a season of show on paris. But this year, it's very simple, there's nothing!
The characters are put on stage to simply introduce them before the meet and greet. And don't look for the sweets (Candy), they are no longer distributed
Decorations
Cette année, les décorations sont moins nombreuse, moins de citrouille sur les façades de main street, les fantôme sont limité à Town Square et plus sur les façades, et frontierland est dépouillé de décoration en dehors de la zone Coco.
This year, decorations are fewer, less pumpkin on Main Street facades, ghosts are above all limited to Town Square, and frontierland is stripped of decoration outside the Coco area.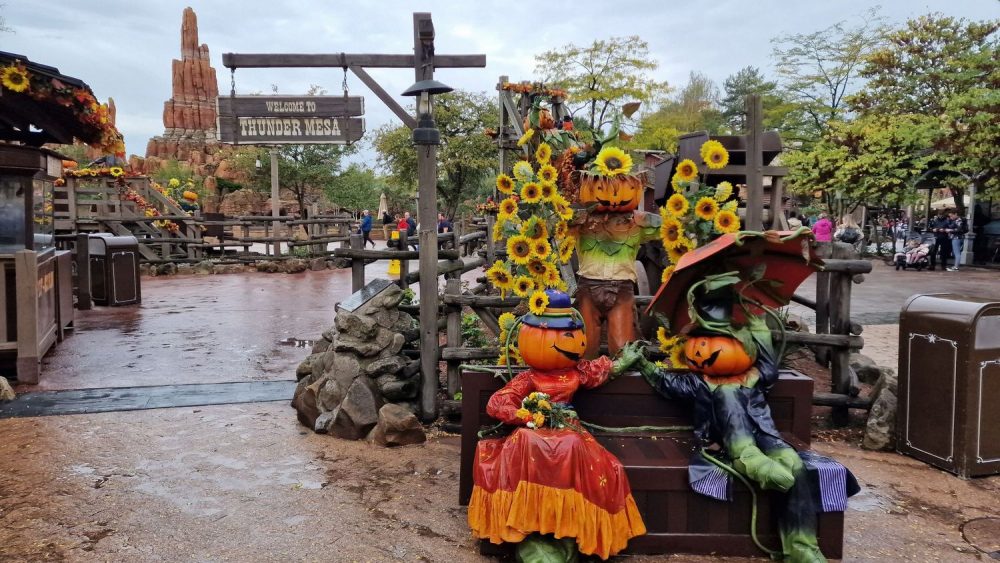 Les seules nouveautés sont la disposition de citrouilles en verre qui s'illumine la nuit ! L'effet est super beau, mais limité qu'a Town Square.
The only novelties are the arrangement of glass pumpkins that lights up at night! The effect is super beautiful, but limited than Town Square.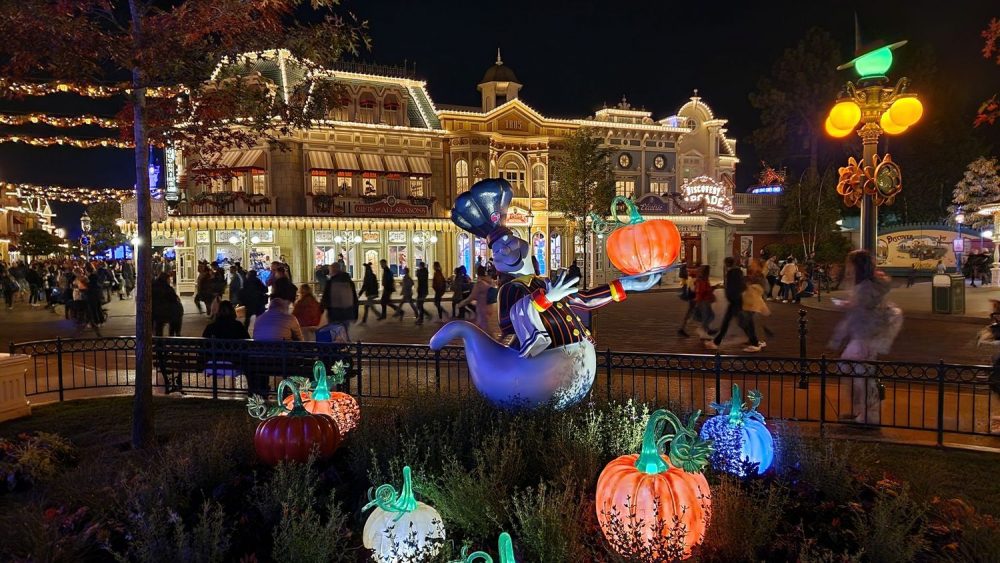 Night Show
Cette année la seule nouveauté se résume à un pré-show qui est joué avant Disney D-Light. Disney D-Light est aussi un pré-show de Disney Illuminations !.
Nous voilà donc un Pre-Pre-Show 15-20 minutes avant le spectacle principale. Les animations sont sympas, les effets lumineux autour du château également, mais l'absence de drones ou de feu d'artifices, rend le tout peu intéressant. La musique provient d'une ancienne saison de Halloween de Hong Kong Disneyland, c'est dommage quand on a eu une production originale uniquement exploité en 2019 « Are you brave enough? ».
This year, the only novelty is a pre-show that is played before Disney D-Light. Disney D-Light is also a pre-show of « Disney Illuminations! ».
So here we are a Pre-Pre-Show 15-20 minutes before the main show. The animations are nice, the light effects around the castle also, but the absence of drones or fireworks, makes everything uninteresting. The music comes from an old Halloween season of Hong Kong Disneyland, it's a shame when we had an original production only exploited in 2019 « Are you brave enough? ».
Vous l'avez compris, cette année n'est pas la meilleure, loin de là avec des méchants moins visibles et une récession à tous les niveaux. Mais pour noel ça dit quoi ?
As you can see, this year is not the best, far from it with less villains and a recession at all levels. And the Christmas Season ?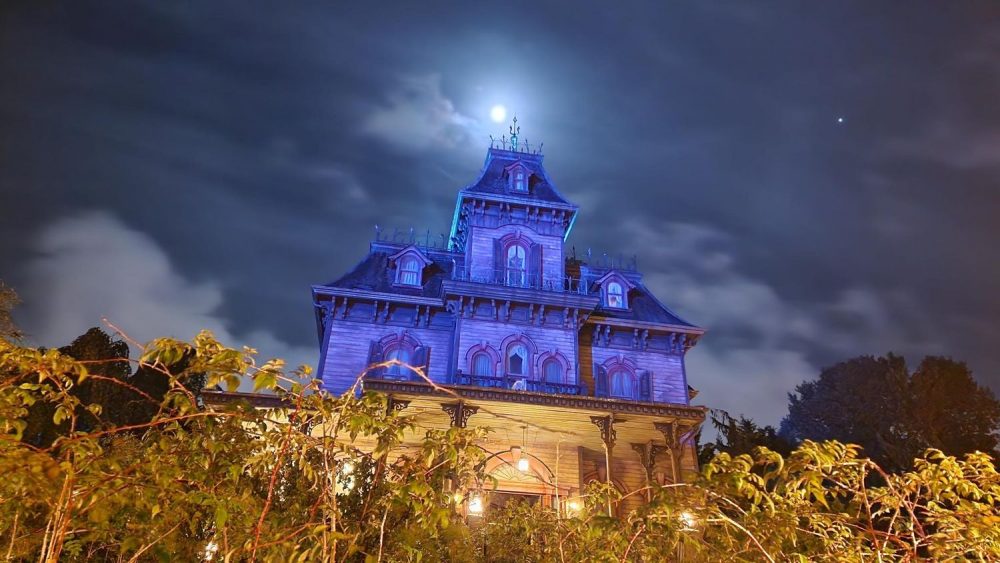 Christmas Season 2022-23
Croyez-vous que Noël est cette année aussi pauvre qu'Halloween ? La réponse est oui !
Cette année, nous comptons 3 activités (spectacle, animation, parade) sur noël et non 9 comme en 2019 et 2018 ! Et parmi les plus grosses pertes, le spectacle Mickey Christmas Big Band ou encore le spectacle nocturne Goofy's Incredible Christmas.
Do you think that the Christmas season 2022 is as poor as Halloween? The answer is Yes !
This year, we are counting 3 activities (show, entertainment, parade) over Christmas and not 9 as in 2019 and 2018! And among the biggest losses, the « Mickey Christmas Big Band » show or the « Goofy's Incredible Christmas » night show.
Pour faire simple, oubliez la saison de noel au parc Walt Disney Studios. Mickey et le magicien sont ainsi maintenu.
Forget the Christmas season at Walt Disney Studios Park. « Mickey and the magician » is still in performance.
Direction le parc Disneyland !
Comme Pour Halloween, les décorations spécifiques à la saison sont peu nombreuses. Et sur Town Square, nous n'avons plus de décor « enneiger ».
So…. go to Disneyland Park!
Like Halloween, there are few season-specific decorations. And on Town Square, we no longer have any « snowy » scenery.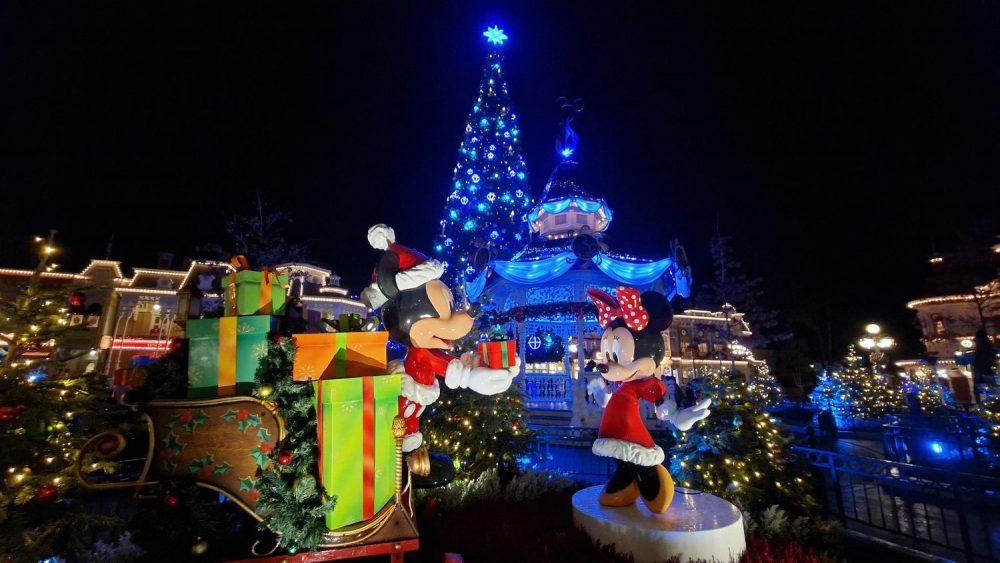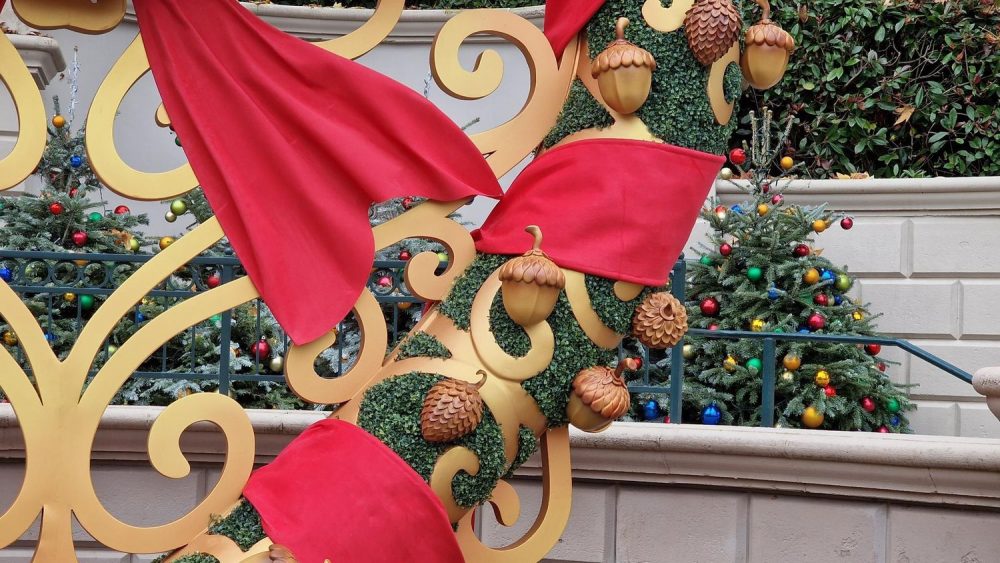 Show
La première activité de noël est à Videopolis, Let's Sing Christmas. Ce spectacle est composé de 4 chanteurs et des personnages Disney. Si vous avez de la chance, une chorale extérieure à Disney accompagne les chanteurs. Ce spectacle existant les saisons précédentes et est une reprise bien moins ambitieuse de christmas wishes (2011) de Tokyo DisneySea.
The first Christmas activity is at Videopolis, Let's Sing Christmas. This show is made up of 4 singers and Disney characters. If you're lucky, a non-Disney choir accompanies the singers. This show exists since previous seasons and is a much less ambitious revival of Christmas Wishes (2011) by Tokyo DisneySea.
Parade
Cette année la parade de noël est de retour. Pour sa deuxième année, elle est toujours magnifique !
This year the Christmas parade is back. For its second year, it is still wonderfull!
Une des choses marquantes est que comparé au critique de la saison d'halloween. Durant les ShowStop les chars font tous un tour complet de la place en plus de leur passage de parade. Vous avez donc la chance de voir passer deux fois chacun des chars. C'est une excellente idée, mais le show stop de Central plaza est peu intéressant là où sur Town Square c'est tout simplement génial et justifié avec l'illumination du sapin.
One of the standout things is that compared to the critical of the Halloween season. During the ShowStop the floats all make a full turn of the square in addition to their parade pass. You therefore have the chance to see each of the tanks pass twice. It's a great idea, but the Central plaza show stop is uninteresting, where on Town Square on Main Street USA it's just brilliant and justified with the illumination of the christmas tree.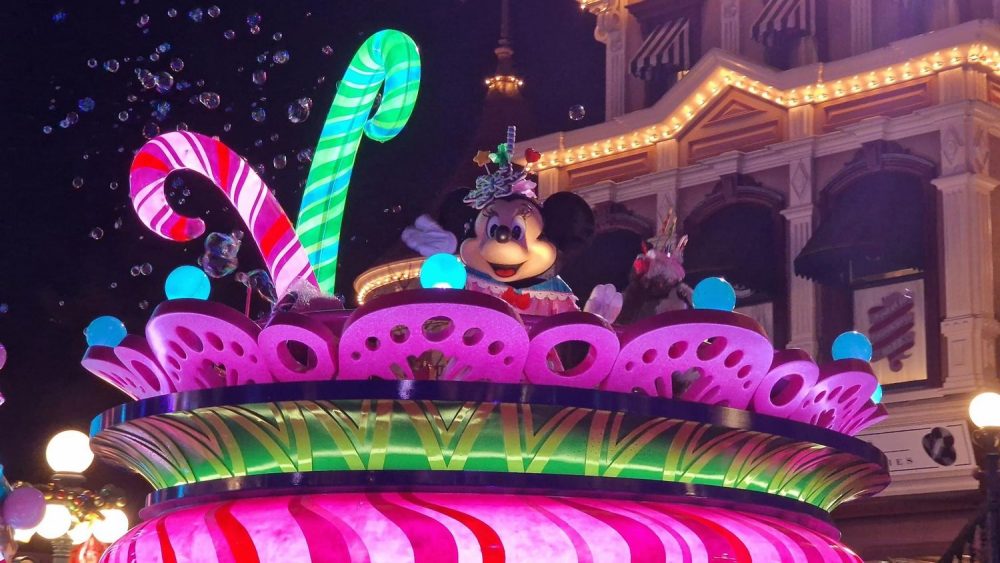 Retirer le ShowStop sur Central Plaza permettrait de prendre plus de temps pour voir le défilé et sur l'intégralité de la route de la parade. On ne va pas redire ce qui a été dit sur la parade d'halloween et le non-intérêt des scènes sur Centra Plaza.
Removing the ShowStop in Central Plaza would allow for more time to view the parade and the entire parade route. We are not going to repeat what has been said about the Halloween parade and the lack of interest in the scenes on Centra Plaza.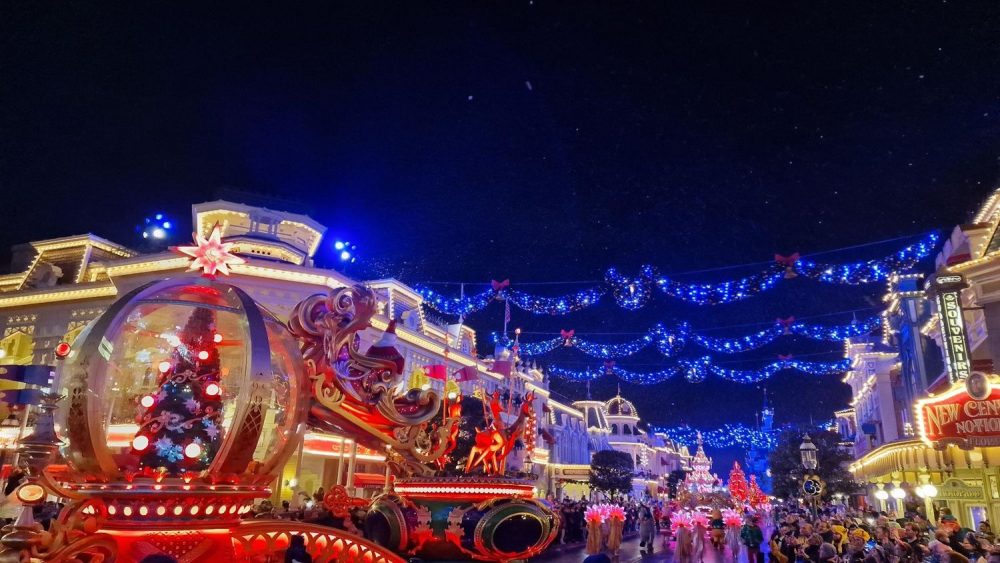 Night Show
Une des nouveautés de cette année est la création des nouvelles installations pour des toits lumineux de château. Si ces derniers sont discrets et ont une programmation lumineuse magnifique. Il est à noter qu'il y a beaucoup de toits sans installations lumineuses. Le sentiment d'inachevé est présent à chaque regard.
One of the novelties of this year is the creation of new lightning roofs of the castle. If the latter are discreet and have a magnificent light program. It should be noted that there are many roofs without light installations. The feeling of unfinished business is present at every glance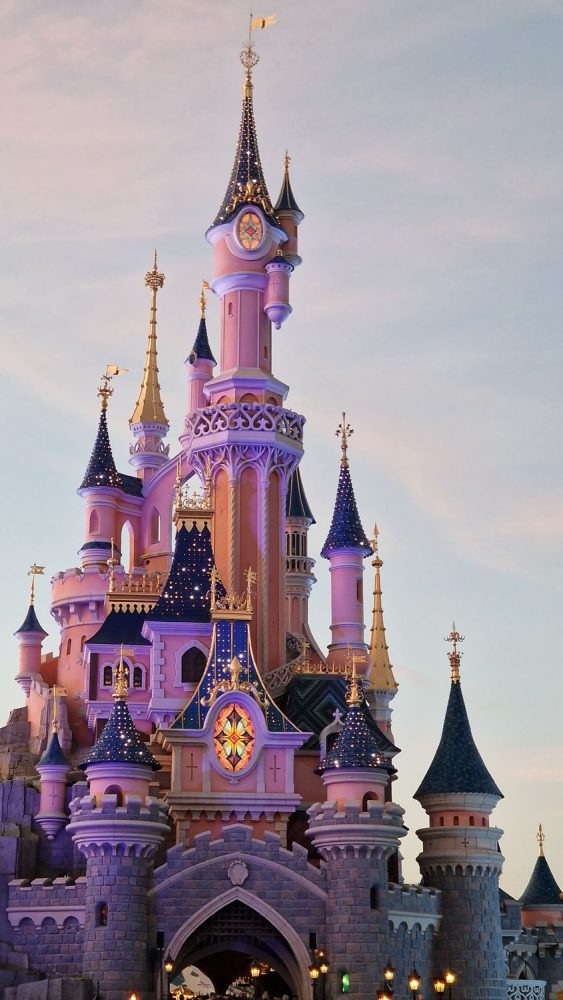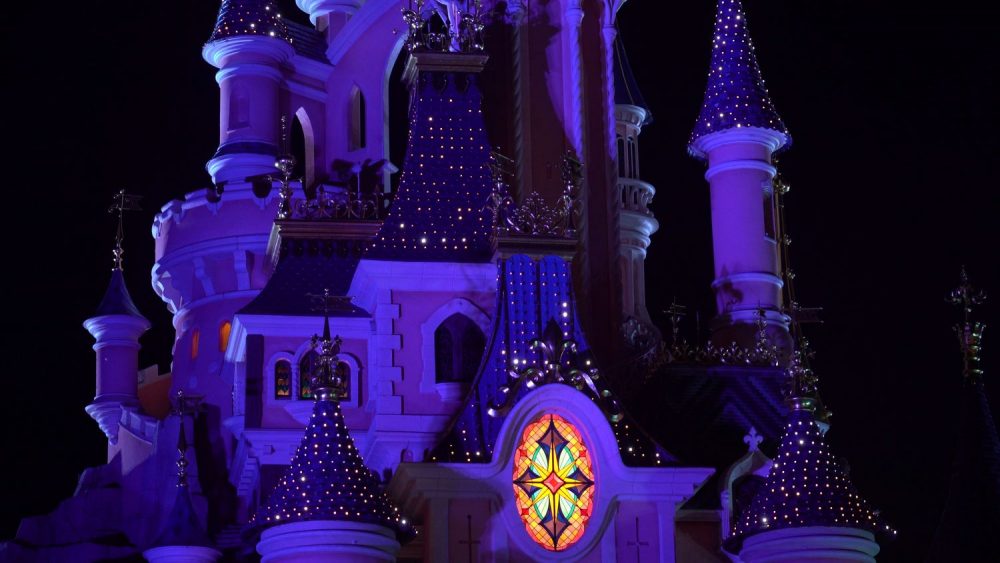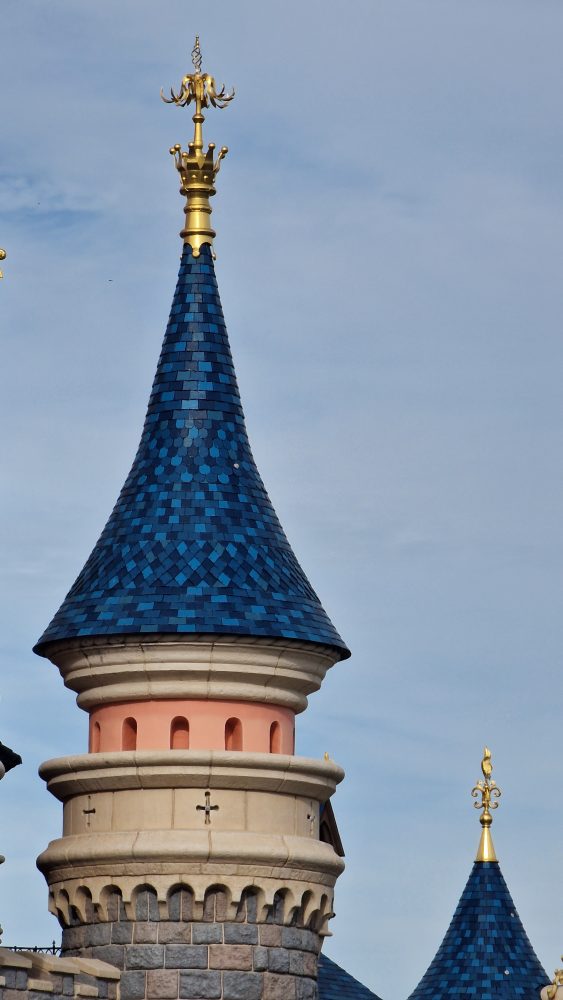 Les toits sont ainsi utilisé durant « Disney D-Light », mais aussi « Disney Dreams! Fête Noël ».
The roofs are used during « Disney D-Light », but also « Disney Dreams! of Christmas ».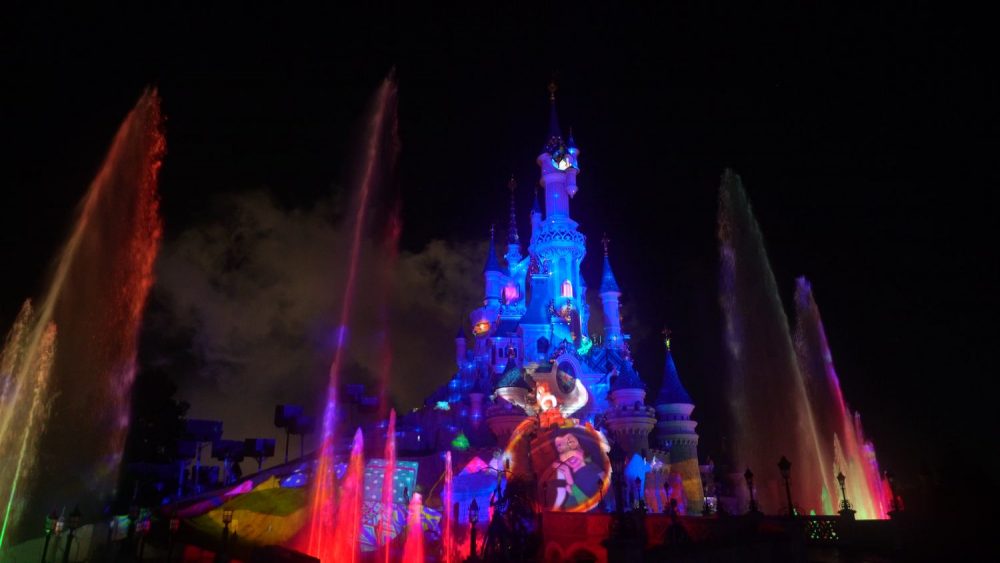 Disney Dreams! Of Christmas est de retour alors que sa dernière représentation datait en 2016.
C'est un véritable plaisir de retrouver un spectacle qui offre une narration. Et ça se confirme, après Disney D-Light, les visiteurs restent pour voir le spectacle. Si la direction de Disneyland Paris veut que ses visiteurs restent et aime rester voir un spectacle nocturne de qualité, il peut faire comme à Walt Disney World, remettre ses anciens spectacles comme Happily Ever After et Epcot Forever.
Quoi qu'il en soit, c'est agréable de retrouver ce spectacle même si ce dernier possède de nombreux défauts. Qualité des projections, variété des artifices utilisés et même le nombre de fusées qui sont de tout évidences moins nombreuses qu'en 2016.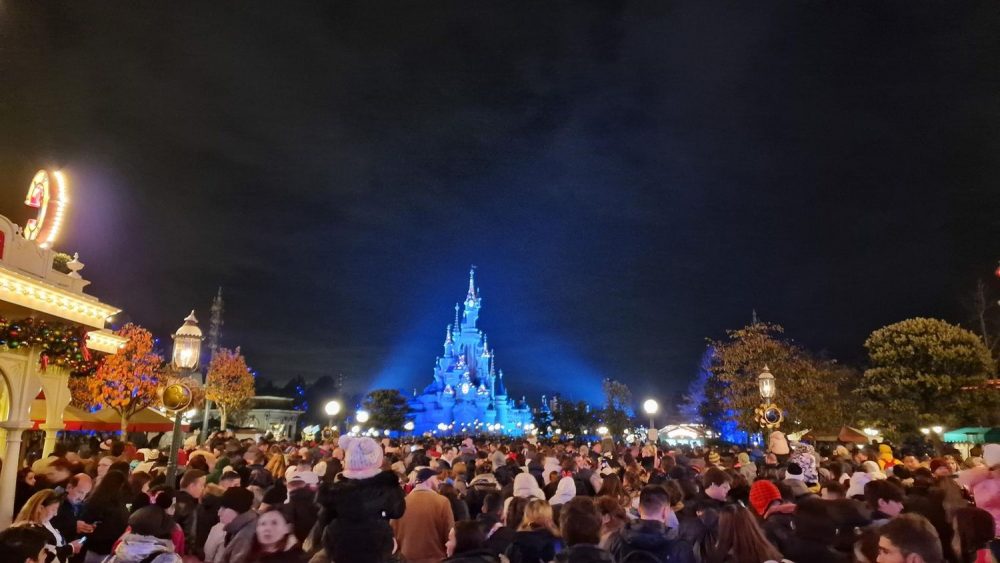 « Disney Dreams! Of Christmas » is back while its last performance was in 2016.
It's a real pleasure to find a show that offers a narration. And it is confirmed, after Disney D-Light, visitors stay to see the show. If the management of Disneyland Paris wants its visitors to stay and likes to stay and see a quality nighttime show, it can do as at Walt Disney World. Put back its old shows and make back the classic « Disney Dreams! ».
Anyway, it's nice to find this show even if it has many flaws. Quality of projections, variety of fireworks used and even the number of rockets which are obviously less numerous than in 2016.
Enfin en toute fin de Disney Dreams! Of Christmas, une nouvelle séquence pour les 30 ans fut créée pour l'occasion.
At the very end of « Disney Dreams! Of Christmas », a new sequence for the 30 years was created for the 30th celebration.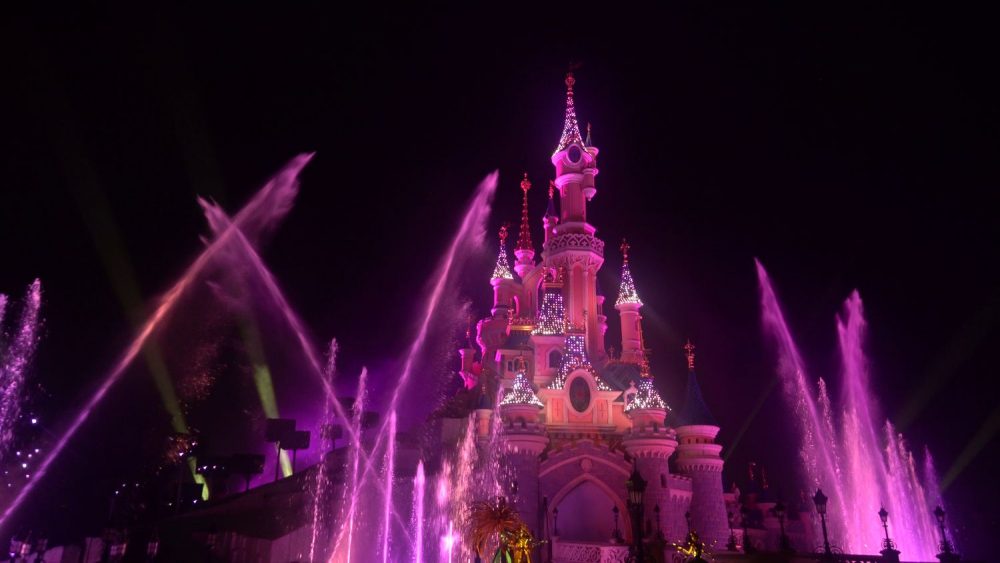 Conclusion
Halloween ou Noël 2022, Disneyland Paris à eux là 2 saisons bien pauvres qui, avec une offre aussi maigre, concentre les visiteurs sur les quelques animations, créant davantage un effet de masse chez les visiteurs ne pouvant les disperser avec une offre variée. Pas besoin de vous dire que le visiteur n'en sort pas gagnant. En 2018 et 2019, il était impossible de faire toutes les activités de noël en une journée, en 2022, en une après-midi contraignante à attendre les activités, tout peut être vue.  De plus, les prix des restaurants ont tous évolués. Avec le retrait des desserts dans les menus Fast-food, c'est en moyenne une augmentation de 25% que le consommateur subit. Les services à tables passent de 42€ à 55€ pour « Walt's – An American Restaurant » et Chez Remy » par exemple et les Buffets de 38€ à 45€. La bouteille ou le soda fontaine est à 4€ ! Mention spatiale à « l'Auberge de Cendrillon » qui voit son menu augmenter de 16€ pour être vendu à 95€. Cette décision est tout simplement honteuse, car l'offre en restaurant fait partie des pires en Europe tant sur la qualité (globalement sur l'ensemble de la destination) et le service (Fast Food notamment). L'entreprise compte sur son image et des visiteurs captifs pour les forcer à dépenser. La réputation en sera que dégradé dans le temps. Séjourner dans un hôtel Disney pour découvrir noël et revisiter les parcs semble bien moins intéressant et justifié cette année.
Espérons qu'Halloween et Noël 2023 ne soit pas sur ce modèle. Autant en 2021, on comprenait que la reprise était difficile après les fermetures dues à la COVID, mais pas en 2022. Nous constatons clairement sur les parcs qu'il n'y a plus de restrictions sur le nombre de visiteurs (sauf pour les passeports annuels) et surtout que les employés sont en effectifs minimum pour gérer des flux ininterrompus de visiteurs. Les Cast se retrouvent être aux milieux de cette politique d'entreprise qui tire trop sur la corde et dont les emplois Week-end n'existent plus pour renforcer les équipes durant les pics de visites par exemple. Cette politique a des conséquences directes sur le visiteur, 45mn d'attente pour un repas « Fast » Food, 10mn en caisse en boutiques, des files d'attentes qui débordent aux attractions… Et maintenant des saisons Halloween et Noël pauvres dans leur offre de divertissement n'aidant pas à alléger la fréquentation des boutiques, restaurants et attractions du site. Est-il bon de visiter Disneyland Paris dans ces conditions ? Quoi qu'il en soit, avec le retour du nouveau PDG, Bob IGER, le 21 novembre dernier, nous allons voir si dans les prochains mois les choses vont changer dans les parcs. Que ce soit pour la santé des Casts et la qualité de l'offre pour les visiteurs. Et ce qui pourrait changer facilement, sans impact financier et pourrait satisfaire tout le monde, c'est l'arrêt du système de réservation. Mais sans annonce, on ne peut qu'espérer.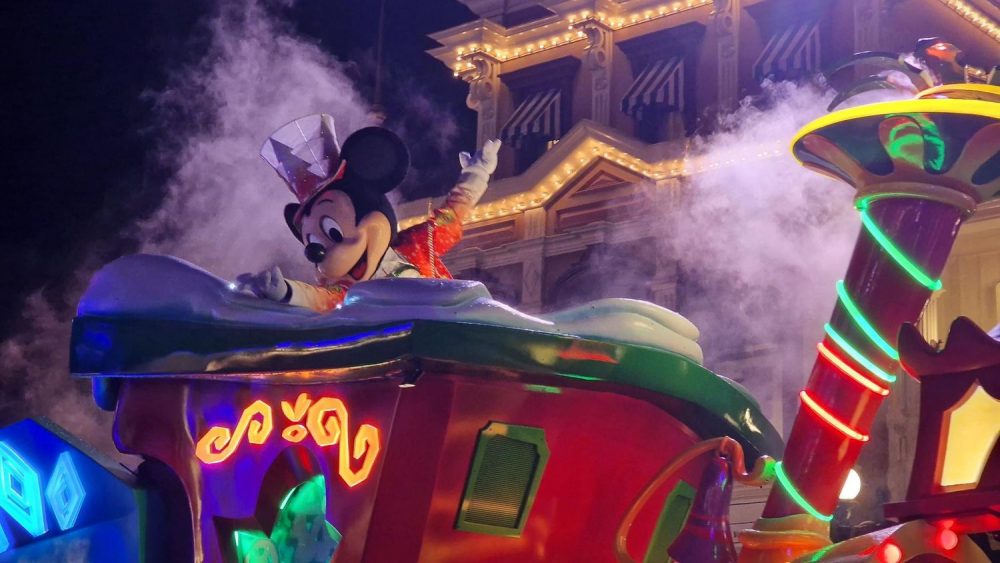 Halloween or Christmas 2022, Disneyland Paris has 2 very poor seasons which, with such a meager offer, concentrates visitors on the few activities, creating more of a mass effect among visitors and can't disperse them with a varied offer. No need to tell you that the visitor does not come out a winner. In 2018 and 2019, it was impossible to do all the Christmas activities in one day, in 2022, in a constraining afternoon waiting for the activities, we can see everything. Howover, this christmas season the restaurant prices have all evolved. With the withdrawal of desserts from fast-food menus, it is on average an increase of 25% that the consumer suffers. Table services increase from €42 to €55 for « Walt's – An American Restaurant » and Chez Remy » for example, and Buffets from €38 to €45. The bottle or the fountain soda is €4! Noted that « Auberge de Cendrillon » the menu increase by €16 to be sold at €95. Remember, it's just an increase price. This decision is simply shameful, because the restaurant offer is among the worst in the European Theme Parks both in terms of quality (overall throughout the Resort) and service (Fast Food in particular). The company relies on its image and captive visitors to force them to spend. The reputation will only be degraded over time. Staying in a Disney hotel to discover Christmas and revisit the parks seems much less interesting and justified this year.
Let's hope that Halloween and Christmas 2023 is not on this model. As much in 2021, it was understood that the recovery was difficult after the closures due to the COVID, but not in 2022. We clearly see on the parks that there are no more restrictions on the number of visitors (except for passports annual) and especially that the employees are in minimum numbers to manage uninterrupted flows of visitors. The Cast find themselves in the midst of this corporate policy which pulls too tightly and whose weekend jobs no longer exist to strengthen the teams during peak visits, for example. This policy has direct consequences on the visitor, 45 minutes of waiting for a « Fast » Food meal, 10 minutes at the cashier in shops, queues that overflow at attractions… And now Halloween and Christmas seasons poor in their offer of entertainment, not helping to reduces the visitor of the shops, restaurants and attractions of the Resort. Is it good to visit Disneyland Paris in its these conditions? Anyway, with the return of the new CEO, Bob IGER, on November 21, we will see if in the next few months things will change in the parks. Whether for the health of the Casts and the quality of the offer for visitors. And what could change easily, without financial impact and could satisfy everyone, is the shutdown of the reservation system. But without announcement, we can only hope.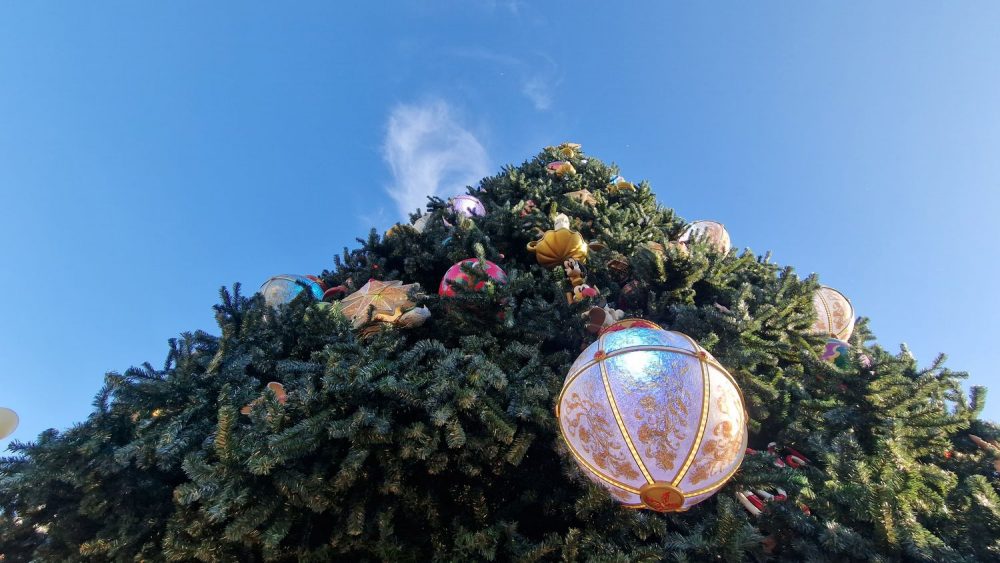 Merci de votre fidélité.
A bientôt !
Thank you for your loyalty.
See ya real soon !
Rejoignez-nous sur /Join and follow us on :