Bonjour à tous, aujourd'hui nous vous proposons un retour des soft opening (ouverture douce) de Hyperspace Mountain. Ouverture officiel le 7 mai 2017.
Hello everyone, today we return to the soft opening of Hyperspace Mountain. Official opening may 7, 2017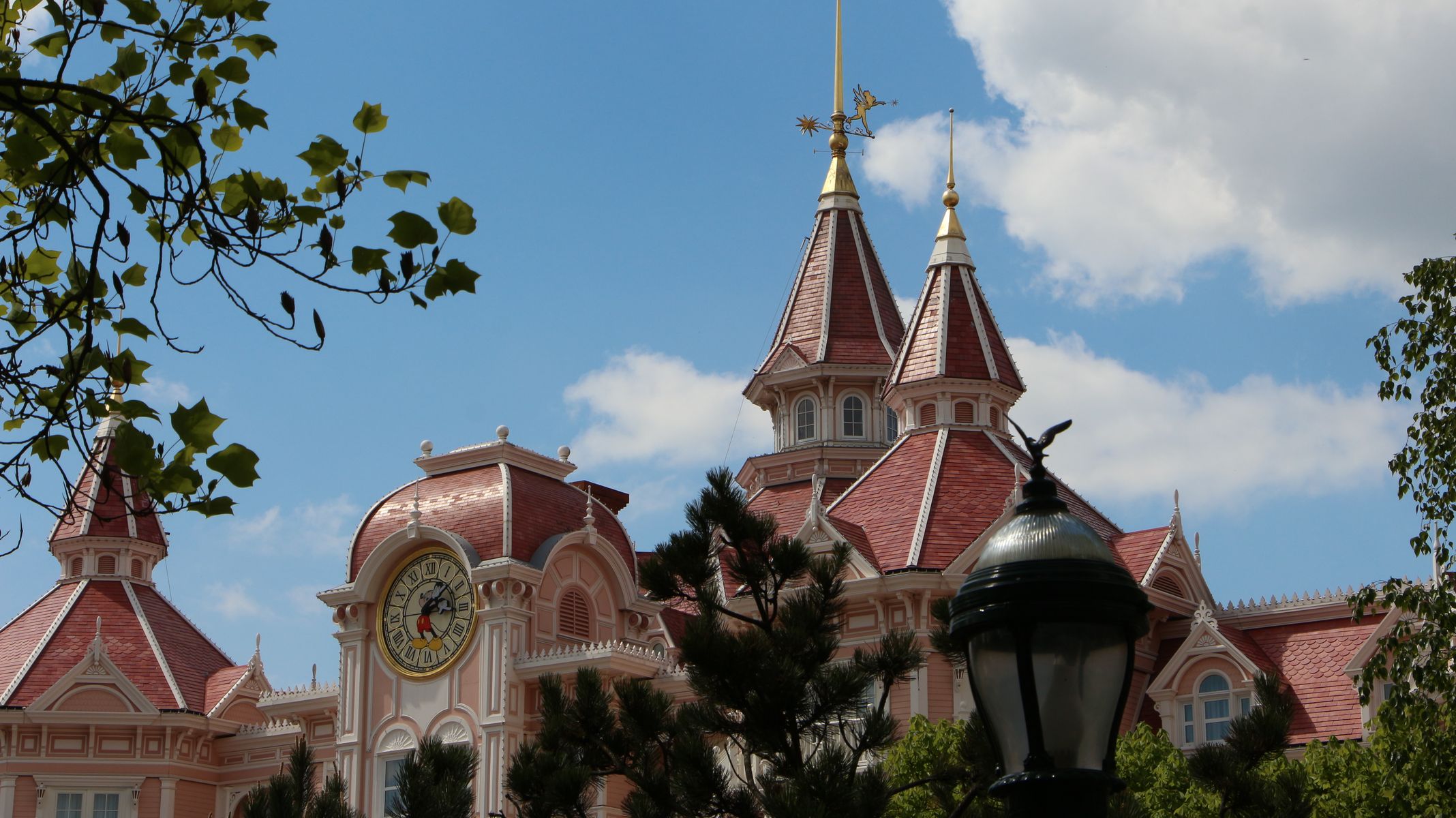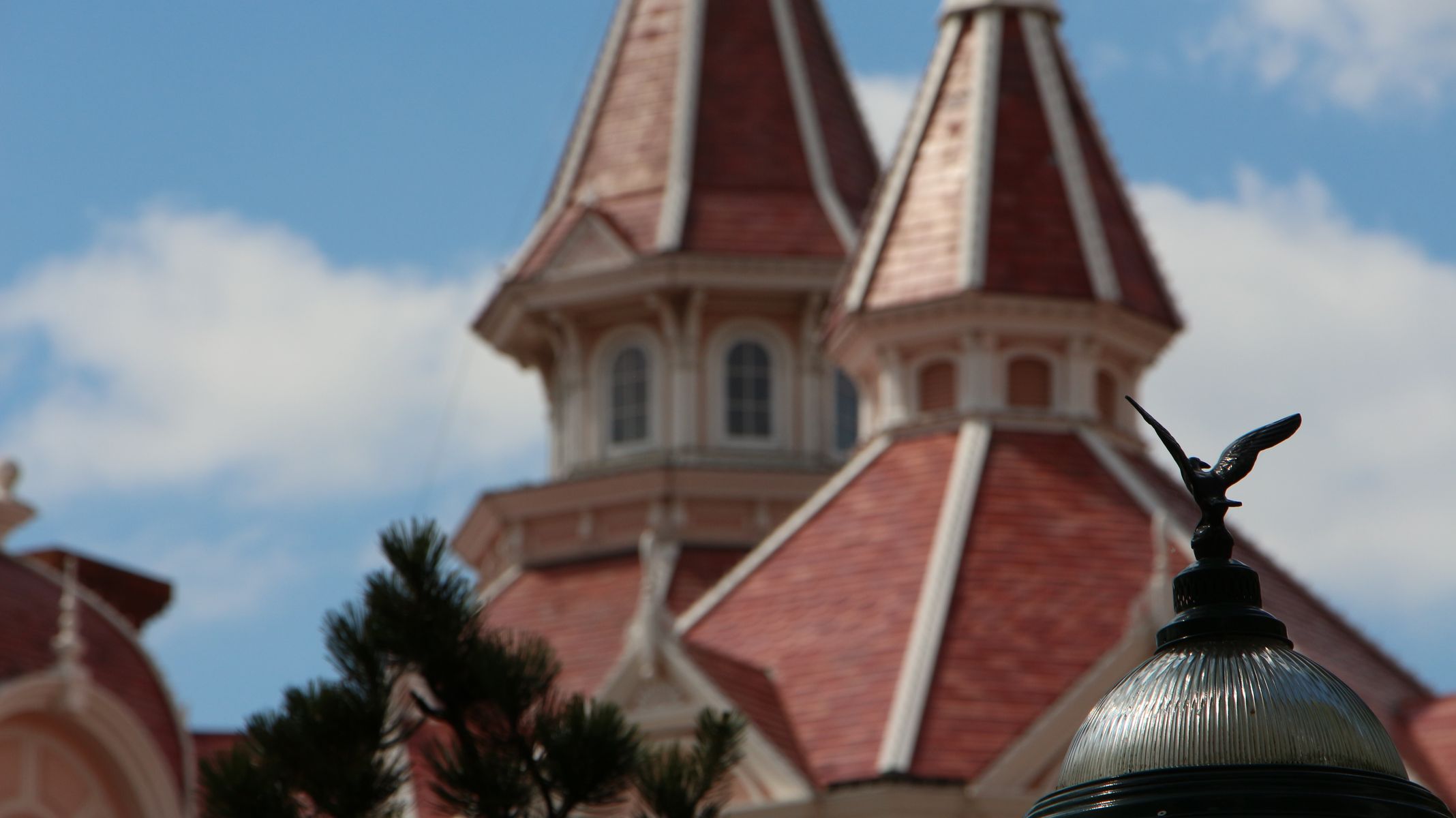 Avant de commencer, une petite précision s'impose. Cette ouverture est en réalité un rodage pour former les équipes de Disney aux nouveaux trains de l'attraction. Une première dans un parc Disney, le MK-1212. Par ailleurs, pour garder l'exclusivité pour les soirées Star Wars le 5 et 6 mai 2017, l'attraction a fonctionné dans le noir total mais avec la musique de « Space Mountain : Mission 2 ».
Before you begin, a little clarification is required. This opening is actually a break-in to form teams of Disney for the new trains to the attraction. A first in a Disney park to see this type of train MK-1212. Moreover, to keep exclusivity for the evening Star Wars the 5 and may 6, 2017, the show of the attraction has down, in total darkness but with the music of « Space Mountain: Mission 2 ».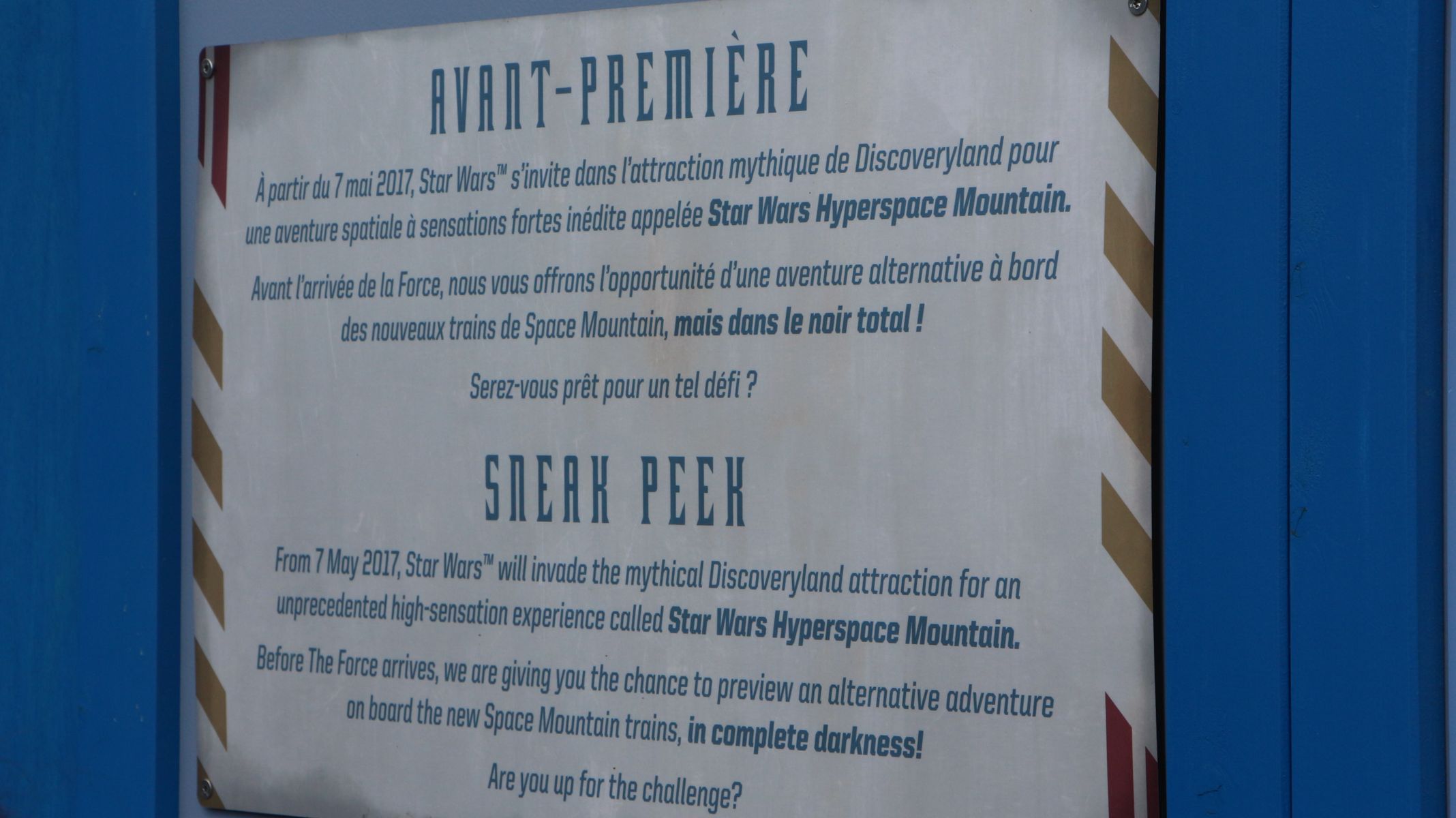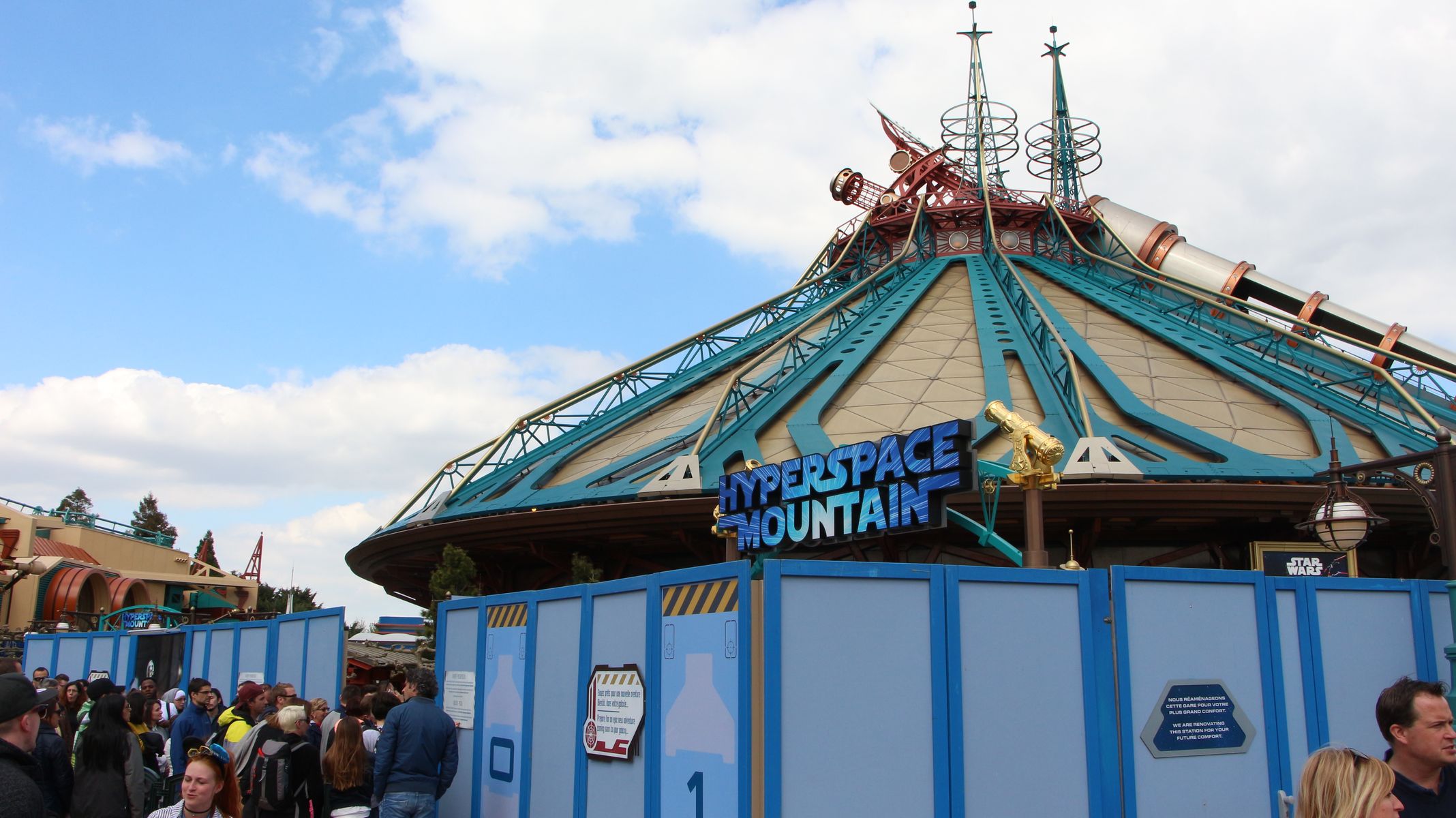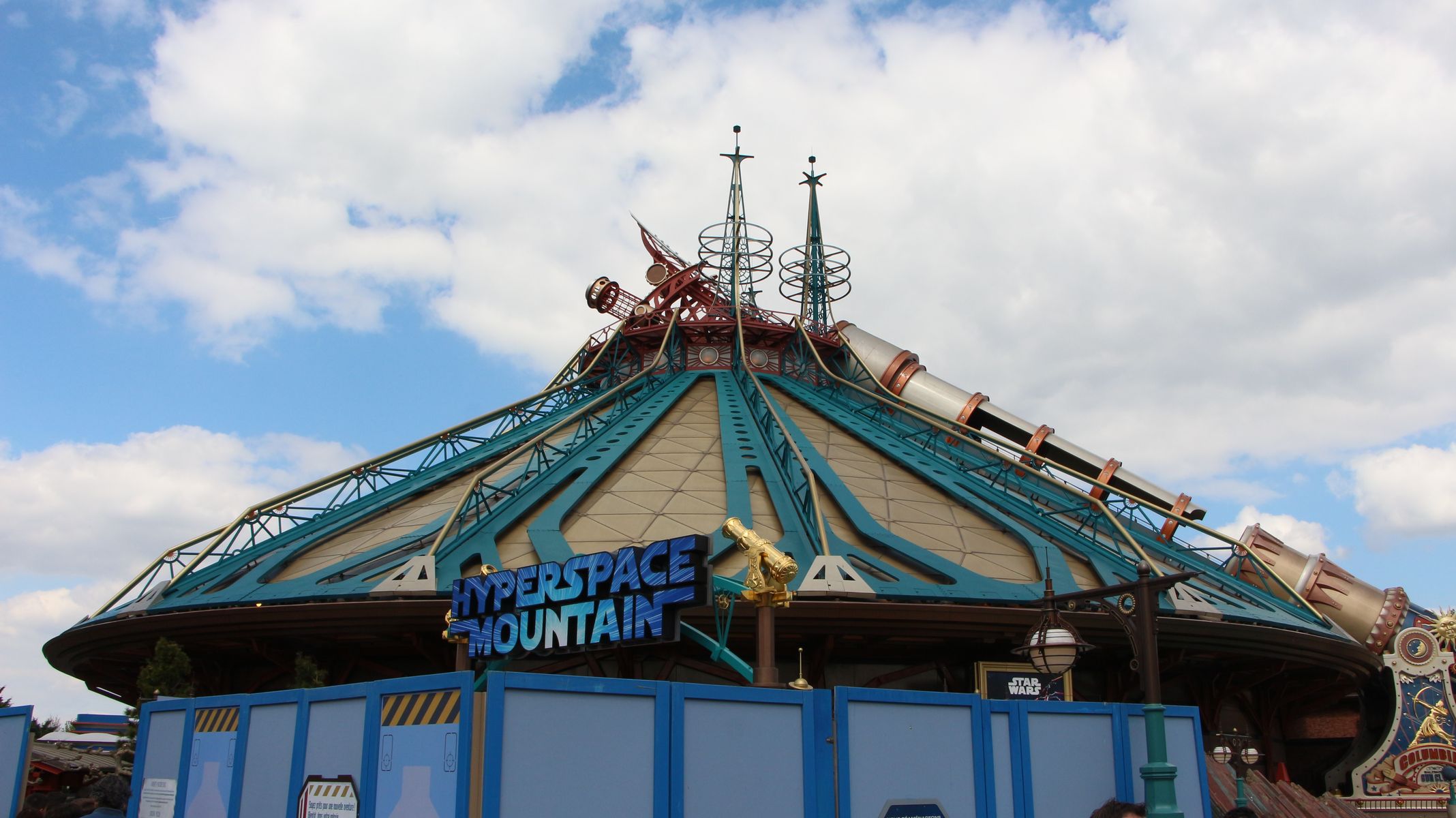 La file d'attente commençait près de l'entrée StarPort.
The queue began near the StarPort entrance.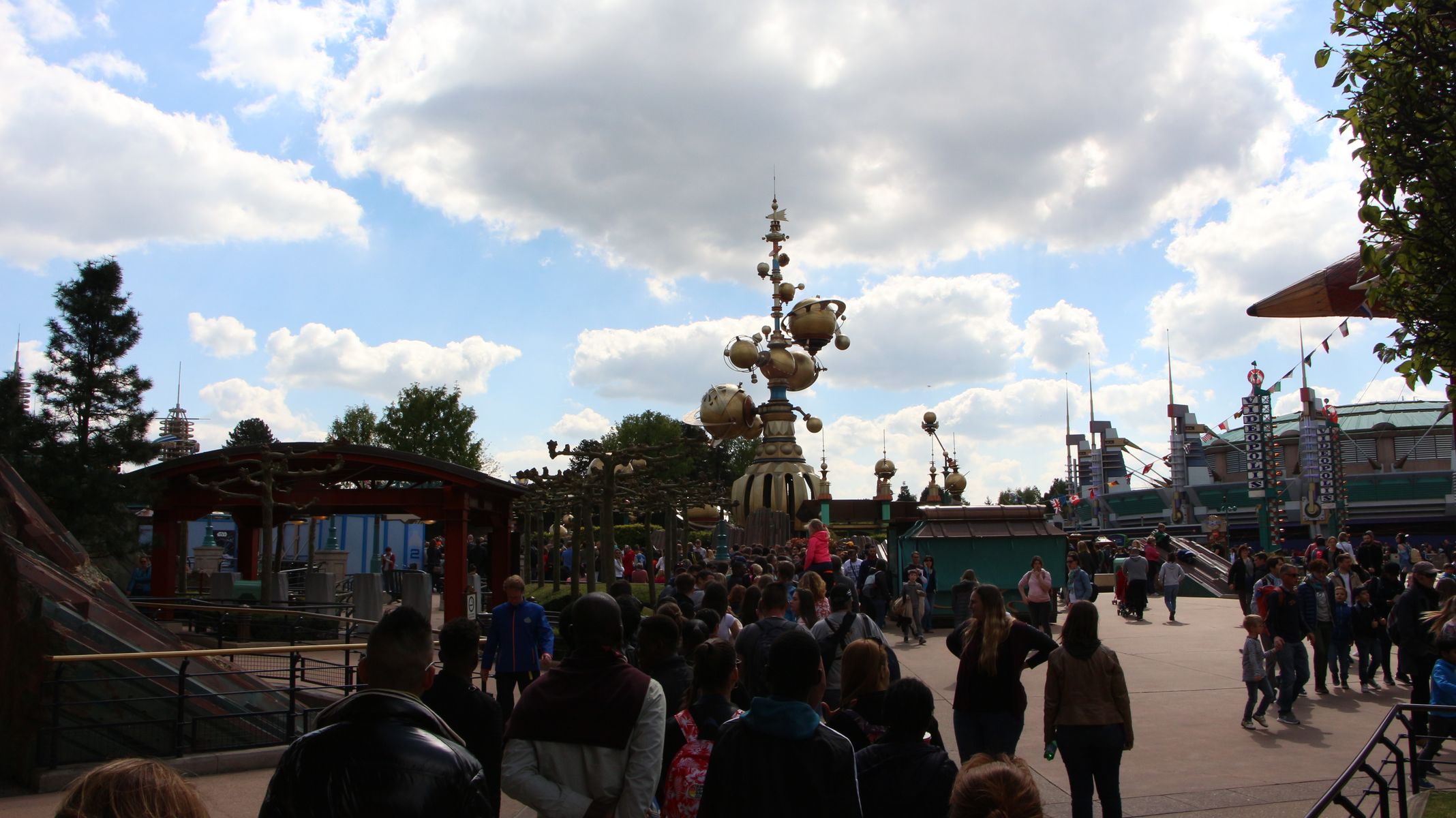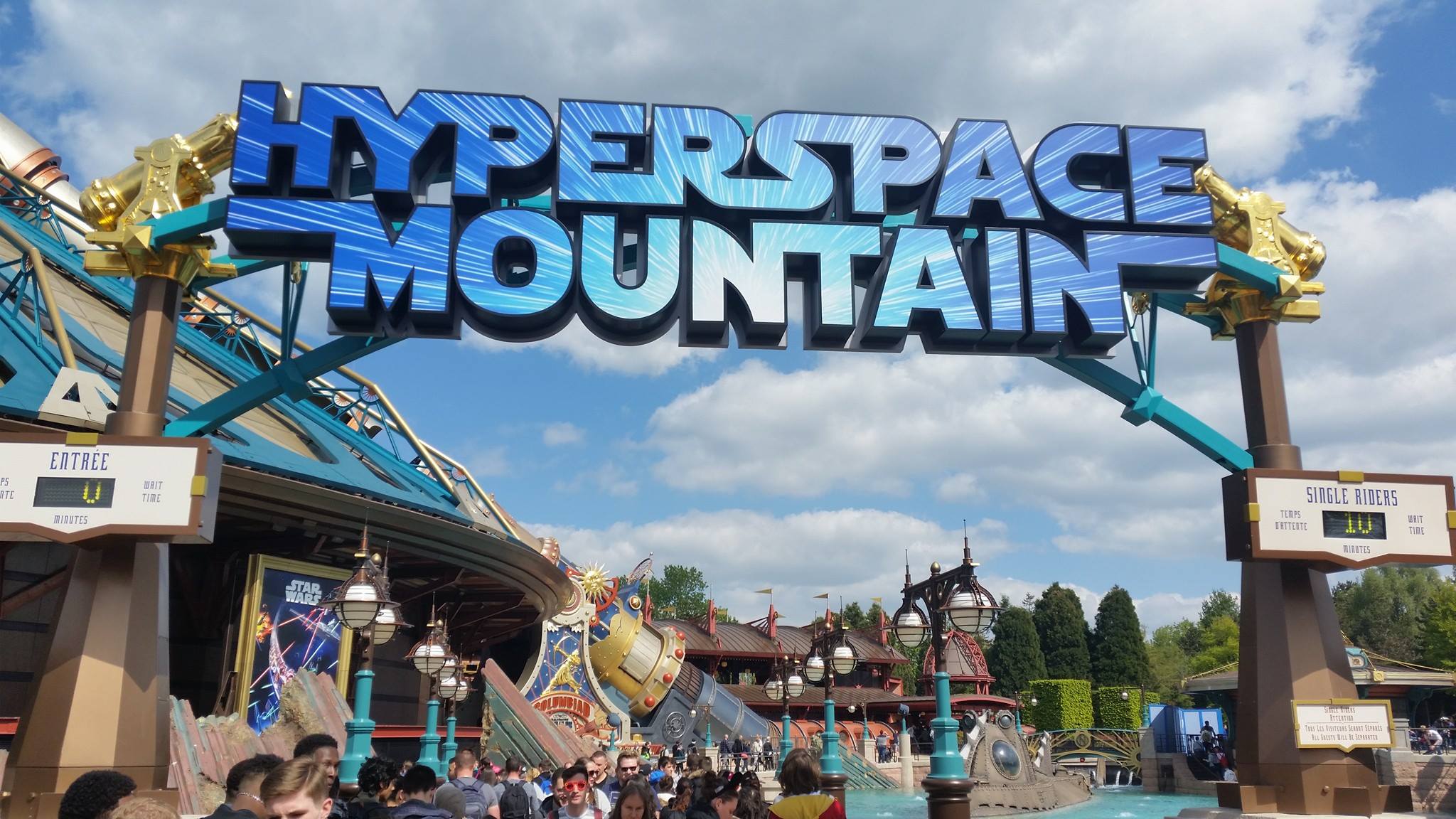 Aucun changement structurel n'est à noter. A l'extérieur du bâtiment, le poster Géant est bien en place.
No structural changes are noted on the outside of the building or the giant poster.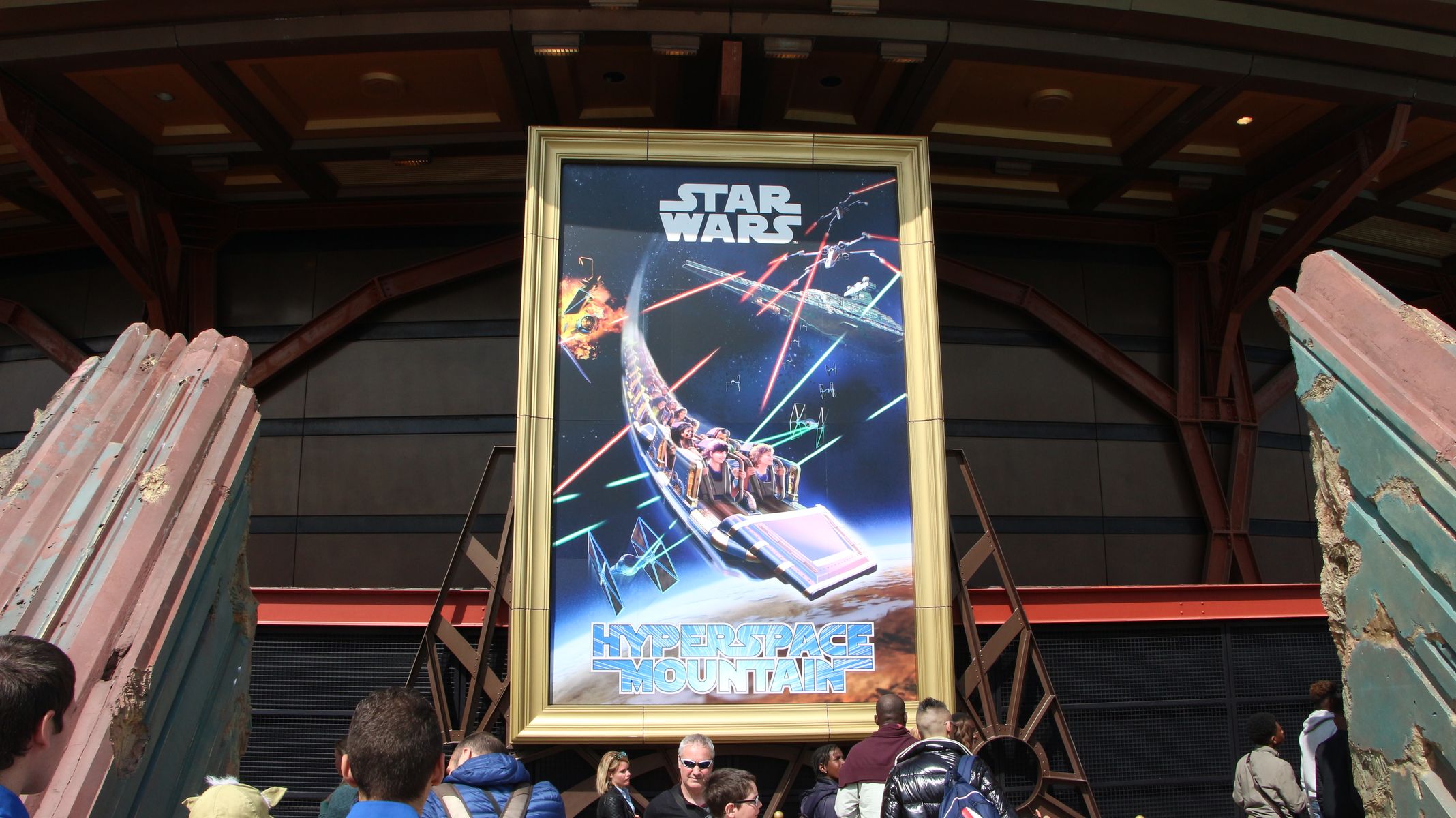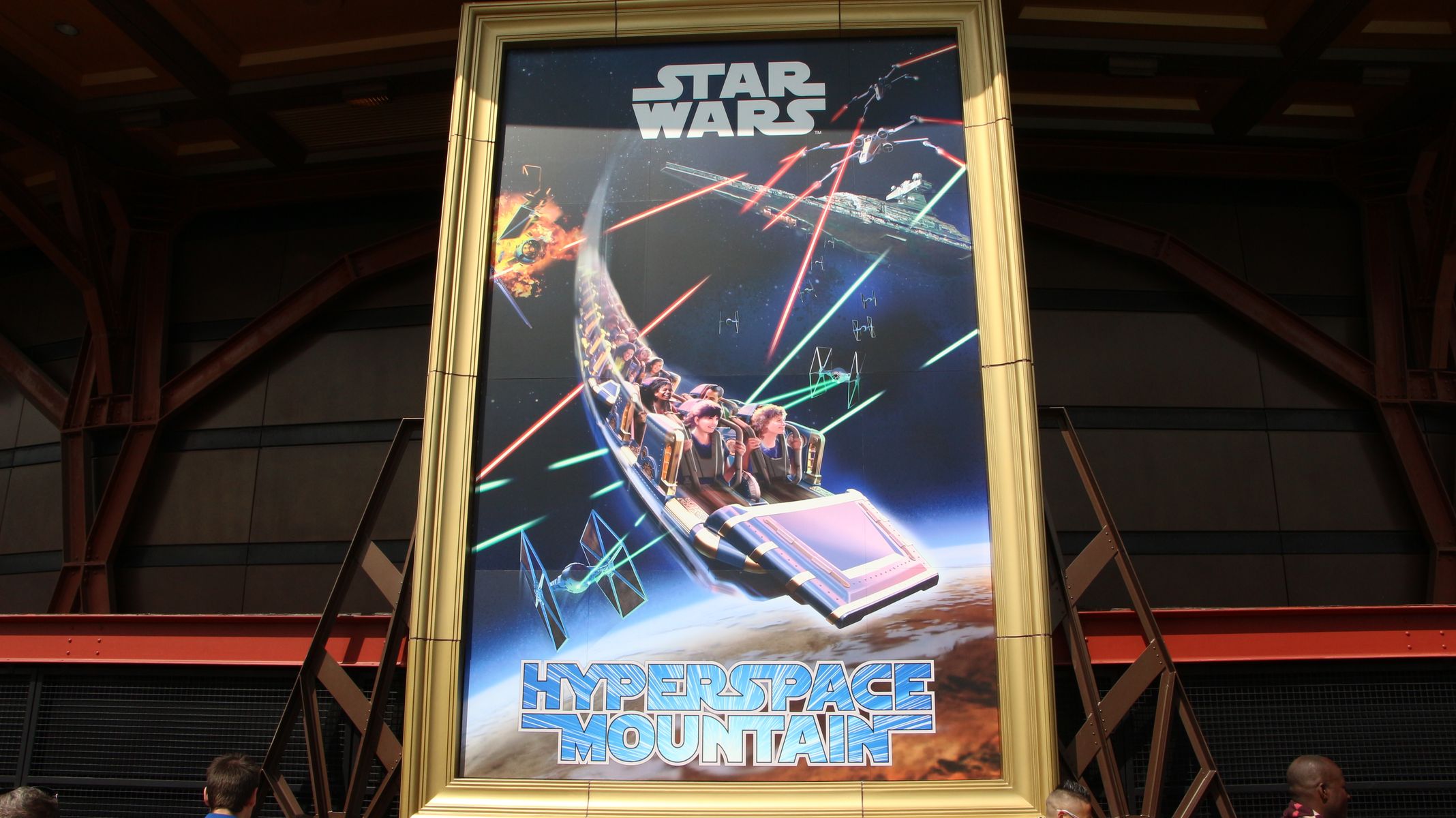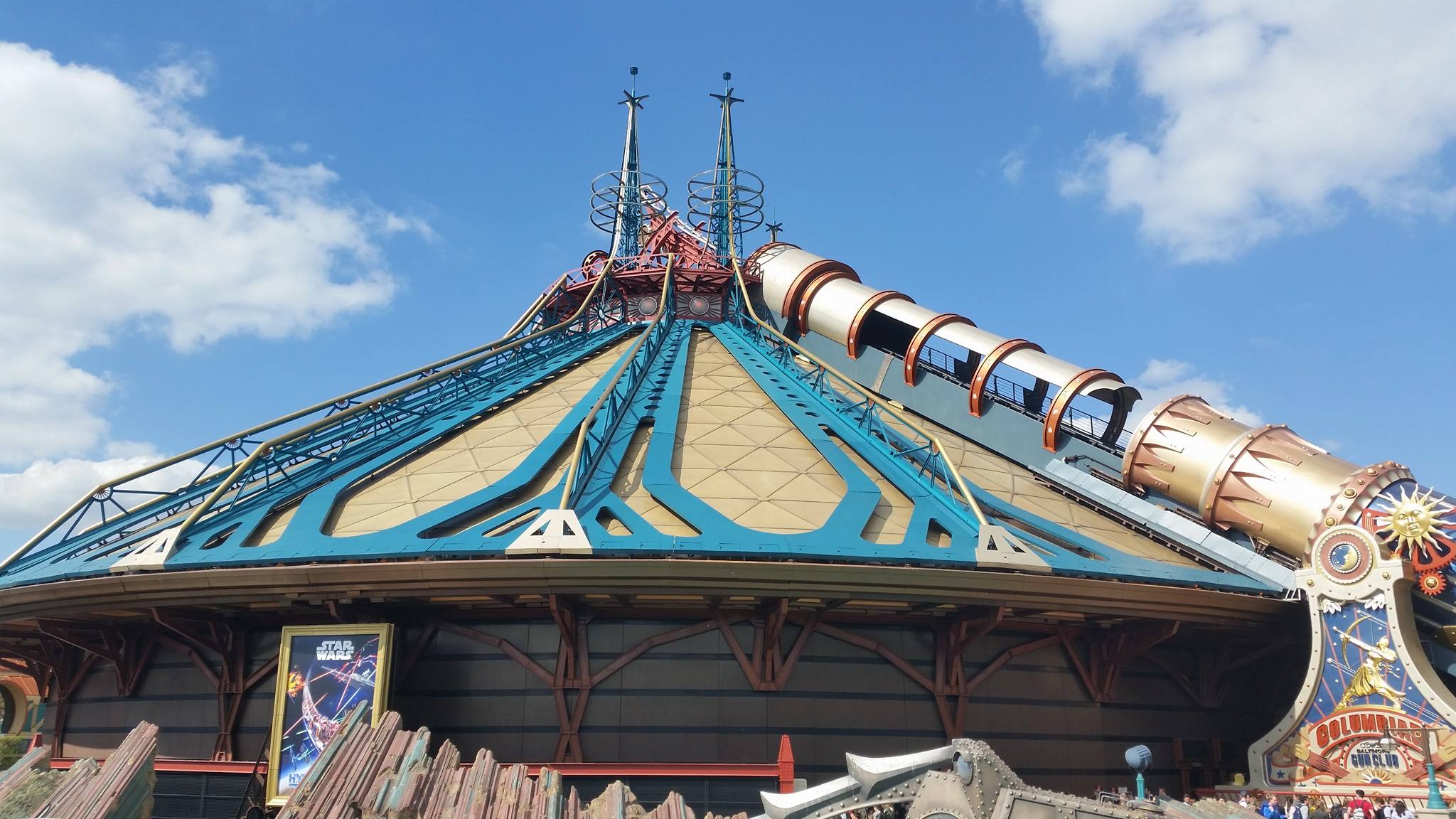 Dans la file d'attente intérieure, les (horribles) posters de planètes ont disparus pour laisser place à des affiches présentant les vaisseaux de l'univers Star Wars. Changements minimalistes, car contrains par l'aménagement du bâtiment.
In the interior queue line, the (horrible) posters of the planets disappeared to make room for posters with the vessels of the Star Wars universe. Minimalist changement, because forced by the layout of the building.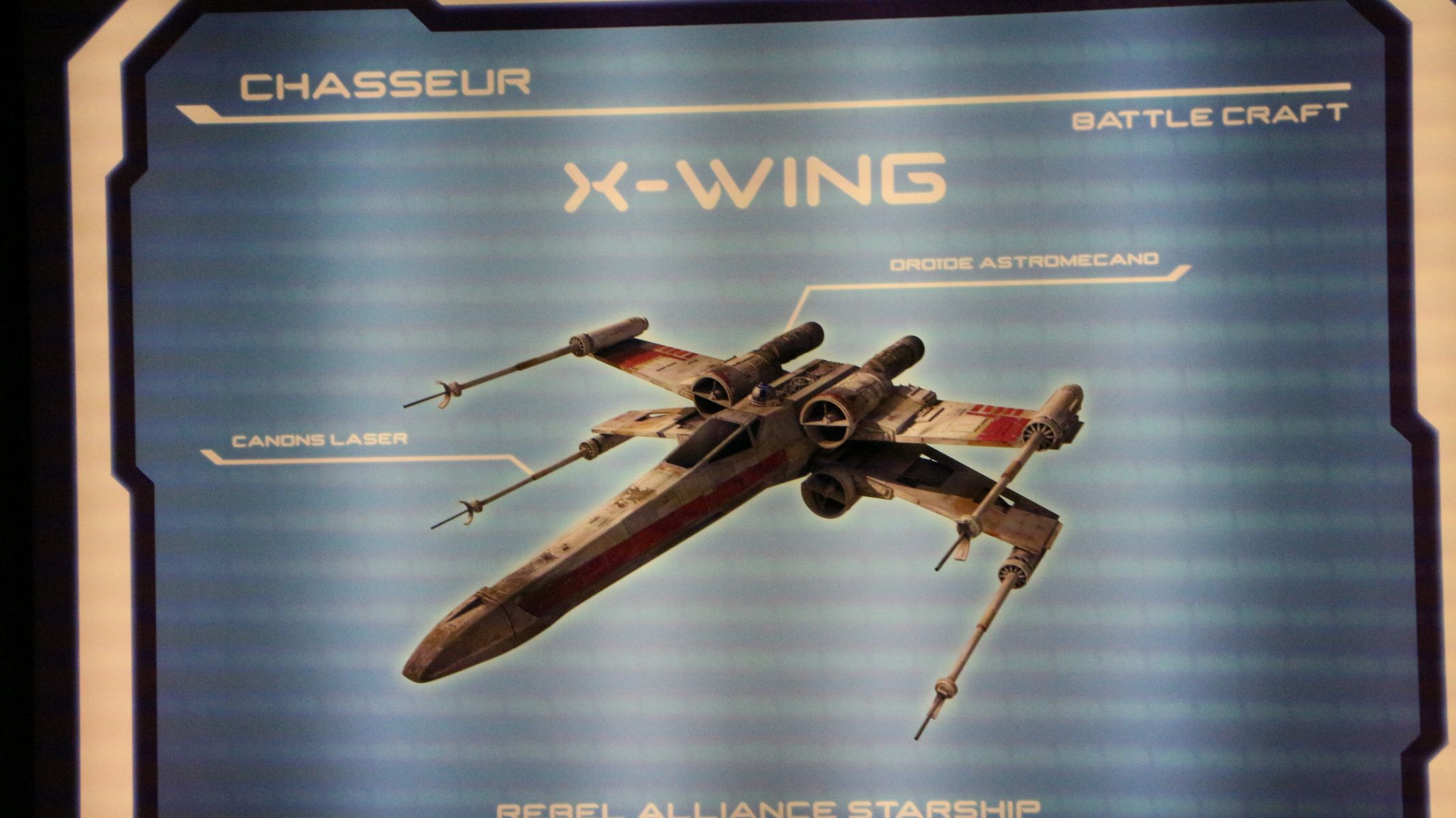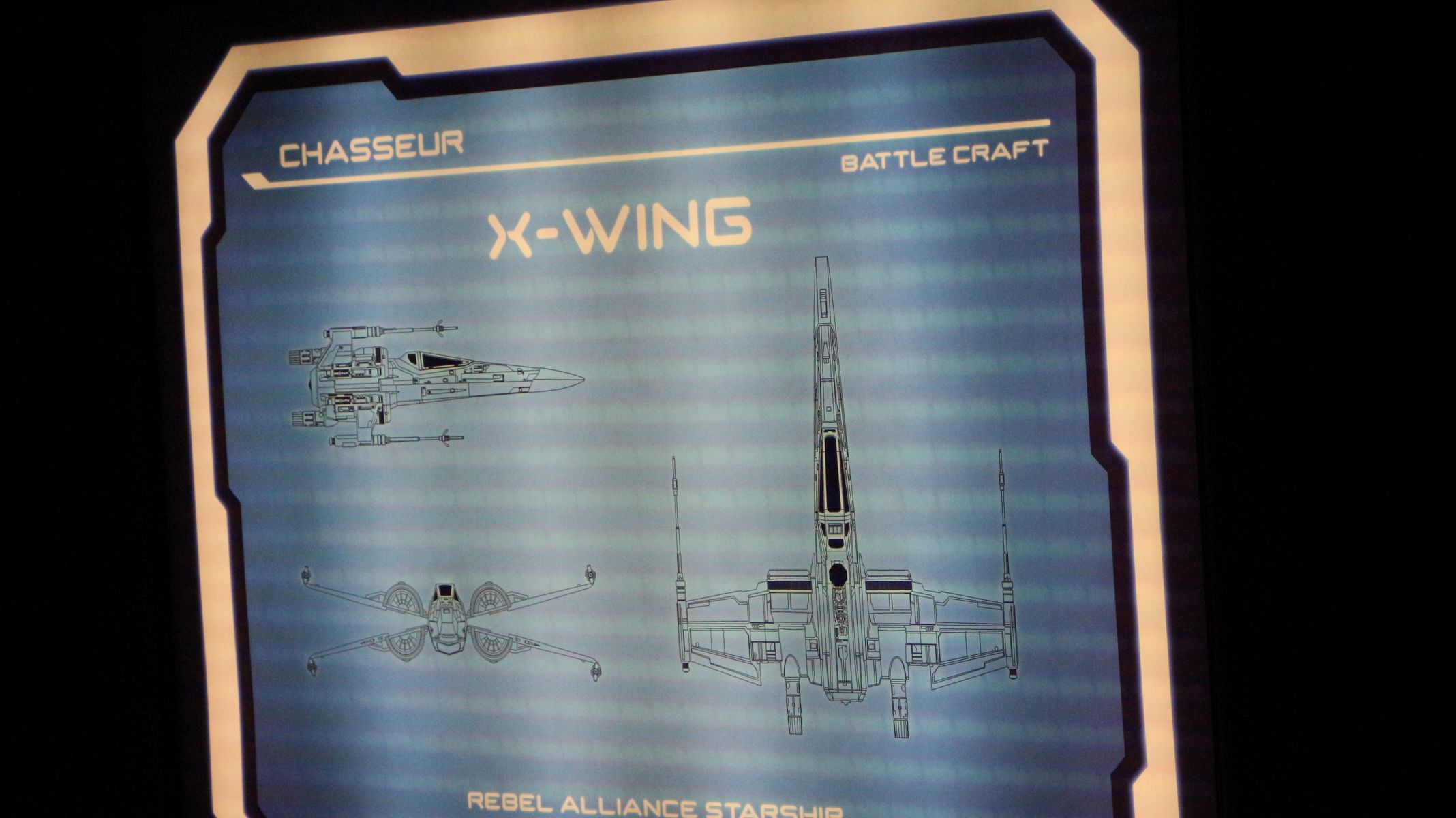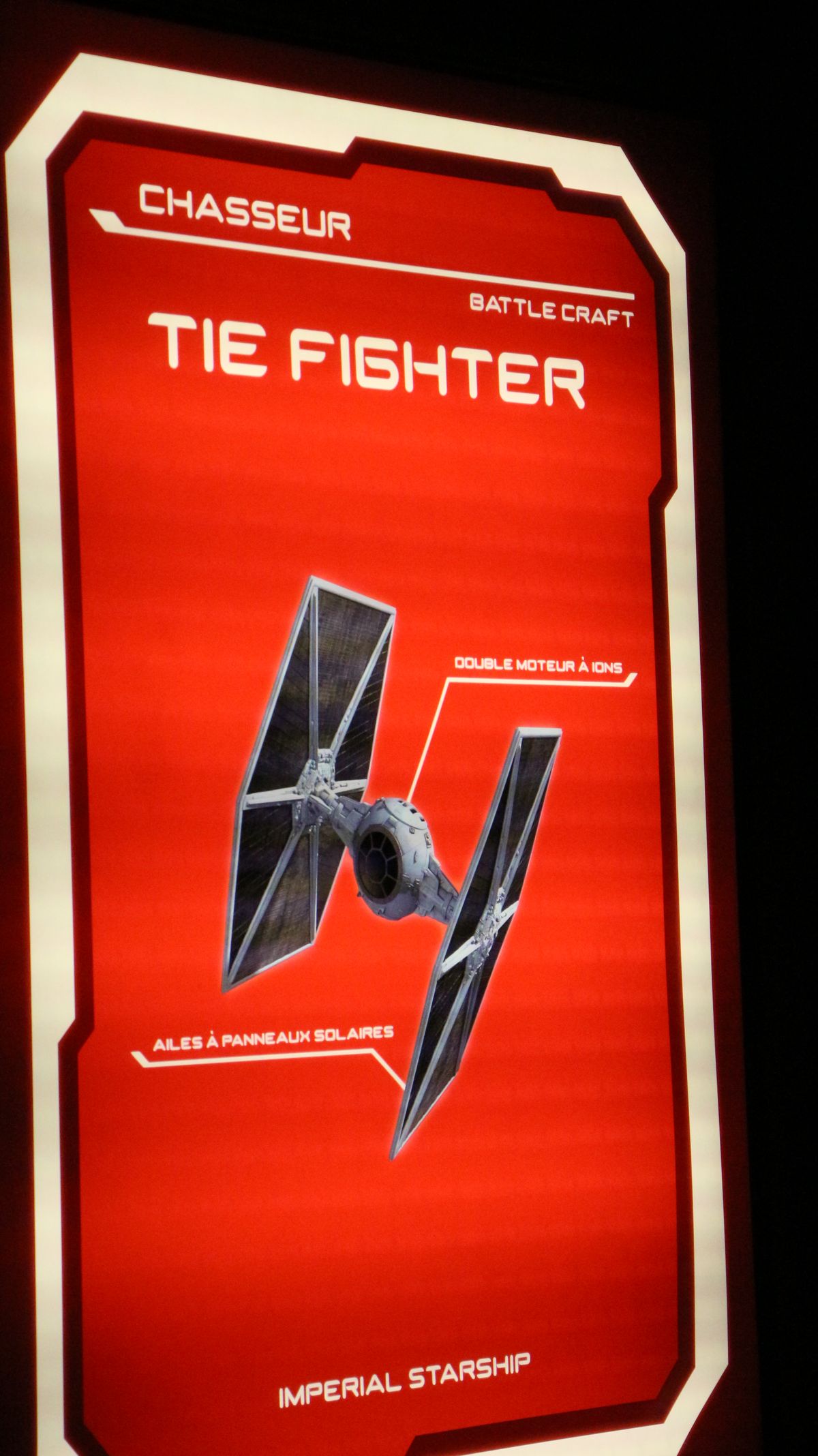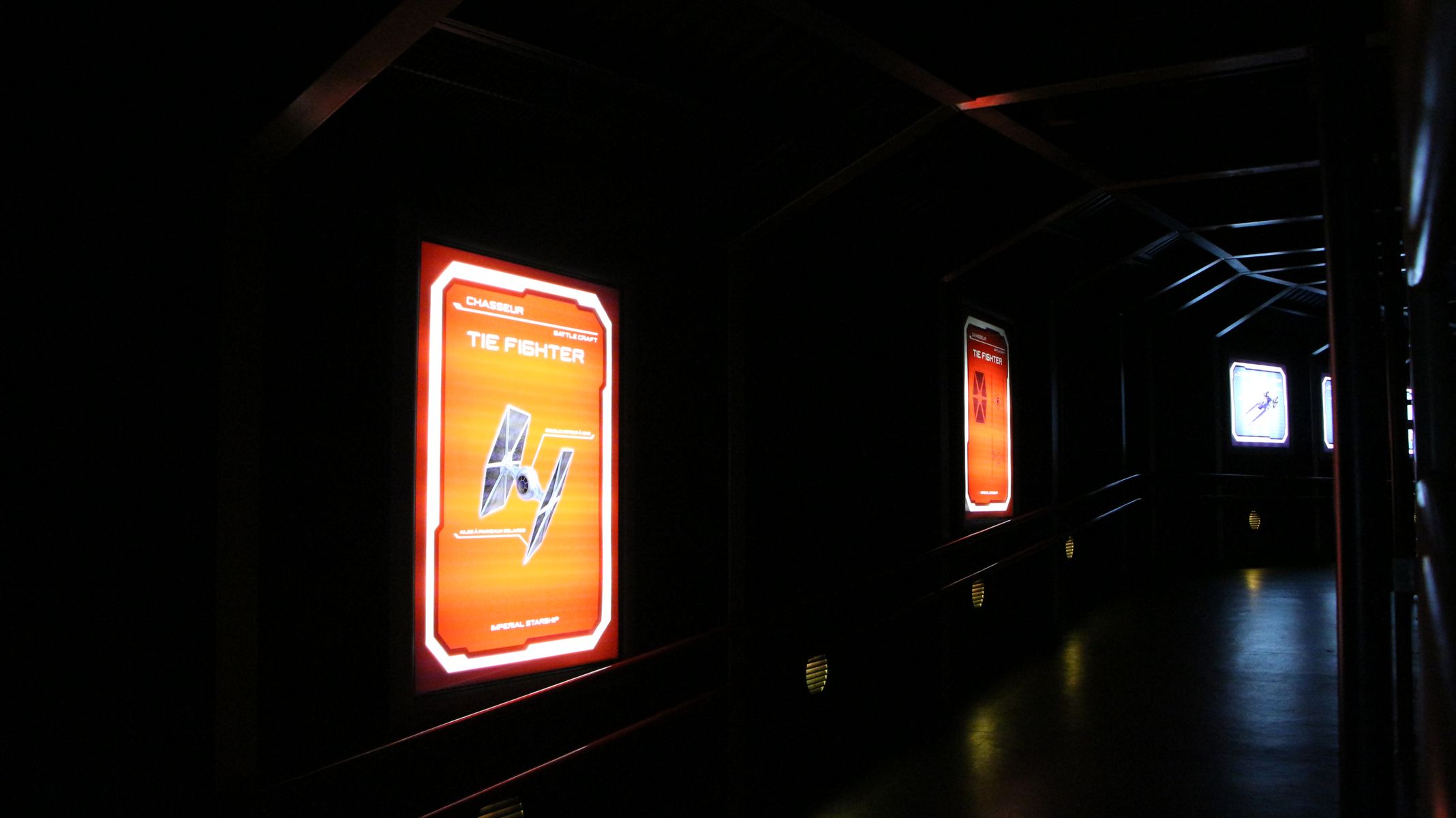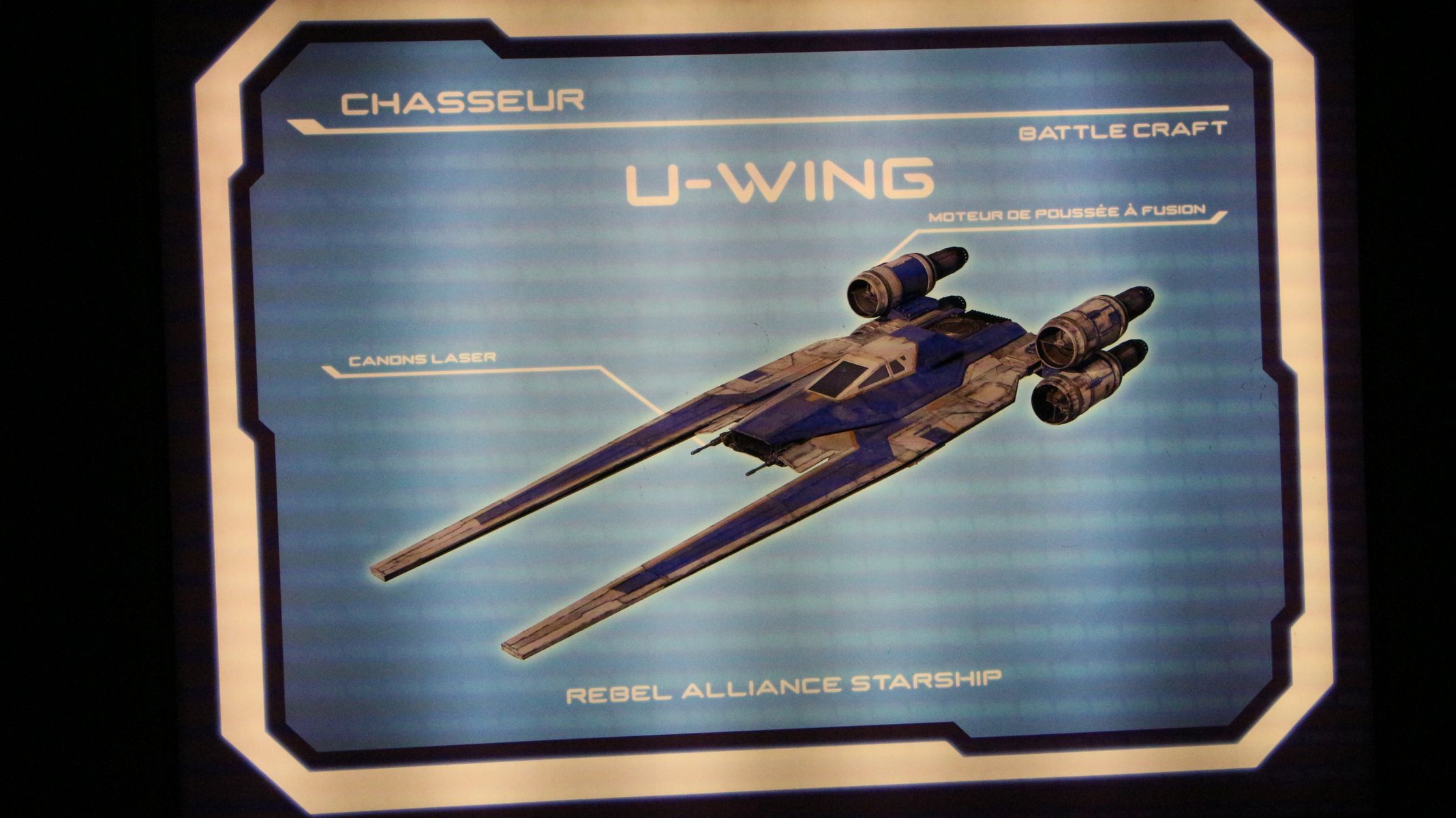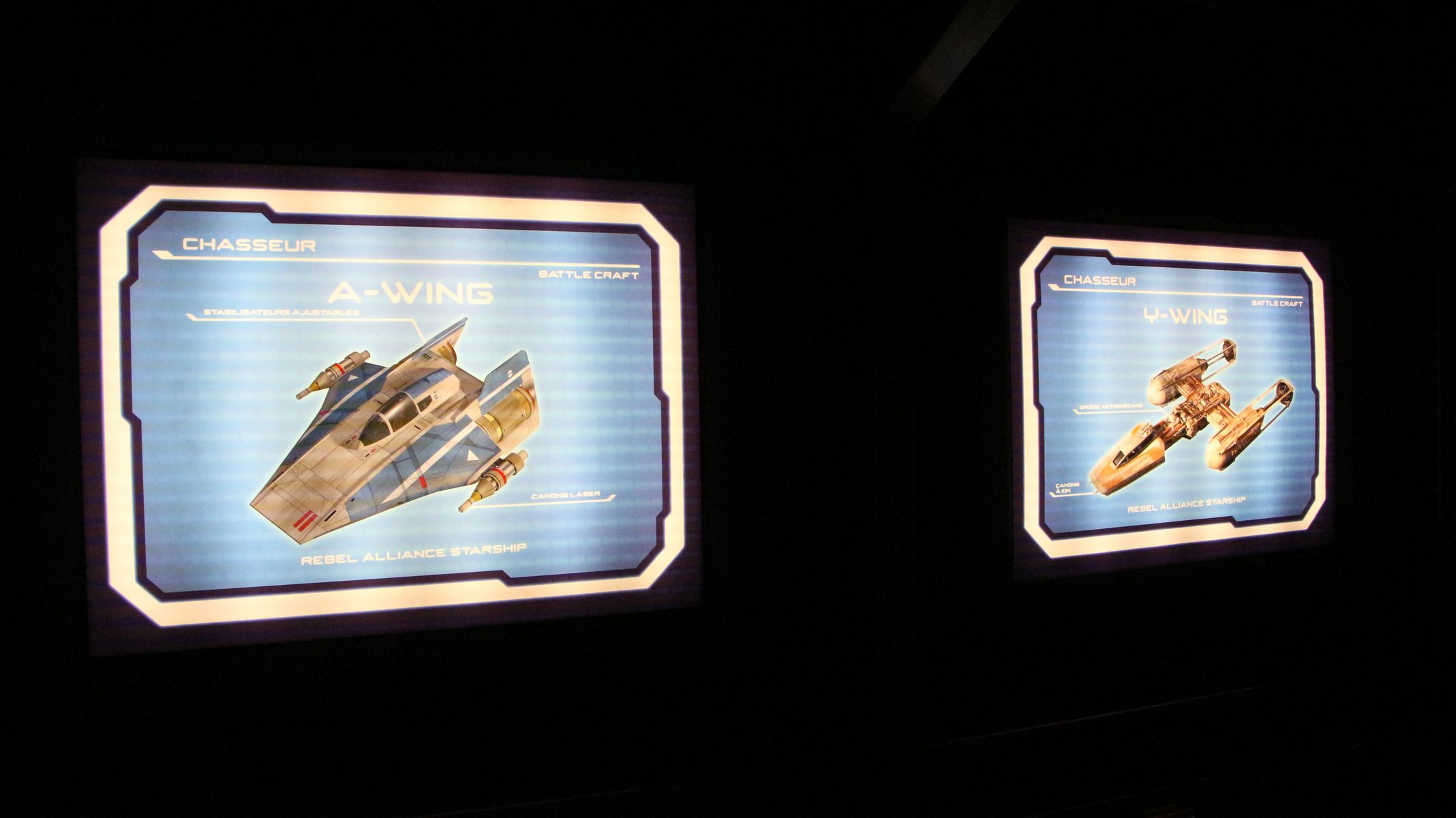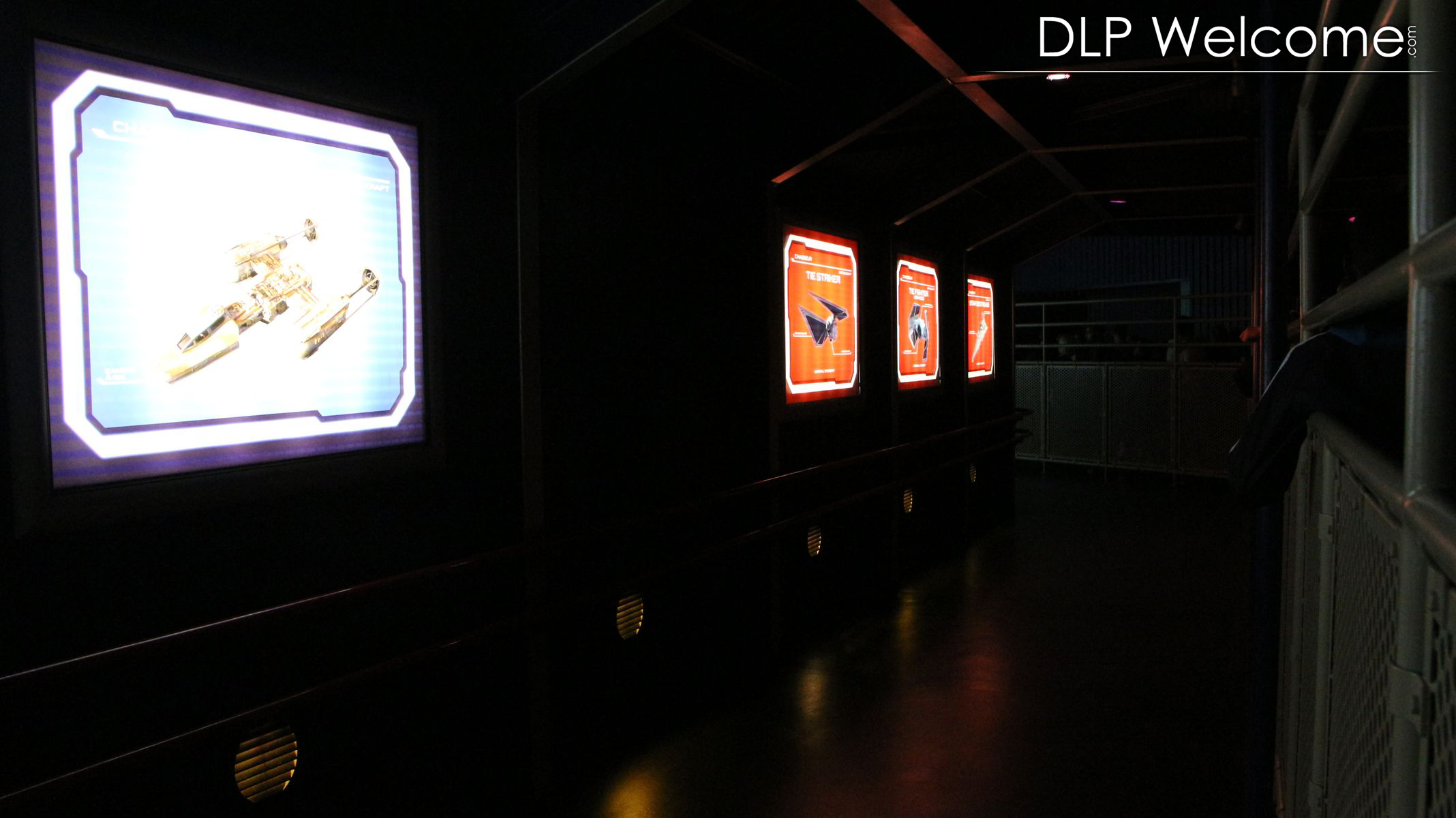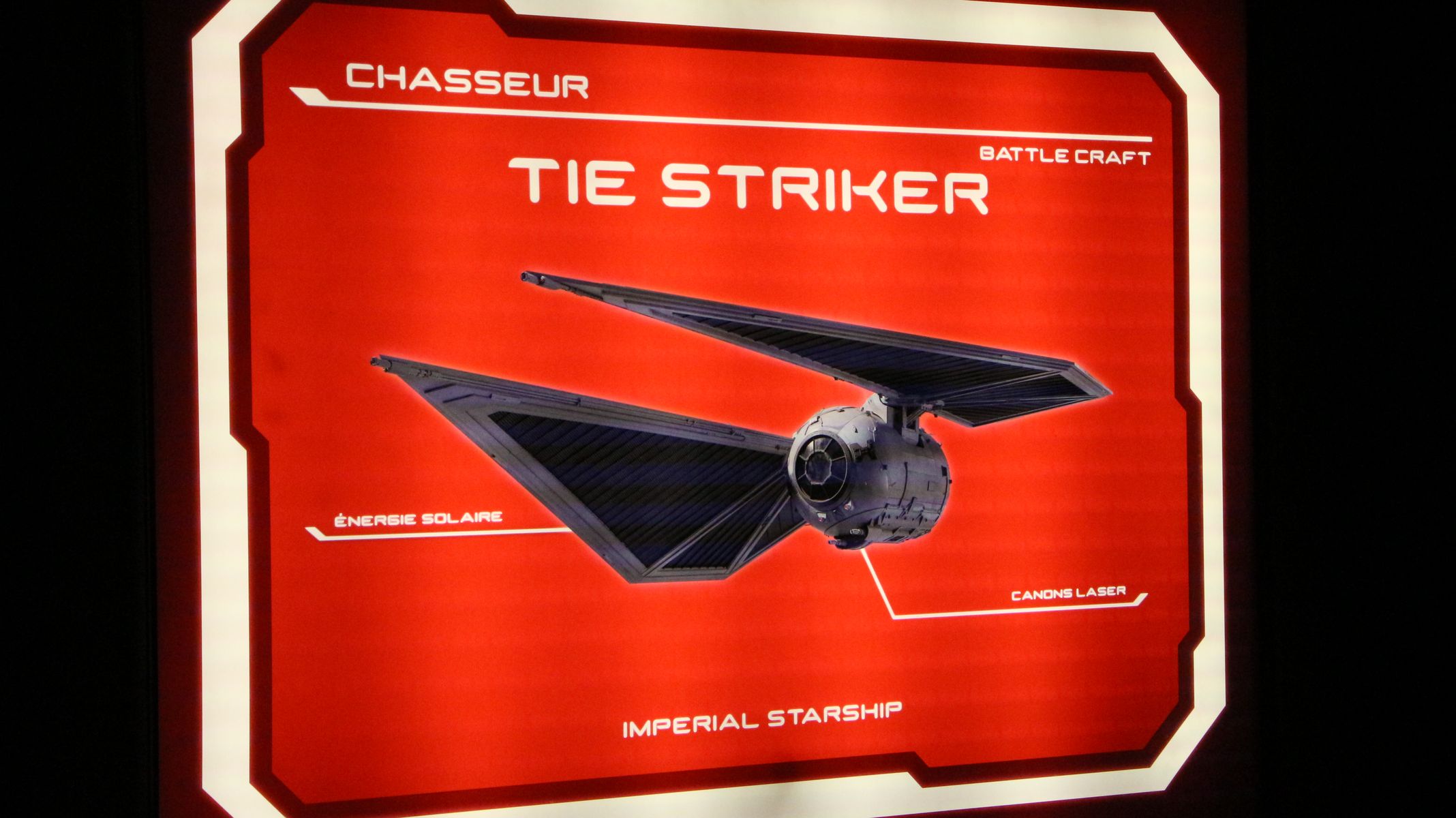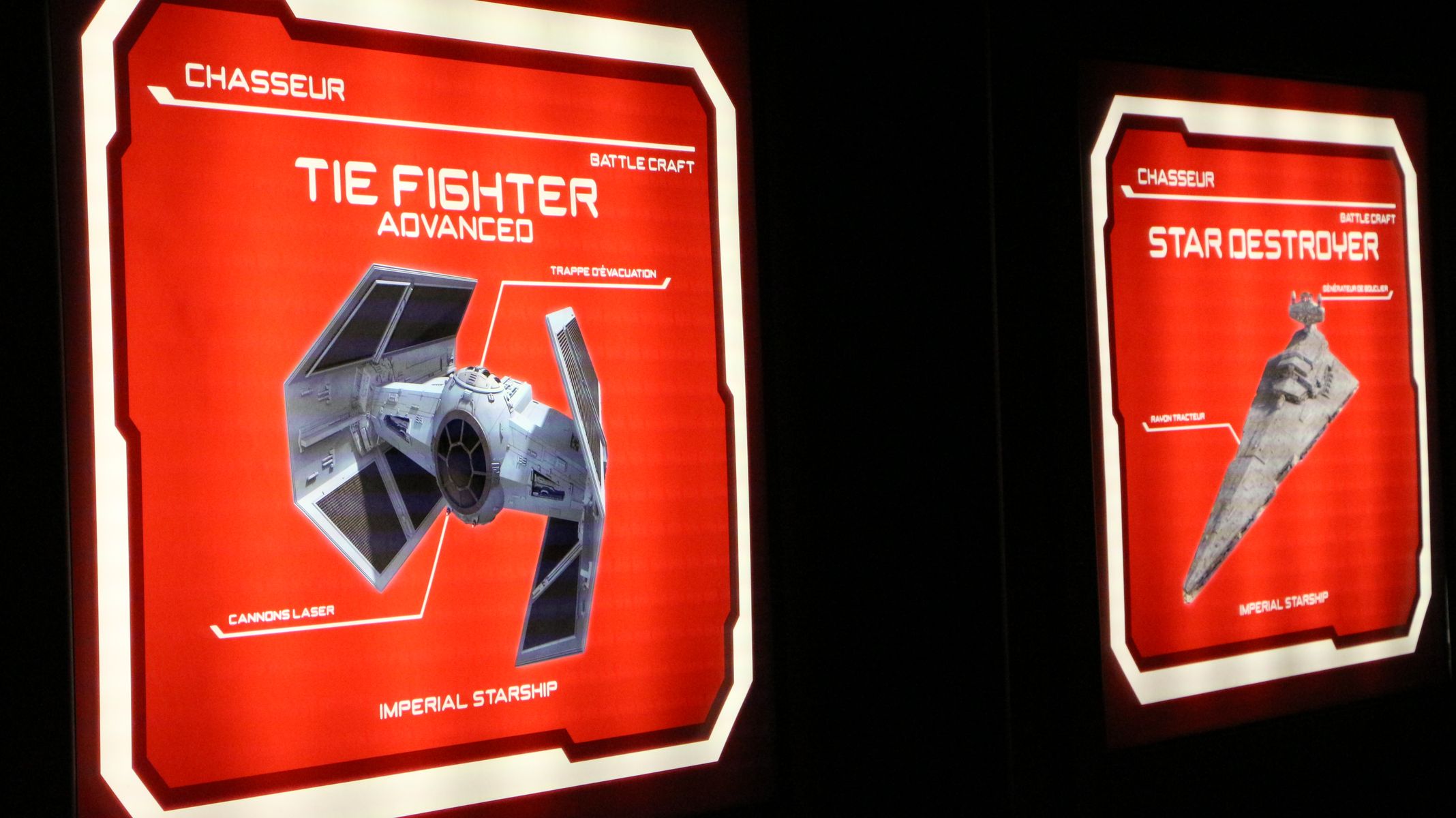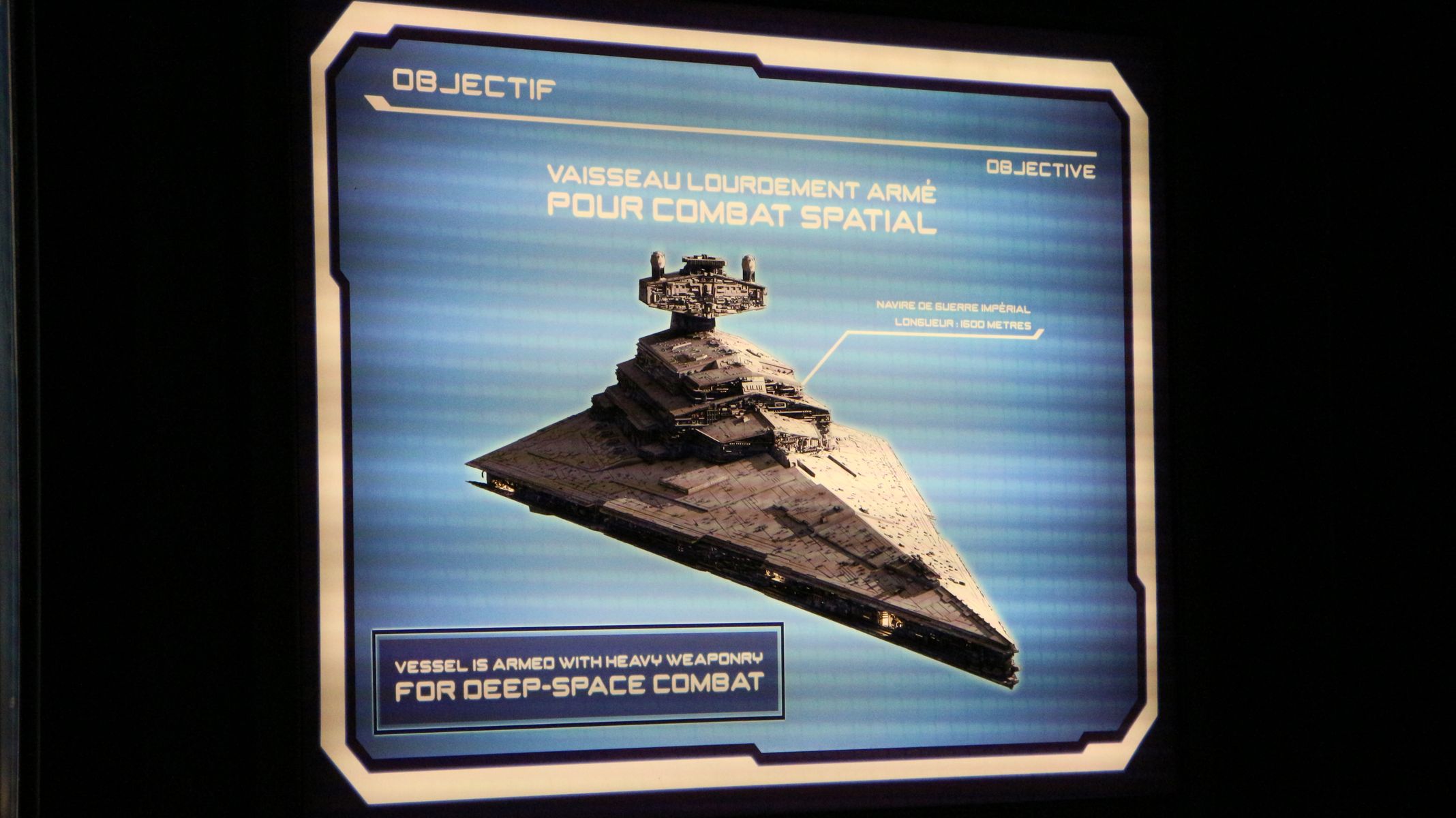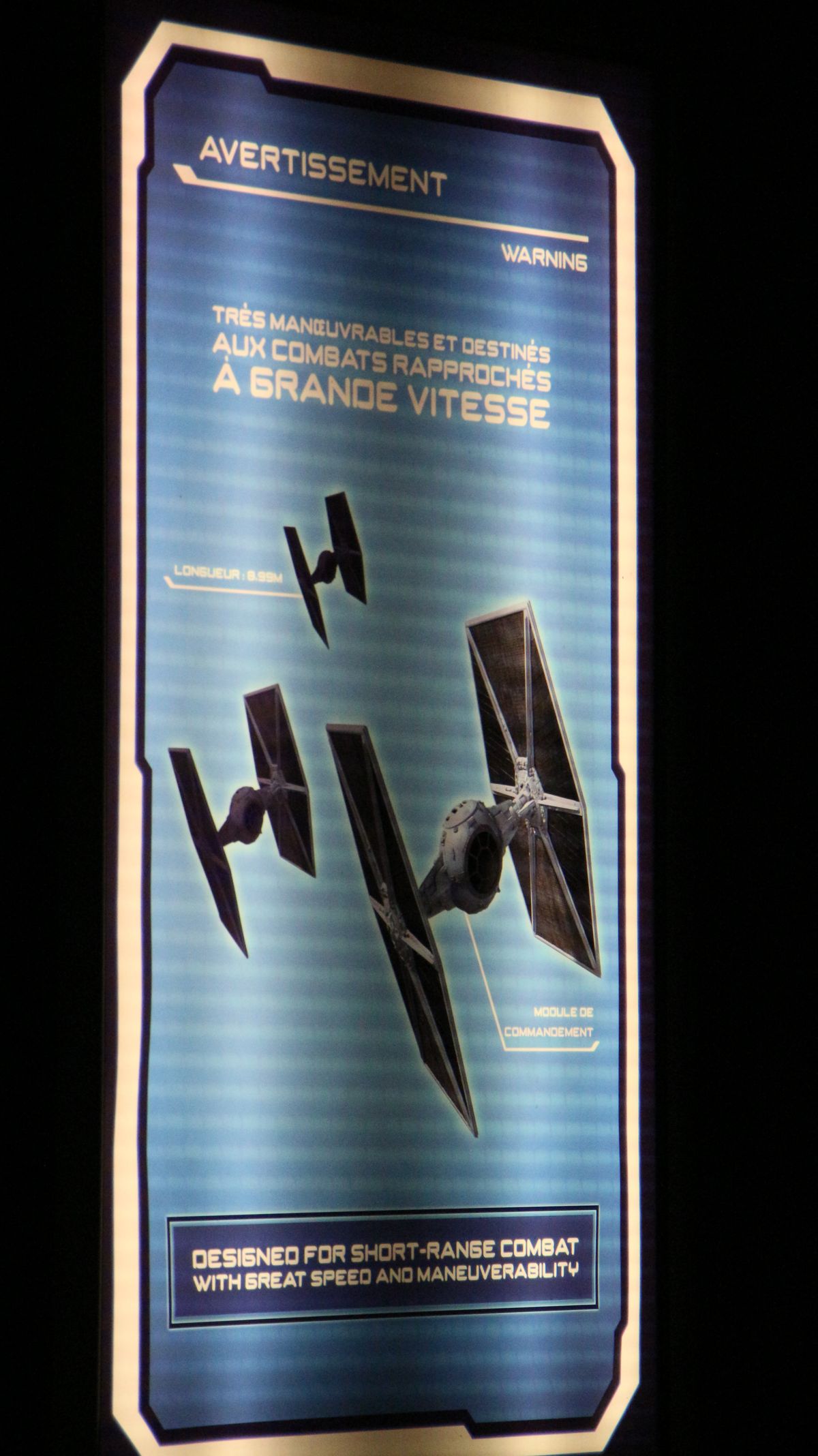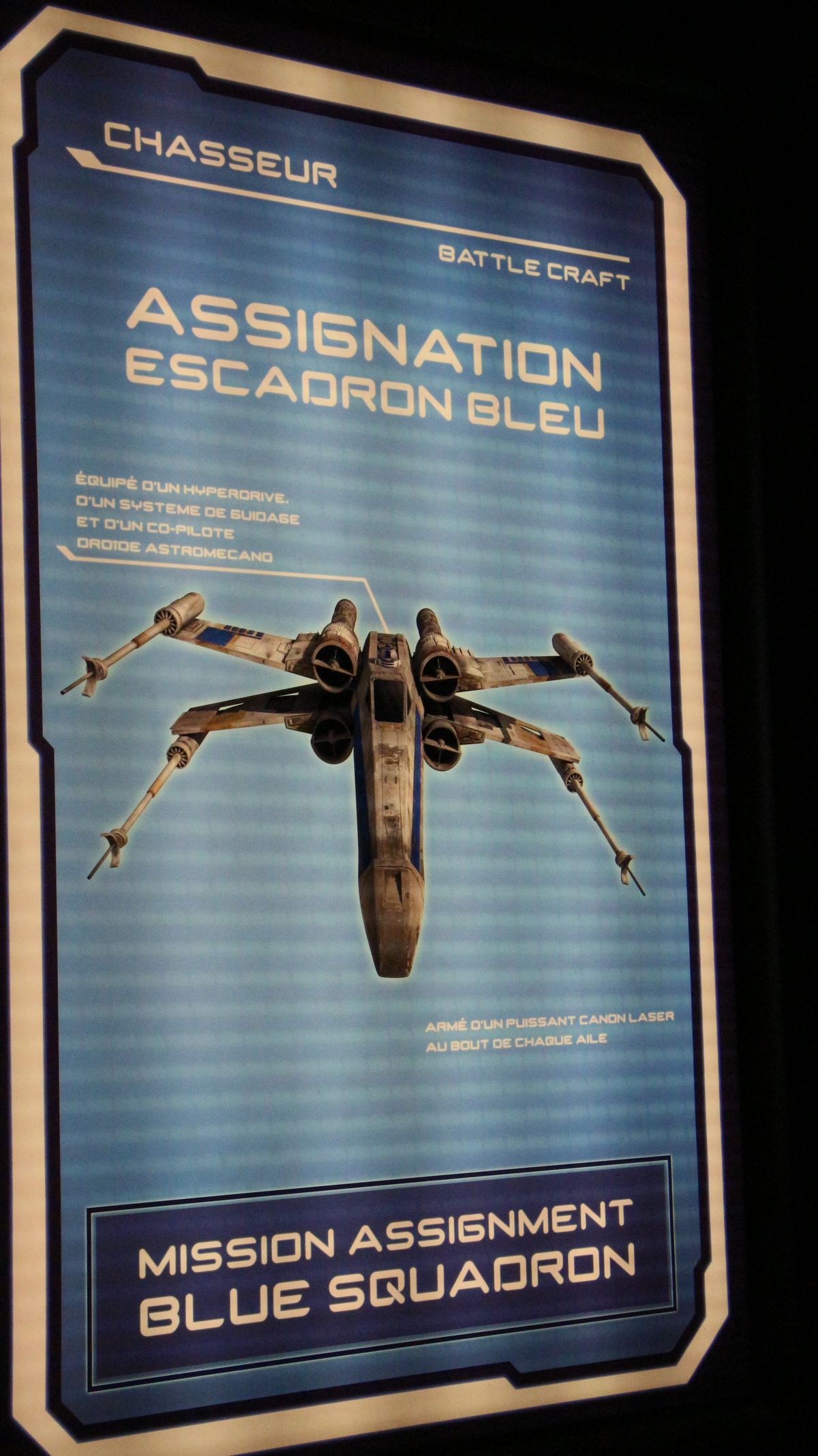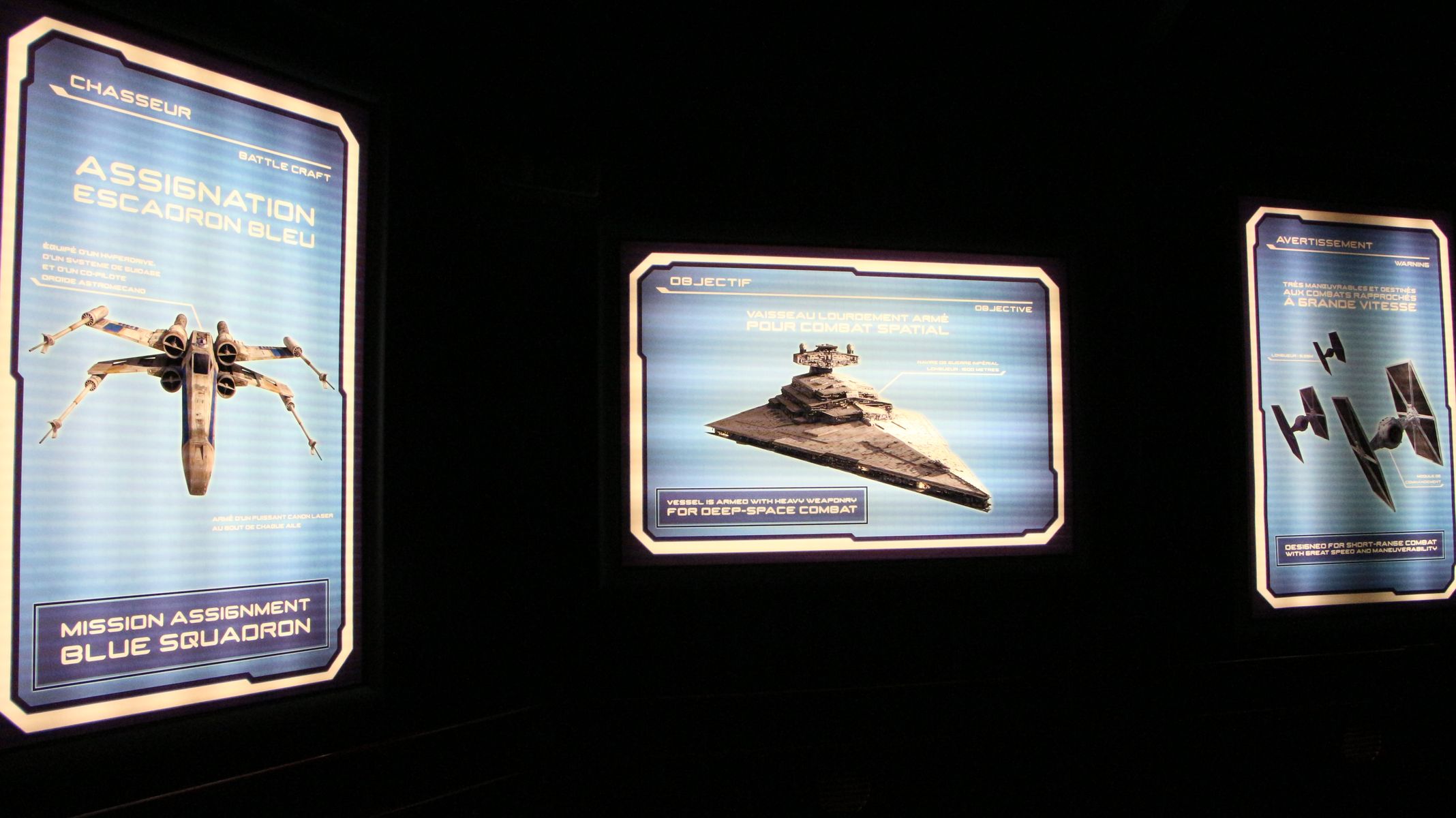 Durant le Soft Opening, une nouvelle vidéo de présentation des mesures de sécurité fut présentée pour mission 2. Cette nouvelle présentation est bien meilleure que la précédente avec une vrai atmosphère Steampunck et effets visuels qui fonctionnent. Cela démontre que Hyperspace Mountain est temporaire.
During the Soft Opening, a new video presentation of security measures of « Space Mountain : Mission 2 » was presented. This new presentation is much better than the previous one with a true atmosphere Steampunck and Visual effects that work. This shows that Hyperspace Mountain is temporary.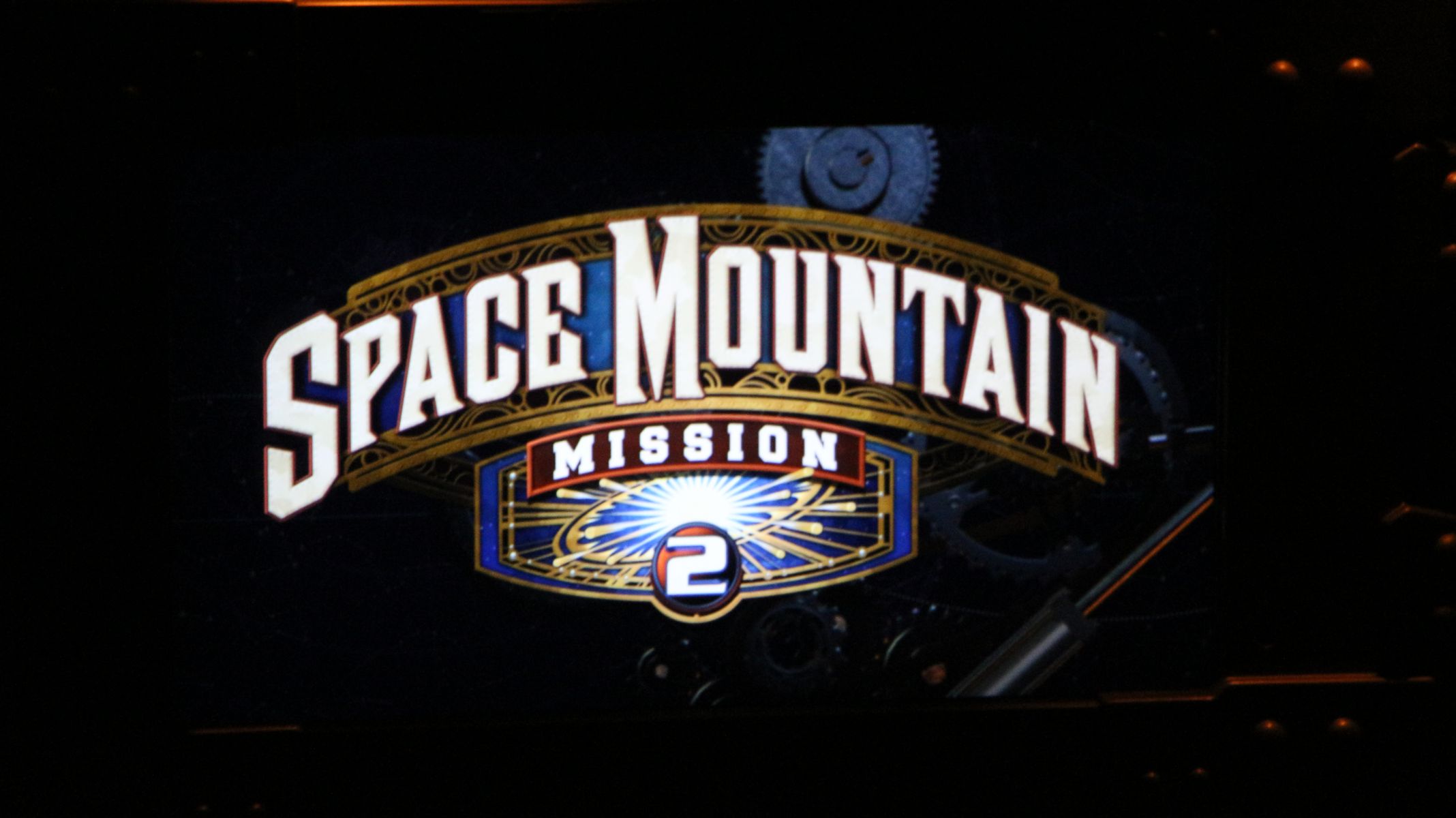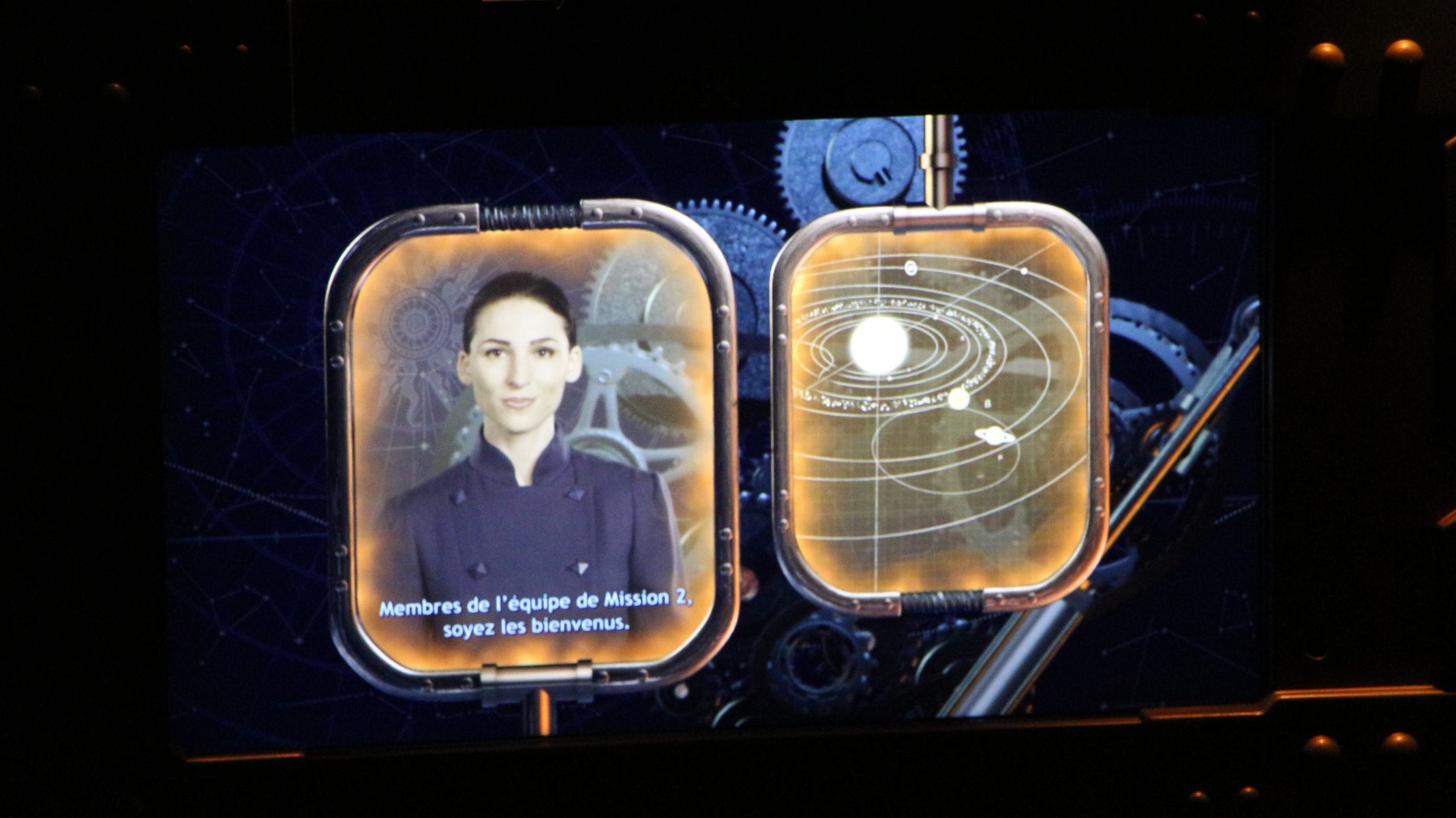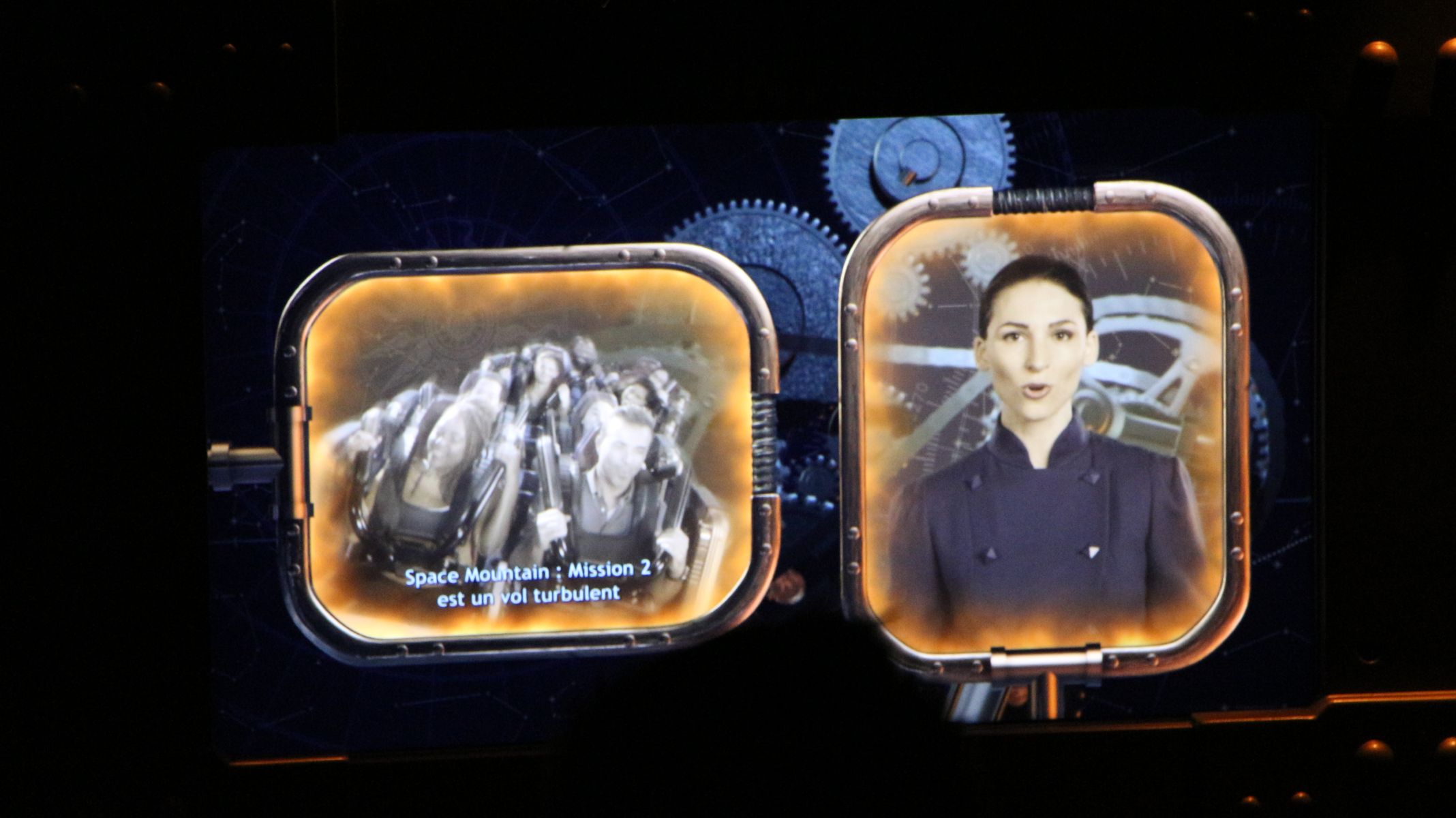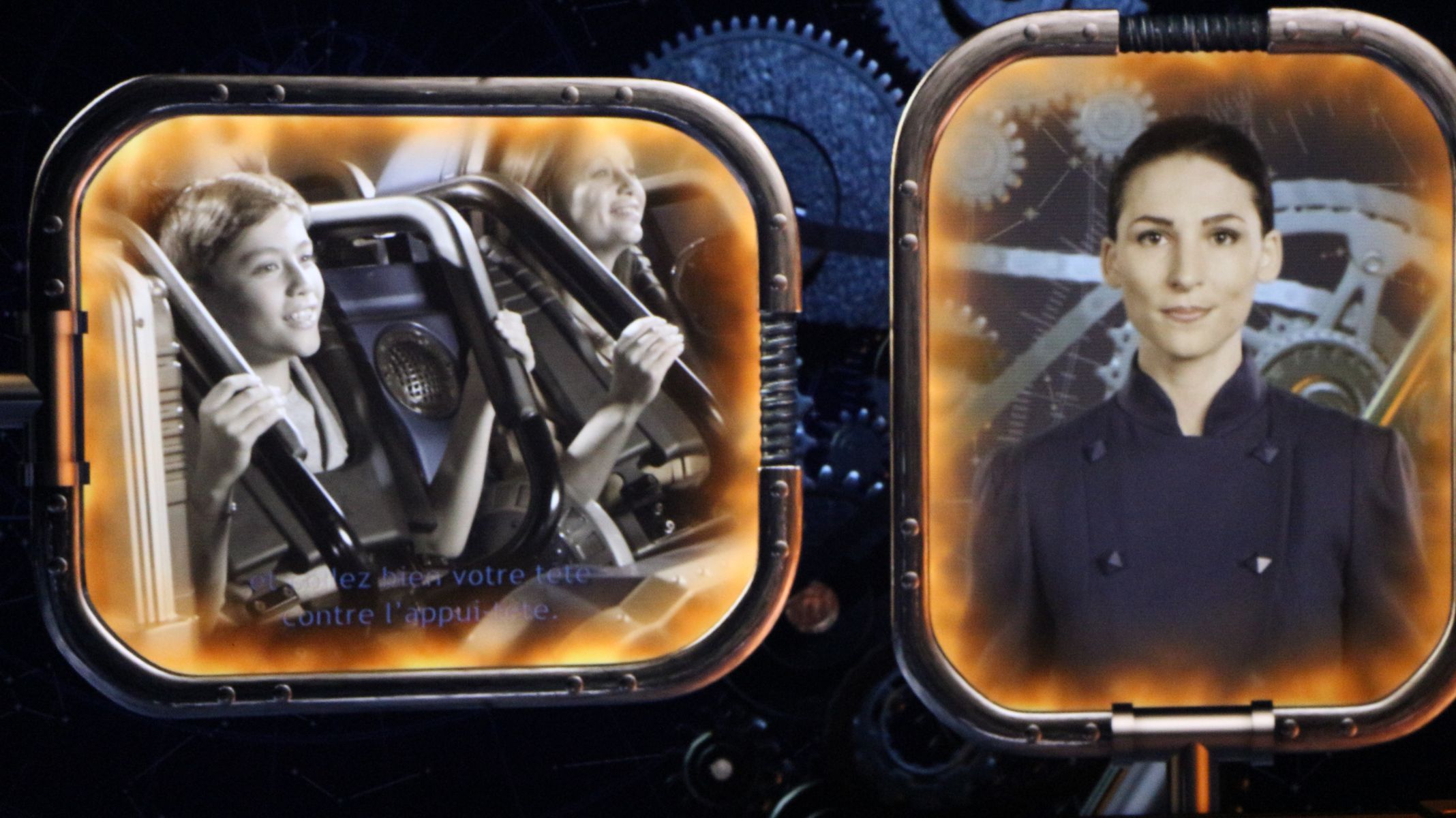 Voici un premier aperçu de la nouvelle gare, aux couleurs de Star Wars avec ses nouveaux drapés pour « Hyperspace Mountain : Rebel Mission ».
Here's a first look at the new station, in the colors of Star Wars with its new drapes for « Hyperspace Mountain: Rebel Mission ».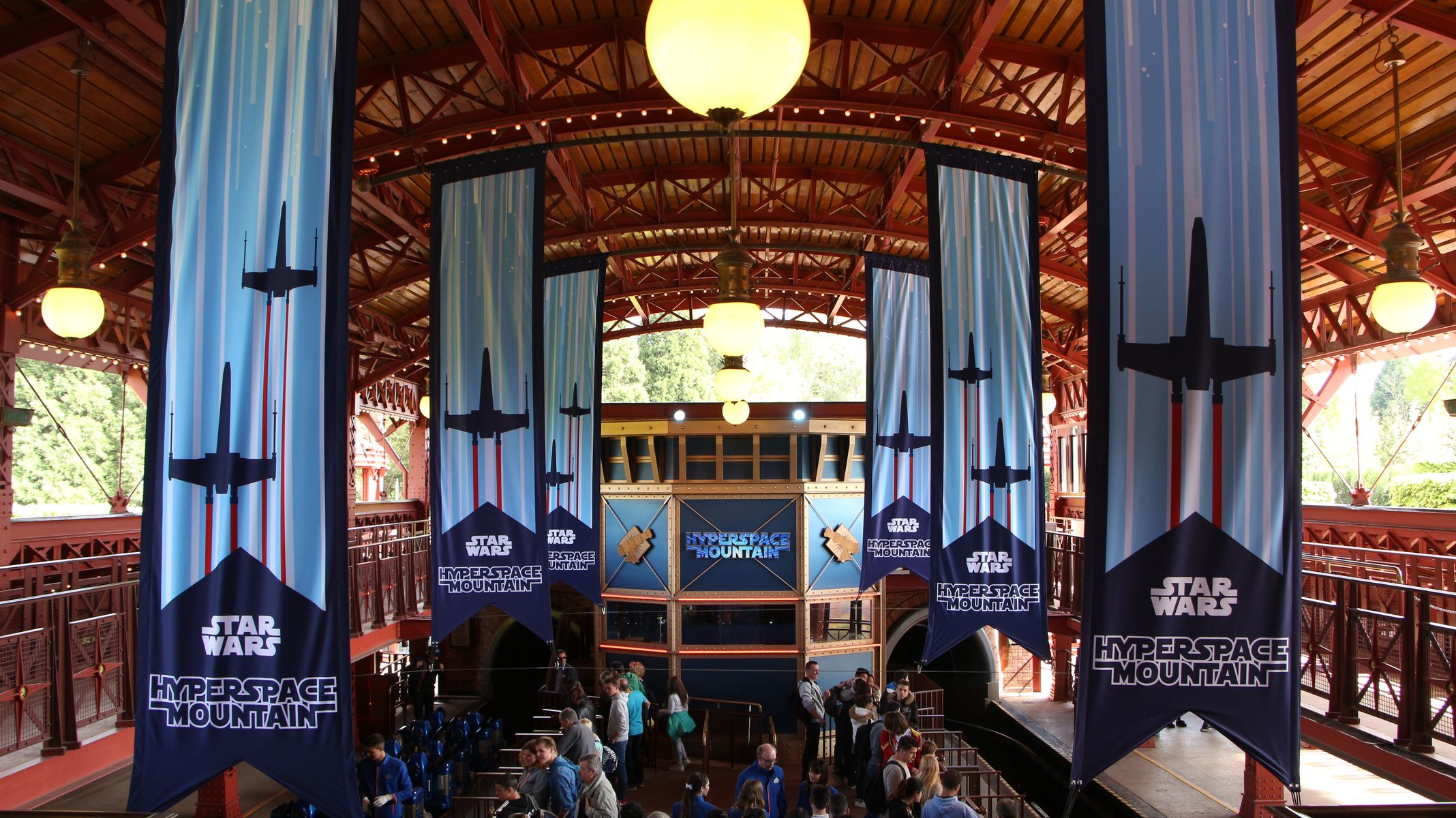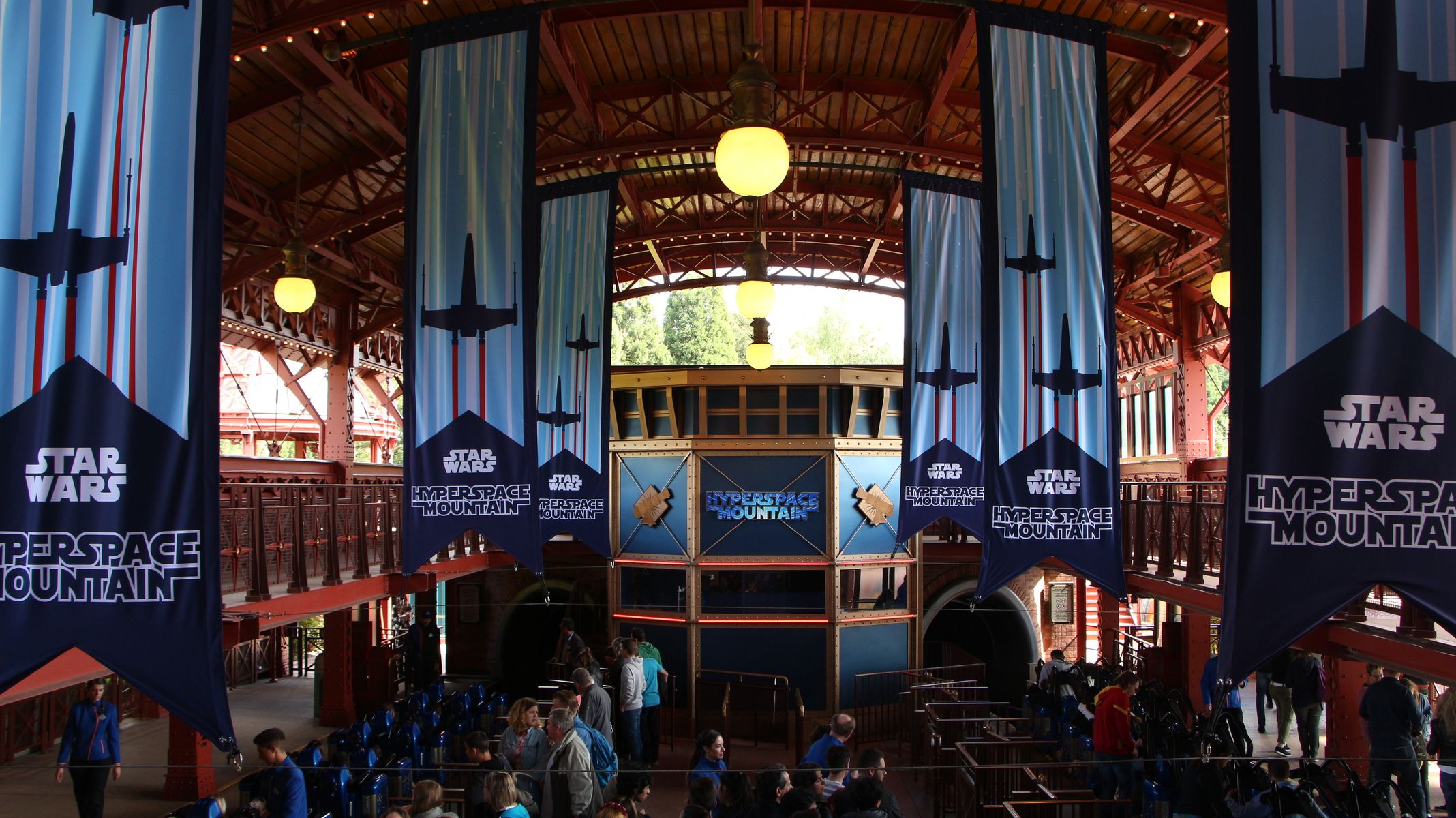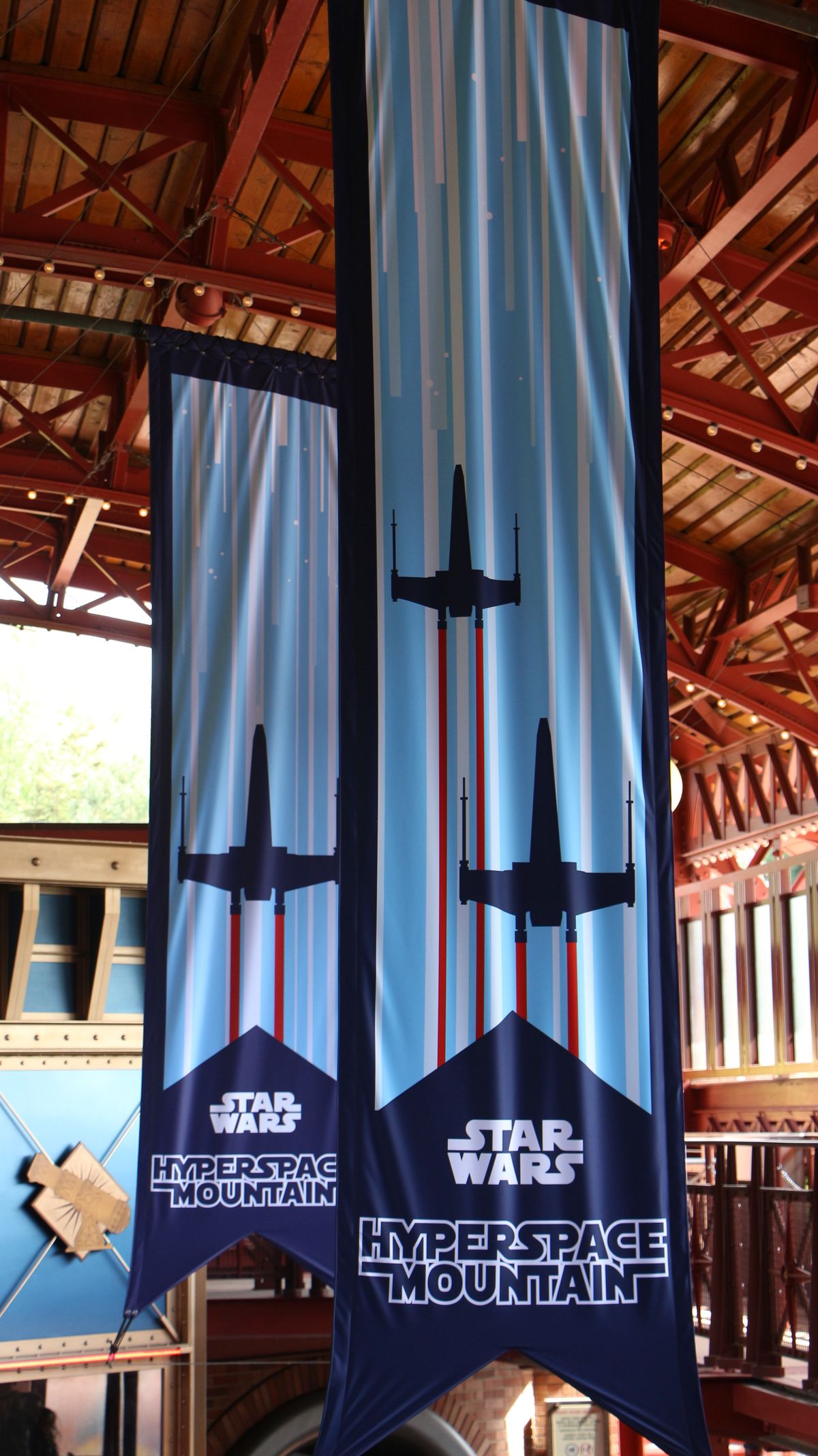 Les nouveaux trains de Vékoma, les MK-1212, sont la raison de notre venu. Que dire? L'assise est meilleure, le système audio embarqué est de dernière génération et promet un résultat étonnant. Les nouveaux harnais font oublier la tête qui tape comme un punching ball. Le voyage se déroule de manière fluide. Le nouveau système de maintien peut paraître oppressant pour certains. Pour éviter cela, veillez en vous installant de ne pas serrer le harnais au maximum contre vous, vous serez très bien maintenu sur votre siège.
Une chose est sure, l'expérience est meilleure avec ces nouveaux trains.
Coté thématisations du train, rien à redire, l'inspiration Jules Verne et le thème steampunk du land, sont présents. Même la couleur des trains étonne tant elle n'apparaît pas sur le dôme, mais est vite oubliée entre les engrenages, l'icône Columbia incrustée sur le harnais, le soleil du Canon de catapultage et tout le design rappelant le style du land.
En résumé, les nouveaux trains sont supérieurs en thématisations et en qualité de l'expérience que les précédents modèles. L'utilisation de ce modèle MK-1212, devrait être généralisée sur ces types de coasters Vekoma dans tous les parcs Disney dans le monde.
The new Vekoma trains, the MK-1212, are the reason for our coming. What to say? The seat is better, the on-board audio system is latest generation and promises an amazing result. New harnesses make forget the head who types like a punching ball. The trip takes place smoothly. The new system may seem not comfortable for breathing of some. To avoid this, make sure, when you installing, do not tighten the harness up against you in maximum, you will be very well kept on your seat.
One thing is sure, the experience is better with these new trains.
Side of the theme of trains, it's perfect, inspired Jules Verne and the land steampunk theme, all is present. Even the color of the trains who can surprise because she does not appear on the dome of the mountain, but is quickly forgotten between the gears icon, the icon of the Columbia inlaid on the harness, the Sun of the Catapult and all design Recalling the style of the land.
In resume, the new trains are superior in theming and the quality of the experience as the previous train models. The use of this model MK-1212, should be widespread on all this types of Vekoma coaster in all of the Disney parks in the world.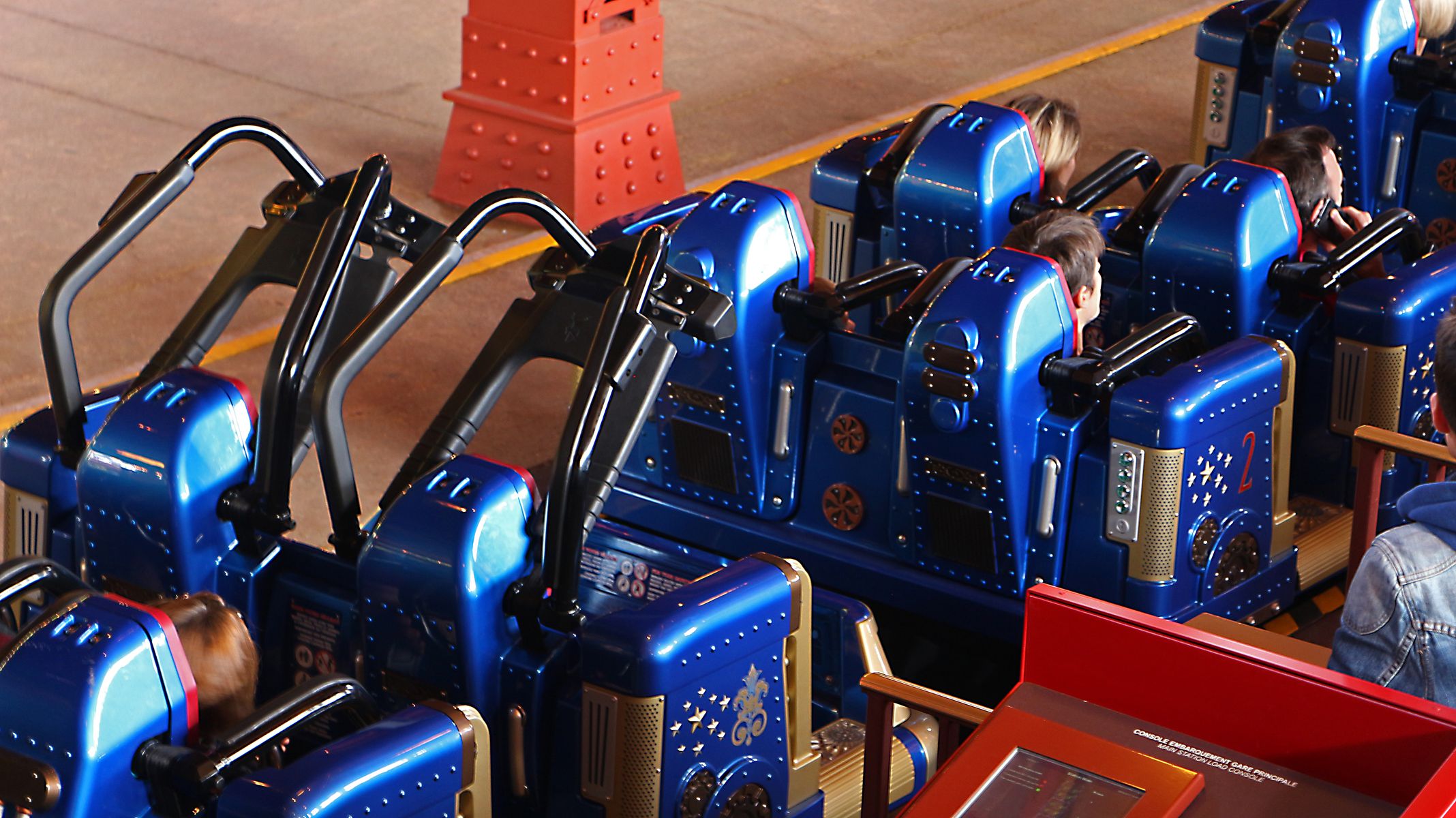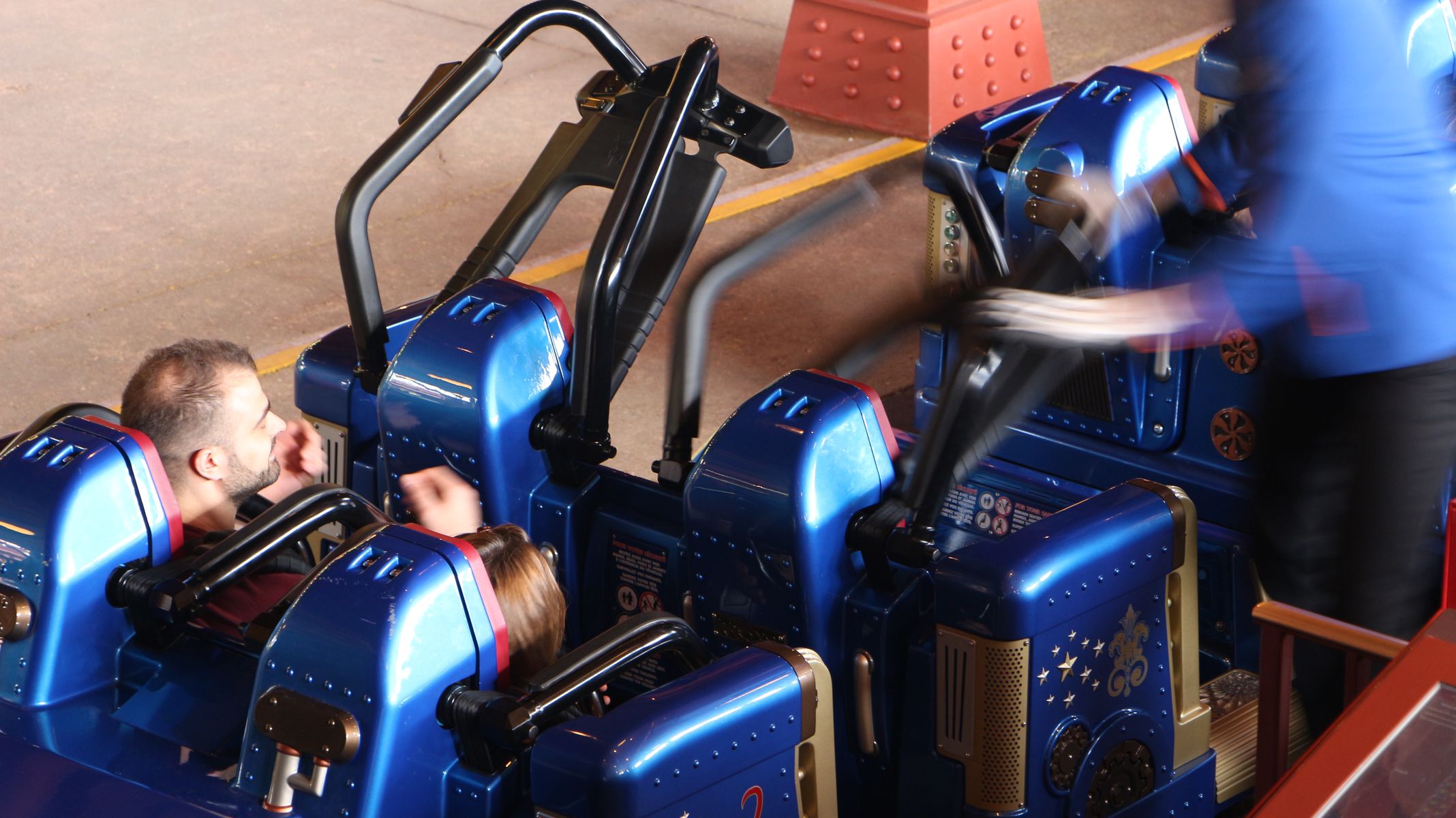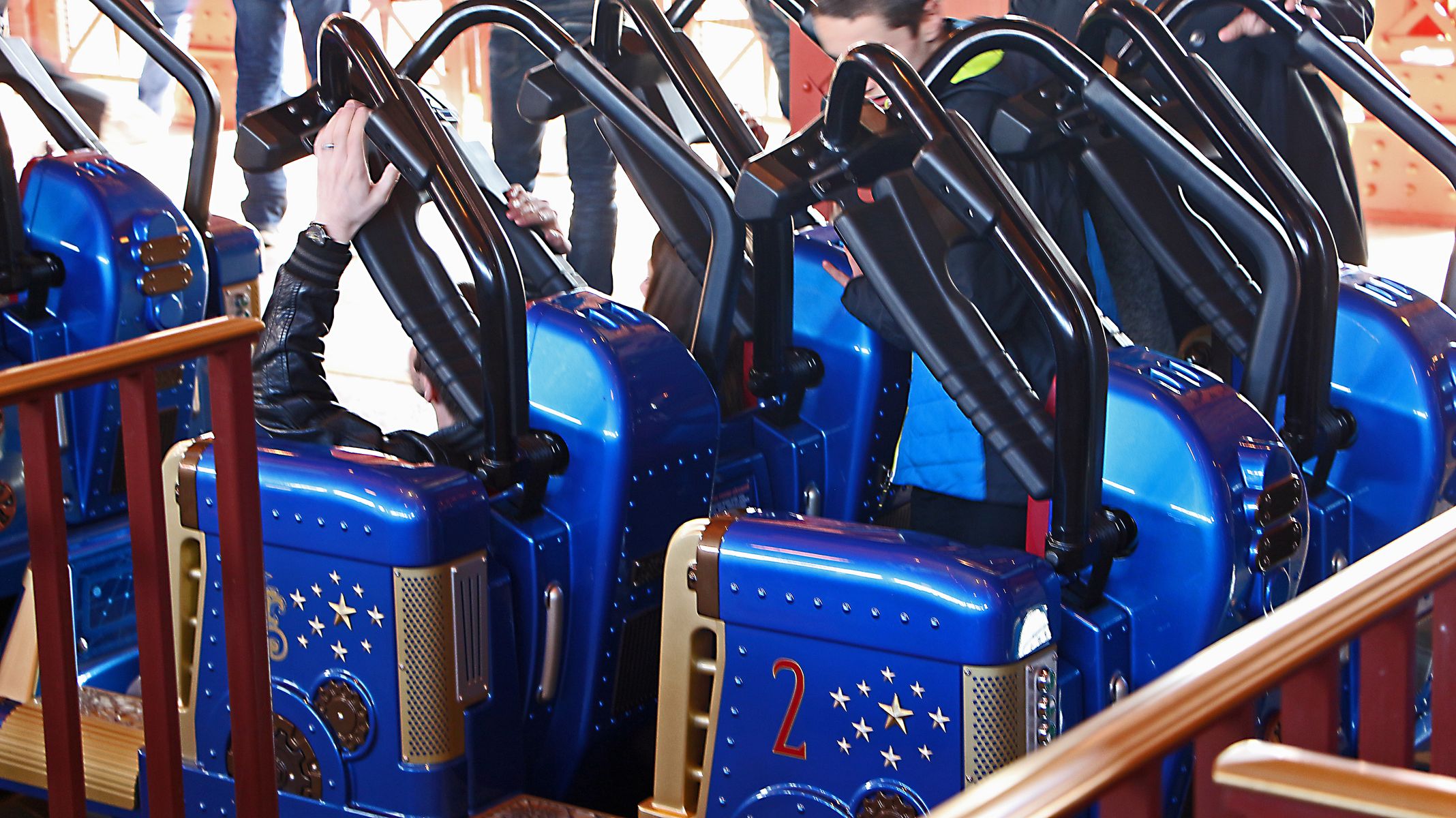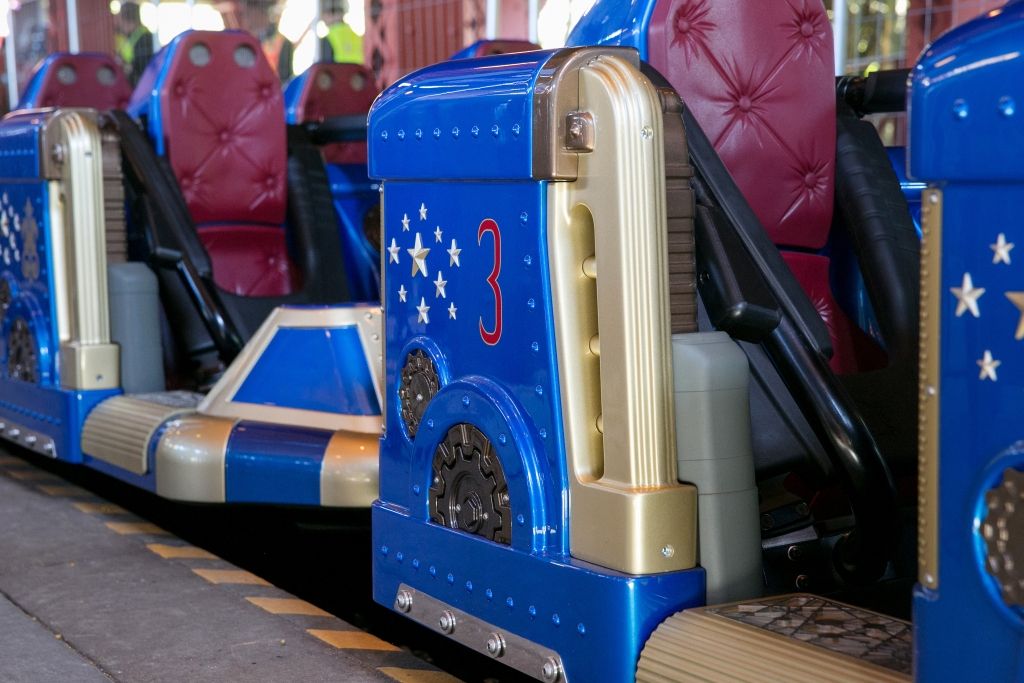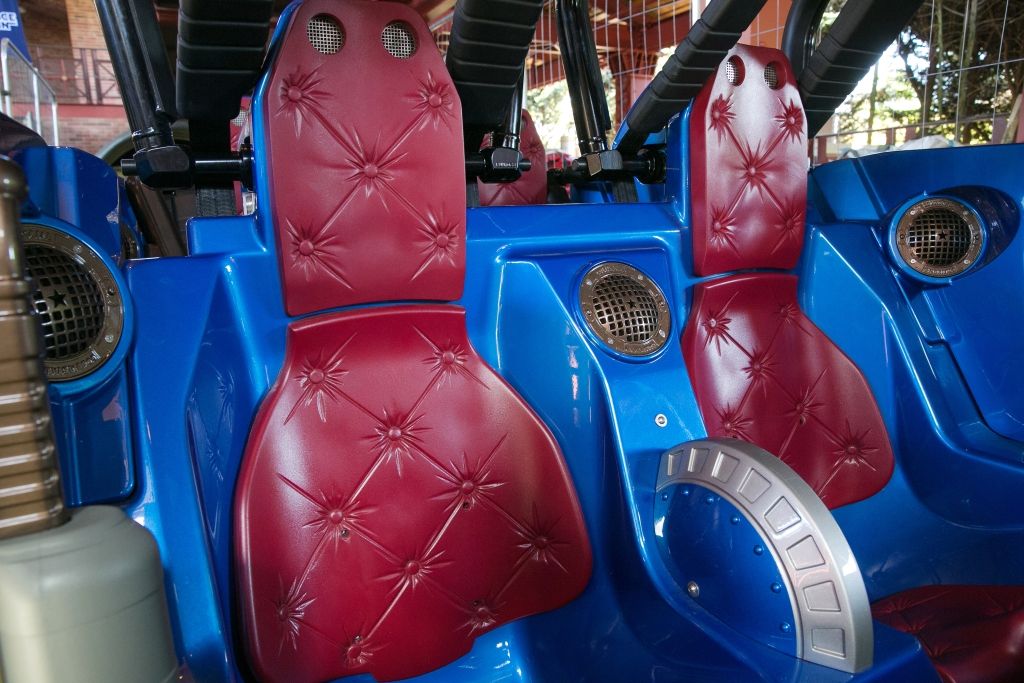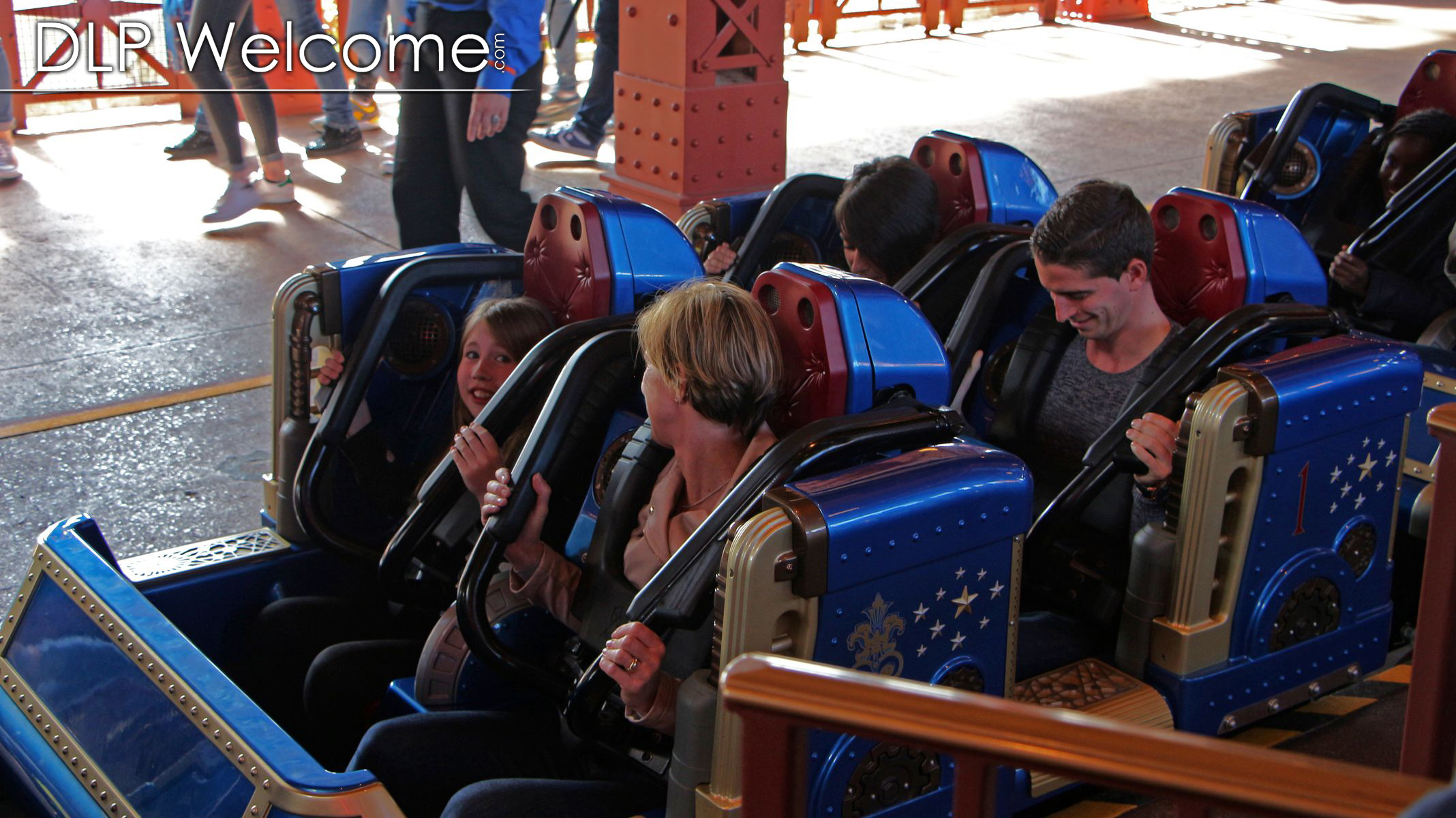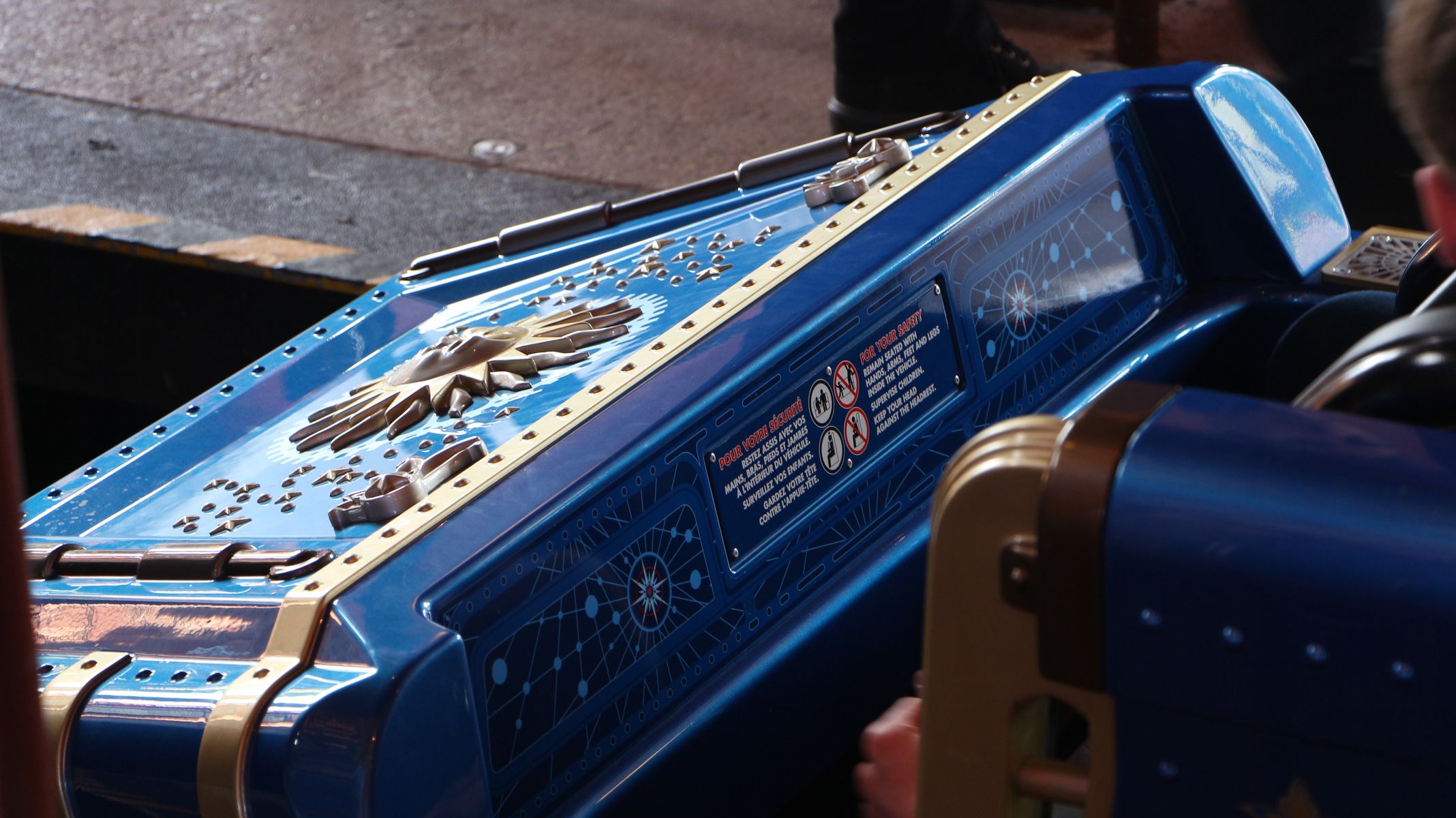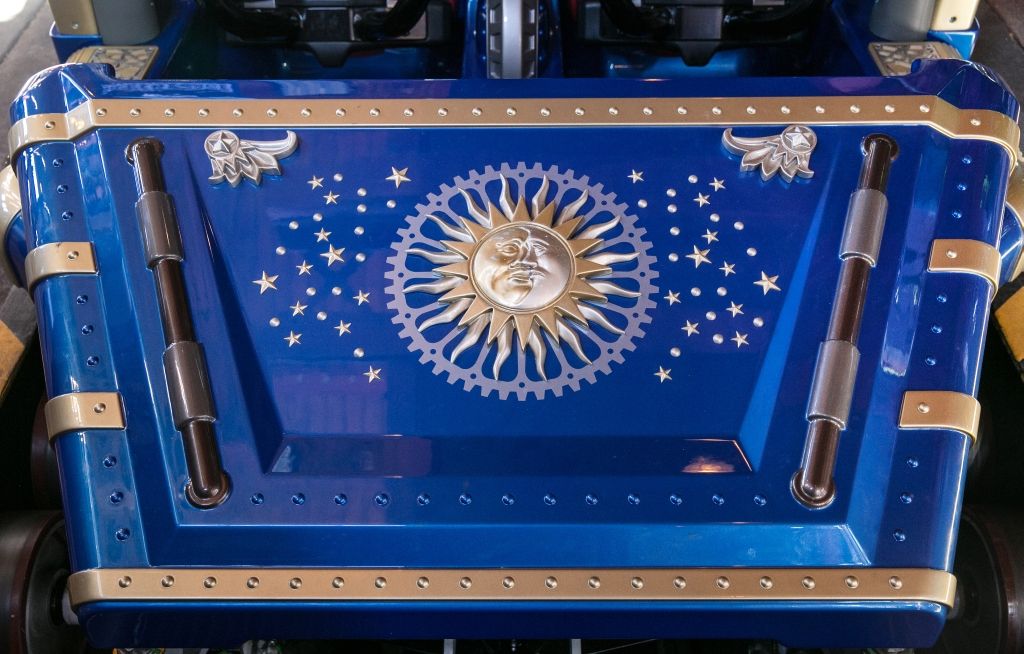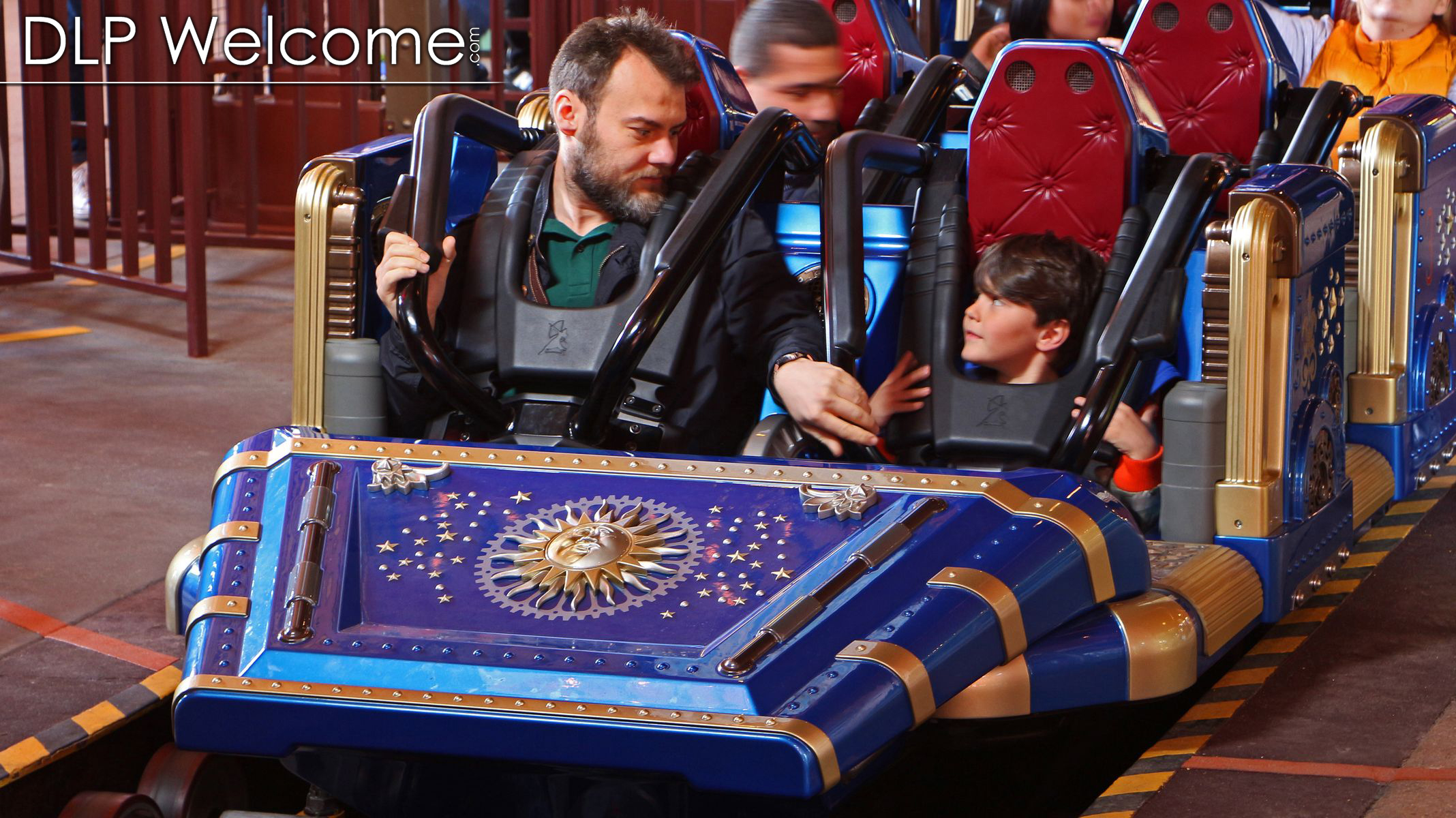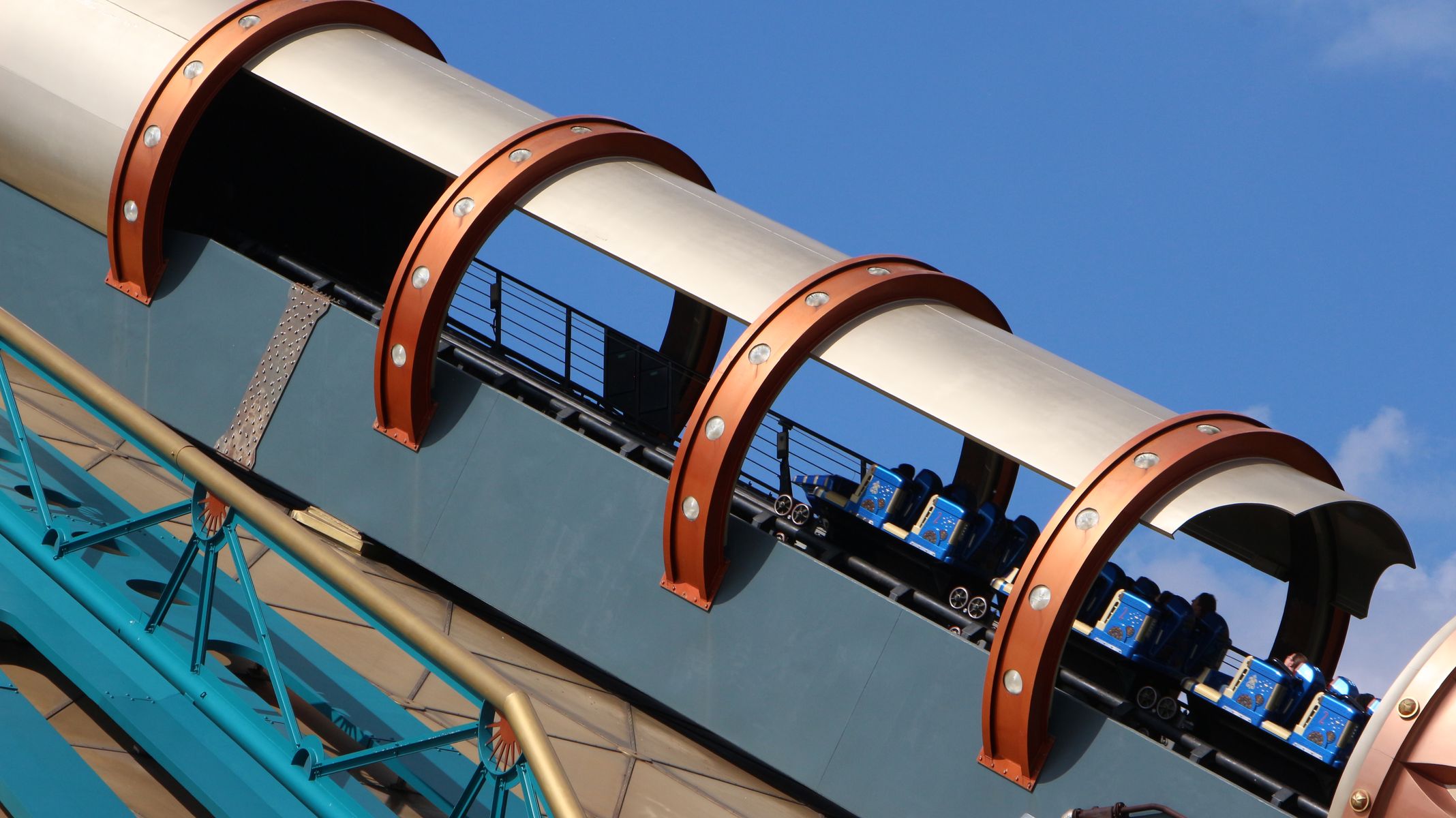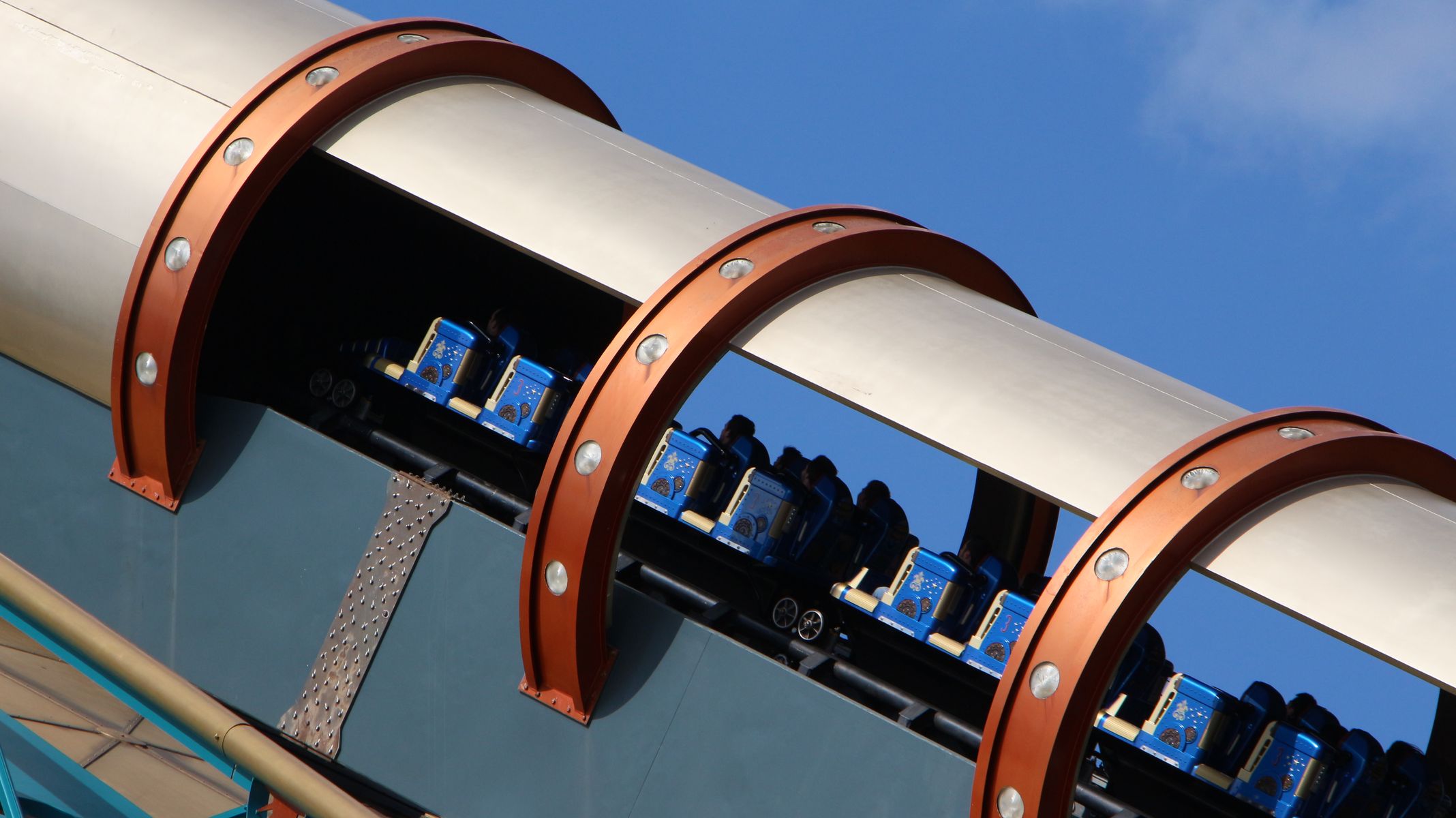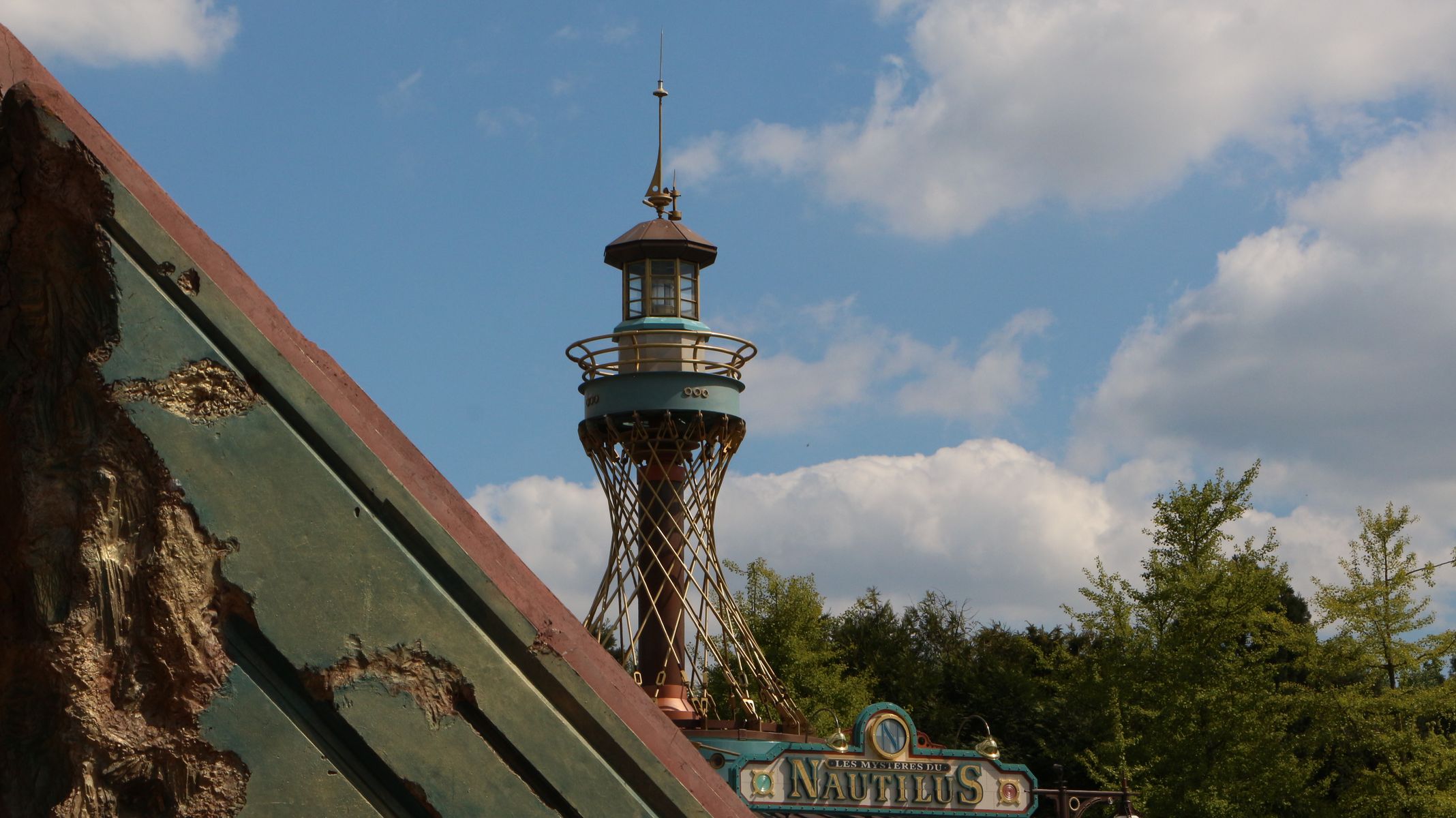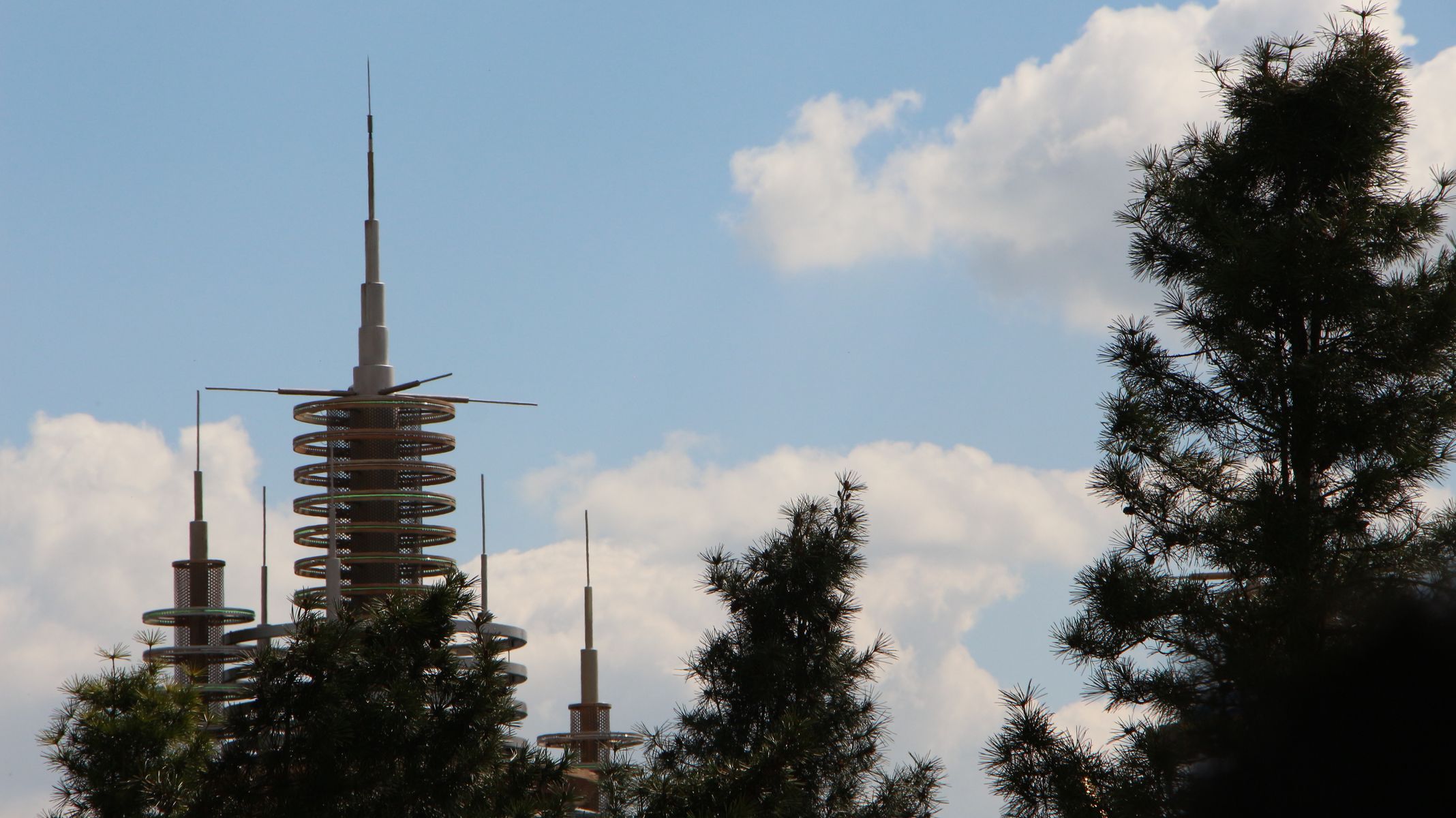 Rejoignez-nous sur /Join and follow us on :
– Facebook
– Twitter
– Instagram
Merci de votre fidélité.
A bientôt !
Thank you for your loyalty.
See ya real soon !