Bonjour à tous, voici notre retour sur la nouvelle et attendue attraction : « Star Wars : Hyperspace Mountain », entre effets, sensations, nouveaux trains,ce que l'on en retient.
Hello everyone, here is our return on the new and expected attraction: « Star Wars: Hyperspace Mountain », between effects, sensations and new trains.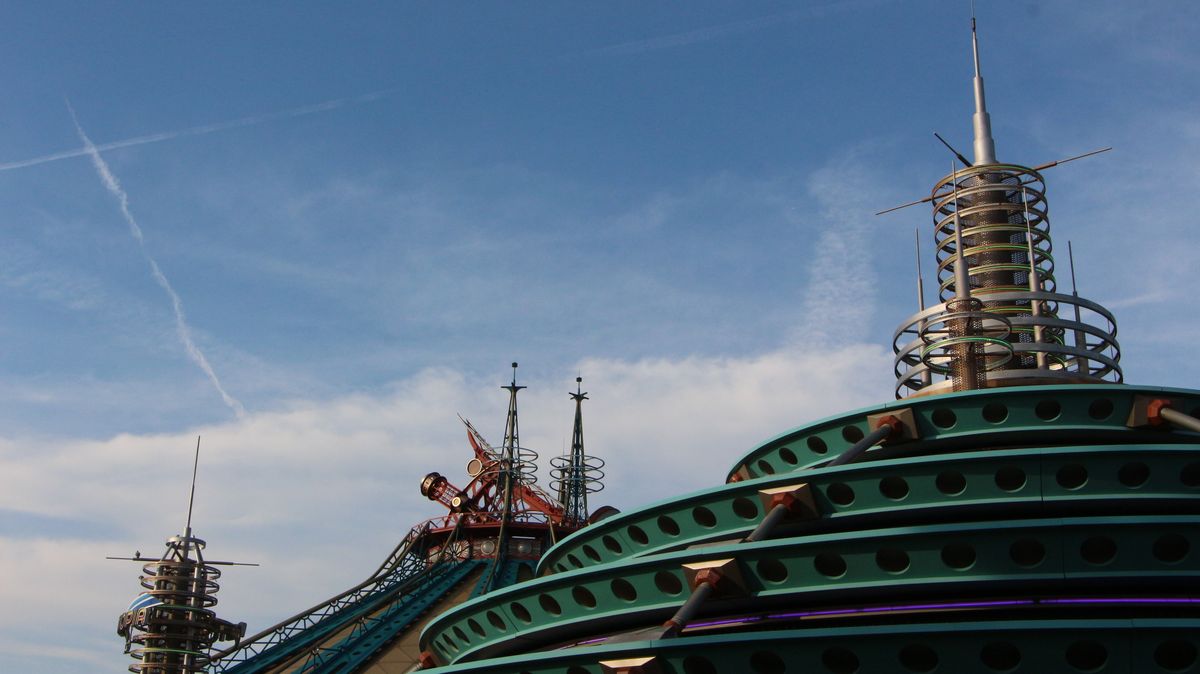 Star Wars : Hyperspace Mountain
Premier constat, l'extérieur de l'attraction n'a pas ou peu changé. Seule l'enseigne et l'affiche géante extérieure composent les signes de la transformation opèrée à l'intérieur.
Côtés canon Columbiad, plus de bruit, les effets et fumées ont disparu.
First observation, the outside of the attraction has no or little changed. Only the sign and the outdoor Billboard make up the signs of the transformation operated inside. Sides Columbiad Cannon, no noise and smoke effects, all has disappeared.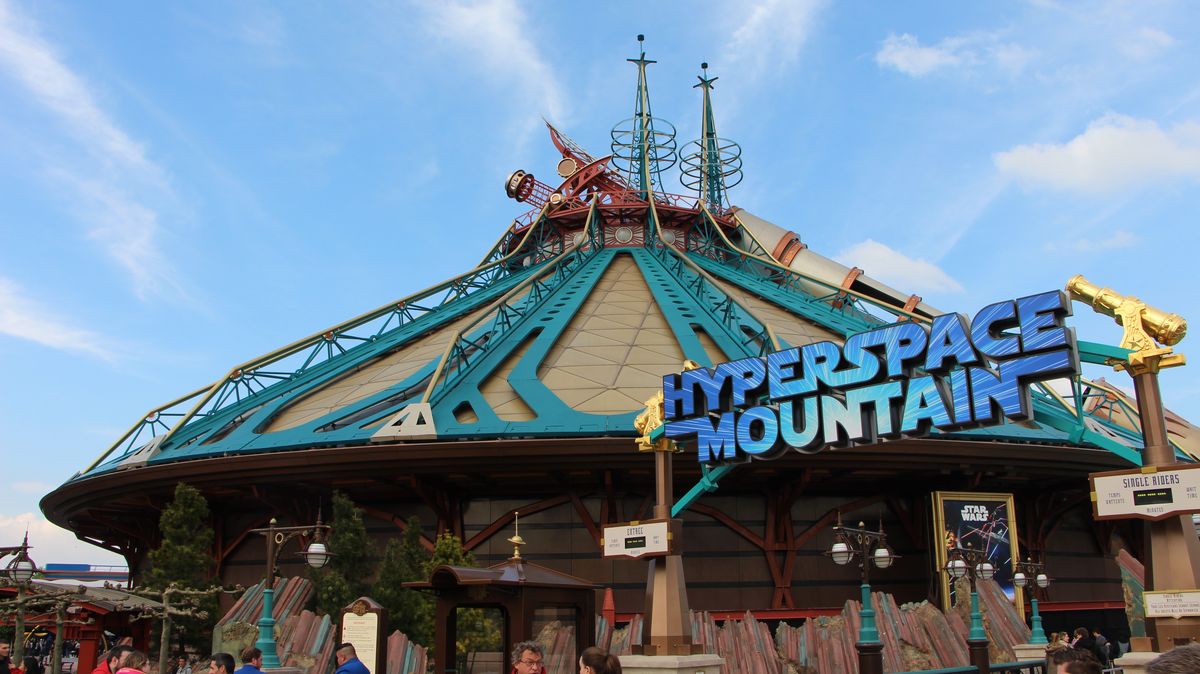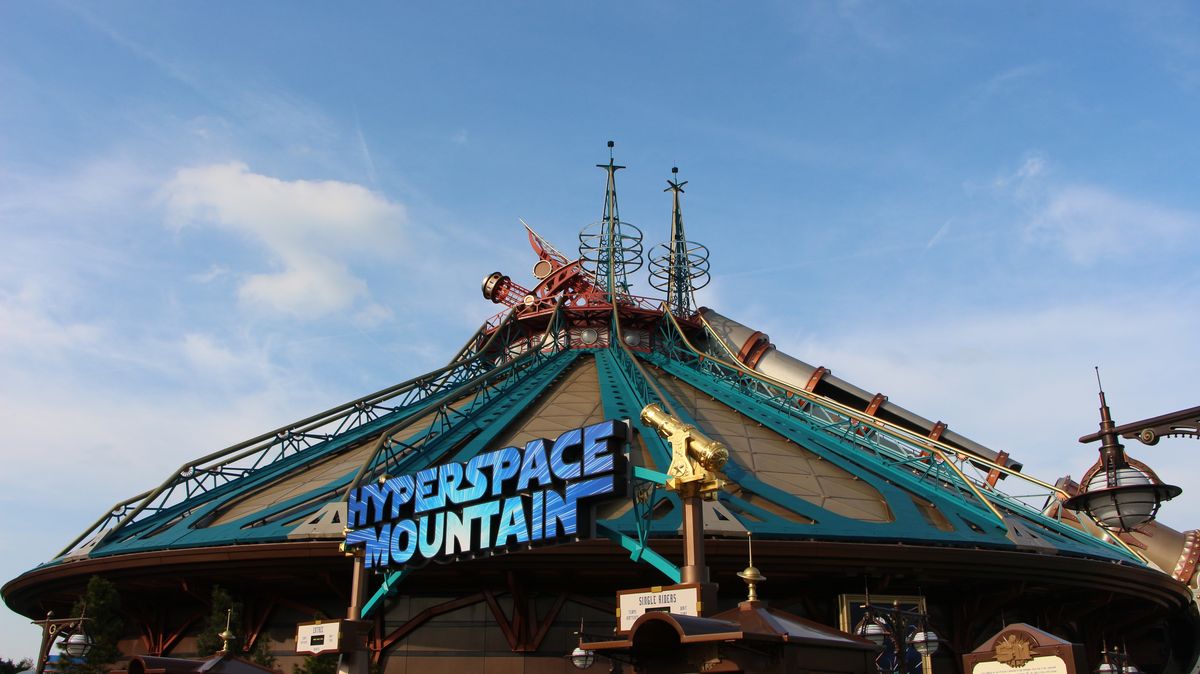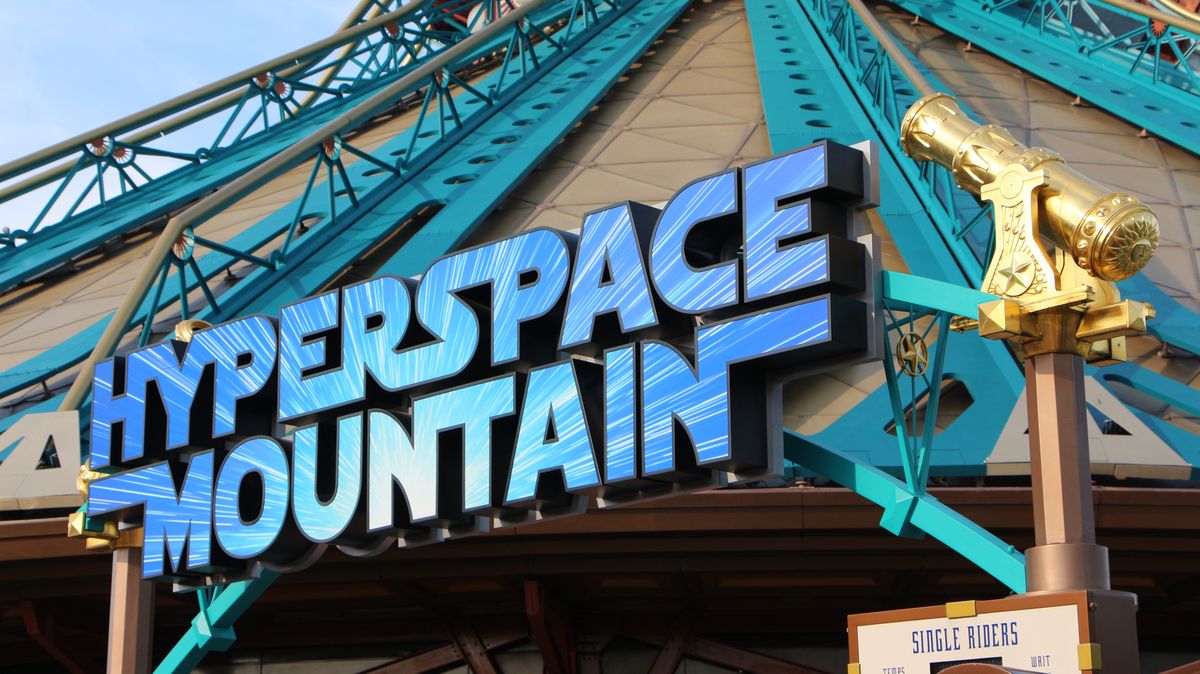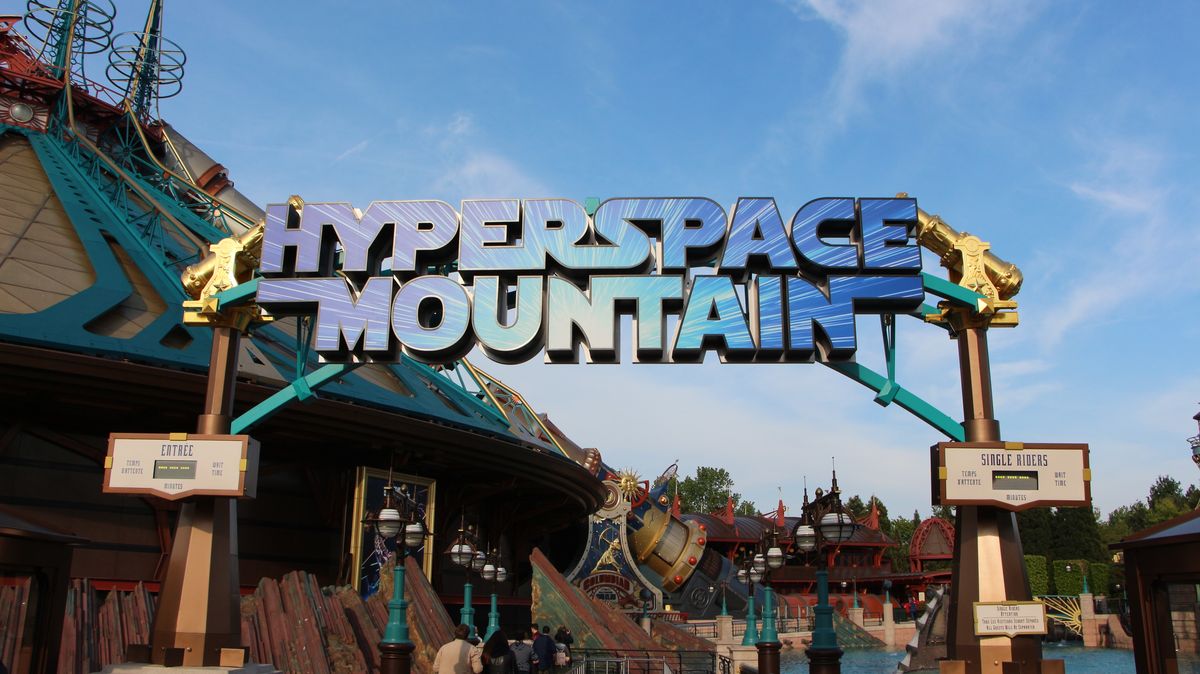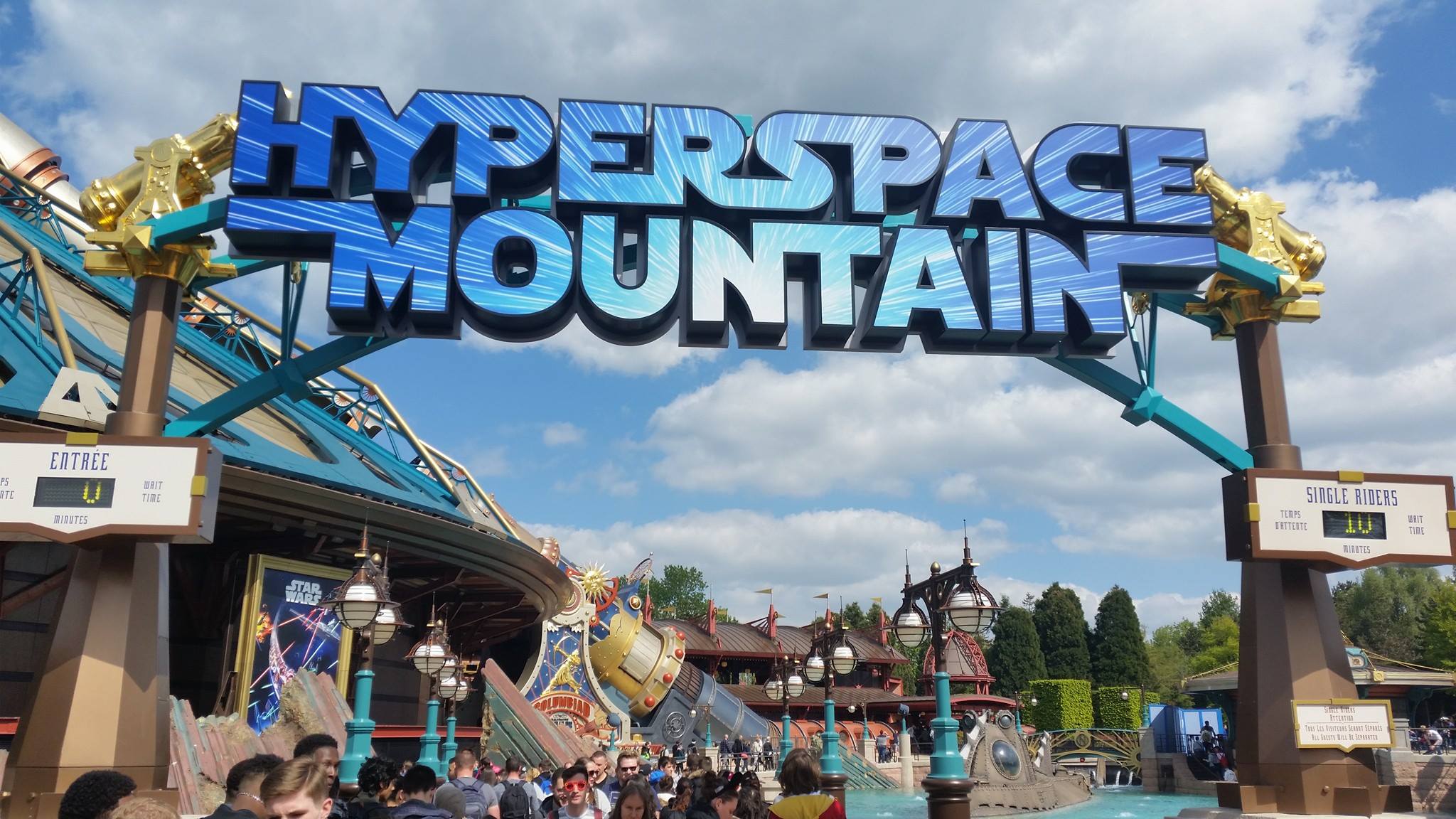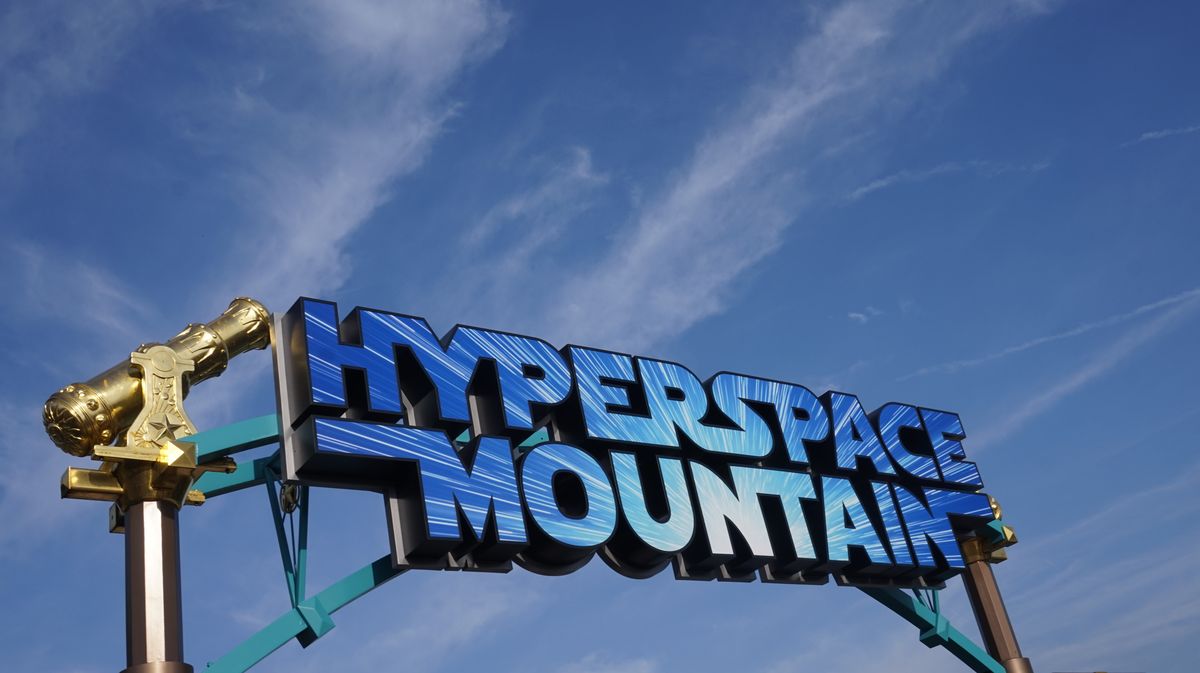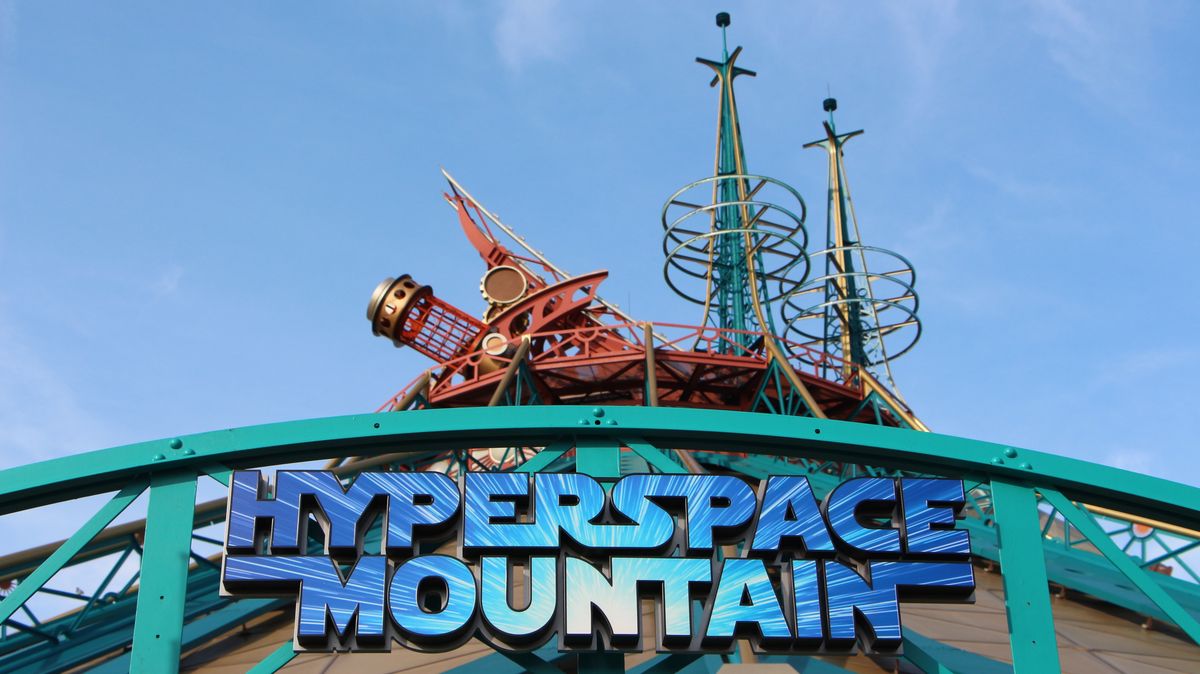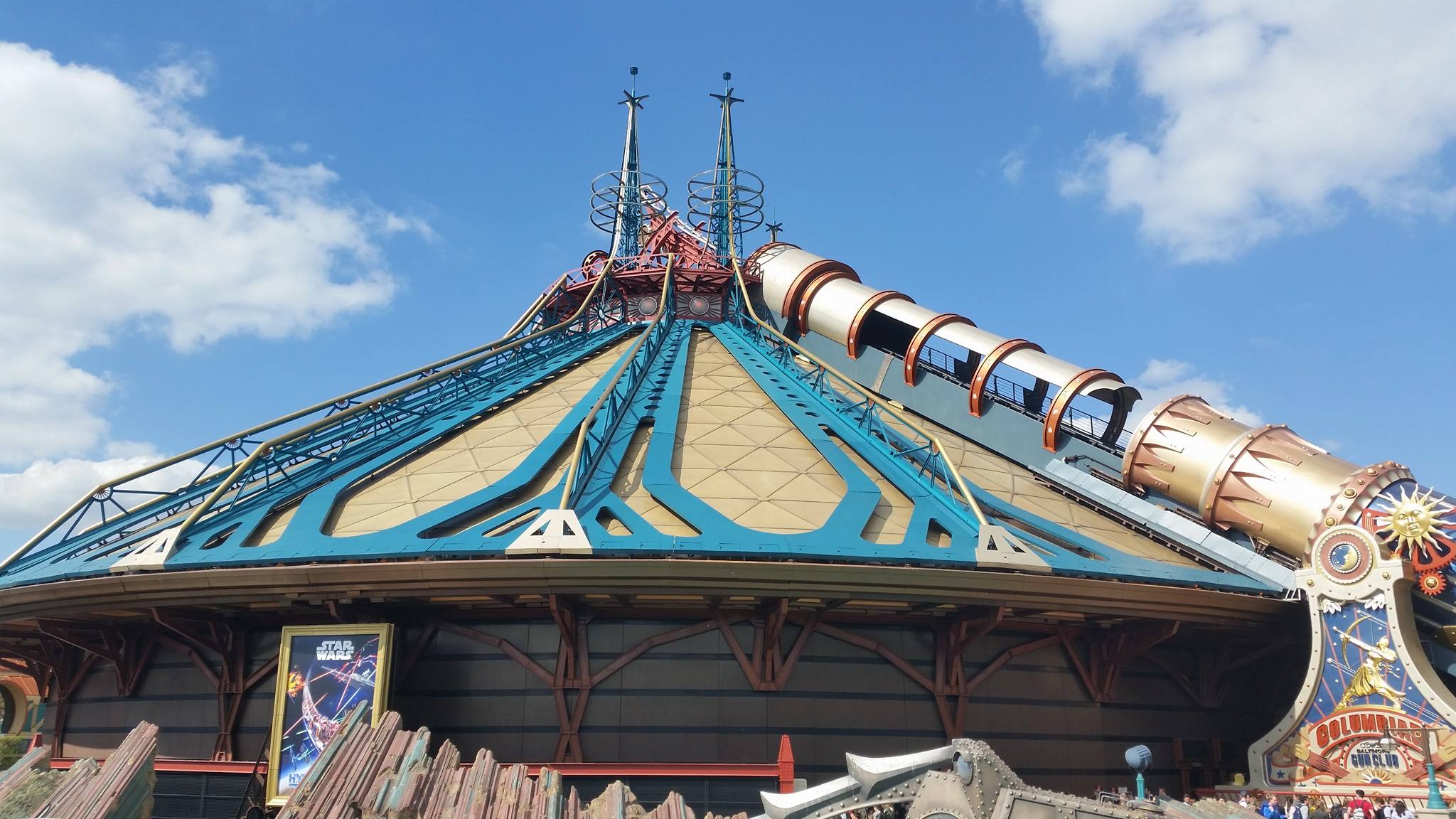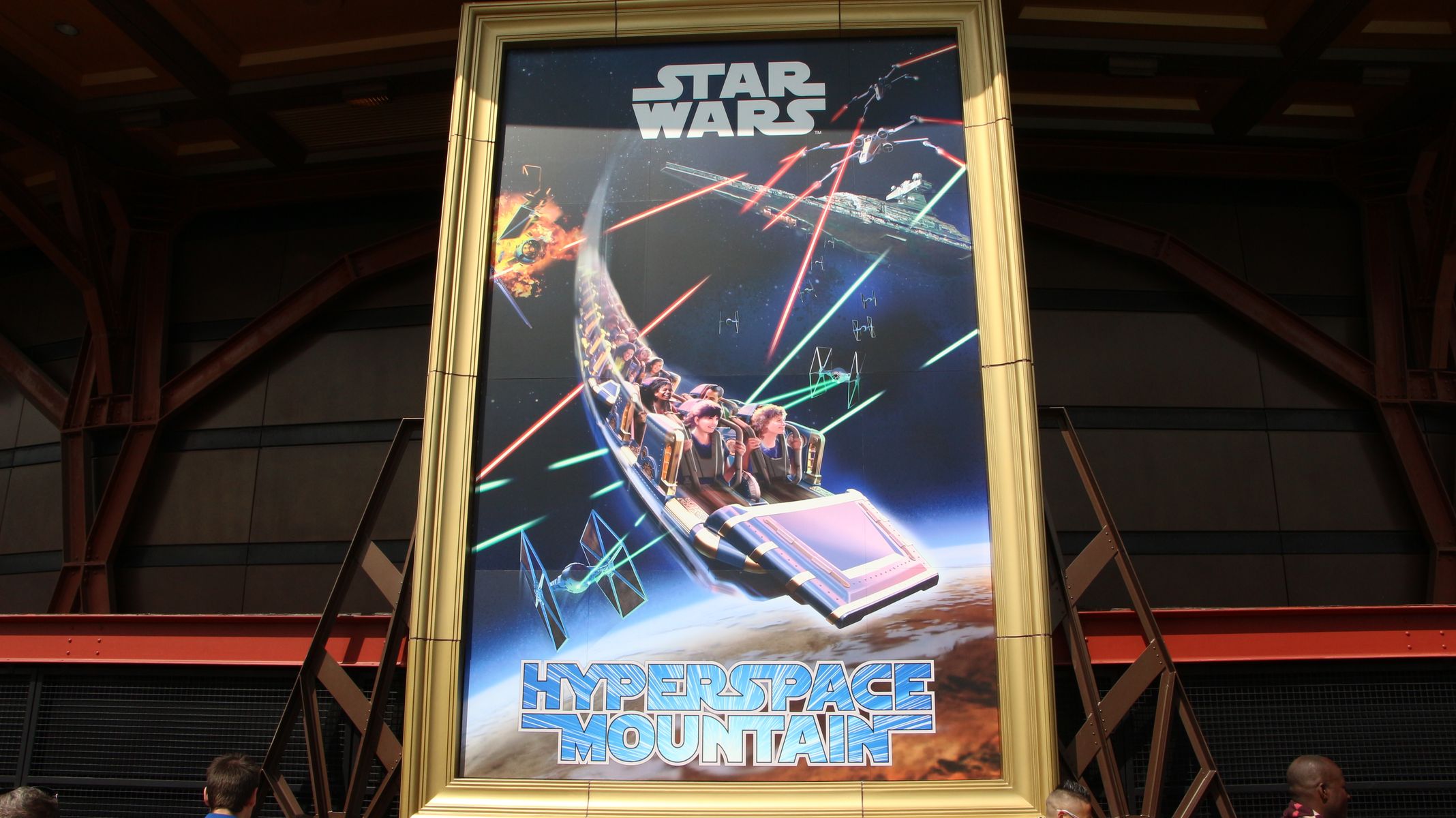 Dans la file d'attente intérieure, les (horribles) posters de planètes ont disparus pour laissés leurs places à des affiches représentant les vaisseaux de l'univers Star Wars. Changements minimalistes, car contrains par l'aménagement du bâtiment.
In the interior queue line, the (horrible) posters of the planets disappeared to make room for posters with the vessels of the Star Wars universe. Minimalist changement, because forced by the layout of the building.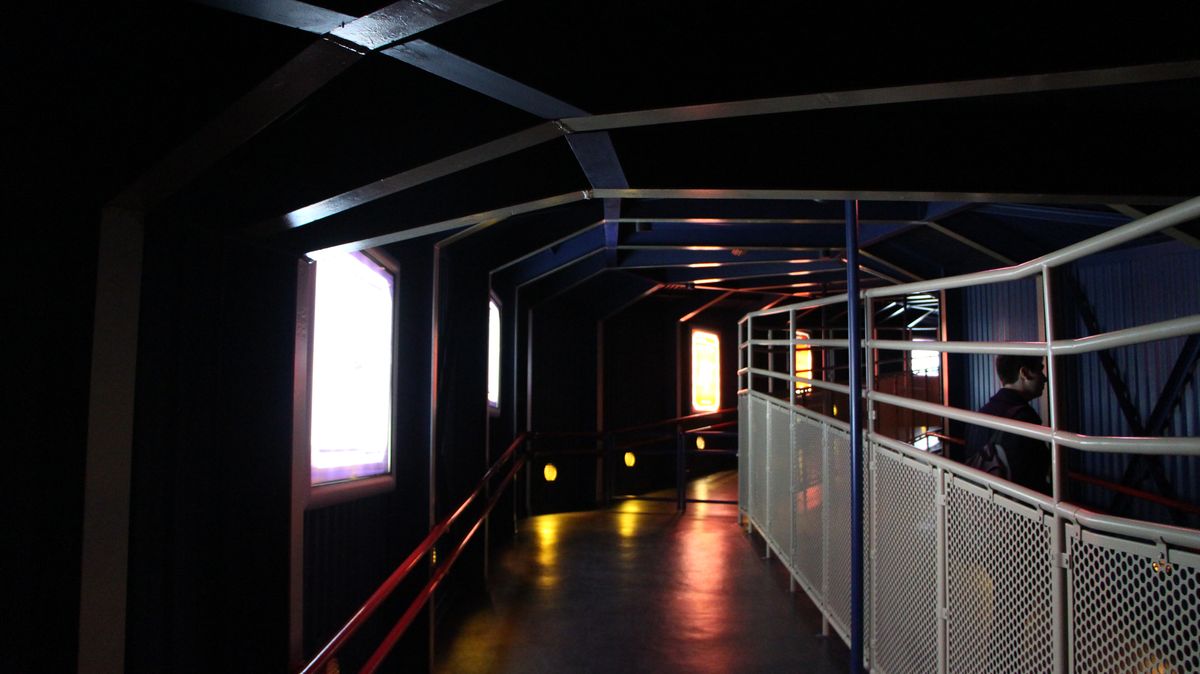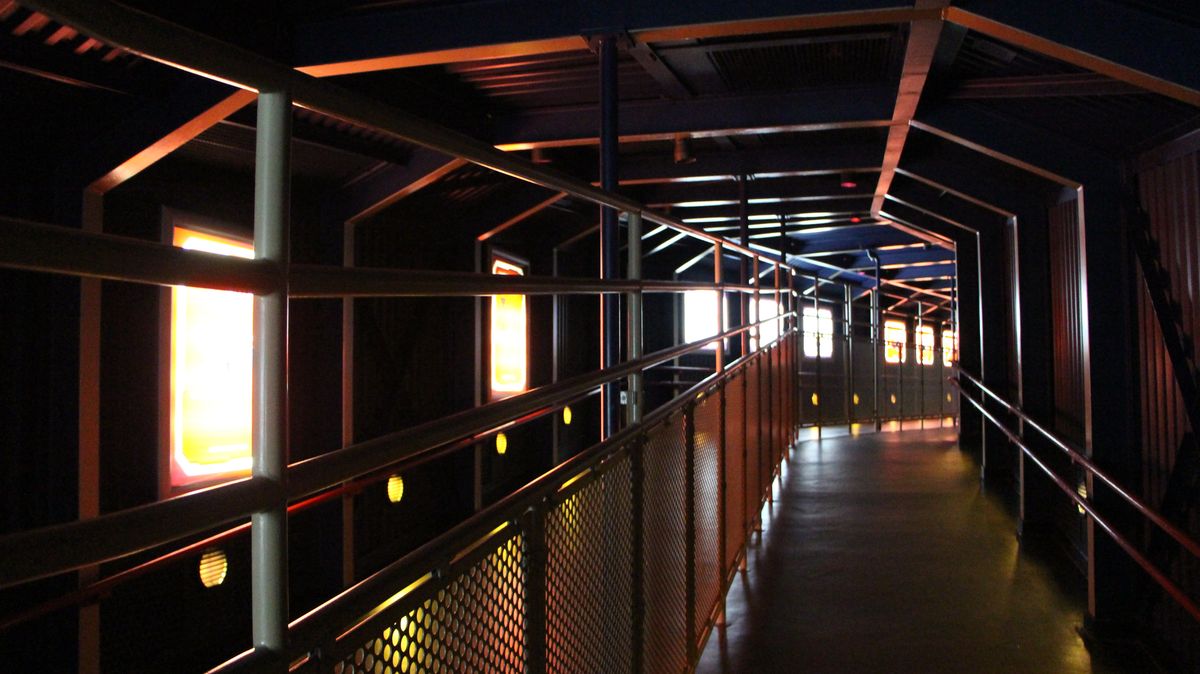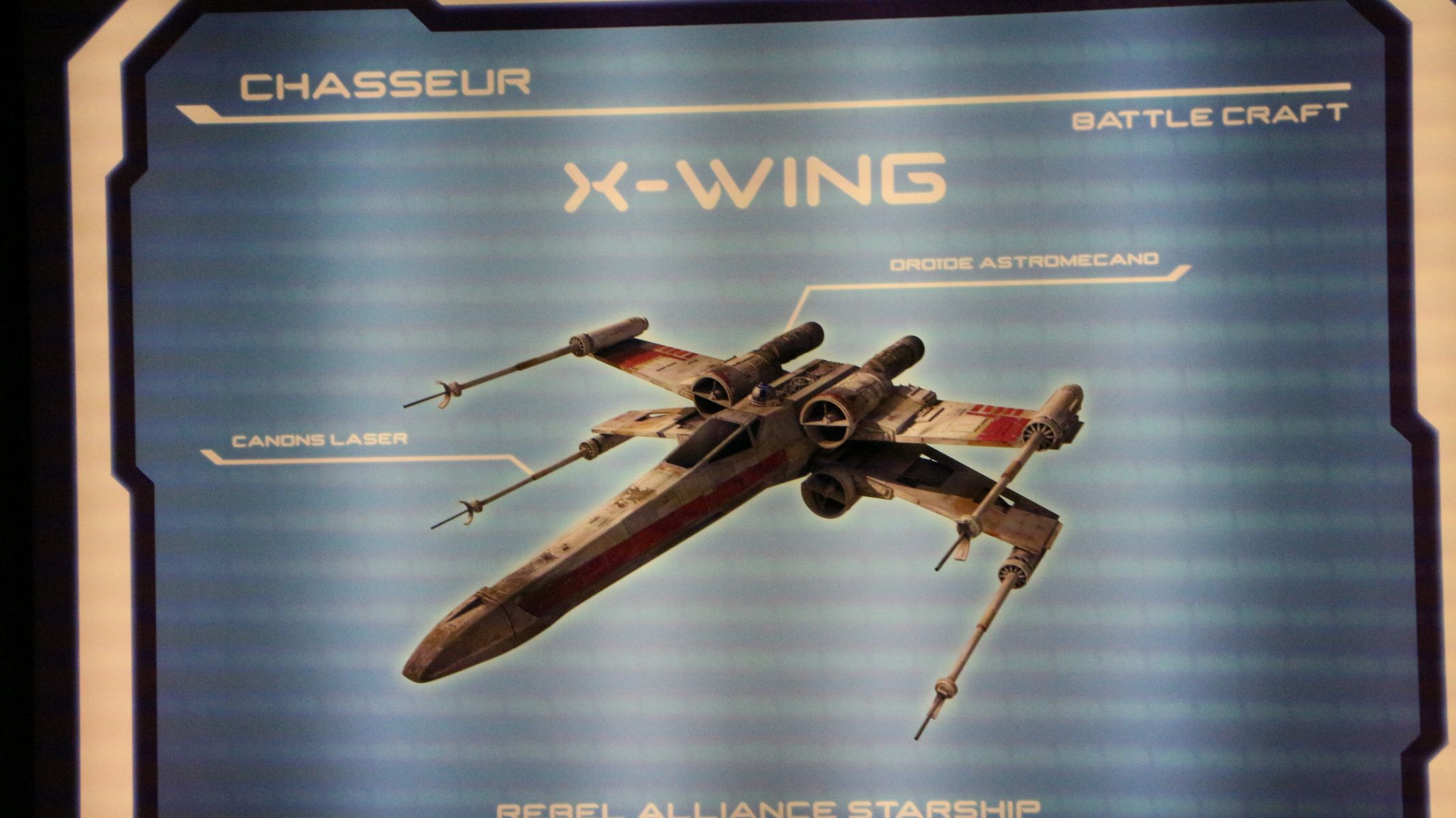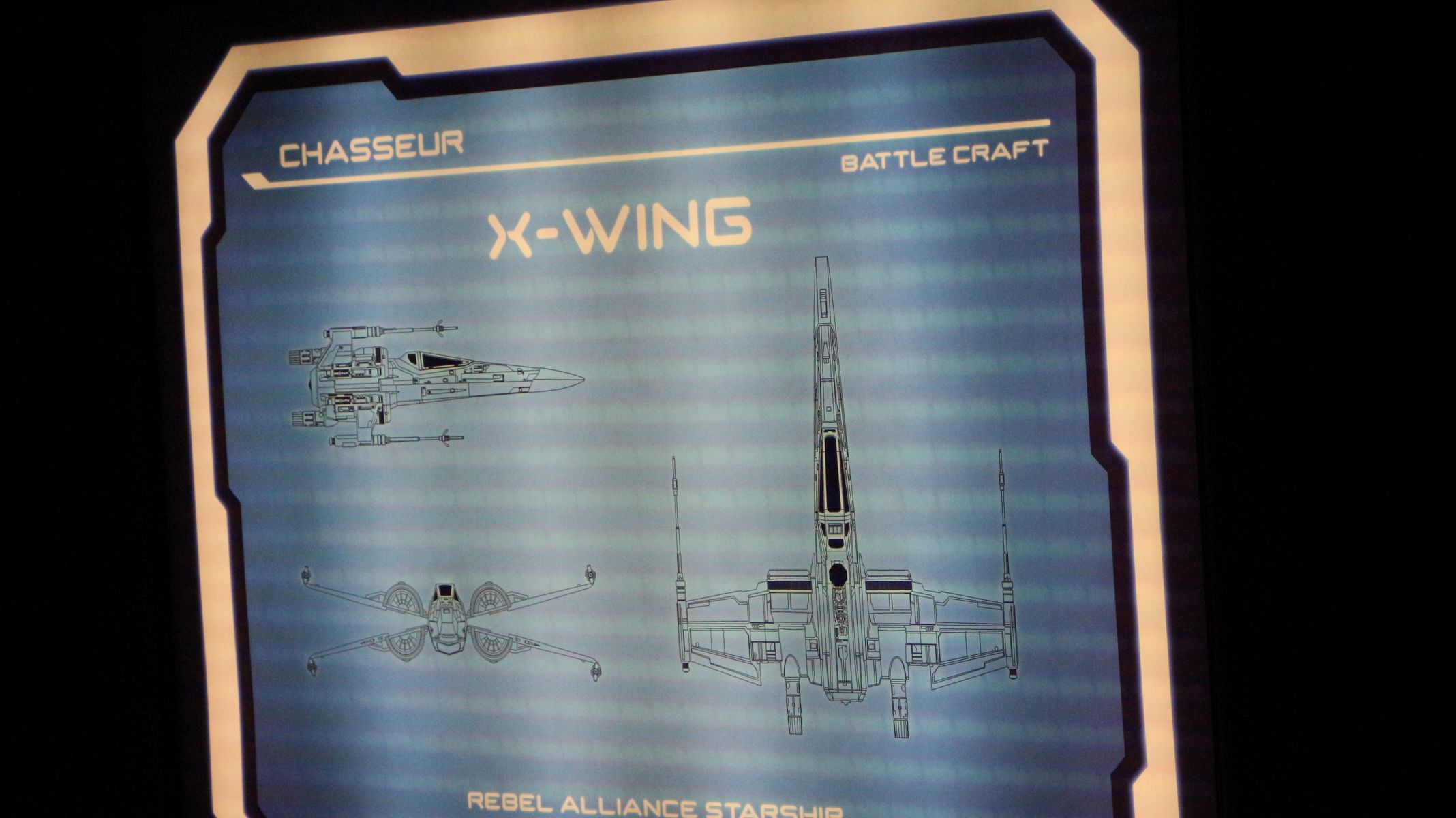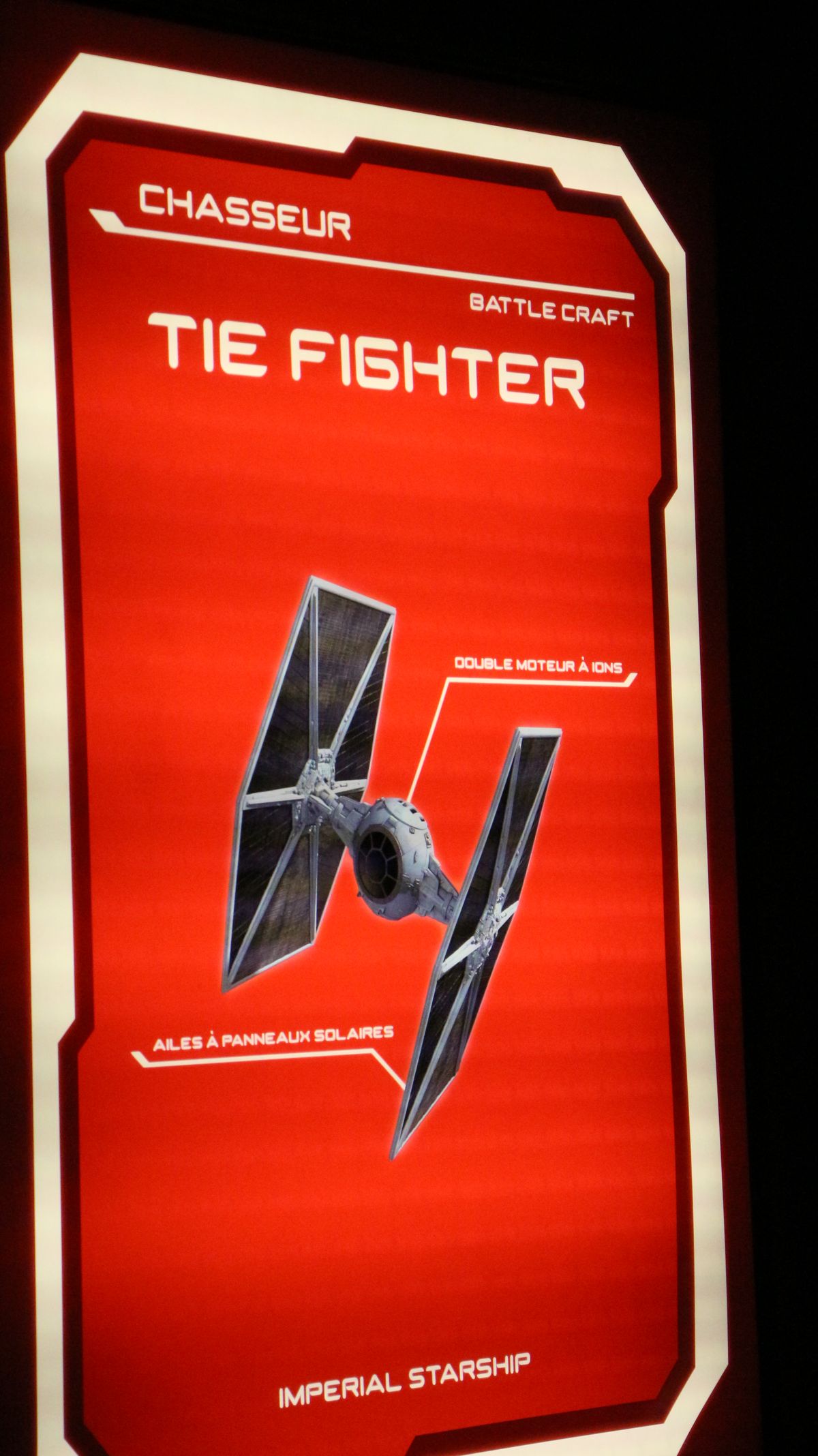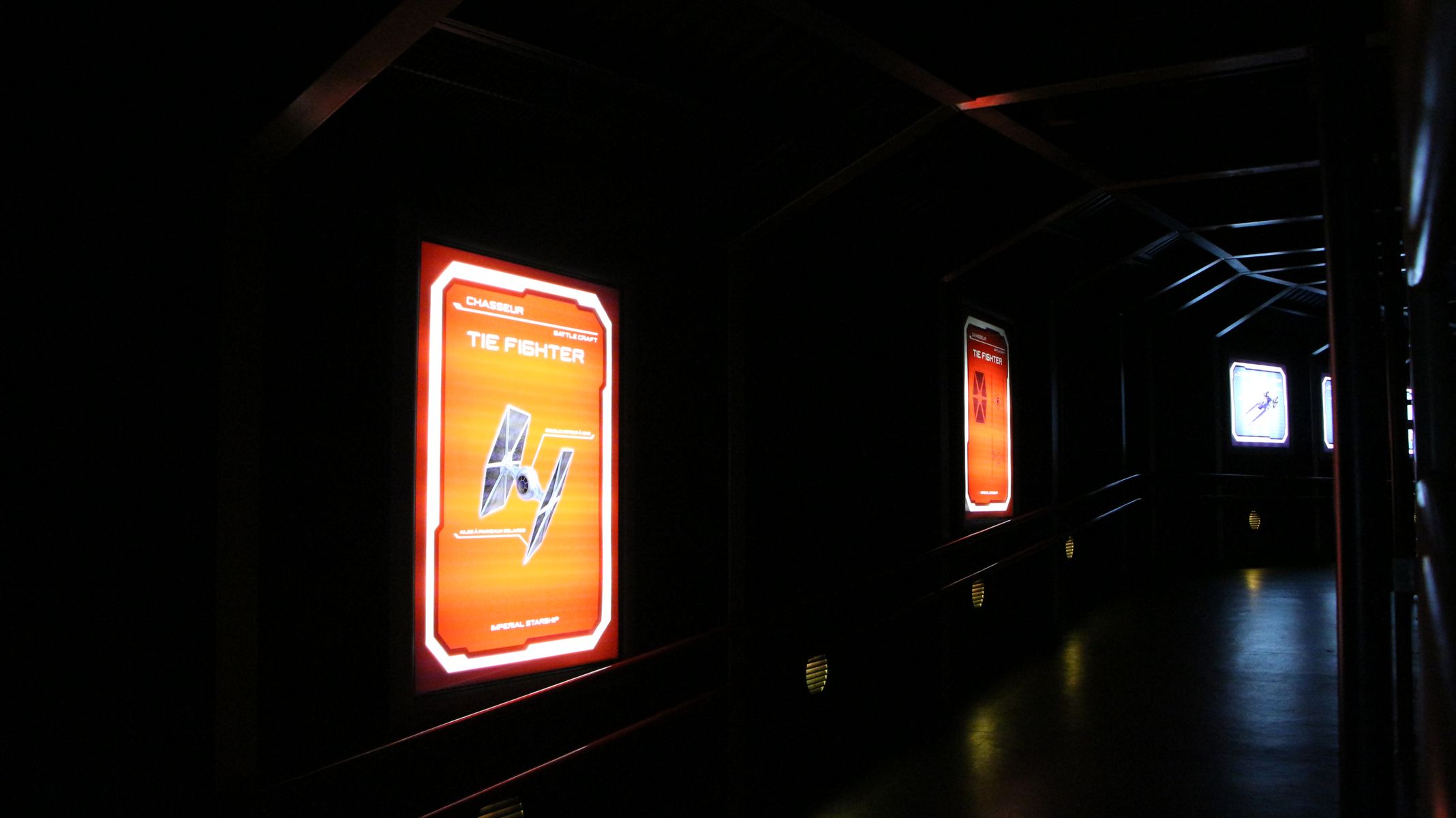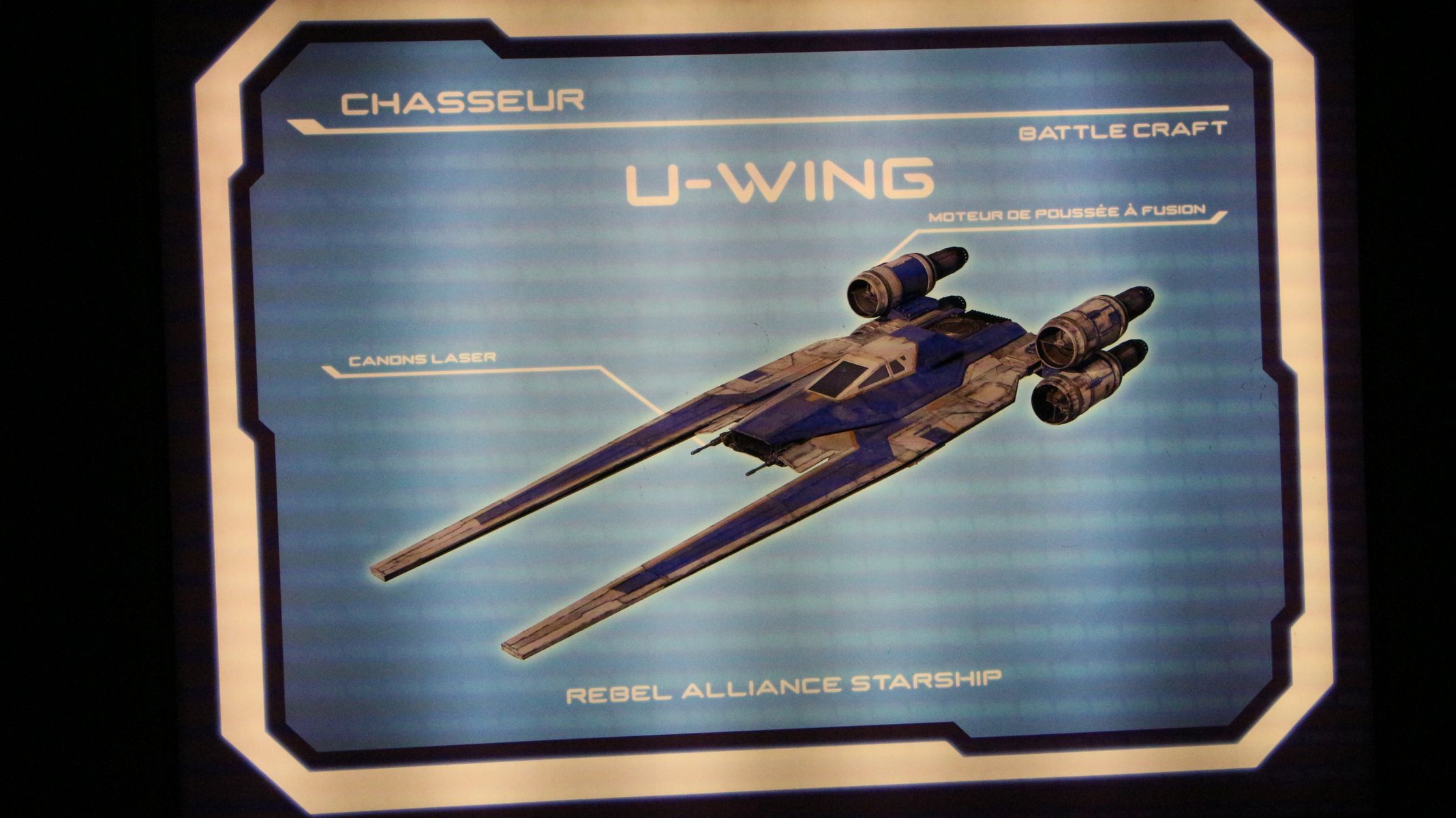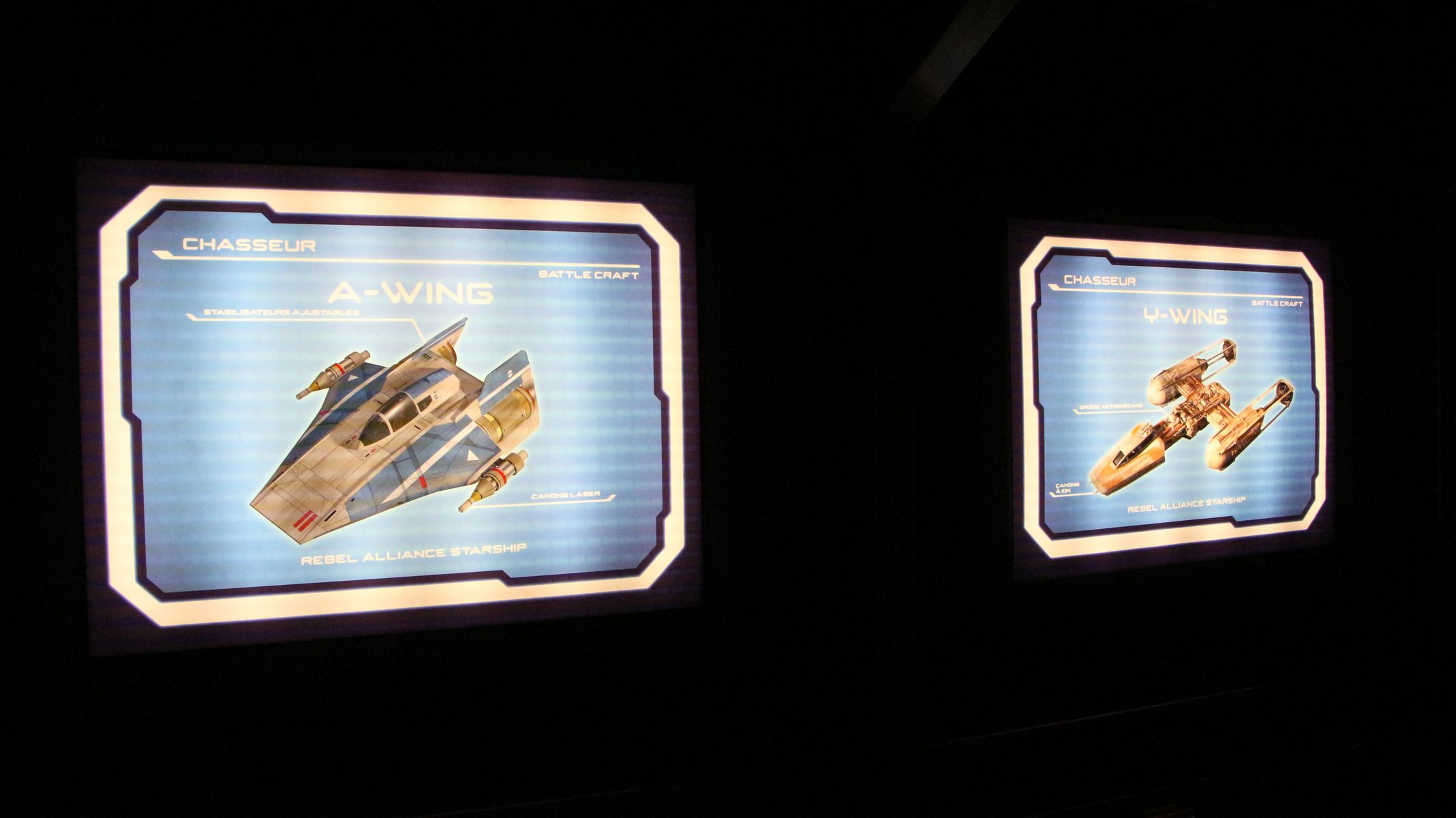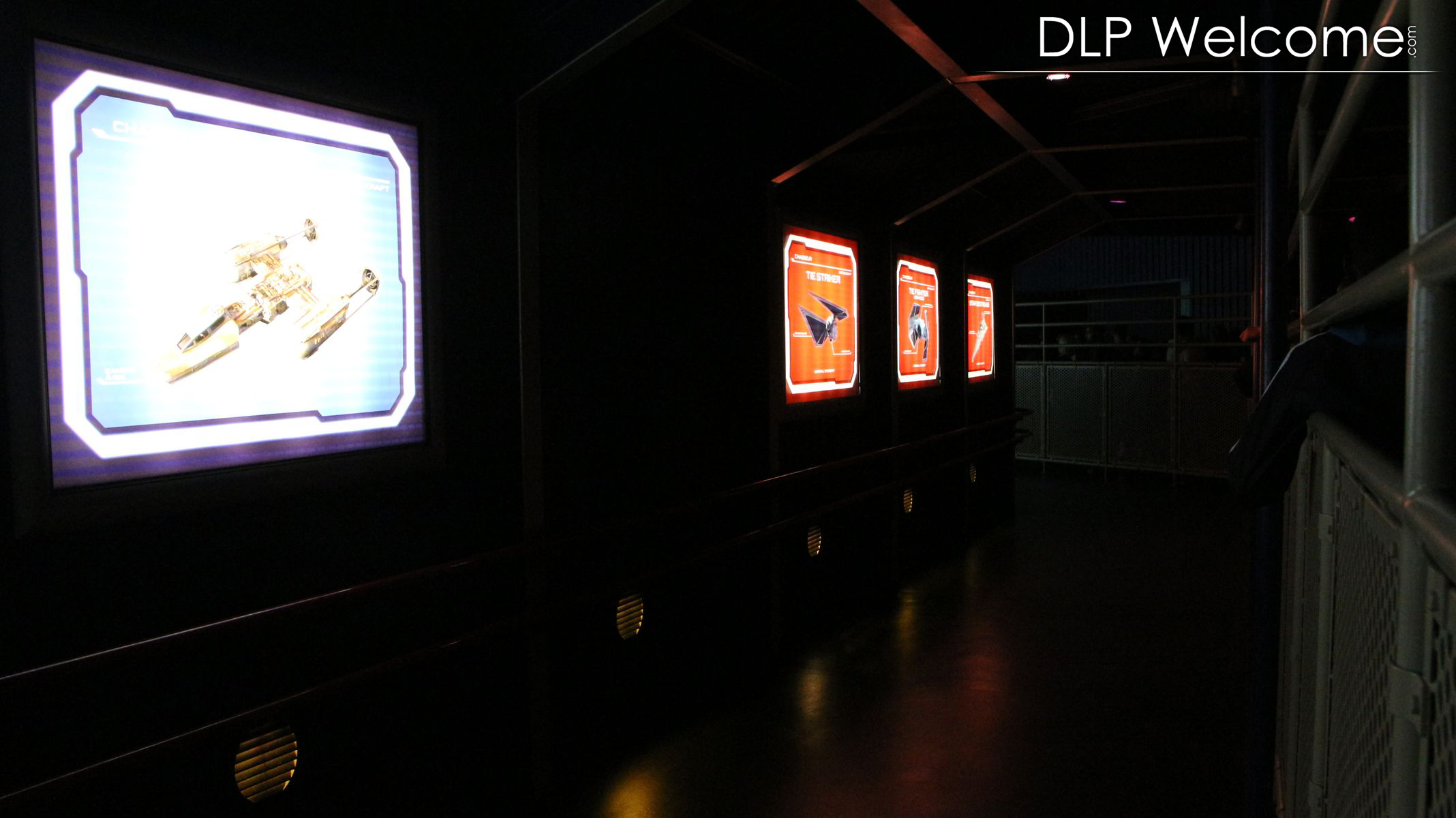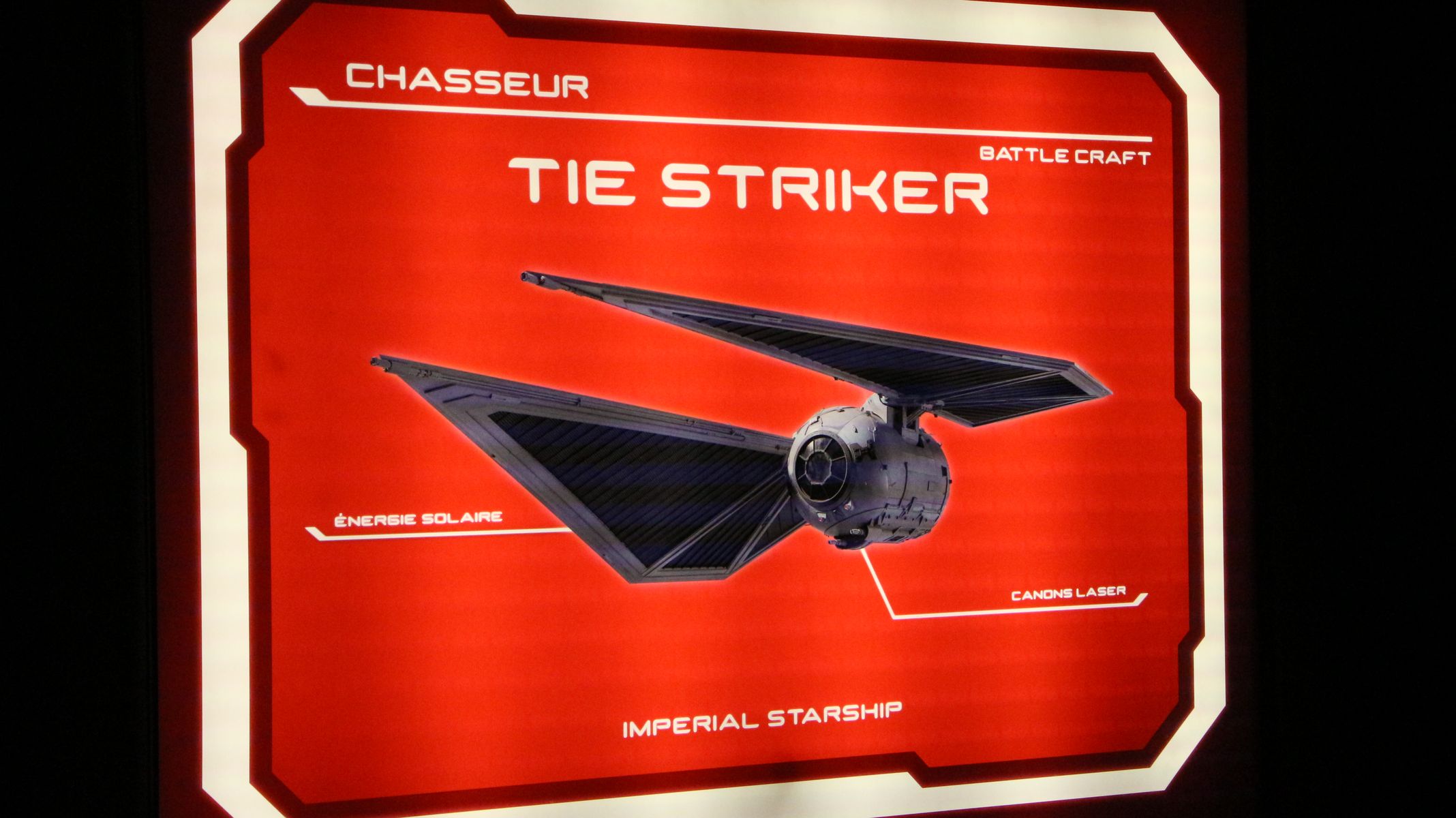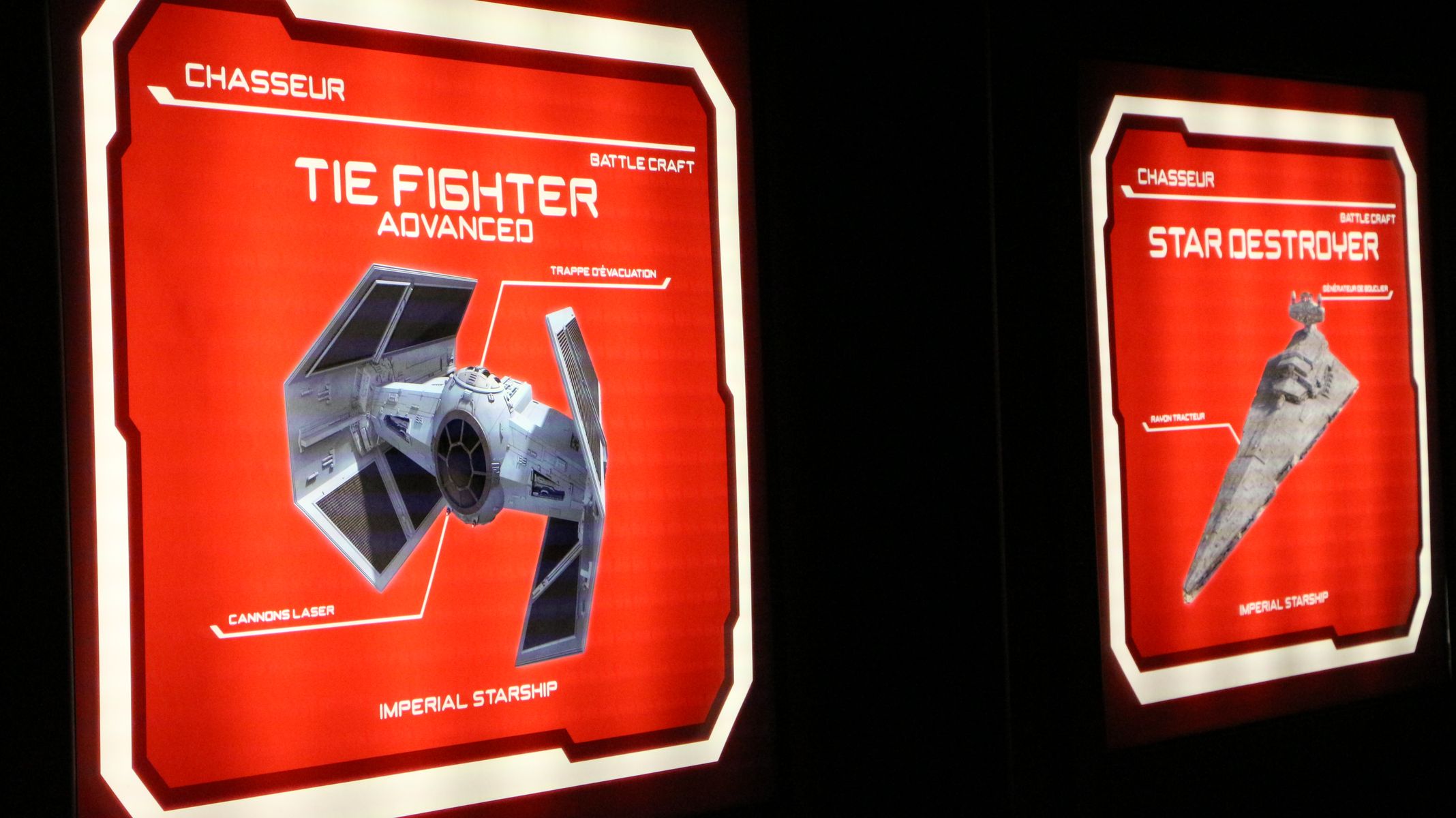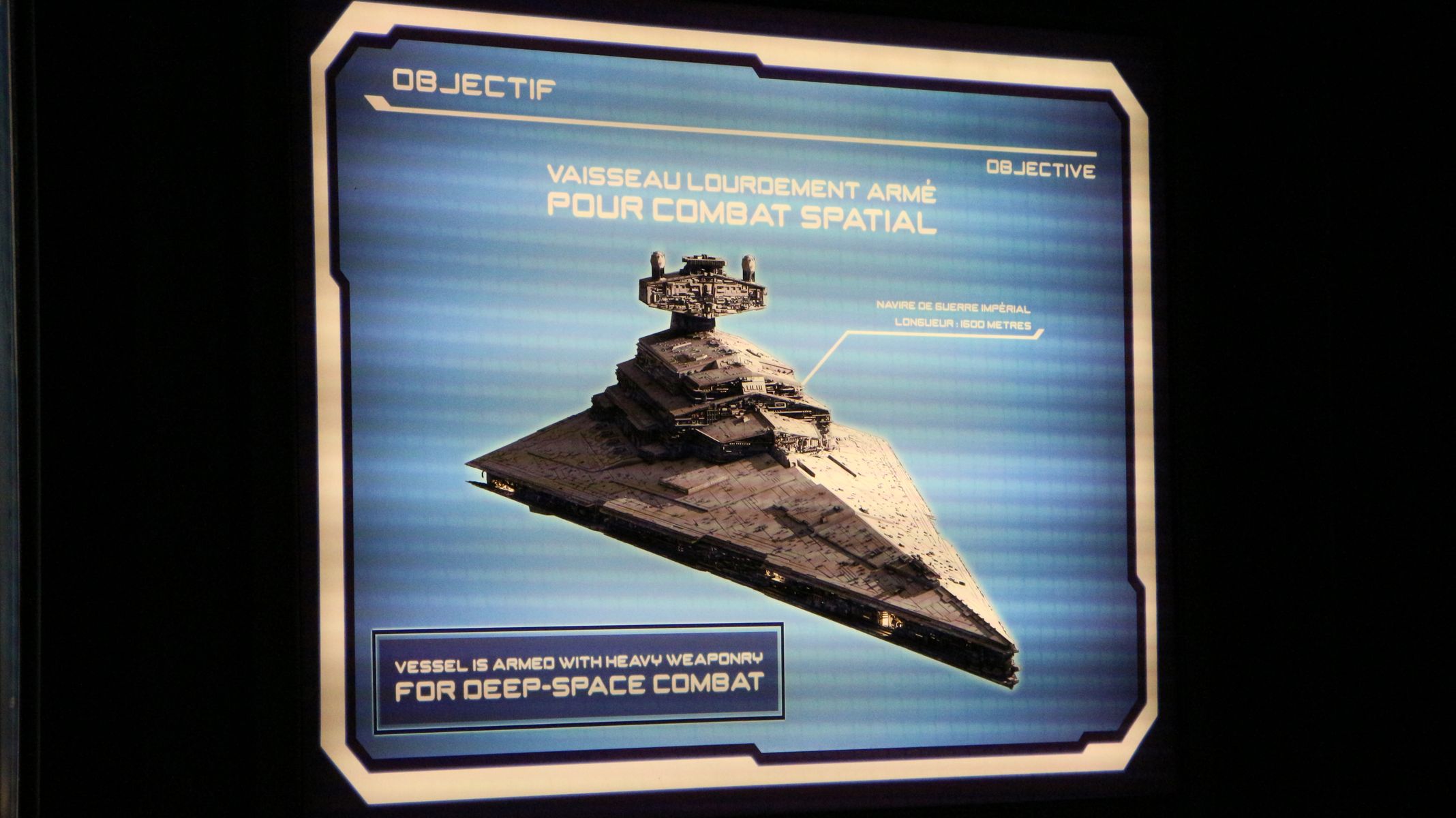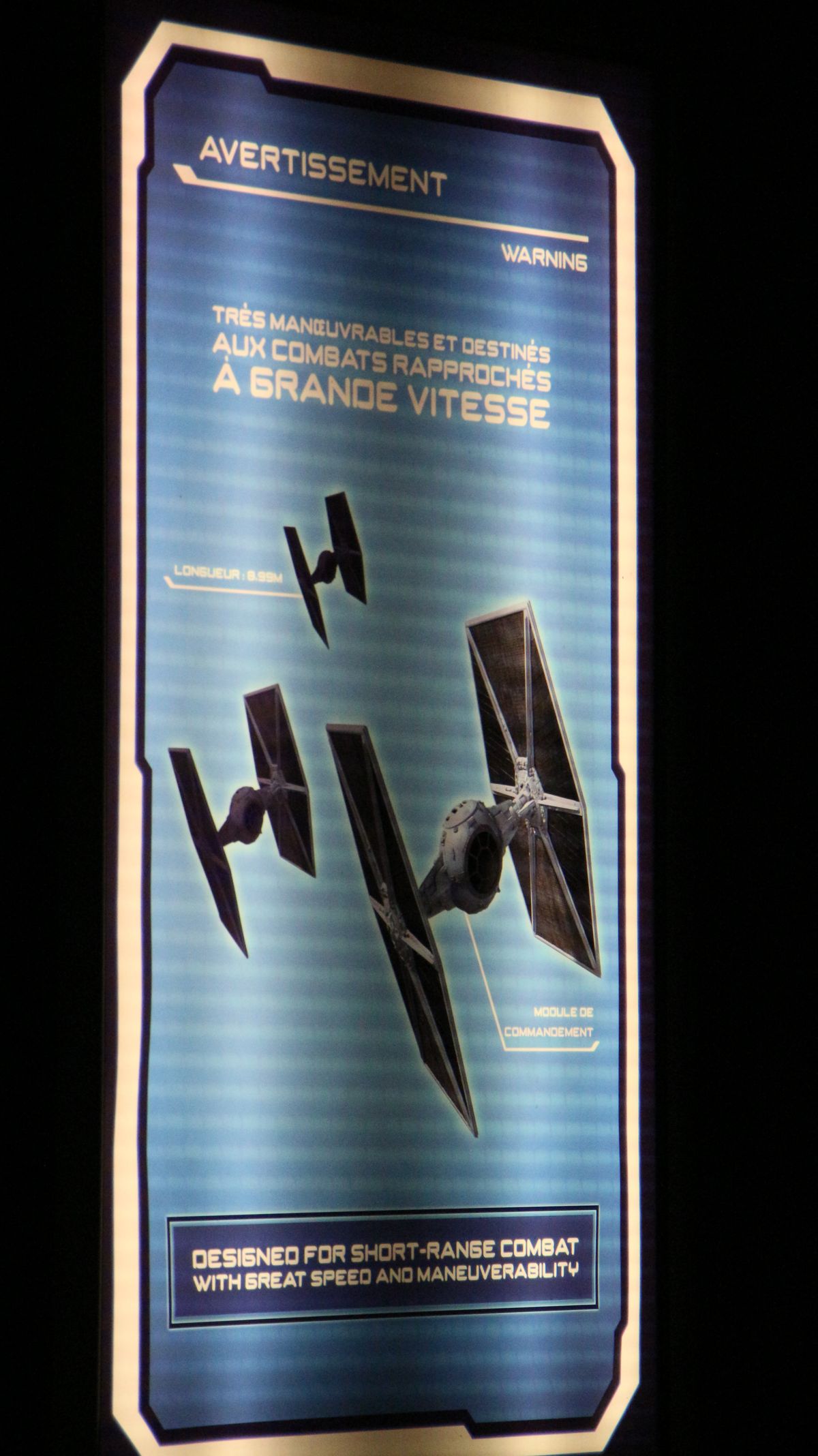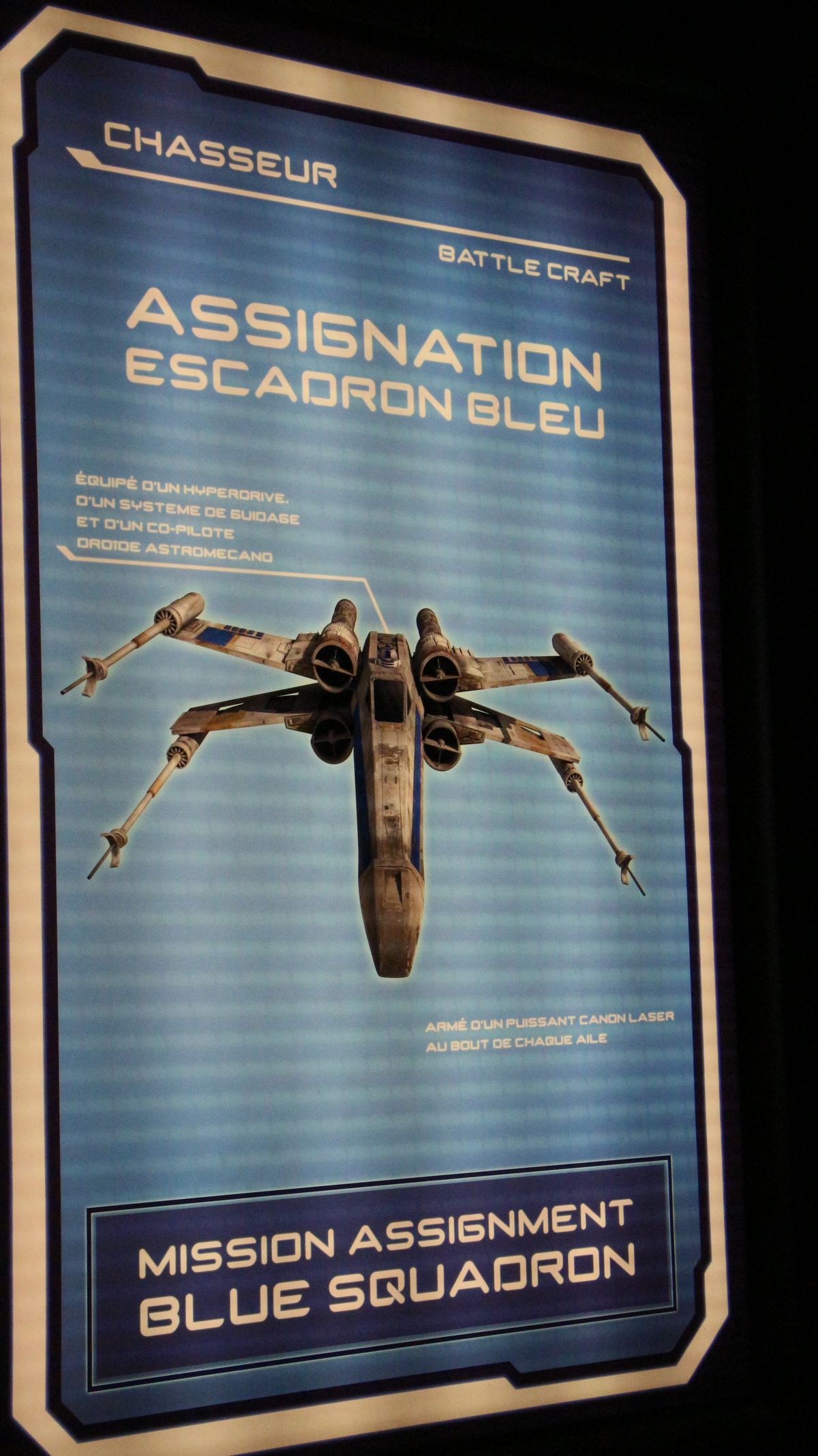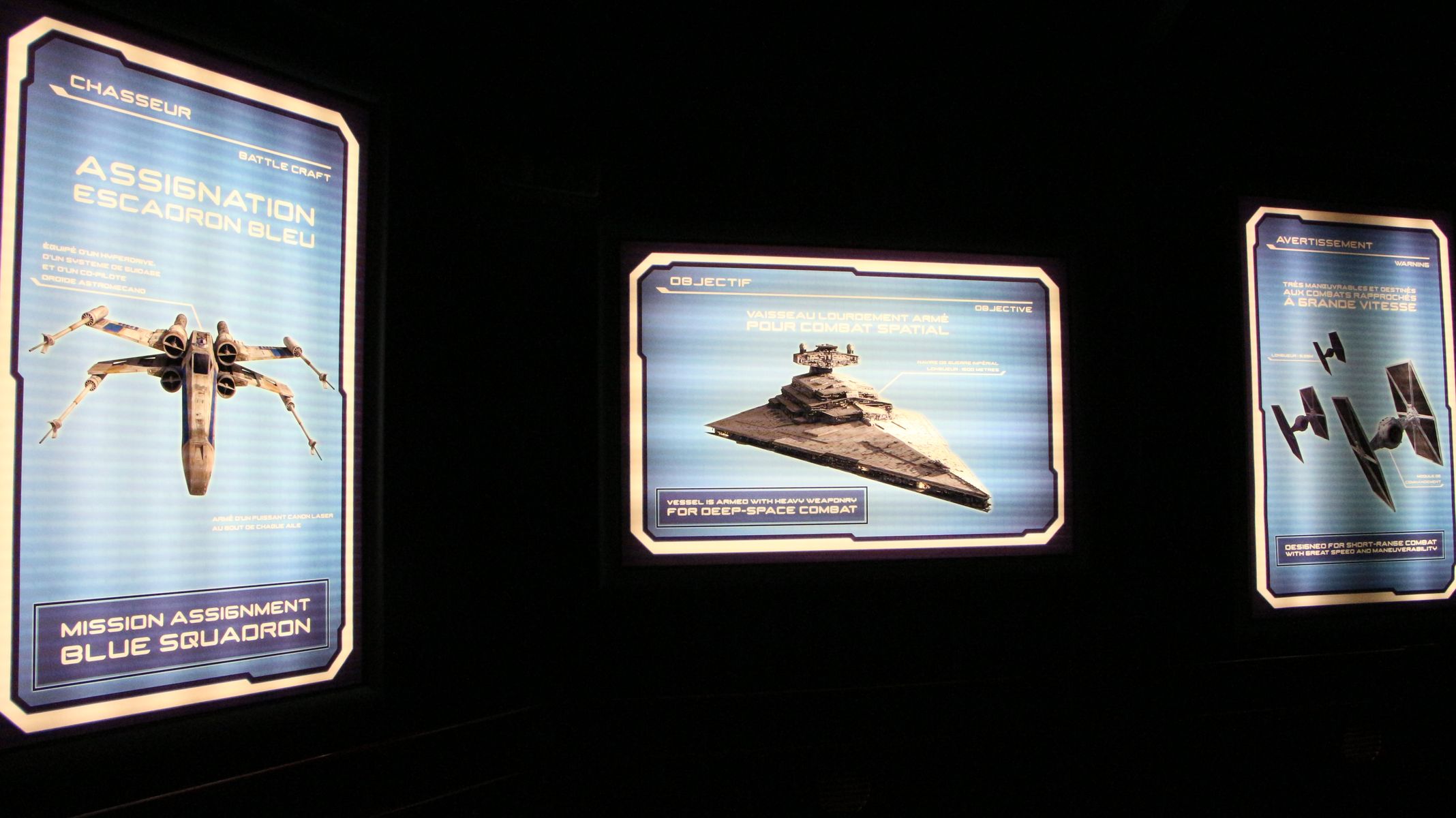 Une nouvelle vidéo de présentation des mesures de sécurité fut présentée. Ce film met en avant une femme avec un effet voulant donner illusion d'être un hologramme avec une image de fond simple, des étoiles. Rien de particulier à noter sauf, annoncer une bataille Star Wars, ce qui dérange car c'est une bataille entre les rebelles et l'empire.
A new video presentation of security measures was presented. This film puts forward a woman with an effect to give the illusion of being a hologram with a simple background, stars. Nothing special to note except announce a Star Wars battle, which bother because it's a battle between the rebels and the empire.
En arrivant sur la gare on trouve des bannières à l'effigie de la nouvelle version de l'attraction « Hyperspace Mountain ».
Arriving on the station we find banners bearing the image of the new version of the attraction, »Hyperspace Mountain » .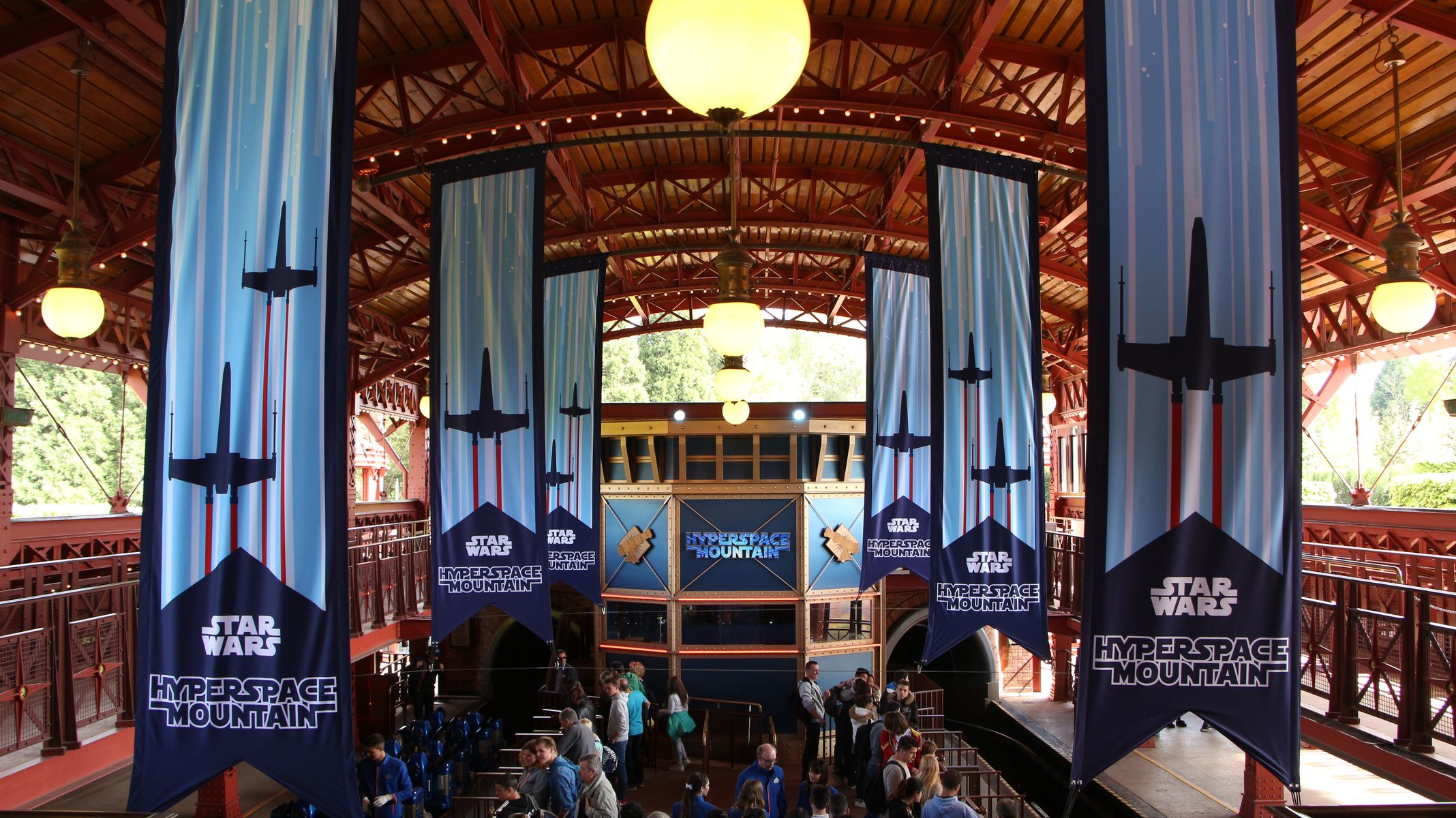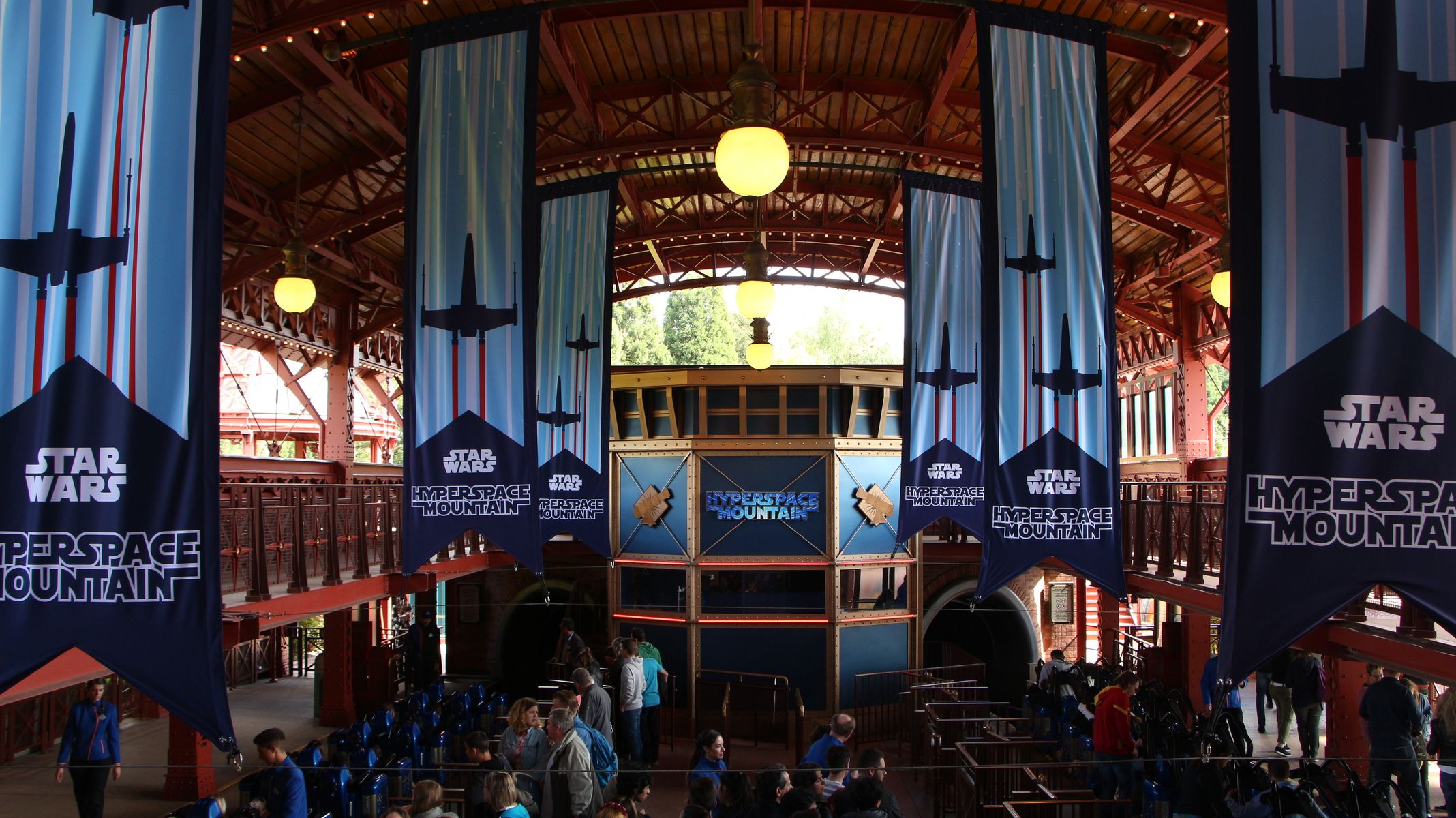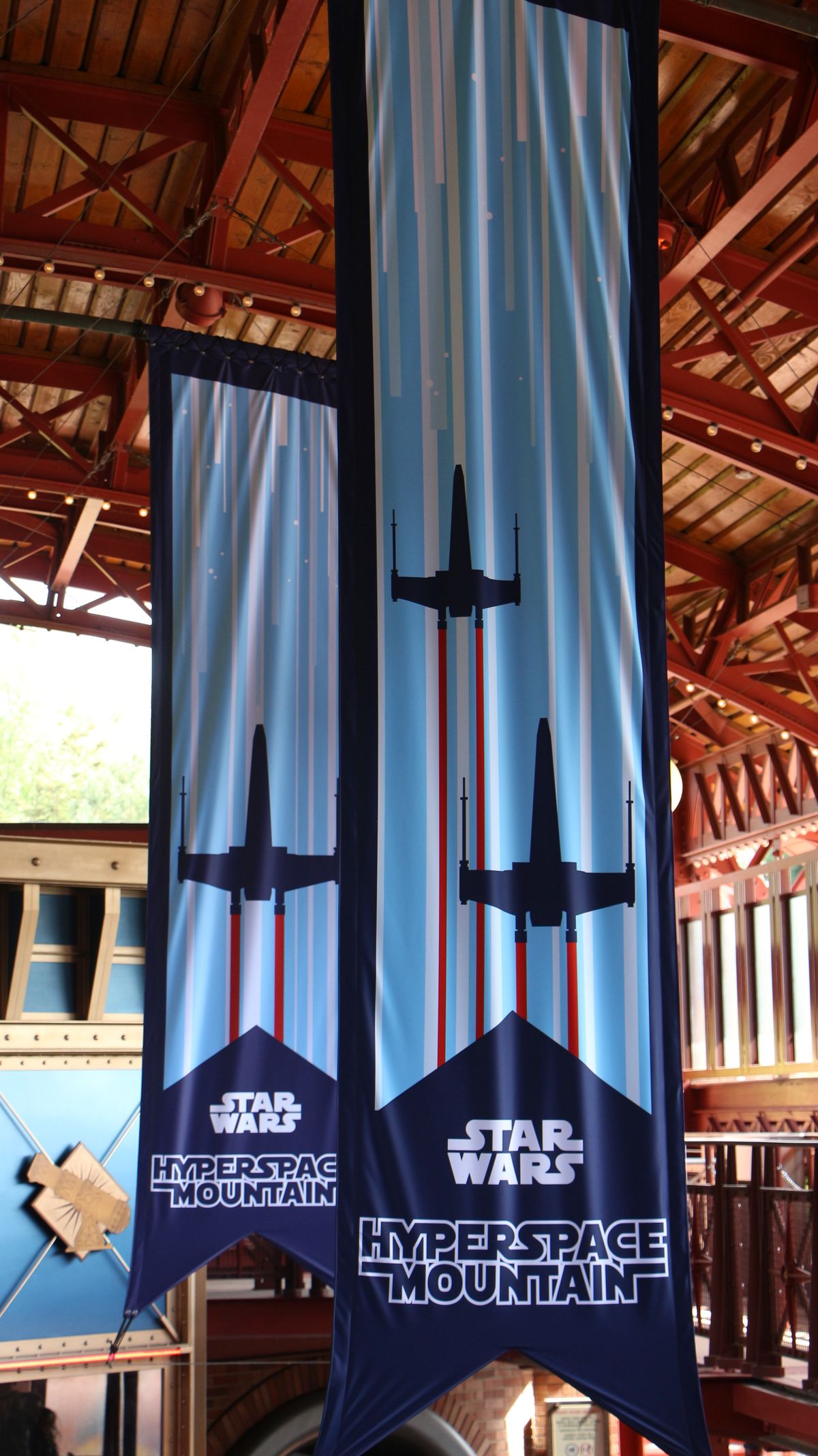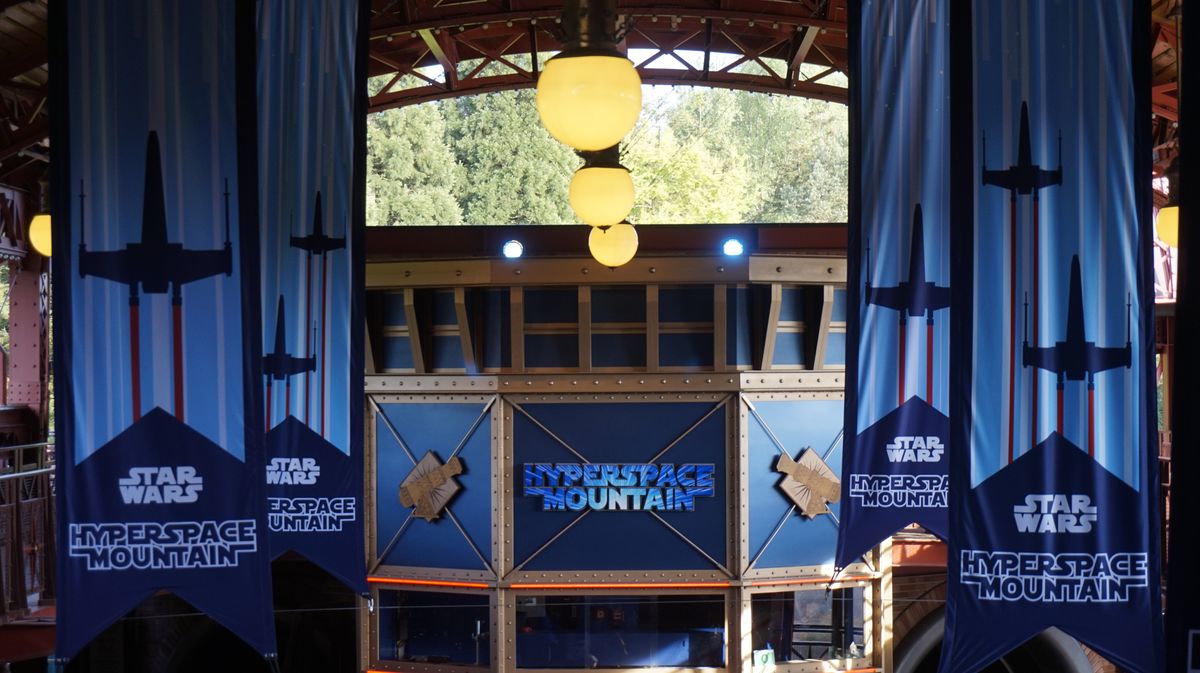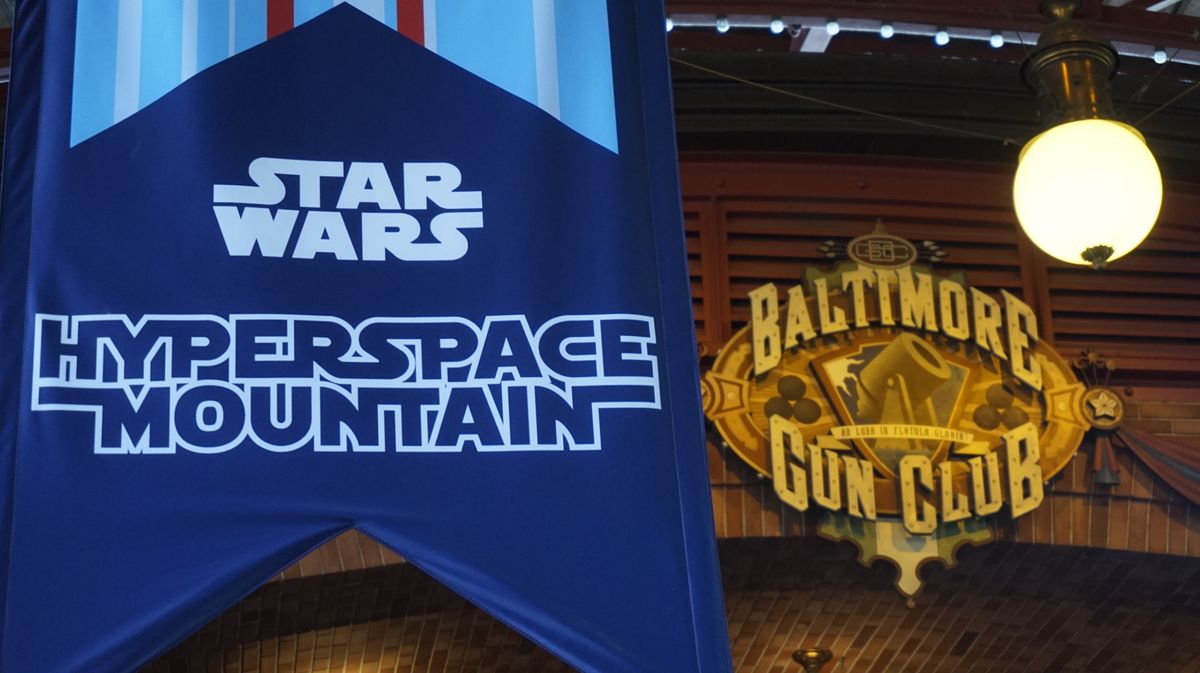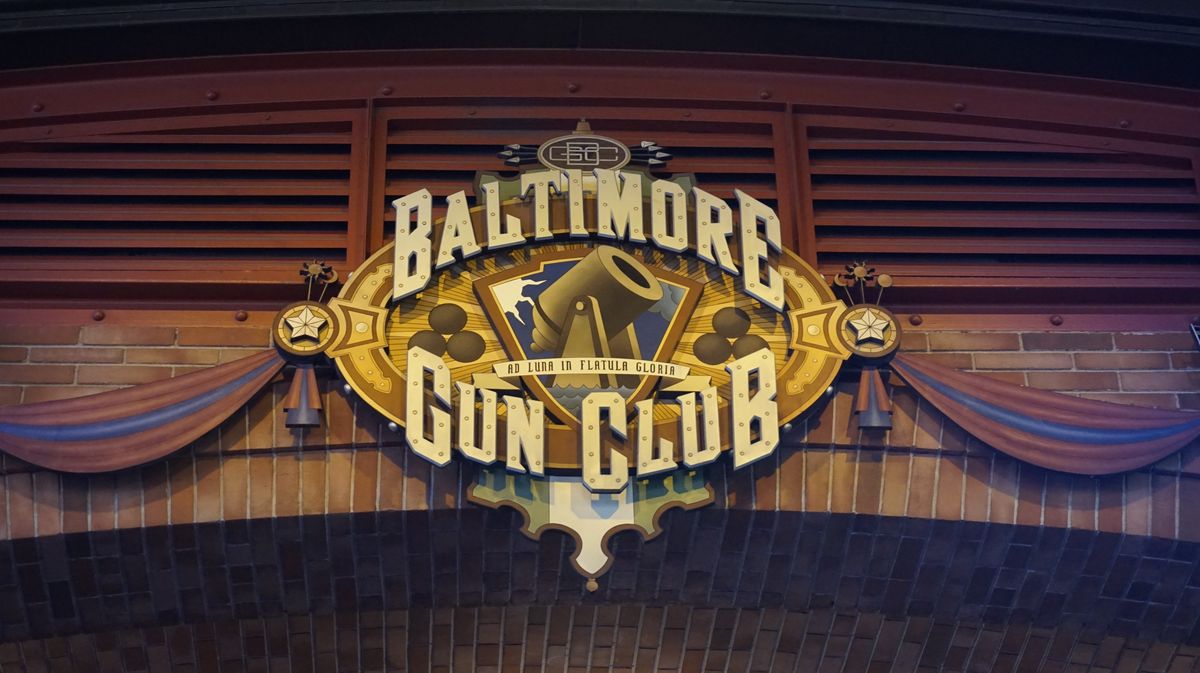 Les nouveaux trains de Vékoma, les MK-1212, au-delà d'être merveilleux, comme on l'a vue dans notre précédent article, offre une expérience grandiose notamment grâce au système audio embarqué de dernière génération donnant l'impression d'être dans un cinéma avec un son a 360°. Le résultat rend l'expérience saisissante. En résumé, les nouveaux trains sont supérieurs aux précédents, du point de vie de la thématisassion et de la qualité de l'expérience.
The new Vekoma trains, the MK-1212, beyond being wonderful, as we saw in our previous article, they offer a great experience thanks to the on-board audio system of last generation, giving the impression of being in a cinema with a 360 ° sound. The result makes the startling experience. In summary, the new trains are better than the previous ones in point of view of the theming and the quality of the experience (with sound system).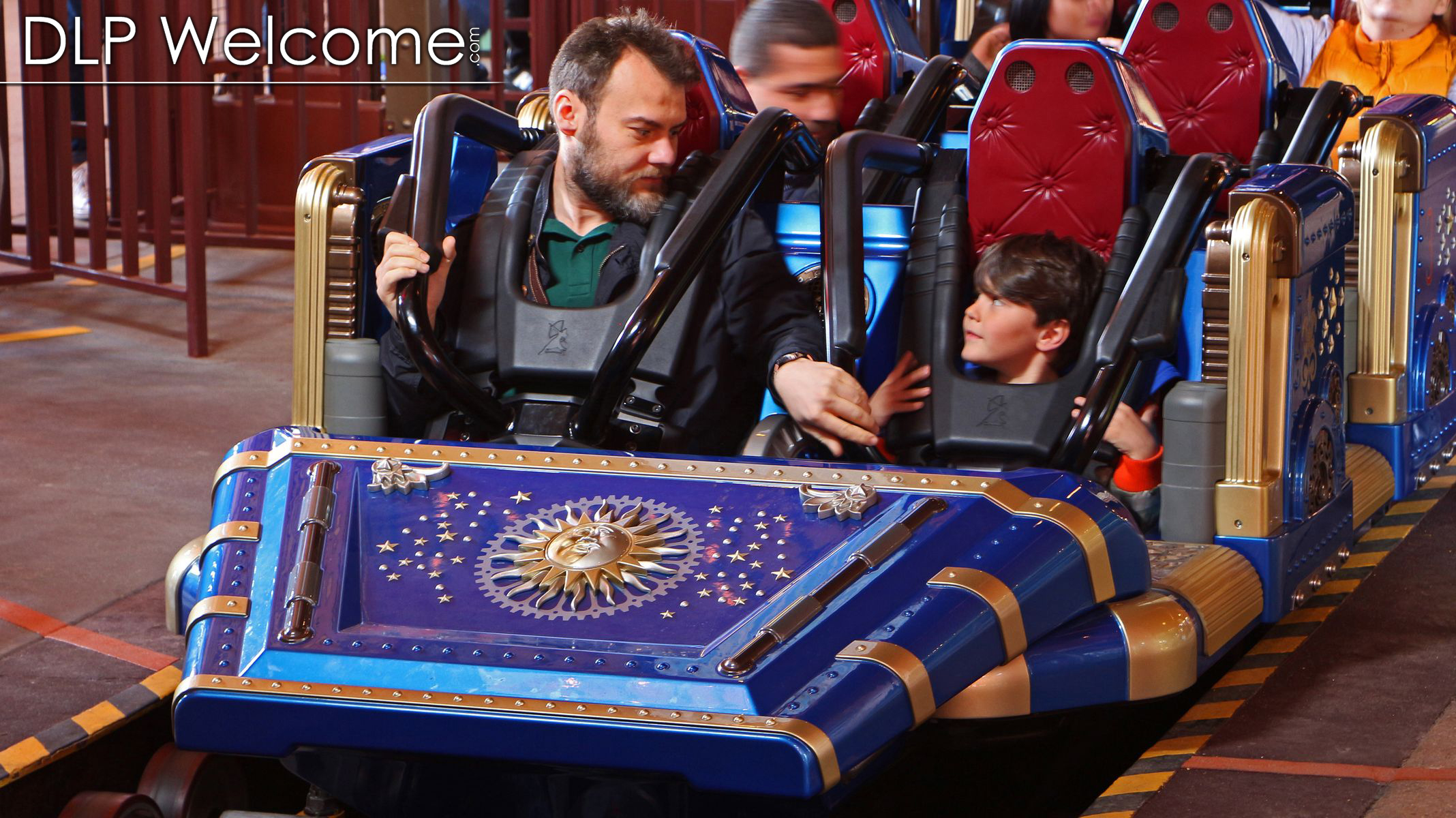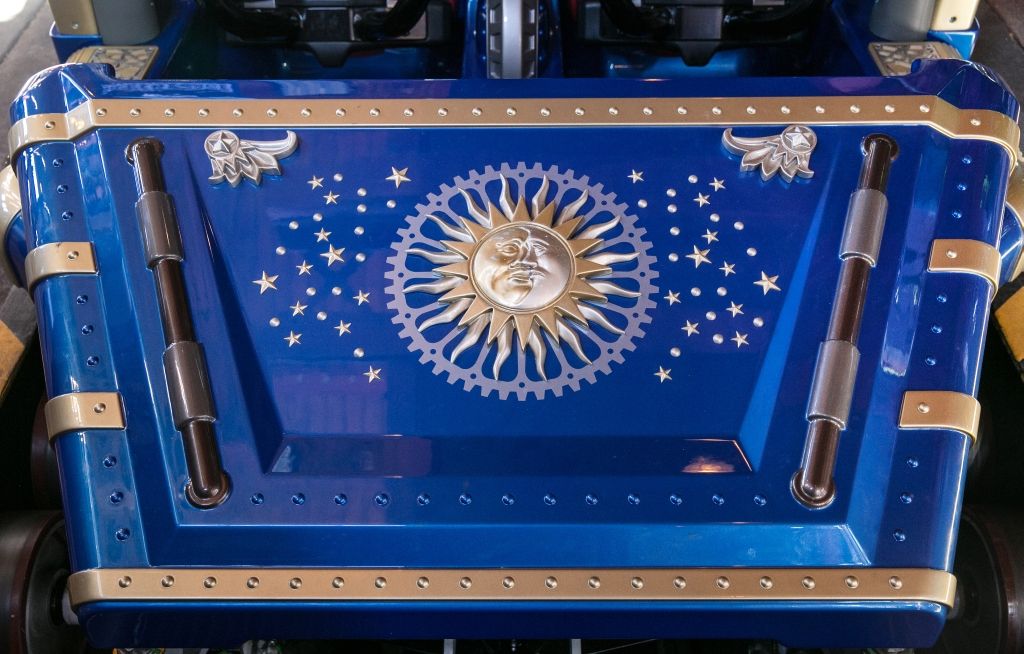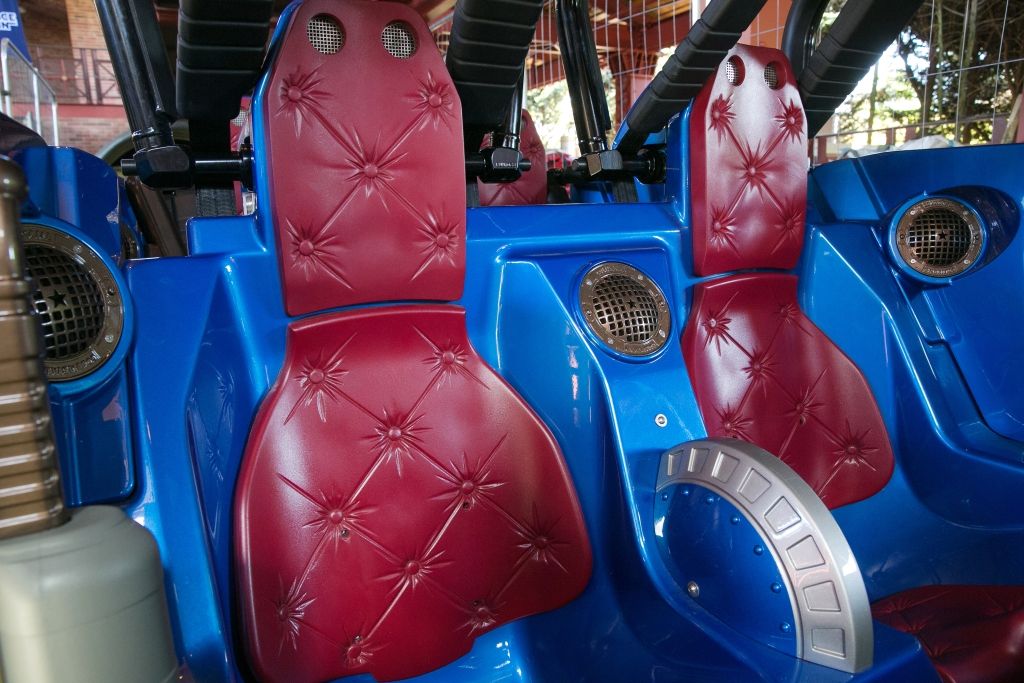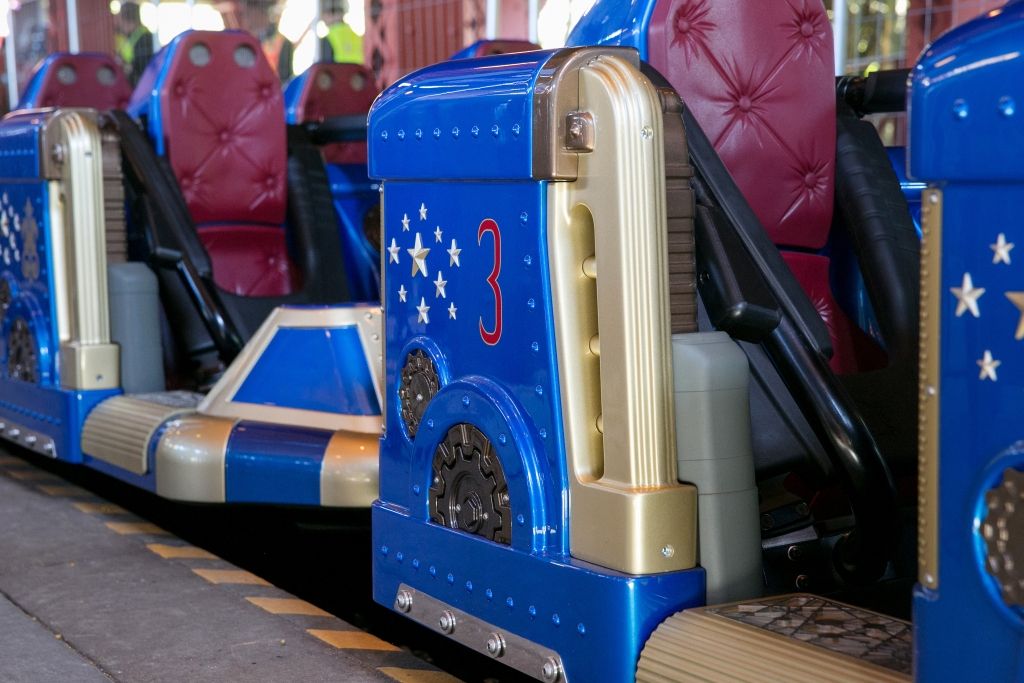 Dès que le train sort de la gare, raisonne le mythique thème de la saga Star Wars jusqu'au canon où les coordonnées sont communiquées par l'amiral Ackbar, avant d'être propulsé dans cette nouvelle aventure.
As soon as the train leaves the station, the mythical theme song of the Star Wars saga starts until the cannon launch people in this new adventure where the coordinates are provided by Admiral Ackbar .
Pour résumer l'attraction, c'est fun, c'est cool, mais ce n'est pas « Whoua » comme Disney aime l'entendre. Pour les connaisseurs de Space Mountain : Mission 2, la mise à niveau se voit et pose problème avec les astéroïdes, les projections des vaisseaux sont déformés. Aucun travail sur les toiles et projections n'a été réalisé.
Toutes les installations de projections existantes ont été réutilisées, et seuls les effets « laser » des vaisseaux ont été créés avec des installations lumineuses.
L'effet de Star Wars ne donne finalement aucun « whoua » parce que les installations sont les mêmes et nous n'avons pas de grandes surprises. L'effet final de « vitesse lumière » utilise seulement la moitié du vortex rouge de « Space Mountain : Mission 2 », ce qui est très court au vue de la vitesse du train et ne permet pas aux visiteurs d'en profiter.
Ainsi, notre « Hyperspace Mountain », offre une expérience avec peu de surprises pour les visiteurs habitués de Disneyland Paris. Pourquoi ? Parce que Space Mountain a Disneyland Paris offre déjà pendant le trajet une thématisation aboutie et dense par comparaison aux autres Space Mountain dans le monde. Ainsi, devoir se renouveler rapidement dans une version temporaire devient très vite difficile pour Disneyland Paris et impose un nombre de possibilité réduit. Mais penser aux nouveaux trains, la musique, les effets, une aventure inédite et ficelé, permet au visiteur de vivre une expérience unique au monde, intéressante et qui doit absolument être réalisée durant une visite sur le parc.
Concernant les visiteurs occasionnels, cette attraction doit être pour vous un incontournable tout comme la nouvelle version de Star Tour.
Summing up the attraction, it's fun, it's cool, but is not « Whoa » as Disney likes to hear it. For connoisseurs of « Space Mountain: Mission 2 », the upgrade in « Hypersapce Mountain » poses problem and the recycling is noticed. for exemple the projections of the vessels are distorted because the the surface has not been reviewed on the asteroids.
All the facilities of existing projections were re-used, and only vessels « laser » effects have been created with lights installations.
The effect of Star Wars is finally no 'Wow' because facilities are the same and we have no major surprises. The final effect of « light speed » uses only half the Red vortex of « Space Mountain: Mission 2 », which offers a very short effect in view of the speed of the train and does not allow visitors to enjoy.
Thus, our « Hyperspace Mountain », offers an experience that, for the visitor accustomed to Disneyland Paris has few surprises. Why ? Because Space Mountain at Disneyland Paris already has during the ride a theming who is finished and dense and a much more epic circuit unlike the other Space Mountain in the world. So to renew itself with a temporary version becomes quickly difficult for Disneyland Paris with a number of possibilities reduced. But with the new train, the music, the effects, a new and new adventure, allows the visitors to live a unique, interesting and exciting experience during a visit to Disneyland.
And for occasional or first visitors, this attraction is for you a must in your visit as well as the new version of Star Tour.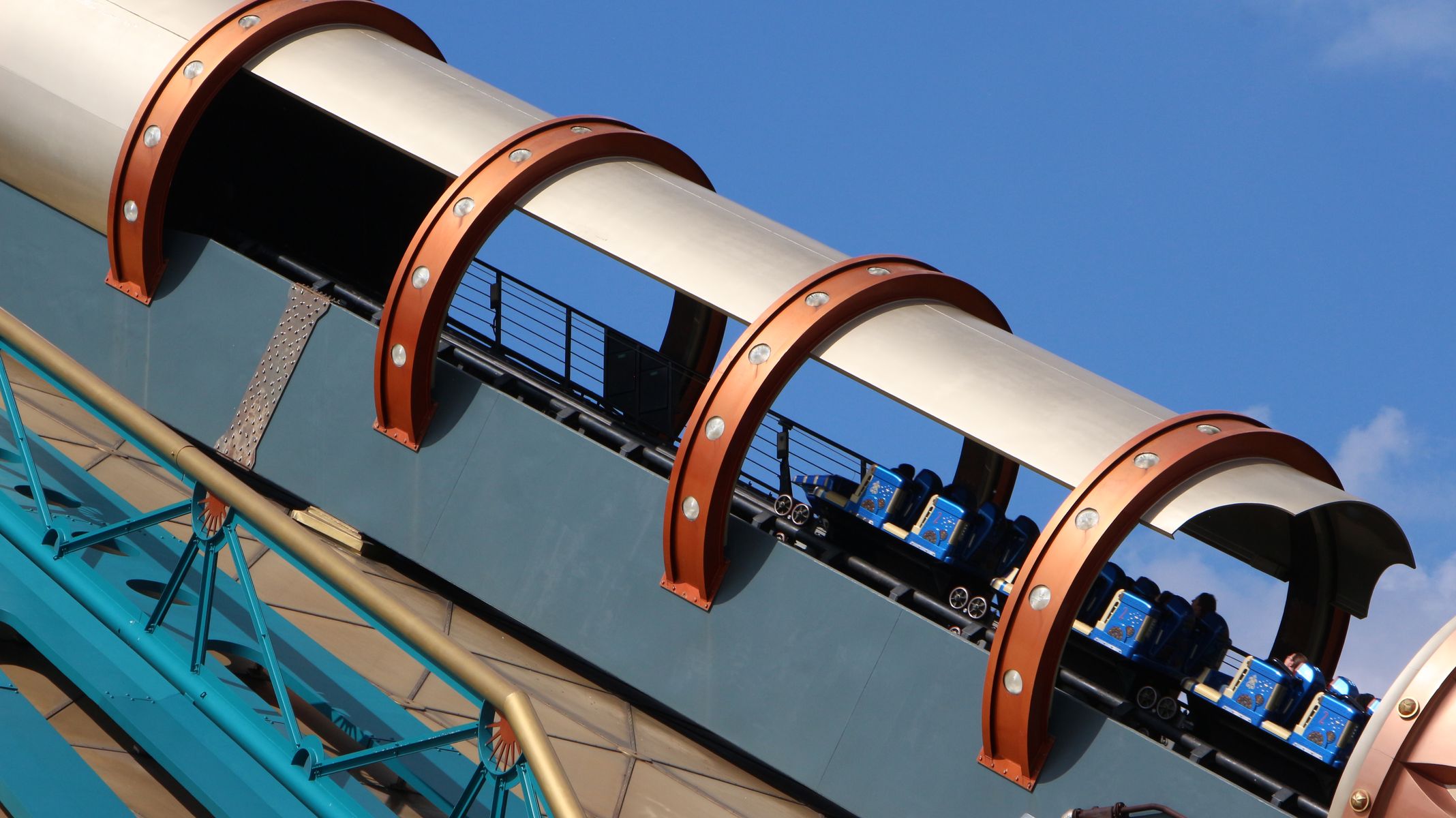 Il est à noter qu'en parallèle de l'ouverture de « Hyperspace Mountain », au Discoverylad Theater, « Star Wars : Path of the Jedi » a fait ses début également le 7 mai dernier permettant aux visiteurs de revenir sur les 7 épisodes de la franchise. Un film de près de 15 minutes qui permette de revivre les moments cultes et ce qui fait de Star Wars des films mythiques. Cette nouvelle projection est parfaite pour un moment de détente mais aussi pour les pationné de cette galaxie très très lointaine.
It should be noted that in parallel with the opening of « Hyperspace Mountain », at the Discoverylad Theater, « Star Wars : Path of the Jedi » made his debut also may 7 allowing visitors to come back to the 7 episodes of the franchise. A film about 15 minutes allowing to relive the moments cults and what makes Star Wars of the mythical films. This new projection is perfect for relaxing but also for hobbyists of this Galaxy very far away.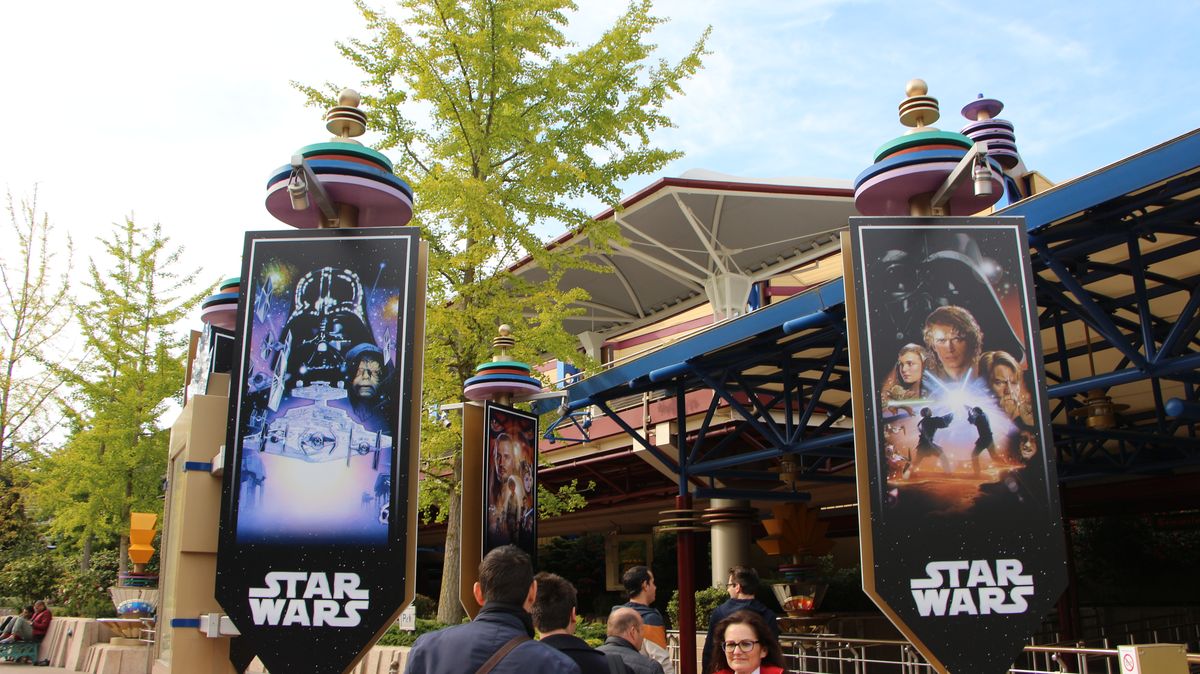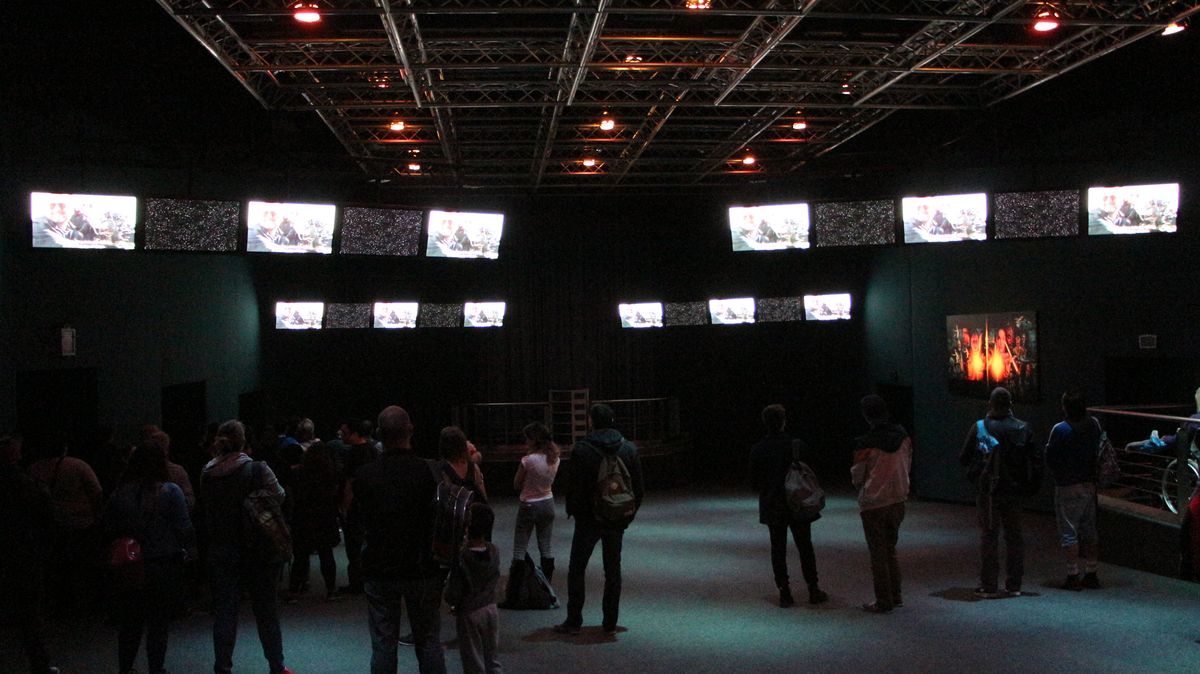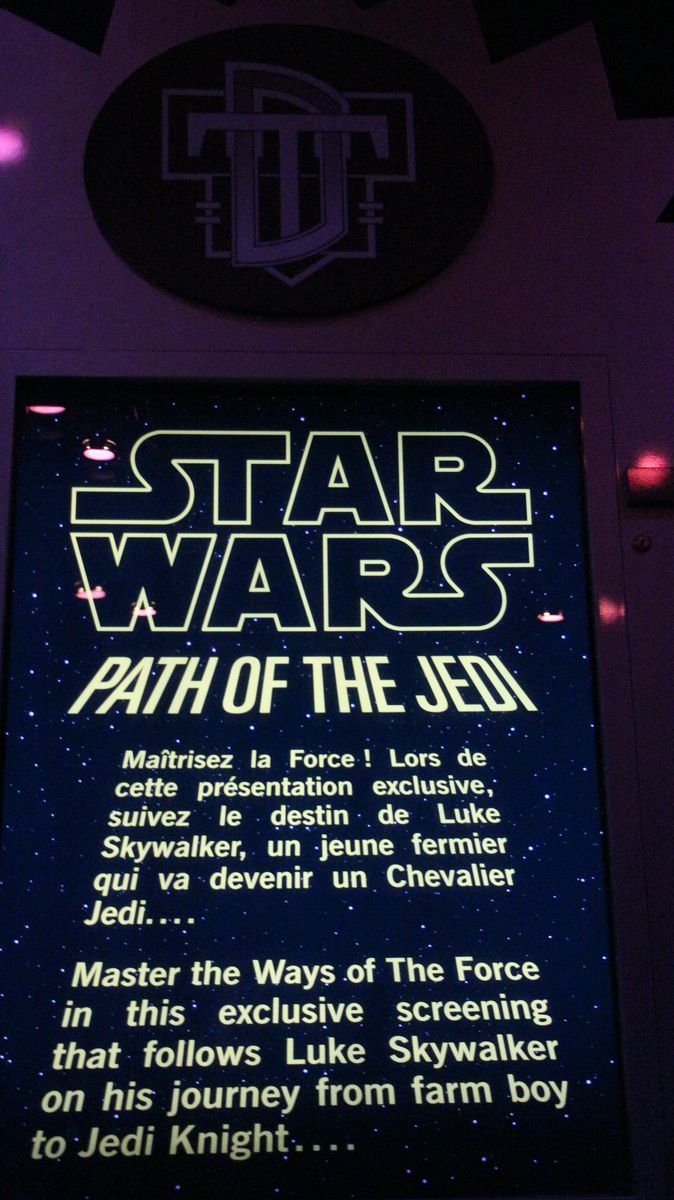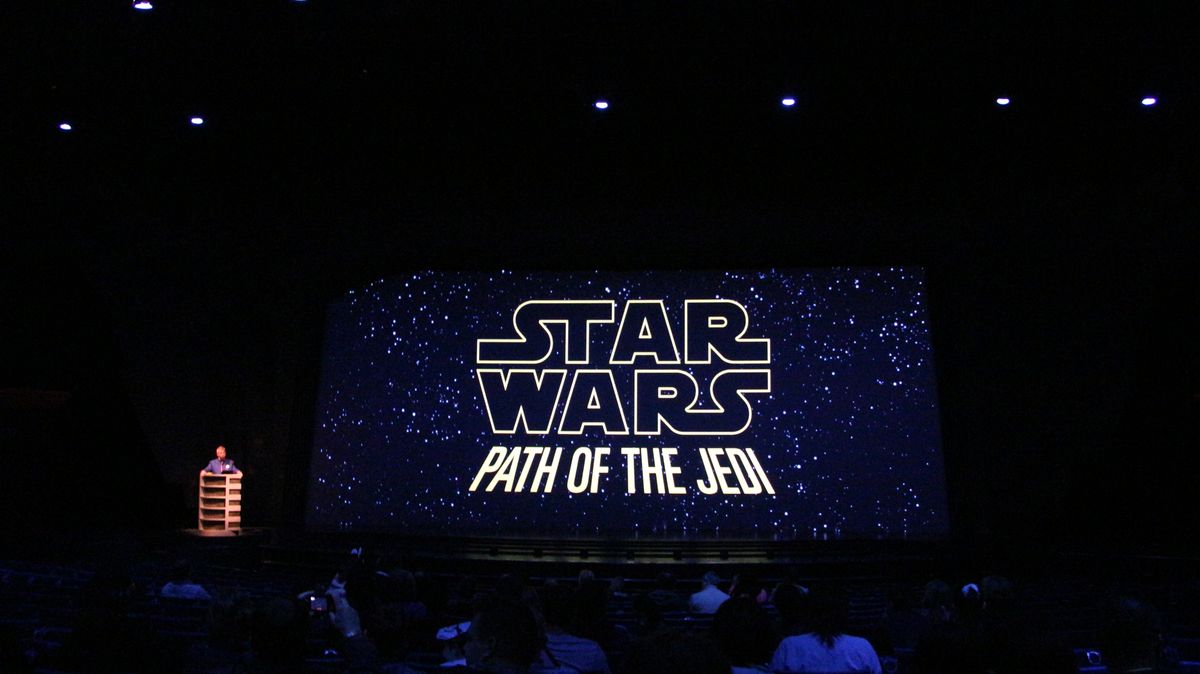 Rejoignez-nous sur /Join and follow us on :
– Facebook
– Twitter
– Instagram
Merci de votre fidélité.
A bientôt !
Thank you for your loyalty.
See ya real soon !