Bonjour à tous voici le nouvel article de la semaine en ce début des vacances scolaires.
Hello everyone here is the new article of the week at the beginning of the summer season and holidays.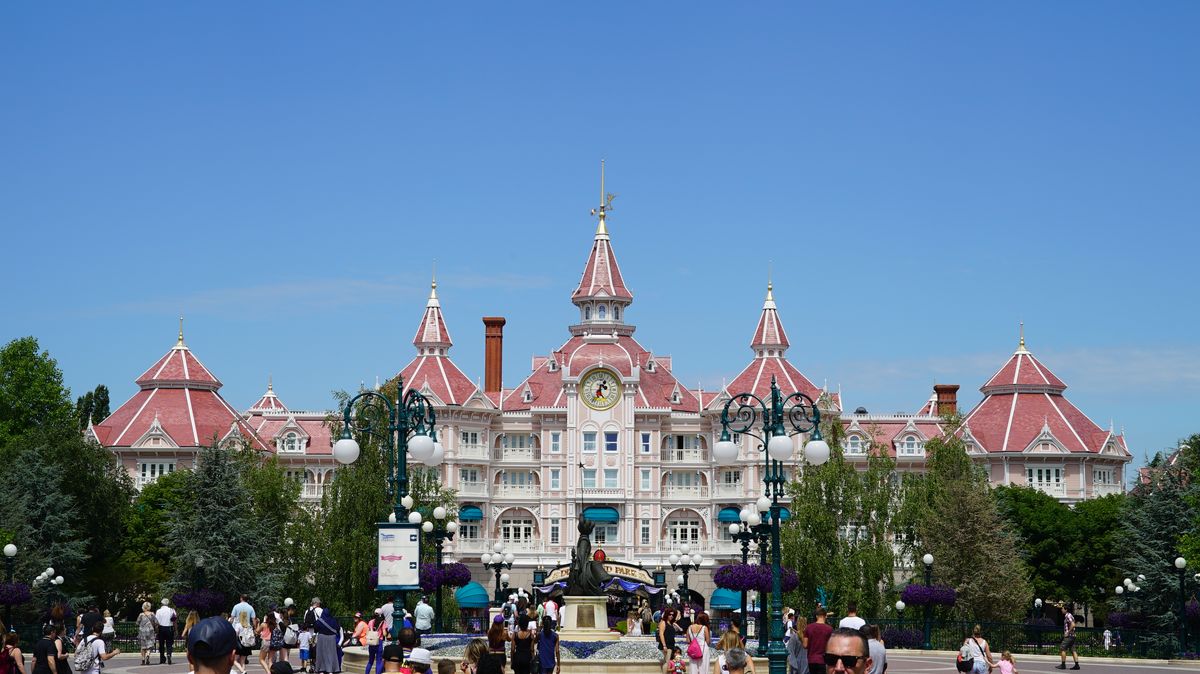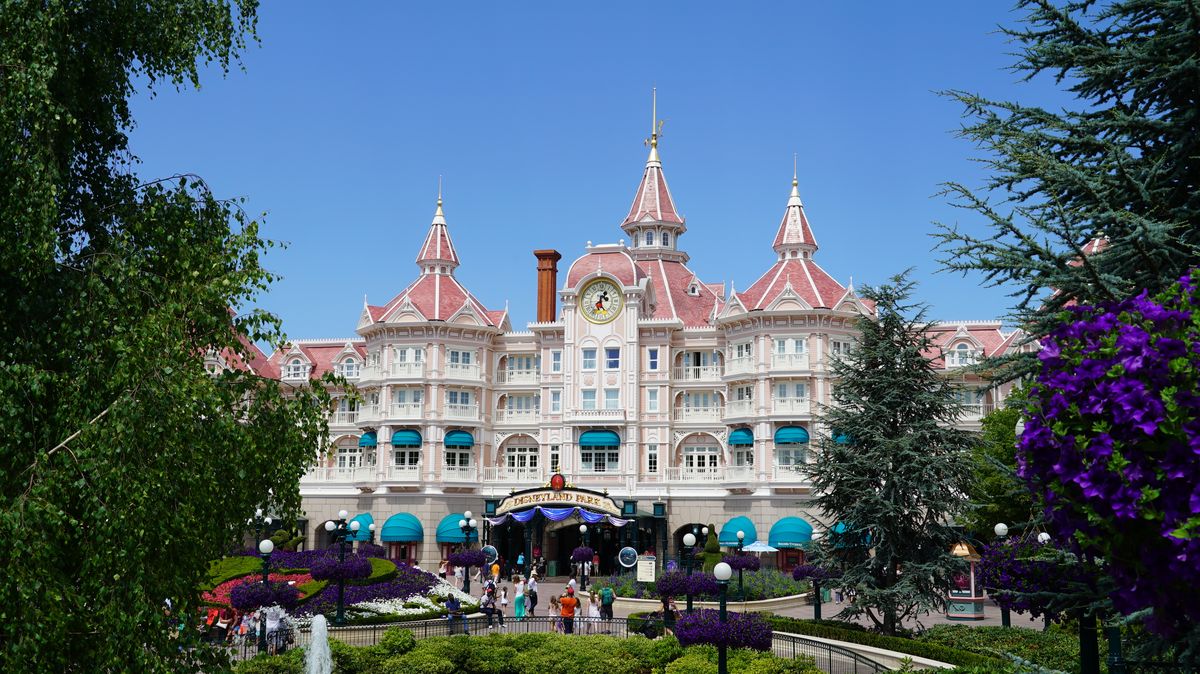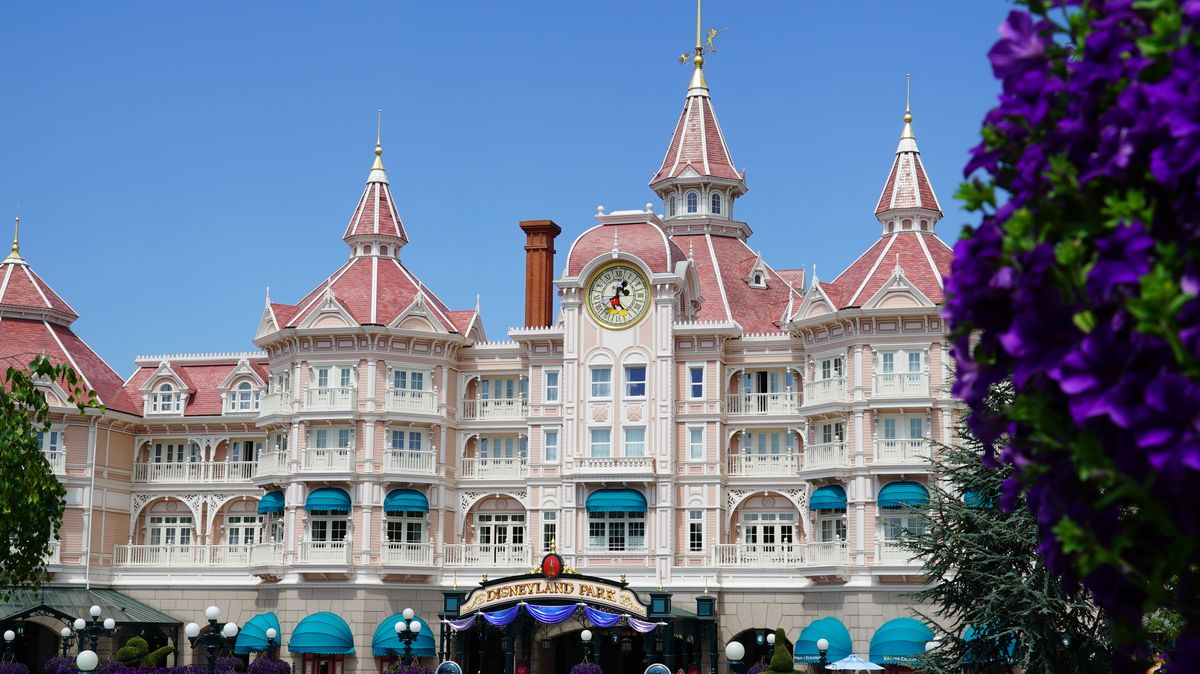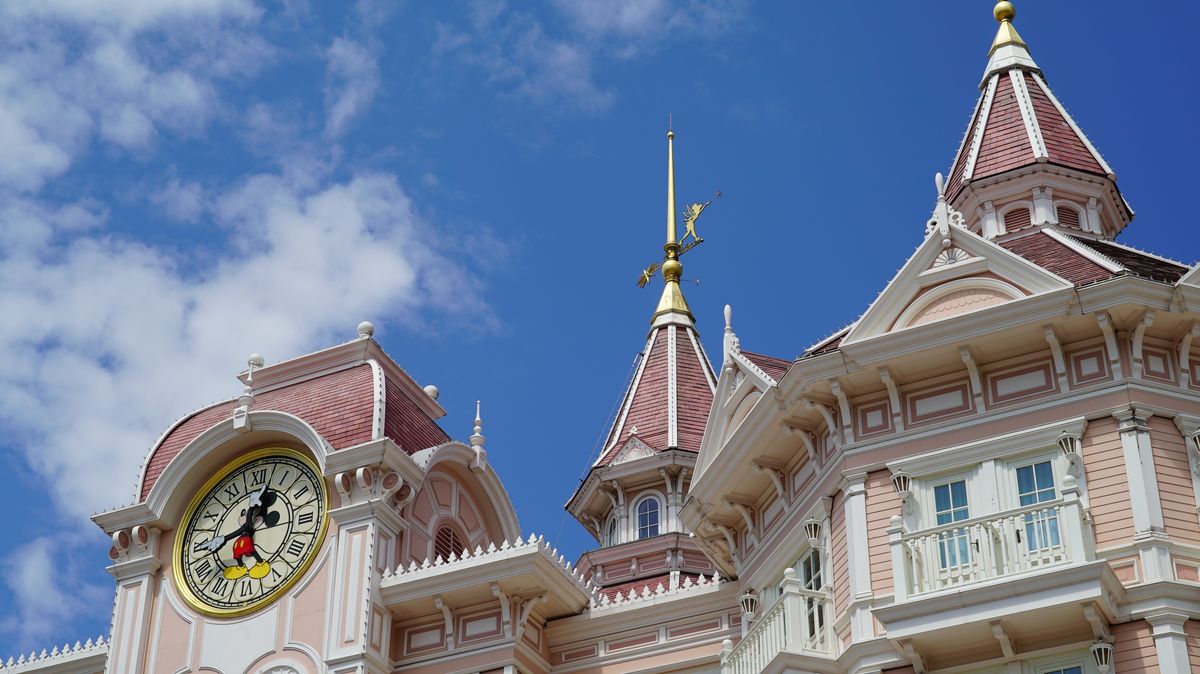 Bienvenue au Disneyland Park où de nouvelles décorations pour le 25ème anniversaire sont apparues sur Main Street Station plus de 3 mois après le début des festivités. Les décorations sont non sans rappeler celles du 20ème anniversaire avec sous la gare, certaines arches de l'accès central sont aux couleurs de l'anniversaire (bleu et argent).
Welcome to Disneyland Park where new decorations for the 25th anniversary have appeared on Main Street station more 3 months after the begining of the festivities. The decorations are reminiscent of those of the 20th anniversary with under the station, some arches of the central access are in the colors of the birthday (blue and silver).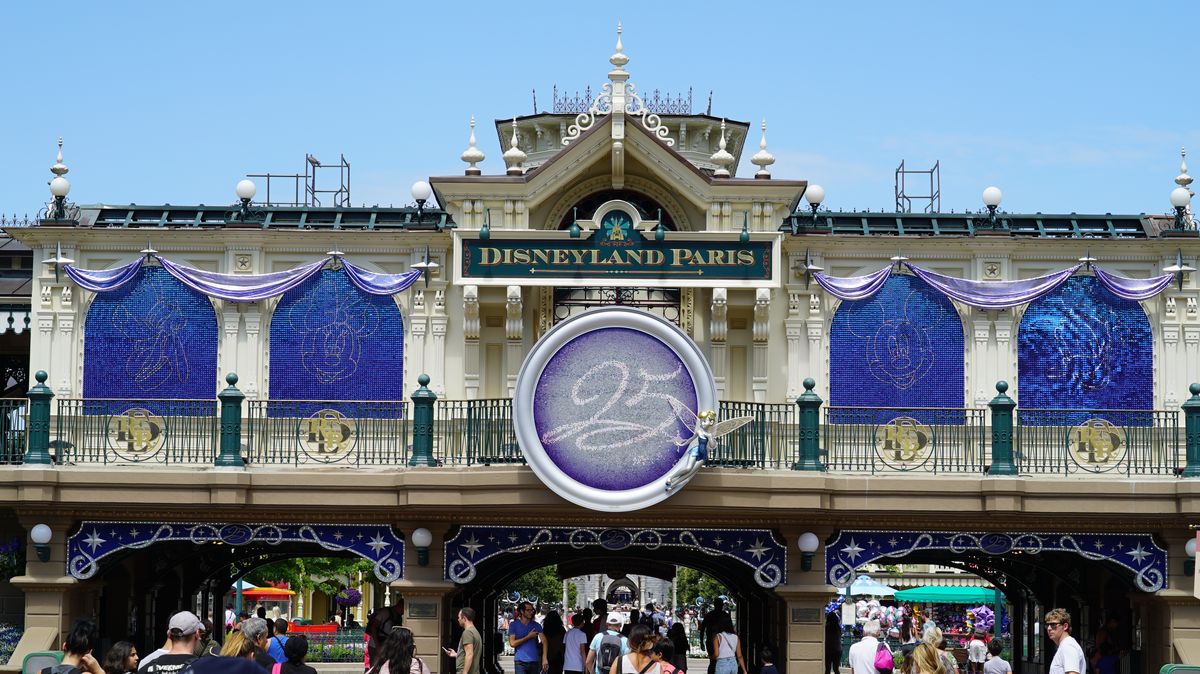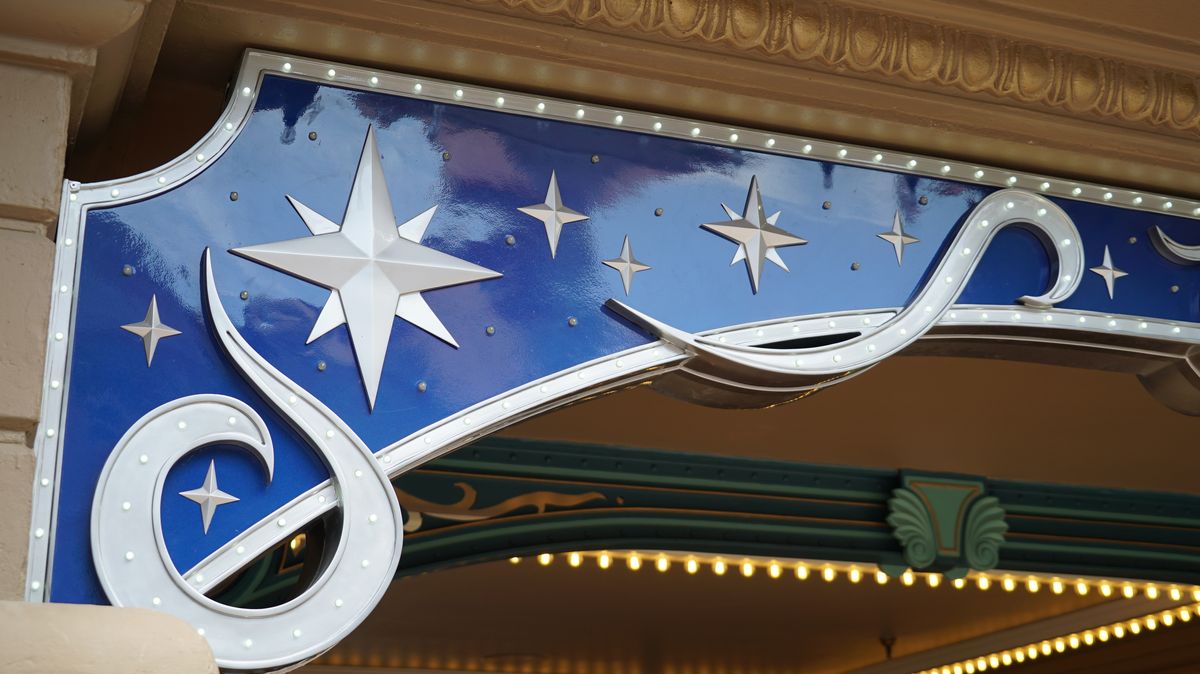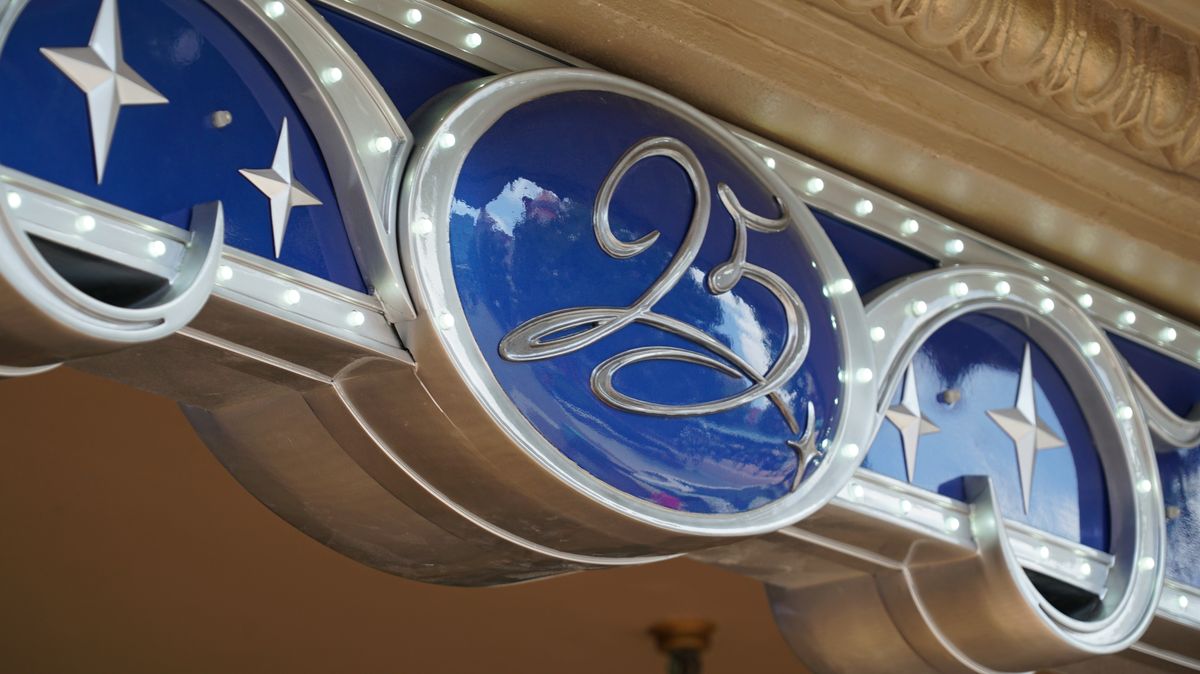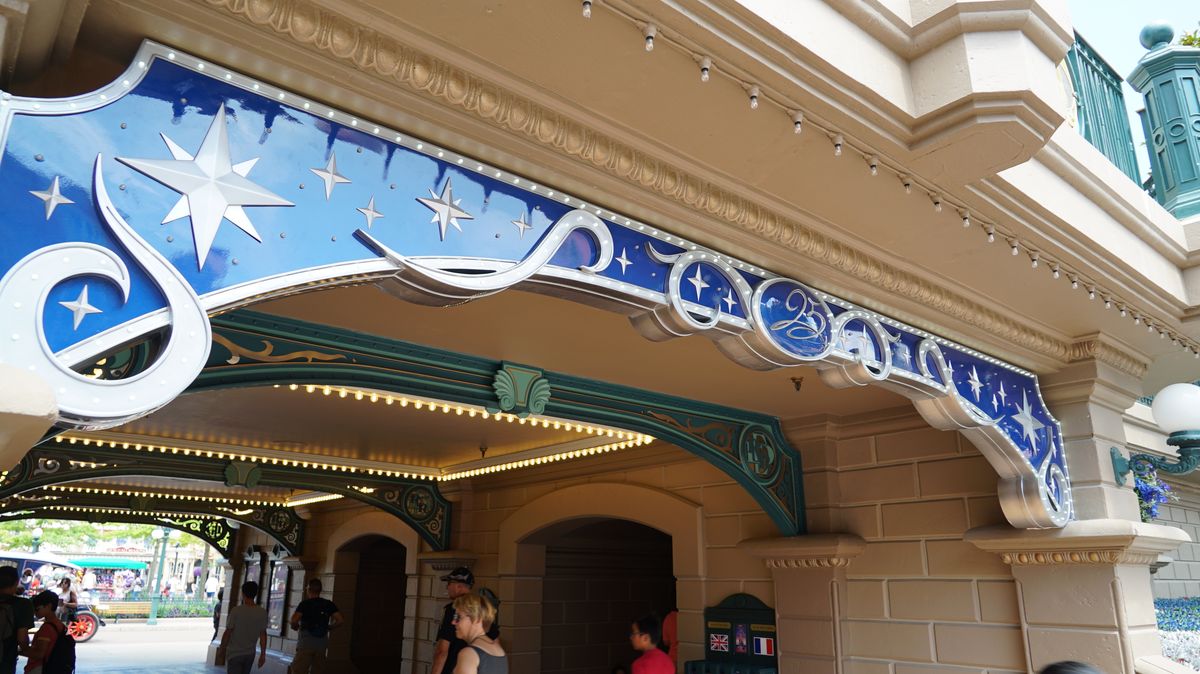 Sur Main Street USA, revenons sur Town Square le retour des musiciens de Disneyland Paris au niveau du Gazébo. C'est sous un rythme jazzy que les visiteurs entrent dans le parc.
At Main Street USA, on Town Square, we can see the return of the musicians of Disneyland Paris at the level of the Gazebo. It is in a jazzy rhythm that visitors enter the park.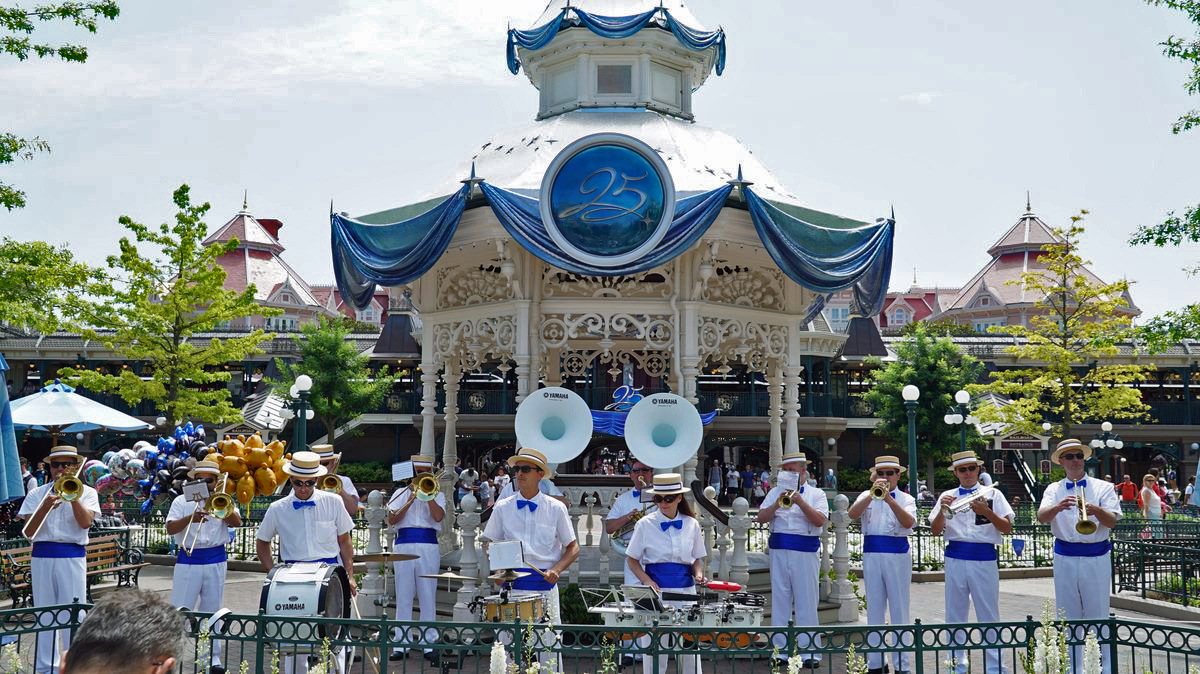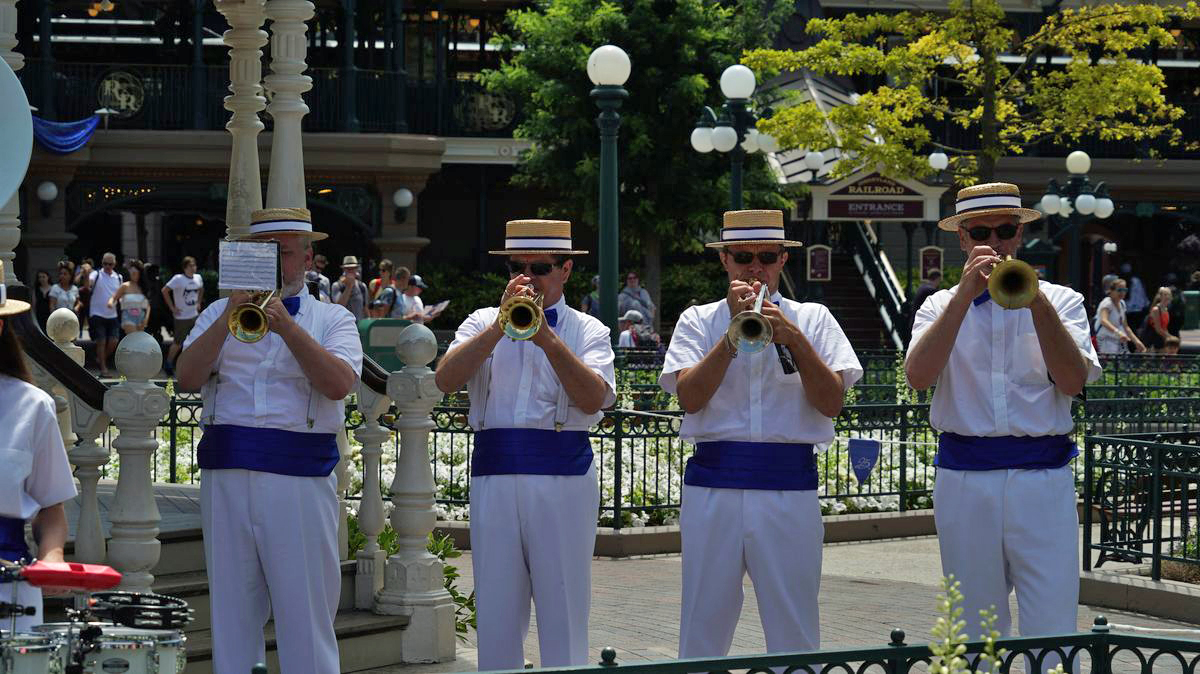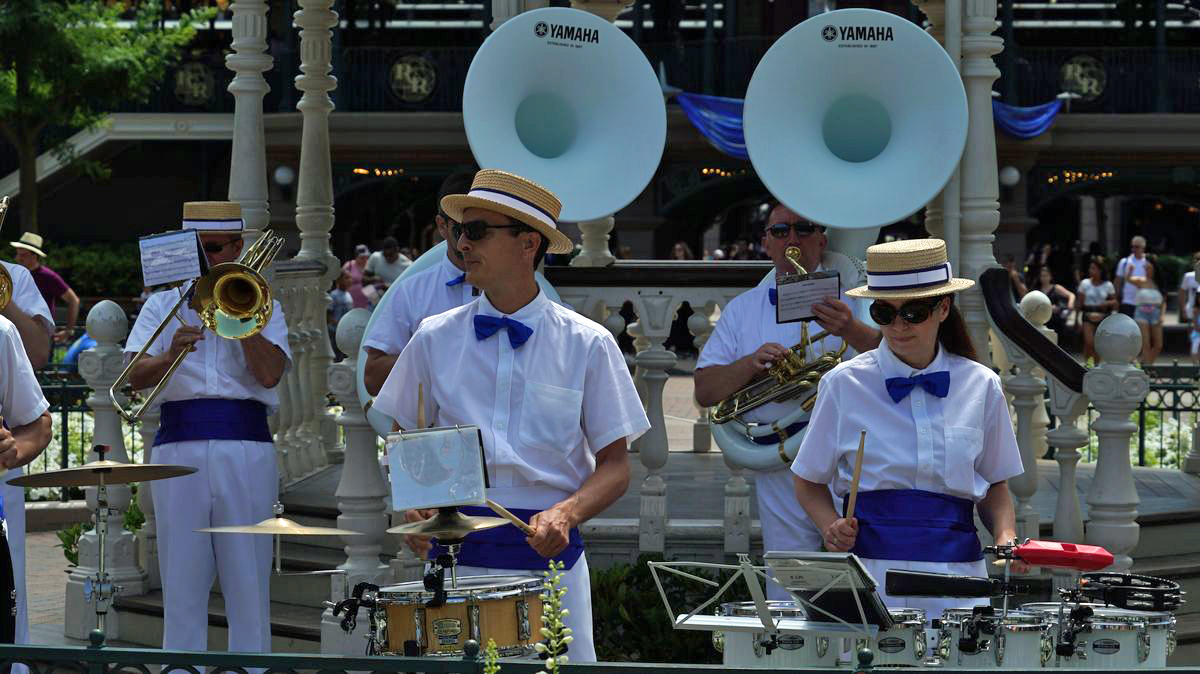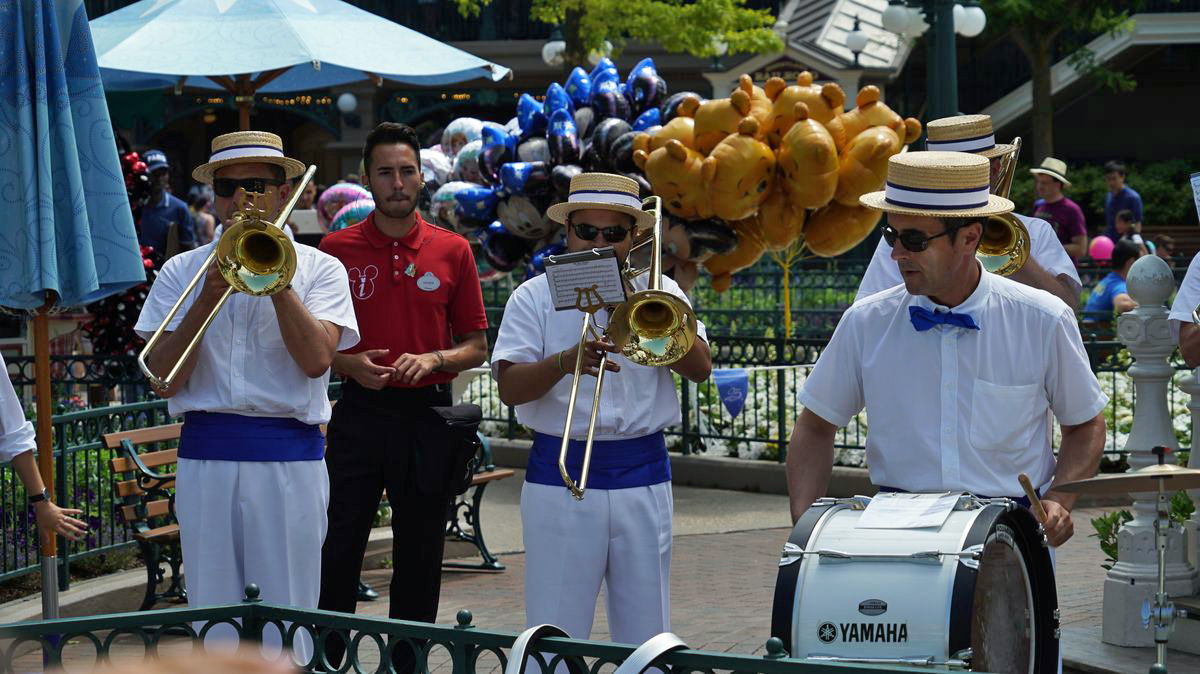 En ces jours d'été, le ciel est radieux…
In these summer days, the sky is Radiant…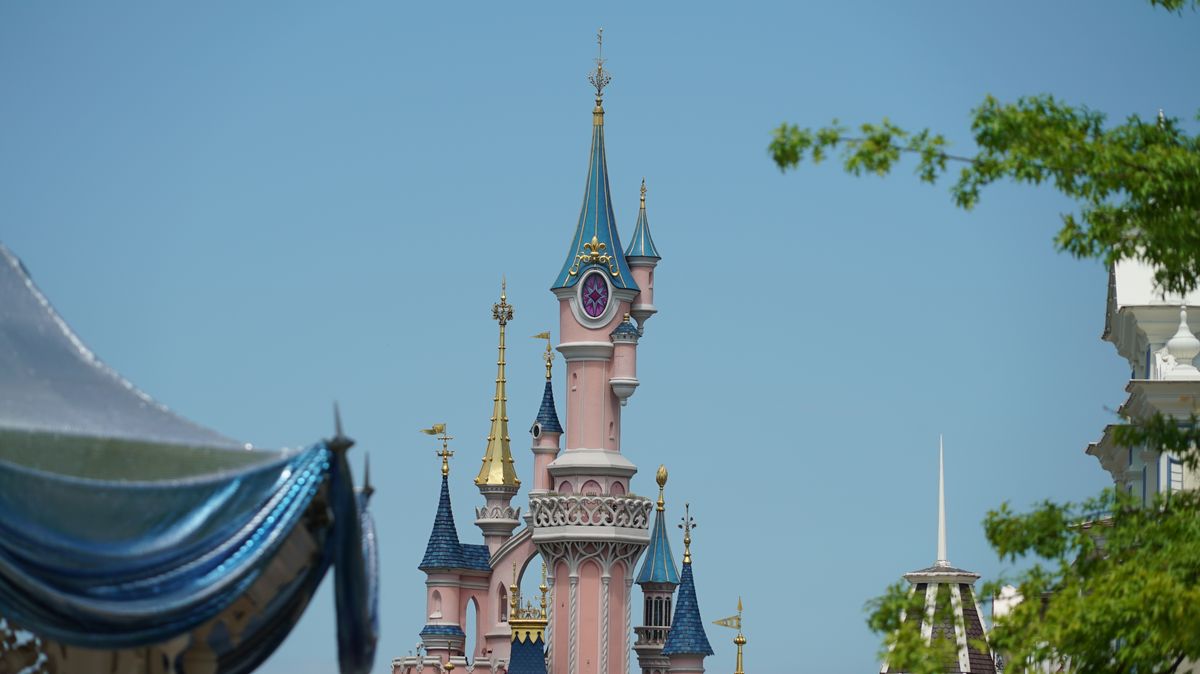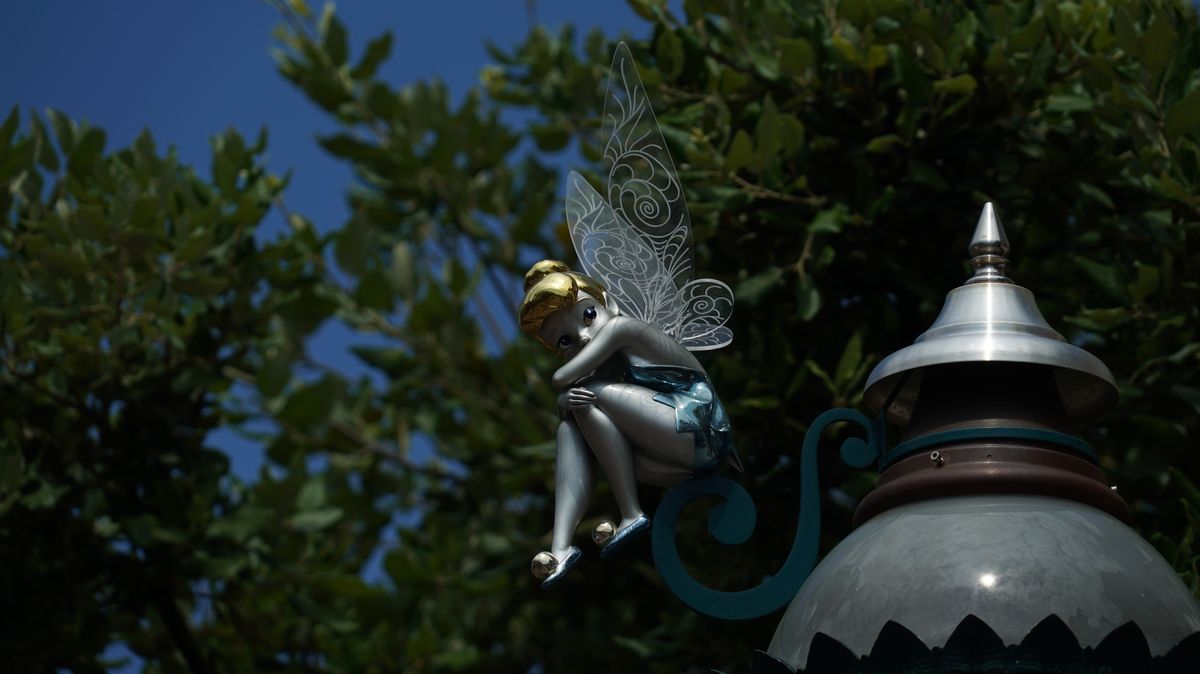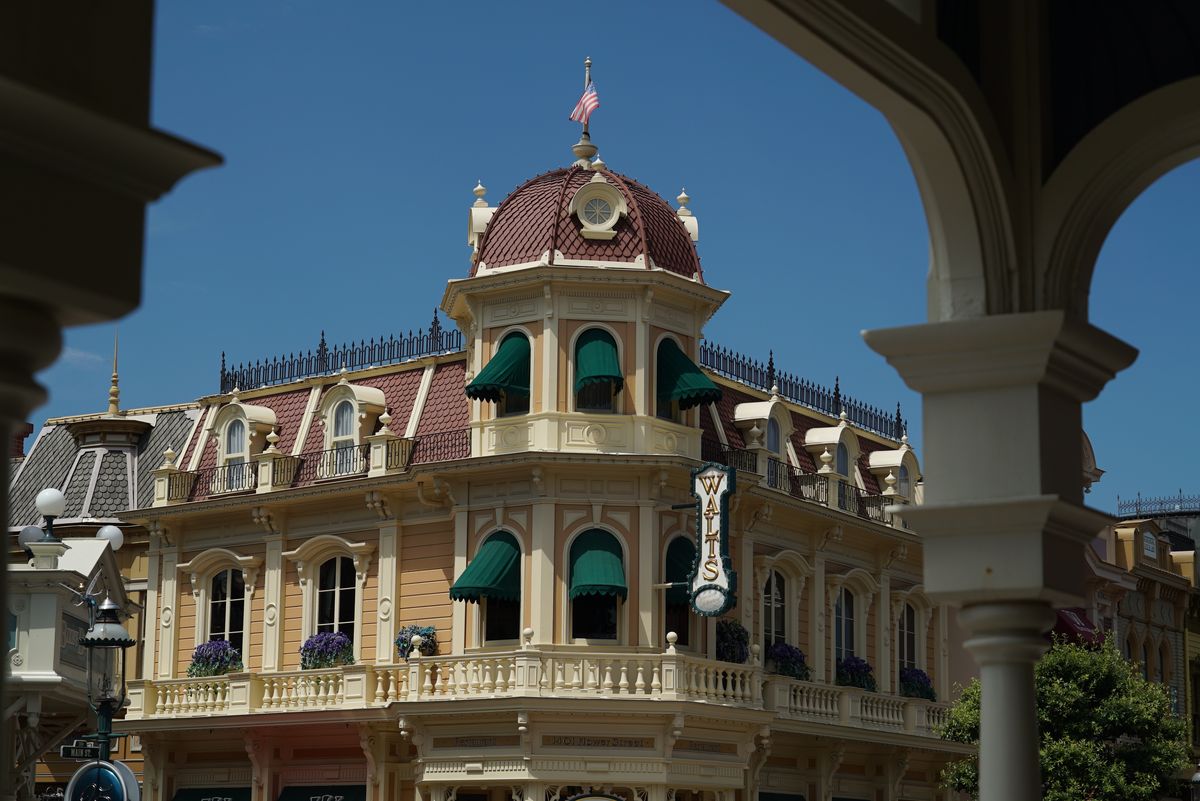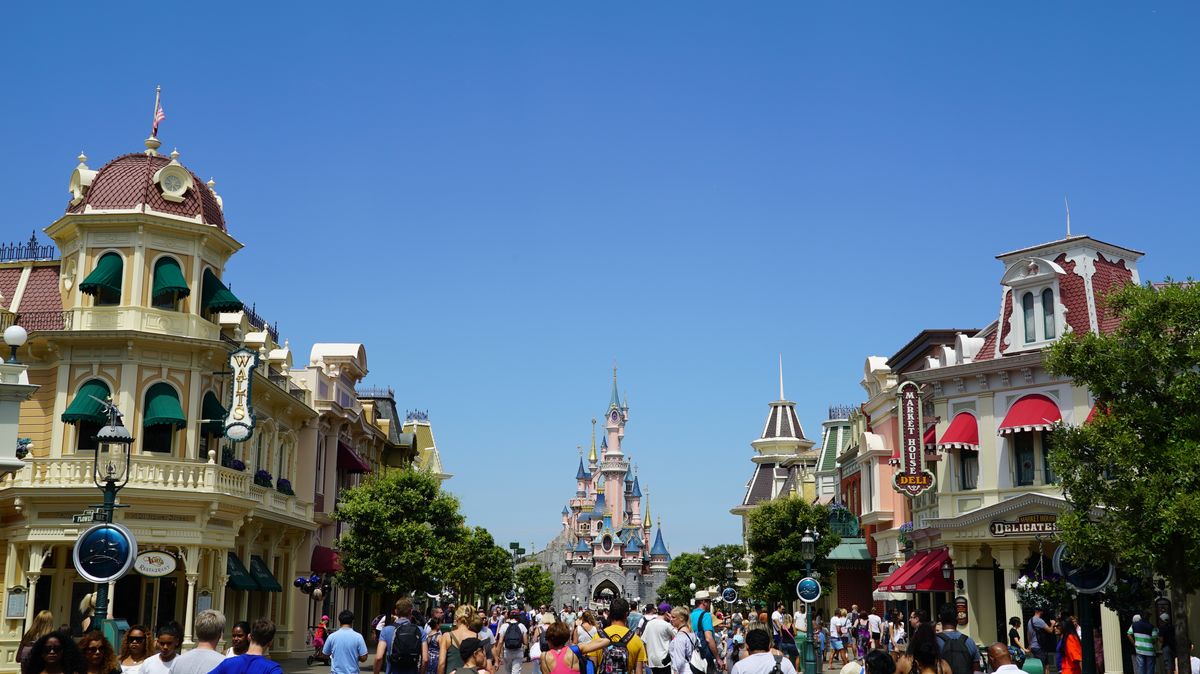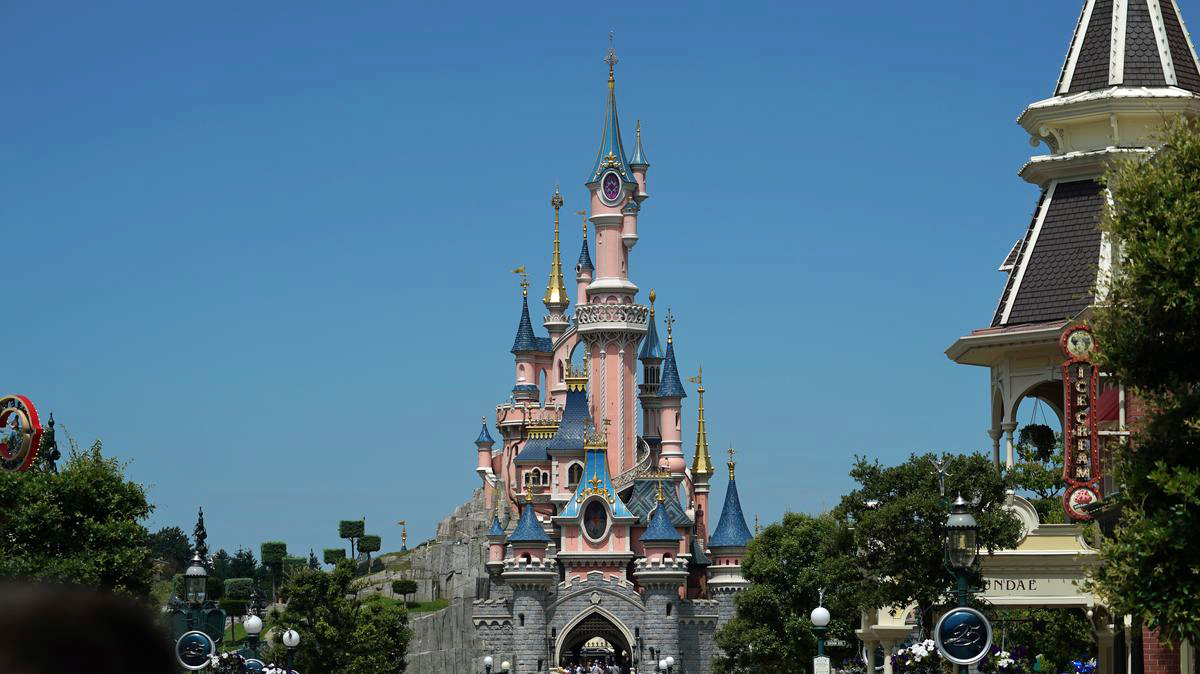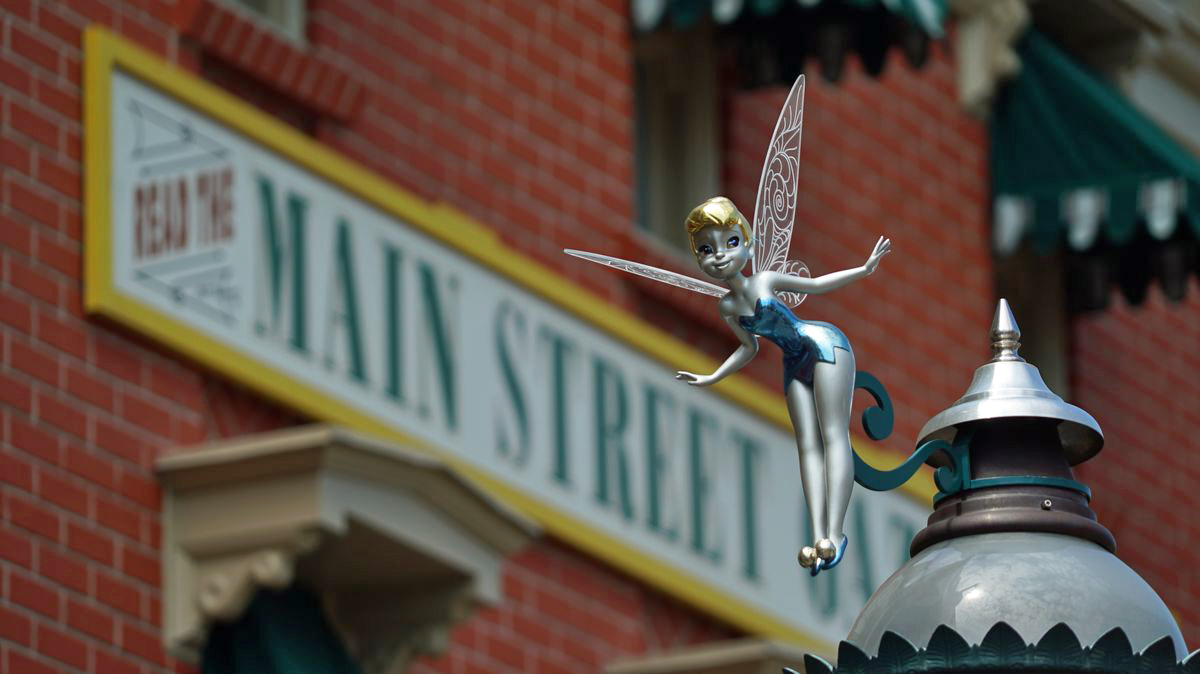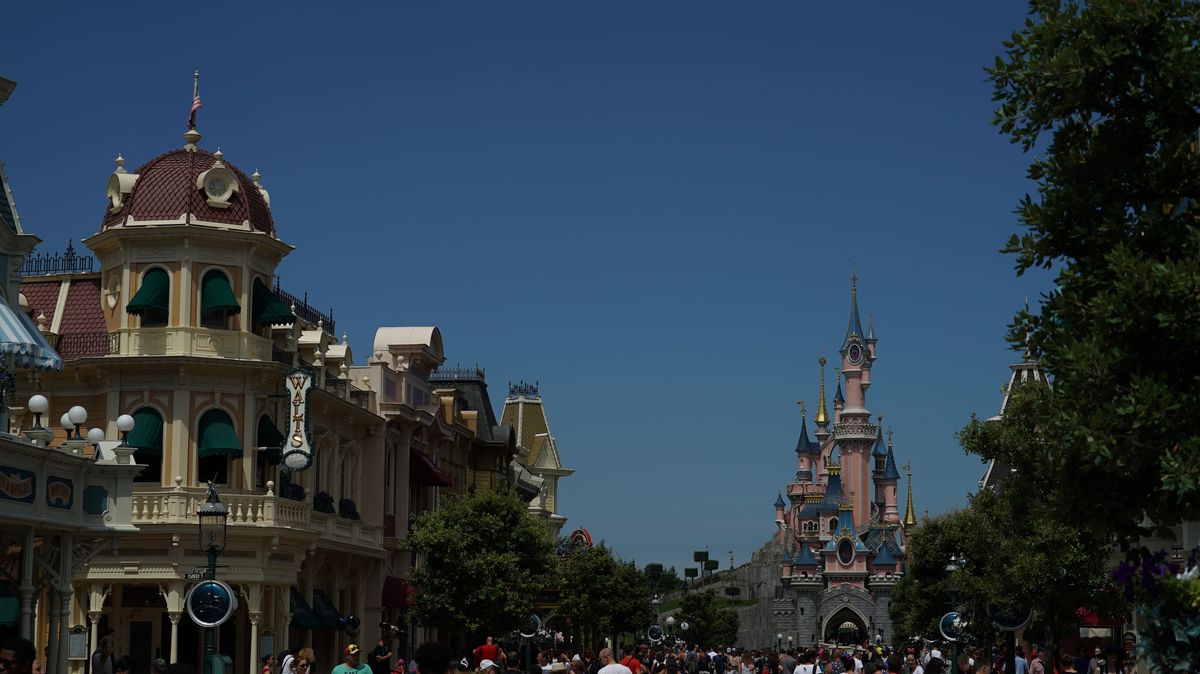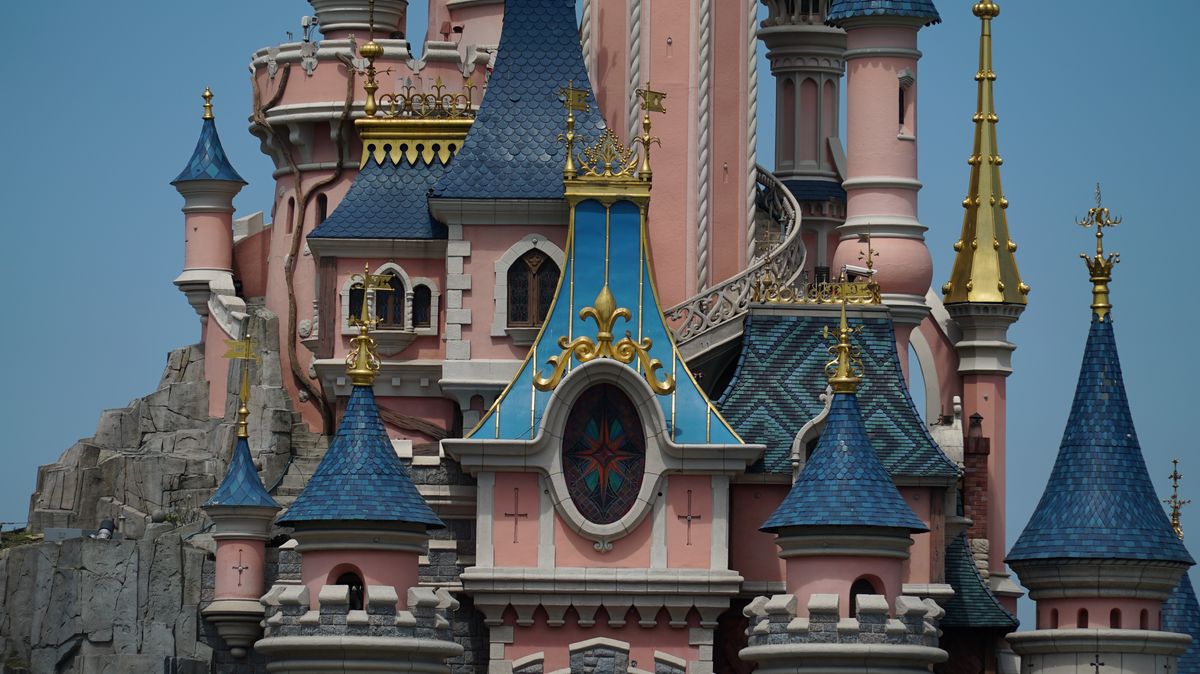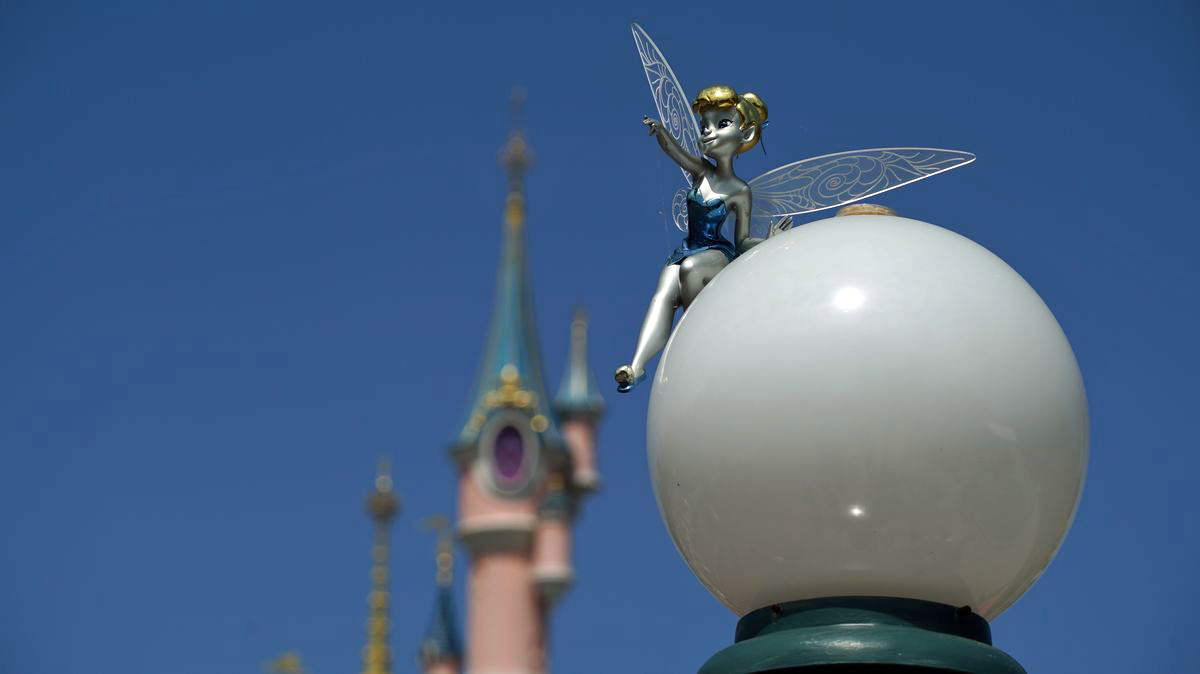 … pour cela, rien de mieux que de regarder le spectacle anniversaire « Mickey Présente : Joyeux anniversaire Disneyland Paris ». C'est toujours un vrai plaisir de voir autant de personnages dans un spectacle.
… for this reason, nothing better than watching the birthday Show « Mickey Presents: Happy Birthday Disneyland Paris ». It's always a real pleasure to see so many characters in a show.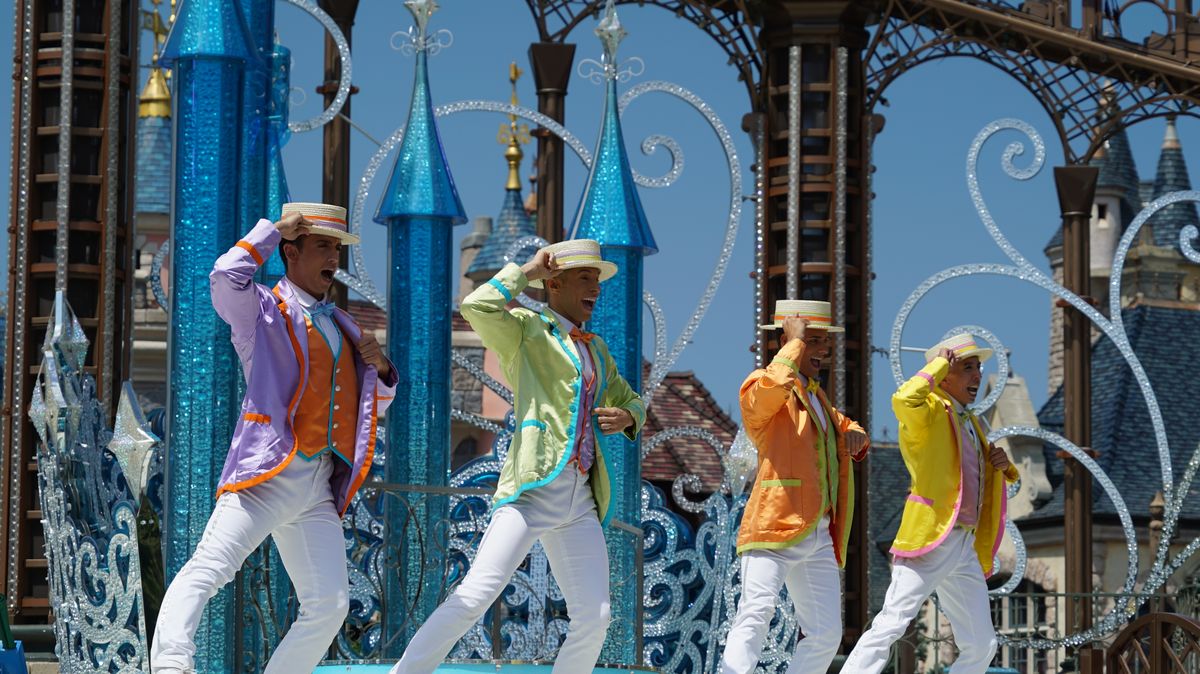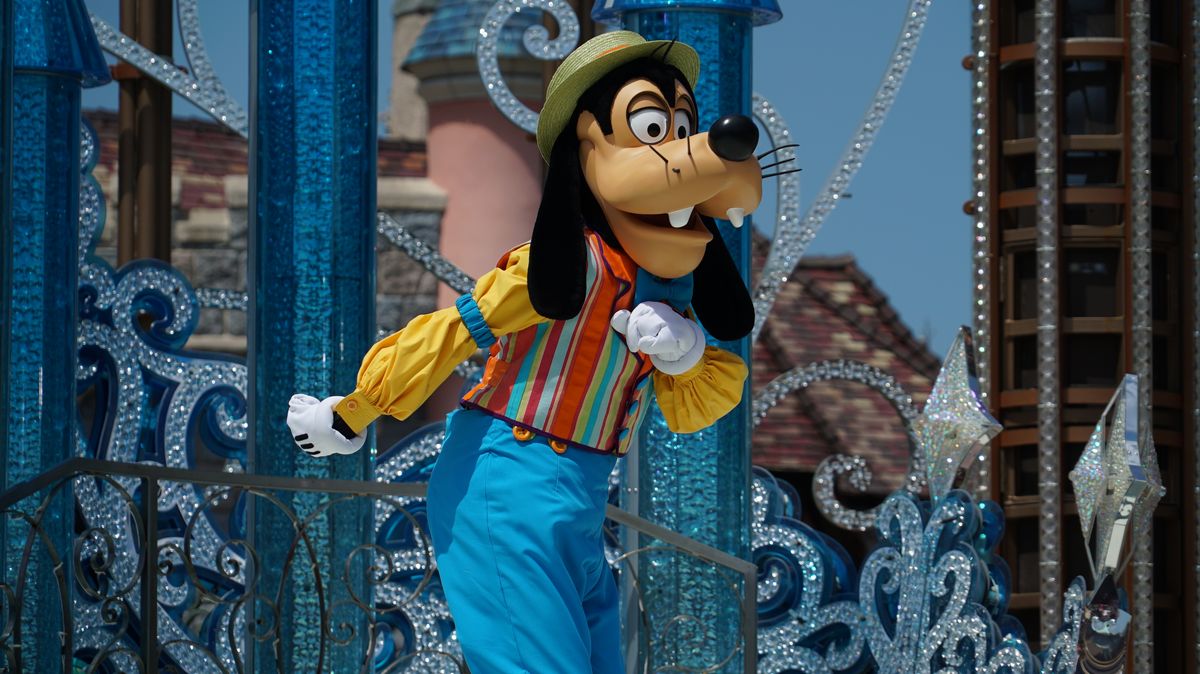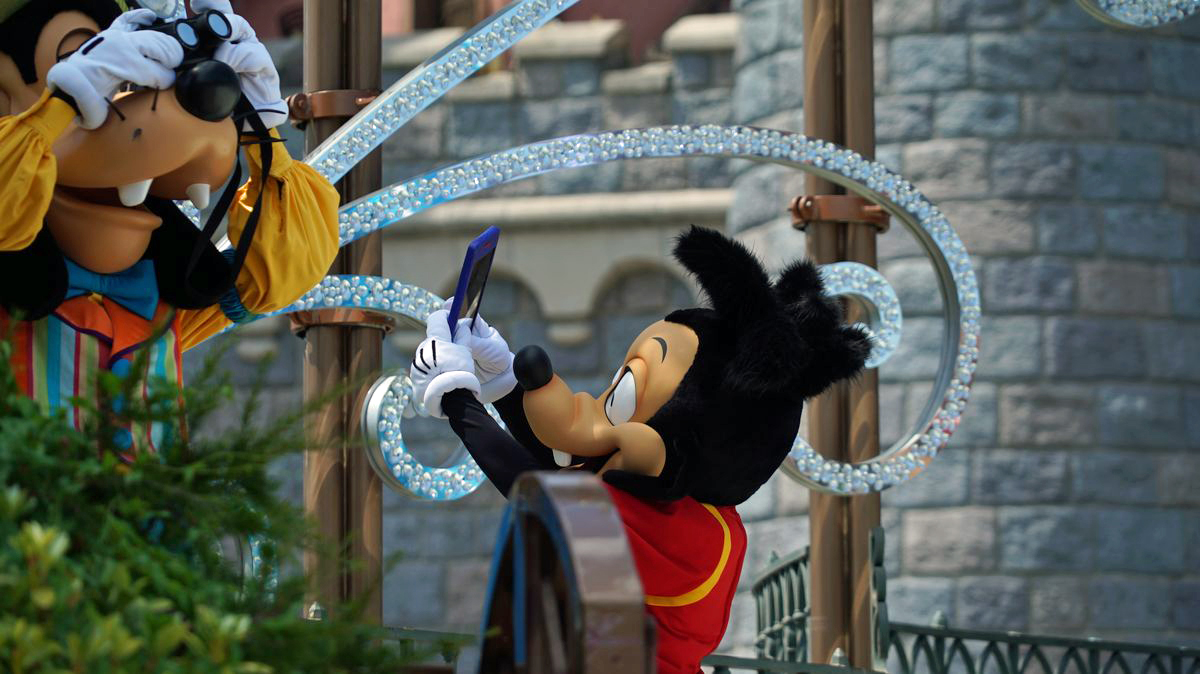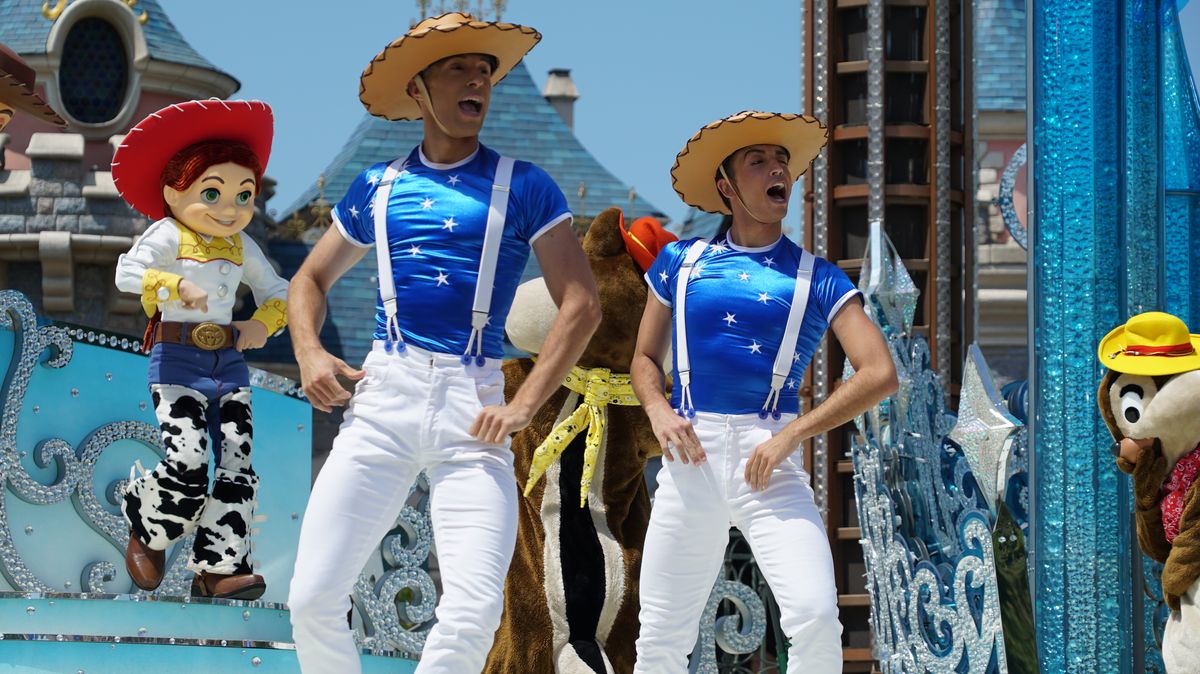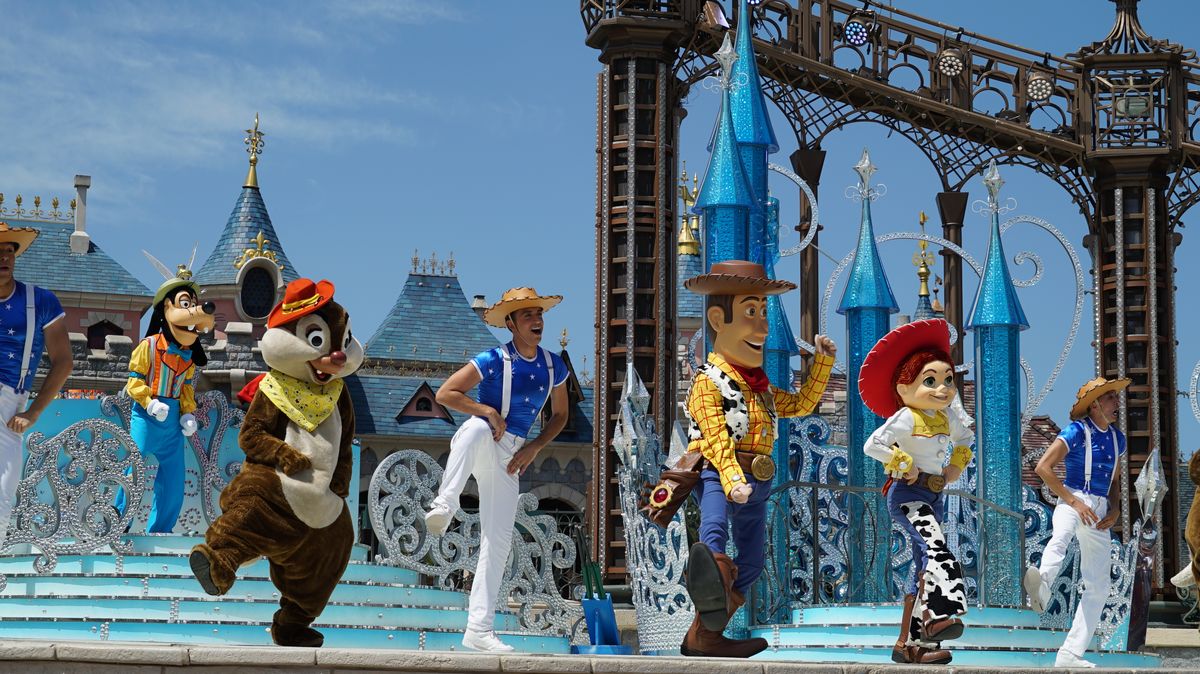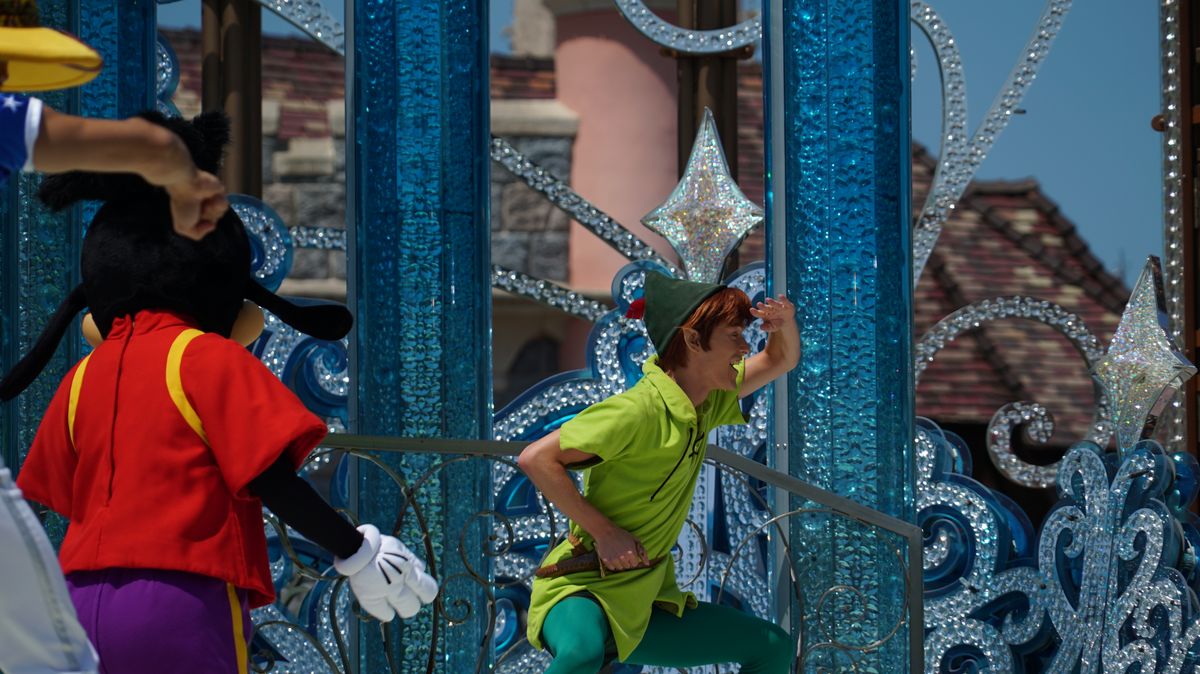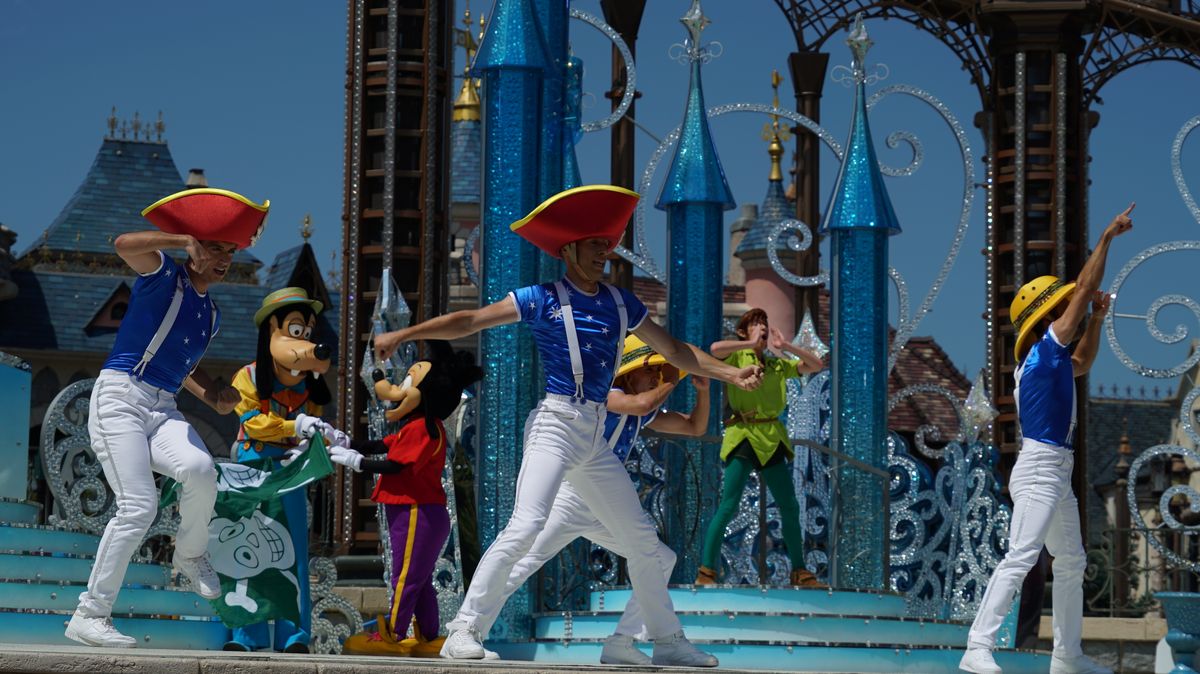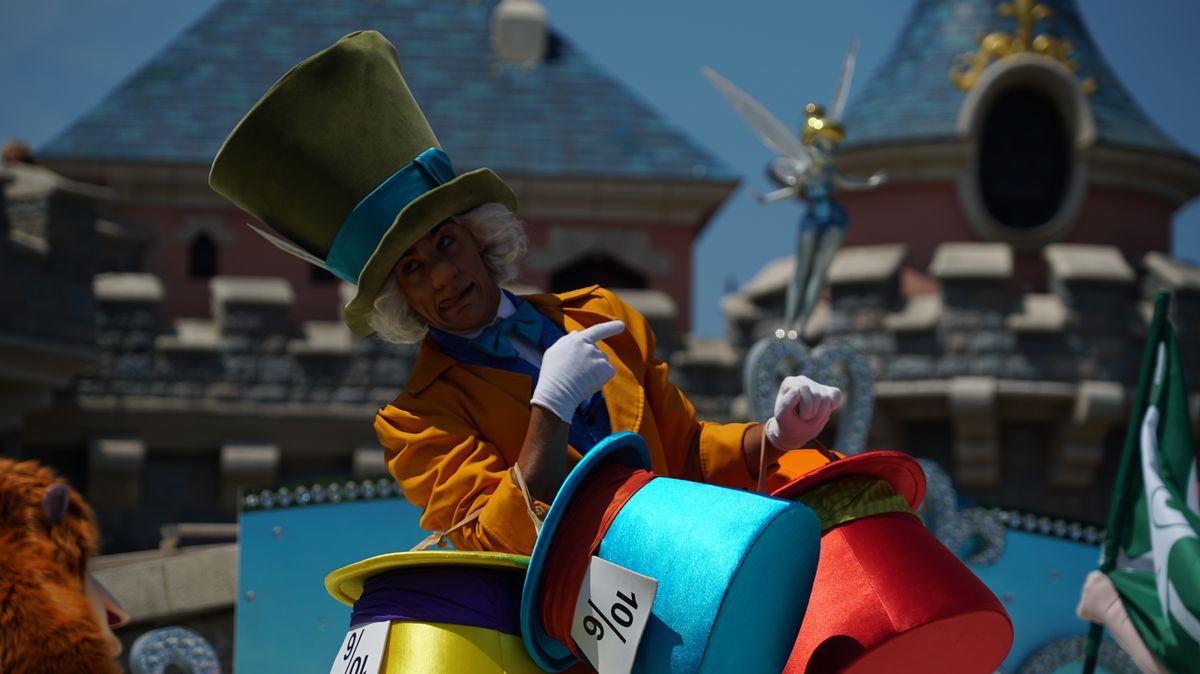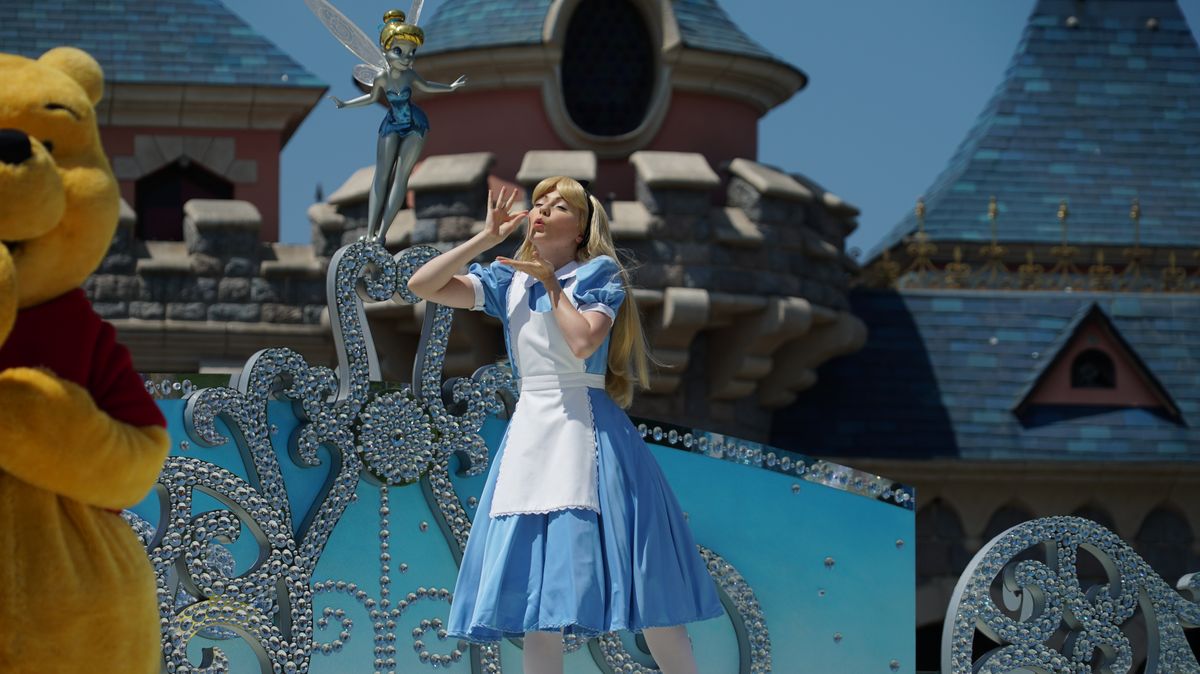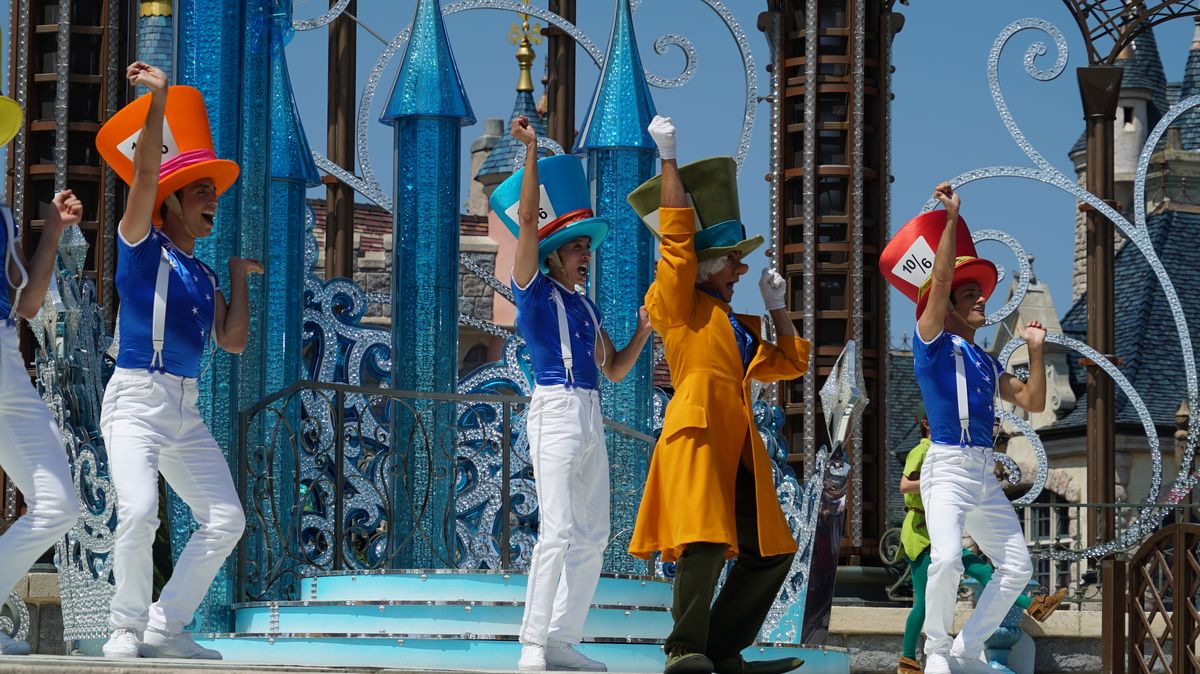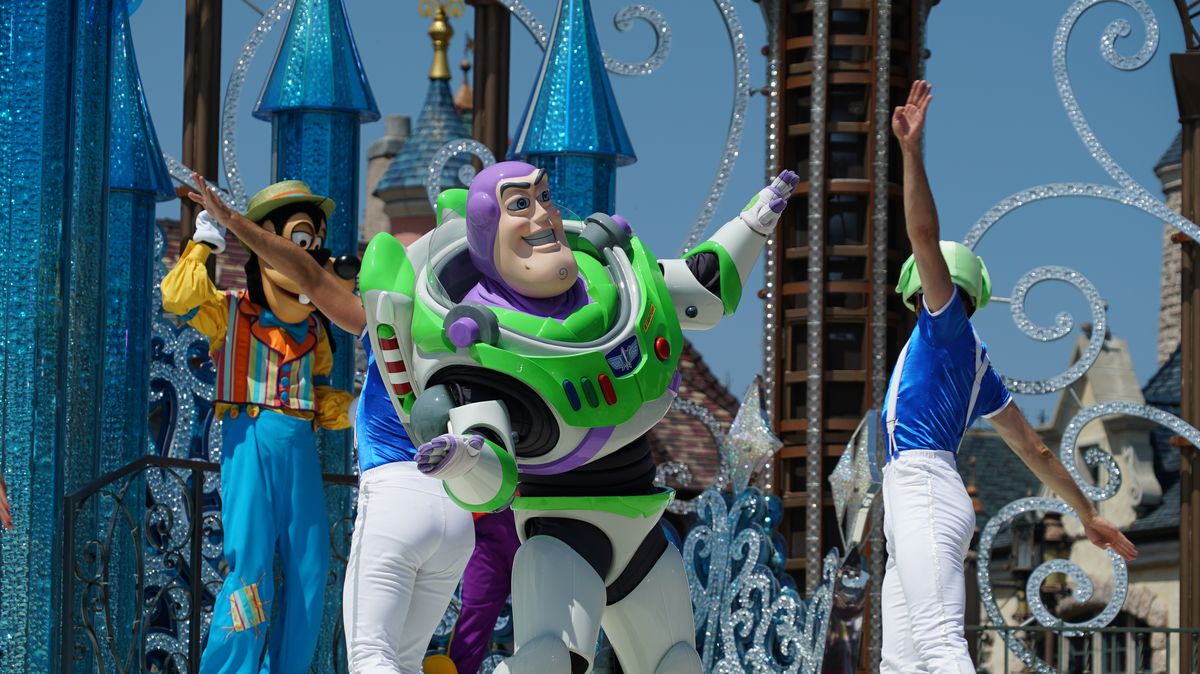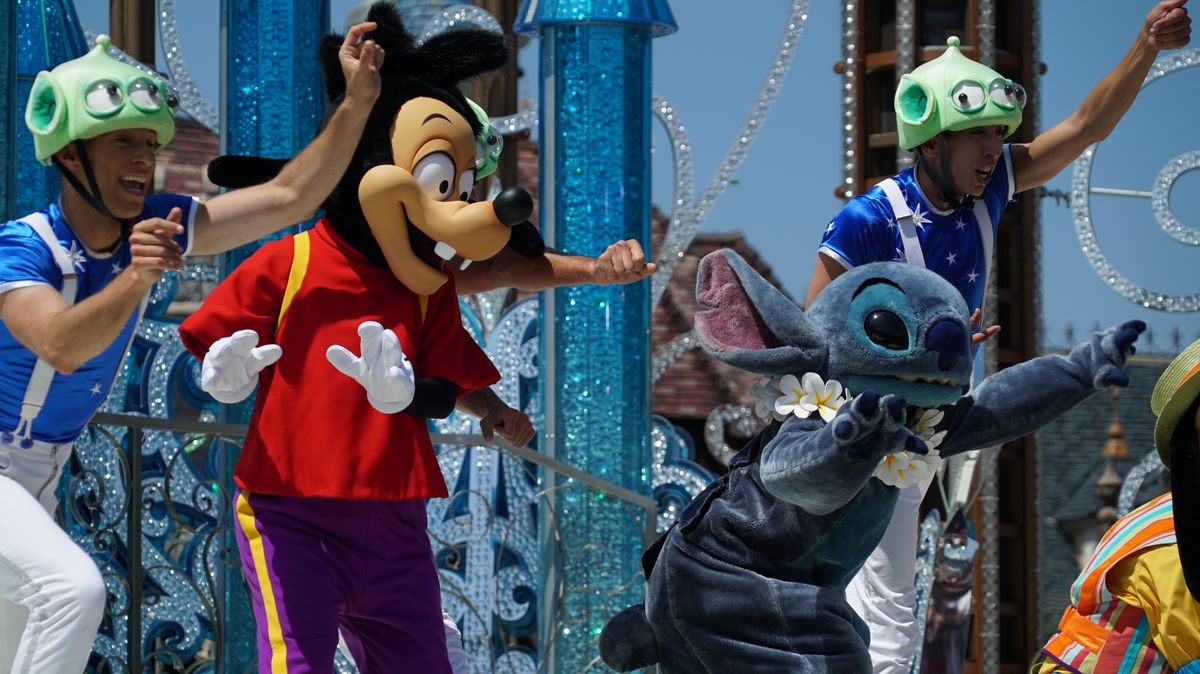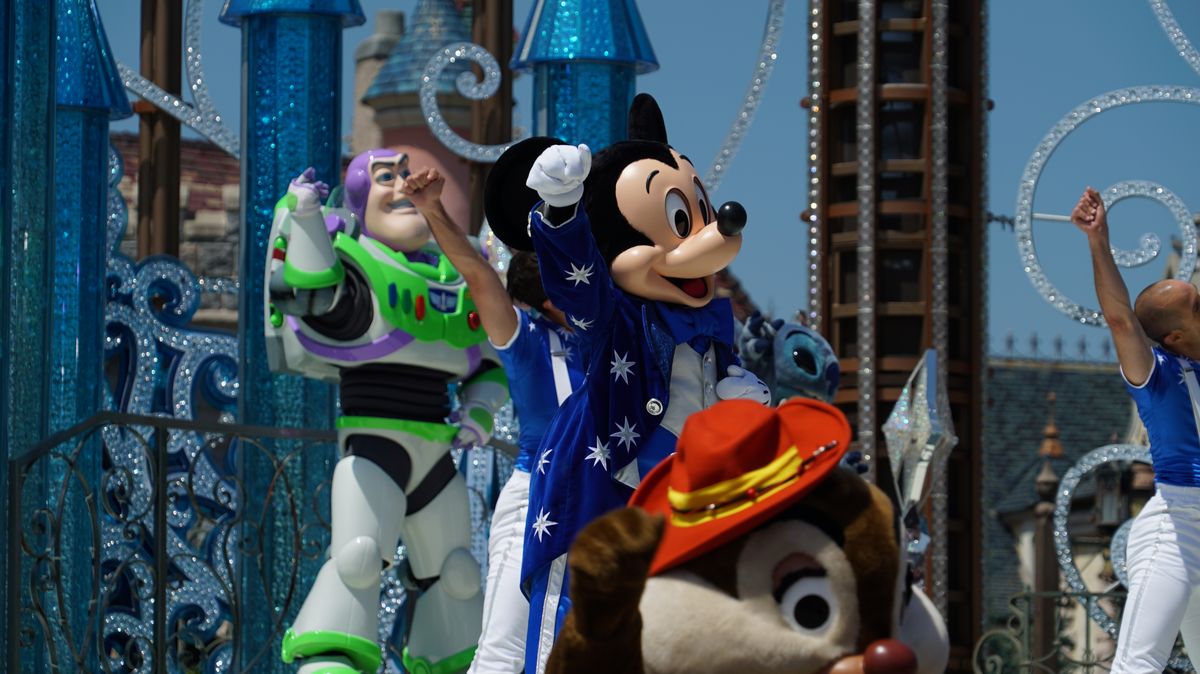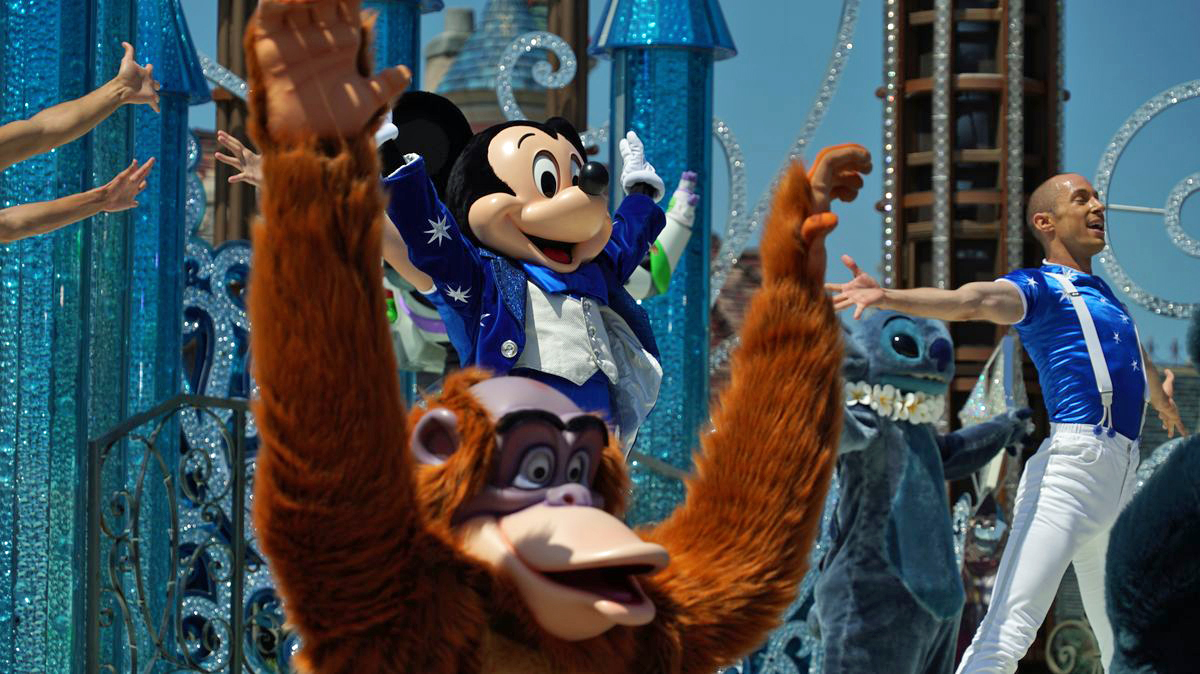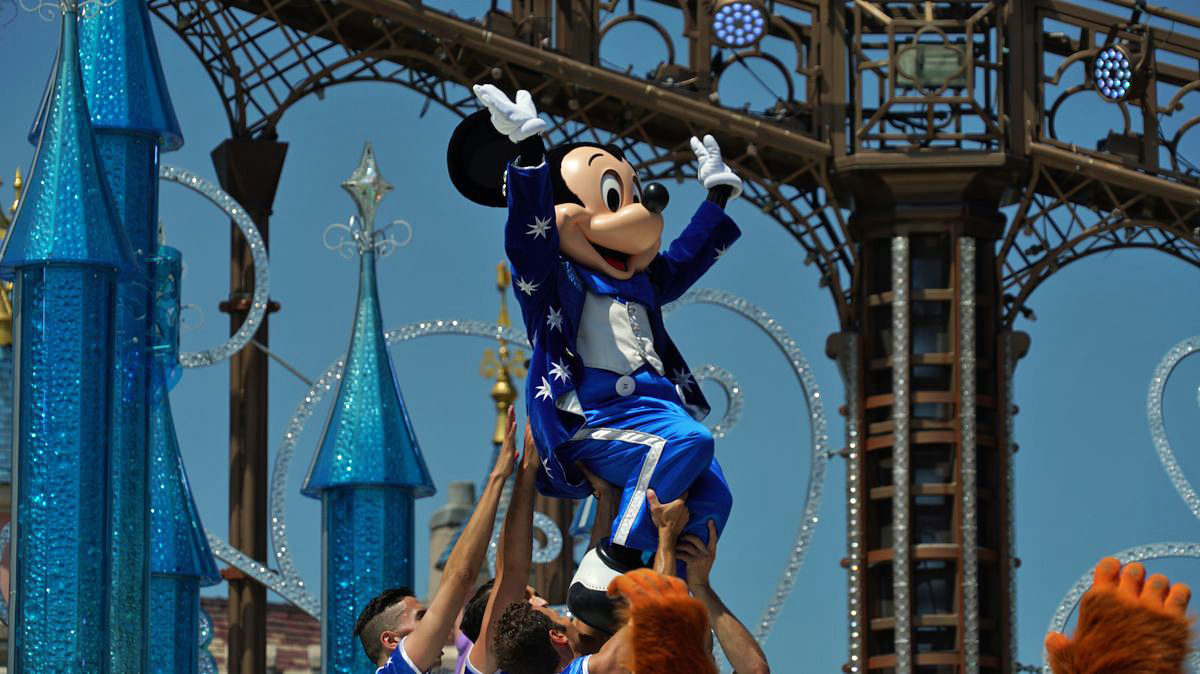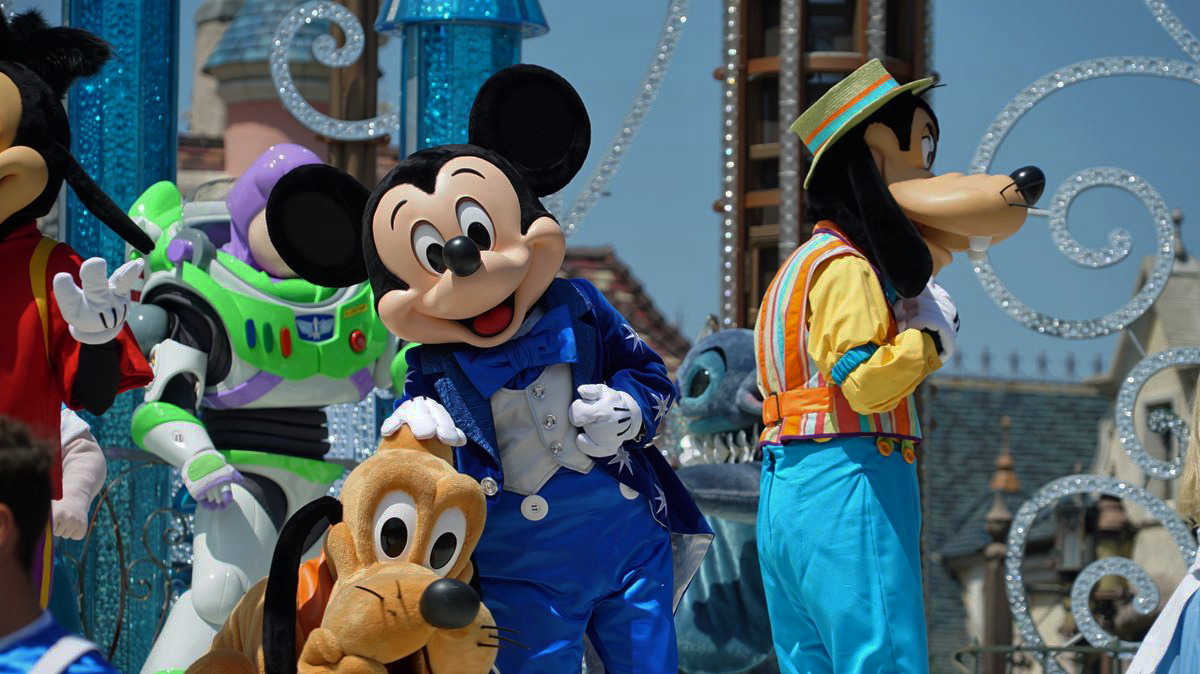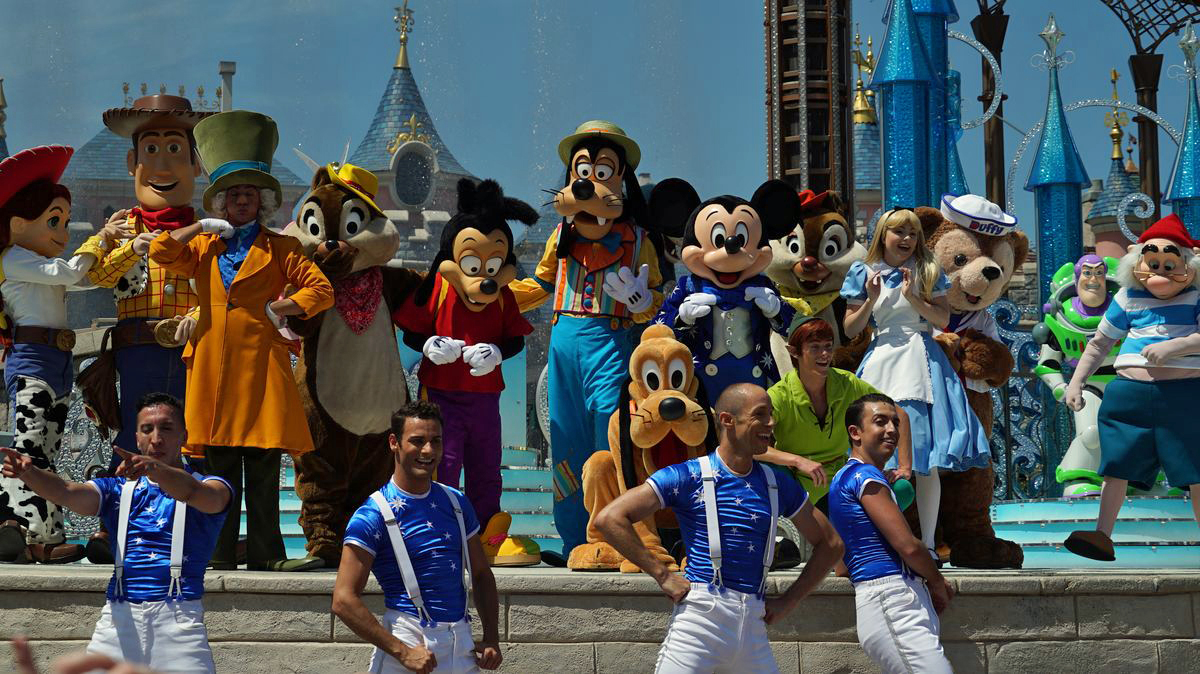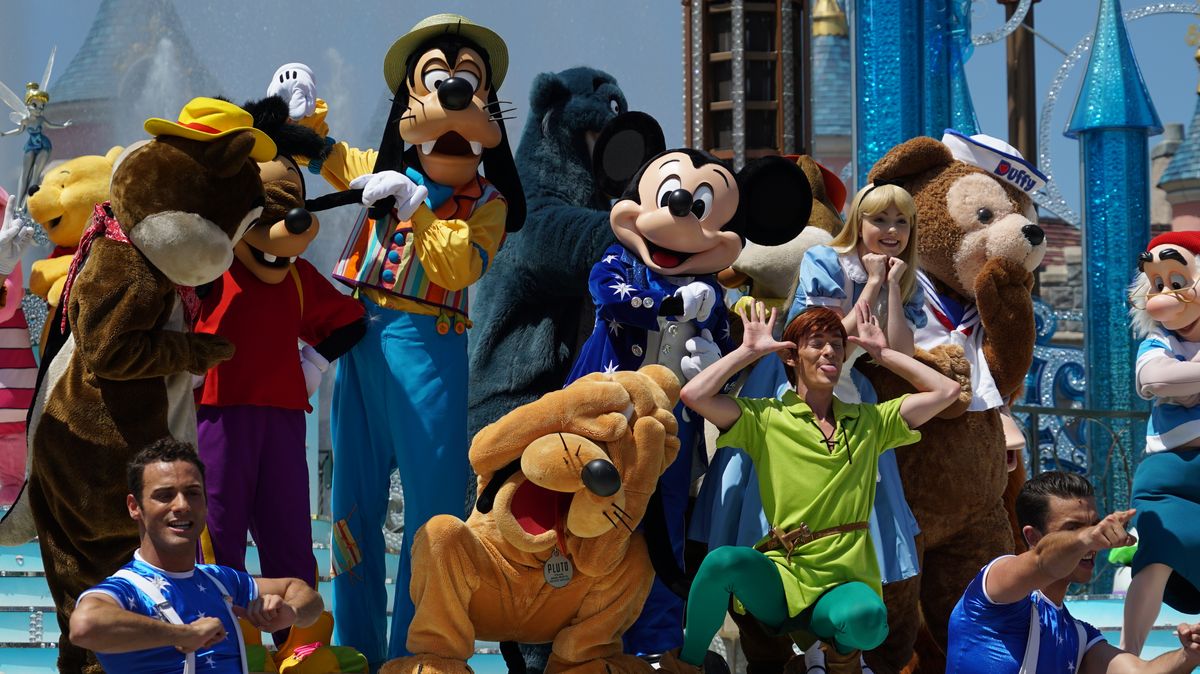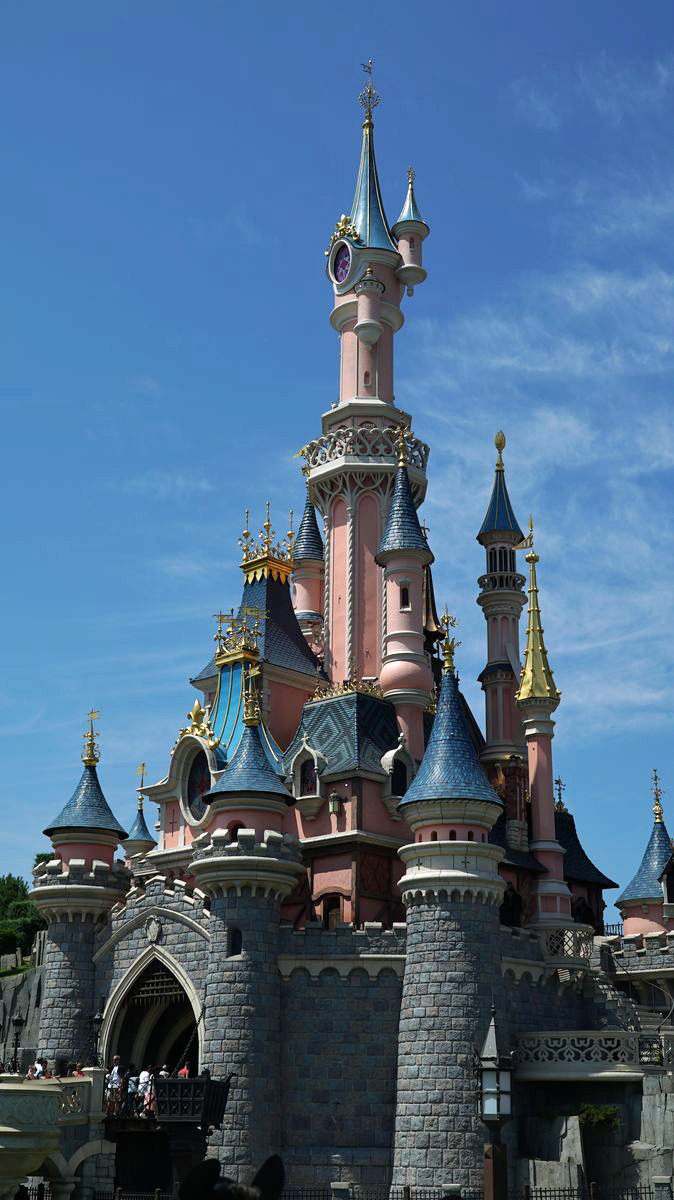 Petite escale au château de la Belle au Bois Dormant, qui renferme bien des mystères… découvrons aujourd'hui la grotte !
Small stopover in the Sleeping Beauty castle, which contains many mysteries … today we discover the cave!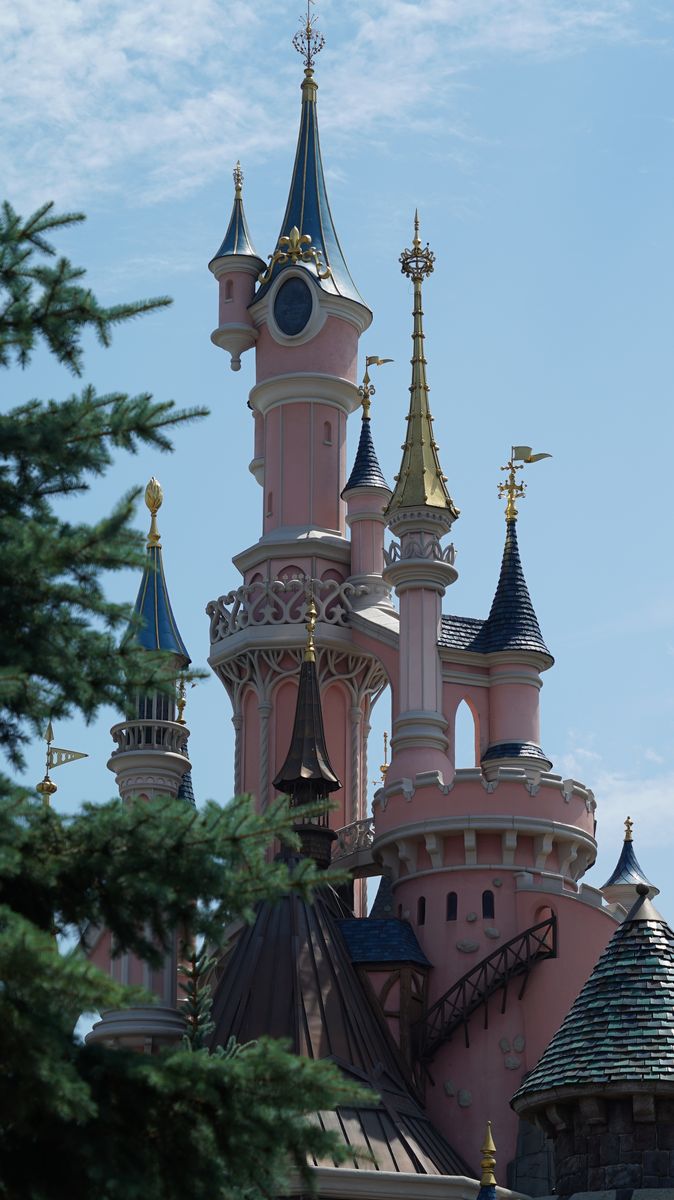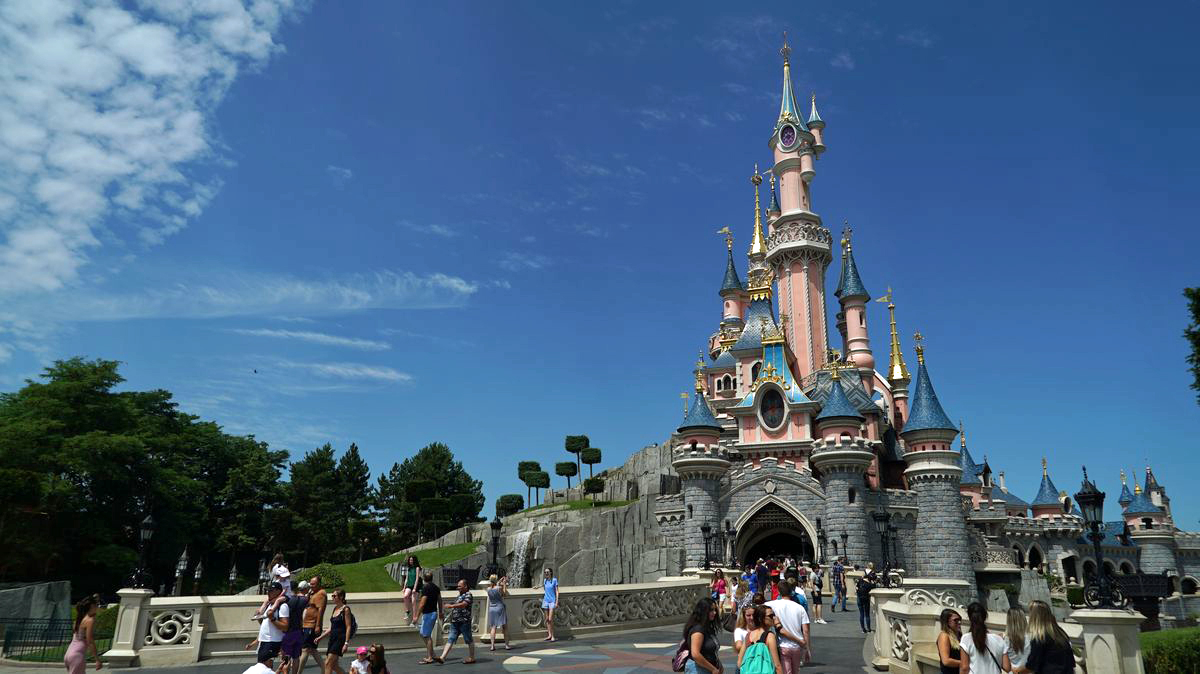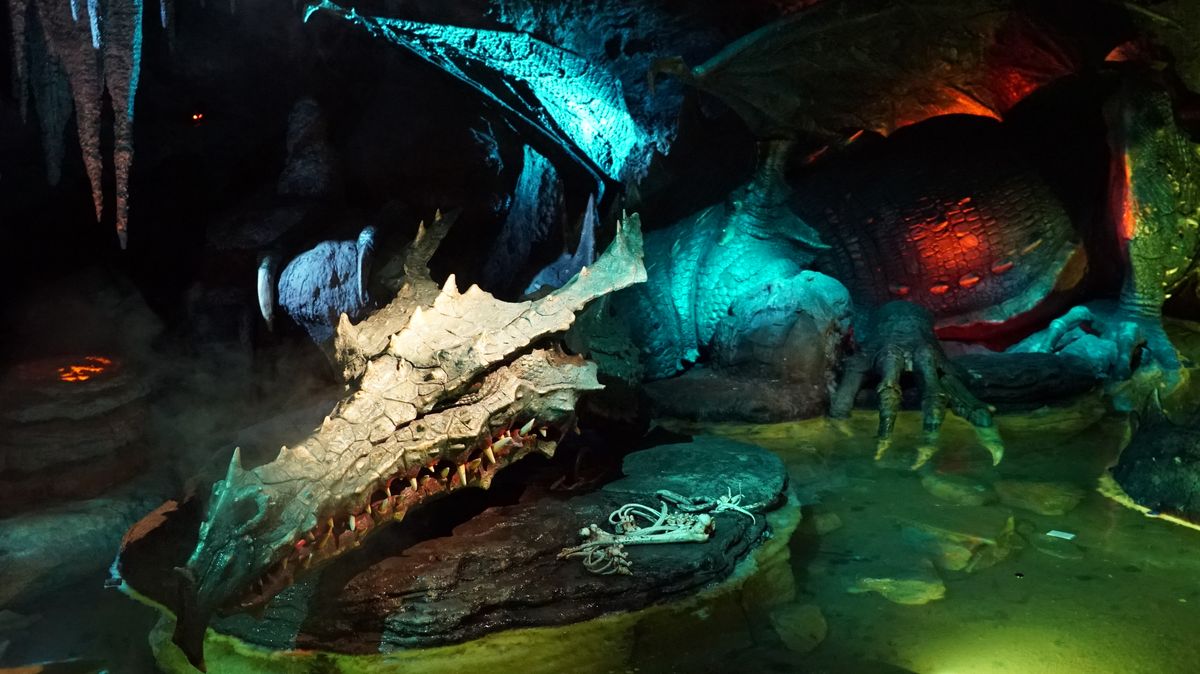 Direction Adventureland & Adventure Isle !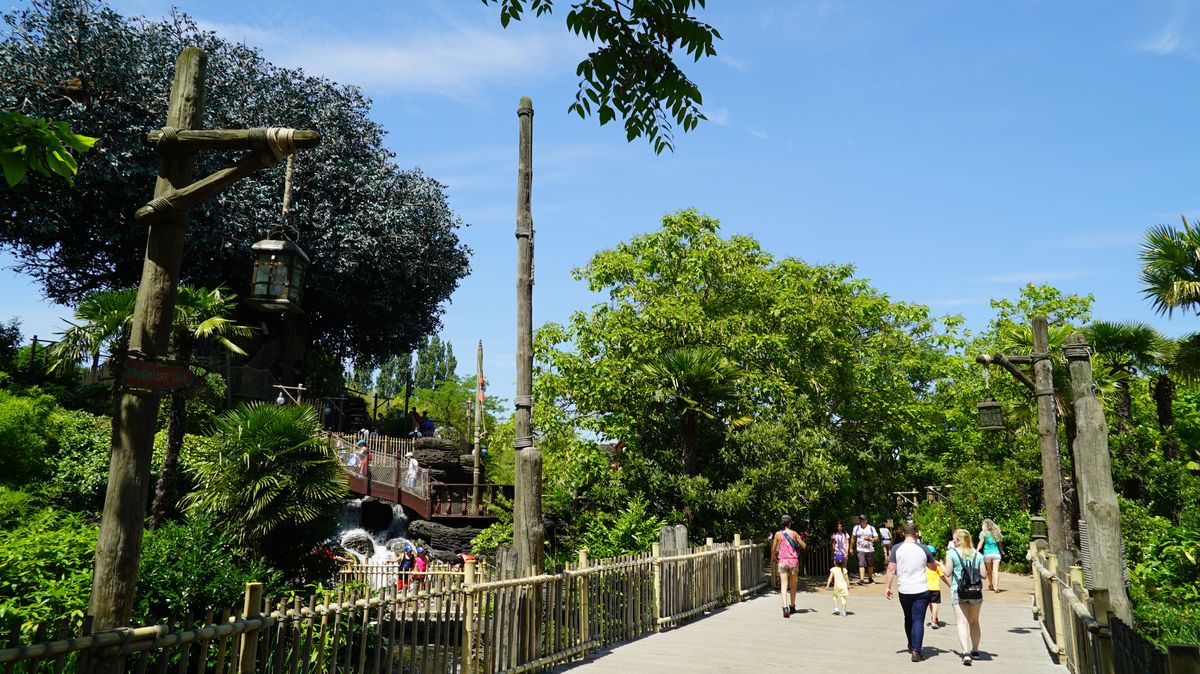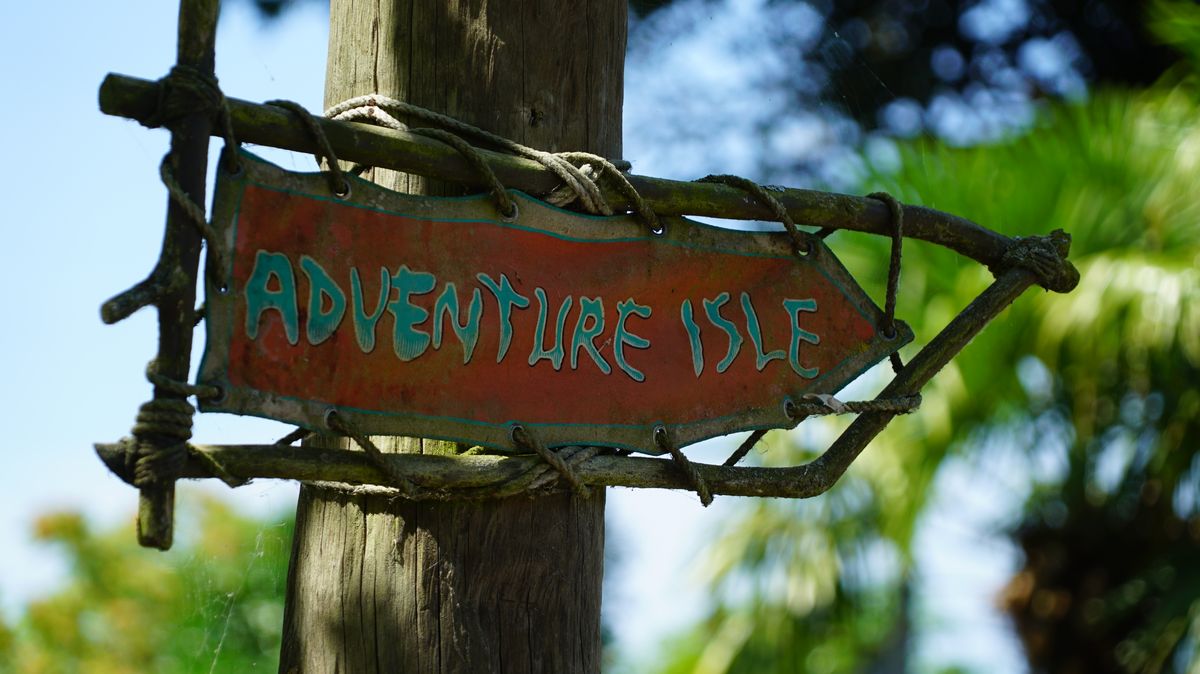 La réhabilitation de la zone de Pirates of the Caribbean est achevée. Premier constat, toute la zone a été remise à neuf, les décors nettoyés, repeints et certains modifiés pour éviter que les visiteurs ne montent dessus. Le sol a aussi été pavé. On se croirait à l'ouverture du parc. Seul note négative, la musique dans cette partie du land. Il est triste et incompréhensible de constater que la bande son du land a été transformée. En effet, avec les musiques originales crées et enregistrées avec des instruments des régions du monde en accord avec celle le land, il a été décidé de rajouter des extraits de la bande originale des films Pirates des caraïbes. Ainsi vous pouvez passer du tamtam africain à un orchestre philharmonique de films hollywoodien. L'intégration musicale est mauvaise tant elle ne reprend pas les instruments qui ont contribué à l'élaboration de la bande originale.
The rehabilitation of the area Pirates of the Caribbean is completed. First observation, the whole area has been refurbished, the scenery cleaned, repainted and some modified to prevent visitors from going up on it. The floor is also paved. It's like the opening of the park. Only negative note, music in this part of the land. It is sad and incomprehensible to note that the soundtrack of the land has been transformed. Indeed, with the original music created and recorded with instruments from the regions of the world where the land is inspired, to add excerpts from the soundtrack of the Pirates of the Caribbean films. So you can switch from African Tamtam to a Hollywood Philharmonic Orchestra. Musical integration is bad as it does not take back the instruments that contributed to the development of the original soundtrack of the land (BGM).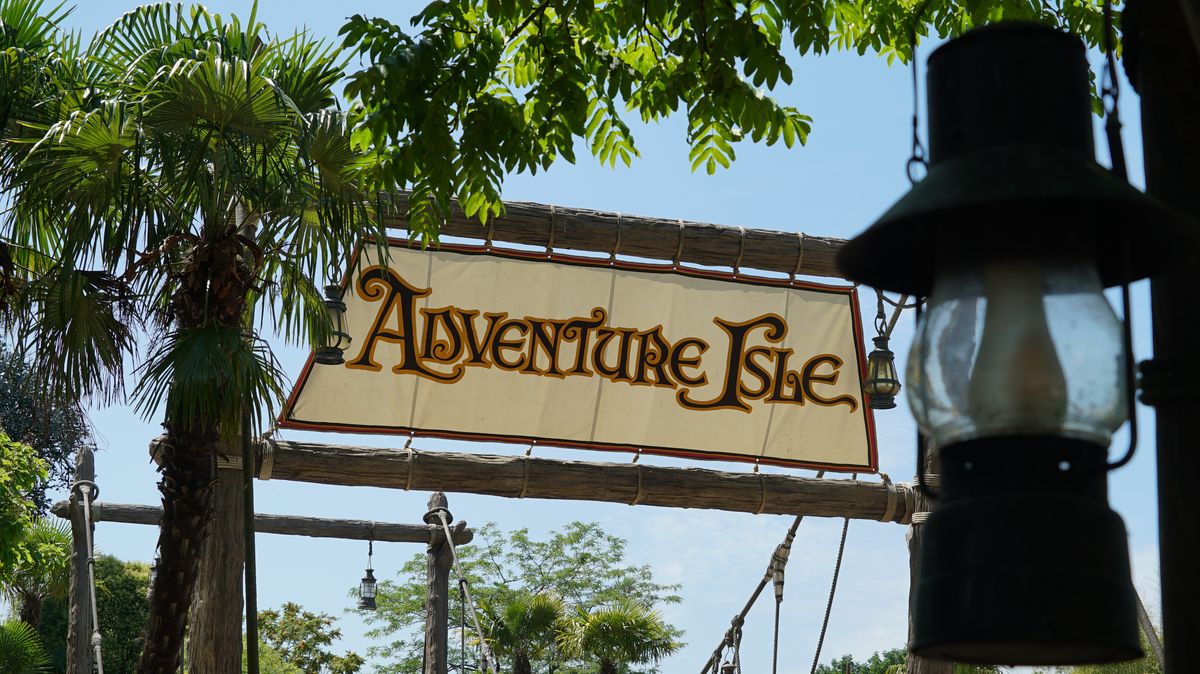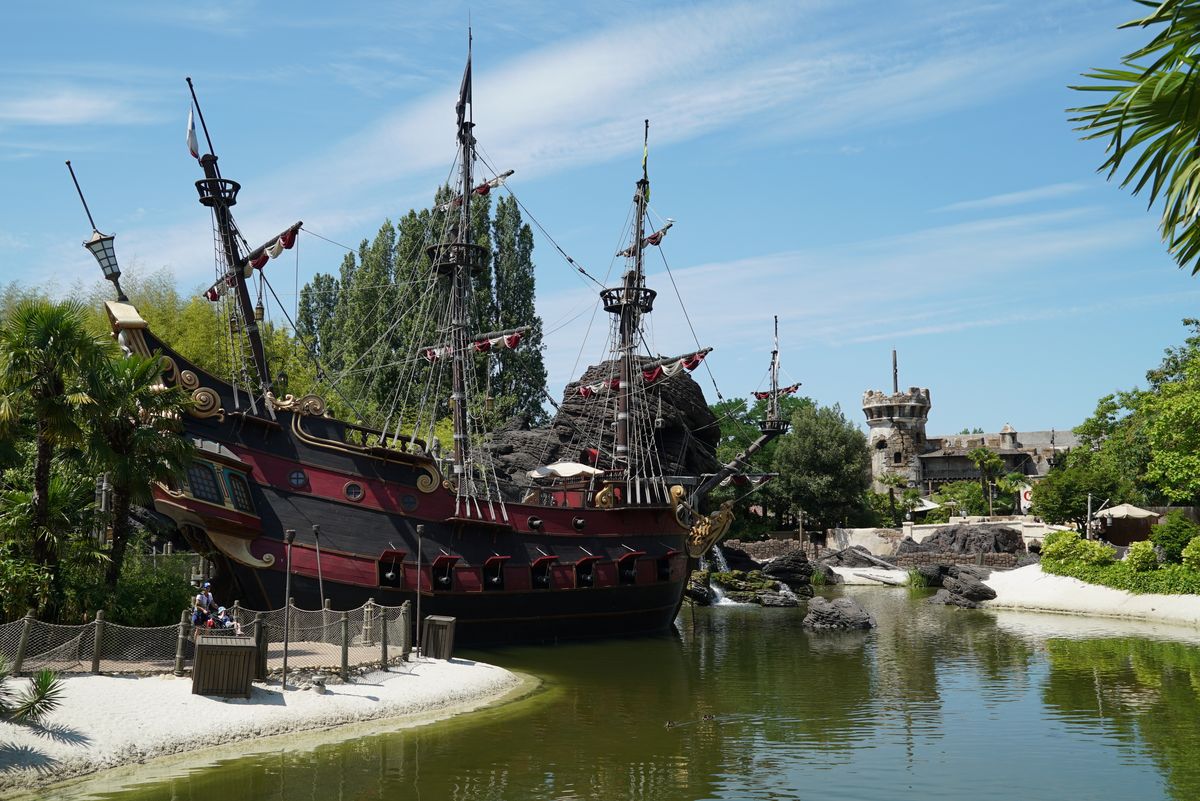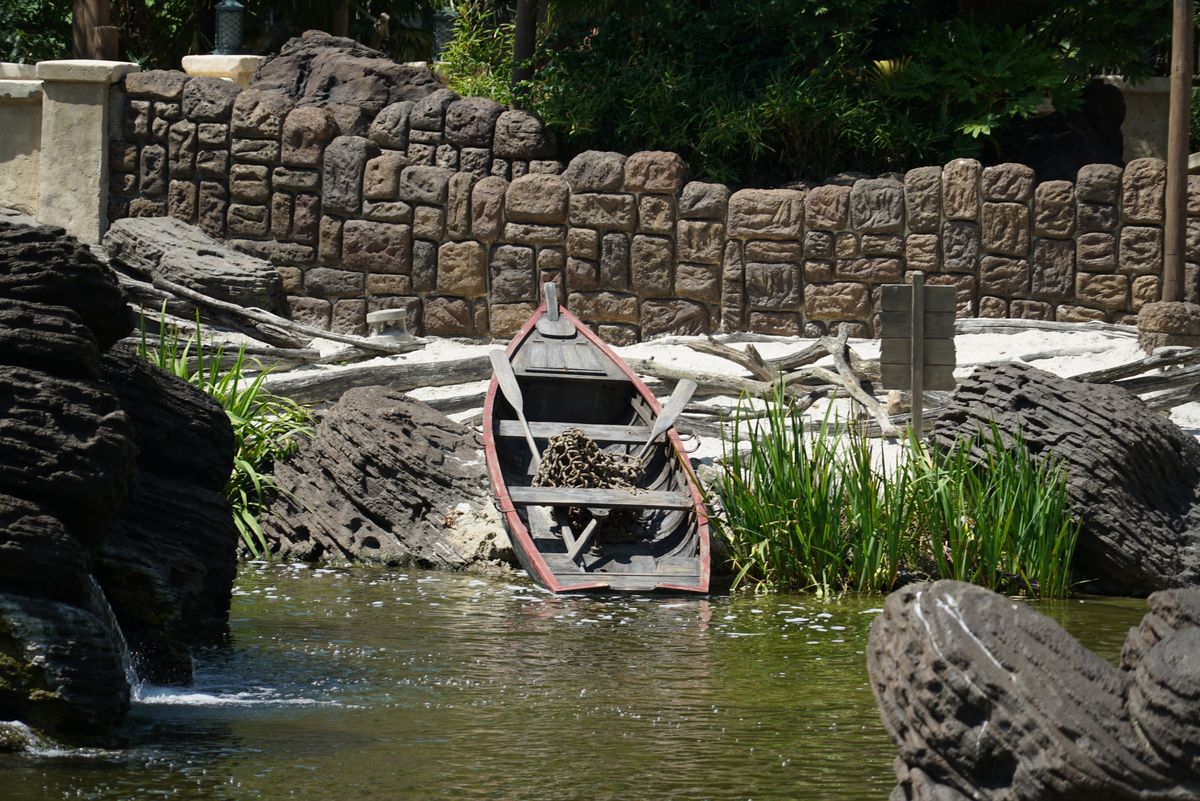 Autre changement, annoncé par la Walt Disney Companie est l'ajout dans l'attraction de jack sparrow mais aussi du capitaine Barbossa une première pour cette attraction ! Par ailleurs, la scène mythique de la vente des femmes aux enchères sera entièrement remplacée par la récolte des butins. Ainsi, les visiteurs découvriront une nouvelle scène avec des airs de la précédente. Pourquoi un tel choix ? Le politiquement correcte ? La bien-pensance ? il va de soi que Disney ne veut plus montrer ce type de scène aux visiteurs bien que conçue par les créateurs.
Another change, announced by The Walt Disney Company is the addition in the attraction of Jack Sparrow but also of Captain Barbossa a first for this attraction! Moreover, the mythical scene of the auction of women will be entirely replaced by the harvest of the loot. So visitors will discover a new scene with airs from the previous one. Why such a choice? The politically correct? It goes without saying that Disney no longer wants to show this type of scene to visitors but although designed by the creators.
Avant / Before :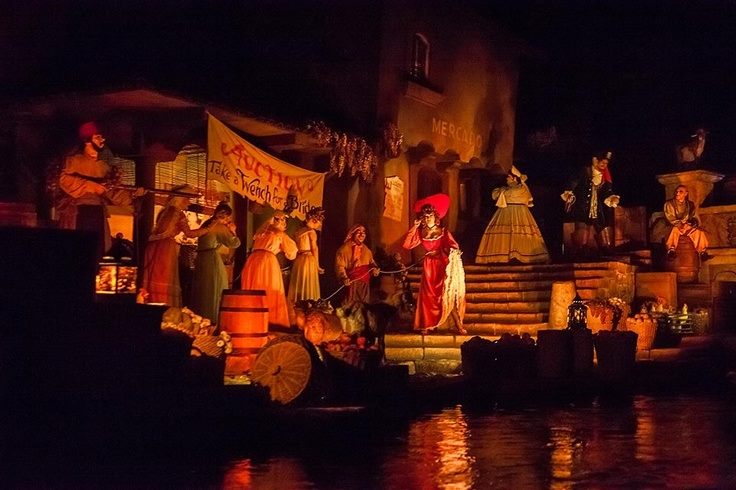 Nouveau / New :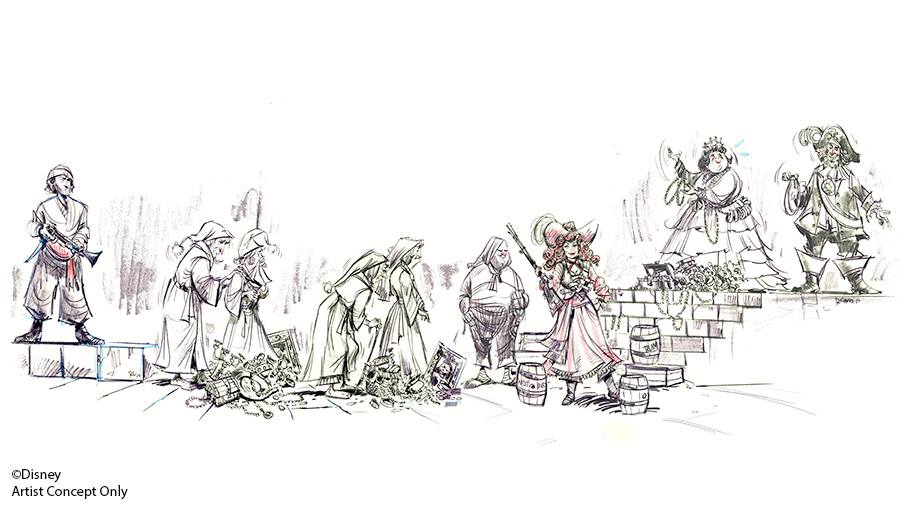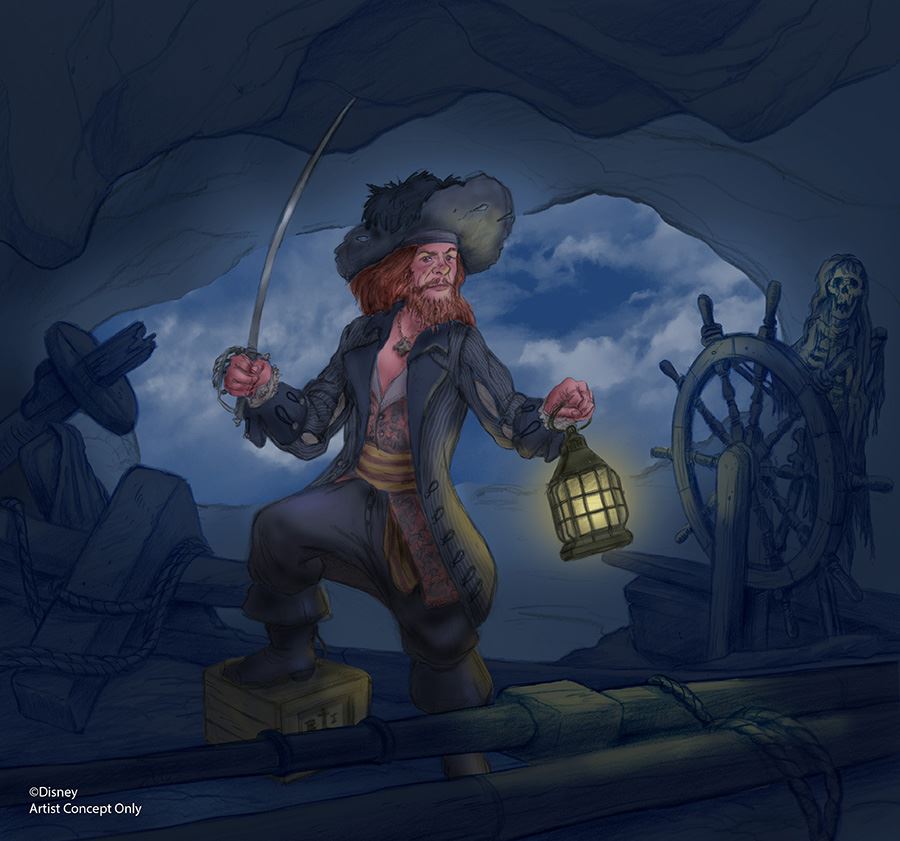 Le changement le plus remarqué est celui du restaurant associé à l'attraction. Le « Blue Lagoon » a tiré sa révérence pour laisser naitre « Captain Jack's – Le Restaurant des Pirates ». Bien que le nom du restaurant ne soit pour le moins, pas original, mais basé sur l'utilisation de la franchise, ce dernier pourrait réserver une bonne surprise avec le capitaine jack en chair et en os pour saluer les convives sur son île et les bateaux passant devant (l'attraction) la présence de Jack engendrera, immanquablement ne augmentation des tarifs à la carte.
The most noticeable changement is that of the restaurant associated with the attraction. The « Blue Lagoon » become « Captain Jack – The Pirate's Restaurant » . Although the name of the restaurant is for the least, not original, but based on the use of the franchise, the latter could reserve a good surprise with the true Captain Jack to greet the guests on his island (restaurant) and salute the visitors in the boats (the attraction). The presence of Jack will make inevitably does increase the fares of the restaurant.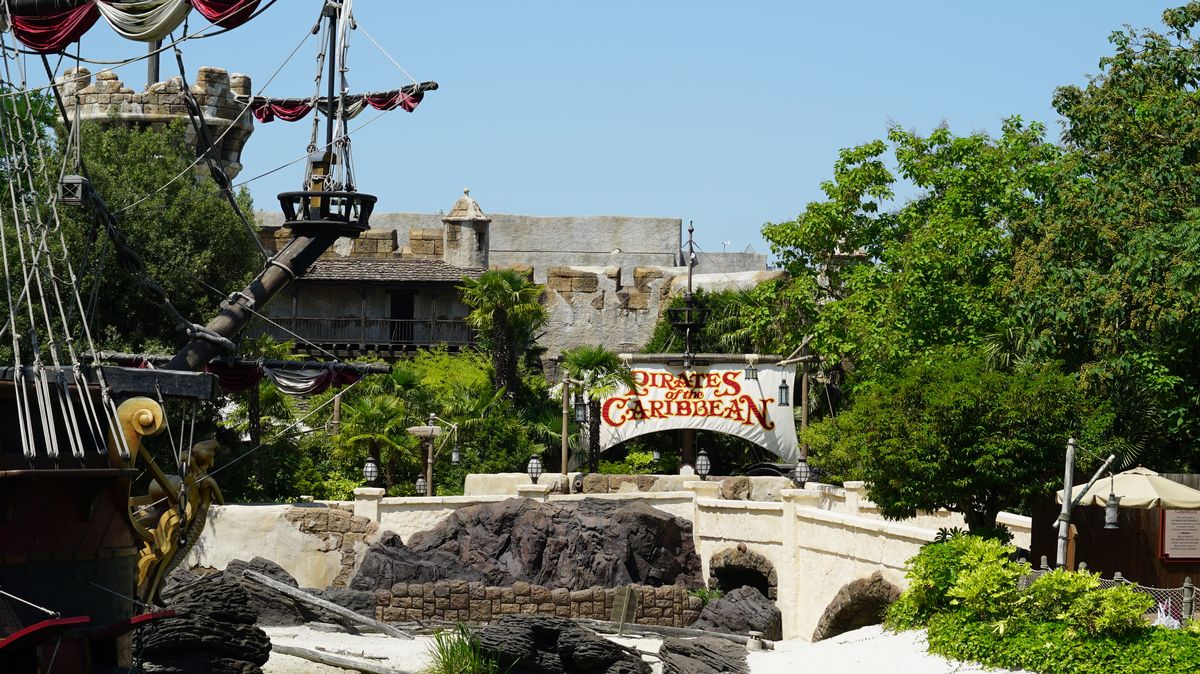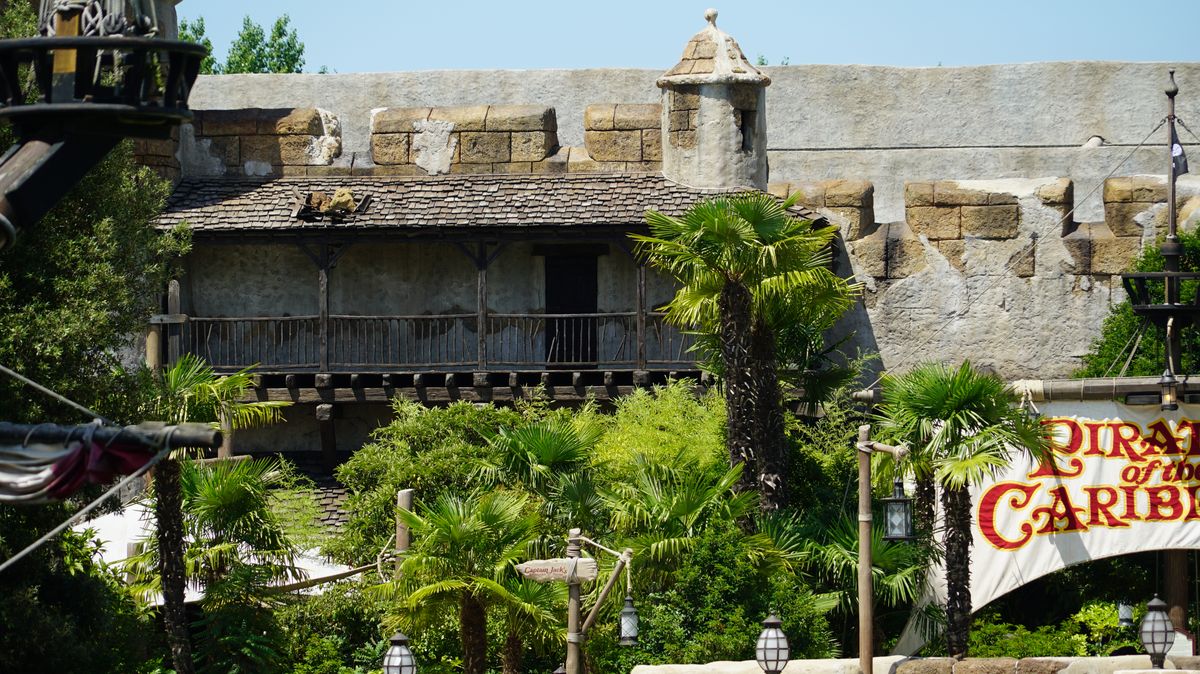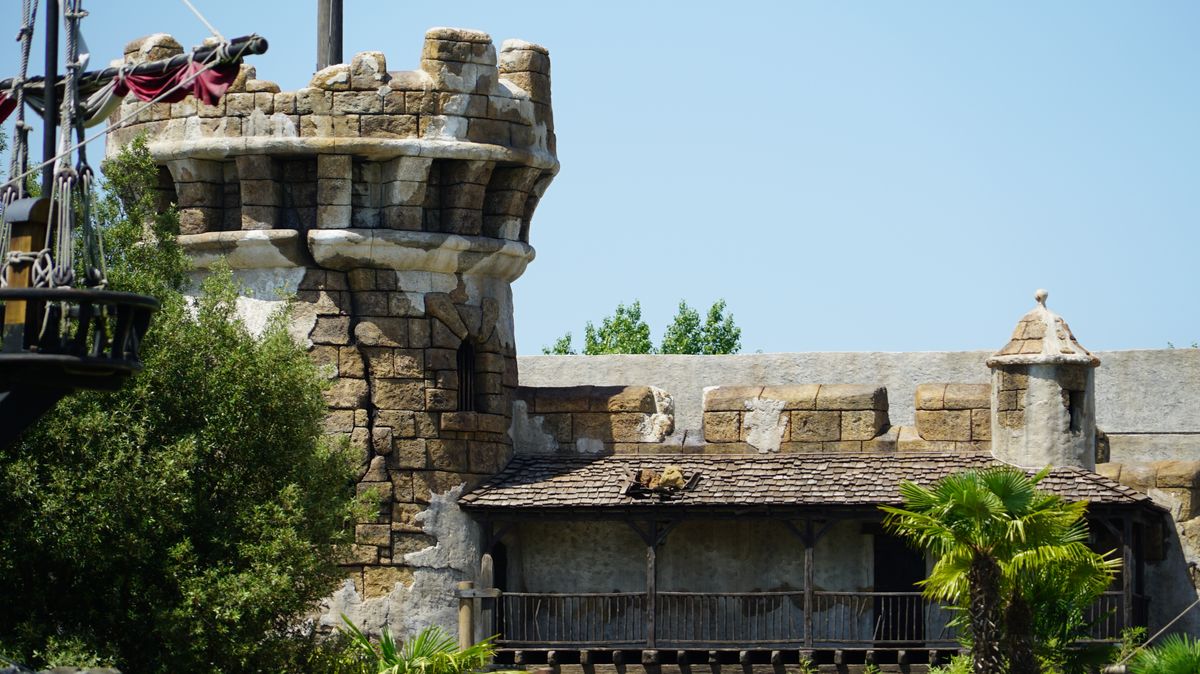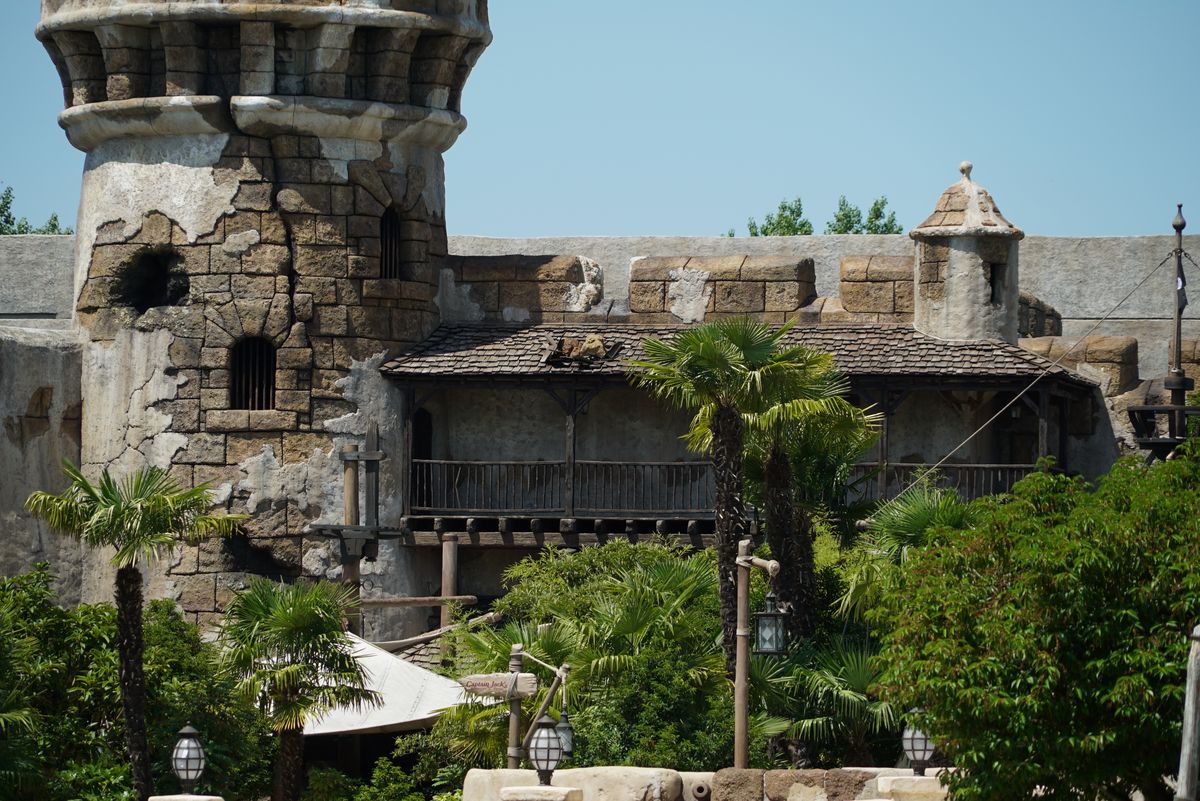 N'oubliez pas les avants premières de l'attraction pour le Pass Annuel Infinity le vendredi 14 juillet 2017, de 10h à 14h et pour les Pass Annuel Dream, Magic Plus et Infinity le samedi 15 et le dimanche 16 juillet 2017, de 10h à 14h.
Don't forget the first preview of the attraction for the annual pass Infinity on Friday July 14th, 2017, from 10 am to 2 pm and for the annual Pass dream, Magic Plus and infinity on Saturday 15 and Sunday 16 July 2017, from 10 am to 2 pm.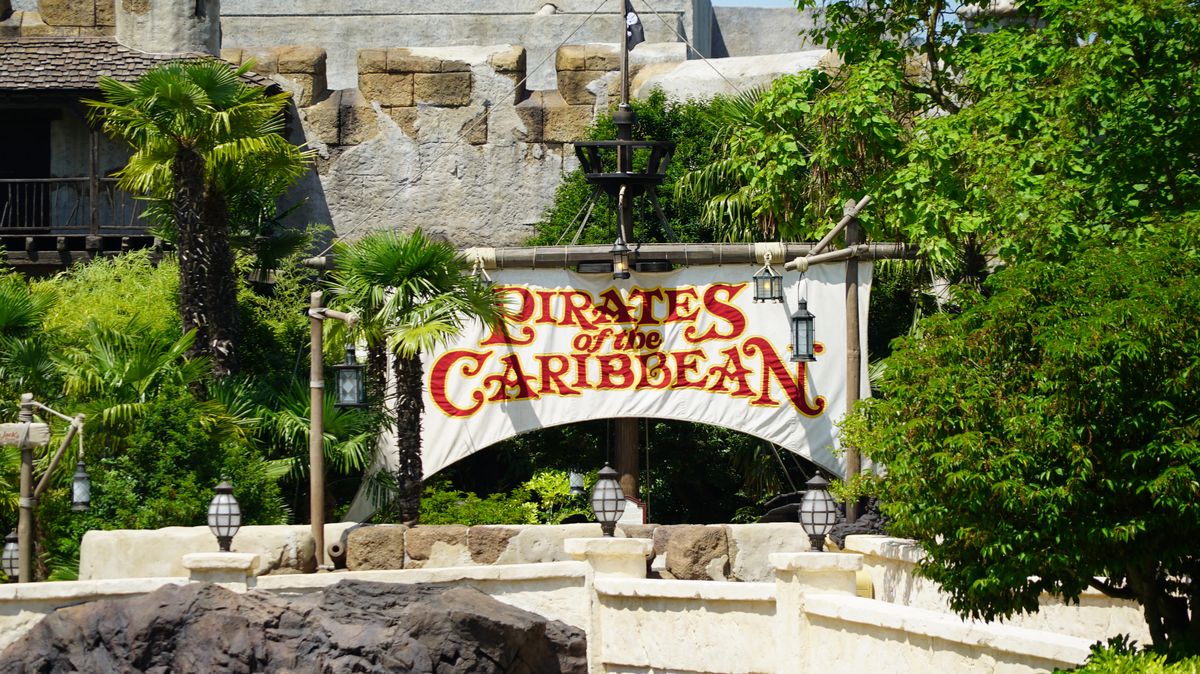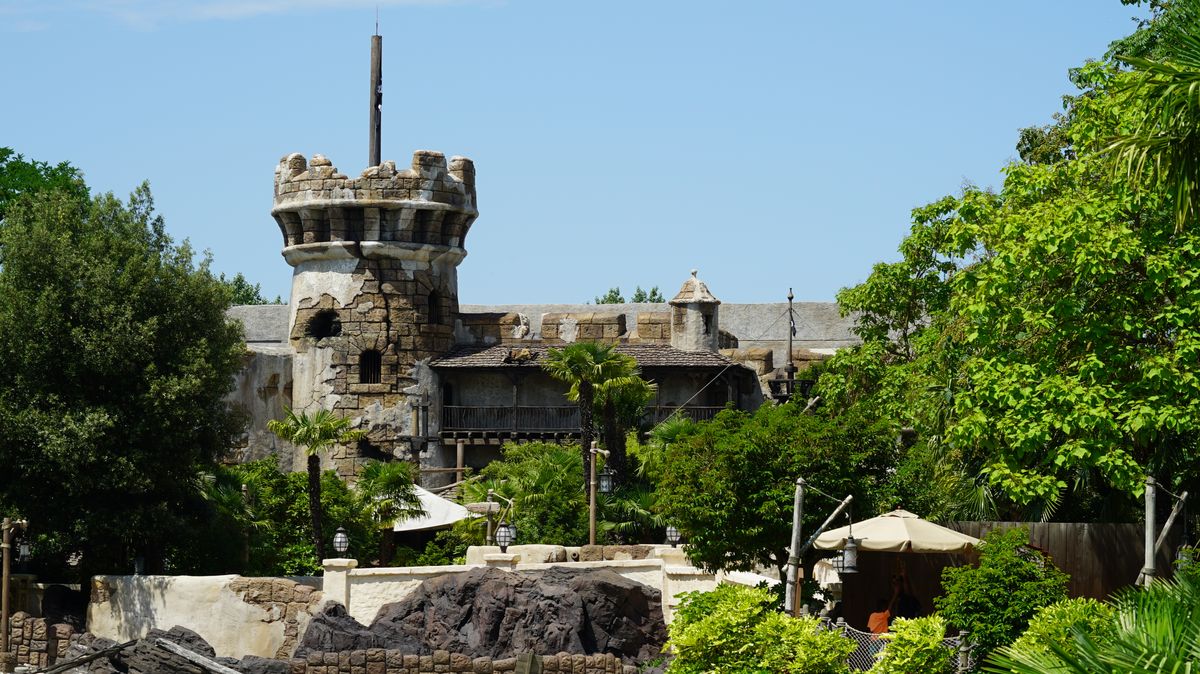 L'un des éléments marquant de cet été est le retour pour sa deuxième et dernière année du spectacle « La Forêt de l'Enchantement : Une Aventure Musicale Disney ». Plus globalement le spectacle en ressort meilleur.
One of the high moments of this summer is the return for its second and final year of the show « The Forest of Enchantment: A Disney musical Adventure ». More overall the show is better.
Regardez notre vidéo de la première édition en 2016 :
Watch our video of the first edition in 2016:
Pour cette dernière saison, on retrouve de nombreuses nouveautés dans les chorégraphies notamment dues à l'arrivée d'un écran géant rendant les changements de décor et les animations plus dynamiques.
For this last season, there are many novelties in the choreography, especially due to the arrival of a giant screen making changes of scenery and animations more dynamic.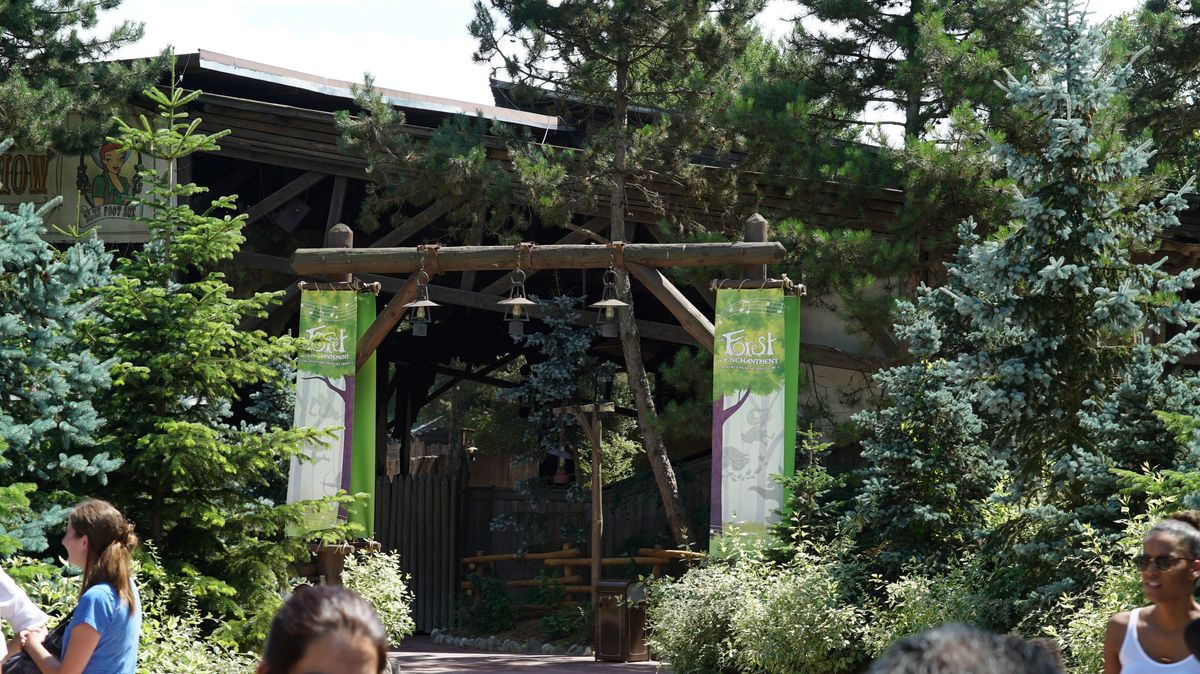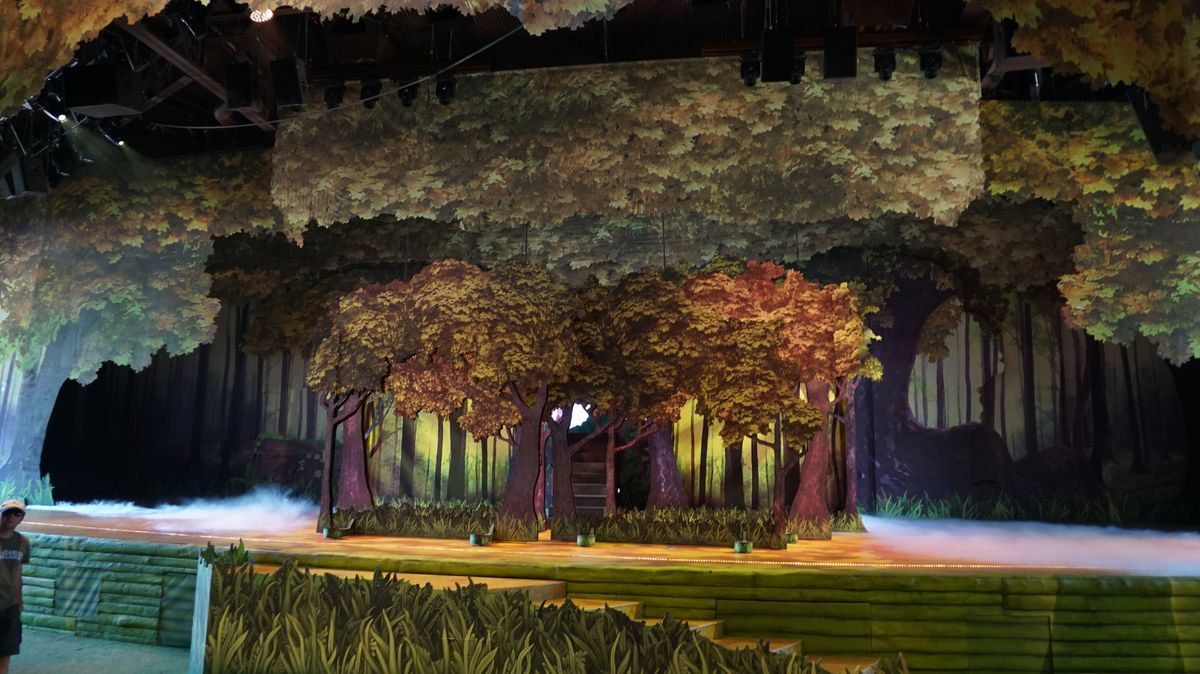 Le spectacle évolue également et pour que le public comprenne le thème et l'histoire , une voix off a été rajoutée durant l'introduction où apparaît seulement Waterlilo (l'eau) et Lezardo (la terre).
The show also evolves and for the public to understand the theme and the story, a voice-over was added during the introduction where only appear Waterlilo (water) and Lezardo (the Earth) .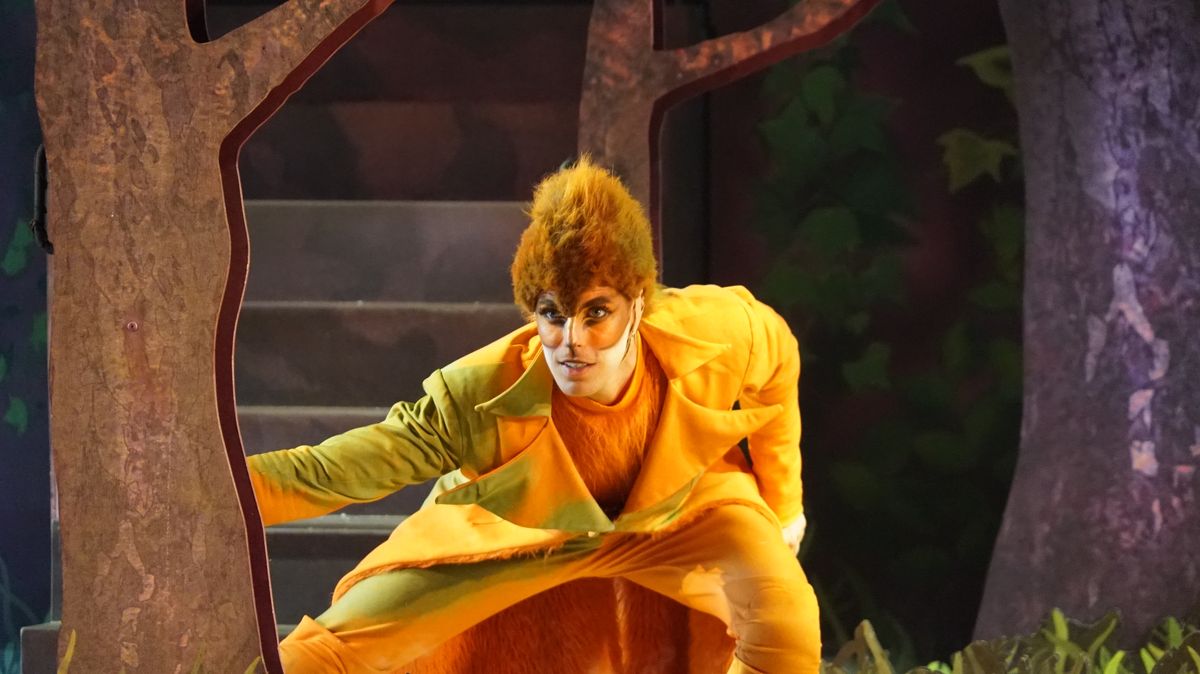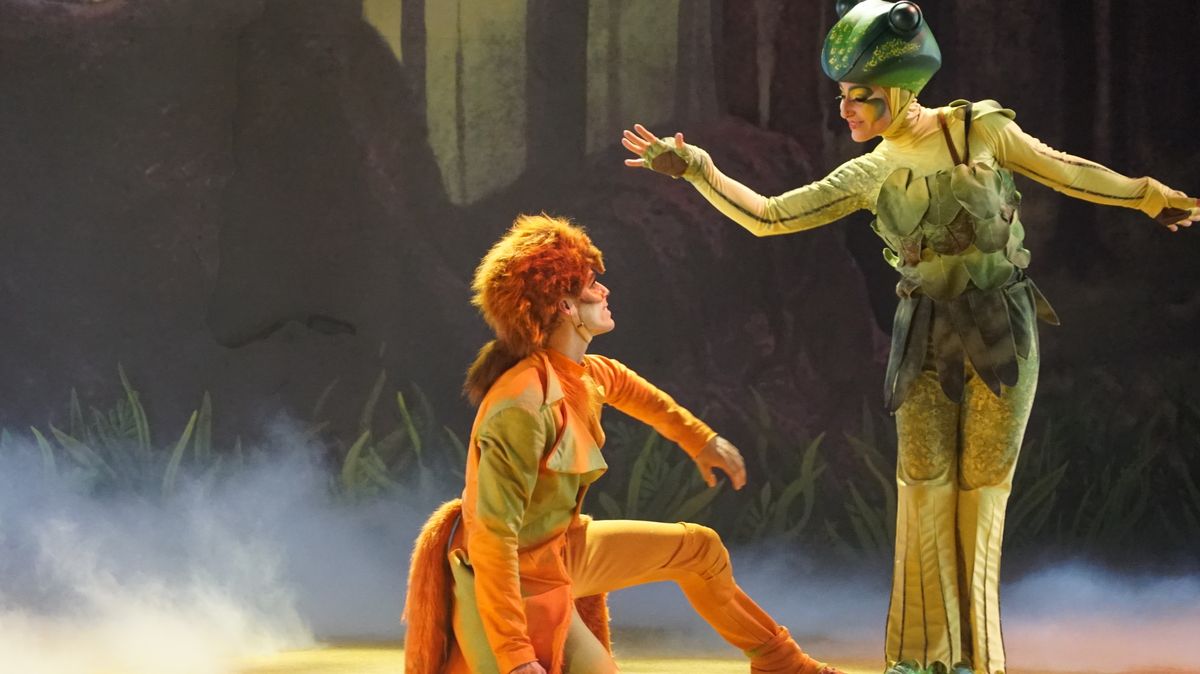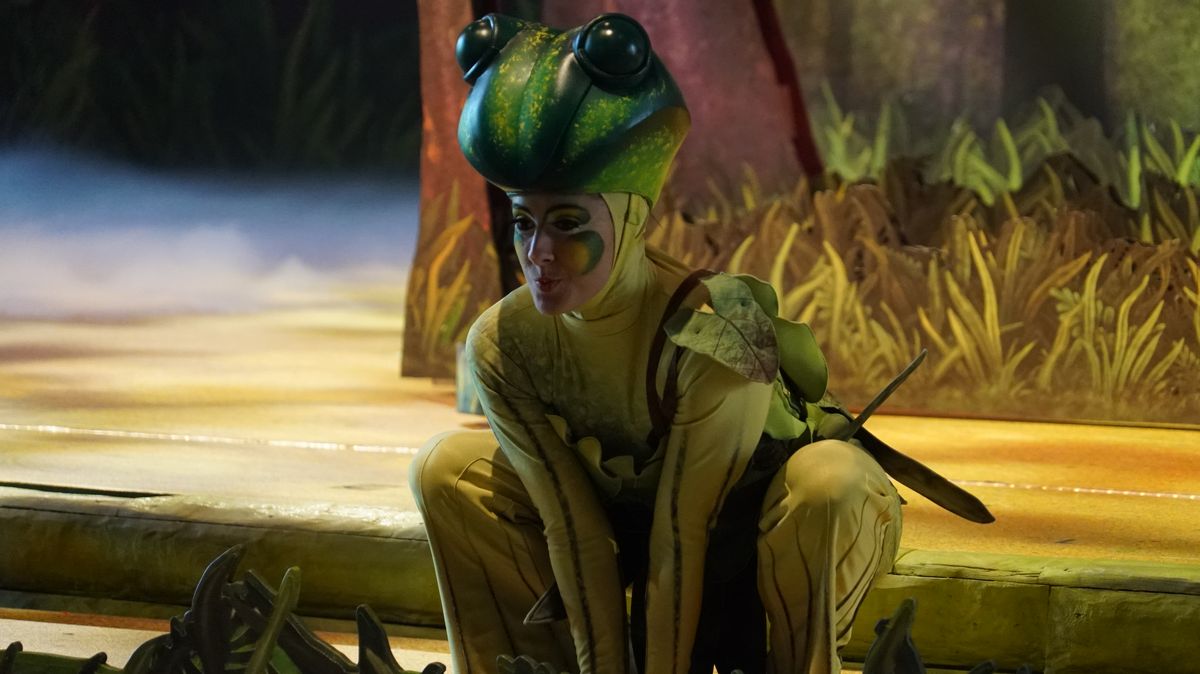 Lezardo :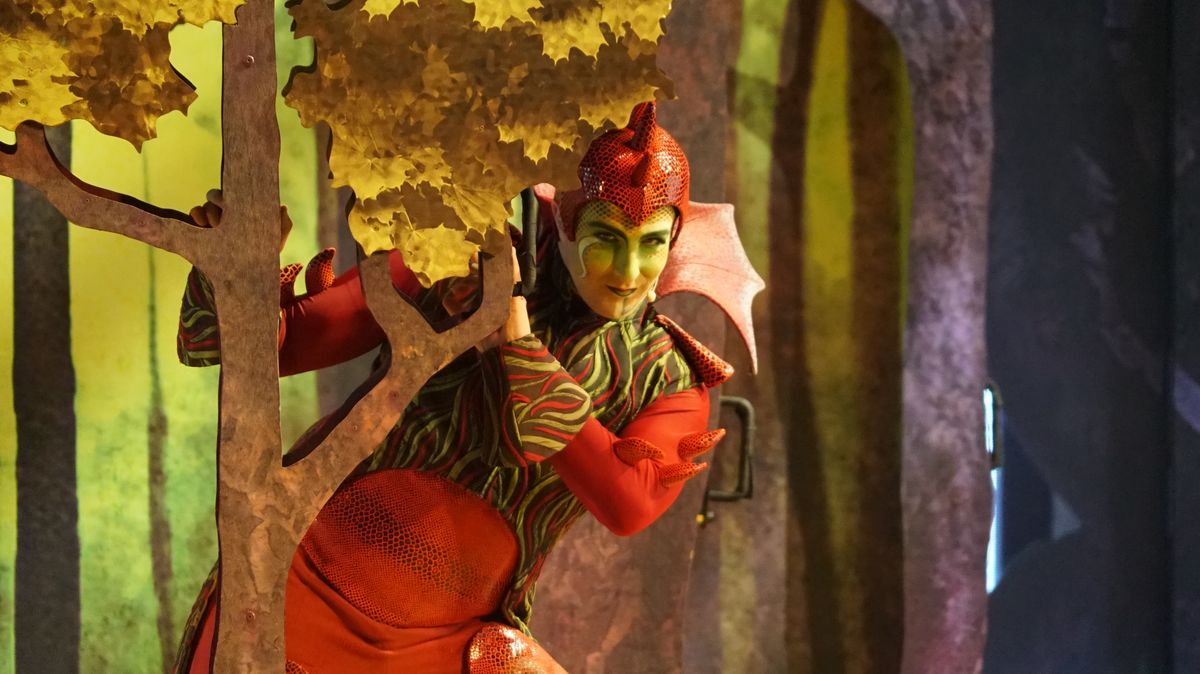 Waterlilo :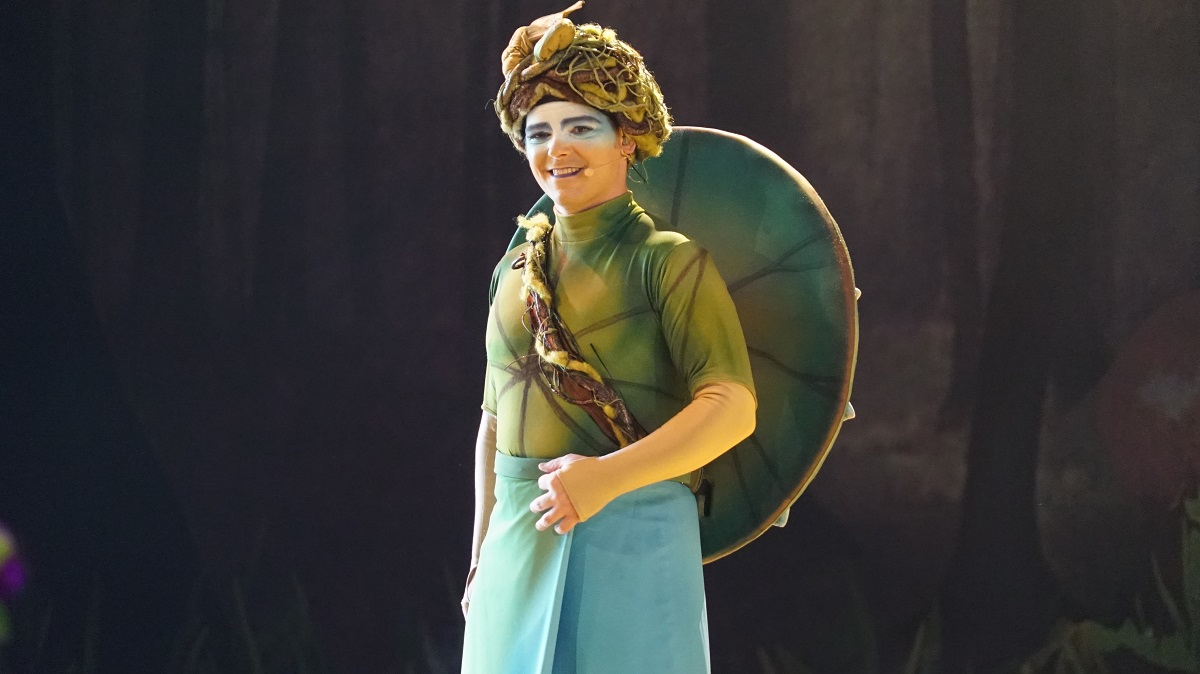 Quand Enchantella entonne les premières paroles de  »Believe » le thème du spectacle, Ragina (le feu) et Lucile (le vent) apparaissent au côté de du personnage principal. Leurs apparitions plus effacées de Ragina et Lucile sont à l'image de leurs présences dans le spectacle, bien moins mis en avant. Par ailleurs, cette première musique est entièrement chantée et sans effet de transition en toute fin. Résultat, dans cette nouvelle édition un léger sentiment de coupure se fait sentir dans le spectacle, un côté artistique, puis le côté Disney qui arrive par la suite.
When Enchantella offers the first words of  » believe  », the musical theme of the show, the Ragina (Fire), and Lucile (The Wind) appeared with the main character. The discretion of the Regina and Lucille are the image of their presences in the show, much less put forward. Moreover, this first music is completely sung and stop, without transition effects, creating a slight sense of cut in the show, an artistic side, then the Disney side that arrives afterwards.
Enchantella, Ragina & Lucile :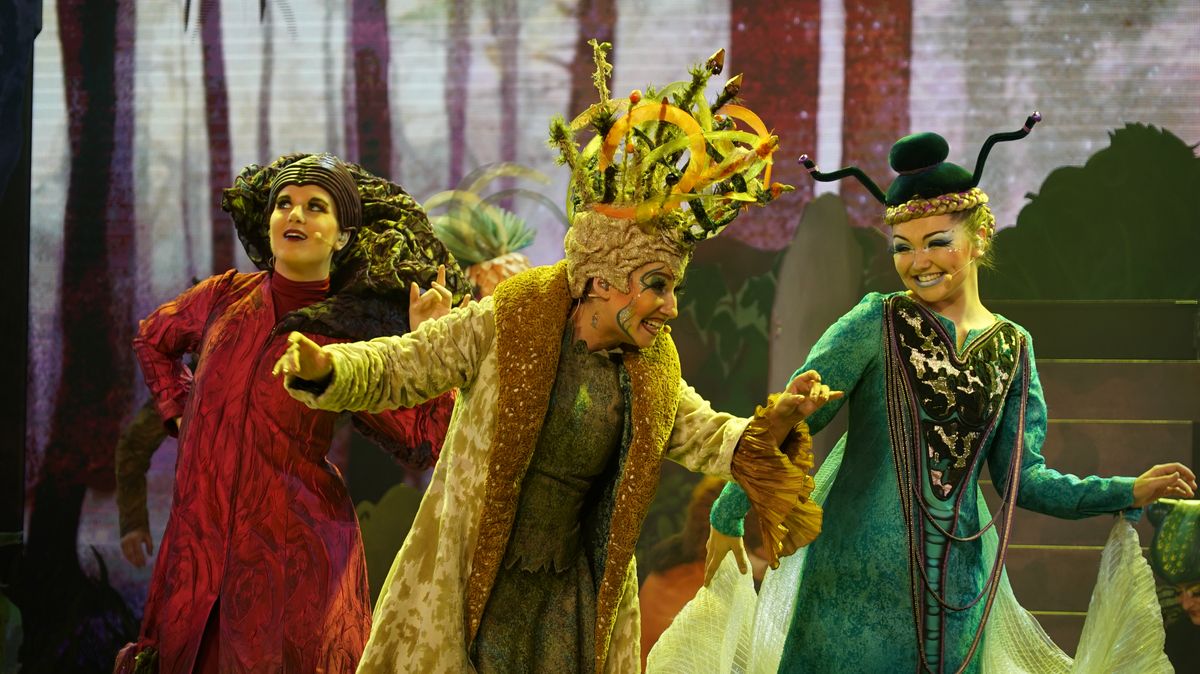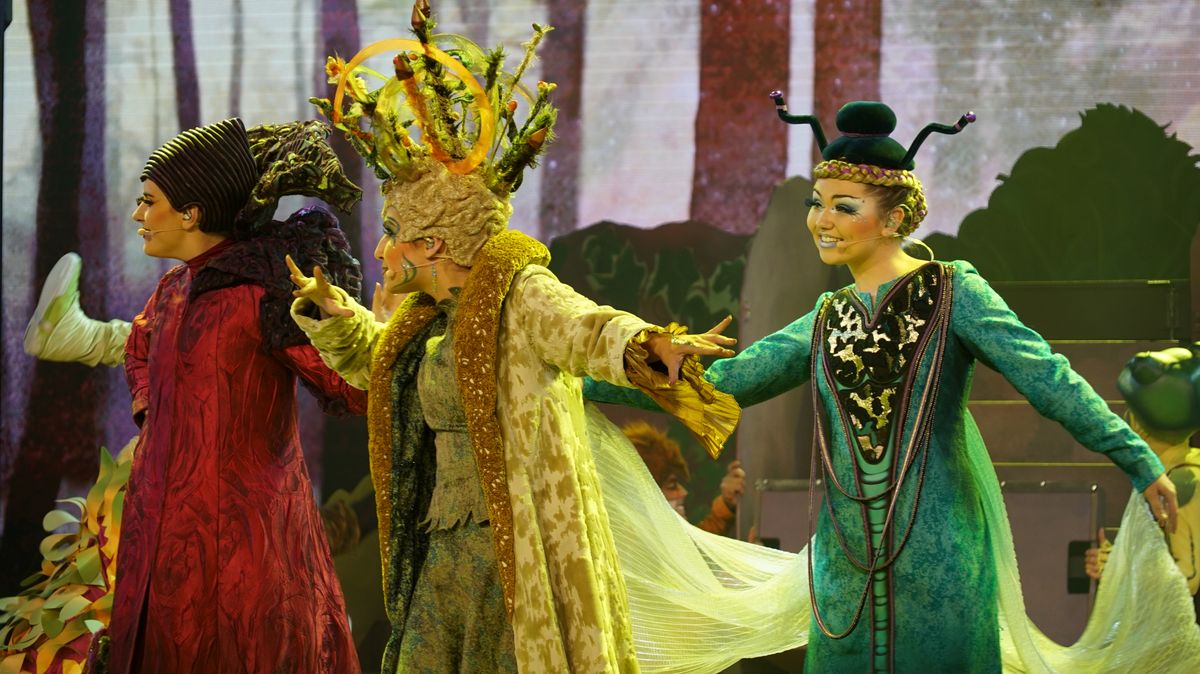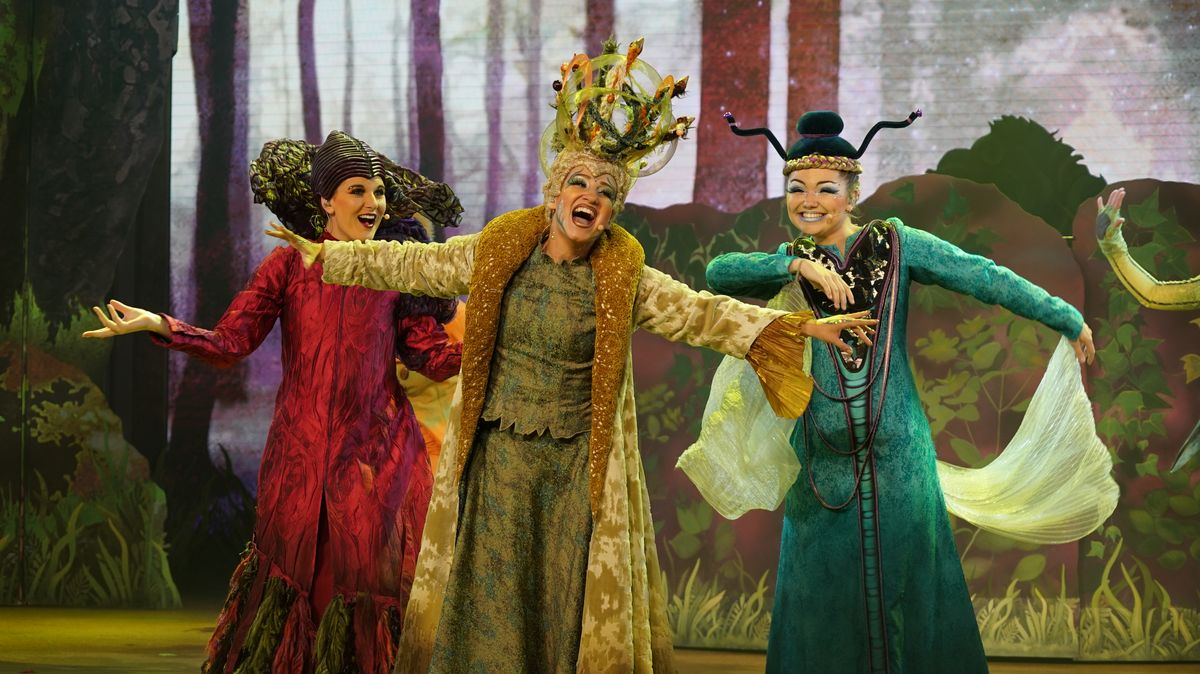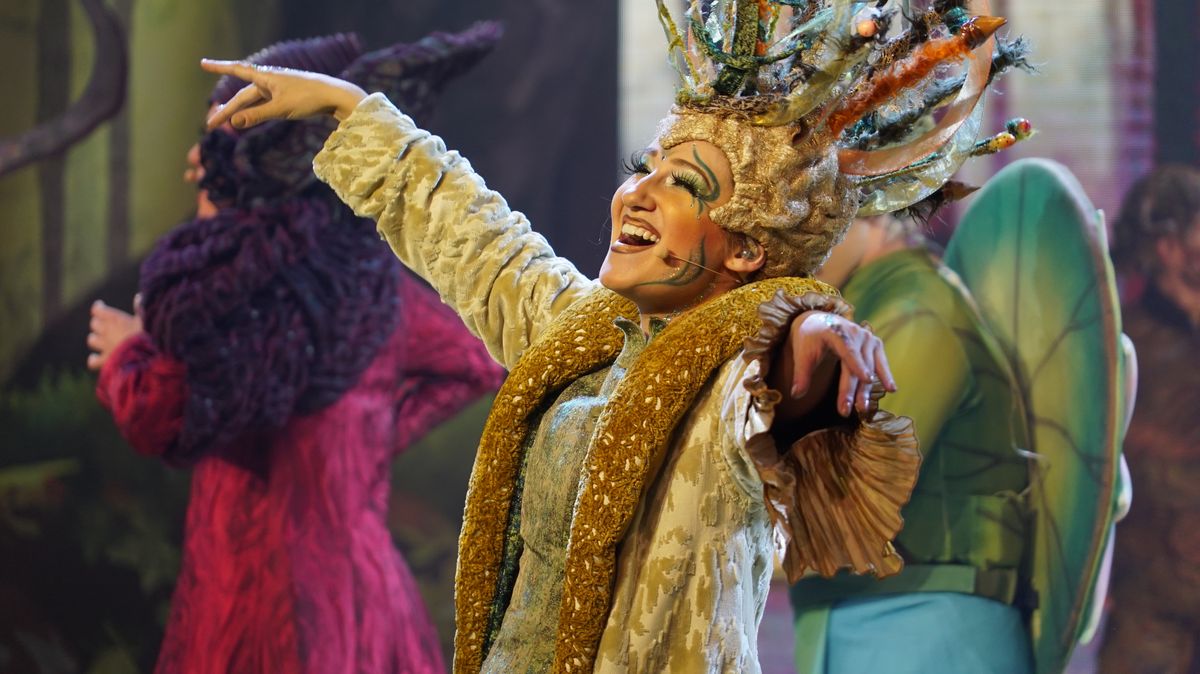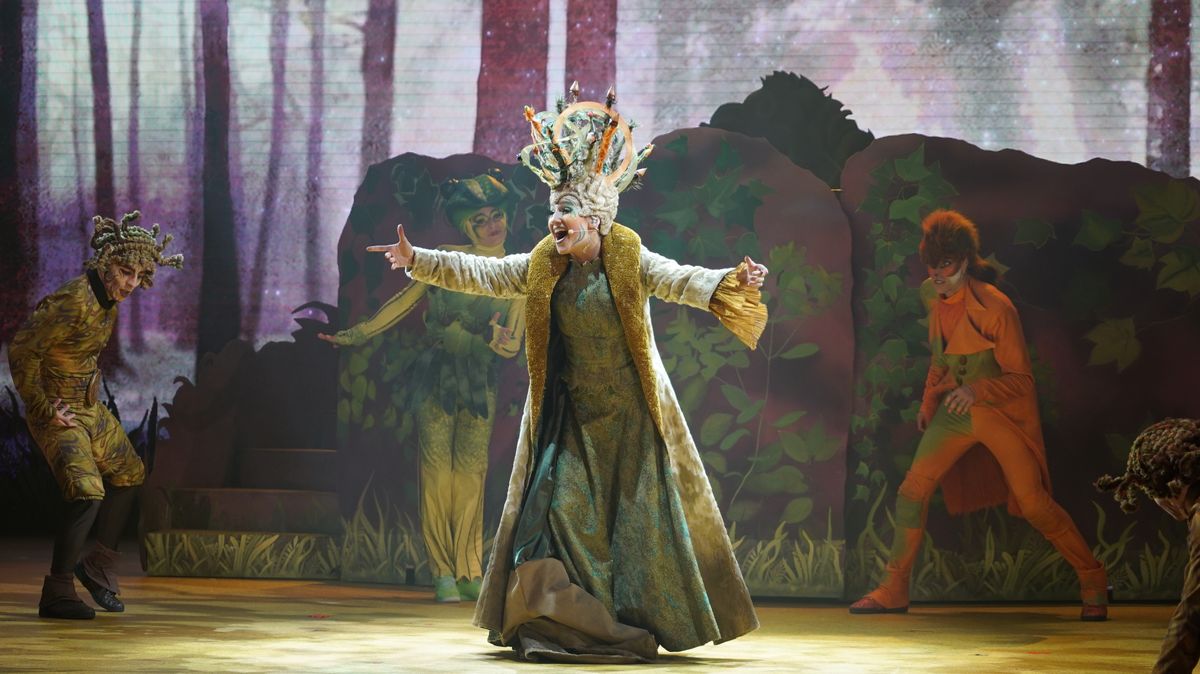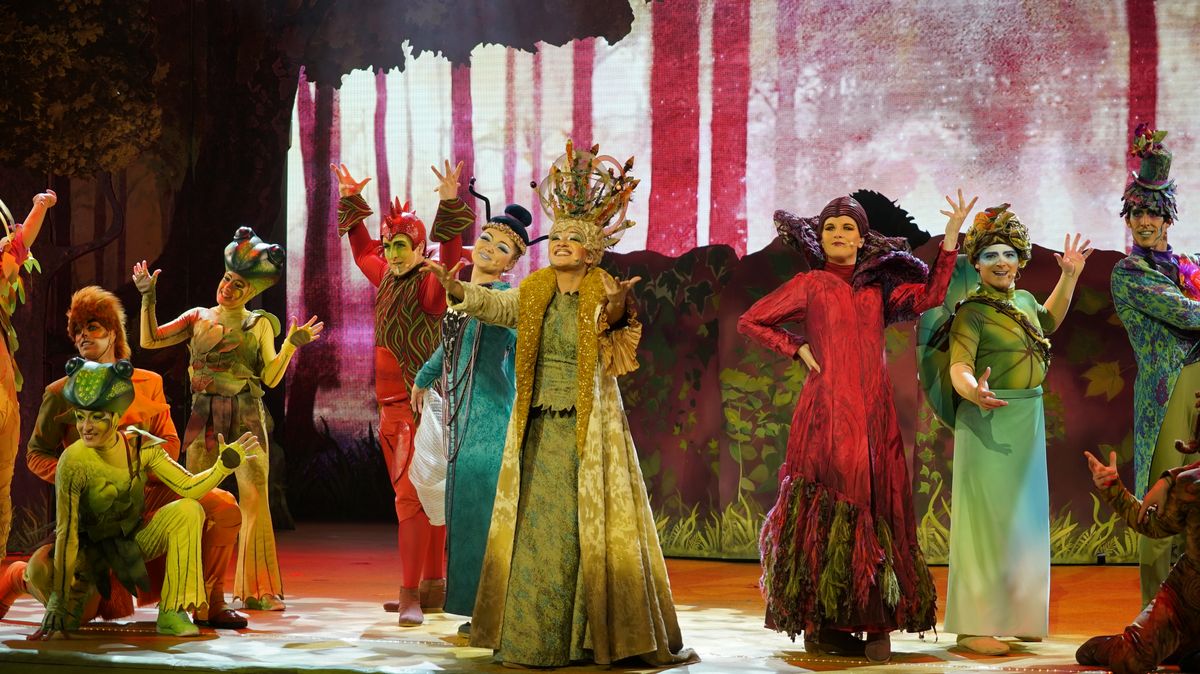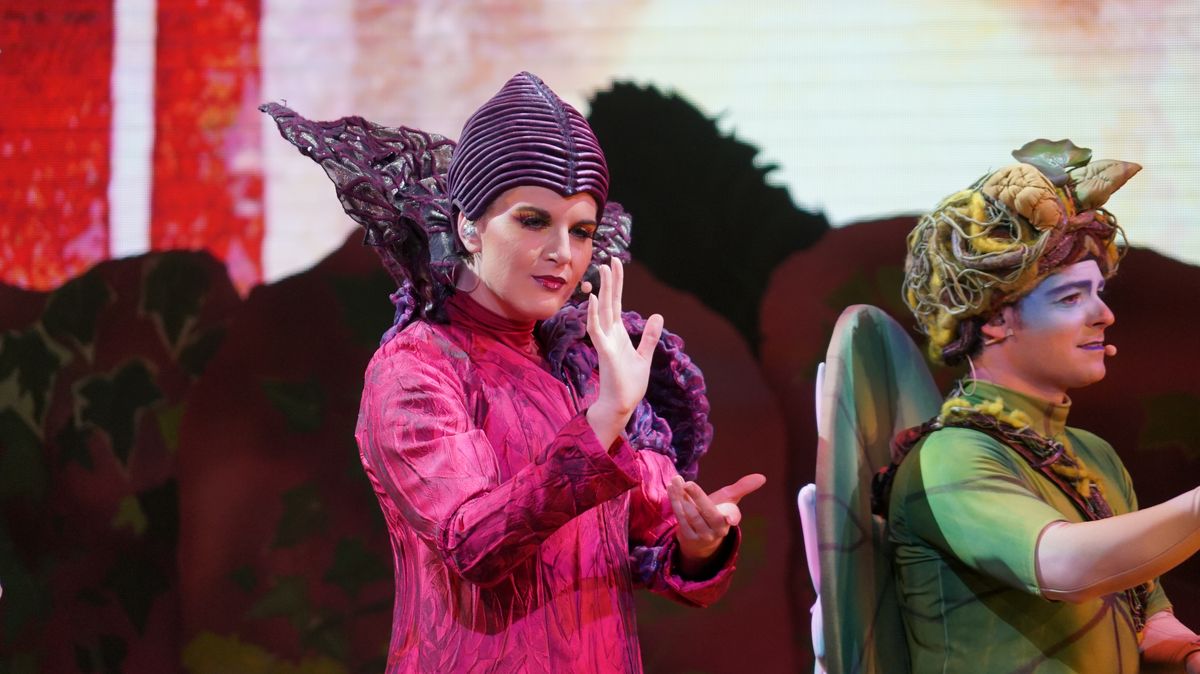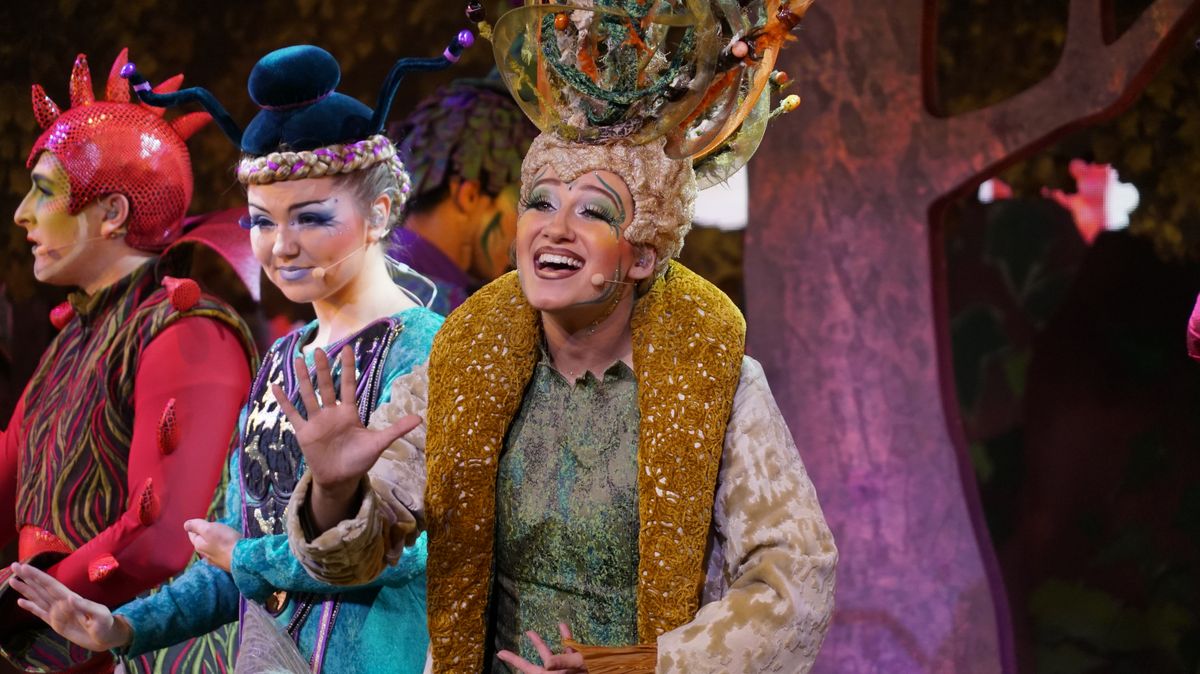 Pocahontas est le premier personnage Disney à apparaître, et cette année elle n'est plus accompagnée de John Smith. Elle arbore le tout nouveau costume créé par la Walt Disney Company pour cette performance sur scène avec danseur est plus marquante. On regrettera durant tout le spectacle de la non exploitation des décors pouvant être déplacés sur scène et donnant plus de volume et de rythme.
Pocahontas is the first Disney character to appear, and this year she is no longer accompanied by John Smith. It features the brand new costume created by The Walt Disney Company, and finally this performance on stage with the dancers is more striking. It will be regretted during the whole spectacle of the non-exploitation of the scenery (decorations of trees) which can be moved on stage and giving more volume and rhythm.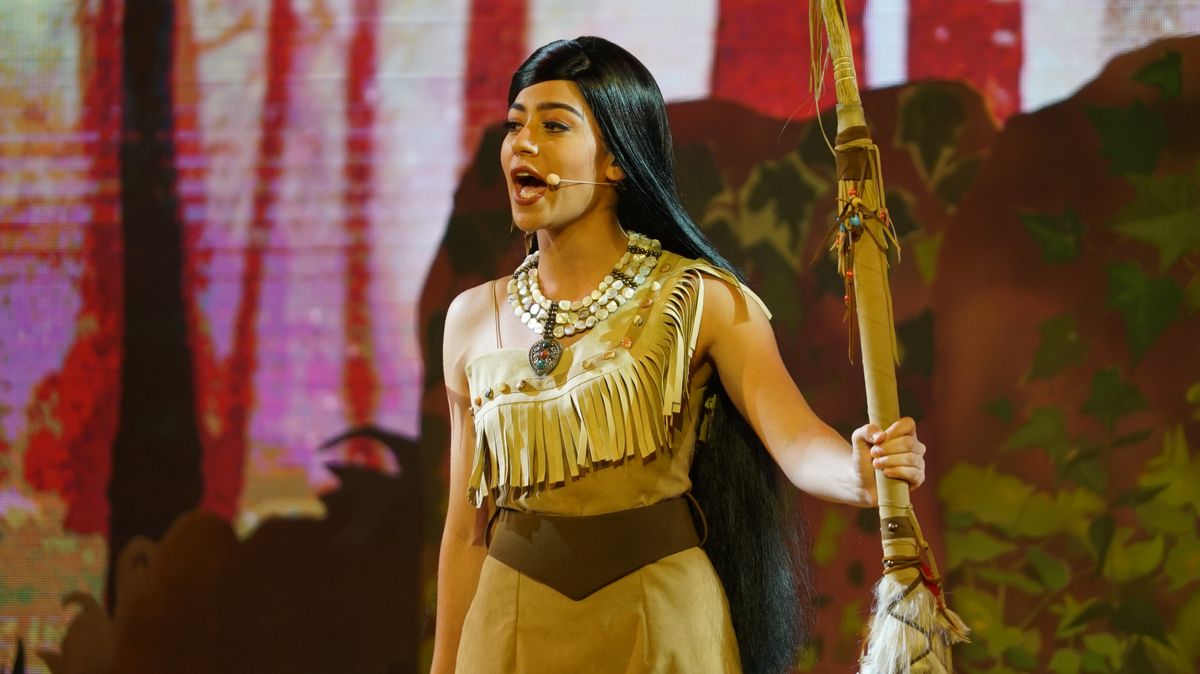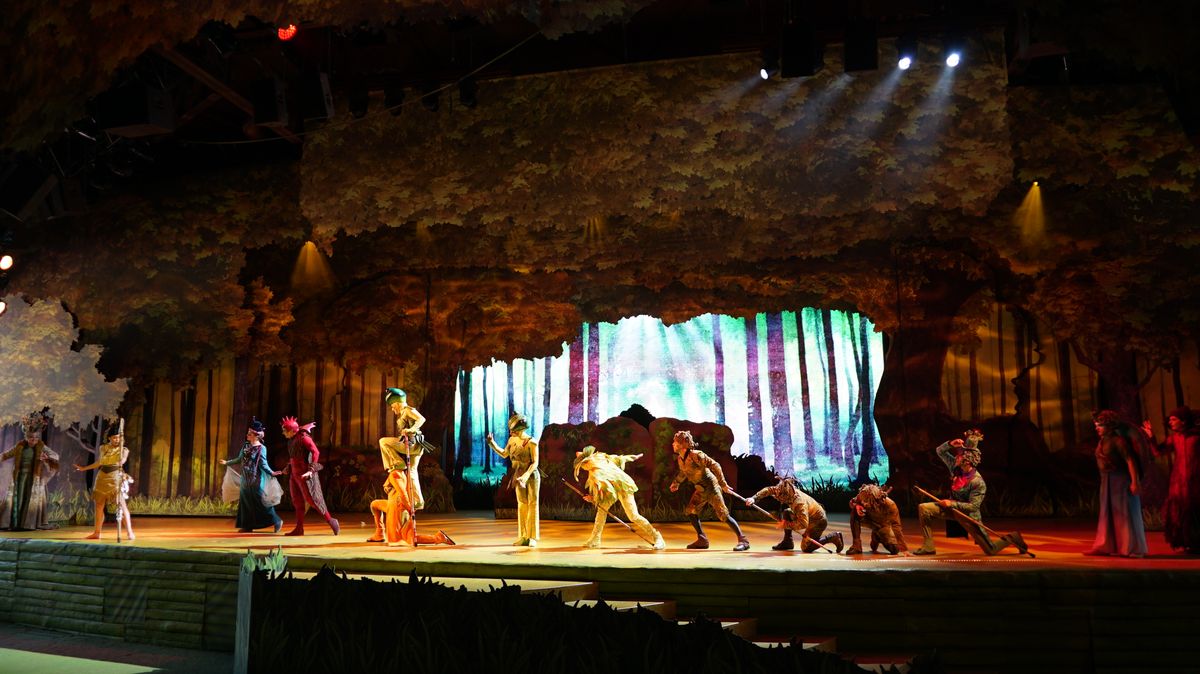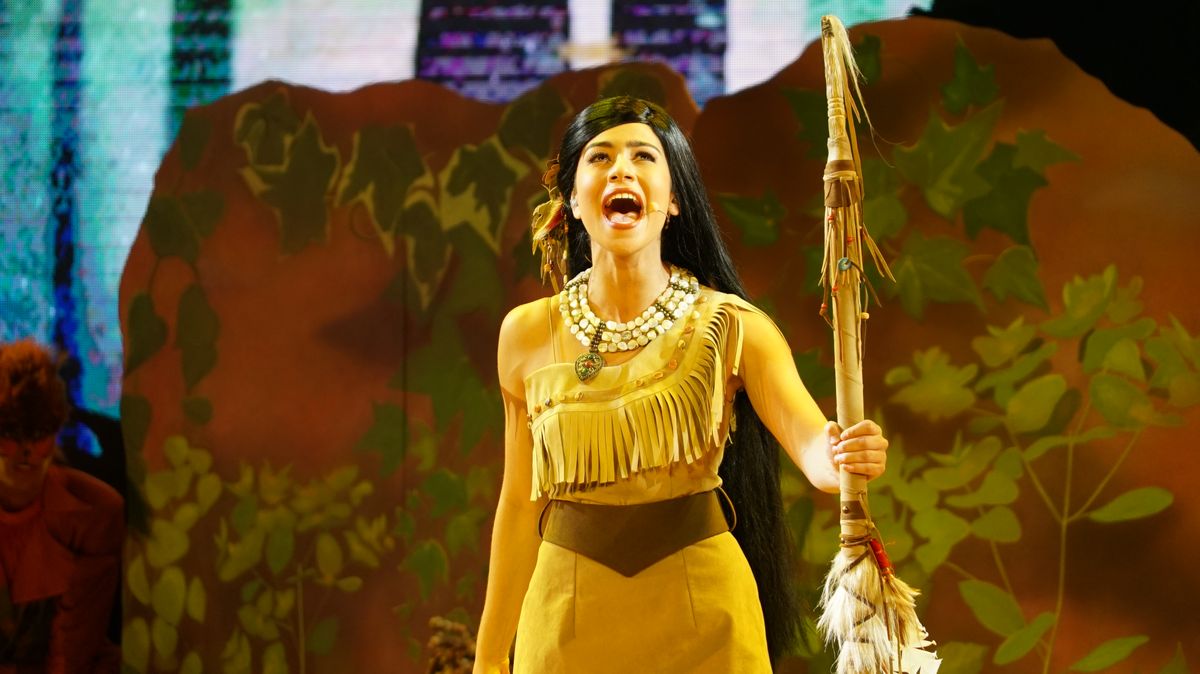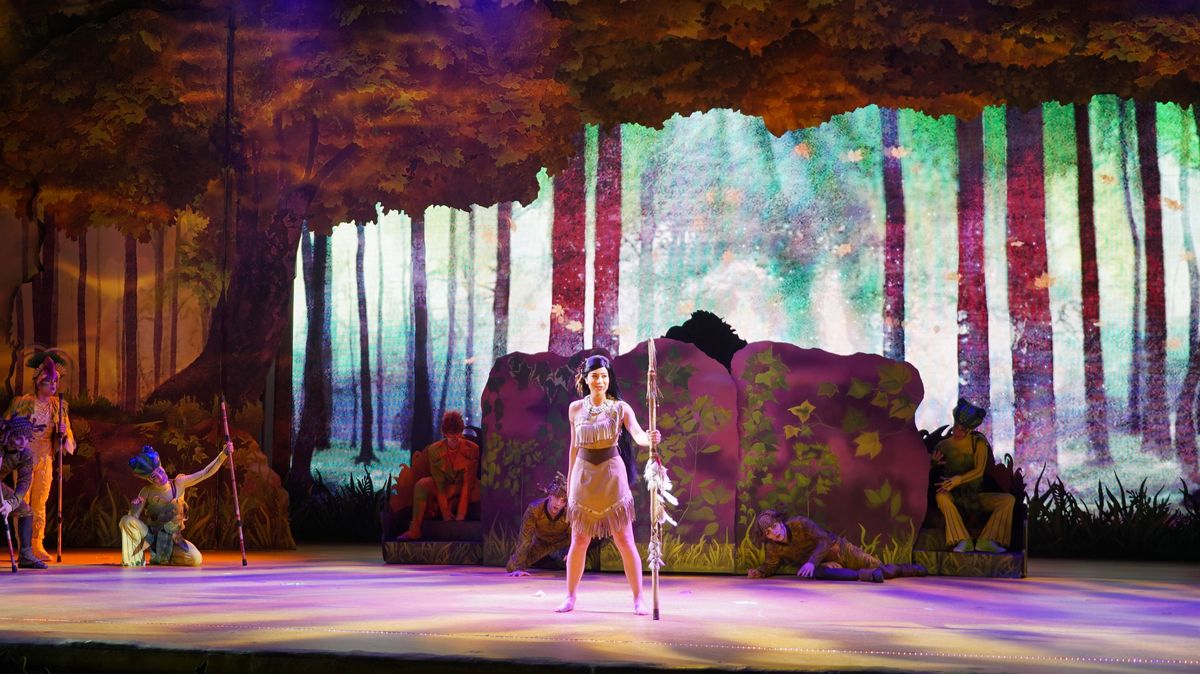 Le livre de la jungle prend le pas, toujours avec Baloo et Roi Louis dans une nouvelle chorégraphie et aux effets d'apparition et spéciaux bien plus élaboré. Cette partie relativement fade de la première édition en ressort cette année grandi !
The Jungle book takes the step, always with Baloo and King Louis in a new choreography and special effects much more elaborate. This relatively bland part of the first edition springed up this year and it's now one of the great moments!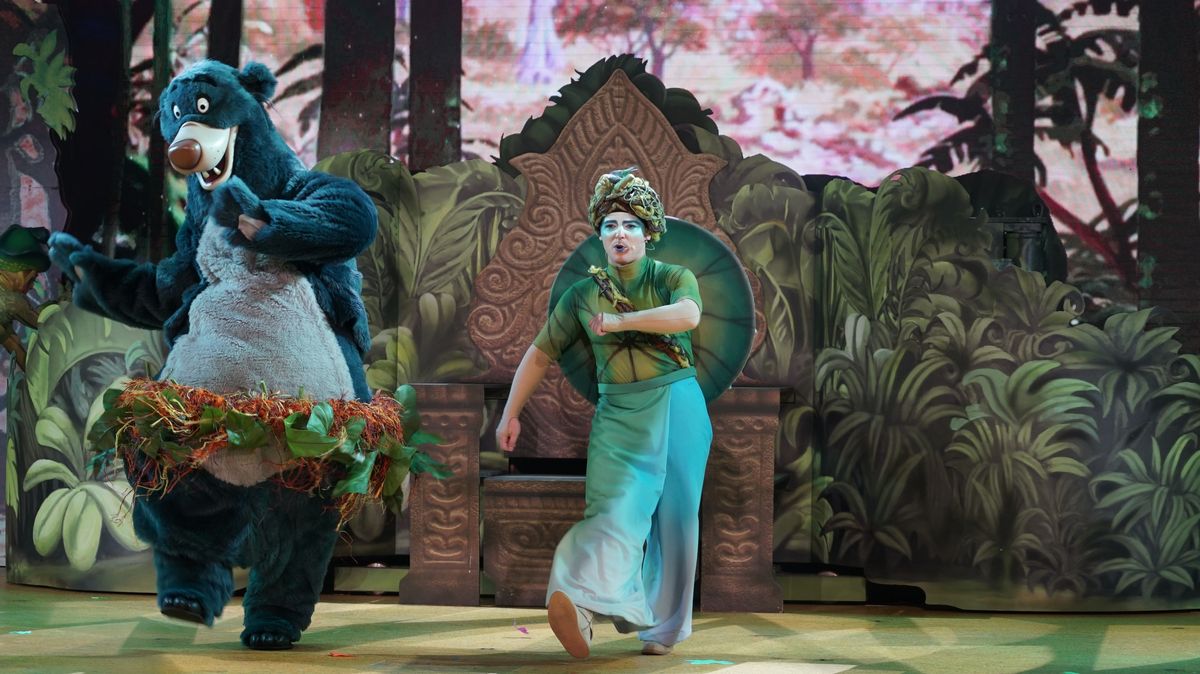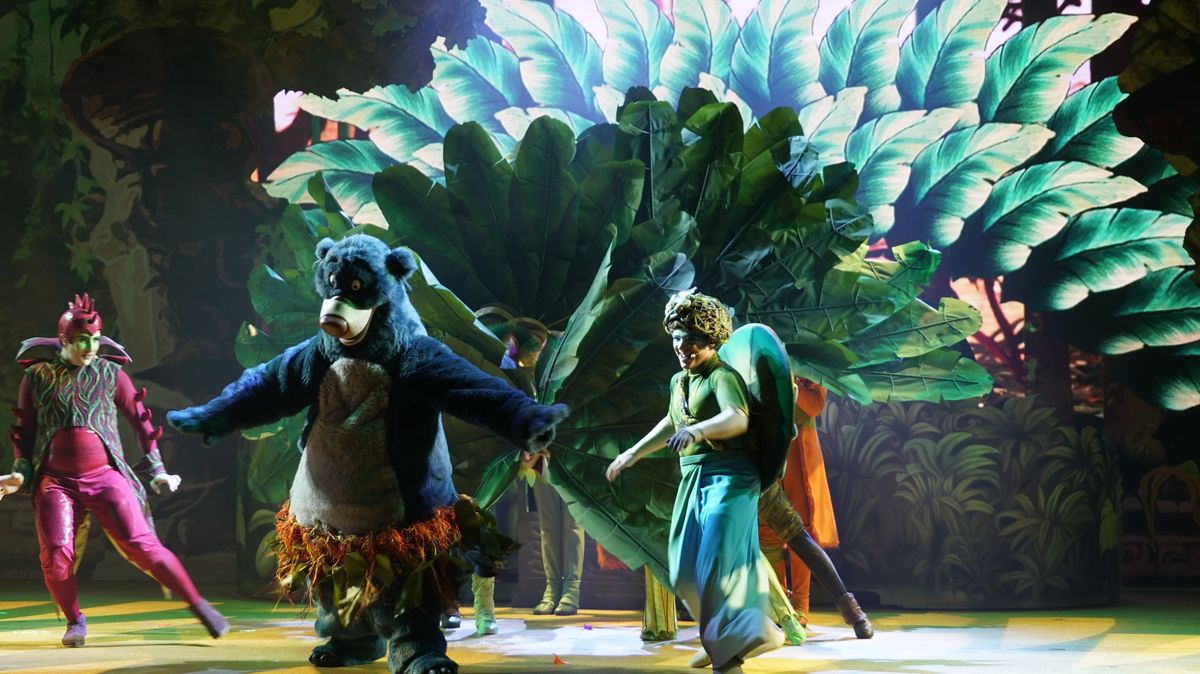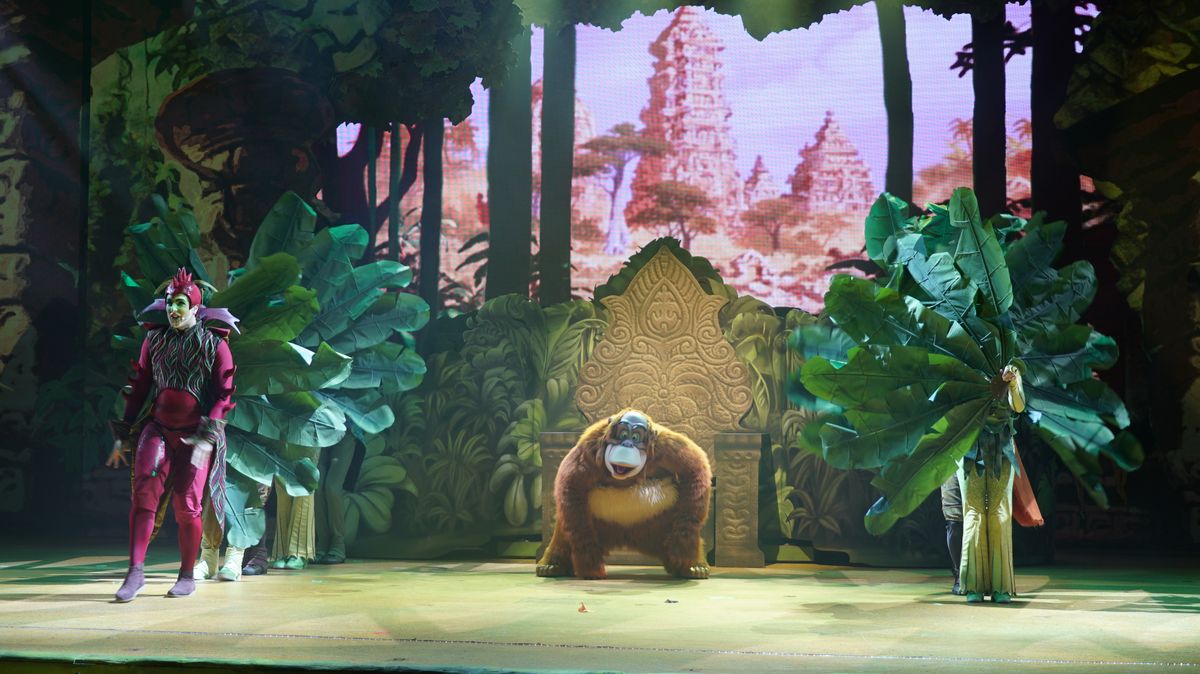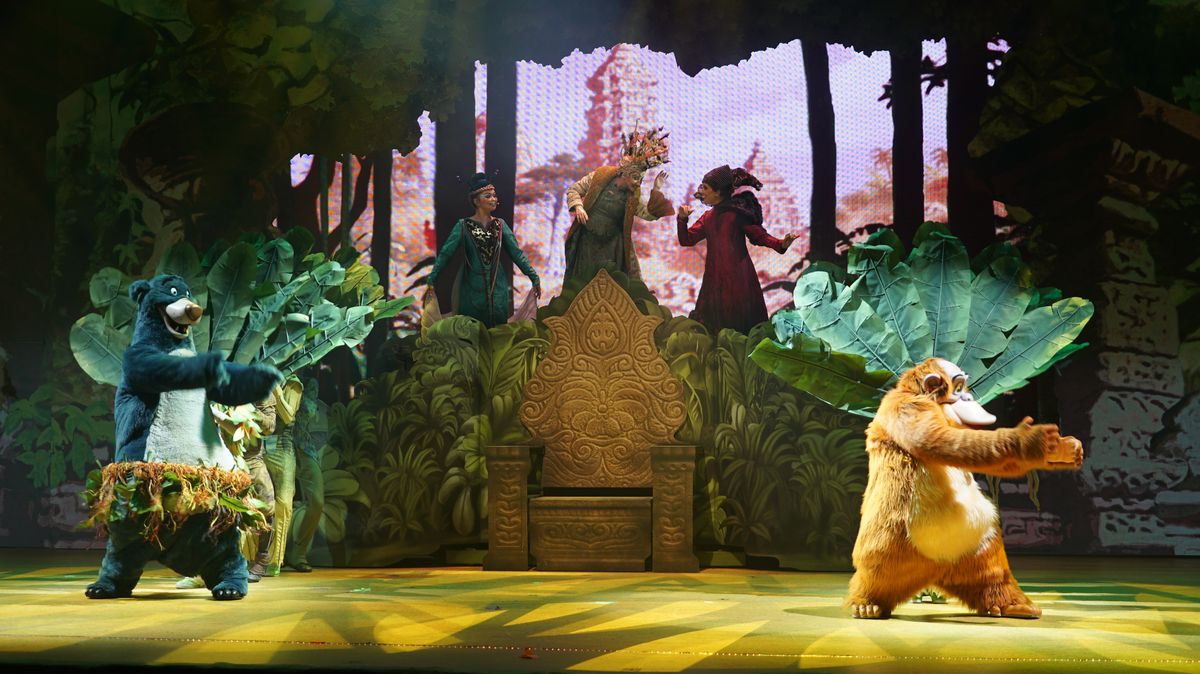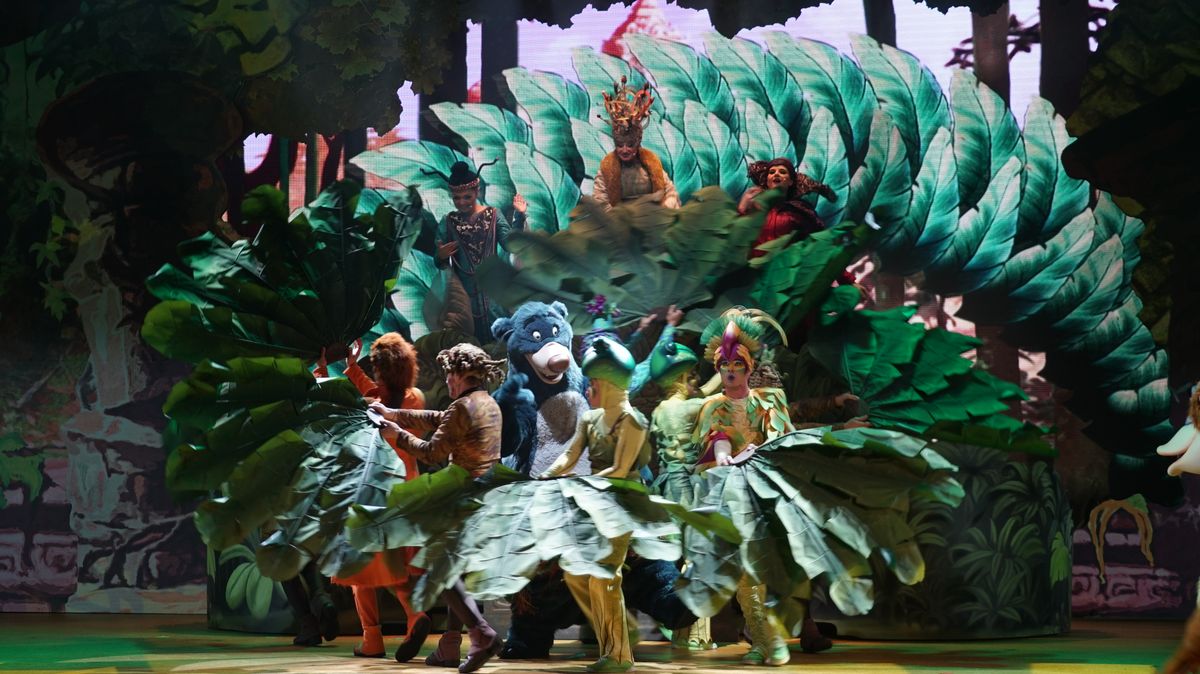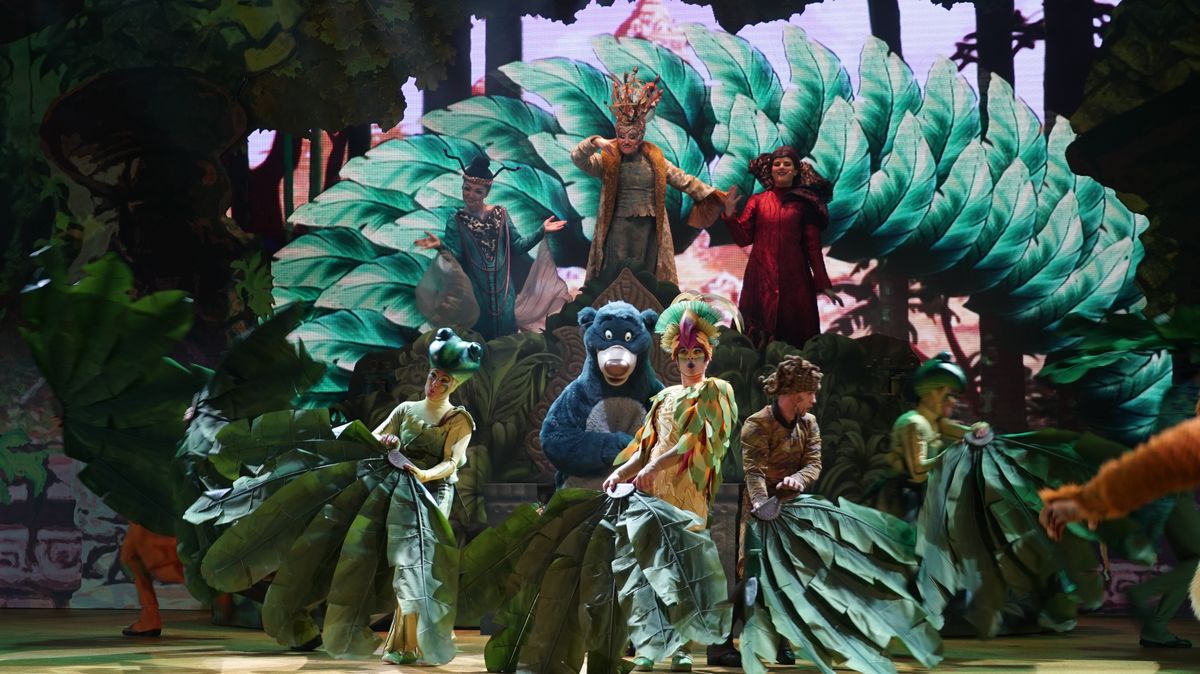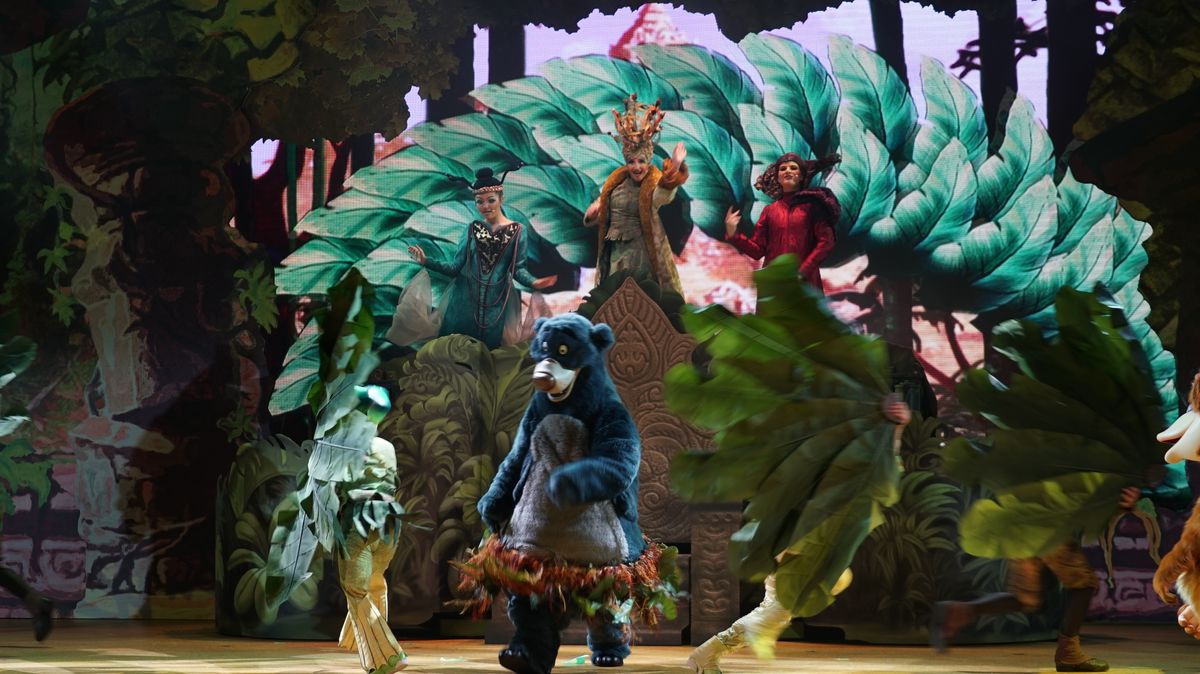 Tarzan est de retour, la prestation reste belle mais la modification de la chorégraphie au sol des chanteurs tournant autour du personnage fait perdre du dynamisme au passage. C'est finalement le rythme et la satisfaction générale qui en prend un coup.
Tarzan is back, the performance remains beautiful but the modification of the choreography of the singers revolving around the character loses Dynamism. It is finally the rhythm and the general satisfaction that takes a hit.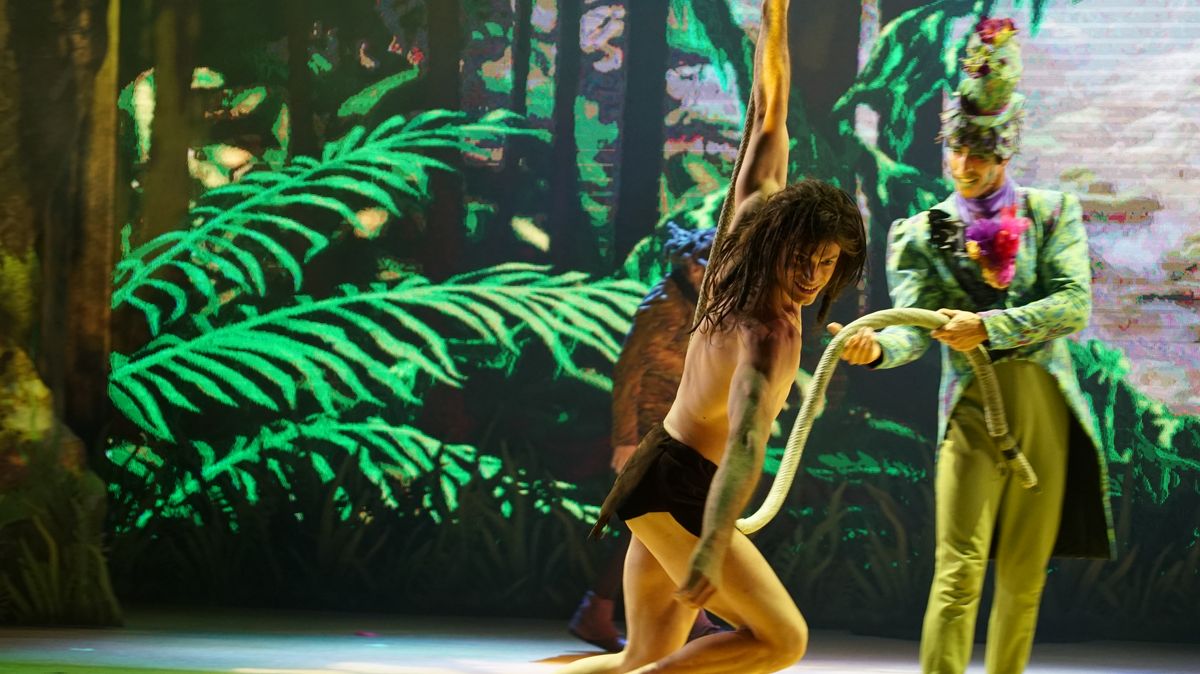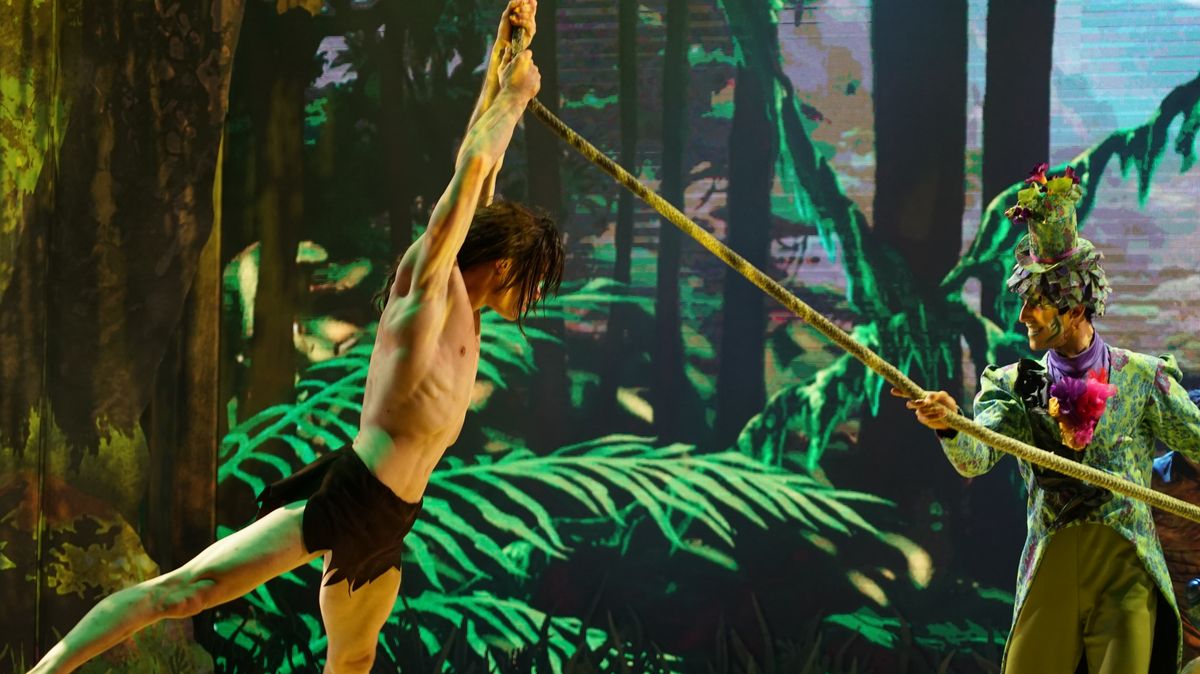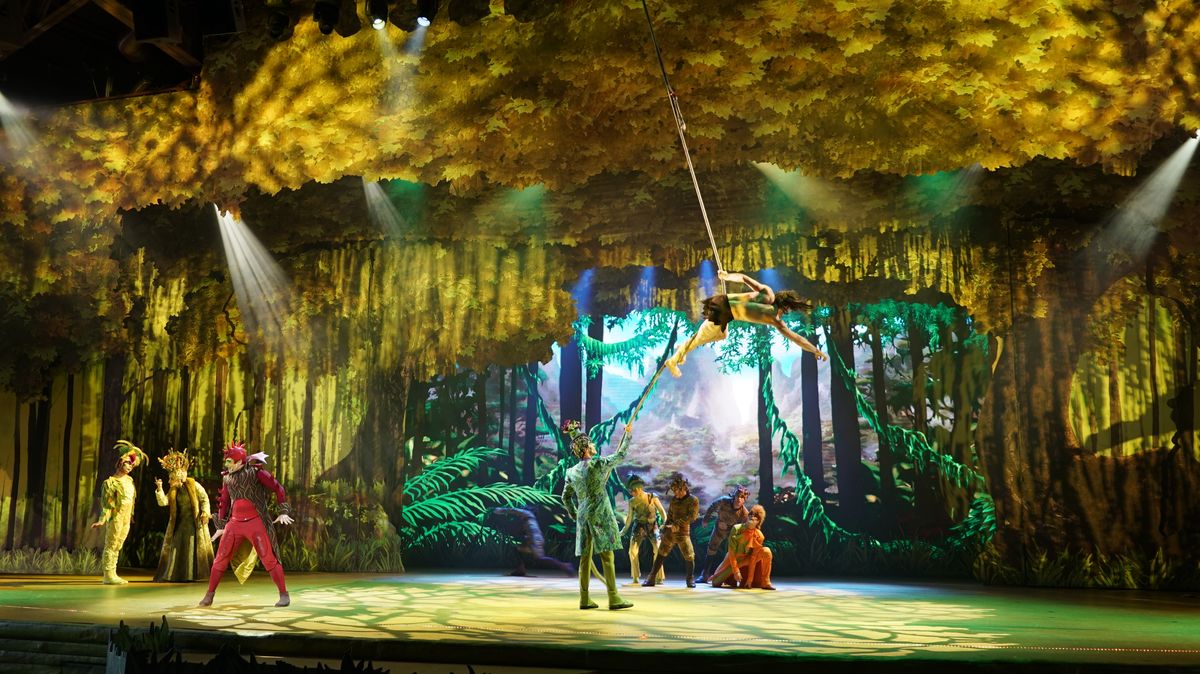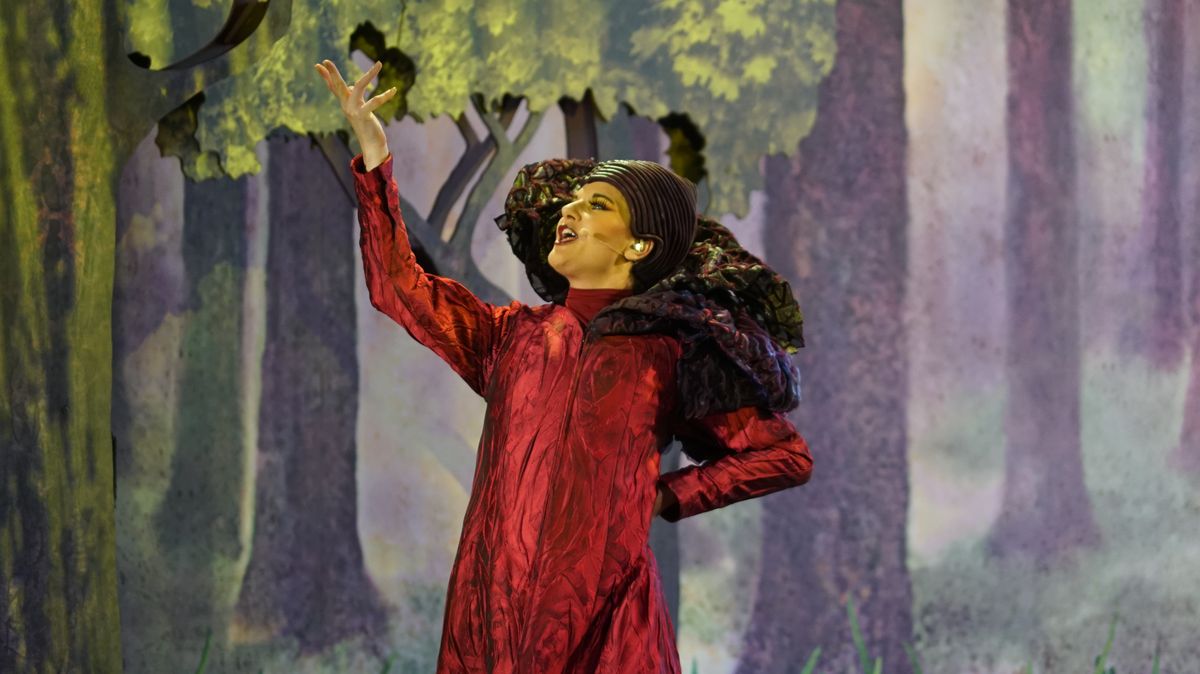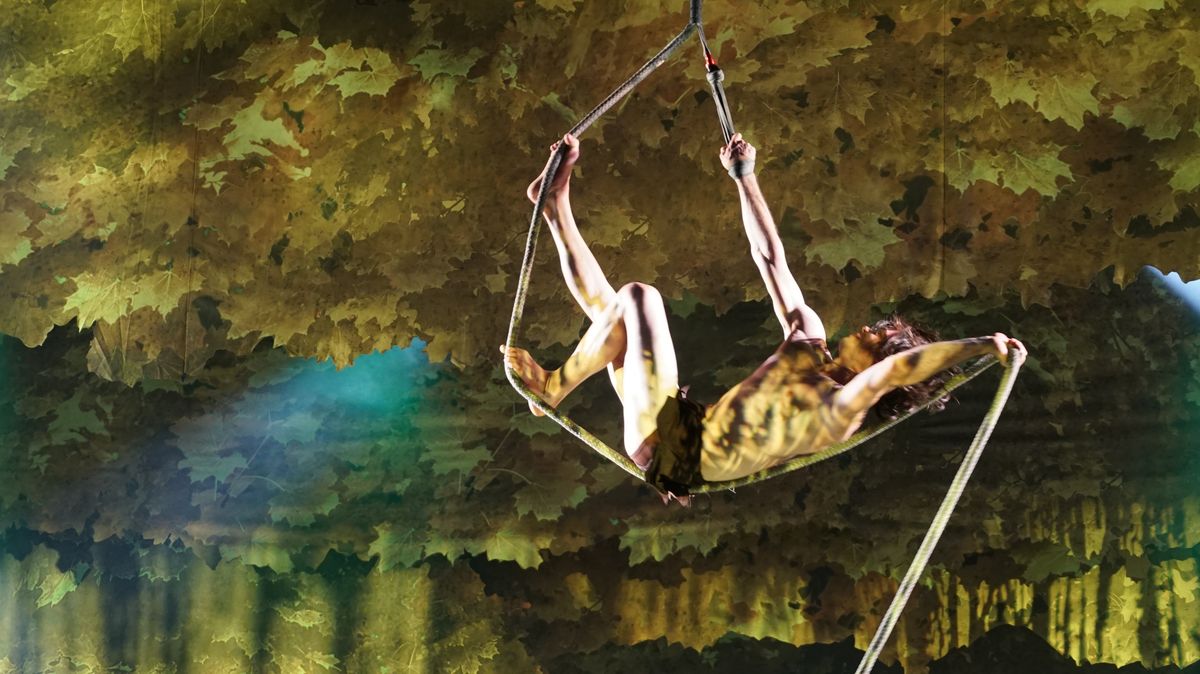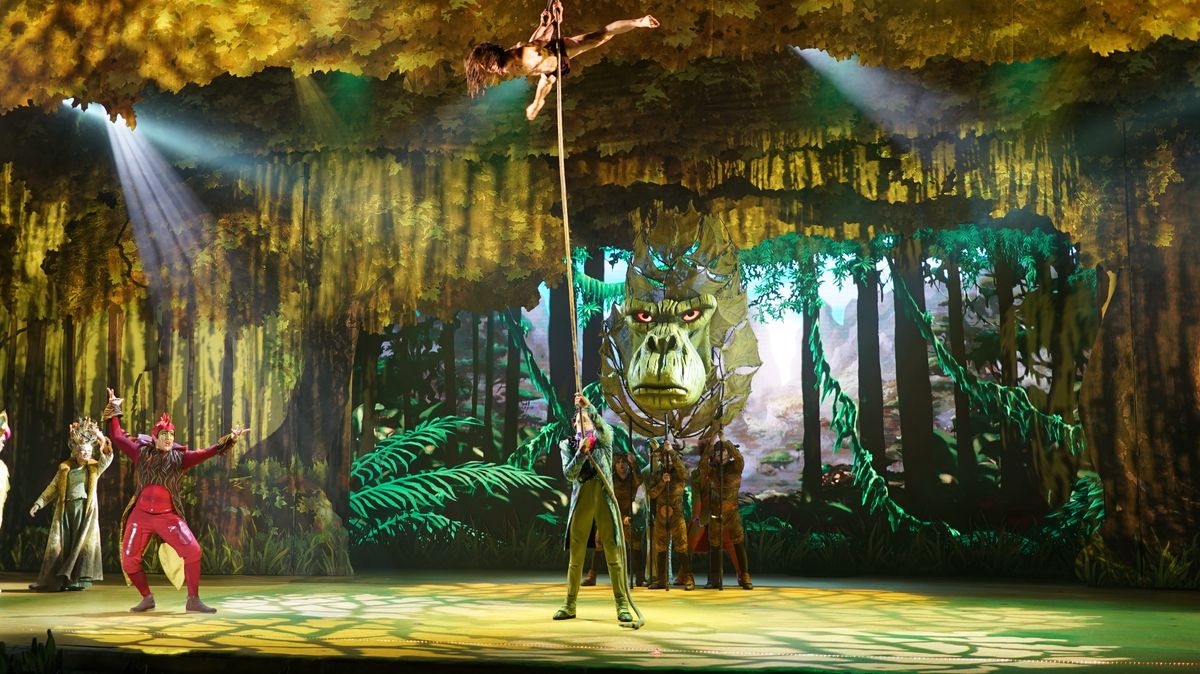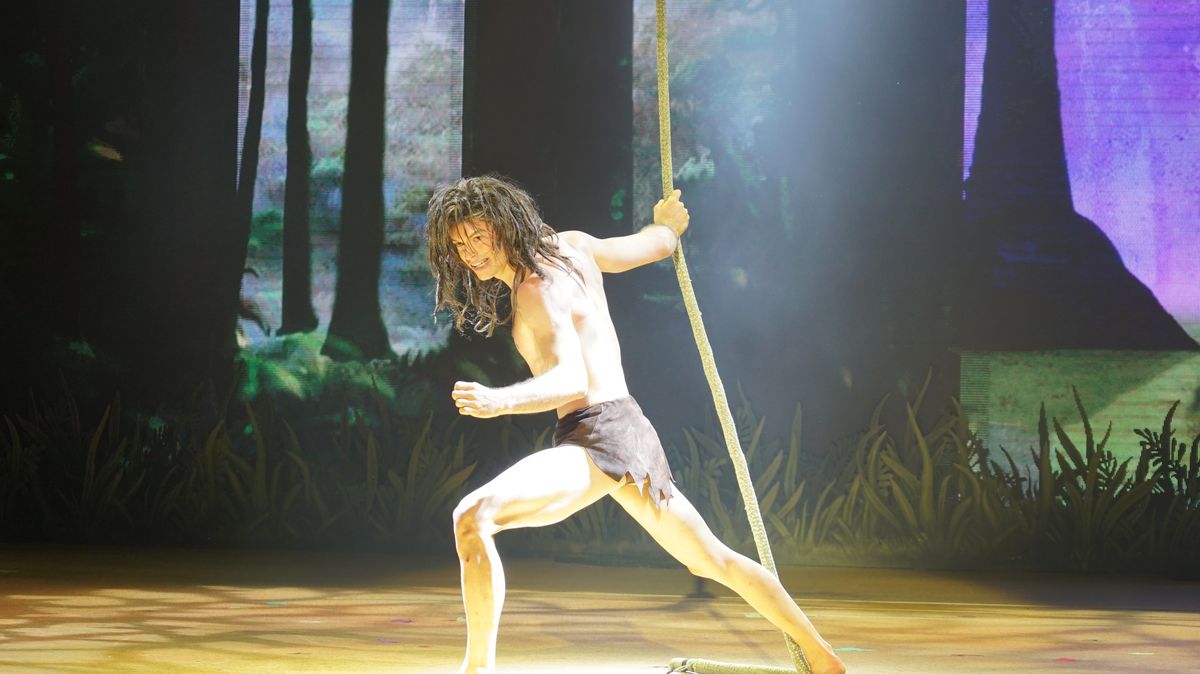 Raiponce et de Flynn Rider continue le spectacle. Ici l'écran montre toute son utilité lors de la chanson « when i see the light » et permet d'offrir à cette scène la touche romantique que la première édition n'a pu transmettre.
Rapunzel and Flynn rider continues the show. Here the screen shows its usefulness during the song « I see the light » and allows to offer this scene the romantic touch that the first edition could not transmit.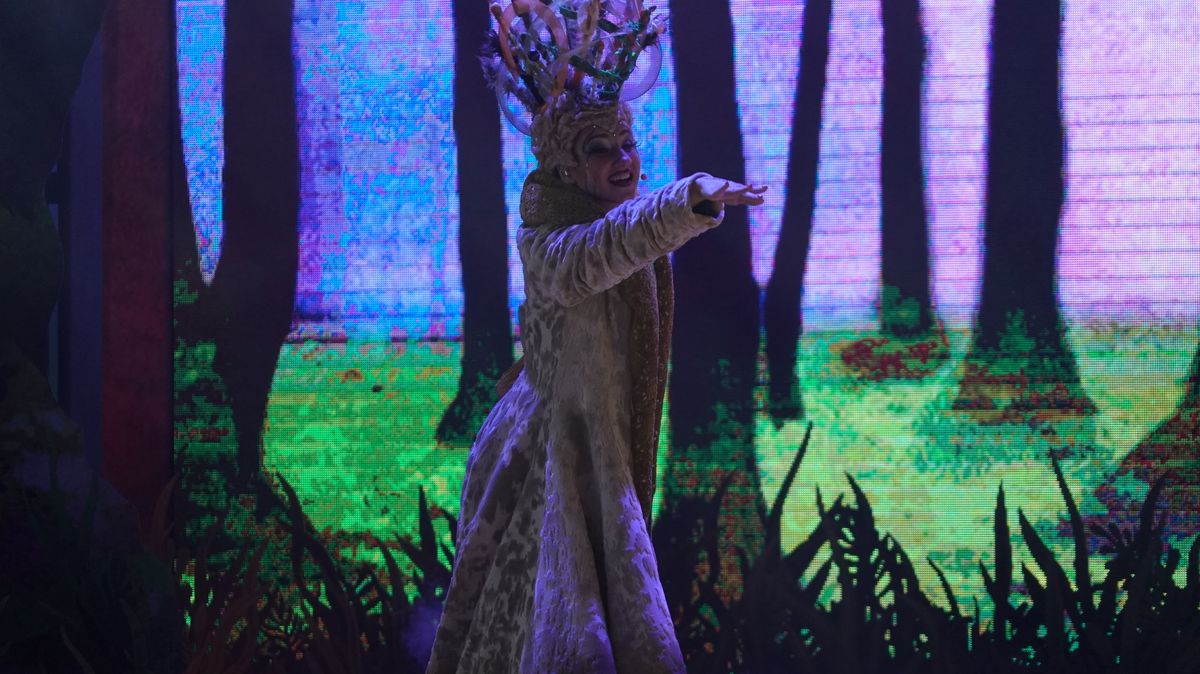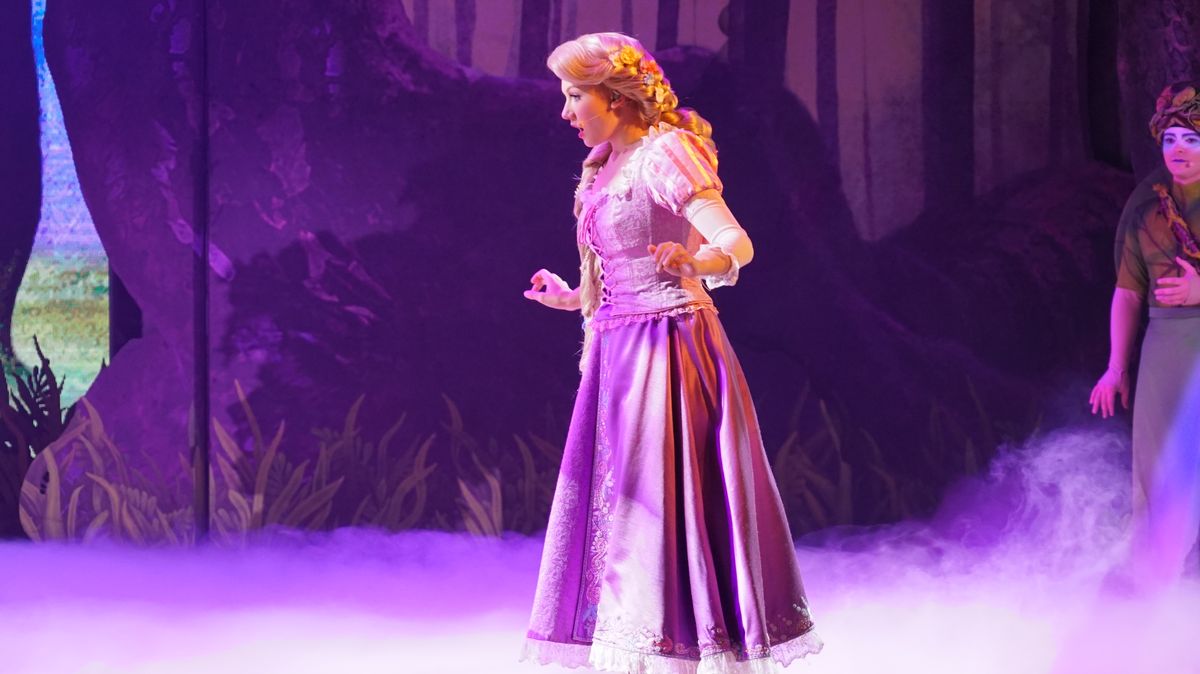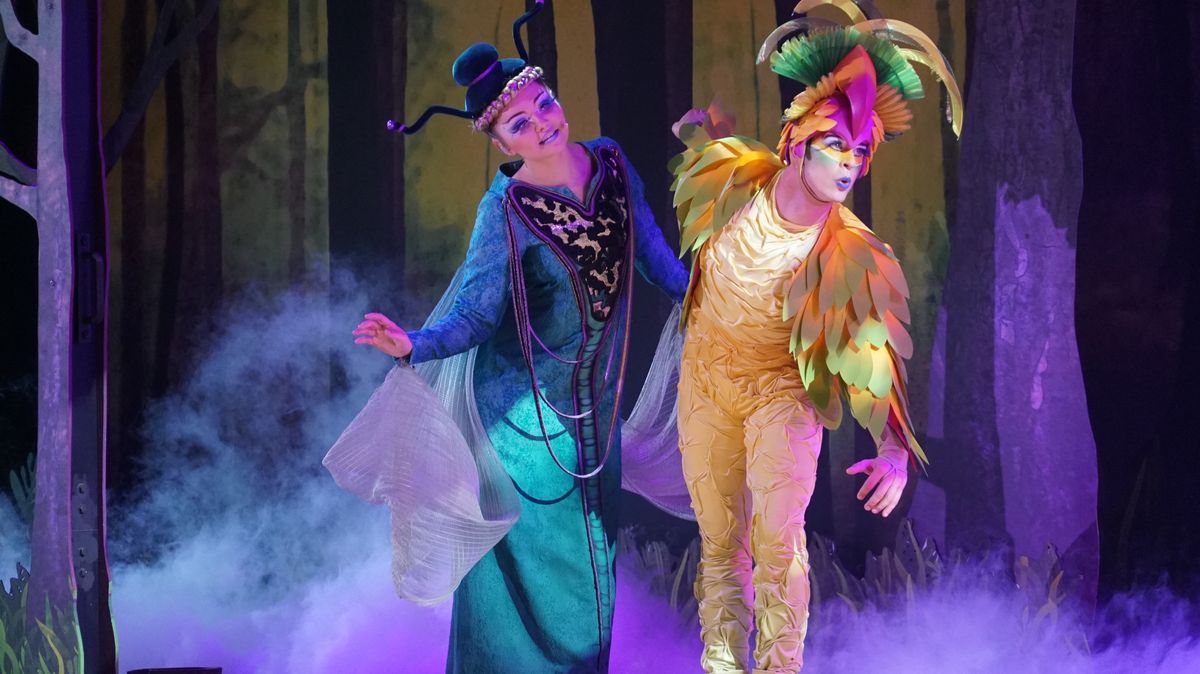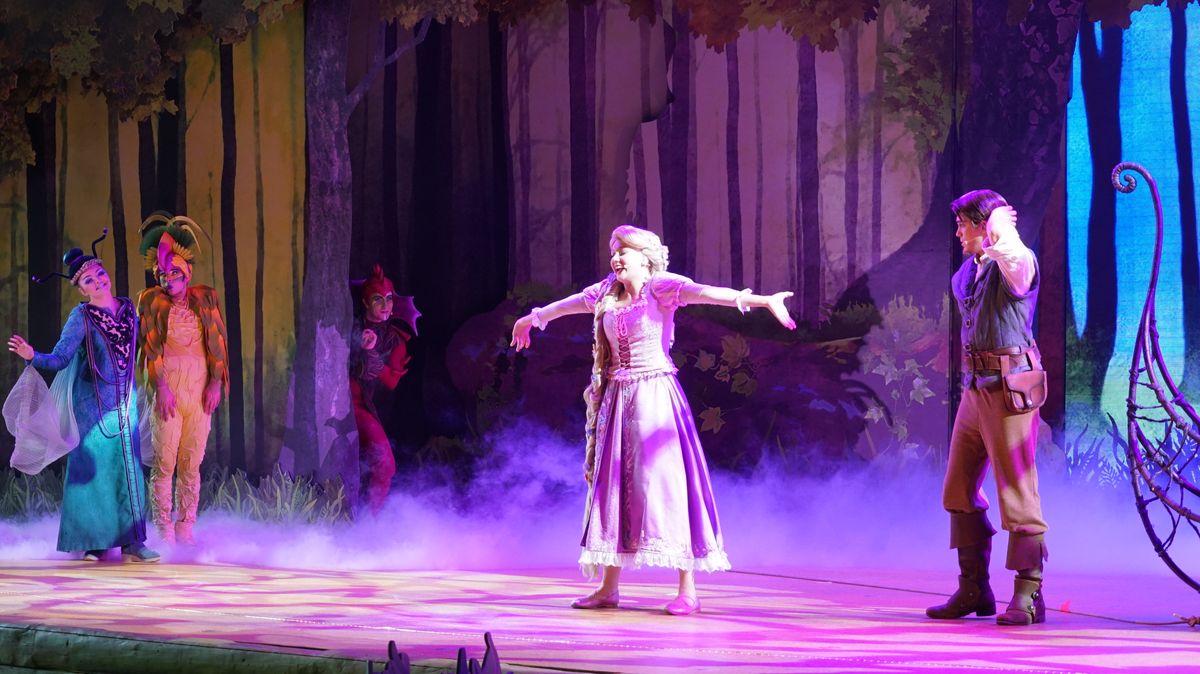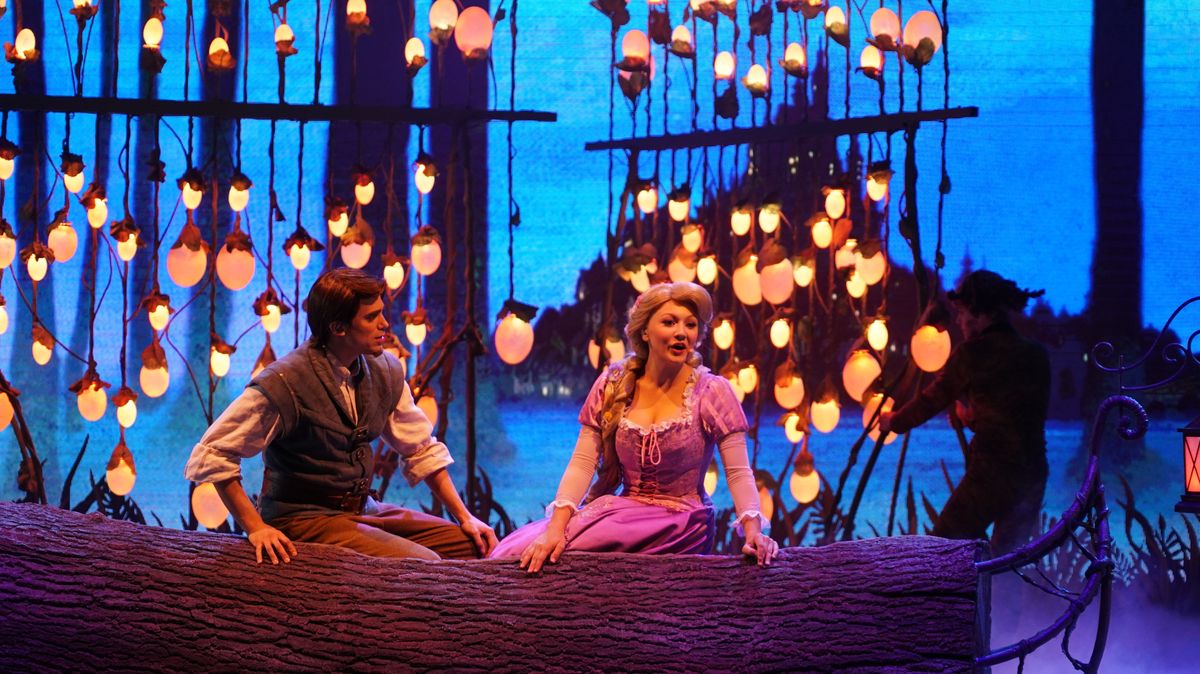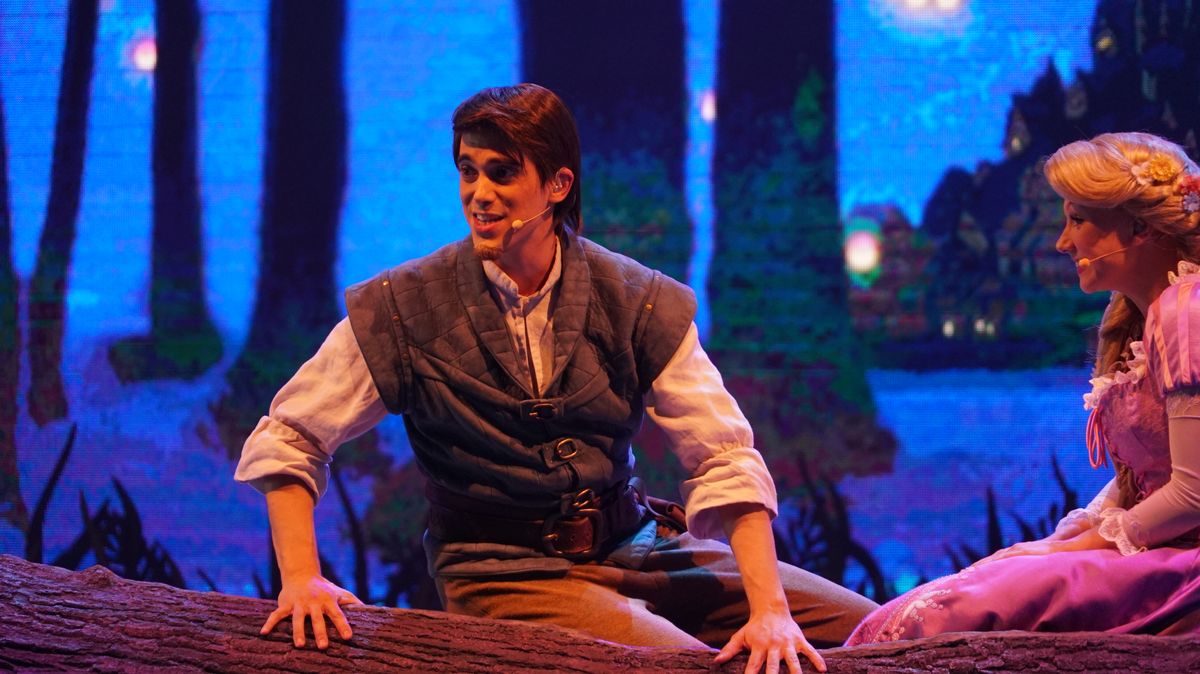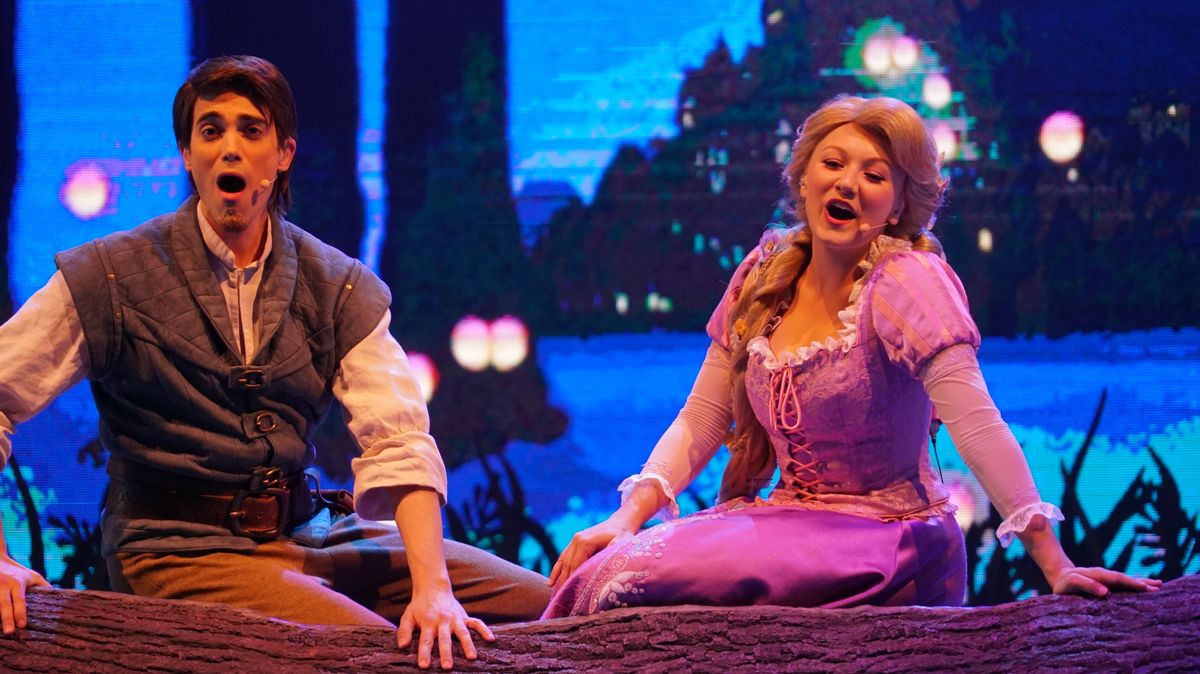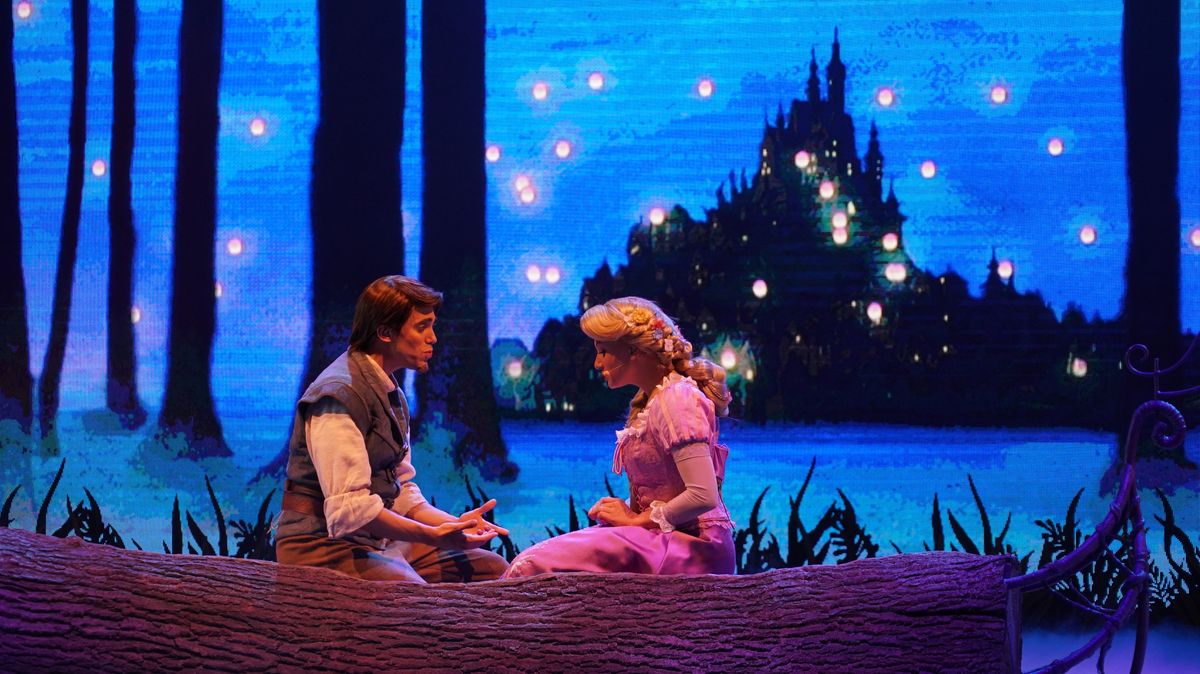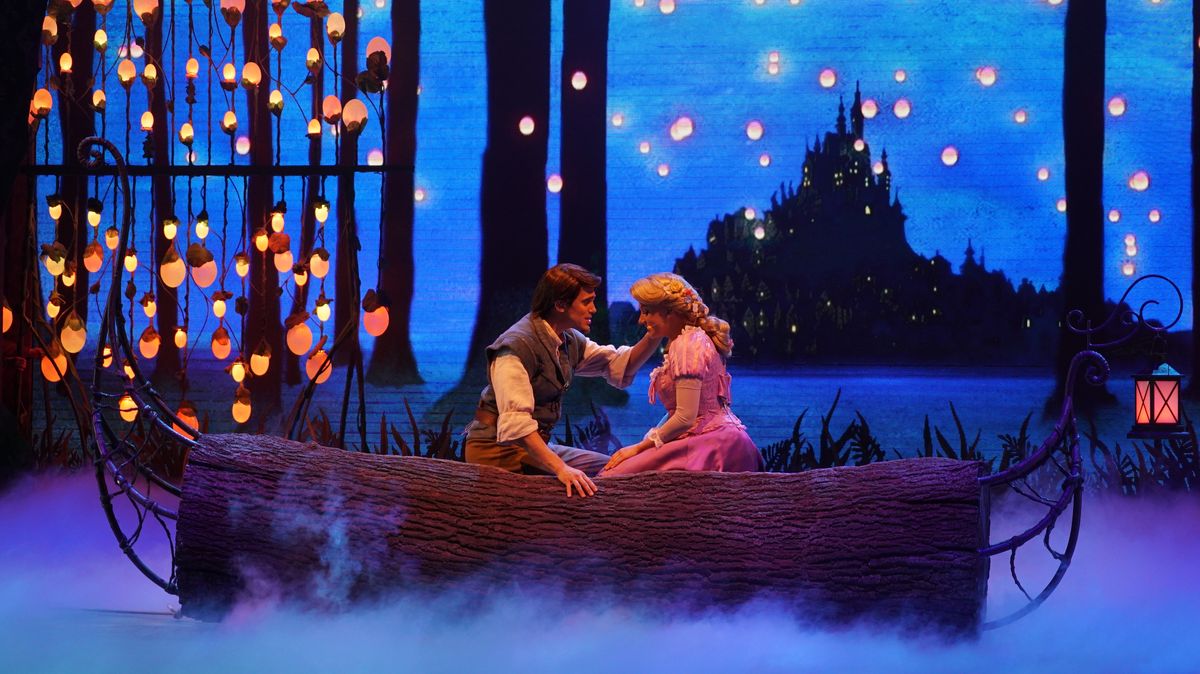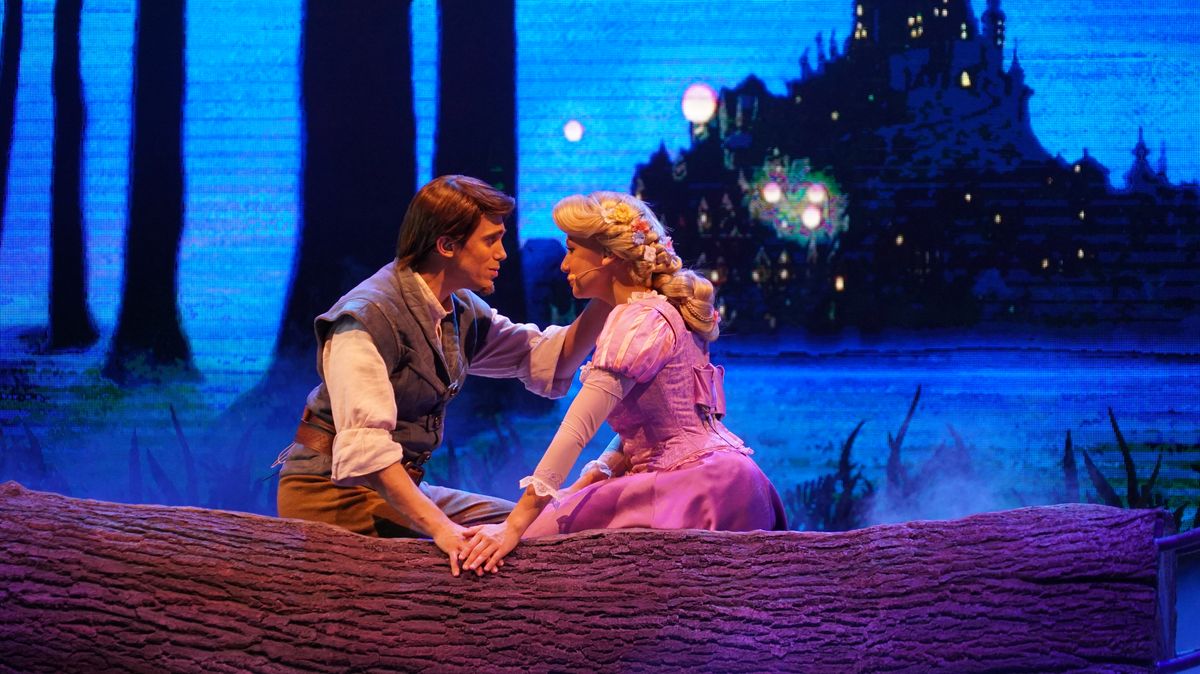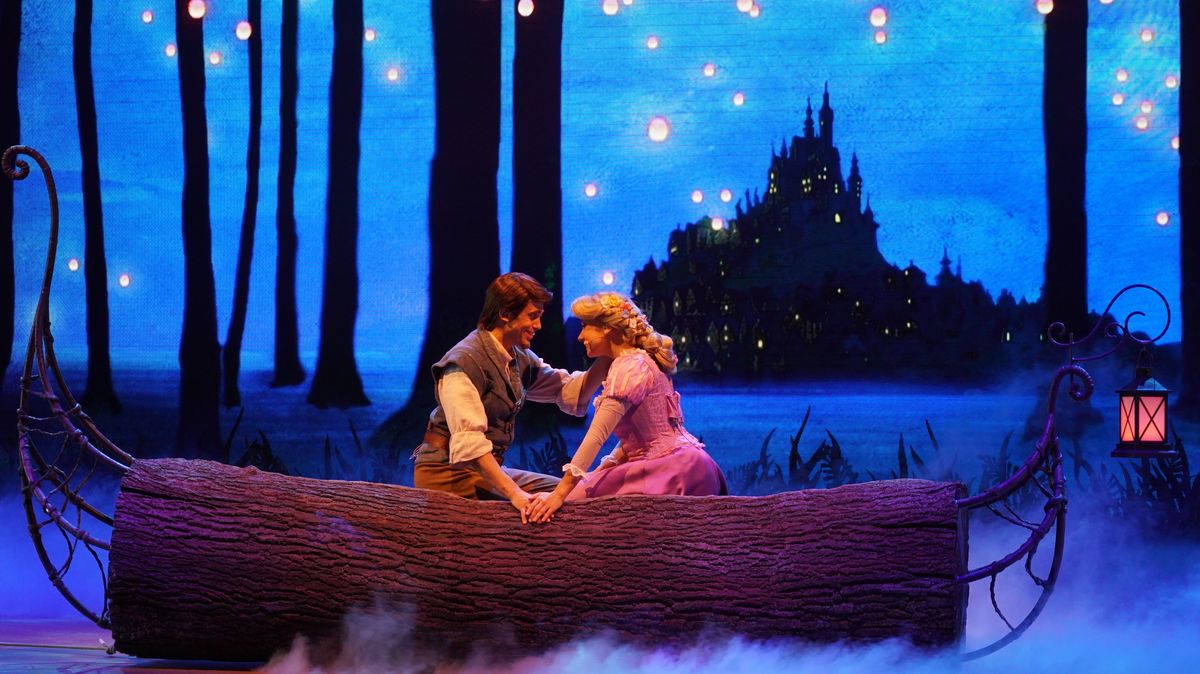 Enfin, le dernier personnage, Enchantella fait apparaitre Merida. C'est LE changement majeur de cette nouvelle saison, puisque cette princesse rebelle chante pour la première fois « Touch the Sky » tout en exécutant une démonstration de tir à l'arc. Cette modification se trouve être des plus réussite et parait logique à la vue des performances précédente des autres personnages.
Finally, the last character, Enchantella makes Merida appear. This is the major change of this new season, since this rebellious Princess sings in live for the first time « Touch the Sky » while performing a demonstration of archery. This change is the more successful and makes sense to the previous performance view of the other characters.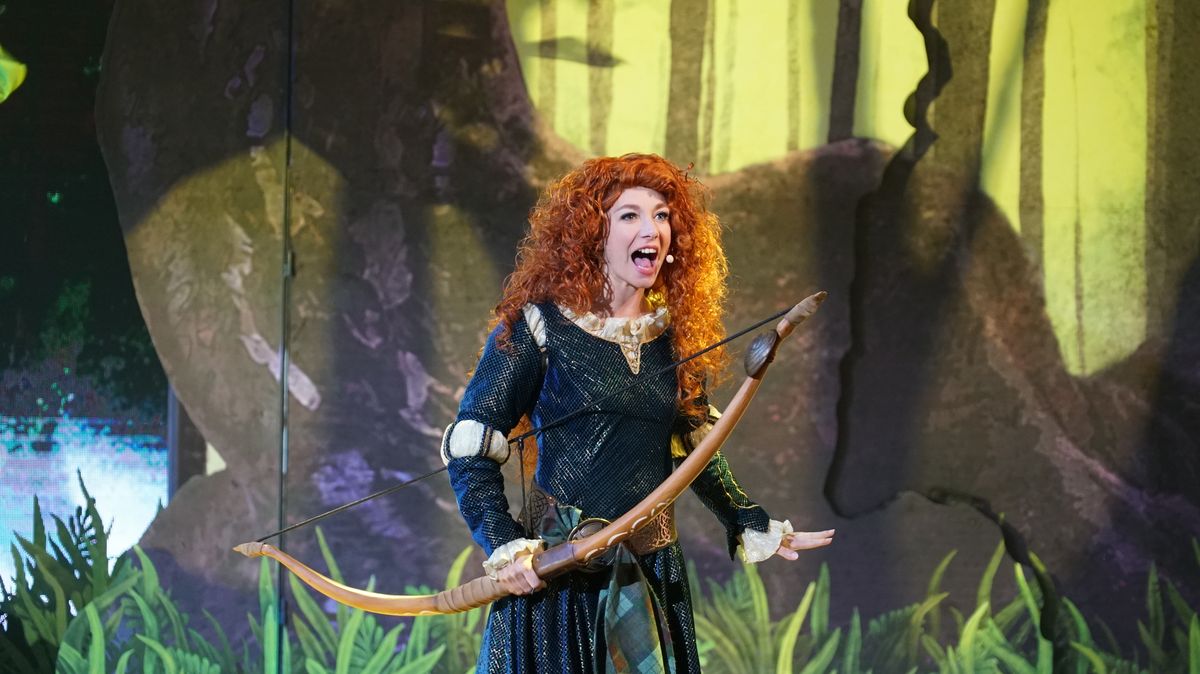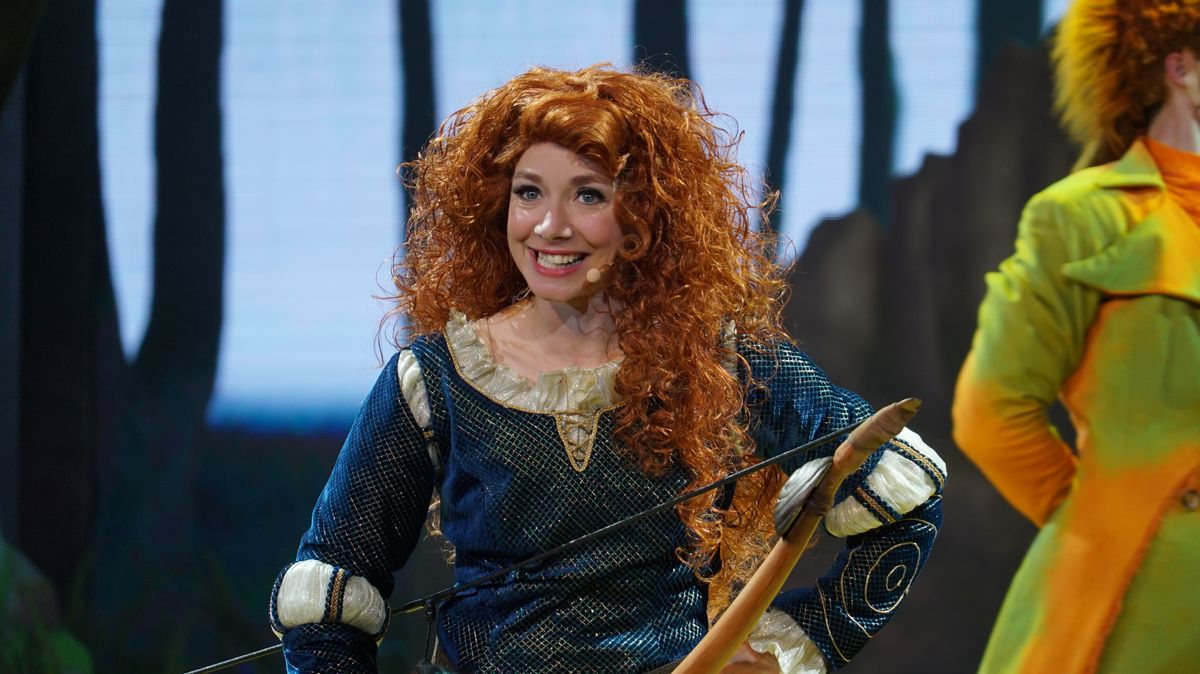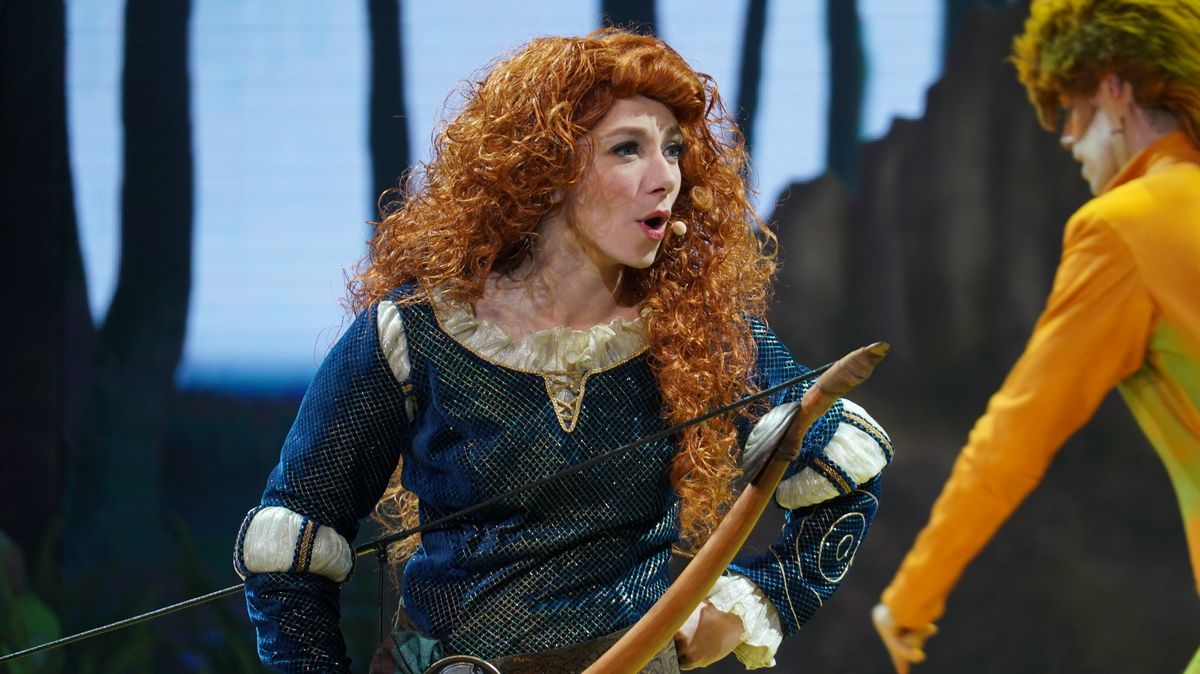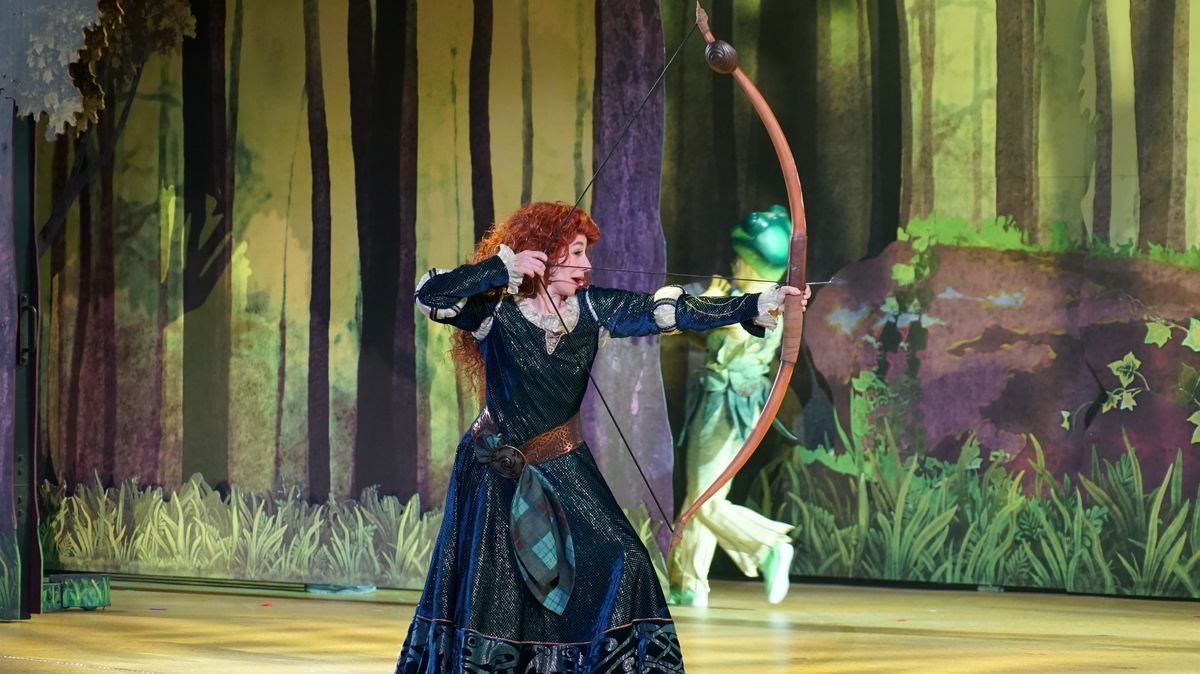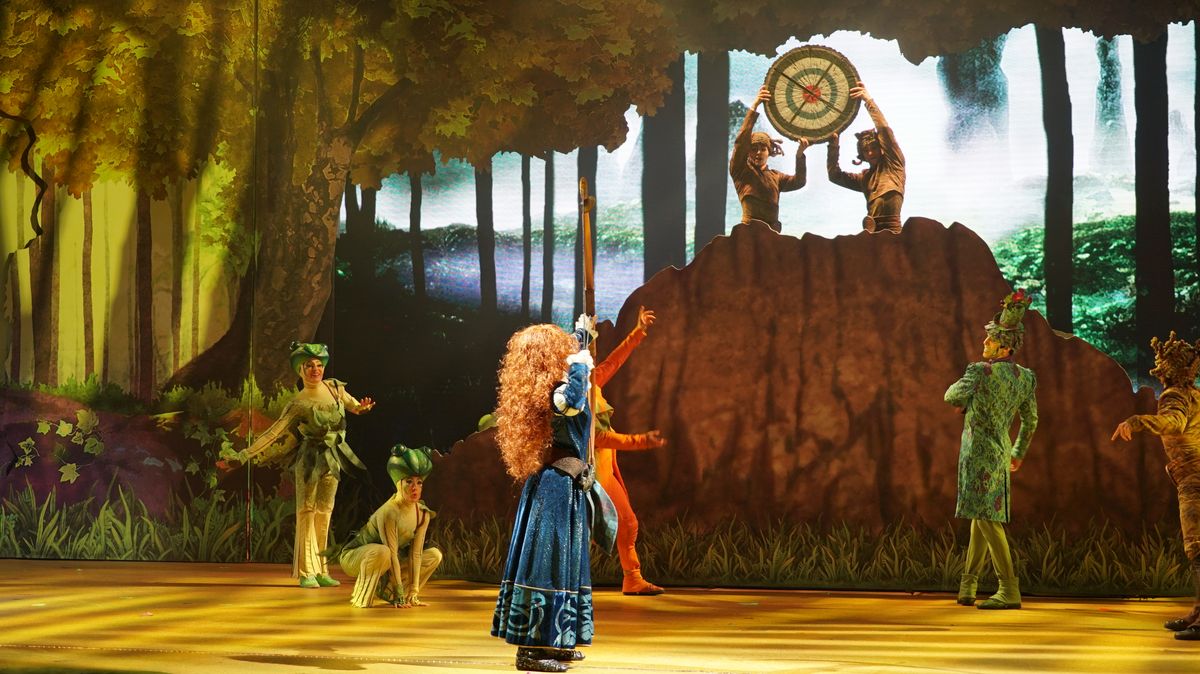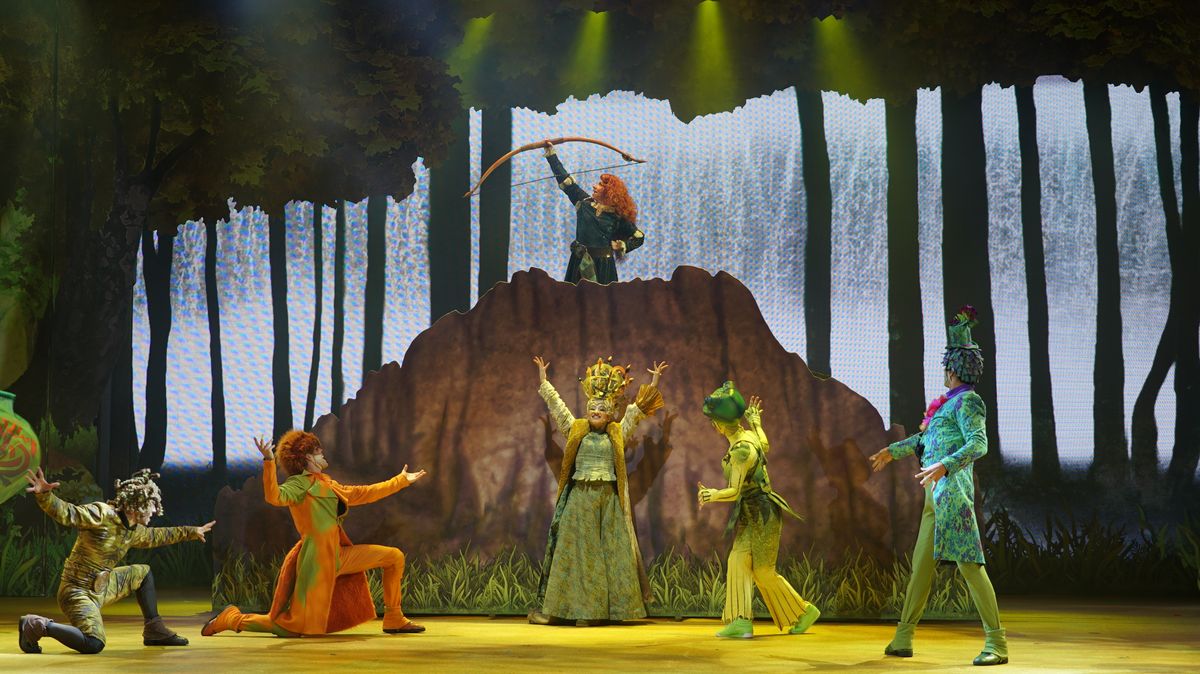 Enfin, le grand final s'enchaine avec Enchantella et ses quatres autres chanteurs reprennent la musique thème du spectacle, entourée d'êtres vivants de la forêt et de personnages Disney. C'est sous cette canopée de feuilles que le spectacle prend fin. Bien que cette séquence soit plus longue, nous notons que c'est bien le seul spectacle sur scène de la destination touristique que nous voyons depuis une semaine la clameur des visiteurs. La volonté de mélanger l'artistique et l'univers Disney a permis à Disneyland Paris de créer un des plus beau spectacle de la destination touristique, malheureusement ce spectacle n'aura été présenté que 2 saisons soit seulement 6 mois en tout. Une chose est sûre, si vous venez à Disneyland Paris jusqu'au 3 septembre, courrez voir se spectacle qui comble salle et public!
Finally, the grand finale connects with Enchantella and his other singers take over the theme music of the show, surrounded by living creatures of the forest and Disney characters. It is under this canopy of leaves that the spectacle ends. Although this sequence is longer, we note that this is the only show on stage of the tourist destination that we see for one week with the most important clamor of visitors. The desire to mix the artistic part and the Disney universe allowed Disneyland Paris to create one of the most beautiful spectacle of the tourist destination, unfortunately this show will have been presented only 2 seasons, only 6 months in all show. One thing is for sure, if you come to Disneyland Paris until September 3rd, run to see the show that fills theater and of joie the audience!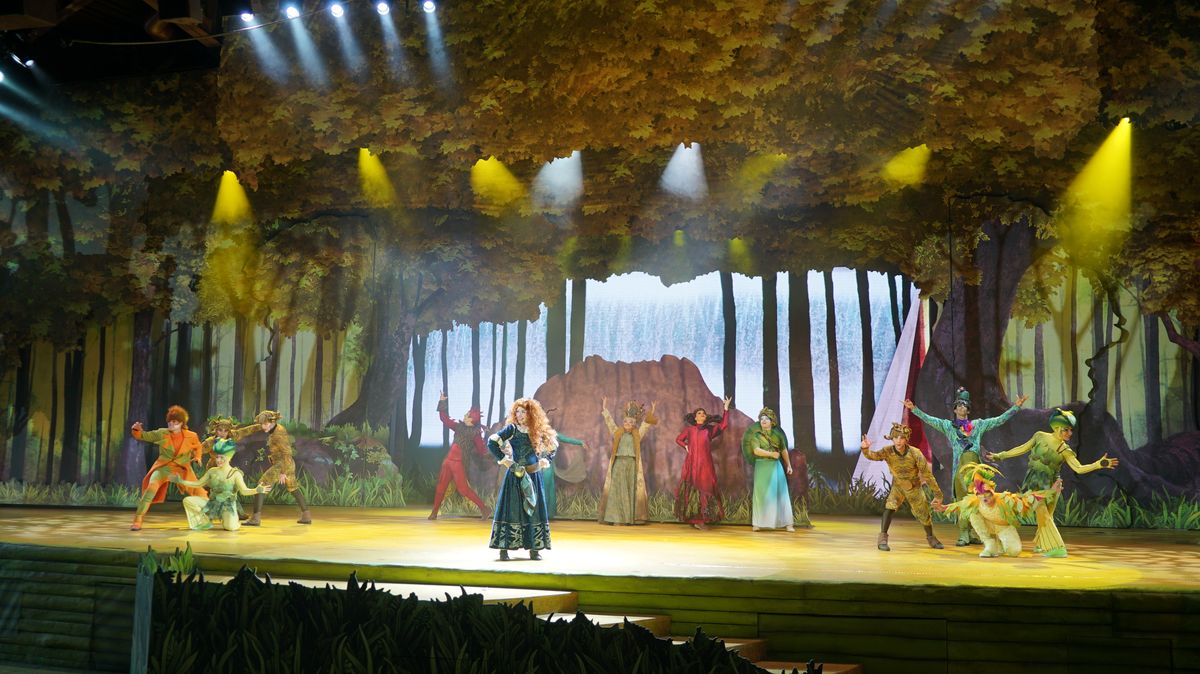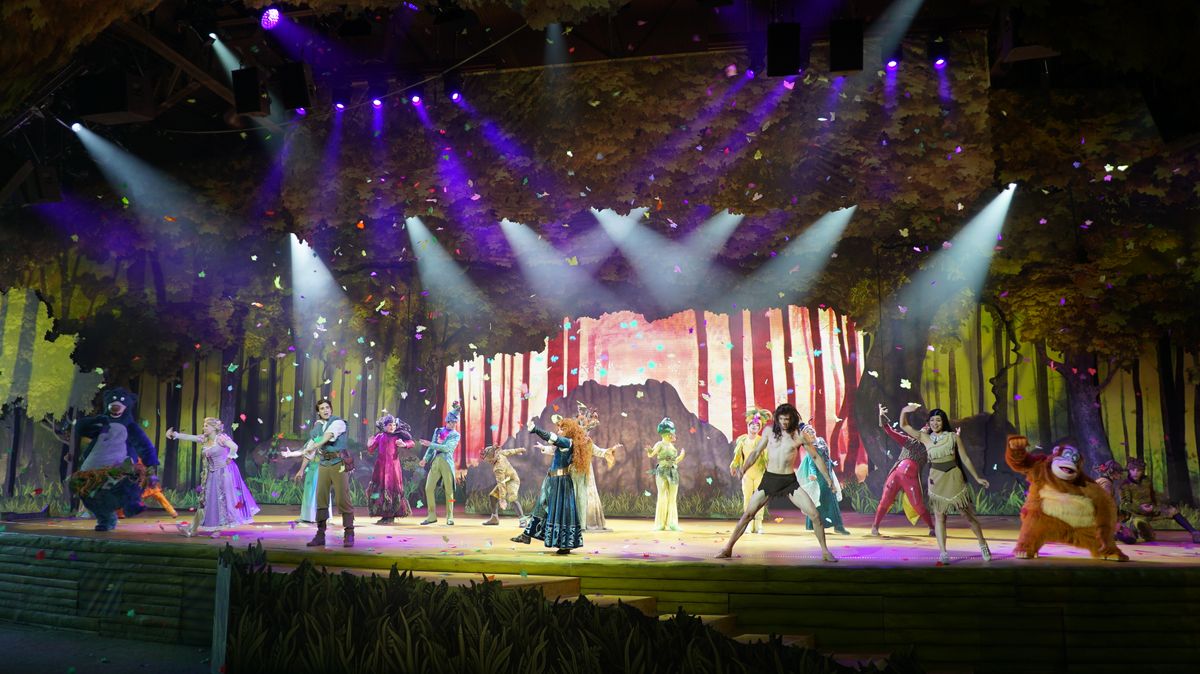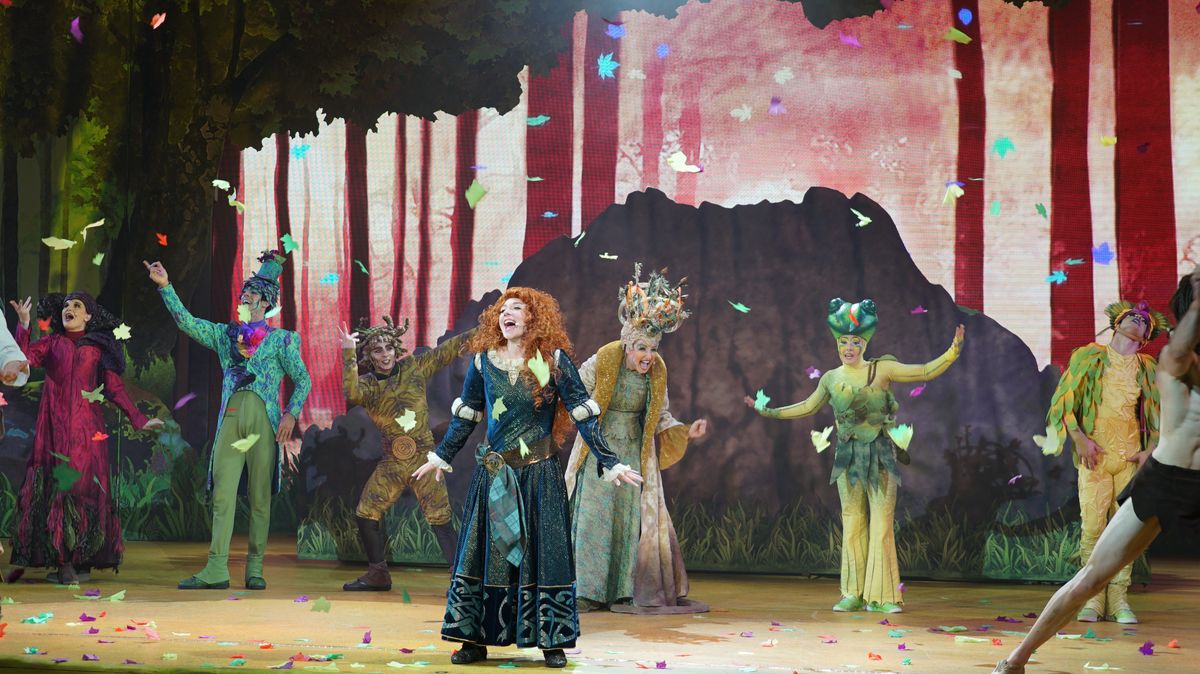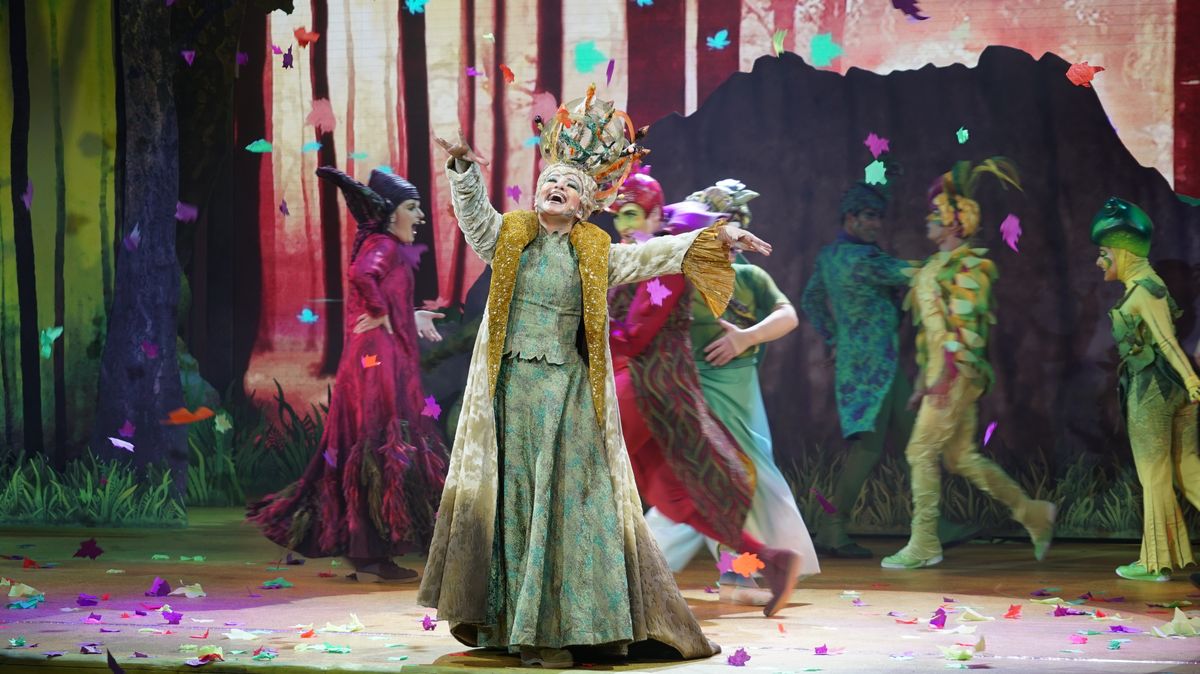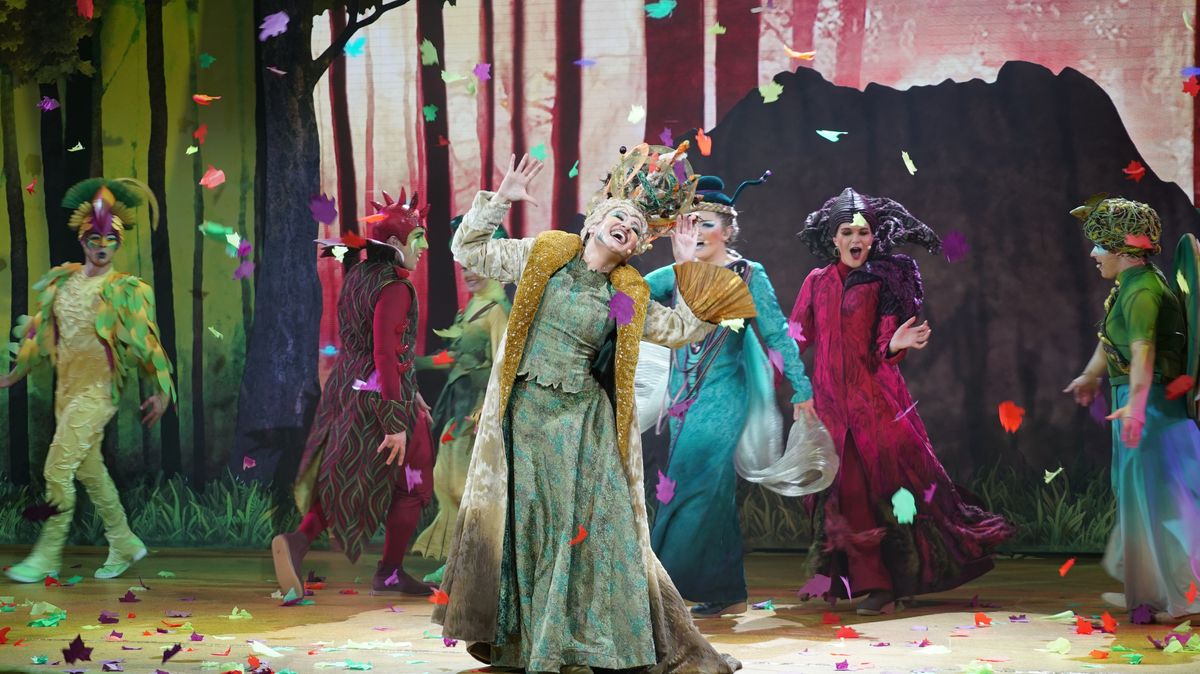 Découvrez le spectacle en vidéo dans sa nouvelle version 2017 :
Discover the video show in its new version 2017:
En sortant du théâtre, n'hésitez pas à vous rafraîchir avec le granité à la pomme !
When you get out of the theatre, cool off you with the apple slush !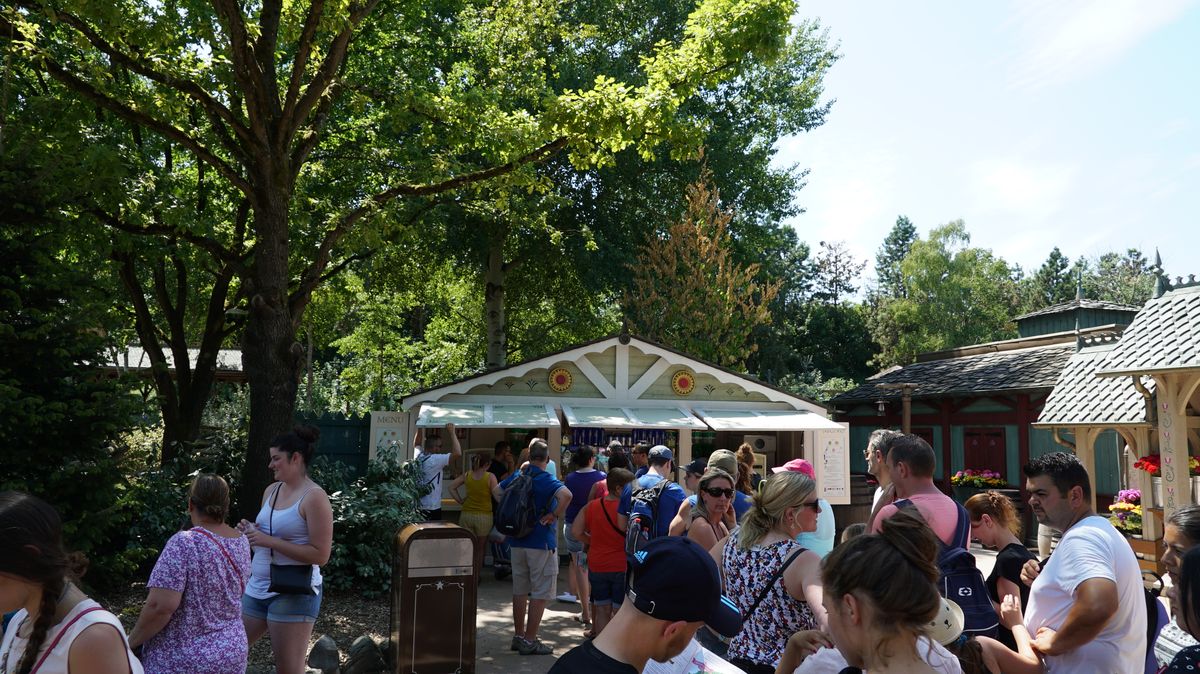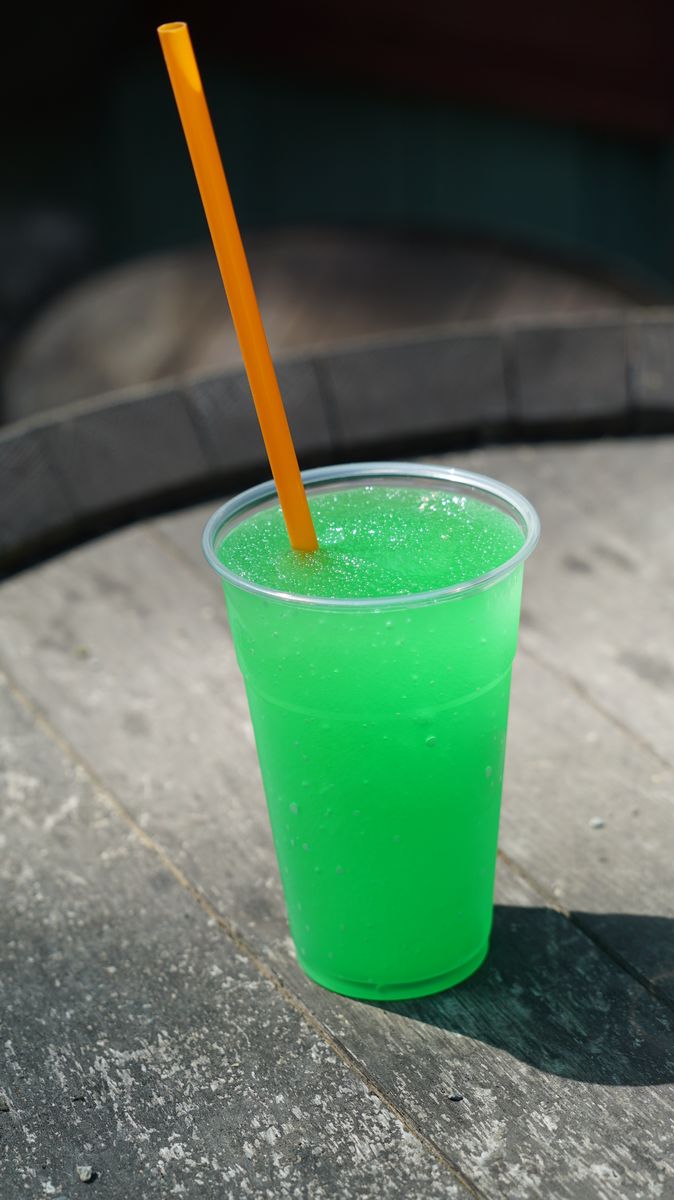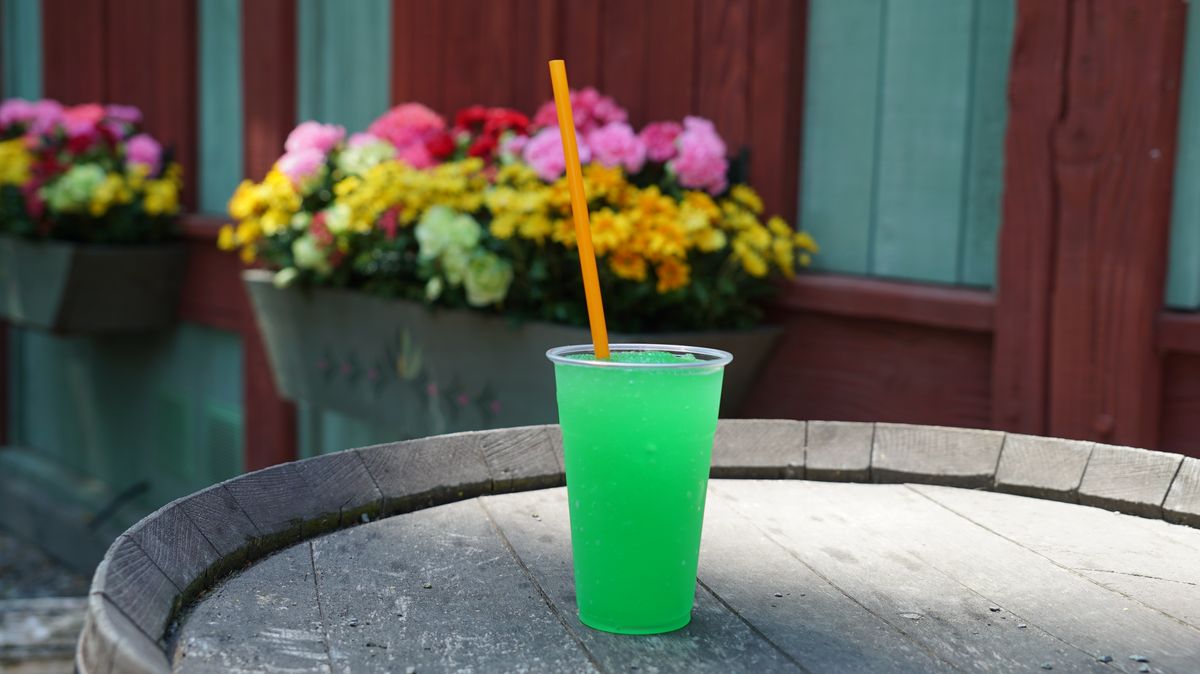 Aviez-vous lu? Did you read it?
Disneyland Paris propose depuis le lancement de ses festivités, le livre « Disneyland Paris de A à Z ». Ecrit en français et en anglais. Il permet de découvrir demi-heure par demi-heure les métiers qui interviennent chaque jour pour faire vivre le parc. Avec plus de 200 pages, c'est la lecture idéale pour vos fins de soirées.
Disneyland Paris offers since the launch of its 25th festivities, the book « Disneyland Paris from A to Z ». Written in French and English. It allows you to discover half hour by half hour the trades that take place every day to make live the park.
With more than 200 pages, it's the perfect reading for your evenings.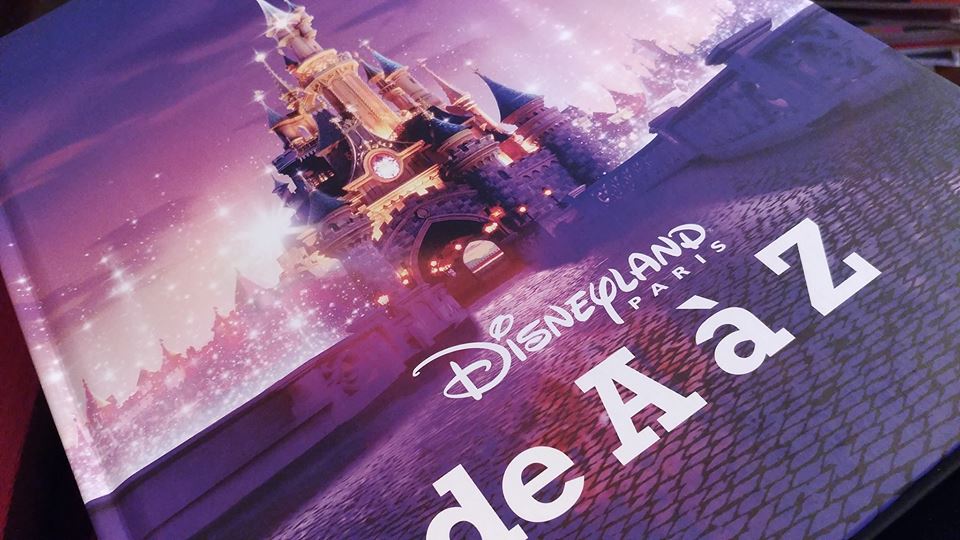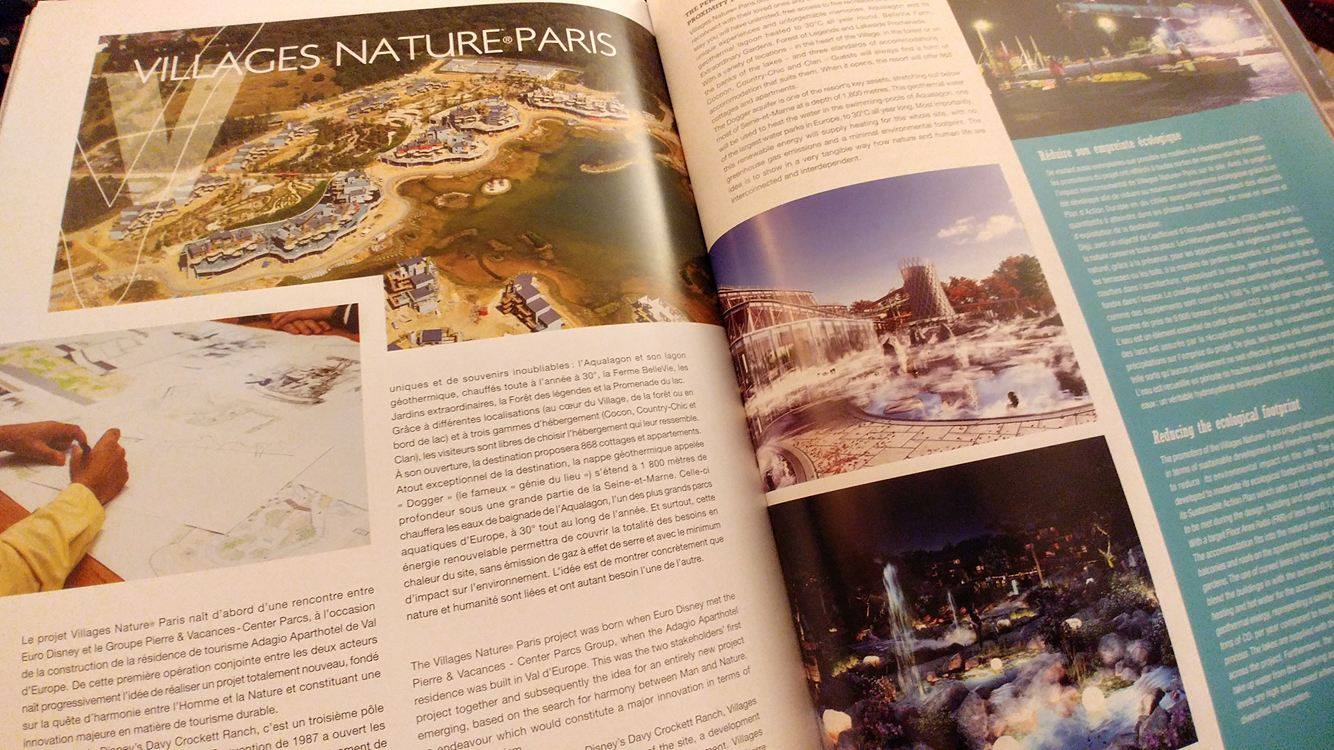 Venez (re)découvrir un paysage familier dans ce livret aux façades de Main Street U.S.A. révélant leurs histoires.
Come (re) discover a familiar landscape in this booklet of the facades of Main Street USA revealing their stories
https://www.etsy.com/shop/MainStory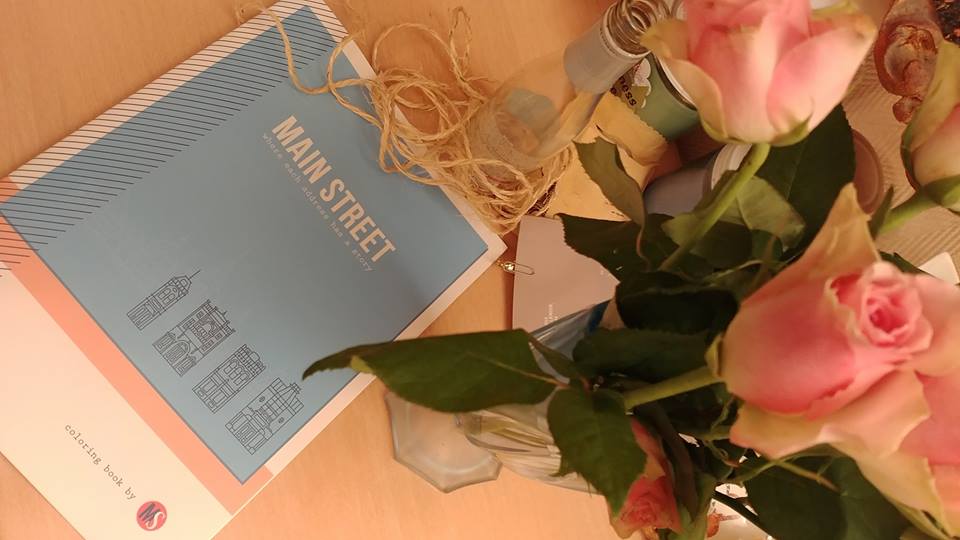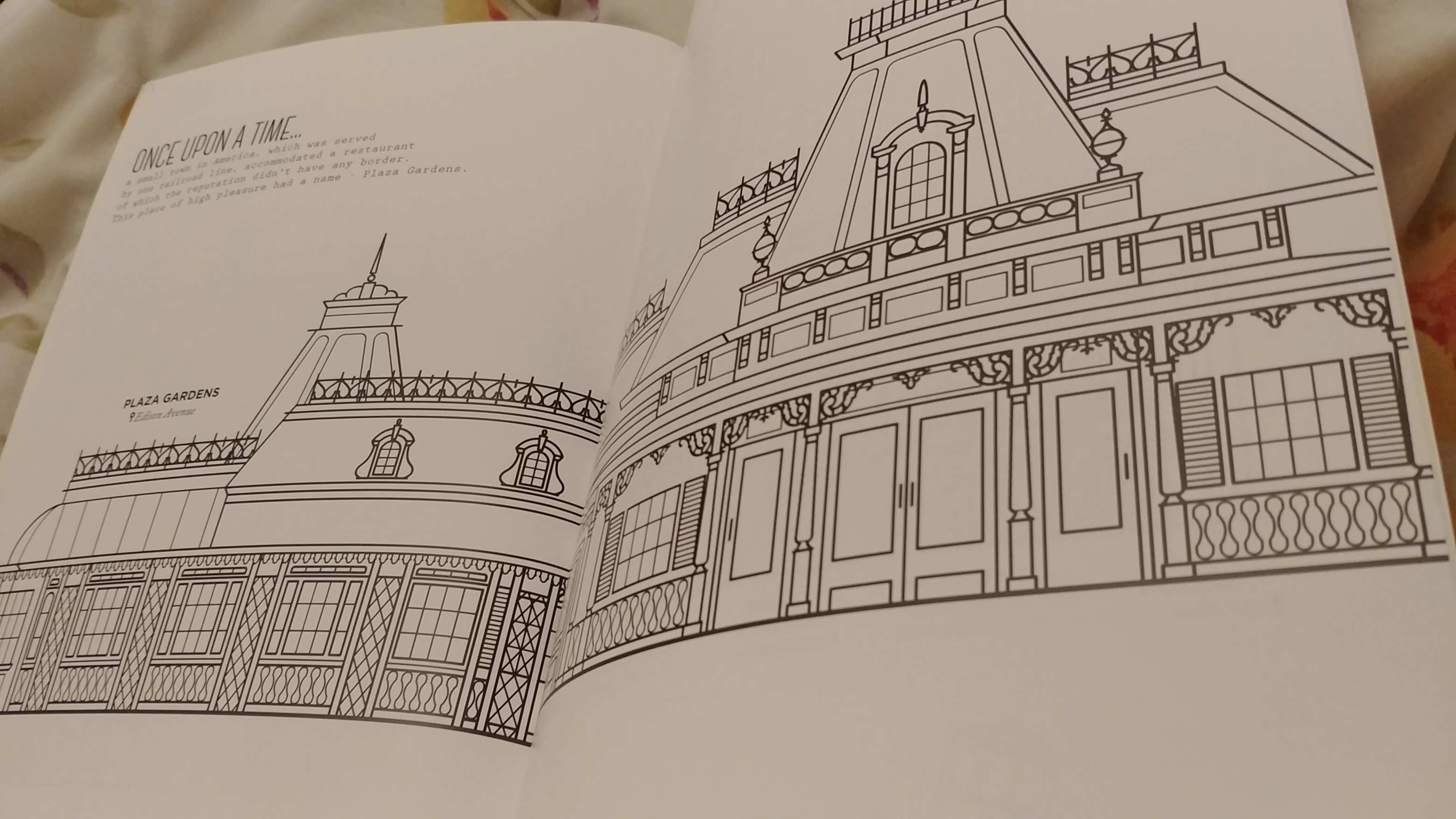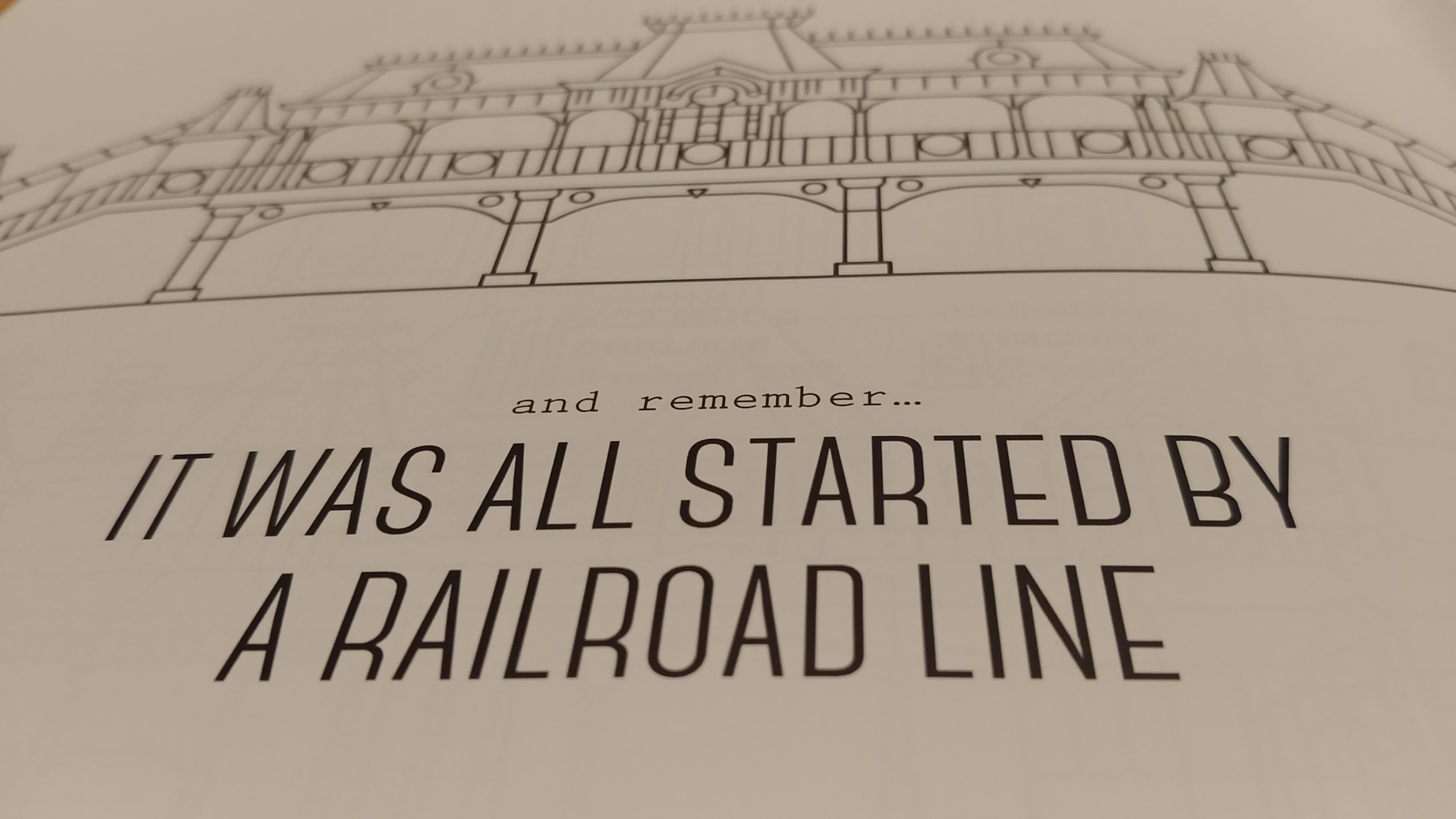 Rejoignez-nous sur /Join and follow us on :
– Facebook
– Twitter
– Instagram
Merci de votre fidélité.
A bientôt !
Thank you for your loyalty.
See ya real soon !