Bonjour à tous, voici l'actualité de la saison d'Halloween passée et de Noel qui vient de débuter
Hello everyone, here are the news of the past Halloween season and Christmas that has just started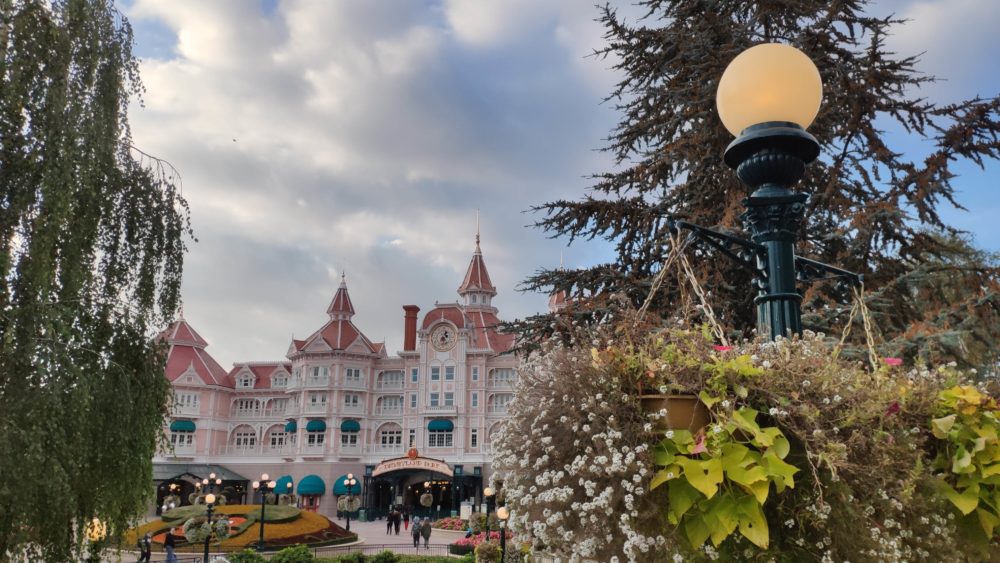 Nous revenons sur la saison d'Halloween, Particulière en raison de la pandémie mondiale du COVID. Mais on ne change pas les habitudes, les décorations sont de retours comme les autres années, que l'on aime ou non, ça fait du bien !
We look back at the Halloween season, special due to the global COVID pandemic. But we do not change what works, decorations are back like other years, whether we like it or not, it feels good!
Côté Entertainment c'est là où l'on retrouve le plus de changement.
L'offre a été améliorée par rapport à 2020, année où Halloween était extrêmement diminué !
Les rencontres de personnage se font de manière limitée et surtout aléatoirement. Le Happening sur le théâtre du château a été retiré.
On the entertainment side, this is where it change the most.
The offer has been improved from 2020, when Halloween was drastically reduced!
Character encounters are limited and mostly random. The Happening in the castle theater has been withdrawn.
Happening :
Côté Parade, malgré les installations sur les scènes de Central Plaza pour le Show Stop, la première moitié de la saison n'a pas vue l'ombre d'une parade mais des défilés aléatoires composés d'un seul char. Des limites surement imposées par les institutions du gouvernement Français. Des restrictions qui sont tombées au bout de la seconde moitié de la saison, soit le 23 octobre, Disney a eu l'autorisation de faire des défilés. Ce dernier est composé de tous les chars de la parade d'halloween avec nombre restreint de personnage et surtout de l'absence de danseurs. Une initiative pour un retour très progressif de l'offre de la destination.
On the Parade side, despite the installations on the stages of Central Plaza for the Show Stop, the first half of the season did not see the parade but rather random parades made up of a single float. Limits surely imposed by the institutions of the French government. Restrictions was down after the second half of the season Oct. 23, where Disney is permitted to do parades. The latter made up of all the floats from the Halloween parade with a small number of characters and especially the absence of dancers. An initiative for a very gradual return of the destination's offer.
Parade :
Le 23 octobre était également le retour du Spectacle « Le Roi Lion et les Rythmes de la Terre ». L'occasion pour Disney de proposer un nouveau produit, l'accès garanti, qui, pour 15 euros par personne et par représentation vous garantit l'accès à la salle de spectacle sans attendre avec une entrée 15 minutes avant le début du show.
October 23 was also the return of « The Lion King : Rhythms of the Pride Lands » Show. The opportunity for Disney to offer a new product, Guaranteed Access, which, for €15 (with tax) per person and per performance, guarantees you access to the performance hall without waiting and to enter 15 minutes before the beginning of the show. After the Premier Access (FastPass Payment) it's now the Show with Guaranteed Access
Côté Soirée Halloween, cette année encore la qualité a diminué, pour 89€ par personne vous avez 3 DJ party, une dizaine de points de rencontres personnages et…. Rien de plus !
Depuis 2011, nous ne faisons plus de soirée Halloween car les prix ne font qu'augmenter et l'offre diminuer scandaleusement.
Pour Rappel en 2011: La soirée était de 35€ pour une parade d'halloween spéciale, une parade l'électrique, un feu d'artifice conçu spécialement pour l'occasion, deux différents spectacles d'halloween créés pour l'événement et des comédiens dans tout le parc, des personnages et en plus des ambiances lumineuses.
Voilà ce qui a disparu, une vraie soirée !
Mais les choses pouvant évoluer, le jour ou Disneyland Paris fera des soirées à la hauteur de celles des parcs américains (avant covid) alors là, oui on reviendra. Pour l'heure, l'offre de la soirée Halloween de Disneyland Paris est juste une honte depuis plusieurs années à la vue du prix.
The Halloween party : this year again, the quality has decreased, for €89 (with tax) per person you have 3 DJ parties, ten character meeting points and…. Nothing more !
Since 2011 we no longer have Halloween parties because the prices keep increasing and the offer decreases shockingly.
As a reminder in 2011: The evening was 35 € for a special Halloween parade, an electric parade, a fireworks created for the evening, two different Halloween shows for the event and actors throughout the park, characters and in addition to the light atmospheres.
This is what has disappeared, a real evening!
But things may change, the day Disneyland Paris will have evenings as the American parks (before covid) so there, yes we will be back. For now, the Disneyland Paris Halloween party offer has been just a disgrace for several years given the price.
Pour cette saison de noël qui s'achèvera le 9 janvier 2021, Disney a pu enfin lancer sa nouvelle parade de noël prête depuis la saison 2020 qui n'avait pu avoir lieux à cause du confinement.
For this Christmas season, which will end on January 9, 2021, Disney was finally able to launch its new Christmas parade ready for the 2020 season which could not take place due to the confinement.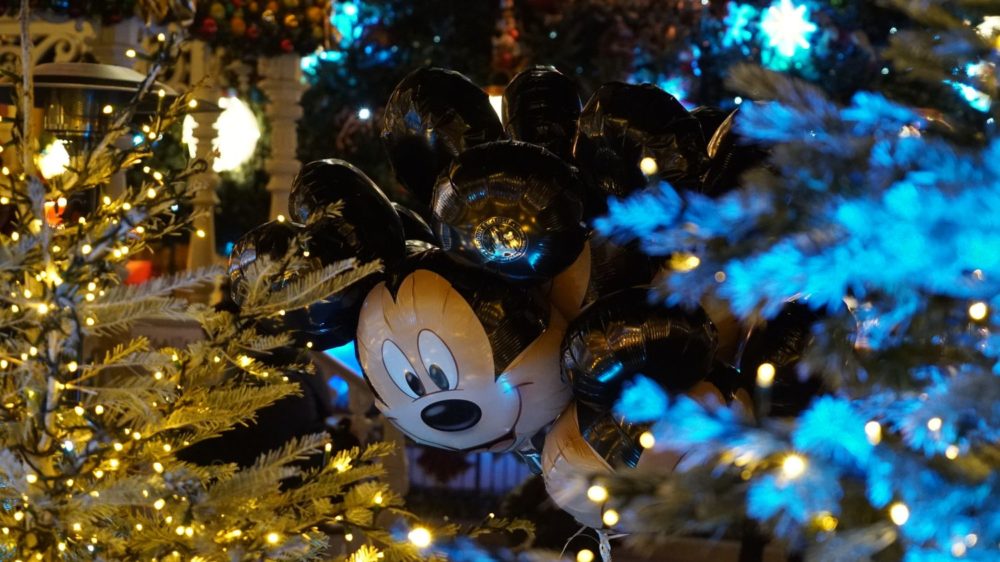 Cette Parade est l'exemple même de la réussite créative et de l'exécution !
Absolument tout fonctionne, les couleurs, la musique, les choix des personnages, les costumes, les chars ! Tout absolument tout !!
Et grande surprise, absolument rien ne provient de Tokyo Disney Resort ! Enfin des moyens ont été donnés pour une production maison « made in Paris ».
This Parade is the epitome of creative success!
Absolutely everything works, the colors, the music, the choice of characters, costumes, floats! Everything absolutely everything works!!
And great surprise, absolutely nothing comes from Tokyo Disney Resort! Finally, resources have been provided for a house production « made in Paris ».
Parade version – by day
Mais aussi beau soit ce défilé certaines choses peuvent être perfectible.
Les Show Stops ont eu de grosses difficultés techniques au lancement de la parade dans leur version « Nuit », surement dû à une vétusté de certains équipements en régies qui n'ont pas suivi le bon technologique du nouveau défilé.
But as beautiful as this parade is, some things can be improved.
The Show Stops had great technical difficulties when launching the parade in their « Night » version, probably due to the obsolescence of certain equipment in the control room which did not keep up with the technological development of the new parade.
A la suite des aléas technique, les show stop ont été retirés pendant 3 jours. C'est là que l'on se rend compte que le défilé va très vite en réalité quand il y a les spectacles. La parade sans arrêt, défile plus lentement ce qui nous permet d'admirer les costumes, les différentes chorégraphies des danseurs et les chars. C'est simple, on a préféré la parade sans le show stop permettant de l'admirer !
Pourquoi ? Les show Stop sur central Plaza ne permettent pas aux visiteurs de voir tout le défilé car les chars se divisent en deux groupes en arrivant sur la place et le temps prit pour faire un spectacle se répercute immédiatement sur le temps de roulage de la parade. Les chars roulent donc plus vite. Cela dit cette nouvelle parade qui ne sort que deux fois par jour a, une version jour et une version nuit. Si les show stops de jour comme de nuit sont les même sur Central Plaza, sur Town Square ils diffèrent. De nuit le Show Stop sert à illuminer le sapin de noël.
Cette ruse permet donc de ne plus avoir de show purement dédié au sapin mais uniquement des petits Happening lancés aléatoirement quand il n'y a plus la parade en soirée.
Following technical issues, the show stops were withdrawn for 3 days. This is where you realize that the parade actually goes very quickly when there are no shows. The parade without stopping, parades more slowly which allows us to admire the costumes, the different choreography of the dancers and the floats. It's simple, we preferred the parade without the show to admire it!
Why ? The Stop shows in central Plaza do not allow visitors to see the whole parade because the floats split into two groups when they arrive in the square and the time taken to put on a show immediately affects the running time of the parade. The floats therefore roll faster. Having said that, this new parade, which only comes out twice a day, has a day version and a night version. If the daytime and nighttime show stops are the same on Central Plaza, on Town Square they are different. At night, the Show Stop is used to illuminate the Christmas tree.
This ruse therefore makes it possible to no longer have a show purely dedicated to the Christmas tree, but only small Happenings launched randomly when there is no longer the parade in the evening.
Parade Version – by nigt
Vous comprendrez que vous pouvez donc voir la parade sous deux visages, de jour et de nuit avec des éclairages complétements différents !
Mais ce qui serait l'idéal pour les visiteurs c'est de voir sortir la parade au moins 3 fois sans Show Stop, comme avant l'arrivée de la pandémie et éventuellement sortir une fois les chars seulement sur Town Square pour illuminer le Sapin de noël.
Car oui ce n'est pas parce qu'il y a la possibilité d'avoir un show stop que le visiteur s'en sortira forcément gagnant de cette offre « amélioré ». Dans les faits un visiteur sur central Plaza ne pourra pas voir la parade en une fois et les chars roulent vite car la parade ne peut excéder un temps de sortie. Personne n'est vraiment gagnant dans cette histoire sauf si la parade reste uniquement en mode « parade » et non « parade + show Stop ».
You will understand that you can therefore see the parade under two version, day and night with completely different lighting!
But what would be ideal for visitors is to see the parade at least 3 times without a Show Stop, as before the arrival of the pandemic, and possibly leave the floats once only on Town Square to illuminate the Christmas tree.
It is not because there is the possibility of having a show stop that the visitor will necessarily come out on top of this « improved » offer. In fact, a visitor to central Plaza will not be able to see all the parade and the floats roll quickly because the parade cannot exceed the ending time. No one is really a winner in this story unless the parade stays only in « parade » mode and not « parade + show stop ».
Parade with Princesse Show Stop
Quoi qu'il en soit cette parade de noël est une merveille ! 4 jours après ma visite j'ai toujours la musique en tête et les images colorés des chars. Mais malgré que la parade soit prête depuis plus d'un an, le merchandises et CD de musiques ne suivent pas.
Malheureusement mise à part 2 objets de collections (pour être sûr que ça se vendent comme les clefs Disney) rien n'est sorti. Le manque d'ambition du département Merchandise continue malgré les années.
Anyway, this Christmas parade is a wonder! 4 days after my visit I still have the music in my head and the colorful images of the floats. But although the parade has been ready for over a year, the merchandise and music CDs do not follow in shops.
Unfortunately, apart from 2 collectibles (to be sure they sell like Disney keys) nothing came out. The lack of ambition of the Merchandise department continues despite the years.
Au Château de la Belle au bois dormant, la rénovation touche à sa fin. Près d'un mois du retrait des échafaudages en hauteur, rien ! Les feux d'artifice ne sont pas de retour. Ce qui est dommage car ça n'a pas empêcher Disney de faire les feux d'artifices de la Bonfire les 2, 4 et 9 novembre 2021! Disney prouve qu'il peut créer un feu, même temporairement en reprenant celui la musique de Mix Magic de Disneyland Resort en Californie. Mais en attendant le retour de Disney Illumination le 21 décembre. Rien ! Même pas en Week-end ! Nous sommes là encore une fois dans des économies alors que l'offre en divertissement manque cruellement et que les parcs sont pleins.
At Sleeping Beauty Castle, the renovation is coming to an end. Almost a month from the removal of the high scaffolding, nothing! The fireworks are not back. Which is a shame because that didn't stop Disney from having the Bonfire fireworks on November 2, 4 and 9, 2021! Disney proves it can create a firework, even temporarily by picking up the music from Mix Magic from Disneyland Resort in California. But while waiting for the return of Disney Illumination on December 21. Nothing! Not even on weekends! Here we are once again in savings as the entertainment supply is sorely lacking and the parks are full.
Bonfire
Au Parc Walt Disney Studios vous trouverez pour la saison uniquement le happening de Donald et Dingo « un noël enneigé » de 6 minutes avant la session photo souvenir dont les visiteurs mettront 1minutes pour comprendre que la partie « show » est terminé.
Encore une fois, on est loin de « Surprise Mickey » et l'absence de « Mickey et le Big Band de Noël » et du spectacle nocturne « L'Incroyable Noël de Dingo ».
On peut se dire que l'on est encore sur une relance progressive… une excuse qui, plus le temps avancera, plus il sera difficile à entendre au vu du prix du billet d'entrée et des fortes fréquentations de la destination.
At Walt Disney Studios Park you will find for the season only one happening of Donald and Goofy « A Funny Snowy Winter » 6 minutes before a souvenir photo session where visitors will take 1 minute to understand that the « show » part is over.
Once again, we are a long way from « Surprise Mickey » and the lack of « Mickey's Christmas Big Band » and the nighttime show « Goofy's Incredible Christmas « .
We can think that we are still on a gradual recovery … an excuse which, the more time goes on, the more difficult it will be to hear in view of the price of the entrance ticket and the high attendance of the Resort.
Pour terminer notre tour de la saison, voici quelques photos et quelques illuminations du sapin lancées aléatoirement.
To end our tour of the season, here are some photos and some Christmas tree illuminations launched randomly.
Vous l'aurez compris ce noël à pour véritable attrait l'ambiance, le lieu et la sublime parade étincelante de Mickey… mais guère plus, cette pandémie impacte la gestion de la destination dont les équipes doivent gérer un véritable casse-tête pour la deuxième destination touristique européenne.
You will have understood that this Christmas has for real attraction the atmosphere, the place, and the Dazzling parade of Mickey … but no more, this pandemic impacts the management of the destination must manage very difficult for the second European tourism site.

Merci de votre fidélité.
A bientôt !
Thank you for your loyalty.
See ya real soon !
Rejoignez-nous sur /Join and follow us on :