Bonjour à tous, voici notre retour sur la saison du printemps lancée officiellement depuis le 1er mars.
Hello everyone, here is our return on the spring season officially launched since March 1.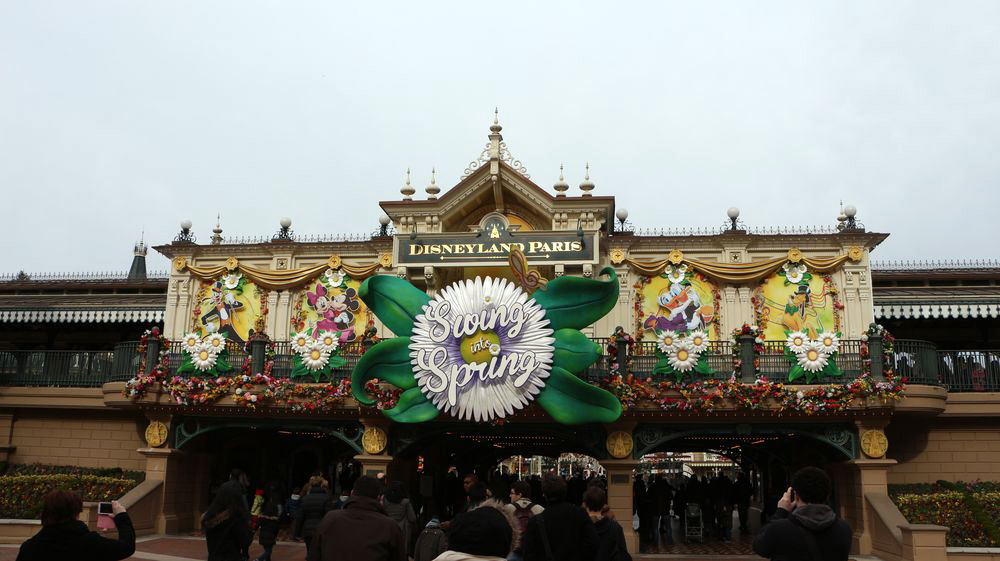 Les décors,
L'entrée par la gare montre des marguerites et notamment une, gigantesques qui, avec ses feuilles laisse percevoir des décors aussi grandioses… ça ne sera pas le cas comme nous le savons. Coté Town Square, rien n'a changé. Coté Main Street U.S.A. seules des marguerites en formes de tête de mickey avec des fanions de couleurs ont été mises en places tous les deux lampadaires, alors que les fleurs et vitrines des bâtiments sont encore thématisés sur noël. Une fois sur Central Plaza et comme sur Town Square, aucun changement. Les fleurs ont été remplacées par des copeaux de bois colorés en raison du climat trop froid et humide. Cela dit, il faut l'avouer, le rendu reste superbe.
The decorations,
The entry by the station shows daisies, and in particular one, gigantic, leaving the idea of other grandiose decorations… it will not be the case as we know. Side Town Square, nothing has changed. Side Main Street U.S.A. only of daisies in shaped of mickey head with pennants of colours are all two lampposts, while flowers and windows of the buildings are still present on Christmas. Once on Central Plaza and as Town Square, no change. This month of March will be without flowers because of the climate too cold and wet. To replace them, the choice was made for colored wood chips. That said, it must be said, the rendering remains superb.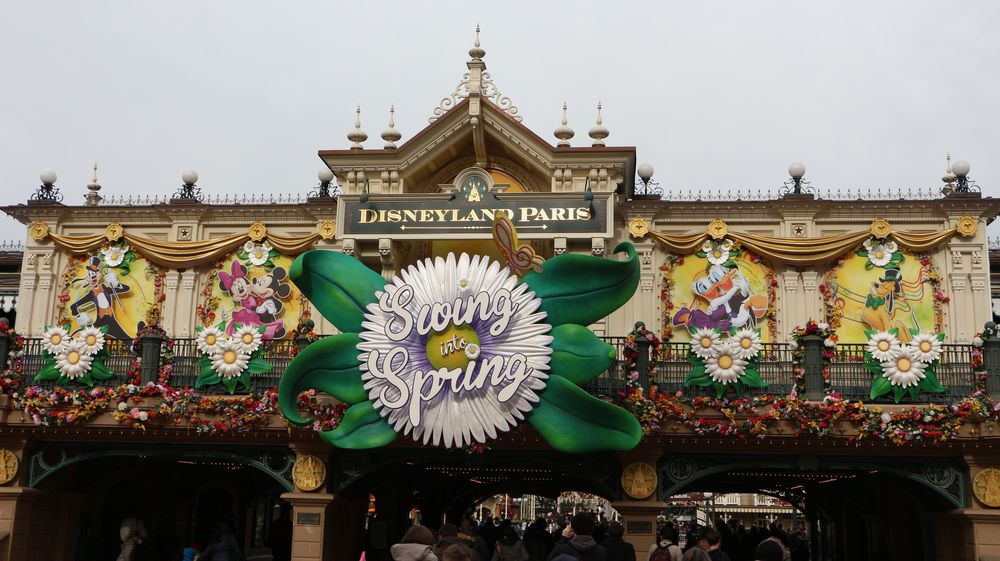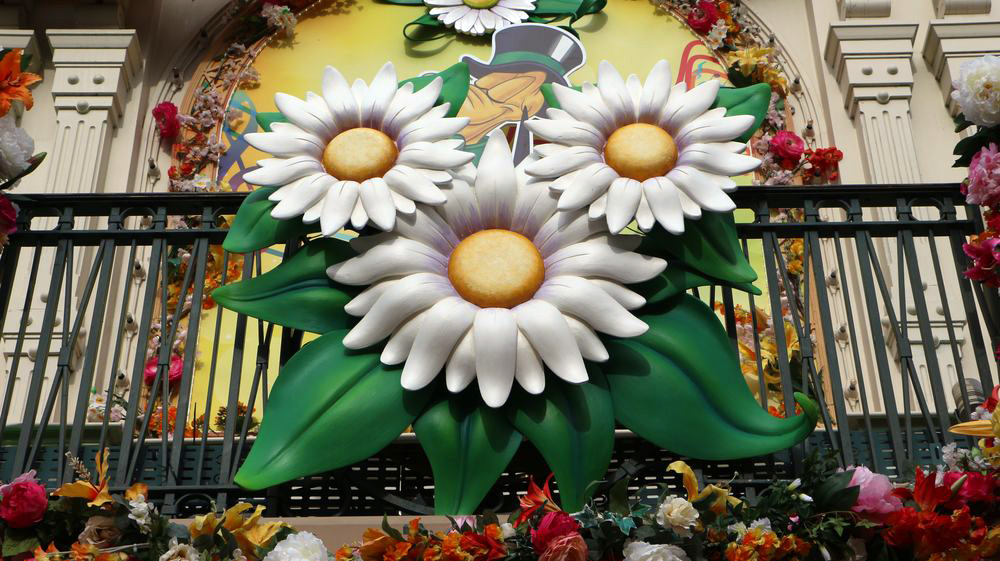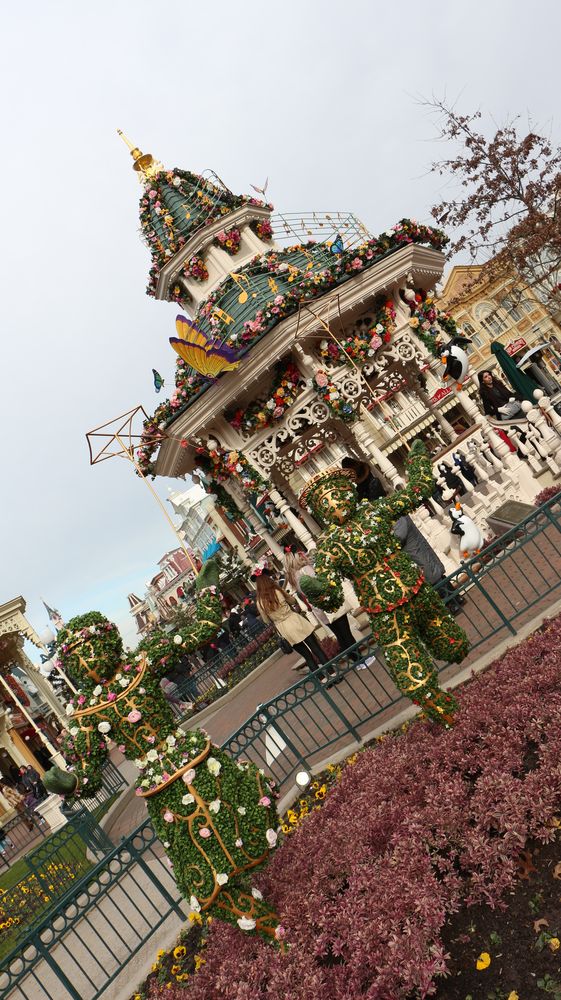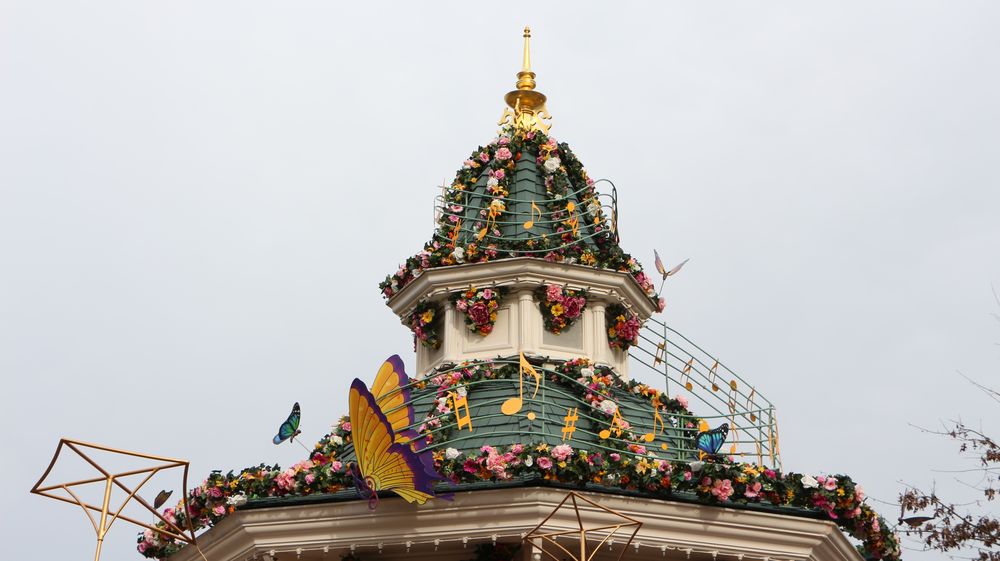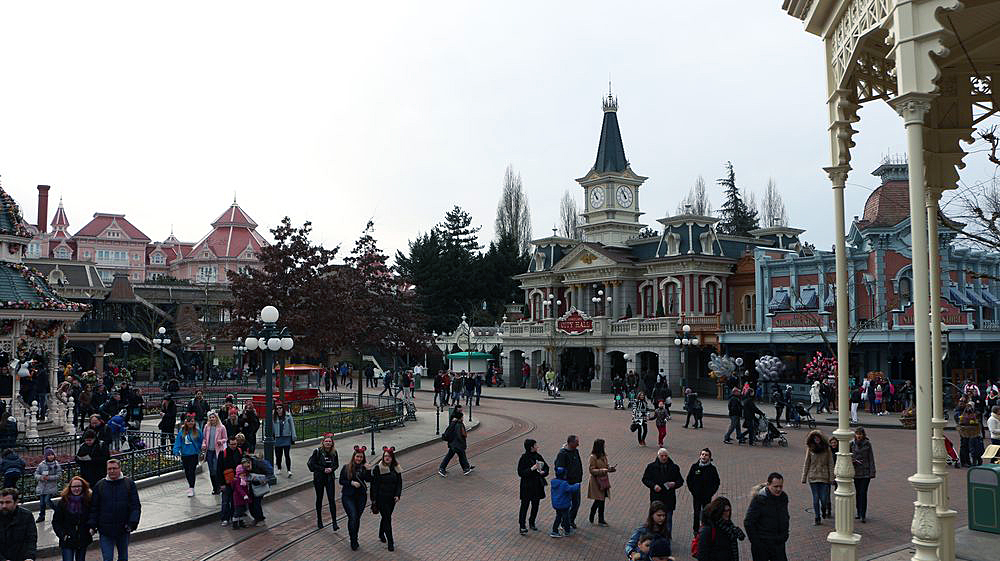 Les points de rencontres sont quand a eux tout aussi sympathiques et ont un véritable succès pour en particulier Miss Bunny et Pan-Pan !
Rien à redire mis à part que cette dernière est un véritable succès et une bonne idée pour ce printemps.
The meetings are when has them also sympathetic and have a real success for particularly Miss Bunny and Thumper!
Nothing wrong except that the latter is a real success and a great idea for this spring.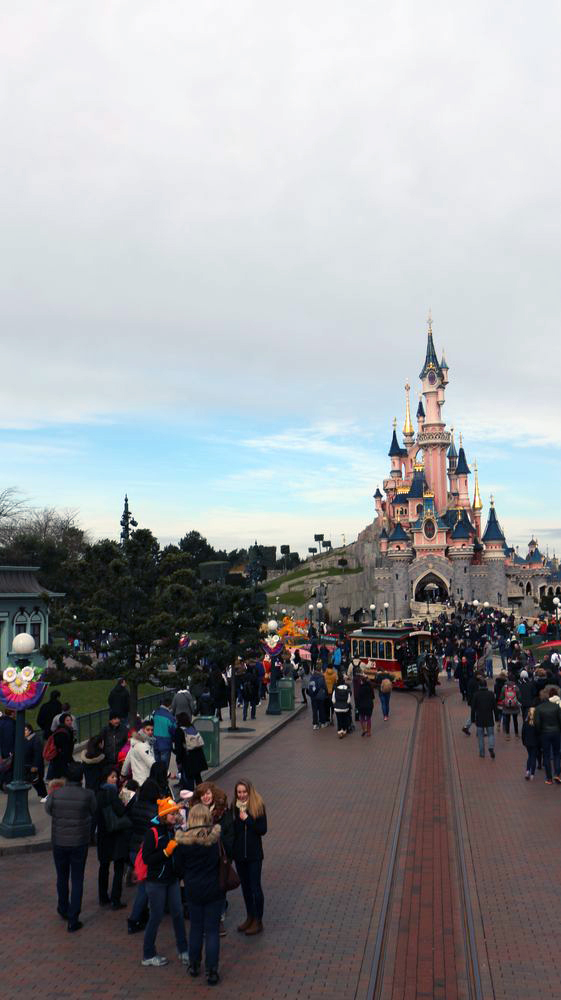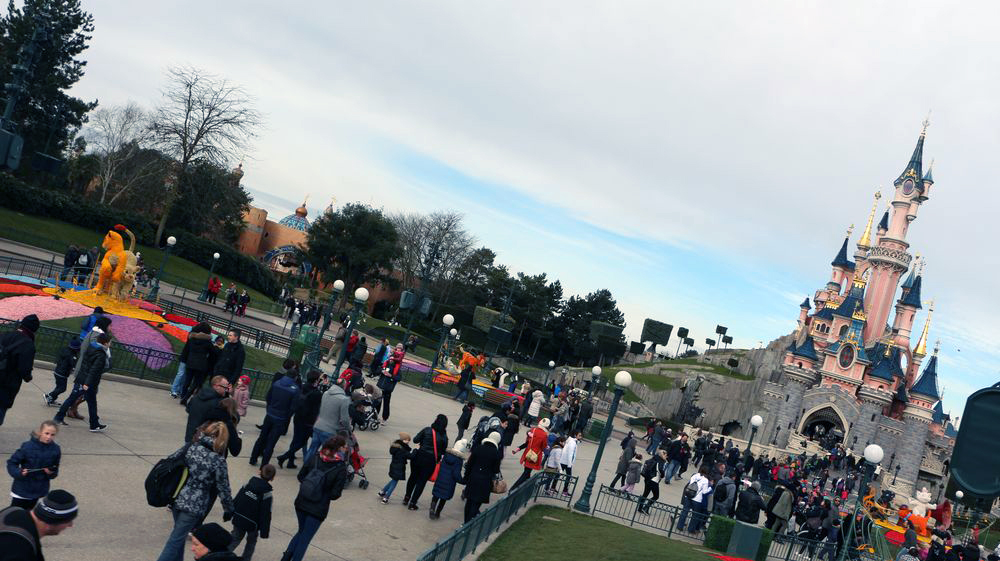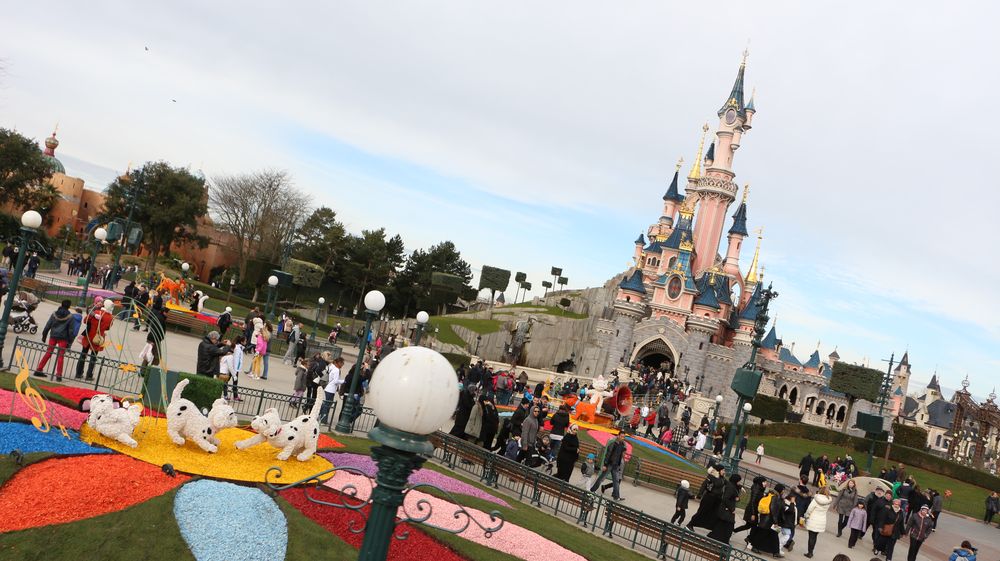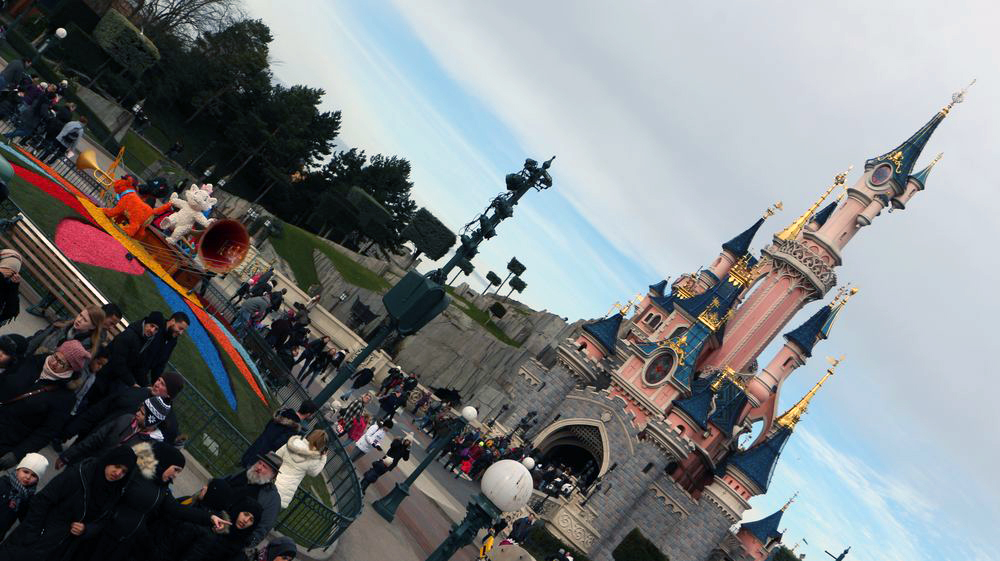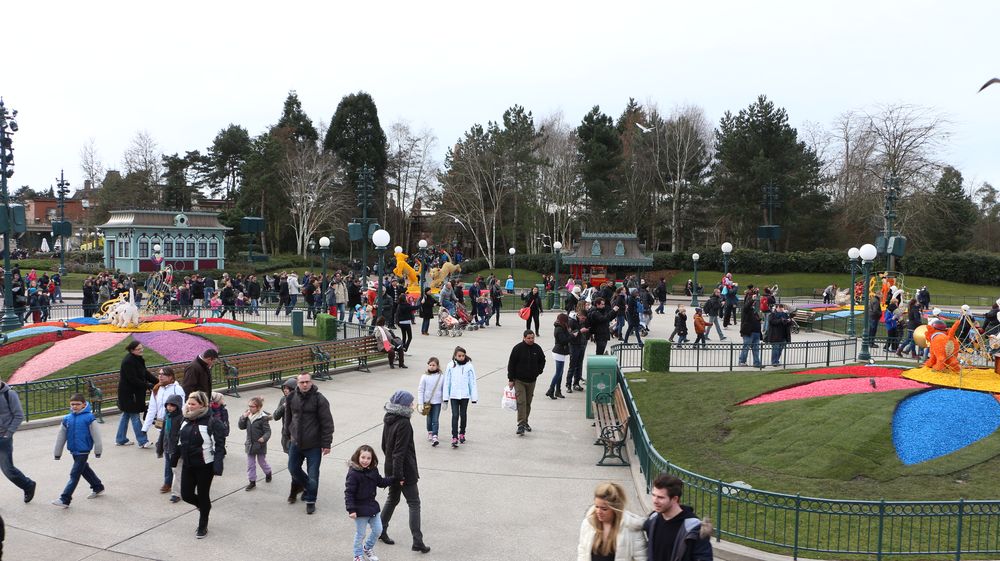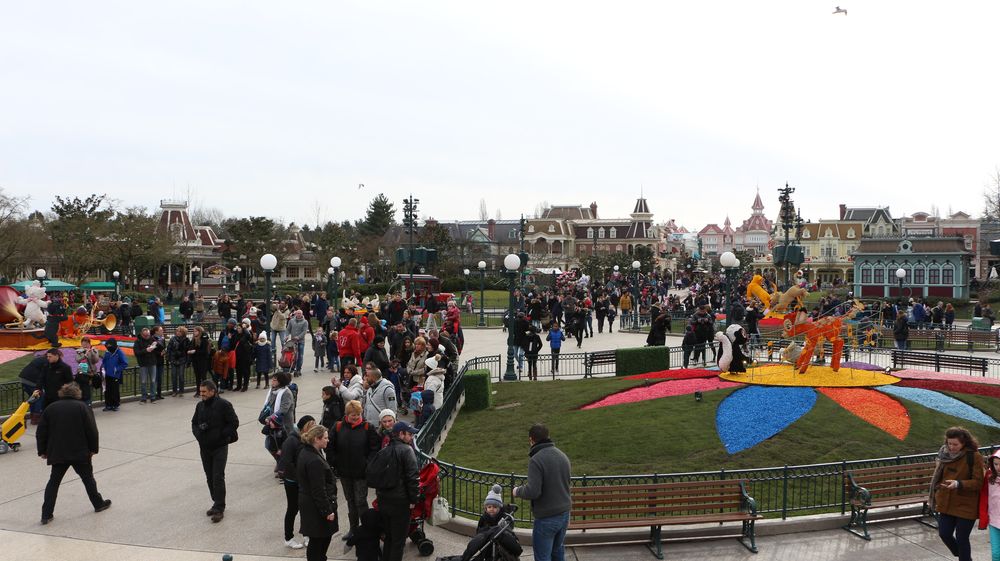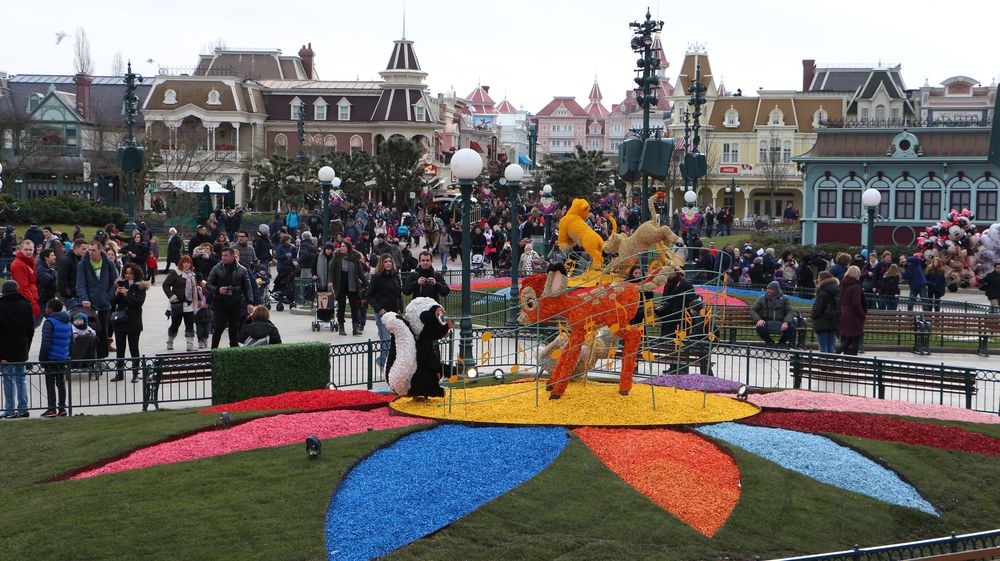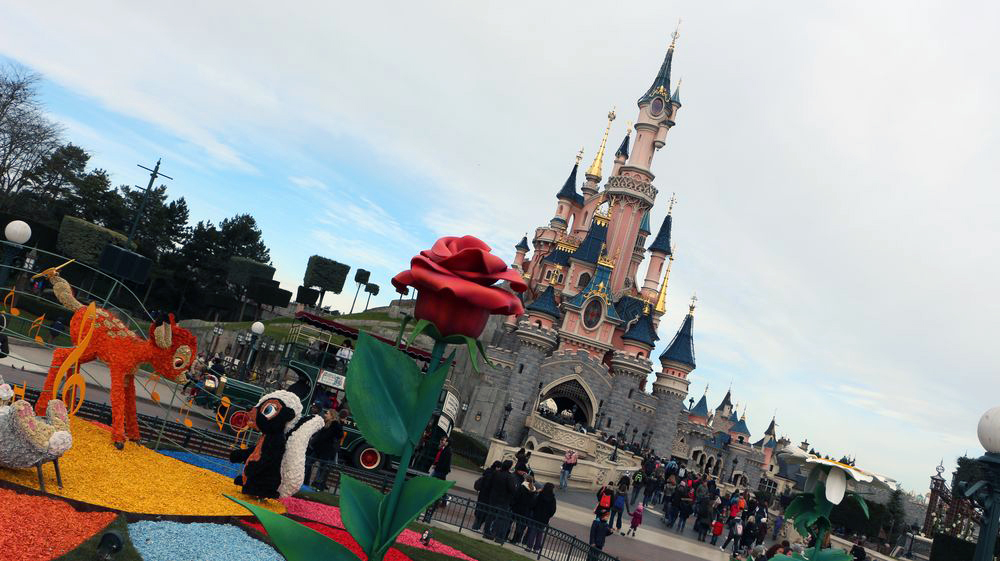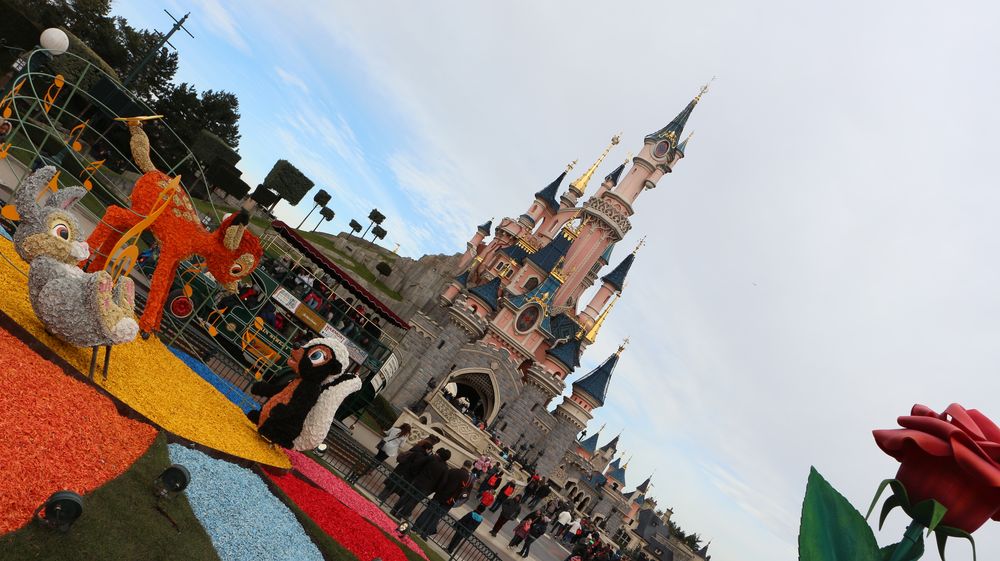 Niveau spectacle, là c'est une déception comparé à l'année dernière, et on n'est pas le seul site à le penser. Soyons clair, pour une famille qui découvre la saison et les spectacles cette année sans référence à l'année dernière ça sera tout simplement un séjour réussi. Mais pour nous, fans qui connaissent Disneyland Paris, l'expérience est en dessous, qualitativement.
The shows, there is a disappointment compared to last year, and we are not the only ones websites to think. Let's be clear, for a family who discovers the season and shows this year without reference to the last year they will be quite simply happy by the successful of the stay. But for us, fans who know Disneyland Paris, the experience is below, qualitatively.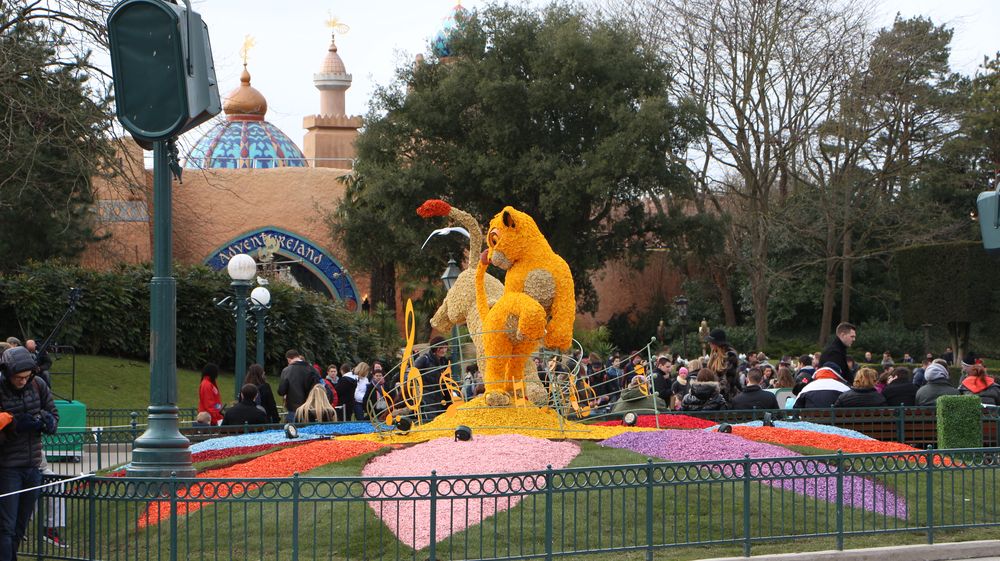 La Garden Party de Dingo !
On a là de nombreux problèmes. Le premier, le podium au centre de Central Plaza. Celui-ci est mis en place une heure avant le début des shows. A notre arrivée les équipes de Guest flow (équipe de gestion de flux de visiteurs à Disney), n'arrêtaient pas de faire signe aux visiteurs de ne pas passer par le centre de la place (normal un visiteur voyant un podium donnant sur le château souhaite se faire prendre en photo dessus). Résultat, après 30 mnutes d'incessants « sur les coté s'il vous plait », la décision radicale fut prise de condamner la place. Par conséquence de 10h40 à 13h et de 14h20 à 16h la circulation était difficile sur Central Plaza (et on ne parle même pas de l'intrusion visuelle de l'arrivée et départ du podium dans le parc). Les départements spectacles et artistiques, ont-ils communiqué avec la branche opérationnelle?
Goofy's Garden Party
There where many problems. The first, the podium at the center of Central Plaza. It is set up one hour before the beginning of the shows. On our arrival, the teams of « Guest flow » (Disney team management flow of visitors ), did not stop to sign visitors do not pass through the center of the square (normal a visitor seeing a podium and wish to take a picture with the castle). Result after 30 minutes of incessant « on the side please », the radical decision was taken to condemn the place. As a result from 10:40am to 01:00pm and 02:20 pm to 04:00 pm traffic was difficult on Central Plaza (and we do not even talk about the Visual intrusion of the arrival and departure of the podium in the Park). The departments of shows and artistic, they contacted the operational branch?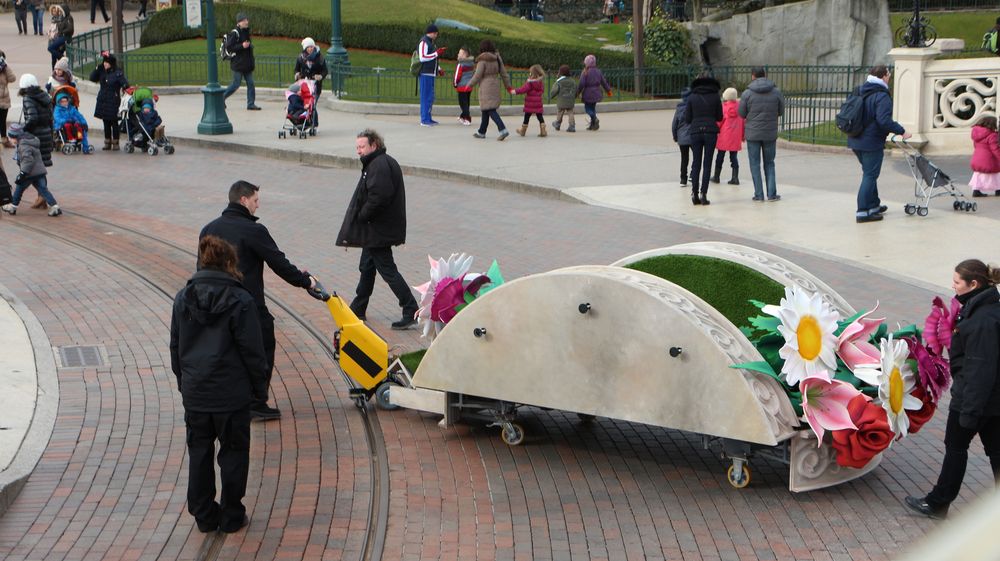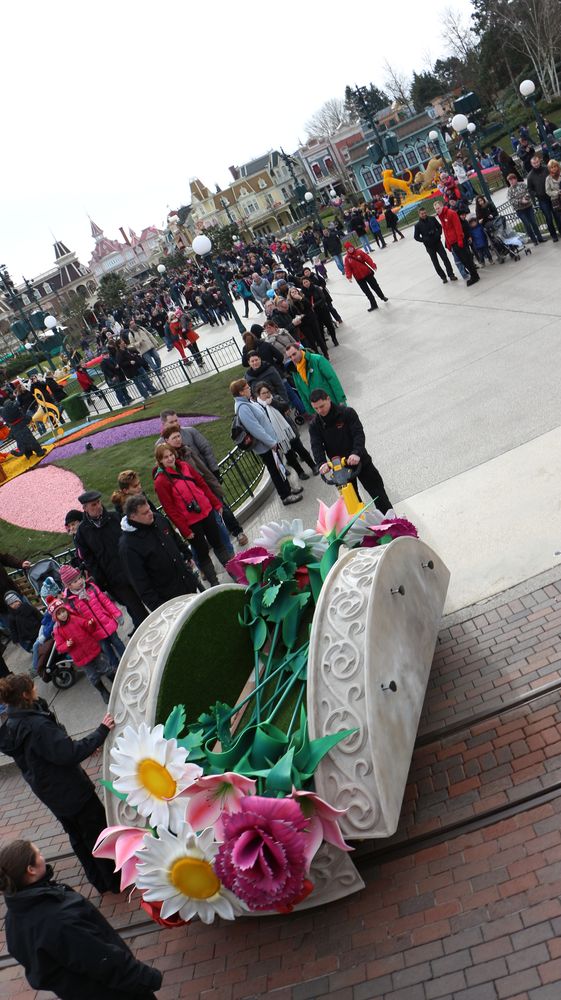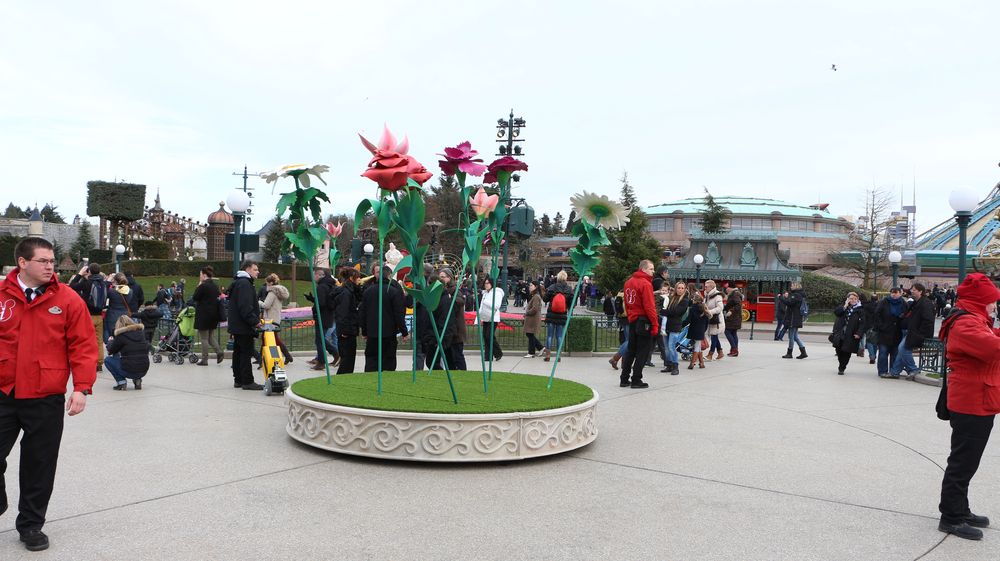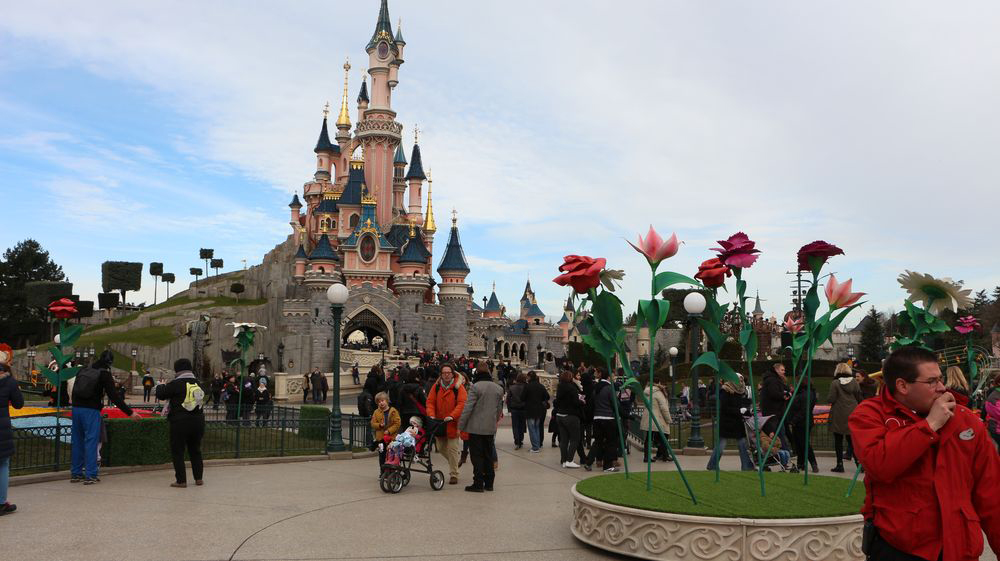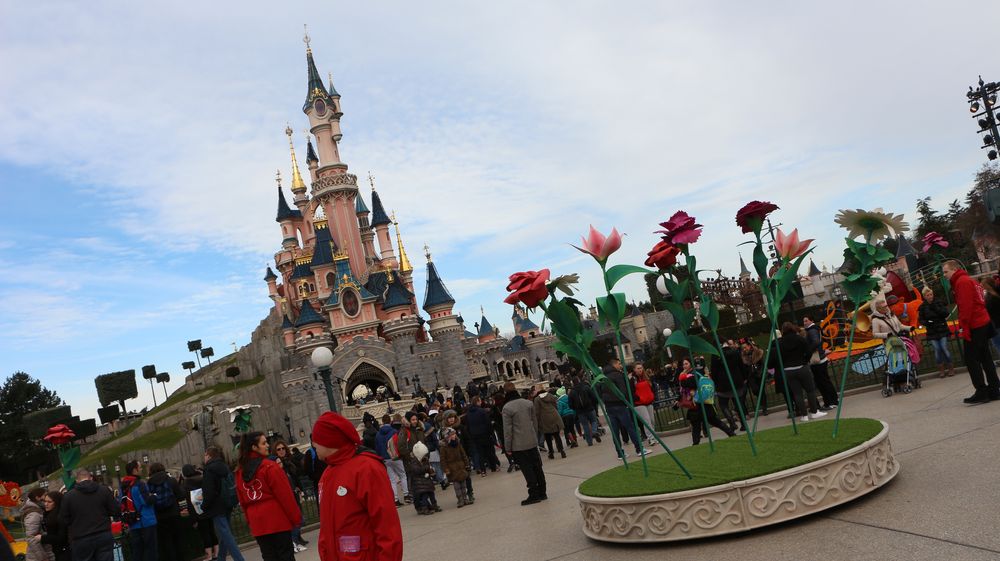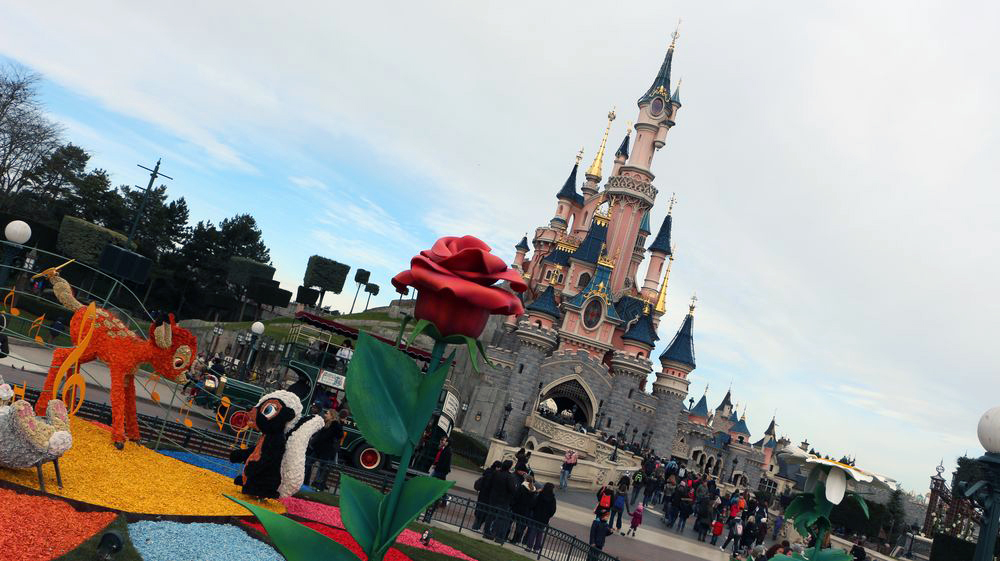 Concernant le spectacle on nous a informés d'un spectacle de 12 à 15 minutes, comme l'année dernière. En réalité ce n'était que de 8 minutes (en restant large). Pourquoi 8 minutes ? C'est très simple, il y a 4 à 5 minutes de mise ne place laborieuse. Un réel sentiment d'amateurisme bien loin des 16 minutes de spectacles fait l'année dernier (sans compter la mise en place).
Le déroulé du spectacle est quant à lui bien différent. Au lancement de la musique « Sring Fever » le spectacle commence au centre de Central Plaza alors que les unités à pieds envahissent les rues. Problème, si on n'est pas dans l'axe du château, on ne vois pas ce début du spectacle qui pourtant est magnifique. Second problème, au lancement de la musique de « Welcome to the world of Spring » pour le Show Stop, le spectacle sur le podium part sur la rue, laissant à ce moment, le centre de central plaza vide et les visiteurs avec une vue de moyenne pour les 4 :45 minutes restantes du spectacle.
For the show we were informed that it was 12 to 15 minutes, like last year. In reality it was only 8 minutes (in being large). Why 8 minutes? It is very simple, 4 to 5 minutes ago of setting up laborious. A real sense of amateurism well away from the 16 minutes of performances made the last year (excluding the setting up).
The unrolled the show is quite different. The launch of music « Sring Fever » the show starts at the centre of Central Plaza while the units to feet arrive the streets. Problem, if we are not in the axis of the Castle, we do not see the beginning of the show in the center that is beautiful. Second problem, the launch of the music of « Welcome to the world of Spring » for the Show Stop, the show on the podium go on the street, leaving at this place, the empty Center of central plaza and visitors with a view of average for the 4:45 remaining minutes of the show (visitor in the center)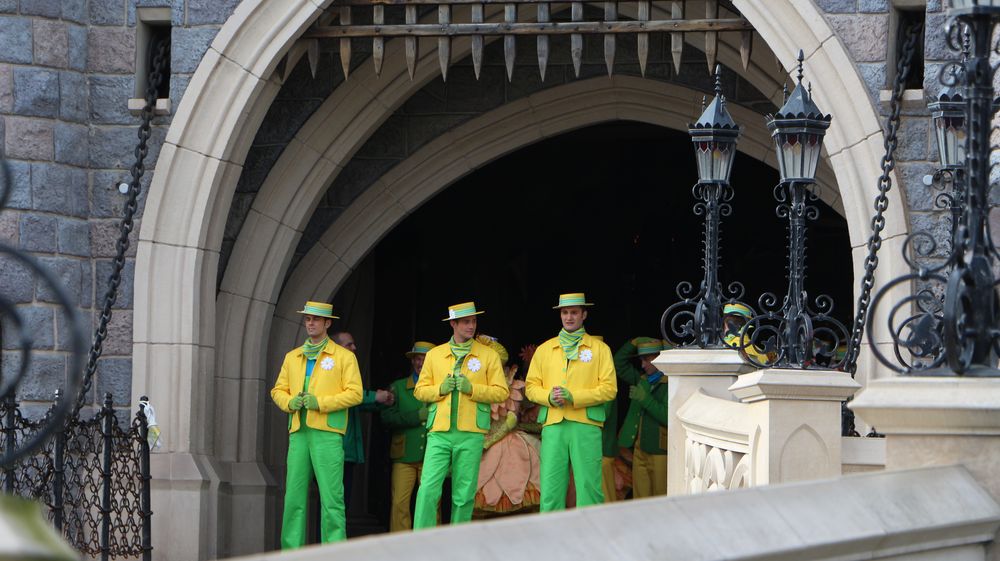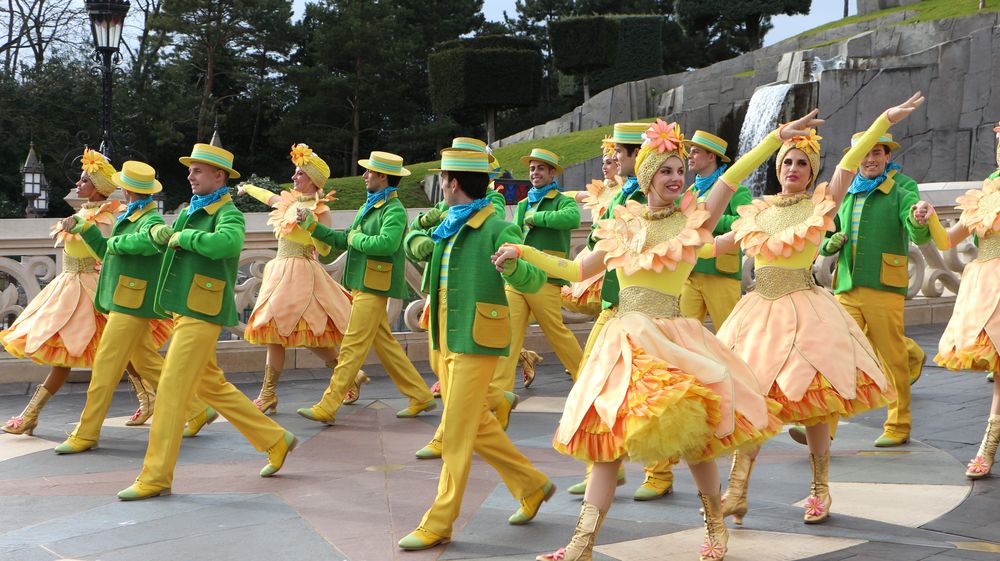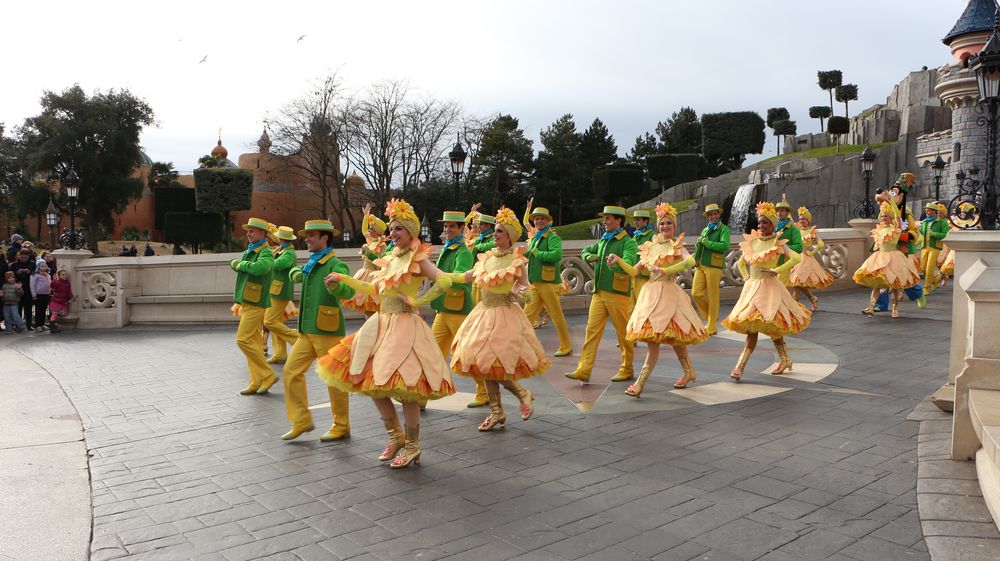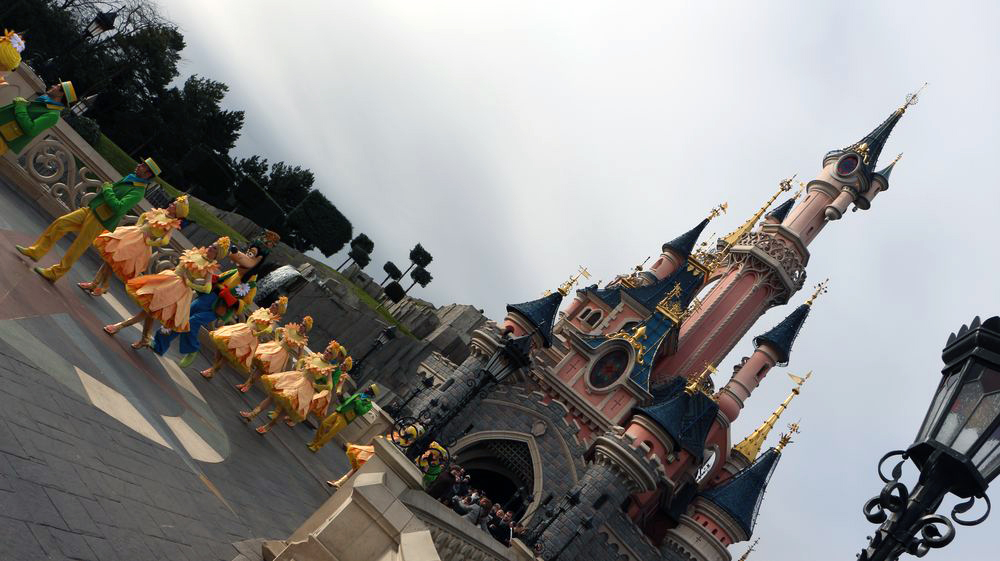 Lors de la présentation de la saison on nous avait annoncé, un show stop, des décors non animés et des danseurs en costume de topiaires dit « fragiles ». C'est à ce moment-là que nous avons posé la question du dynamisme du spectacle. La réponse a été qu'il sera bien dynamique. Bas, désolé à Disney, c'est bien le contraire qui se fait ressentir. Les mouvements limités de ces danseurs rendent le tout lent, les drivers des décors en taupières ne font rien dans le spectacle pas de danse, pas d'interaction, juste le sourire et l'attente, mis à part déclencher des confettis au passage de Dingo. Le gros problème est le show stop en lui-même, ça coupe tout dynamisme. Personne ne peut voir tous les personnages Disney en un spectacle, forçant à revoir une prestation.
During the presentation of the season it was announced, a show stop, non animated decorations (push unit) and of the dancers costumed in topiaries said « fragile ». It is at this time that we asked the question of the vitality of the show. The response has been that it will be well dynamic. Sorry Disney, it is the contrary. Movements of these dancers make it very slow, the drivers of the taupieres decorations do make nothing in the show, no dance, no interaction, just smile and waiting, apart from triggering confetti to the passage of Goofy. The big problem is the show stop itself, it cuts any dynamism. No one can see all the Disney characters in a show, forcing him to come back for see all characters.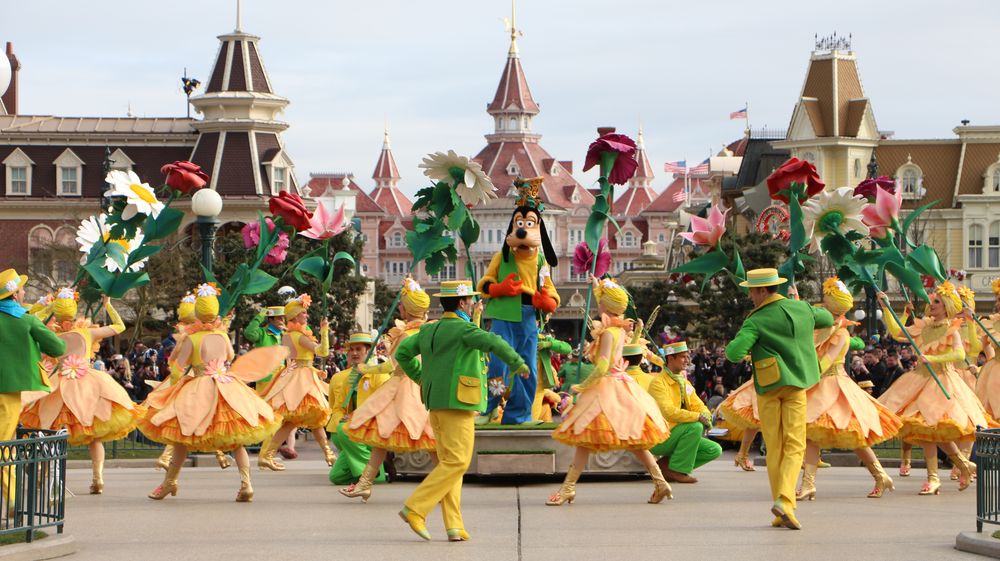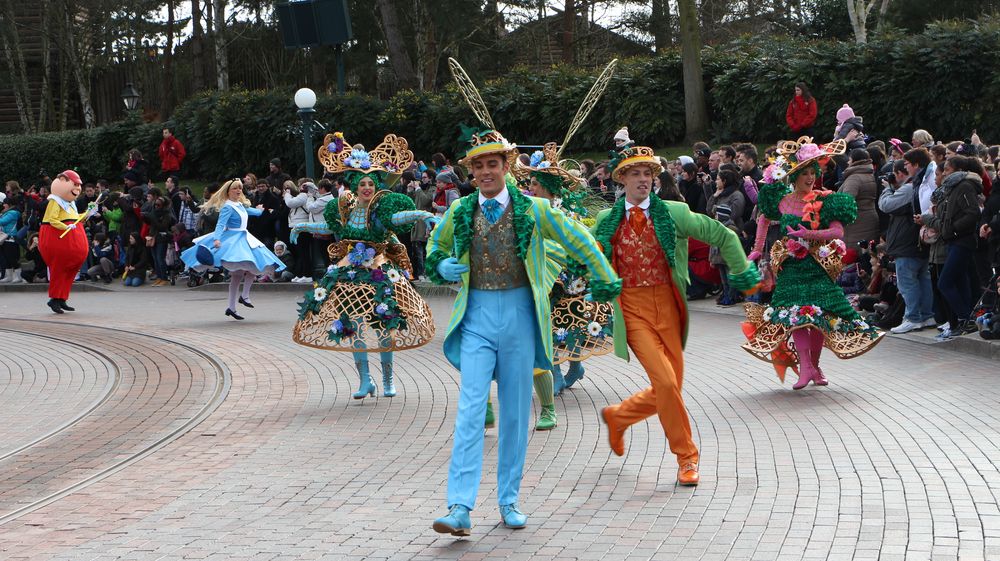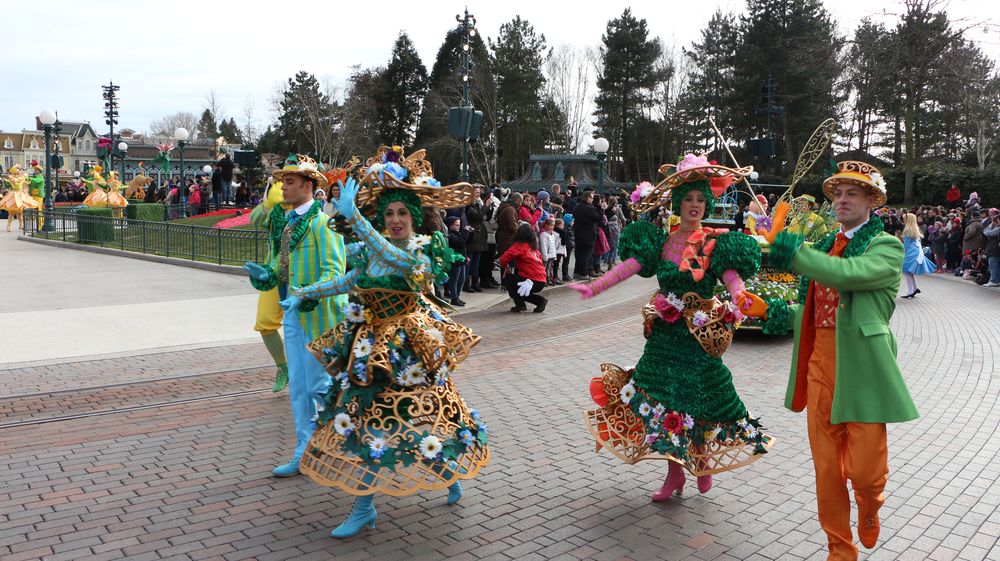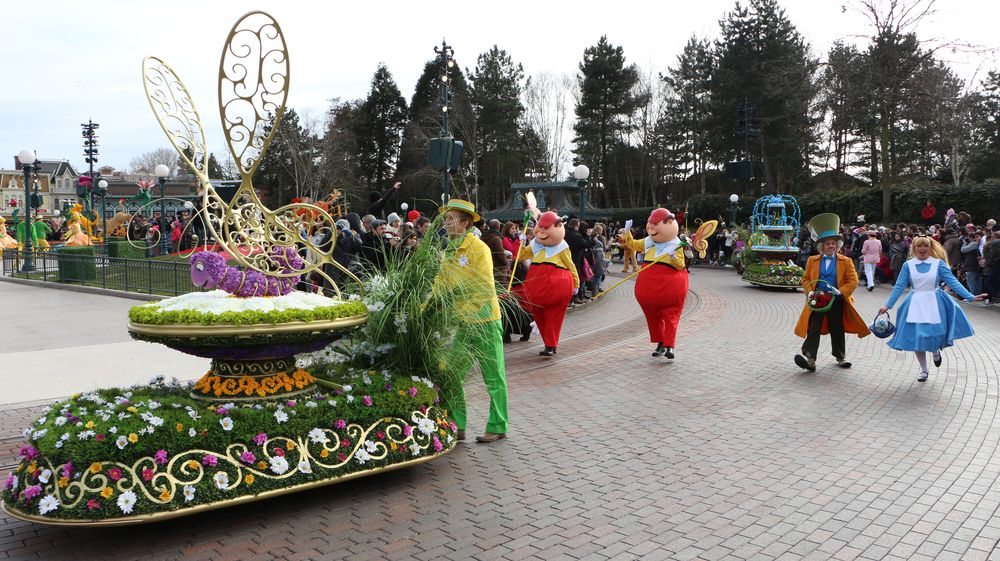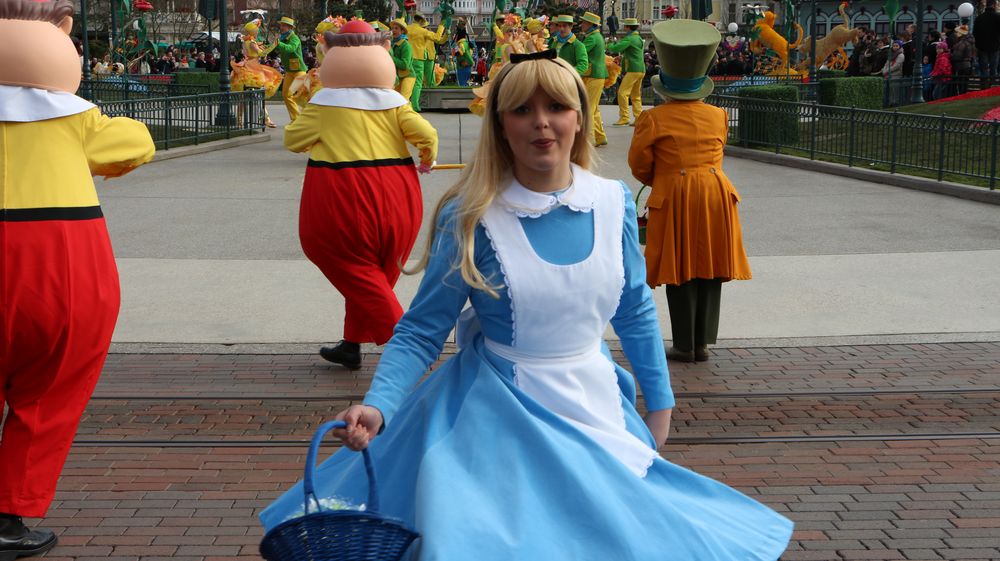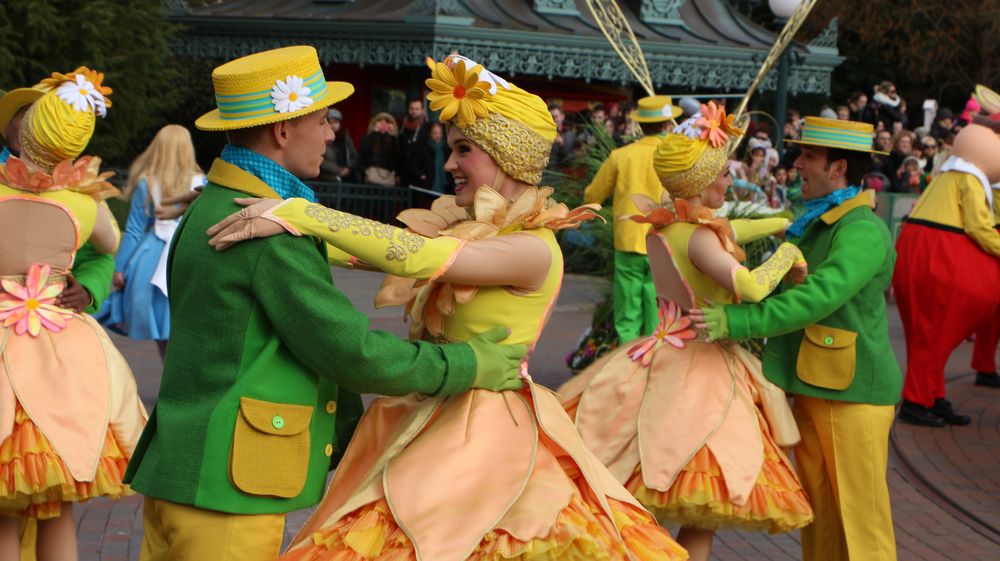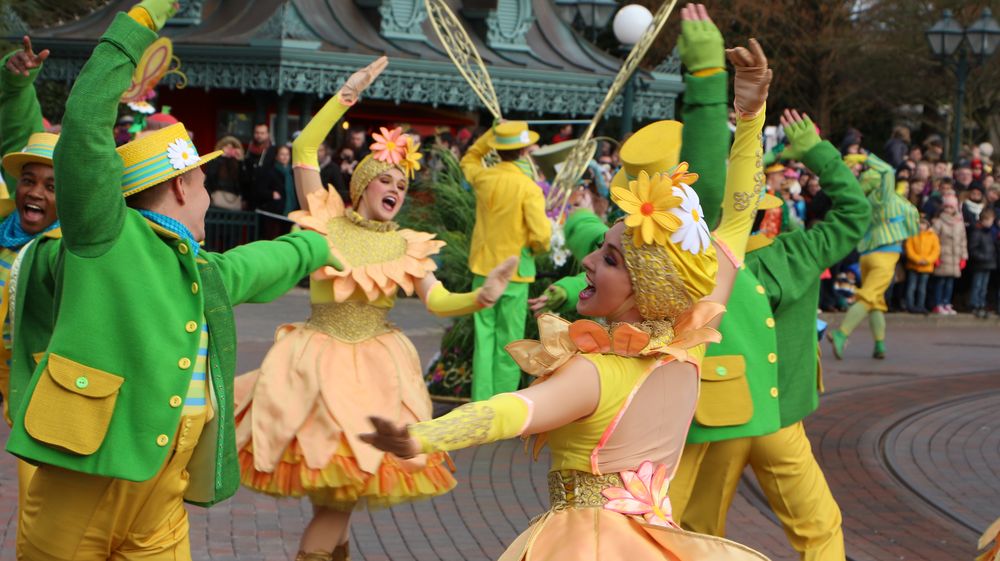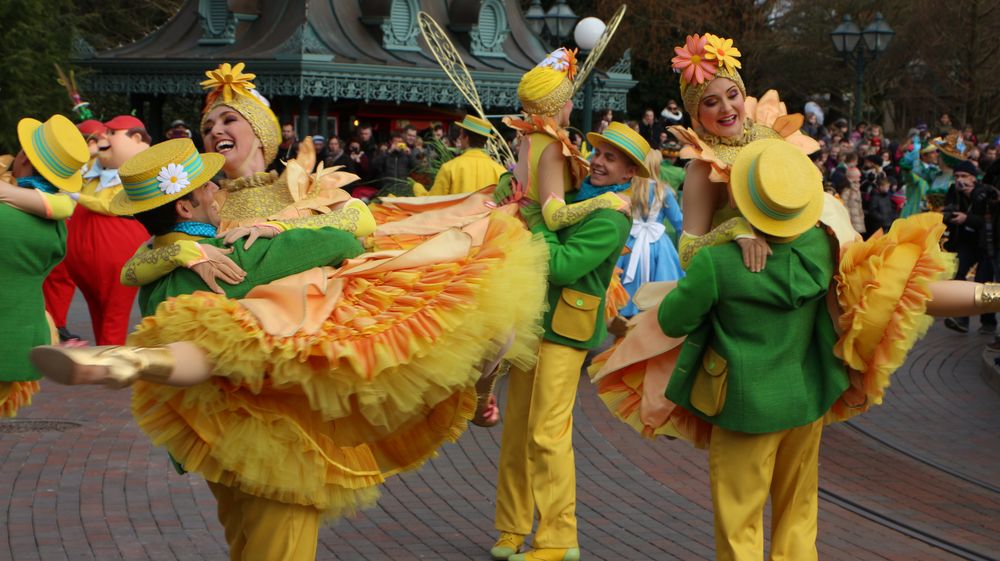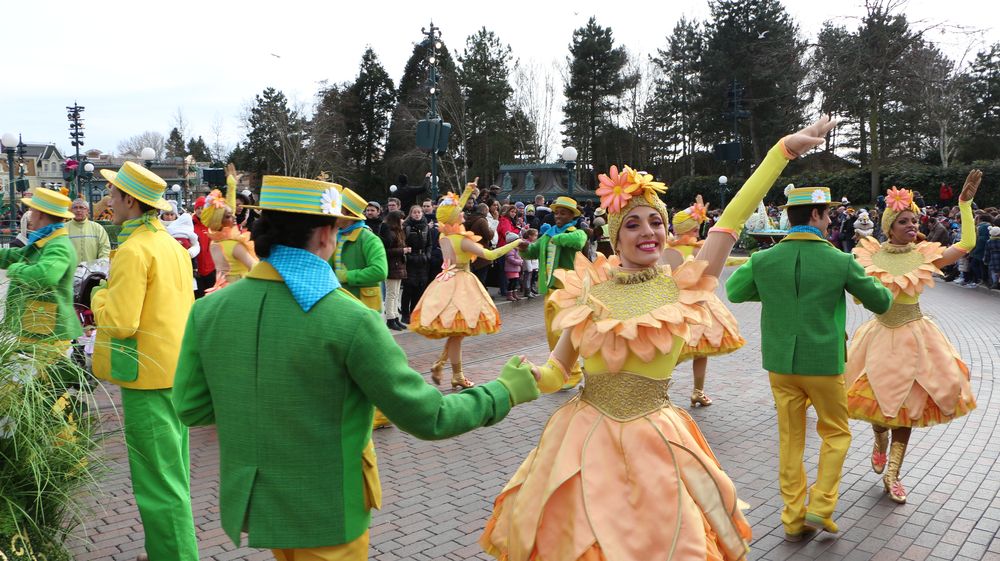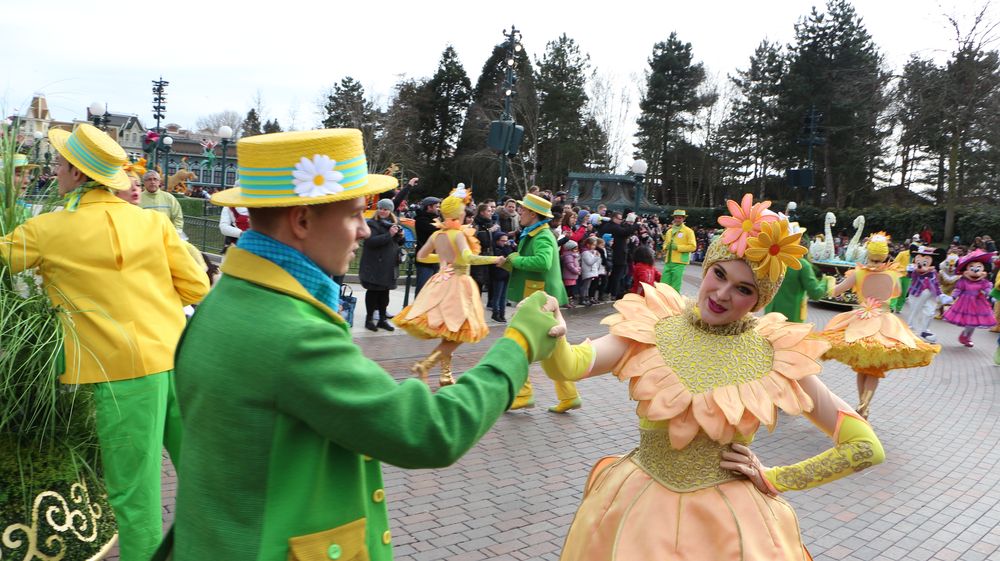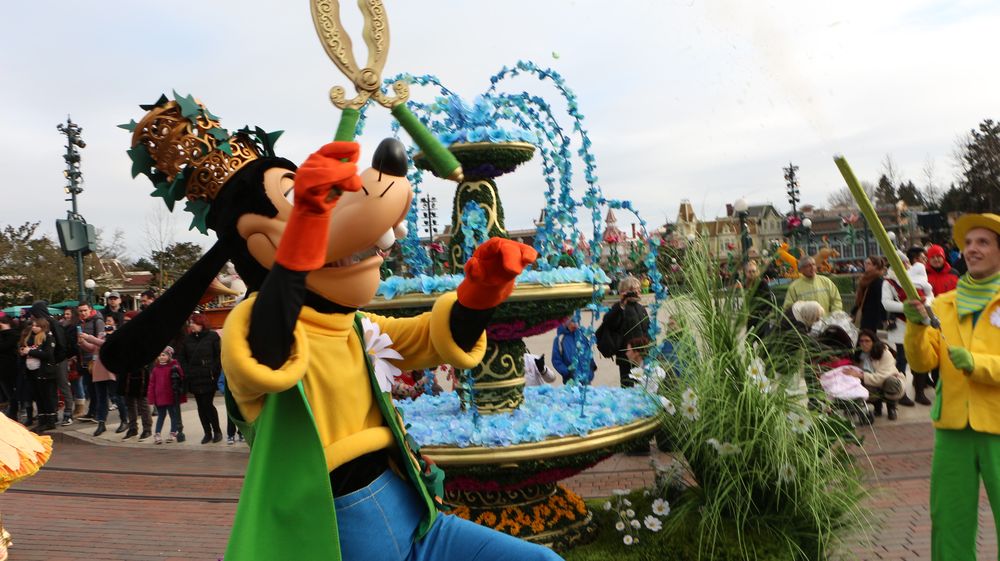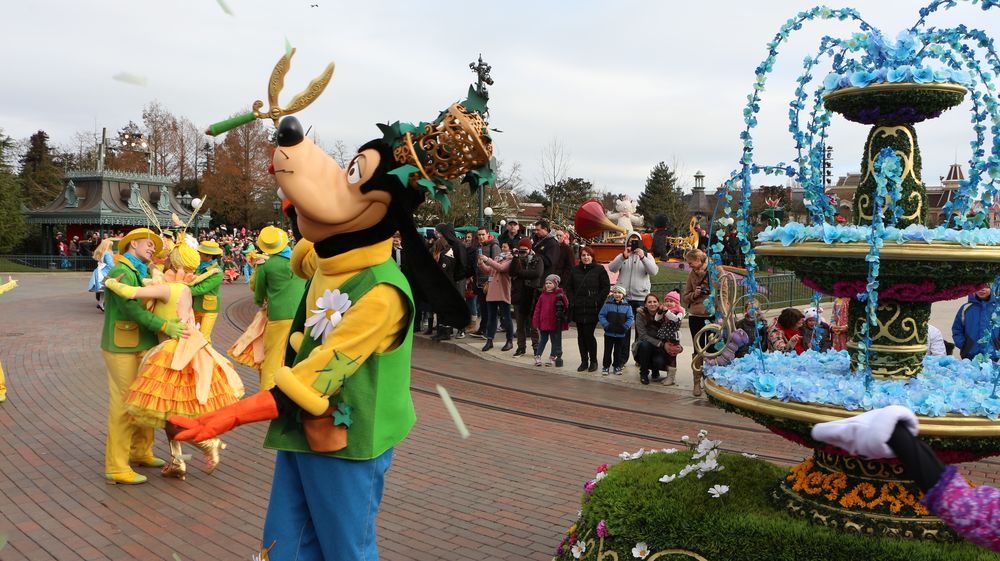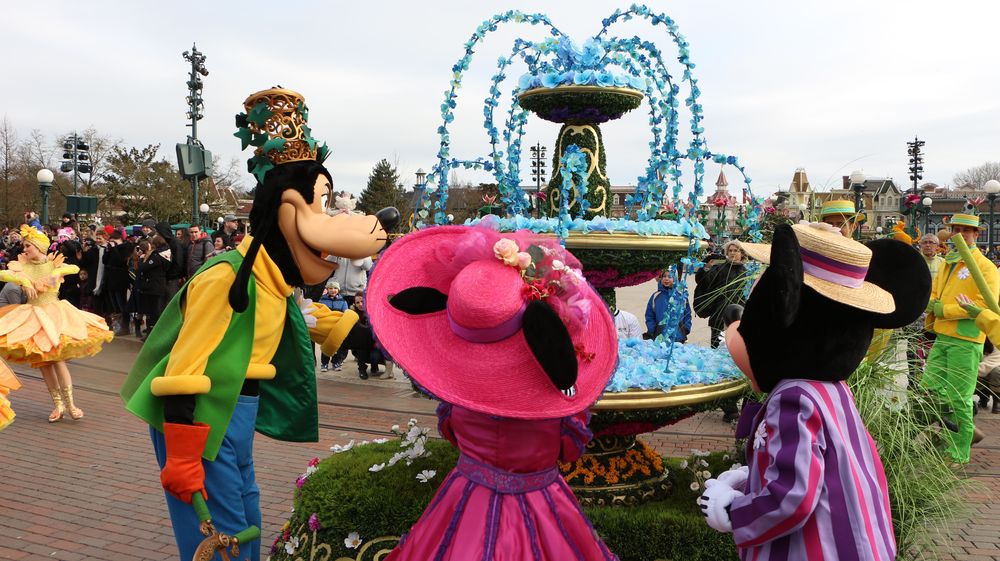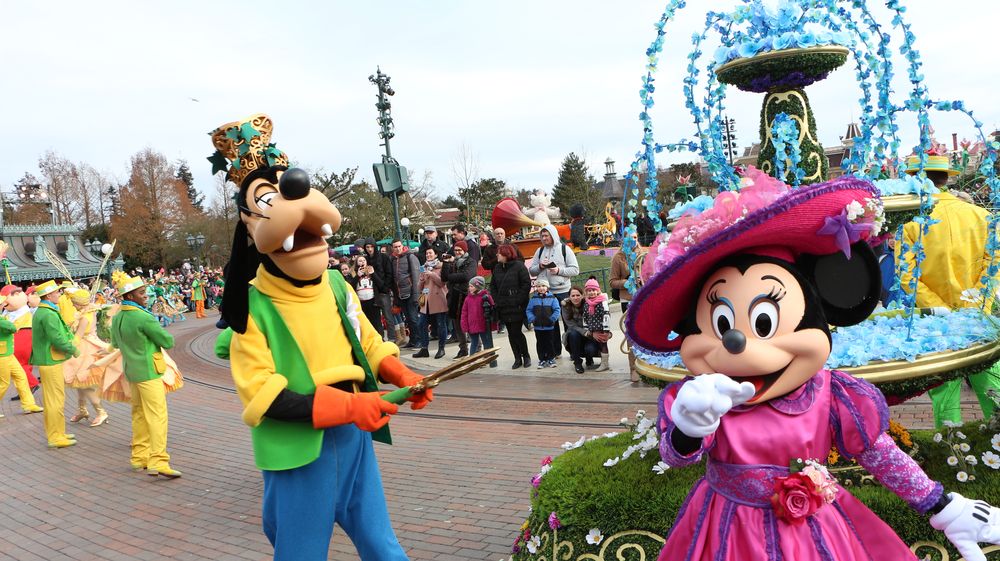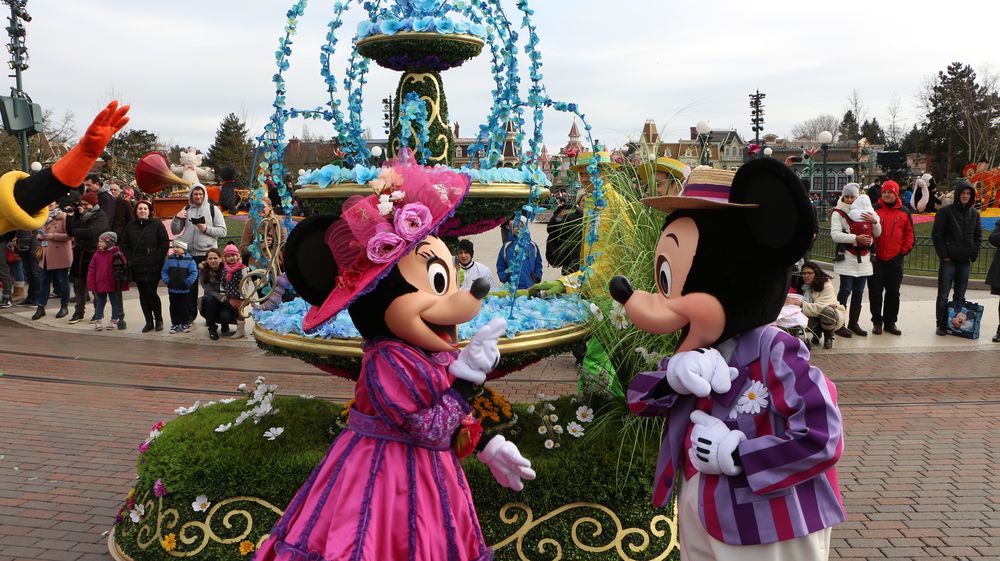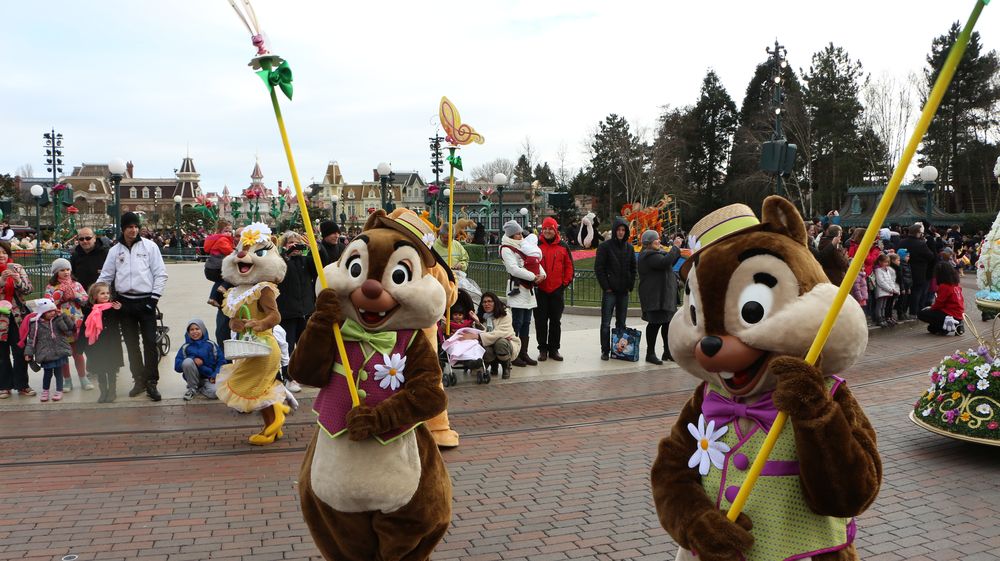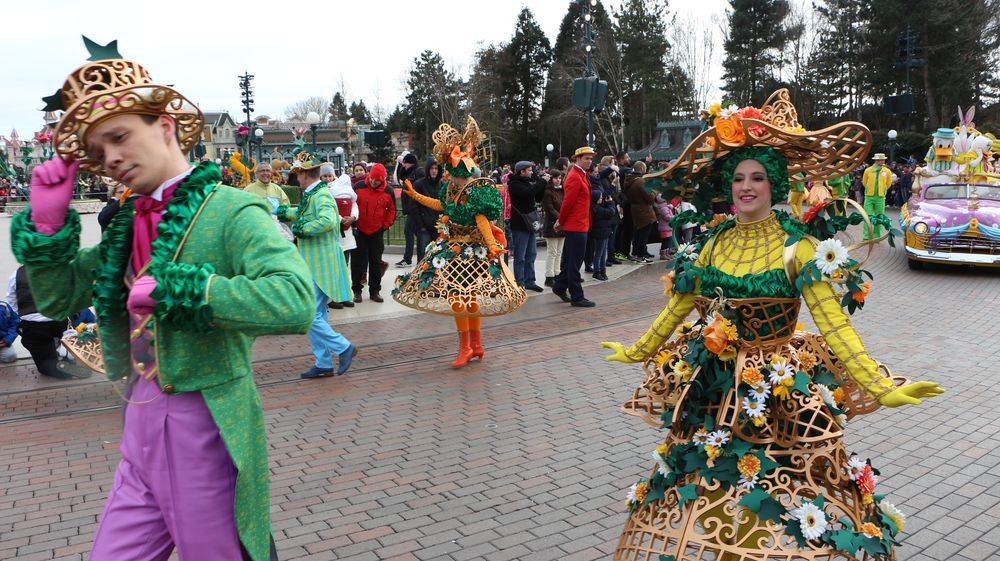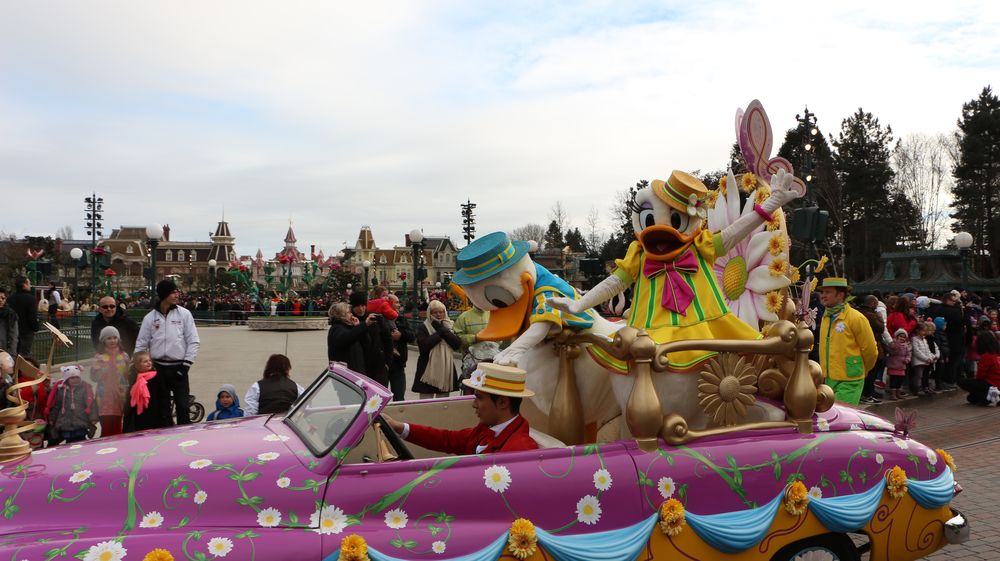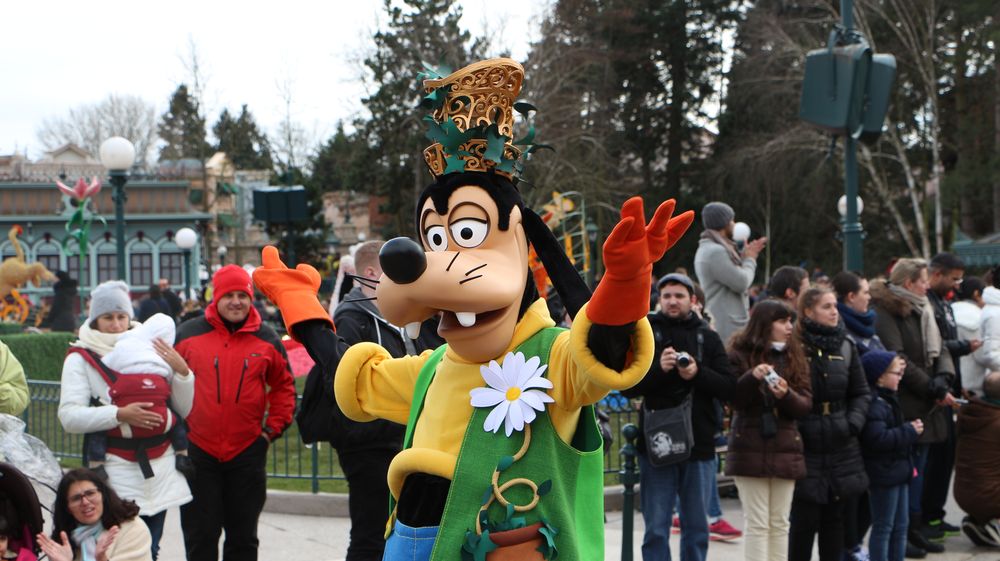 Voici les vidéos des spectacles de cette année et de l'année dernière pour que vous puissiez comparer par vous-même, même si une visite sur place est la meilleure des choses.
Here are the videos of performances this year and last year so that you can compare for yourself, even if a site visit is better.
2015 :

2014 :

En conclusion, là où Disney aurais pu faire simple, efficace en reprenant le même spectacle en changeant les 3 musiques de Mary Poppins, l'ensemble fut revue pour au final être de moindre qualité. Le spectacle de la balade printanière de l'année dernière avec les push unit aurait suffi.
In conclusion, there where Disney could have to make simple, effective in taking the same show by changing the 3 musics of Mary Poppins, all was revised to ultimately be of lesser quality. The spectacle of « Disney's Spring Promenade » from last year with the push unit would have sufficed.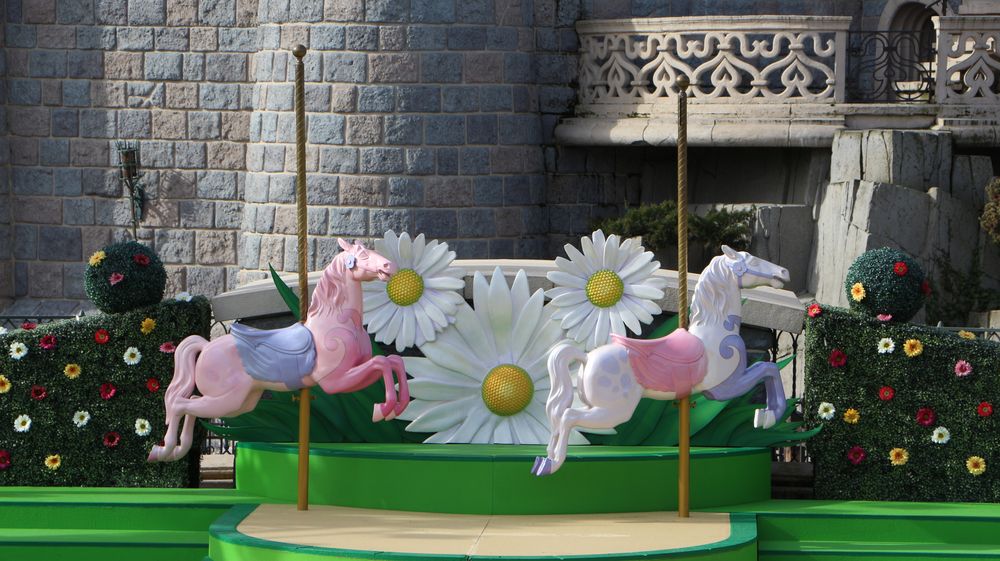 Bienvenue à la belle saison
Ici on n'a affaire à Mary Poppins, Bert, les 4 pingouins et ses acolytes dans un spectacle de danse bien dynamique comme on aime. C'est néanmoins quand la fin du spectacle tombe que tous les problèmes sautent aux yeux. Aucun dialogue et réutilisation des seules musiques du spectacle de « la balade printanière » de l'année dernière qui se jouait ici, au Castle Stage en plus de Central Plaza. Un manque de dialogue flagrant notamment au salut final qui rend la scène digne d'un film de Charlie Chaplin avec des danseurs mimant des lèvres sans qu'il n'y ait de son.
Pour nous la réutilisation de « spring fever » aurait dû être faite en version chantée et dansée par les danseurs avant la version instrumentale avec un spiel annonçant les salutations des performers. Comme ça, pas de fin choquante, et un clin d'œil au spectacle principal sur Central Plaza.
Cela dit, les performances sont indéniablement bien faites et exécutées. On a ici le meilleur spectacle de la saison.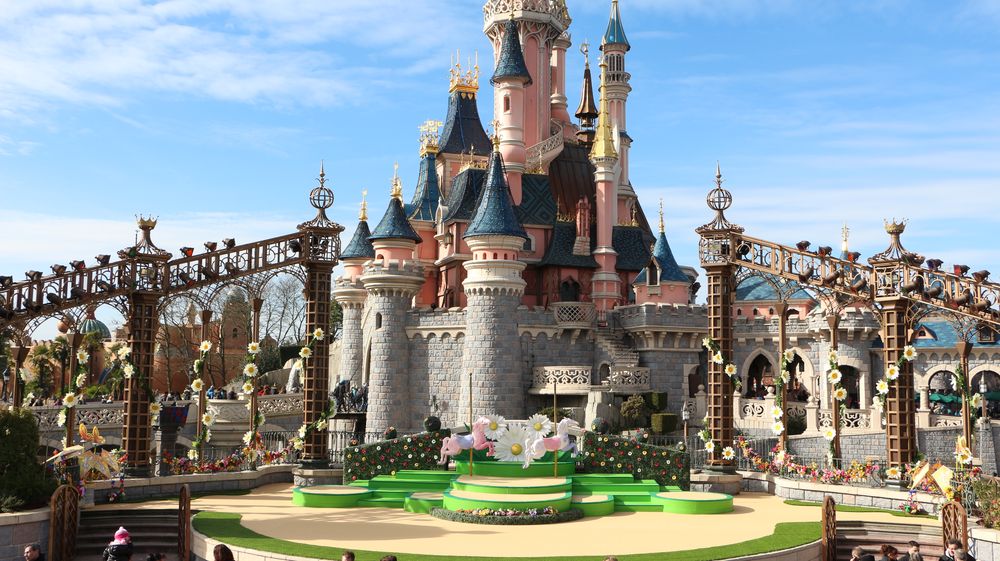 Welcome to Spring
Here, we are with Mary Poppins, Bert, the 4 penguins and his henchmen in a dynamic dance performance that we like. But, it is when the end of the show is that the problems are obvious. No dialogue and reuse of the only music of the spectacle of « Disney's Spring Promenade » last year, playing here, at the Royal Castle Stage in addition to Central Plaza. A lack of dialogue blatant especially for final salvation that makes the scene worthy of a Charlie Chaplin film with dancers mimicking lips without that there is of sound.
For us, the reuse of « spring fever » should have been made in version Sung with the dances of performers and during a second and last « spring fever » but now in a instrumental version with a spiel announcing final salvation from the performers. Like that, it's not a shocking end , and a reminder at the main show on Central Plaza.
That said, the performance is undeniably well made and executed. We have here the best show of the season.
Le petit train du Printemps de Minnie
L'idée est là mais pas complète. Pour que ce défilé soit marquant et soit une vraie animation, l'ajout de performers dansant devant et derrière le train rendrait le tout plus majestueux en ayant toute sa place qu'un simple train faisant un tour.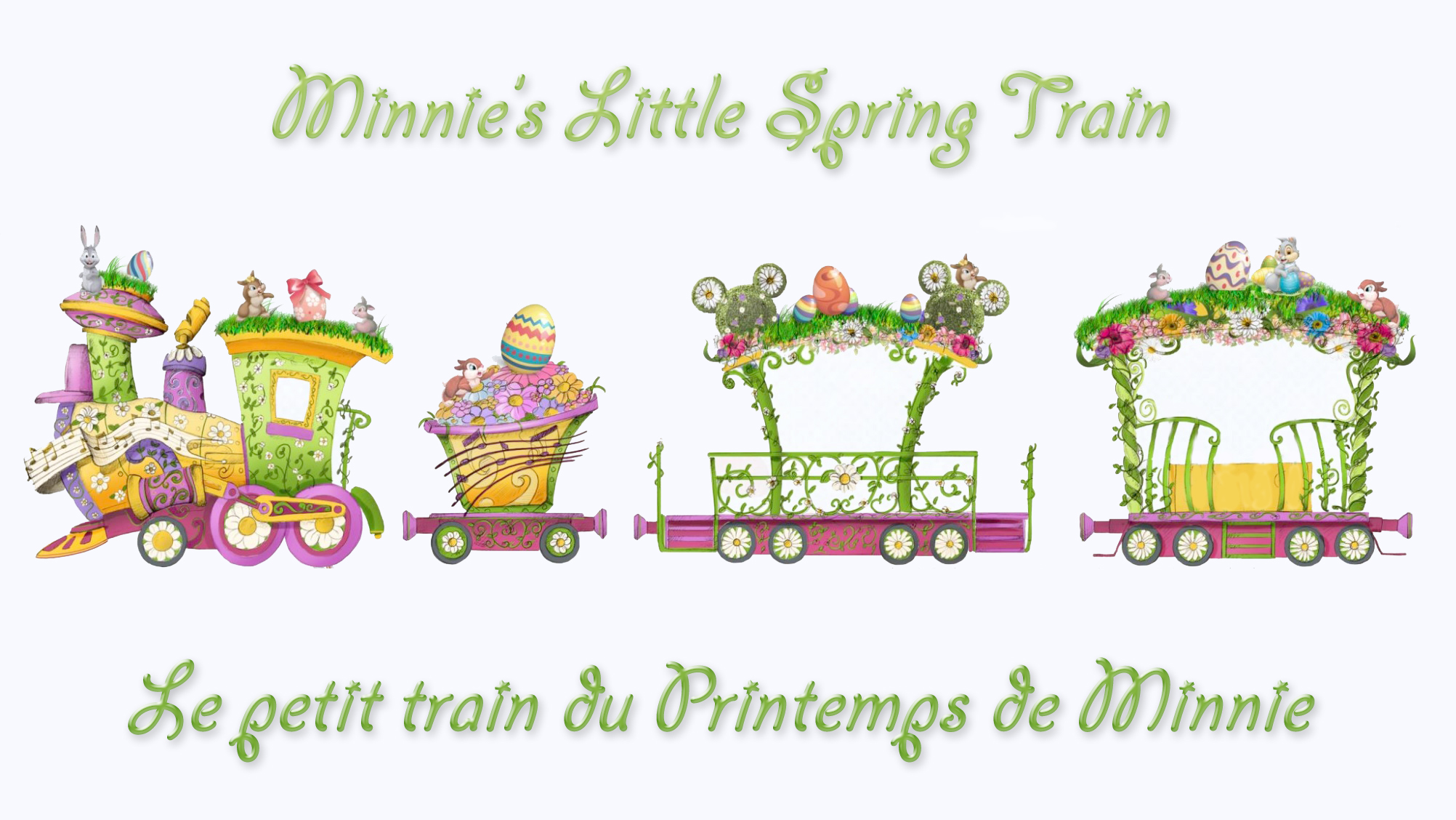 Minnie's Little Spring Train
The idea is there but not complete. To make this parade most remarkable and a true animation, the addition of performers dancing before and behind the train would make more majestic and not a sinple train making a tour of Main Street.
Encore une fois nous sommes très critiques aujourd'hui. C'est la première fois que nous le sommes autant. La raison en est simple, nous avons la chance d'avoir cette saison (ce qui n'est pas le cas en dehors de Tokyo Disneyland) et nous constatons que la première édition fut transformée pour une expérience moindre alors que l'actualiser en changeant la forme et non le fond des spectacles aurait suffi. Saison sympathique mais sans plus.
Notre jour de visite était le 28 février, la veille du jour de lancement de la saison. Un soft opening fait pour que Disney fasses ces premiers essais grandeur nature et tiennent comptes des avis pour améliorer les choses. Cela dit et on espère que c'est le cas, que les visiteurs ne verront que du feu et profiteront de cette saison comme nous on a aimé découvrir celle de 2014, la meilleur à ce jour.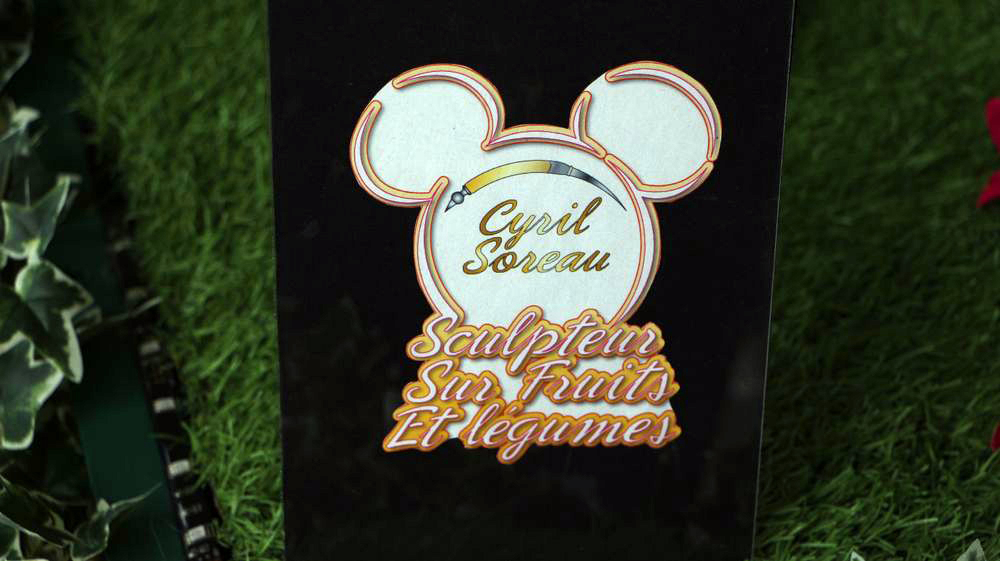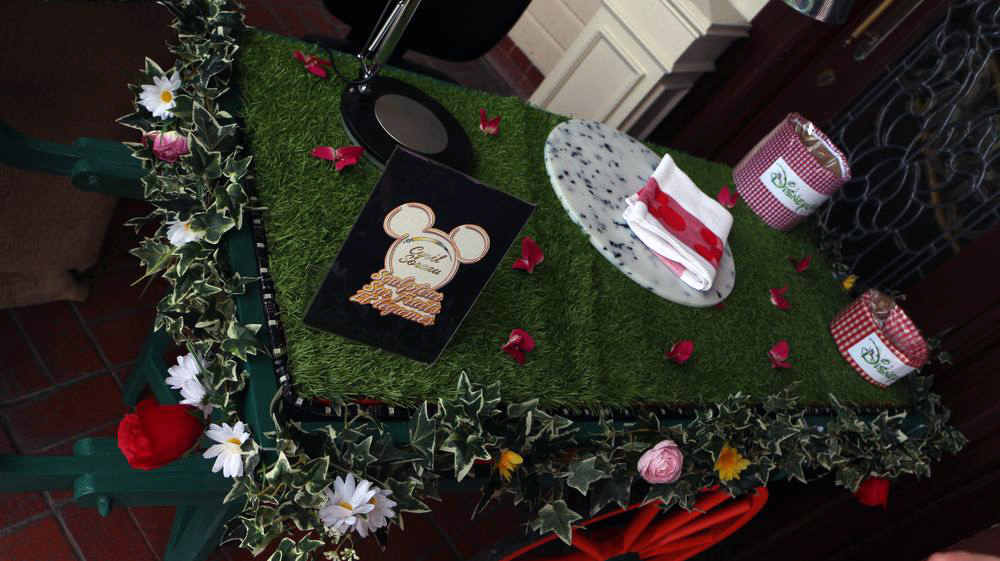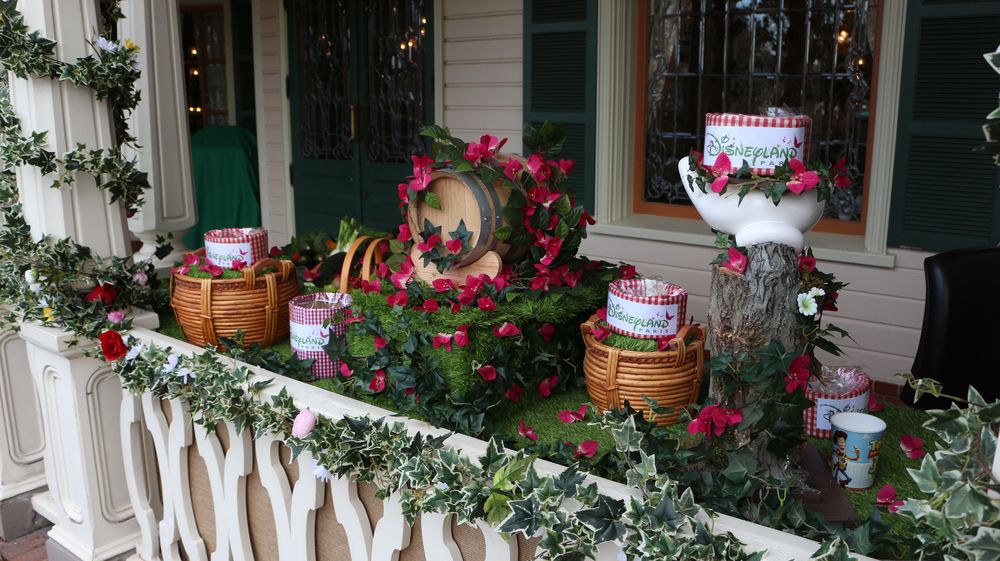 Yet once we are very critical today. It is the first time that we so harsh sum . The reason is simple, we are fortunate to have this season (which is not the case outside of Tokyo Disneyland) and we find that the first edition was transformed for an experience less good, a updating it by changing the form and not the substance of the shows would have sufficed. Now we have a sympathetic season but no more.
Our day of visit was on February 28, the eve of the launch of the season. A soft-opening made by Disney to do these first full-scale tests and to have the opinions to improve things. That said and hopefully that's the case, that visitors will see a wonderfull season as we we loved discovering that from 2014, the best to date.

Les rénovation à Discoveryland se poursuivent avec Vidéopolis entièrement bachée comme le canon de Space Mountain Mission 2 et le Nautilus. De plus, les échafaudages continuent de monter sur les murs sous le dôme de Space Mountain.
Renovations to Discoveryland continues with Videopolis under tarp, as the canon of Space Mountain Mission 2 and the Nautilus. The scaffolding have still to mount on the walls under the dome of Space Mountain.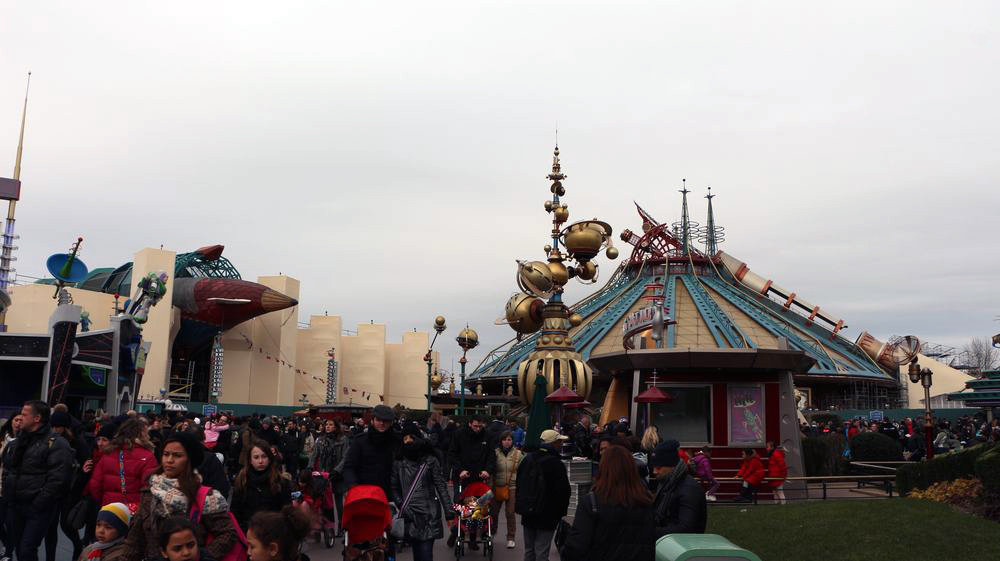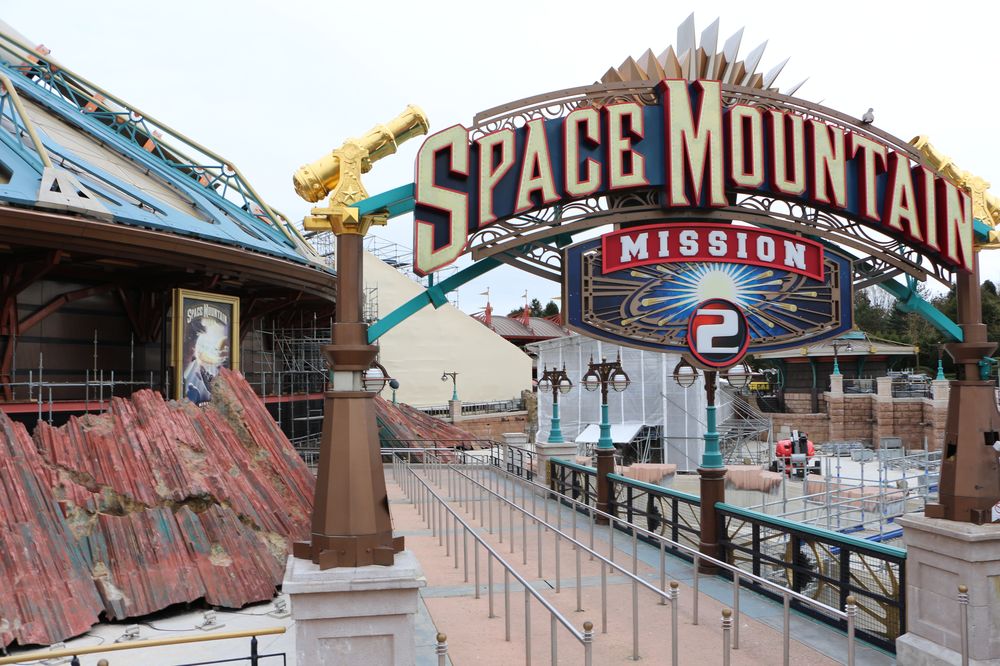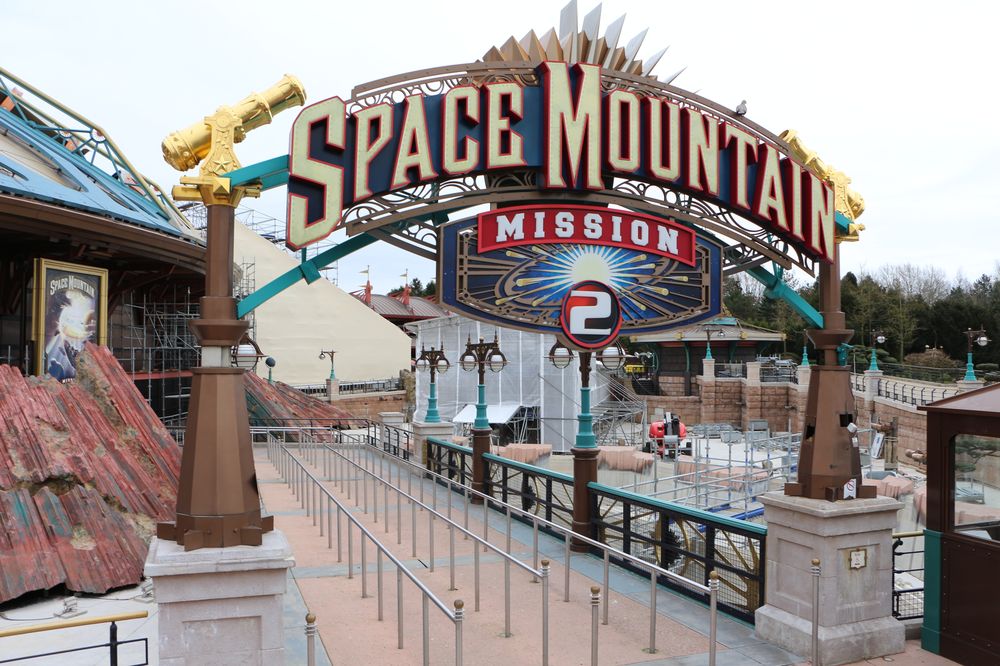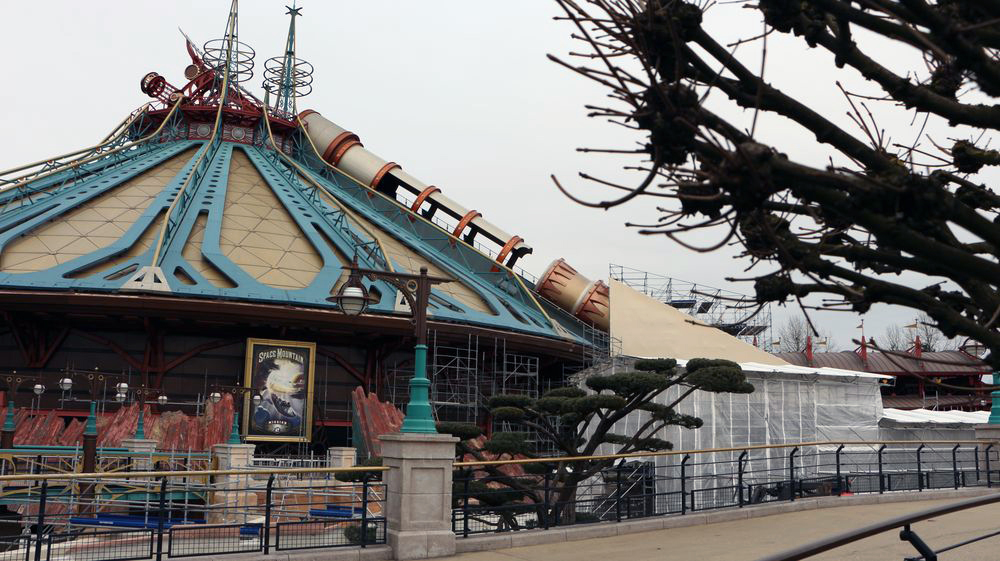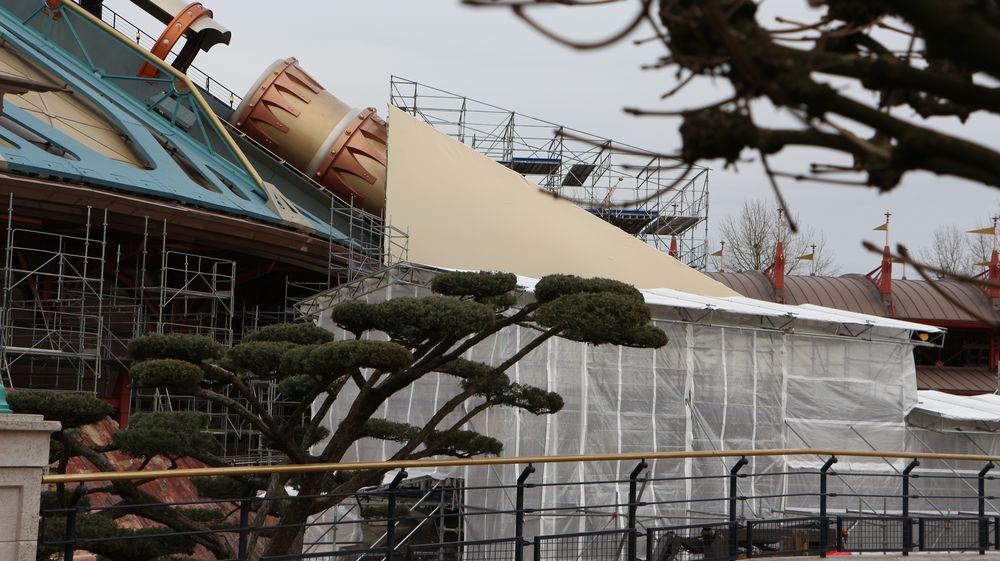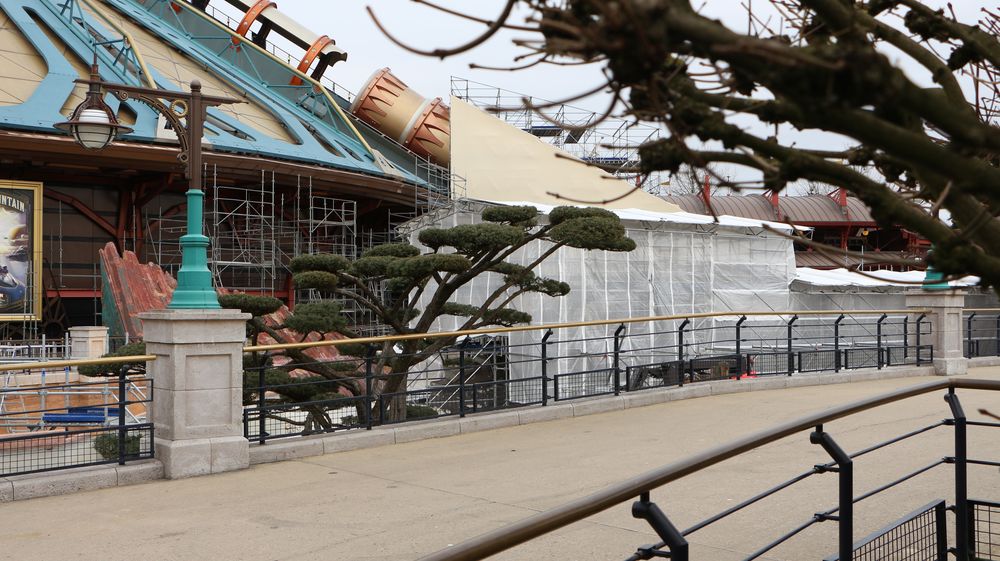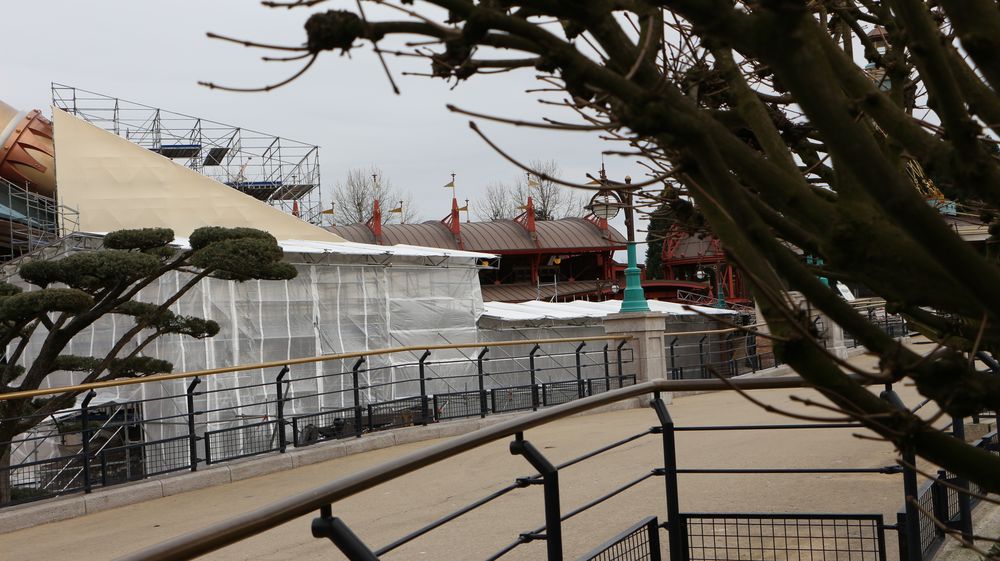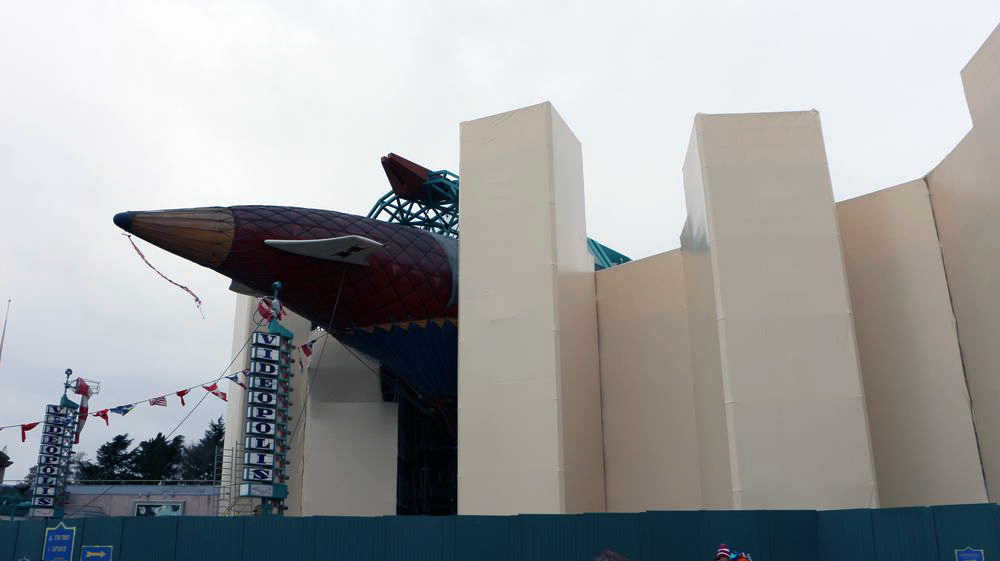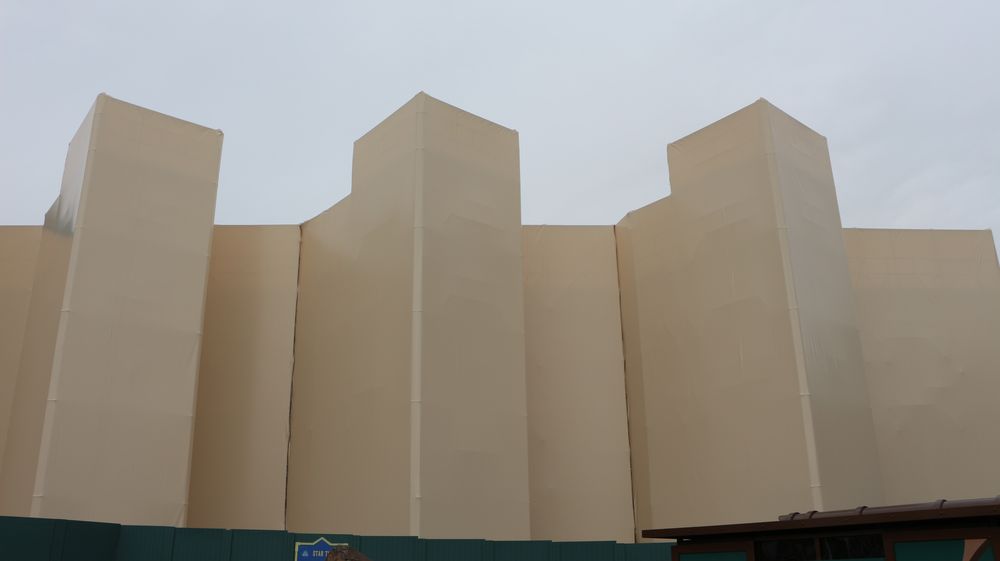 Quand Disney va t-il annoncer officiellement la toute première « Jedi Academy » pour juillet à Disneyland Paris ?!
When Disney goes t – it officially announce the first « Jedi Academy » for July at Disneyland Paris?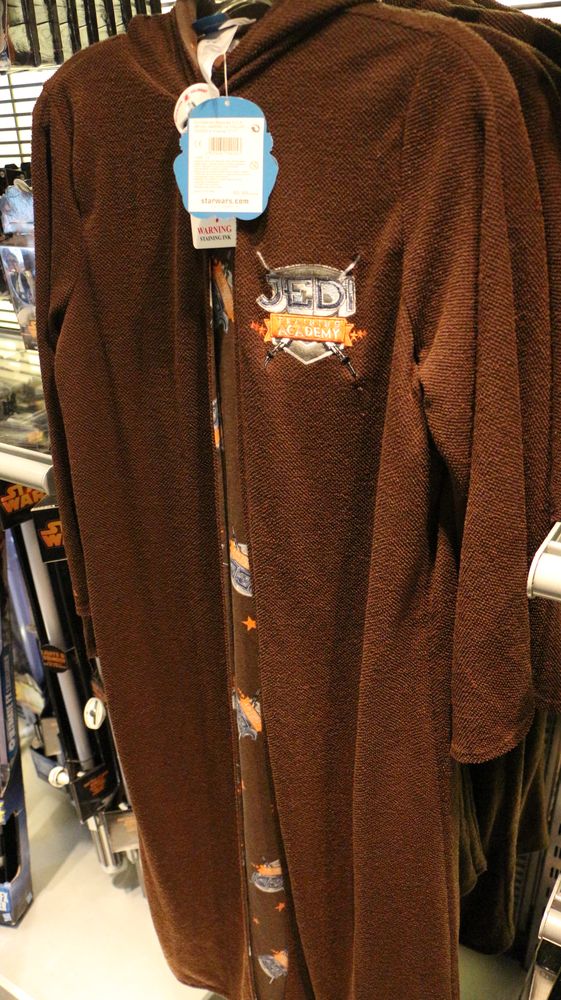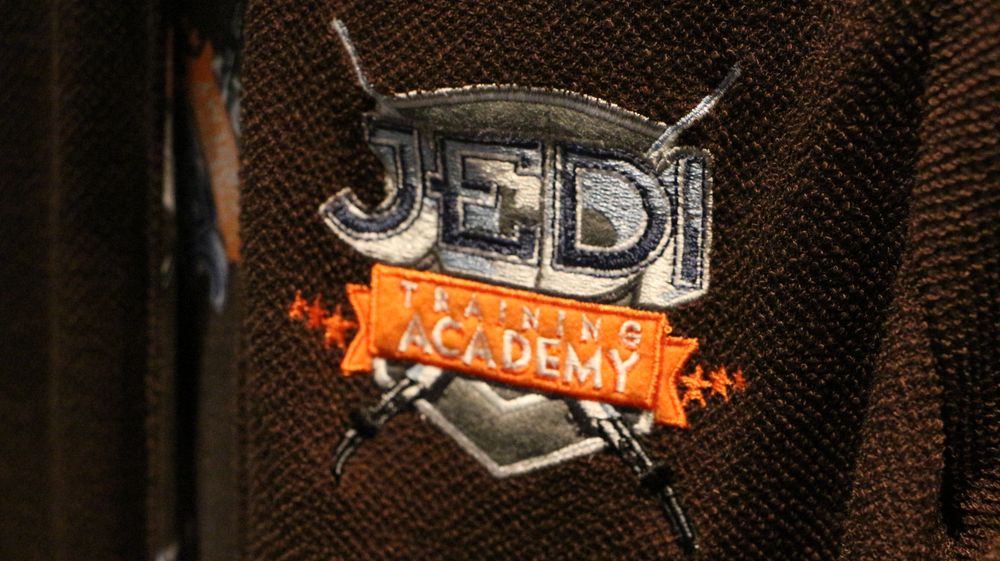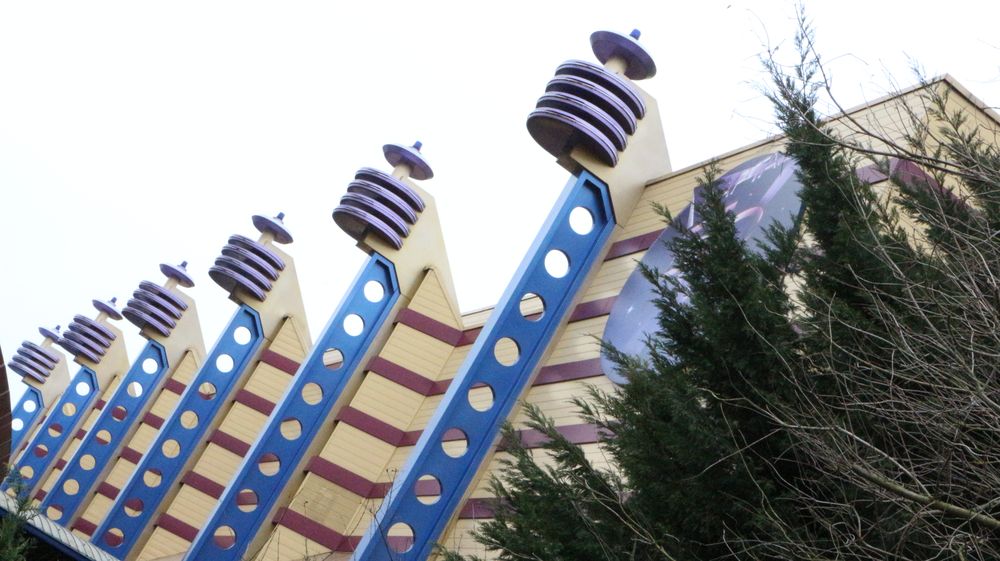 Au Chaparral Theater, les rénovations se poursuivent avec la pose de planches de bois autour de la scène.
At the Chaparral Theater, renovations are continuing with installation of planks of wood around the stage.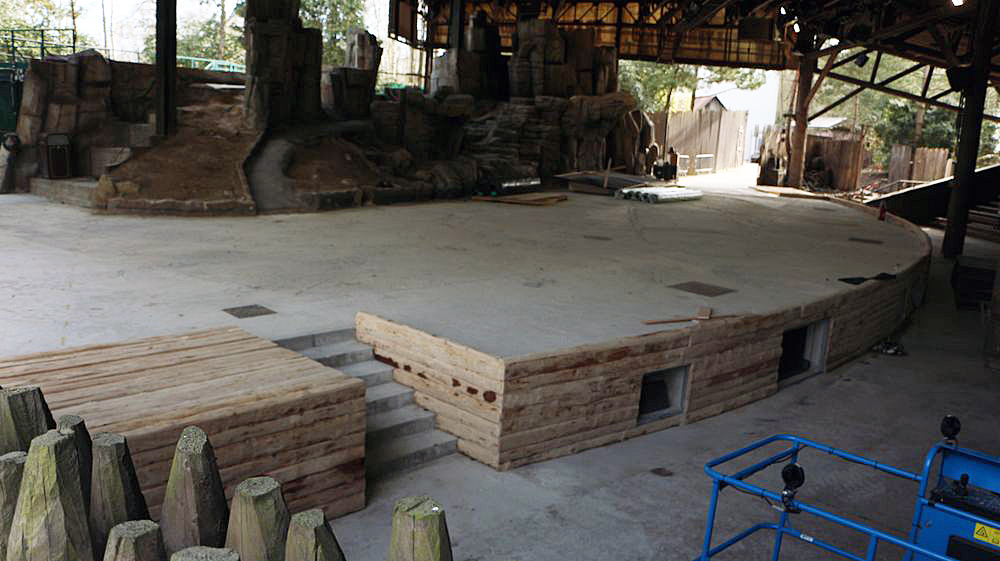 Le Chateau à toujours ses toitures lumineuse de noel pour la programmation de La Reine des Neiges dans Disney Dreams! pour cette été avec Frozen Summer Fun !
The castle still its light roofing of Christmas for the programming of Frozen in Disney Dreams! for this summer with Frozen Summer Fun!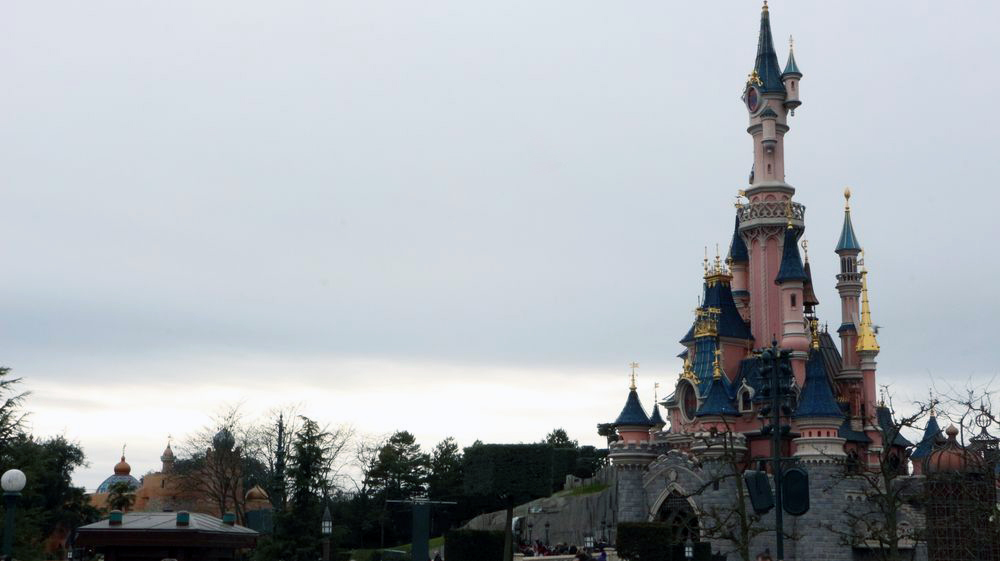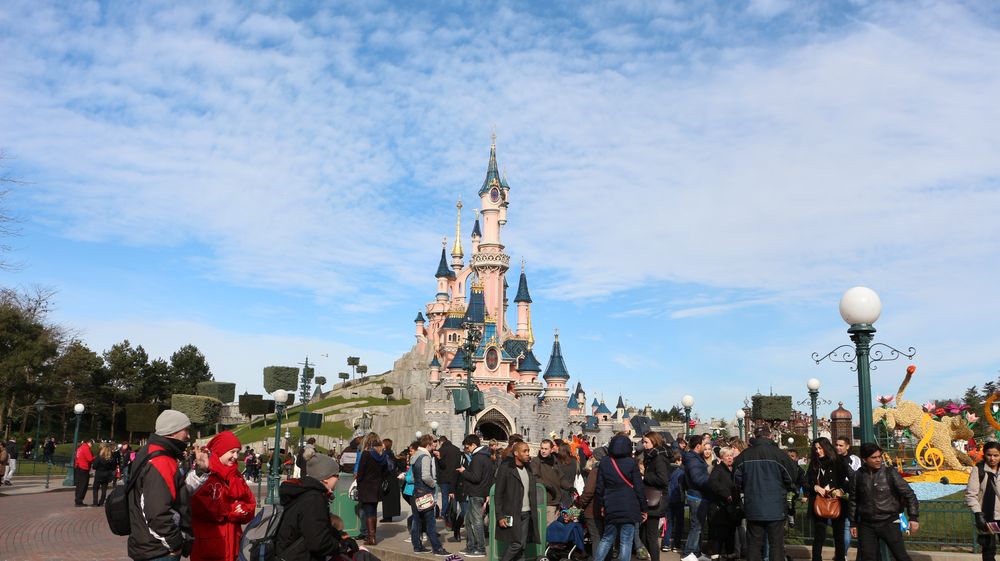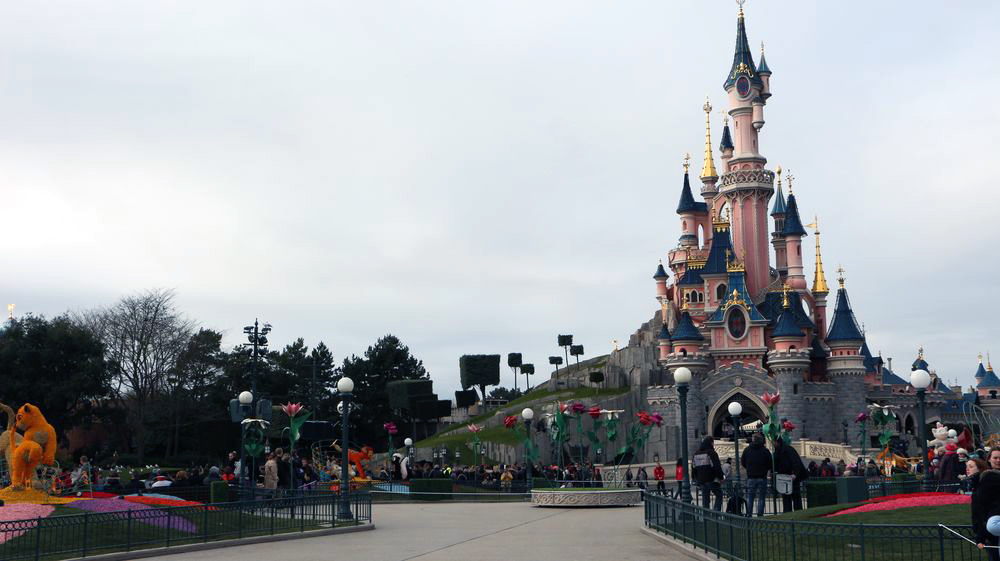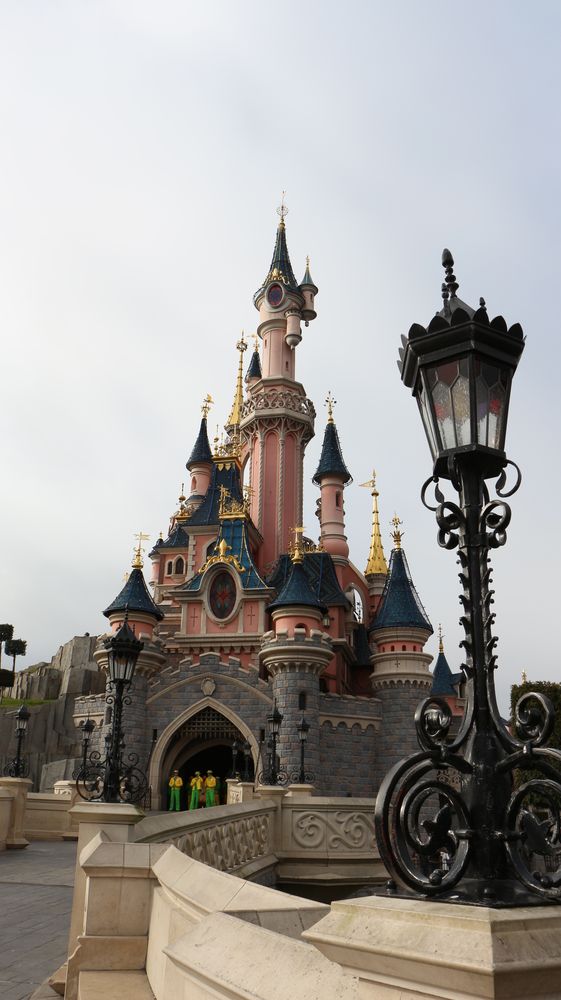 A pratiquement trois ans après ses débuts, les projecteurs de Disney Dreams! sont maintenant entièrement dissimulés derrières les faux toits de Main Street USA !
Almost three years after his debut the projectors of « Disney Dreams ! » are now completely hidden behind the false roofs of Main Street USA!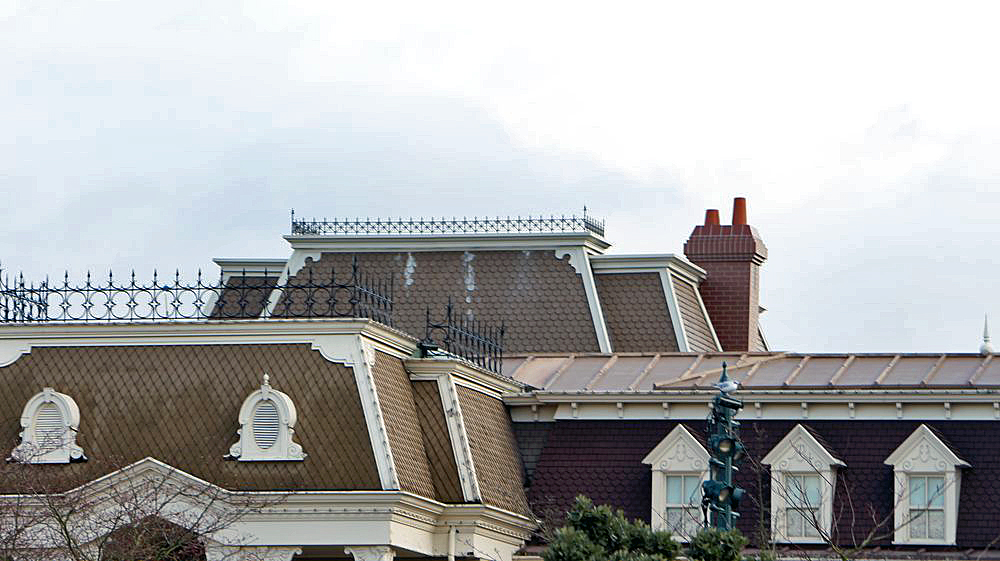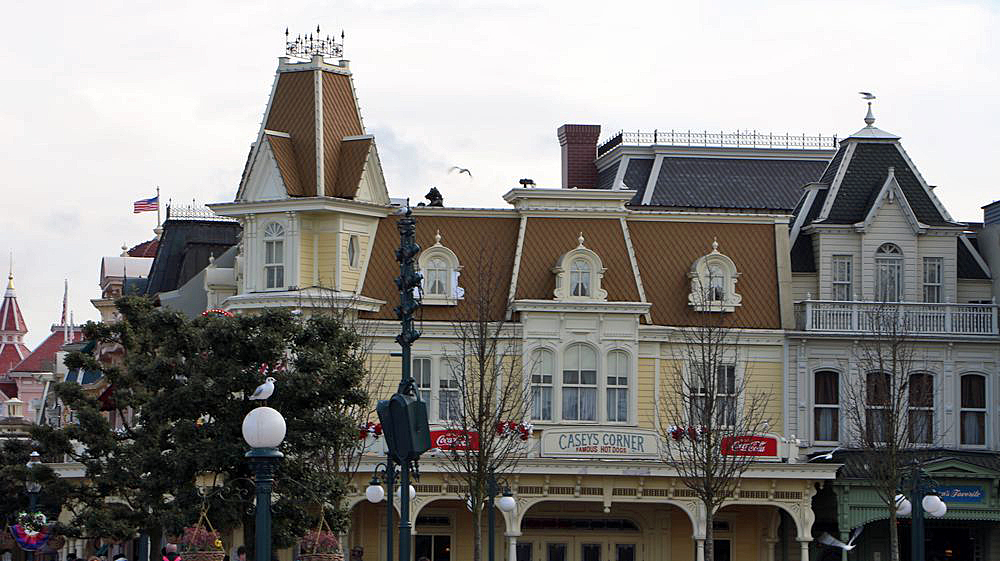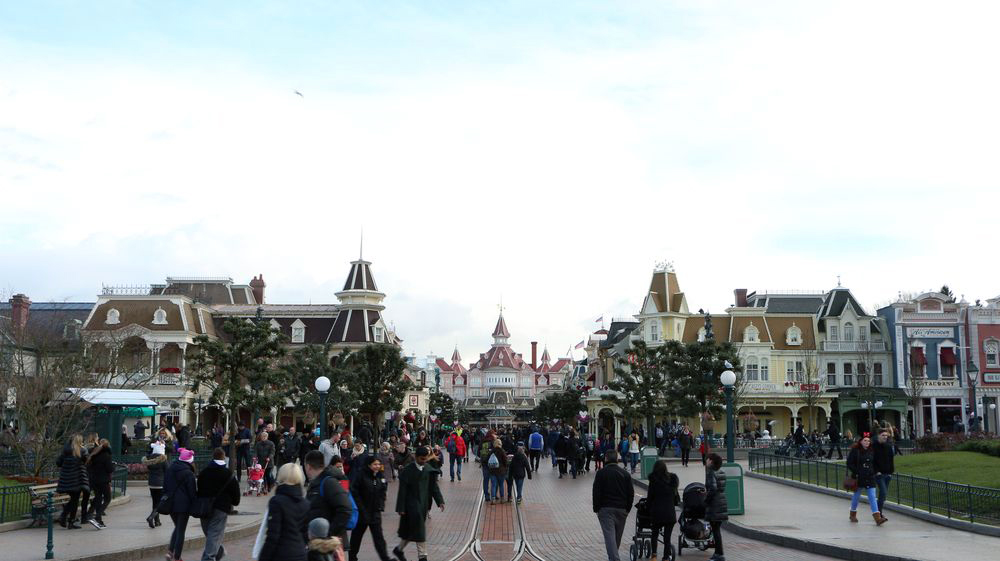 Goûtez en avant première aux délices de Frozen Summer Fun aux The Old Mill et March Hare !
The delights of Frozen Summer Fun at the The Old Mill and March Hare !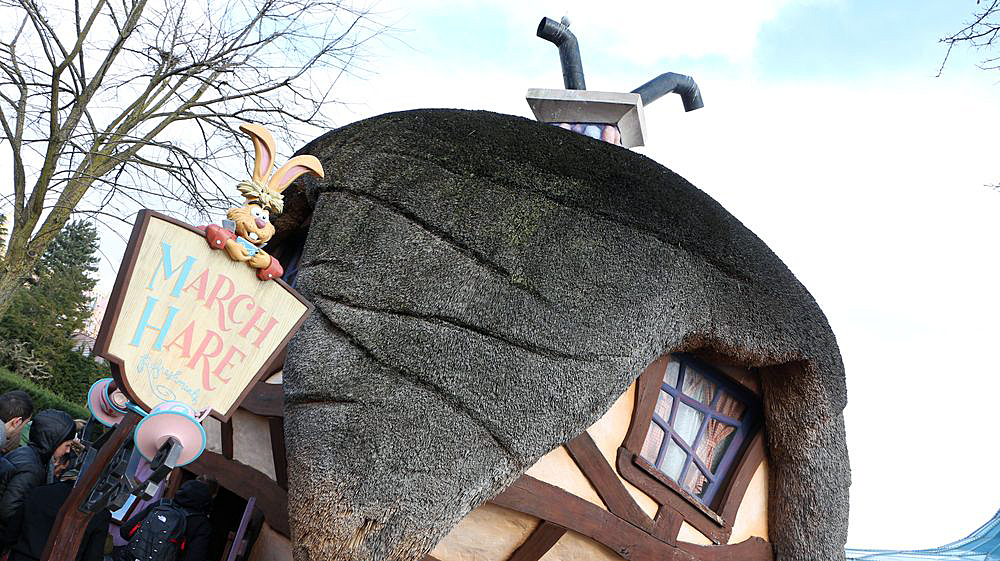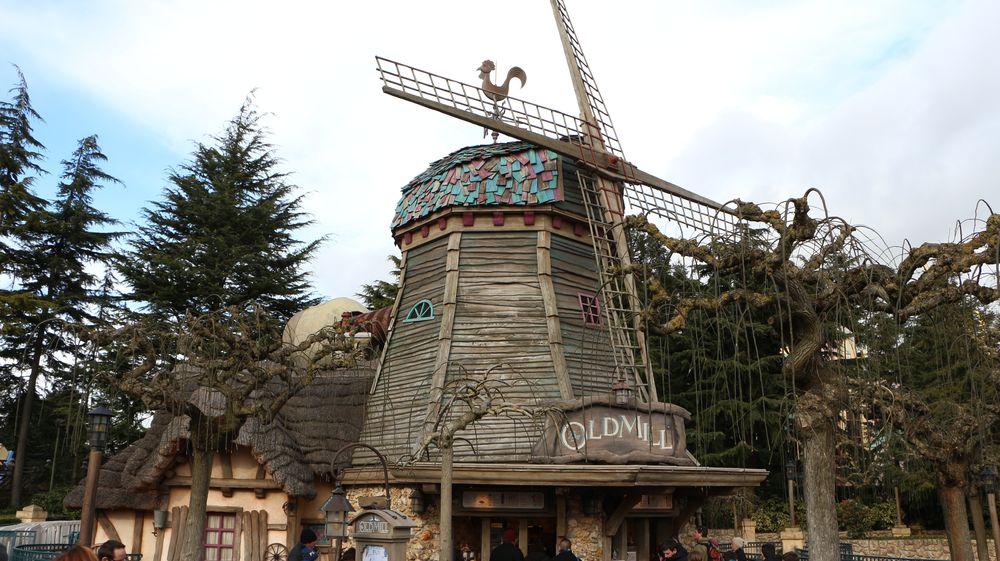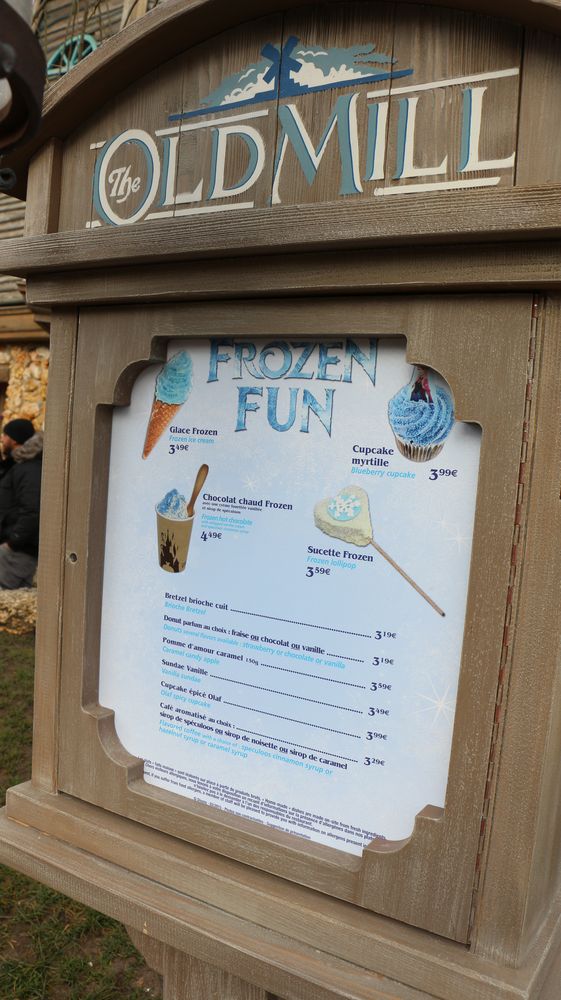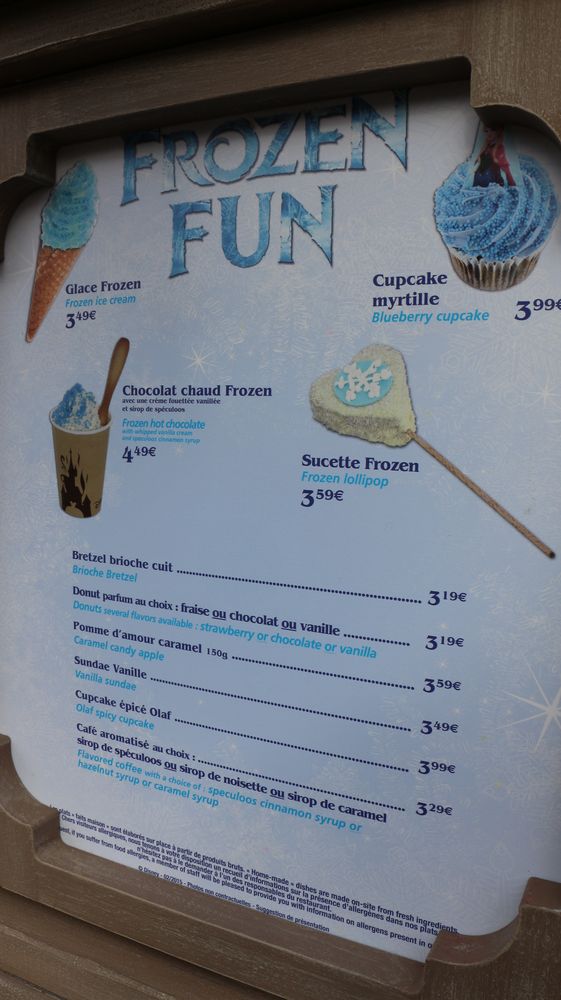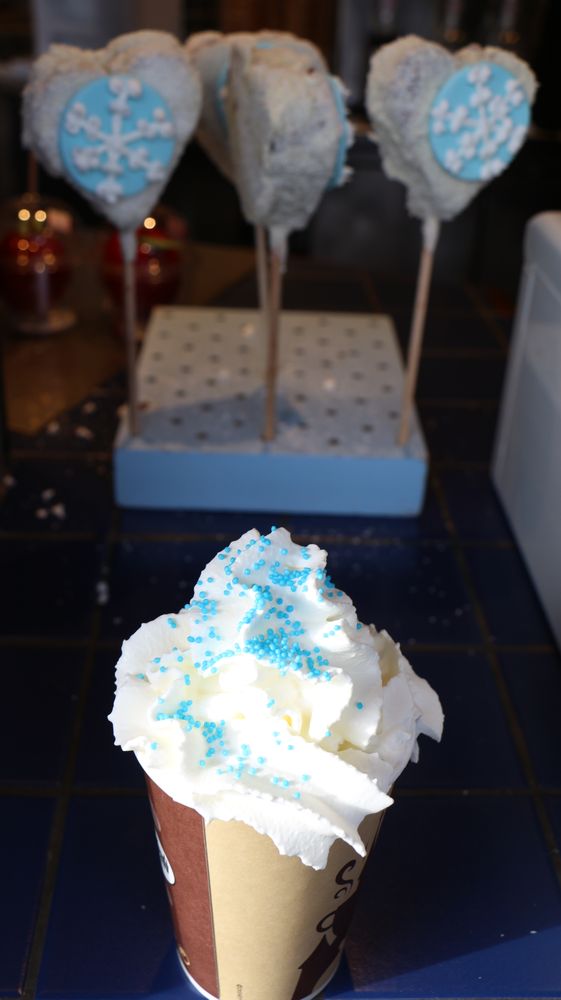 Le travail continu sur la file d'attente de Dumbo, the Flying Elephant
Work in progress in the queueline of Dumbo, the Flying Elephant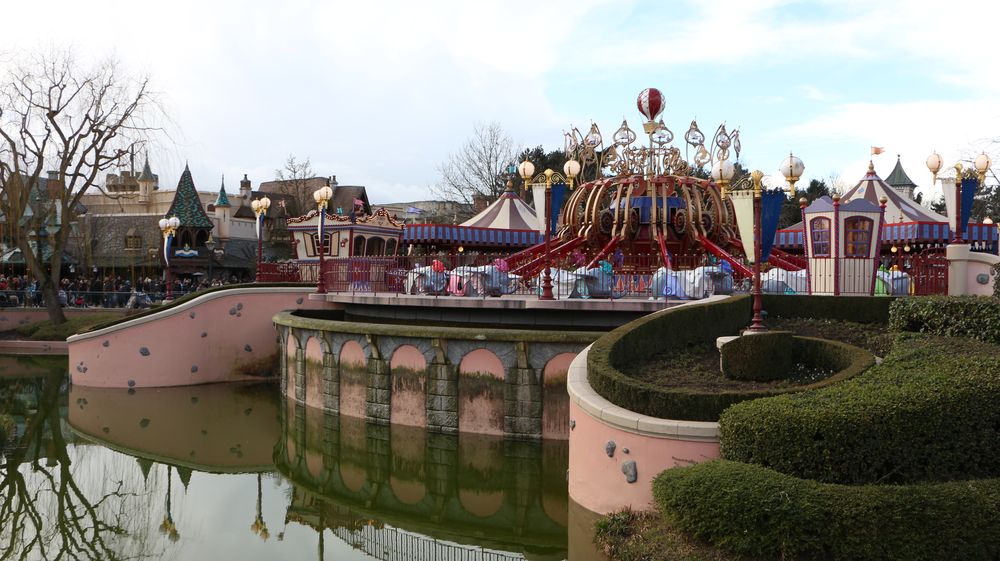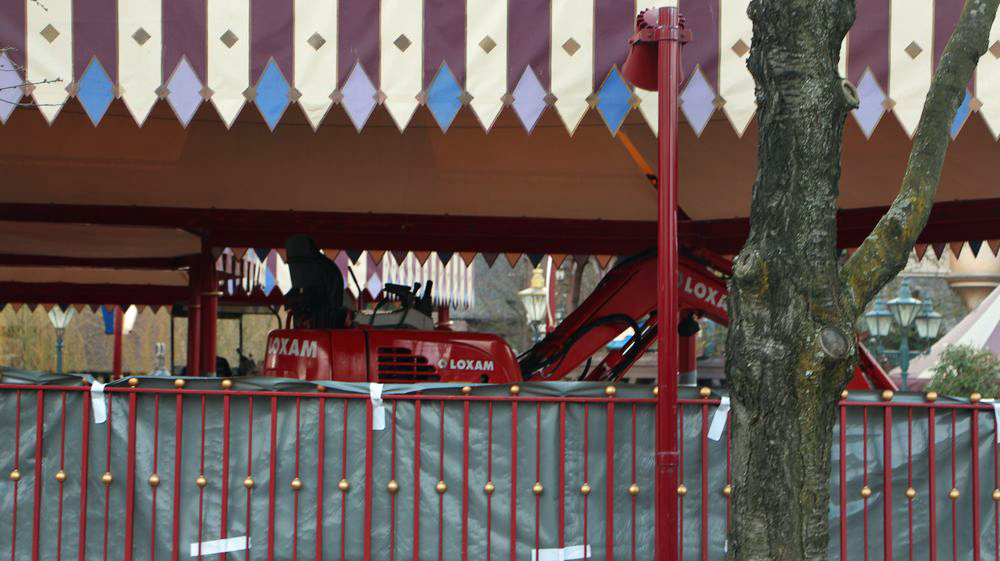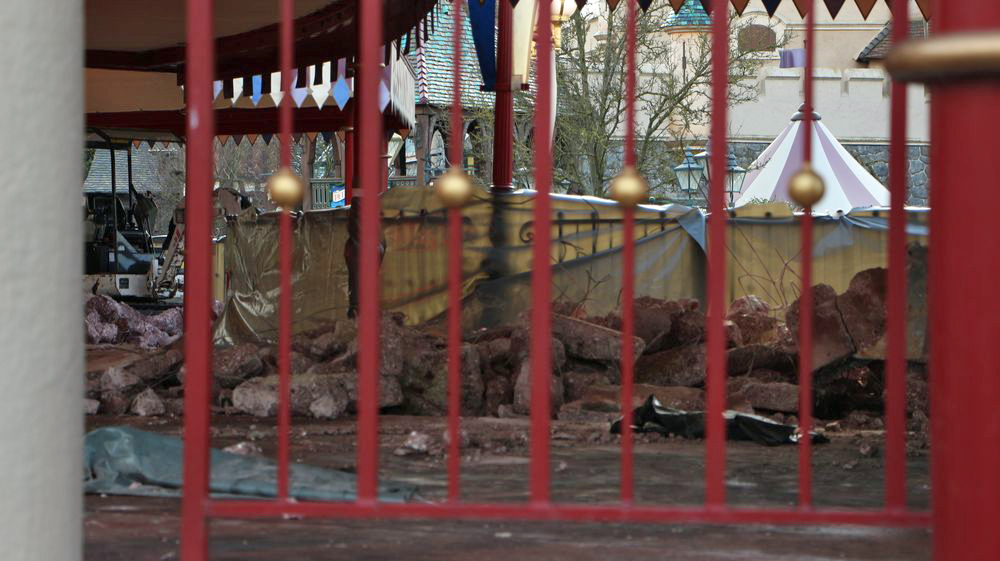 Le pavement près des Relations Visiteurs à l'entrée du parc Disneyland est terminé et à regarder de plus près les balustrades de la file d'attente sont aussi nouveaux. Mais le travail continue
A look at the new pavement near Guest Relations at the Disneyland Park entry and a closer look at the new railings for the queueline of Guest Relations. But the work continue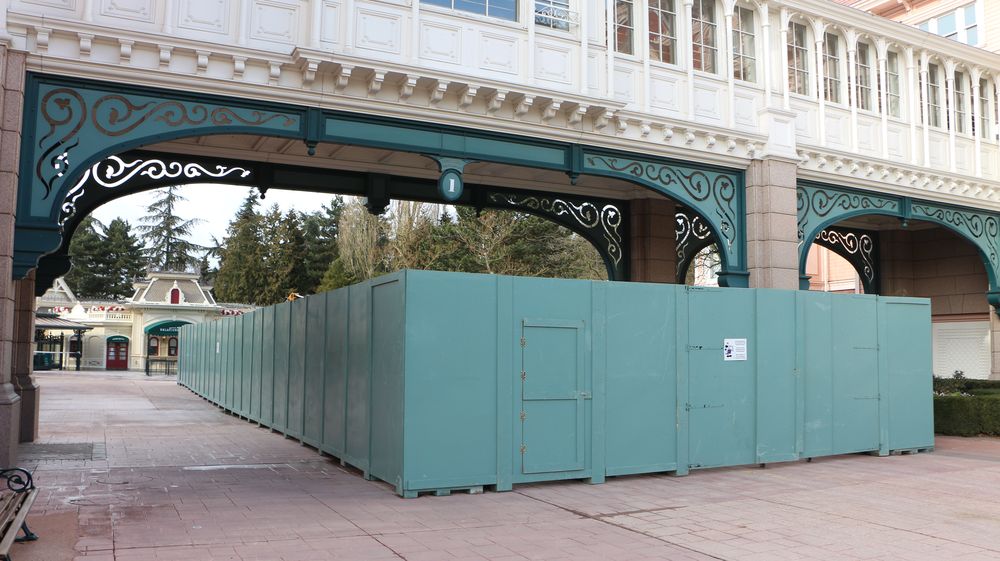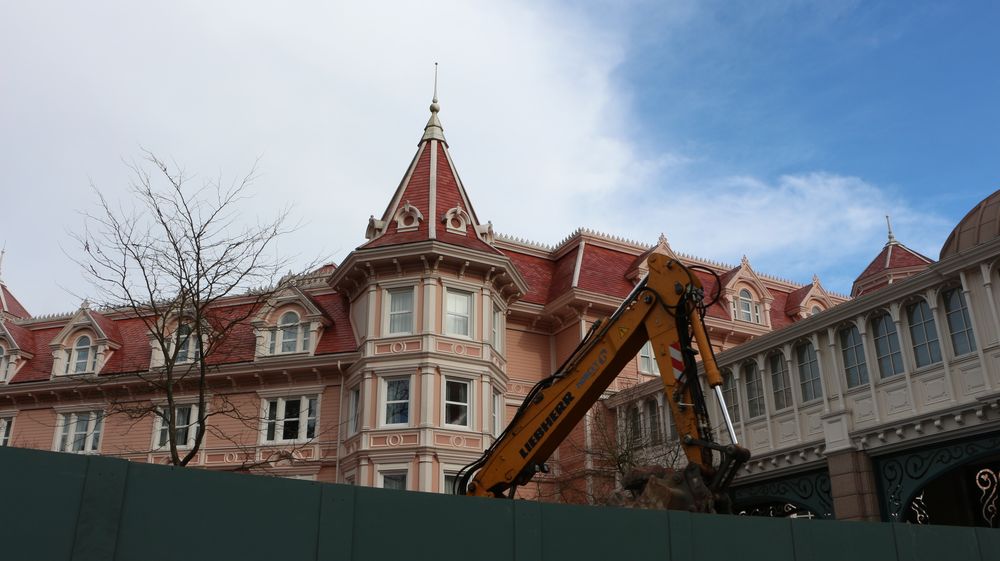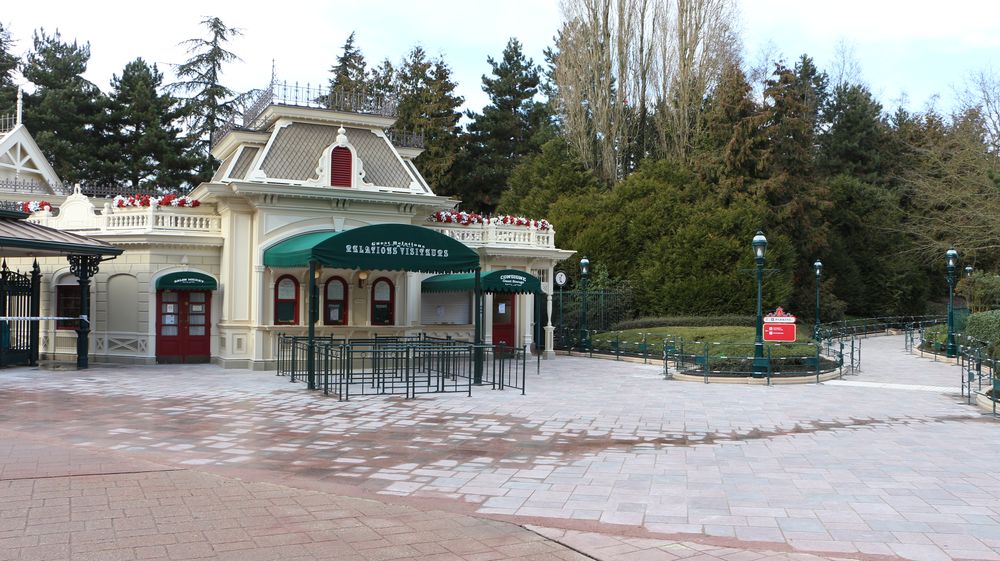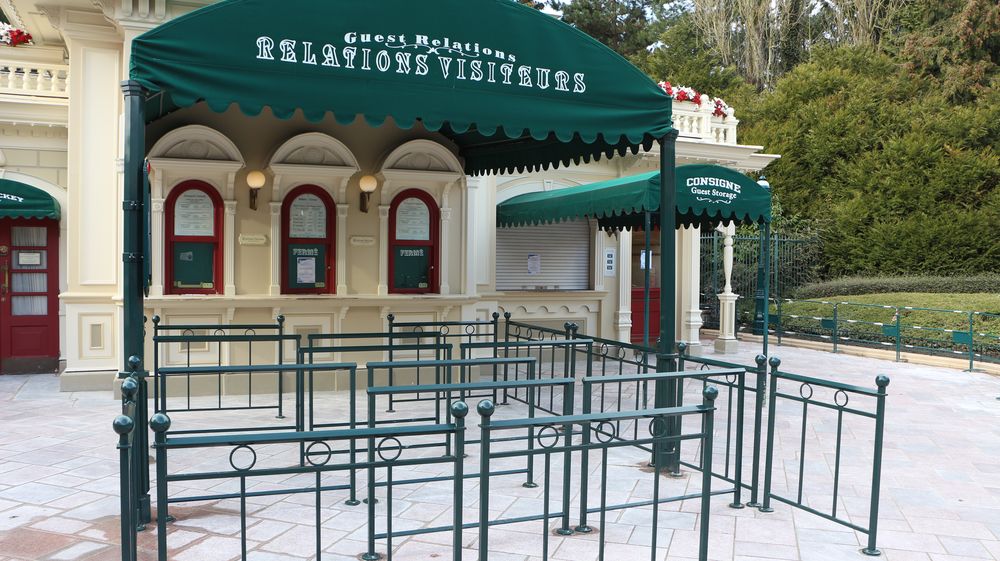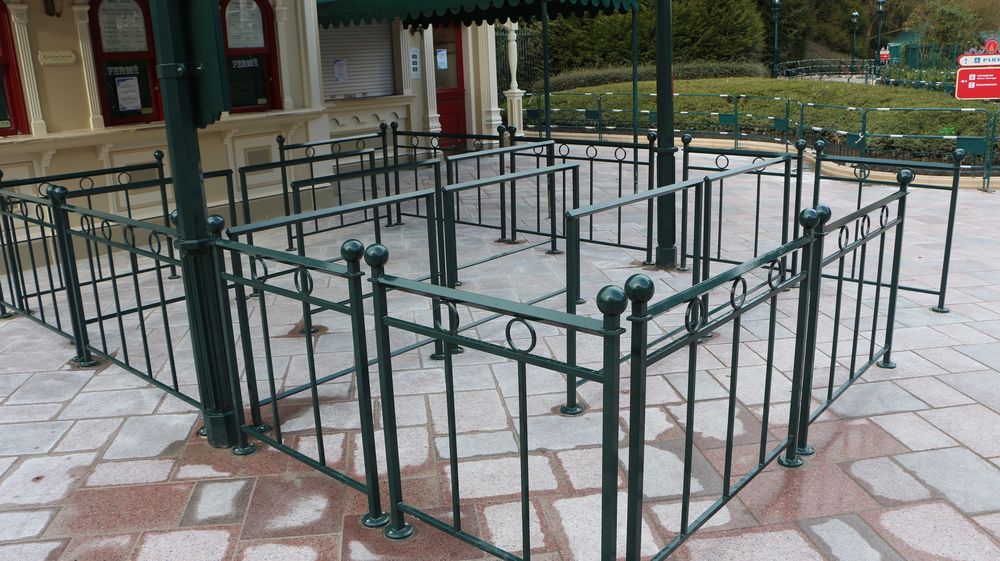 Voilà pour les dernières news.
Merci de votre fidélité.
A bientôt
Okay, you have all the news.
Thank you for your loyalty.
see ya real soon.