C'est mardi 24 février que Disneyland Paris nous a conviés avec d'autres sites pour découvrir les coulisses et les personnes qui ont travaillé toute l'année pour mettre en place cette saison printanière « Swing into Spring » qui débutera dimanche 1er mars et jusqu'au 31 mai 2015.
It is Tuesday, February 24 that Disneyland Paris we has invited with of other Websites to discover the the work of one year to put in place this season Spring « Swing into Spring » that will begin Sunday, March 1st and until May 31, 2015.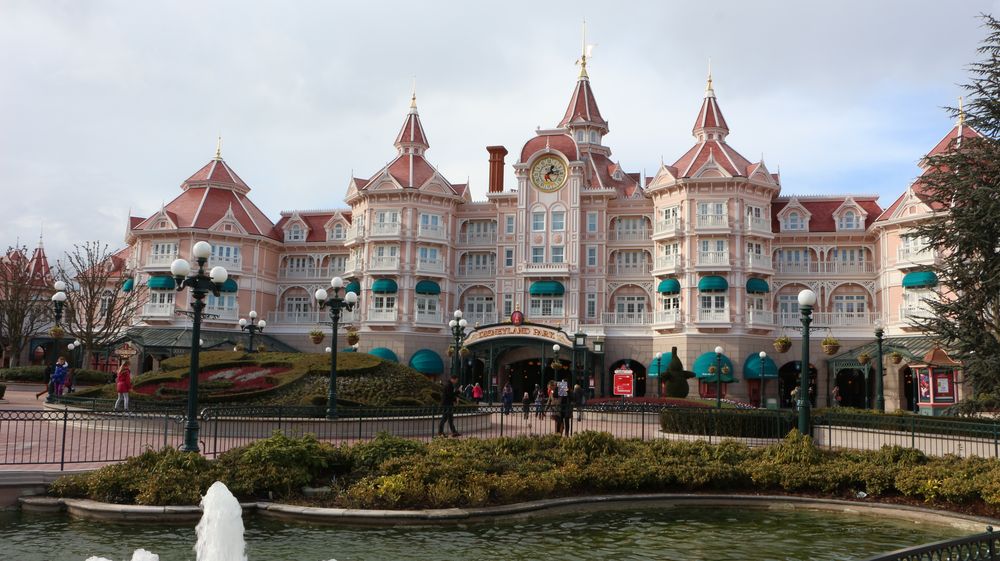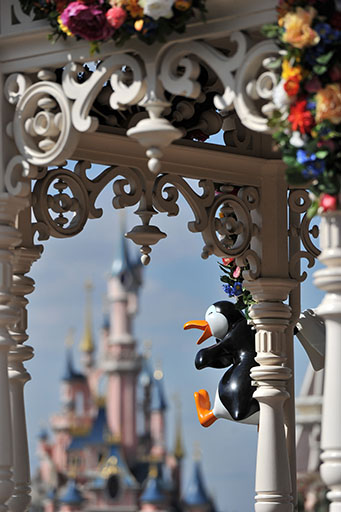 Dès notre arrivée sur place, direction le studio d'enregistrement de Disney pour ses parcs français. Attention, le rendez-vous est derrière l'attraction « It's a small world », dans le même batiment, c'est là que sont les studios ainsi que toute la régie son du parc Disneyland.
Direction the recording studio for the french Disney parks. Note, her localisation is behind the attraction 'It's a small world', in the building, with the management sound of Disneyland Park .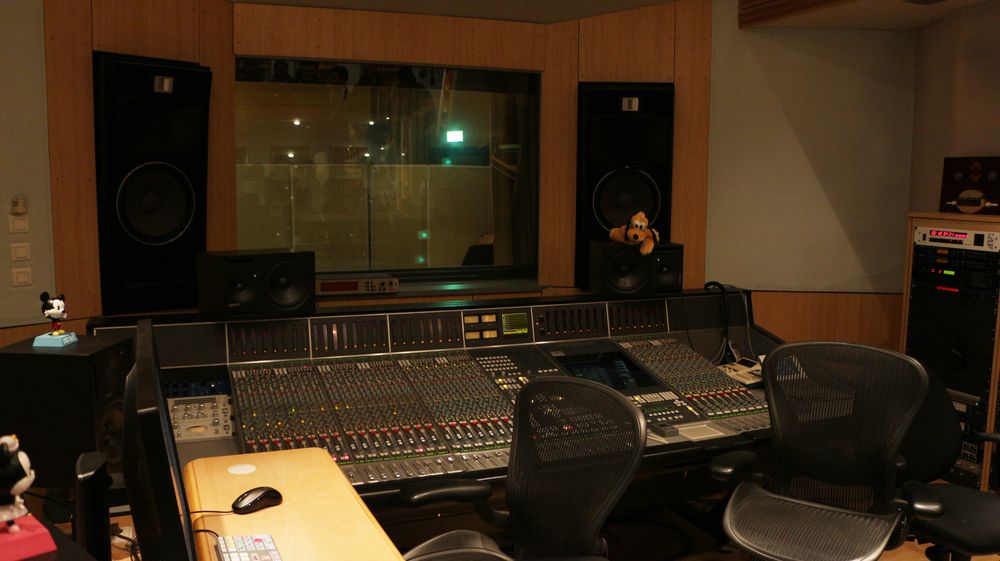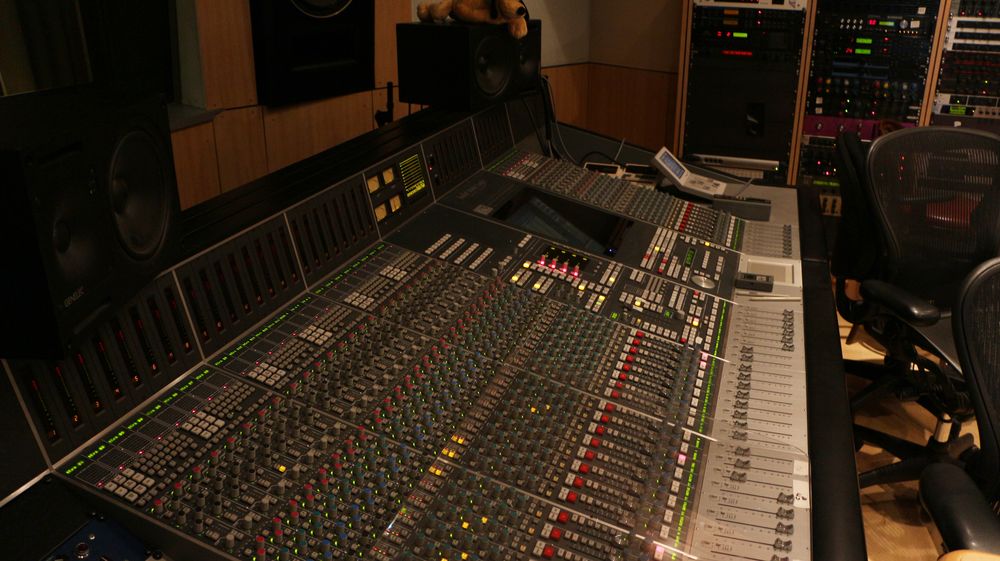 C'est au cœur du studios principale, devant la console de composition que nous attendaient Vasile Sirli, directeur musical de Disneyland Paris, Robert Fienga Chef d'Orchestre, Michael et le reste de leur équipe pour nous faire découvrir cette nouvelle saison en musique.
Comme l'année dernière, cette saison repose sur une base solide, la Musique ! Et qui mieux que nos chères artistes peuvent nous expliquer leur métier et leur travail ?! Un grand merci à eux pour se moment partagé tout simplement captivant et enrichissant.
It's at the heart of the main studio, behind the console of composition that we join Vasile Sirli, musical director of Disneyland Paris, Robert Fienga conductor, Michael and the rest of their team to make us discover this new season in music.
Like last year, this season is based on a solid foundation, the music! (Video in french).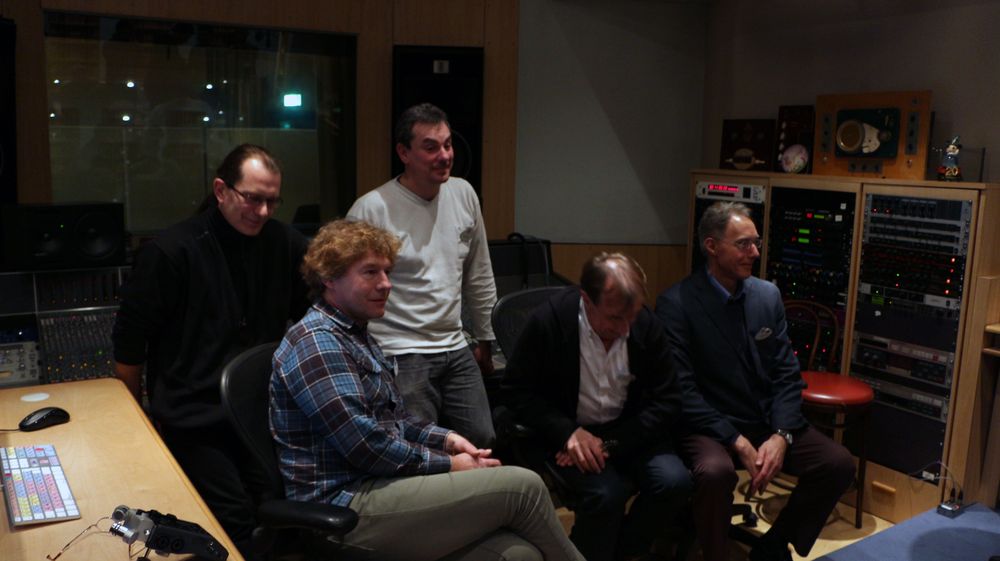 Pour les impatients, voici un bref résumé. Cette année le thème « Spring Fever » de la saison passée est de retour, cette musique se trouve être l'emblème de la saison bien que de nouvelles vont aussi faire des envieux ! Cette année le parc a fait le choix de reprendre une musique de Tokyo Disney Resort, de la réorchestrer, la réécrire et la rebaptiser « Welcome to The World Of Spring » spécialement pour notre Festival.
Ecouter la musique. Nous on est sous le charme !!
This year the theme « Spring Fever » of the season past is back, this music is the emblem, but the new soundtrack will also make of envious! This year the Park has made the choice to retake a music of Tokyo Disney Resort, and after the rescore and the rewrite They rename « Welcome to The World Of Spring » specially for our Festival. Why recreate a sound from a music of Tokyo Disney Resort ? because if a Disney Park has a soundtrack with a good base, why not reuse ?
Listen to the music. We are under the spell! (music start at 00:45)
Il est à noter que durant cette saison de printemps, un nouvel orchestre fera également ses débuts, dès samedi, au Parc Walt Disney Studios.
It is worth noting that during this season of spring, a new orchestra will also make there debut as early as Saturday at Walt Disney Studios Park.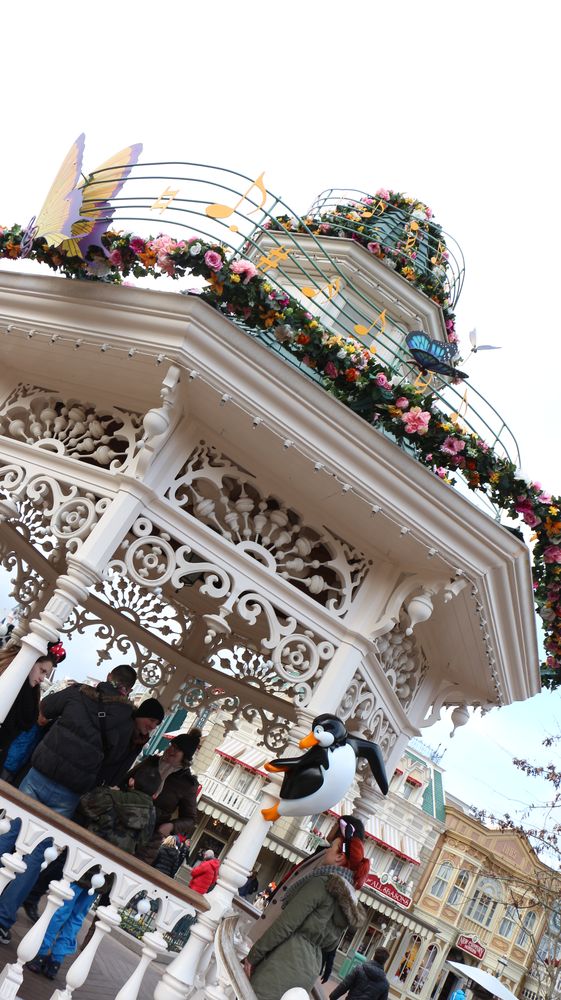 Après un au revoir déchirant auprès des équipes de musique, direction le Disneyland Hôtel où Fanfan (Françoise) Directrice Production et Création Costumes et Spectacle de Disneyland Paris, nous a accueillie pour présenter la saison.
Cette saison garde les bases de l'année dernière pour les améliorer sur de nombreux points. Tout d'abord, le spectacle « Welcome to Spring » n'est plus un spectacle de rue sur Main Street USA mais sur scène aux The Castle Stage. Cette année seul un orchestre du Jolly Holiday Band sera présent pour accueillir les visiteurs sur Main Street. C'est bien dommage, car on perd du charme et de l'animation de Main Street. Mais c'est un mal pour un bien ! En effet, Mary Poppins, Bert et les 4 pingouins seront sur scène avec 12 performers pour 10 mintues de spectacle 4 fois par jour, 5 jours par semaine (relâche les jeudi et vendredi).
After a goodbye ripping with music teams, we go at the Disneyland Hotel where Fanfan (Françoise) Director Production and creating Costumes and Spectacle of Disneyland Paris, welcomed us for to speak the season.
This season keeps the bases of the year last to improve on many points. First of all, the show « Welcome to Spring » is now not a show of street on Main Street USA but onstage at The Castle Stage. This year only an orchestra the « Jolly Holiday Band » will be present to welcome visitors on Main Street. It's pity, because it loses the charm and bustle of Main Street. But finaly it's good! Indeed, Mary Poppins, Bert, and the 4 penguins will be on stage with 12 performers for 10 mintues of show, 4 times per day, 5 days per week (except Thursday and Friday).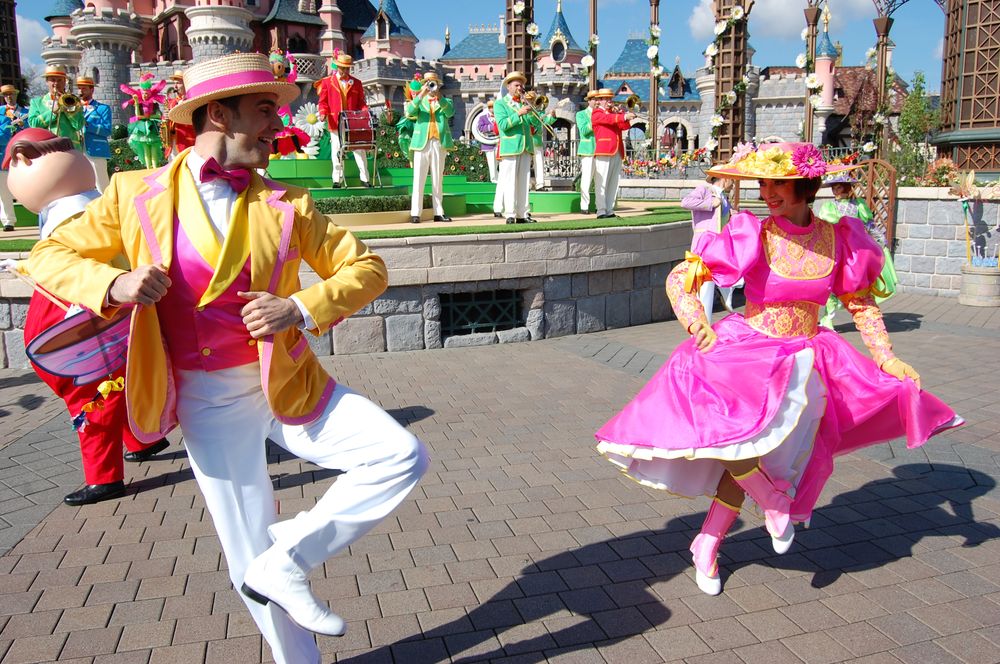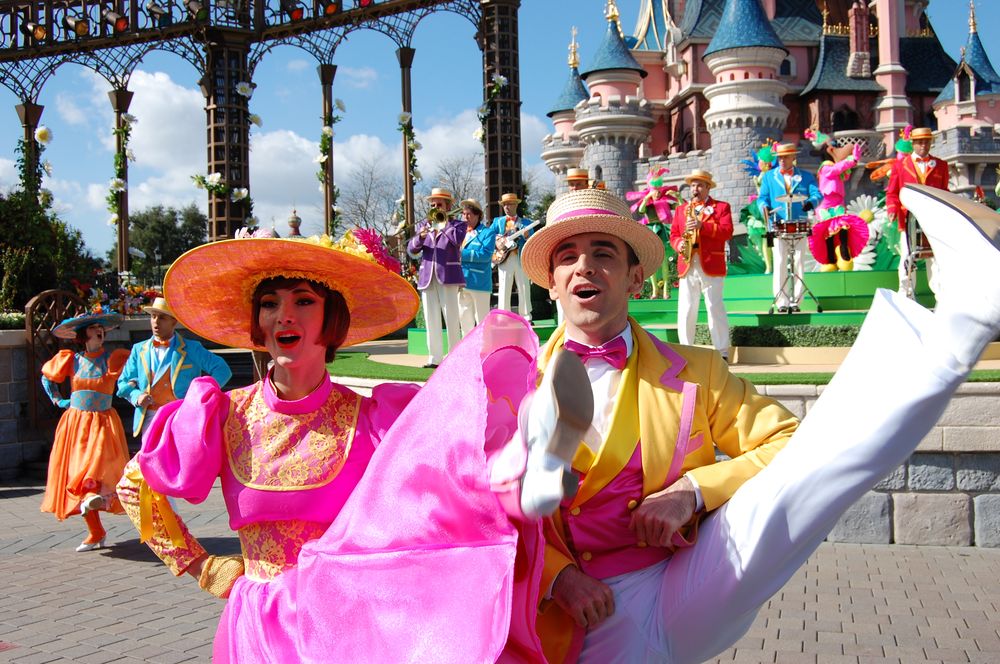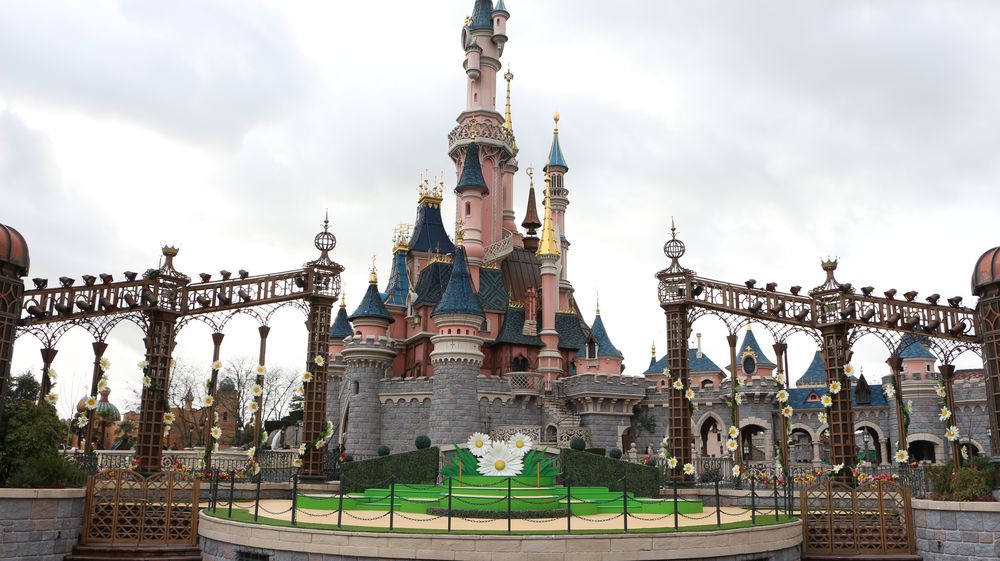 La Garden Party de Dingo, nouvelle version de la balade printanière jouée uniquement sur Central Plaza et le bout de la rue main street, est composée de 22 personnages (Dingo et Clarice auront nouveaux costumes) et bien d'autres et de 64 danseurs au nouveaux costumes en topiaire dont on = garde la surprise (4 modèles différents hommes et femmes). Plus de 6 nouveaux chars/topiaires représentant une fontaine, un papillon ainsi que des Cygnes ont été créés en plus des deux véhicules de l'année dernière de retour. Le spectacle commencera par l'arrivée des unités sur Central Plaza, un show stop et leur départ. Le spectacle sera également joué 4 fois par jour, 5 jours par semaine (relâche les lundis et les mardis). Un Podium sera installé avant chaque représentation au centre de Central Plaza avec des fleurs de deux mètres de haut !
The « Goofy's Garden Party » , new version of the « Disney's Spring Promenade » played only on Central Plaza and the end of thestreet of Main Street USA, consists of 22 Diseny characters (goofy and Clarice will have new costumes) and 64 dancers to new costumes in Topiary (4 differents models for men and women ). More than 6 new Float/topiaries (Push Units) representing a fountain, a butterfly as well as swans have been created in addition to of the two vehicles retourn last year. The show will begin with the arrival of the units on Central Plaza, a show stop and their departure. The show will be also played 4 times per day, 5 days per week (except Mondays and Tuesdays). A Podium will be installed before each performance at the centre of Central Plaza with flowers of two meters high!
The show of « Disney's Spring Promenade » :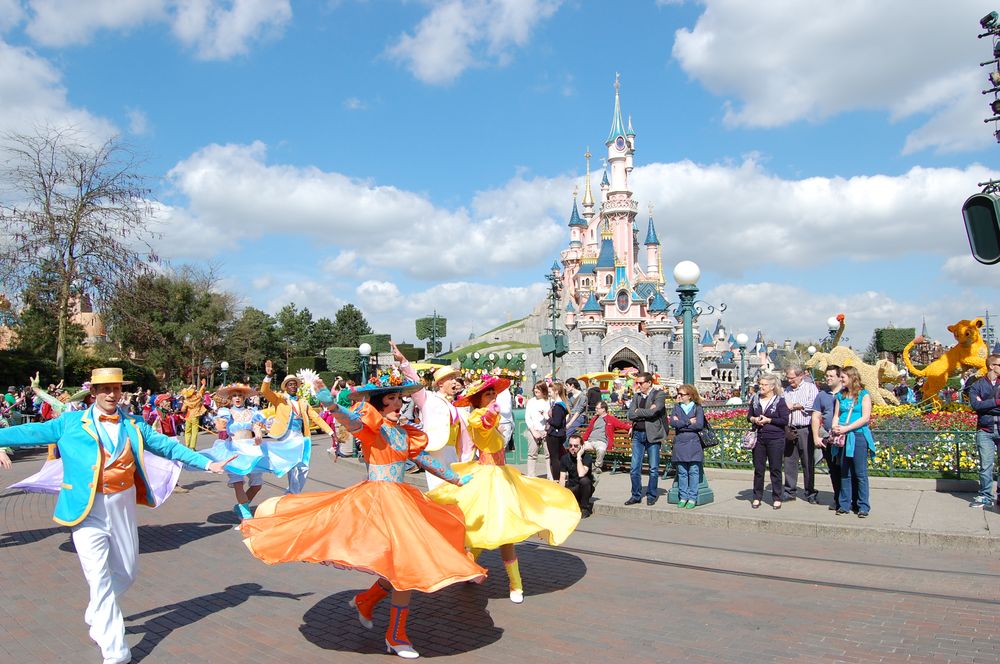 Le train du printemps de Minnie composé de deux wagons sera re-décoré avec de nombreux lapins, œufs et fleurs. Il défilera deux fois par jour, tous les jours sur Main Street USA et permettera de découvrir les personnages les plus choux de Disney ! Miss Bunny, Panpan, Minnie et bien d'autres ! L'arrivée des Lapinoux est une première à Disneyland Paris.
« Minnie's Little Spring Train » composed of two wagons will be redecorated with many rabbits, eggs and flowers. It will scroll twice a day, every day on Main Street USA and we will discover the more cabbage Disney characters! Miss Bunny and Thumper (A premiere at Disneyland Paris), Minnie and many others! .

Le merchandising sort enfin ! En effet, l'année dernière le prologue de la saison de printemps était sans produit dérivé en raison des 3 mois de préparation et livraison des festivités alors qu'il faut 18 mois pour élaborer toutes une gamme de produit. Une chose est sûre, tout très fleuri et flachie avec de nombreux nouveaux produits, tee-shirts, sacs, pins, tasses, coques iphone et plus encore.
Merchandising finally released! Indeed, last year the prologue of spring season was without merchandising because of the 3 months of preparation and delivery of the festivities, however it takes 18 months to develop all range of products. One thing is for sure, all is very ornate and flashy with many new products, t-shirts, bags, pins, cups, Hull iphone and more.
Décorations
Ce mois de mars sera sans fleur en raison du climat trop froid et humide défavorable aux fleurs. Pour les remplacer, le choix fut porté sur les copeaux de bois colorés. Seul les fausses fleurs et topiaires en fleurs séchées sont de retour. Ainsi Town Square reste identique à l'année dernière.
Des petites touches de spring ont été rajoutées sur Main Street, avec des marguerites en forme de tête de Mickey sur quelques un des lampadaires (comme sur la gare).
La gare aussi reste inchangée mais à part la pose de marguerites en forme de mickey et l'ajout de feuilles « Swing into Spring ».
Decorations
This month of March will be without flowers because of the climate too cold and wet. To replace them, the choice was made for colored wood chips. Only the fake flowers and topiaries in dried flowers are back. Town Square remains the same as last year.
Small touches of spring have been added on Main Street, with daisies in the shape of Mickey head on a few street lights (such as on the train station).
The station also remains unchanged but apart the laying of daisies in the shape of mickey and the addition of leaves at the « Swing into Spring ».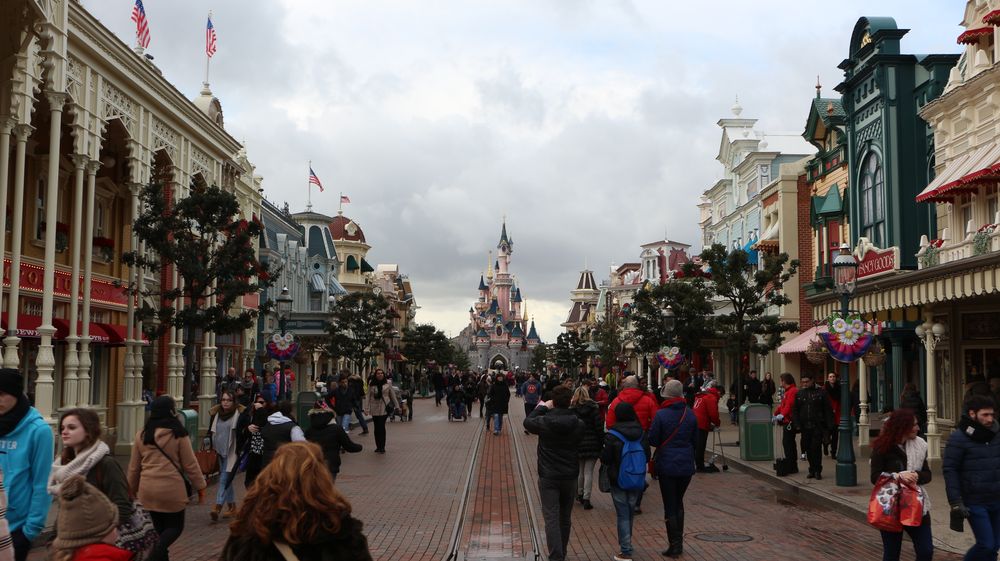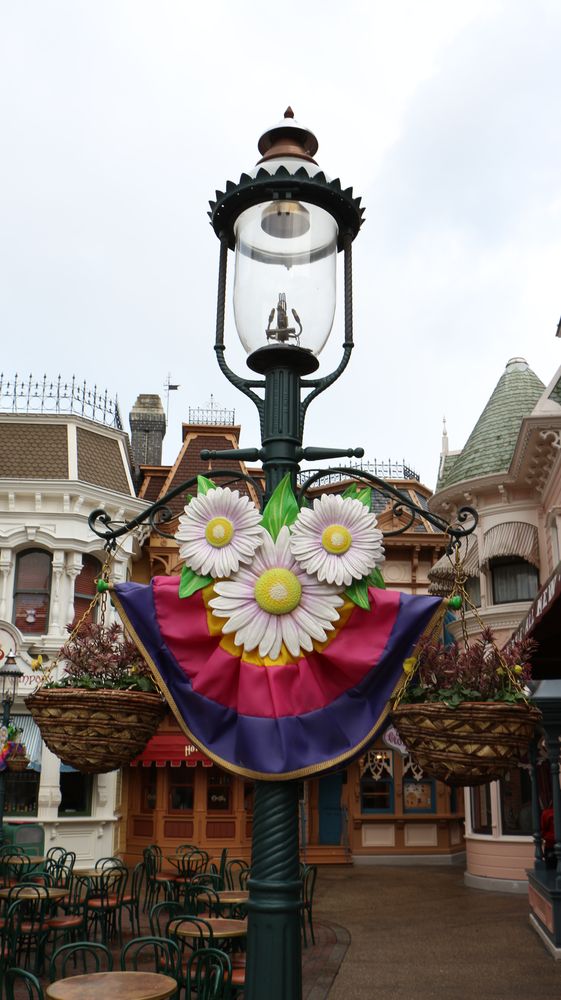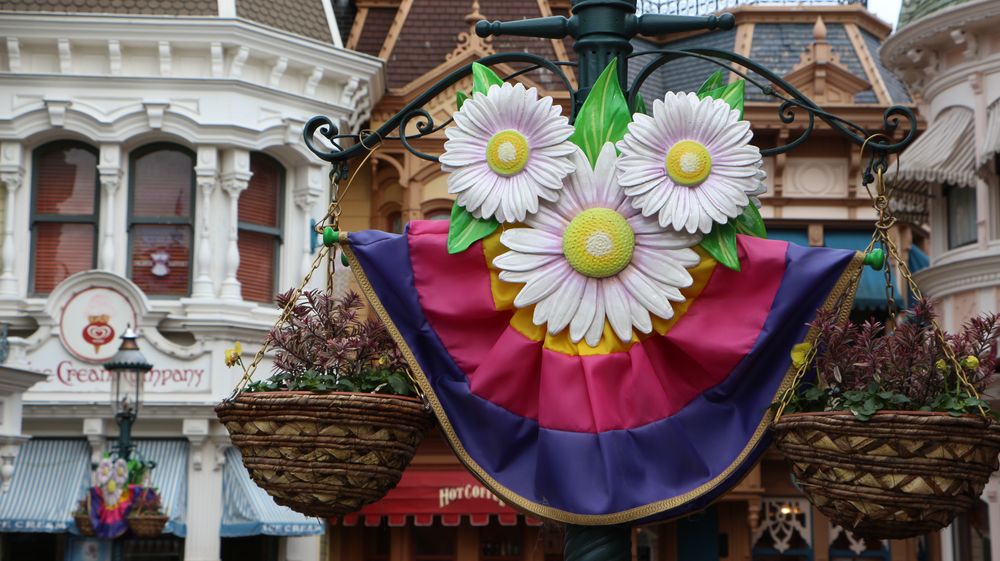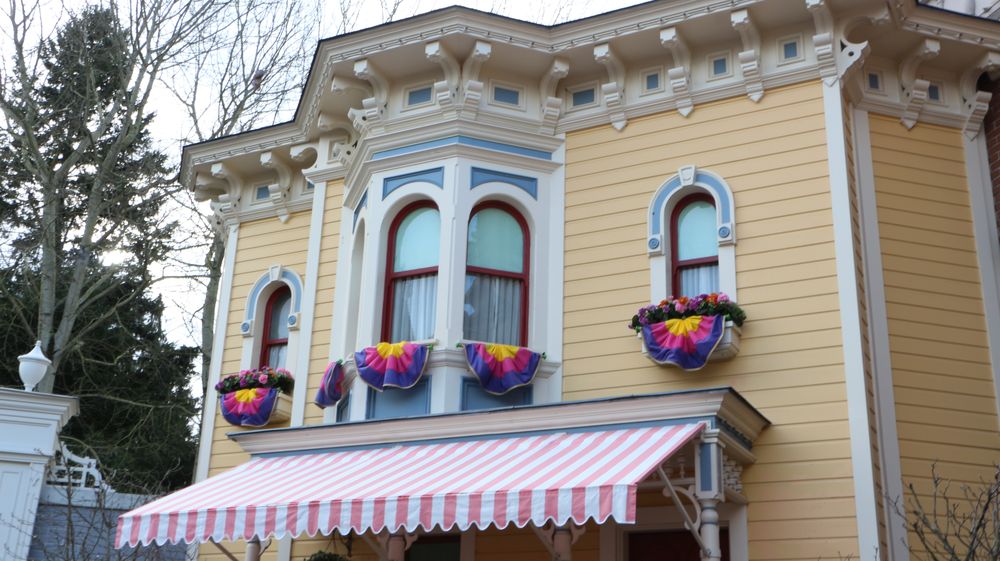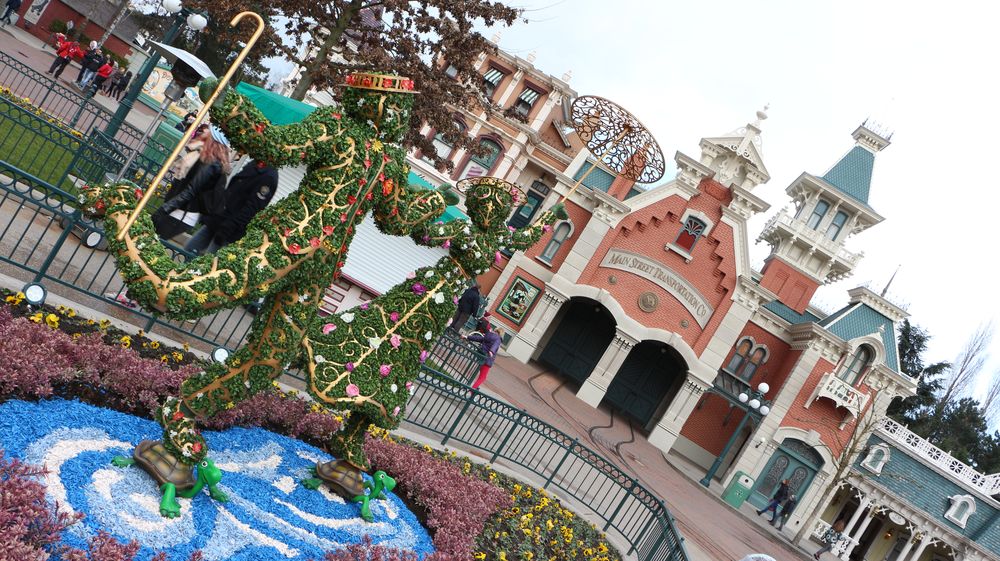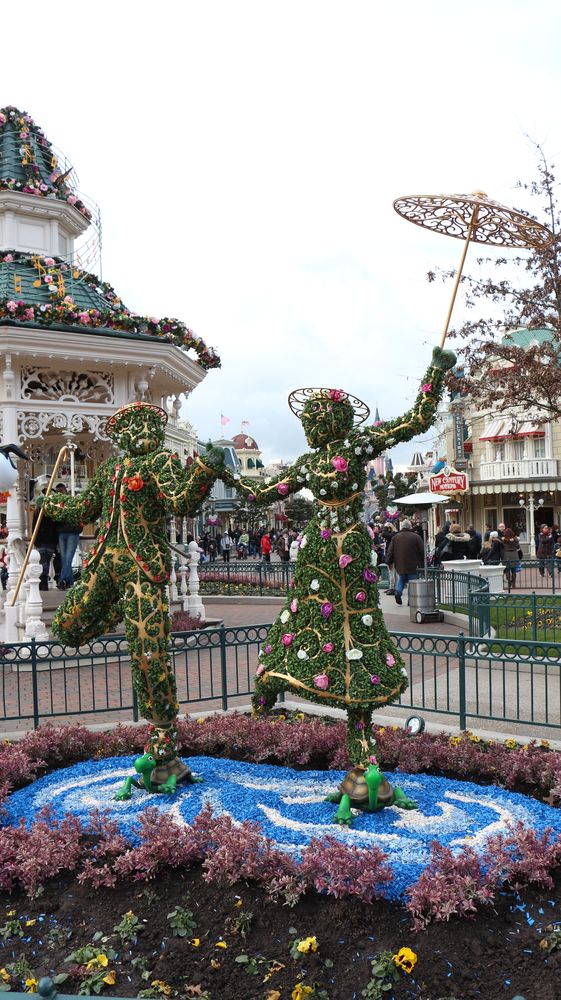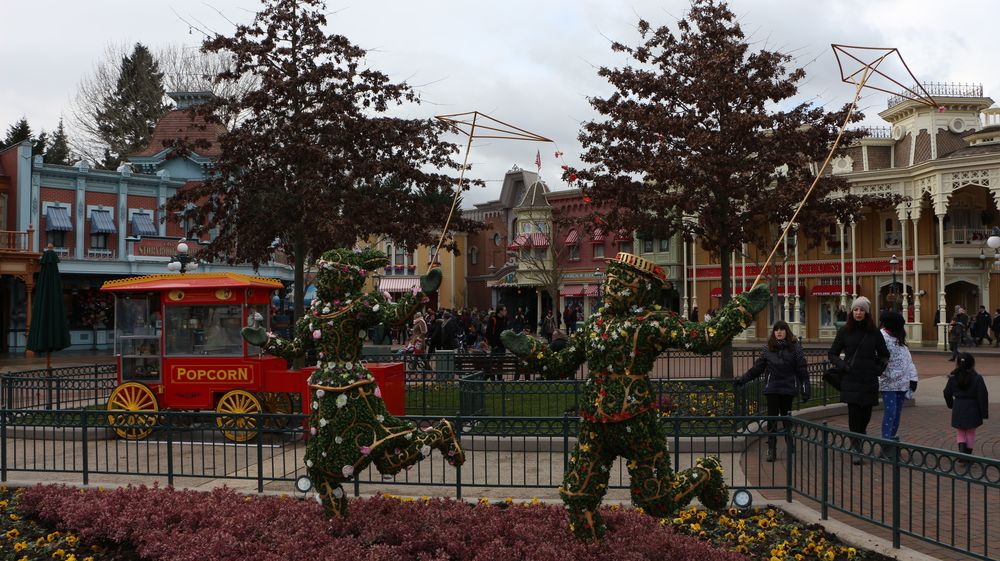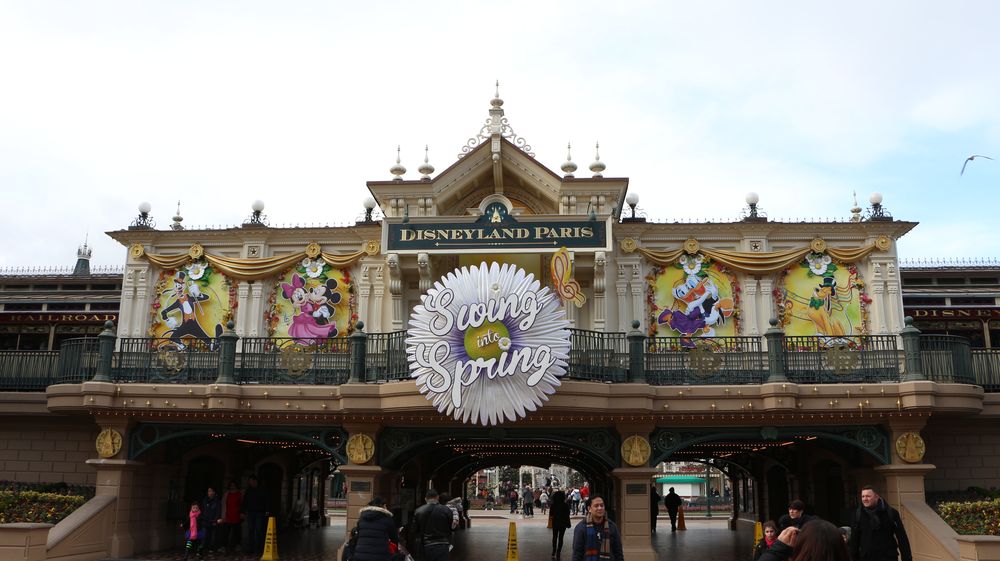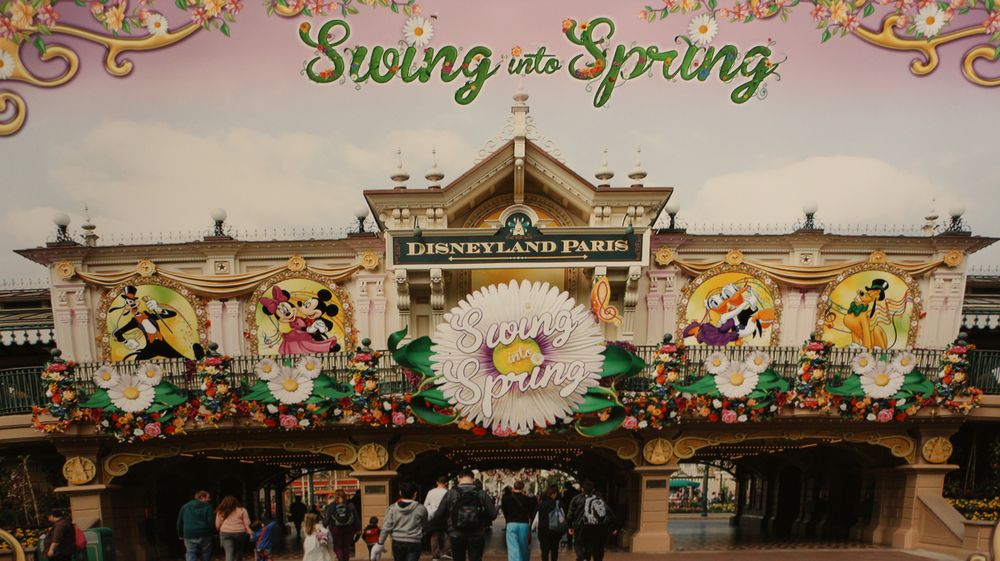 Dedicated Meet'n'Greets ( every day / tous les jours)
Cette saison sera donc l'occasion de rencontrer pour la toute première fois Pan Pan et Miss Bunny, à Casey's Corner devant le cœur « Spring » géant. Minnie ou ses amis du côté de Boarding House (toujours sur Main Street USA) dans sa tenue de saison. Et enfin la Princesse Raiponce sera comme à Noël près de L'Arbre Enchanté à Fantasyland.
This season will be the opportunity to meet for the first time Thumper and Miss Bunny, at Casey's Corner at the giant 'Spring' heart. Minnie or his friends on the side of Boarding House (still on Main Street USA) in her outfit of the season. And finally the Princess Rapunzel will be like at Christmas near the tree enchanted in Fantasyland.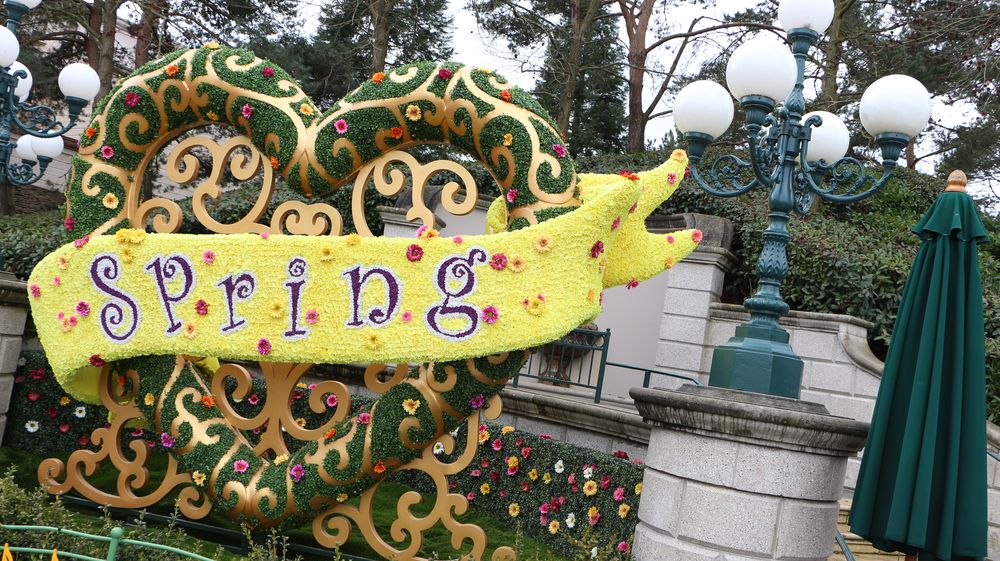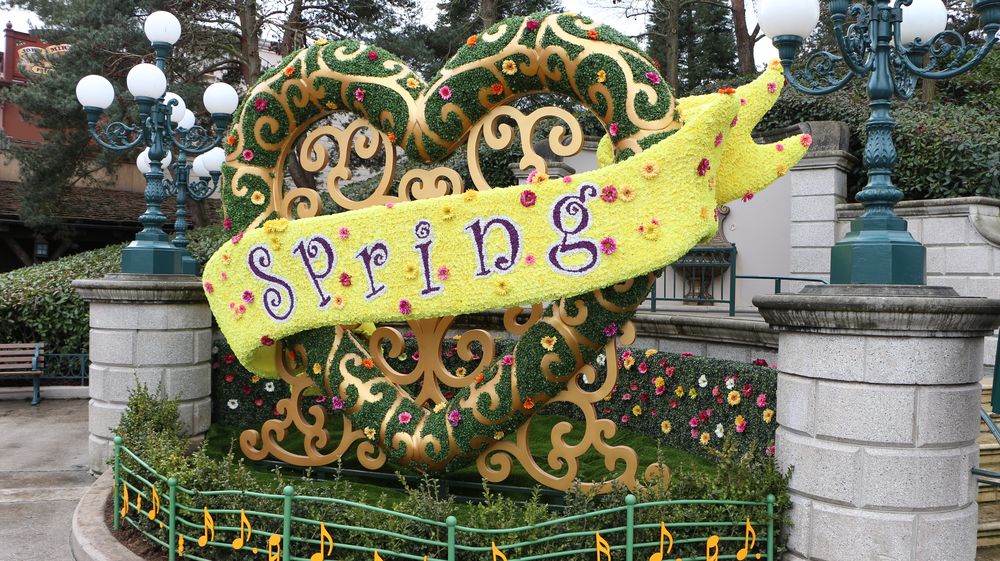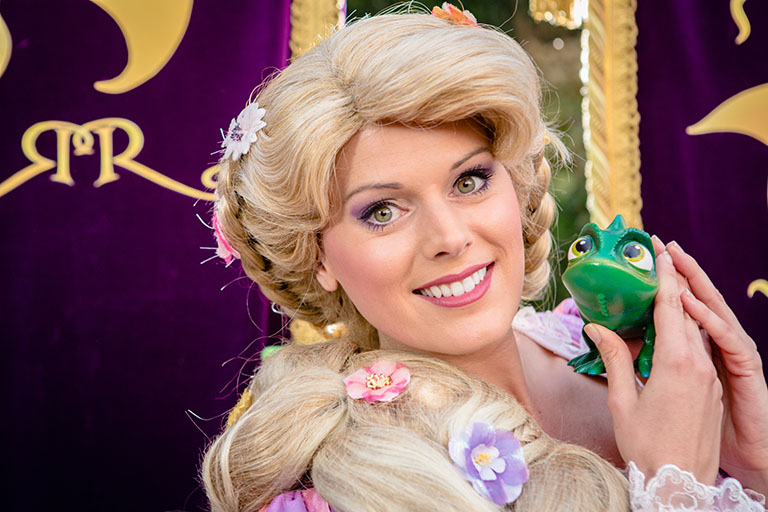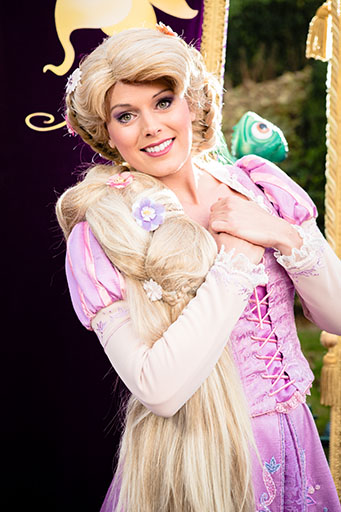 Cette saison du Printemps s'étendra cette année au Disneyland Hôtel avec de toutes nouvelles décorations dans le hall d'entrée et les comptoirs des restaurants.
This year this spring season extend at the Disneyland Hotel with brand new decorations in the lobby and restaurants.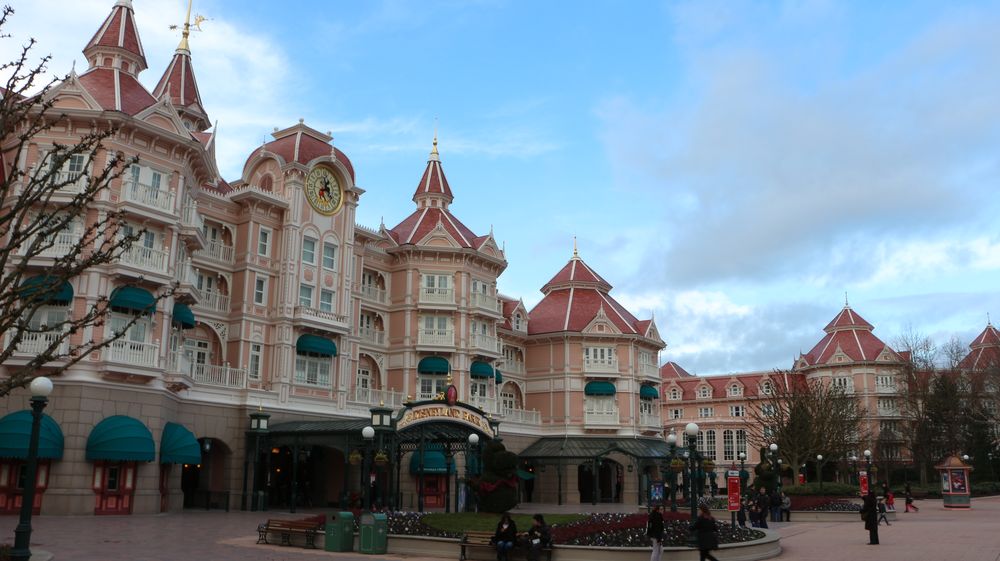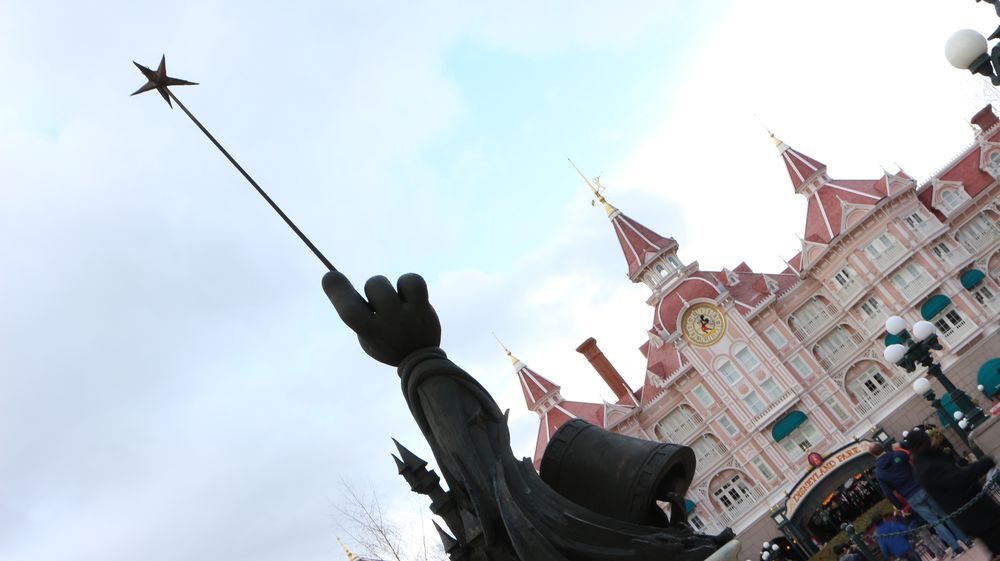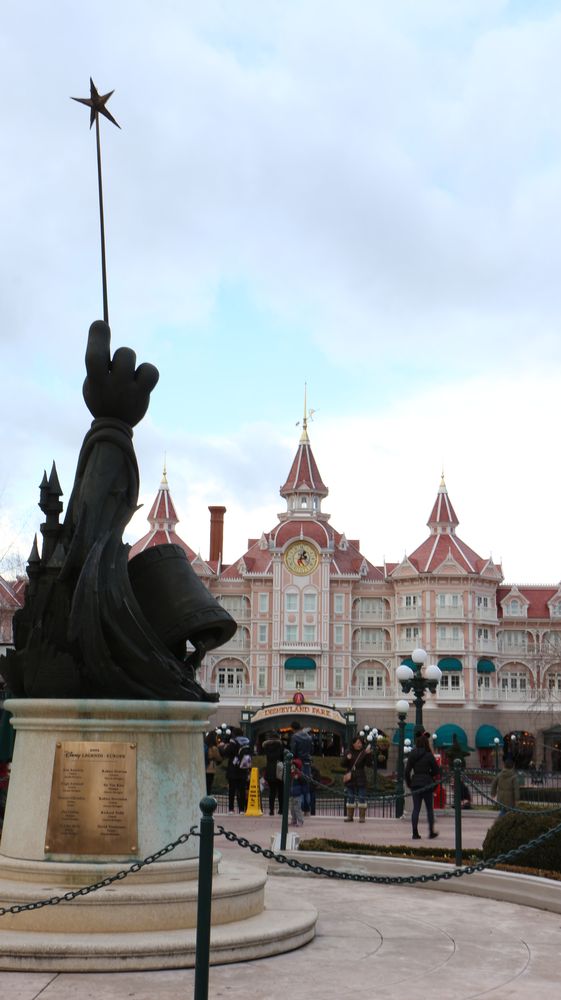 Bien, maintenant gilets jaunes et direction le parc fermé depuis deux heures. Plus aucun guests mais des Cast Memebers qui s'affairent à installer les décorations pour la saison, alors que de l'autre côté des metteurs en scène s'activent sur les dernières répétitions de nuits.
Voici un rapide résumé en images et vidéo.
Well, now vests yellow and direction the Park closed since two hours. No guests but with Cast Memebers that are working to install the decorations of the season, so that on the other side the directors are activated on the last nights rehearsals.
Here's a quick summary in pictures and video (subtitle in english).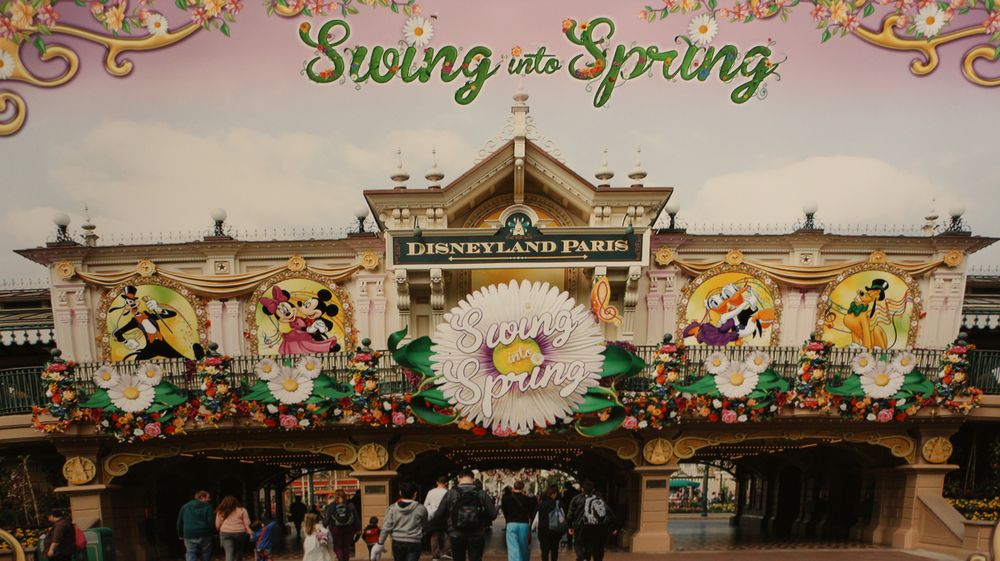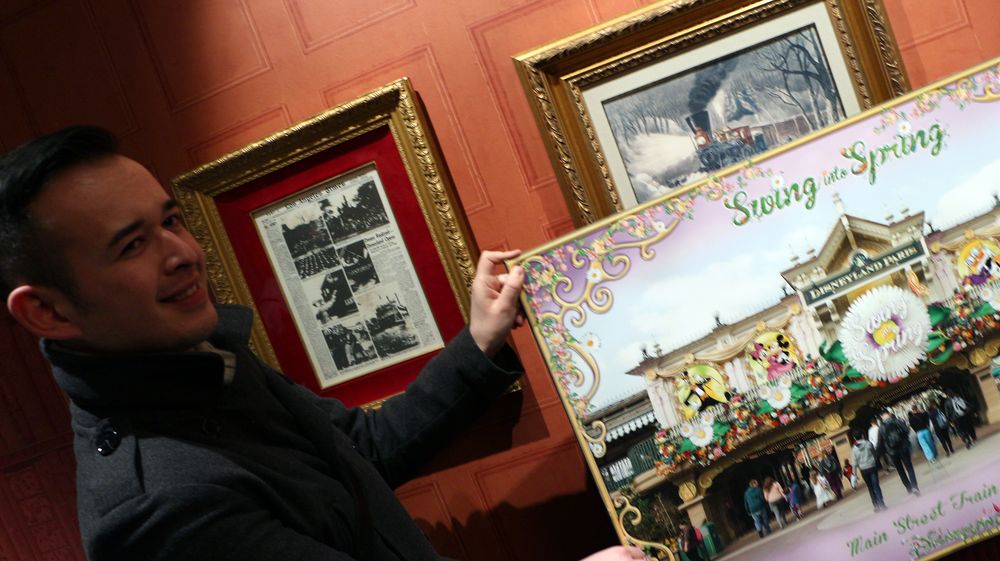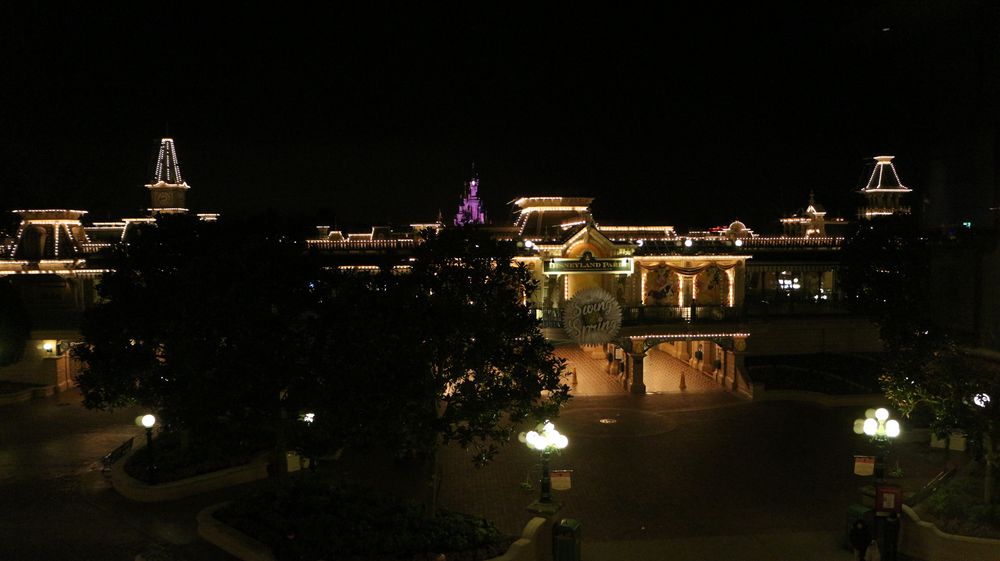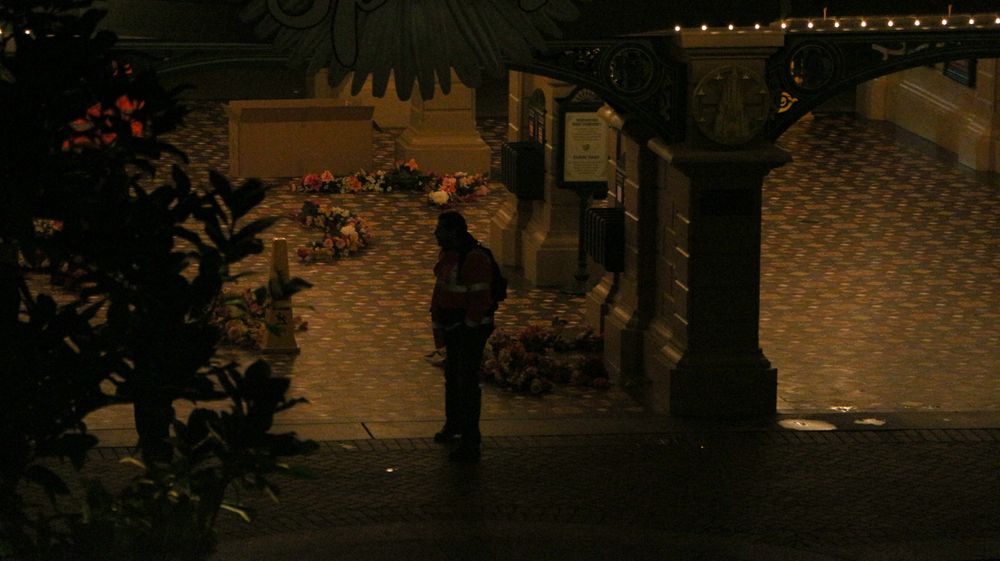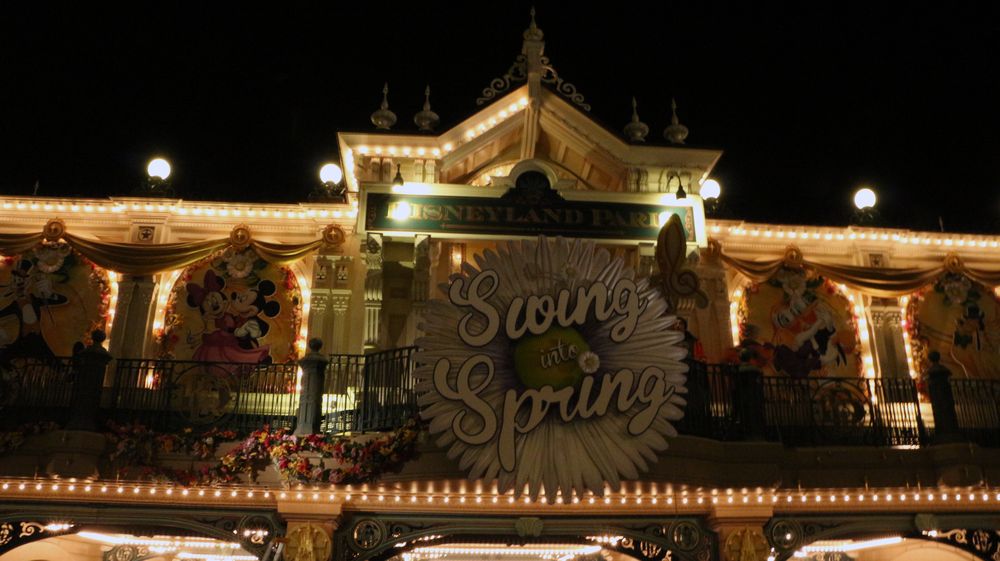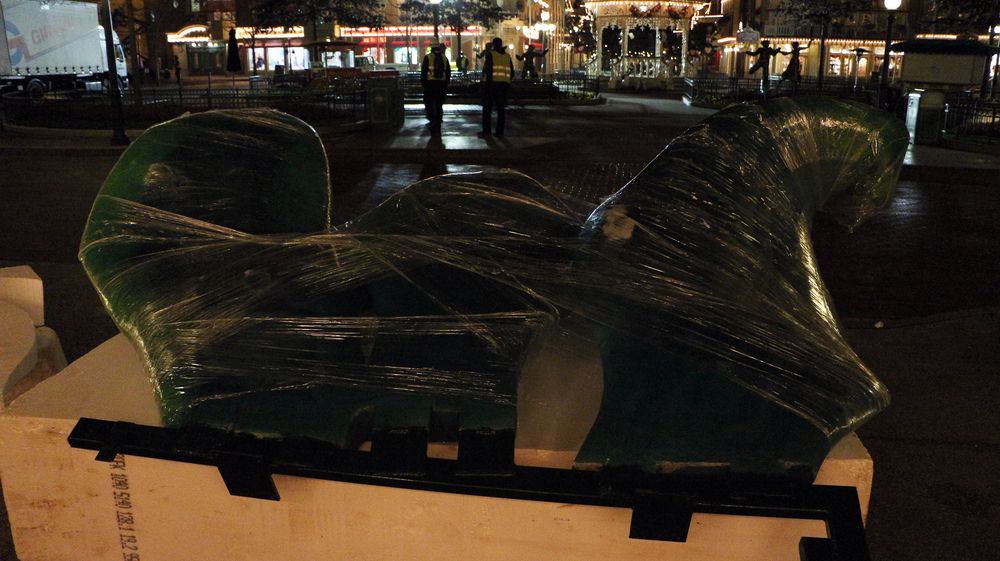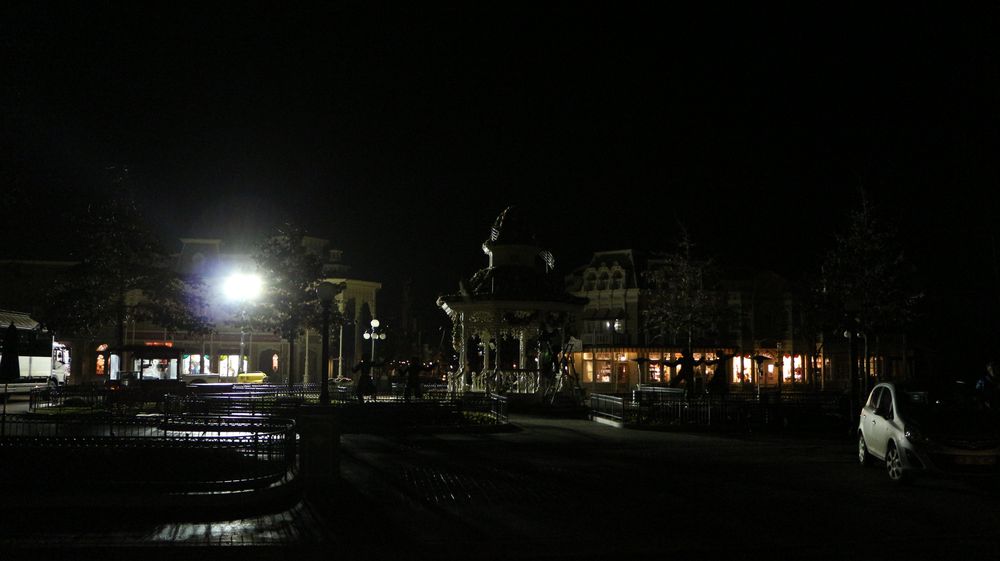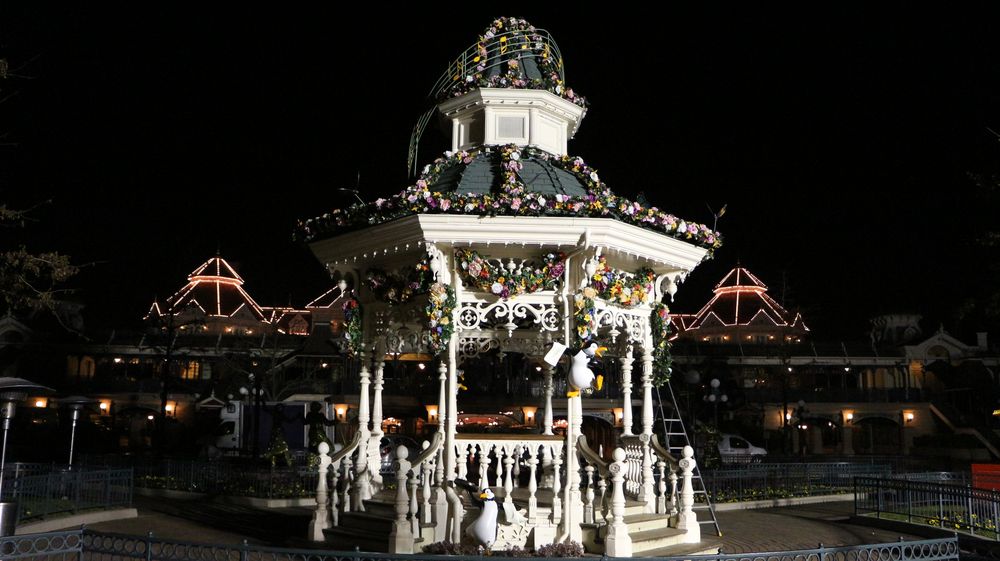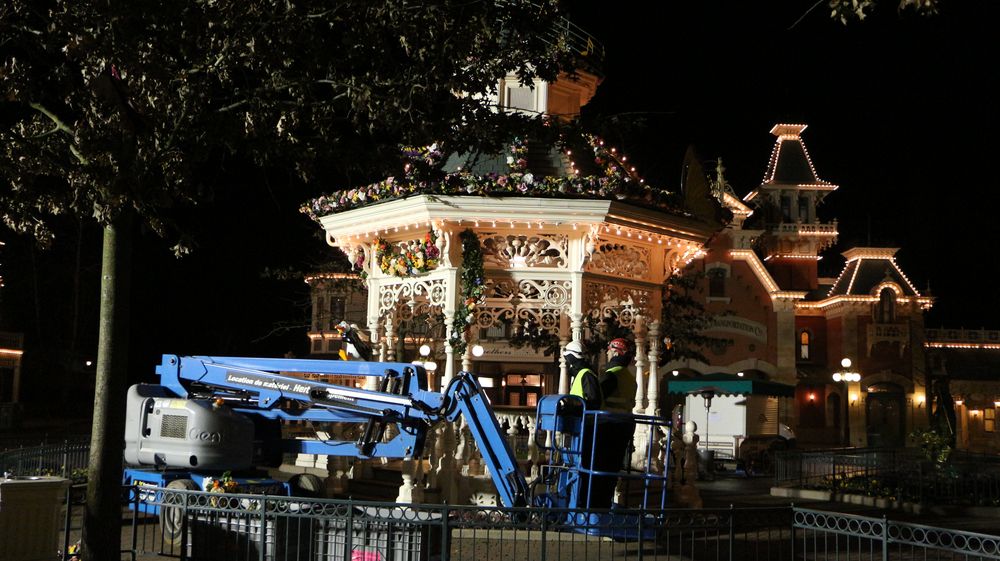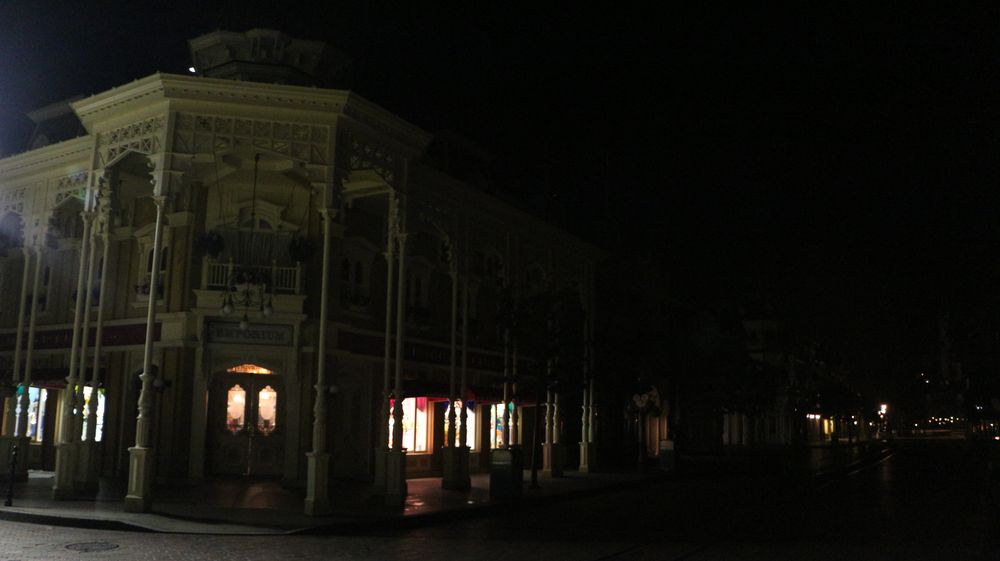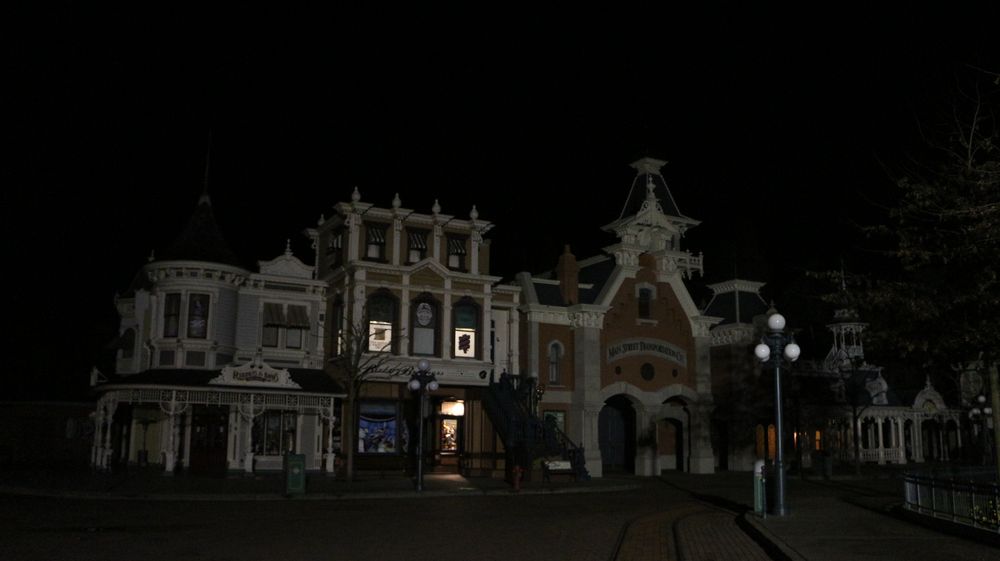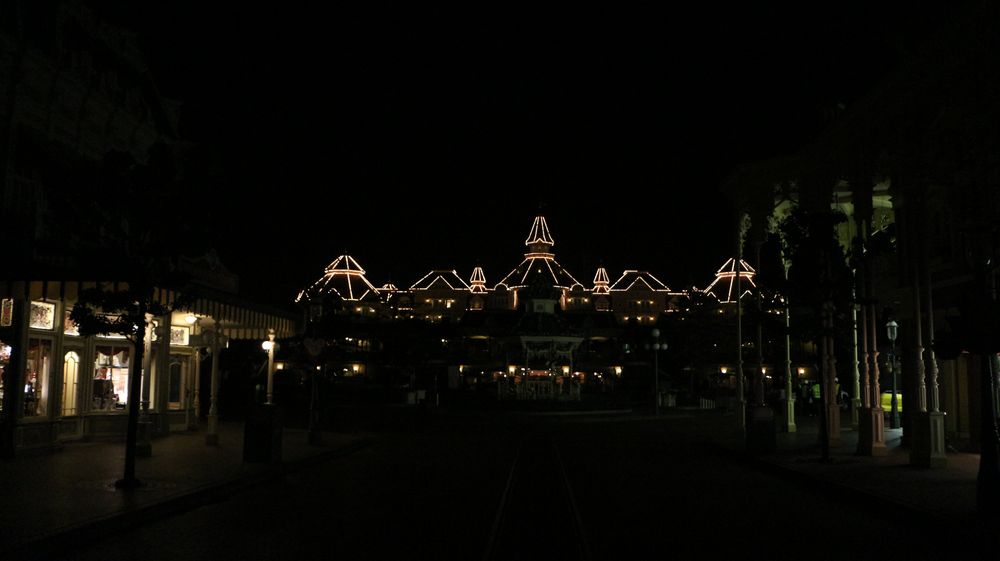 Pas trop loin une chanson entraînante anime Central Plaza: répétitions pour « Garden Party de Dingo » sont en plein essor. Plus de 100 artistes, parmi eux 64 danseurs, effectuez la répétition générale de la grande nouveauté pour la saison 2015. Juste avant la présentation de l'auditoire-moins, Show Directeur Christophe Leclercq avait les répéter dans le studio, dans le bâtiment Parades.
Not too far away a catchy tune livens up Central Plaza: rehearsals for "Goofy's Garden Party" are in full swing. Over 100 artists, among them 64 dancers, perform the dress rehearsal of the great novelty for the 2015 season. Right before the audience-less presentation, Show Director Christophe Leclercq had them rehearse in the studio, in the Parades building.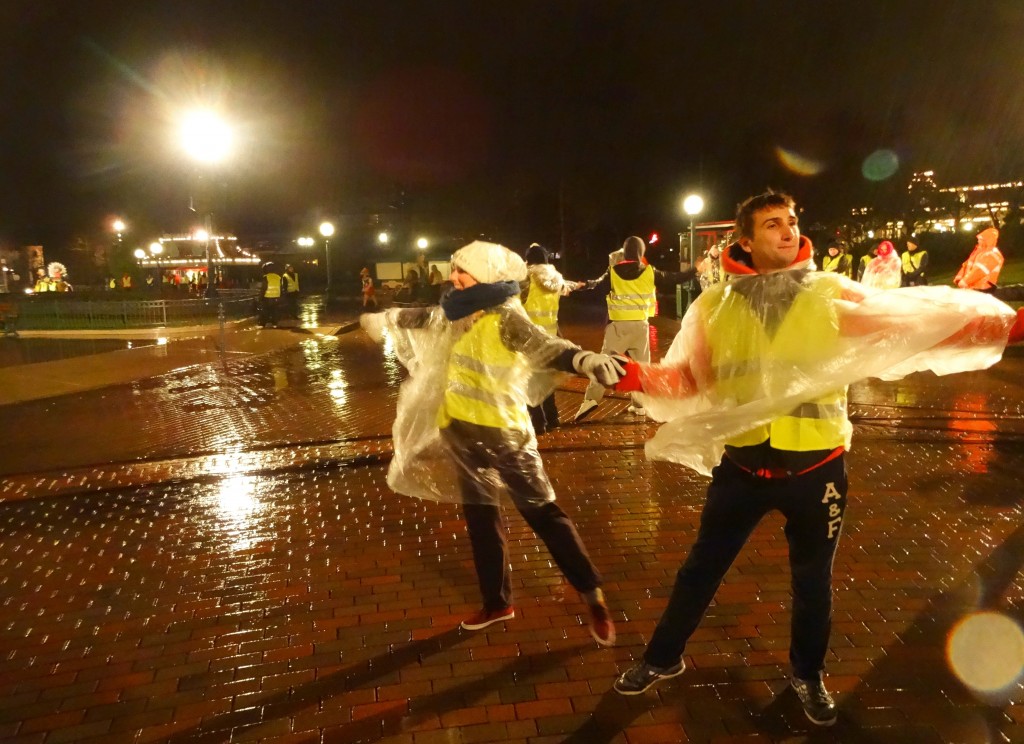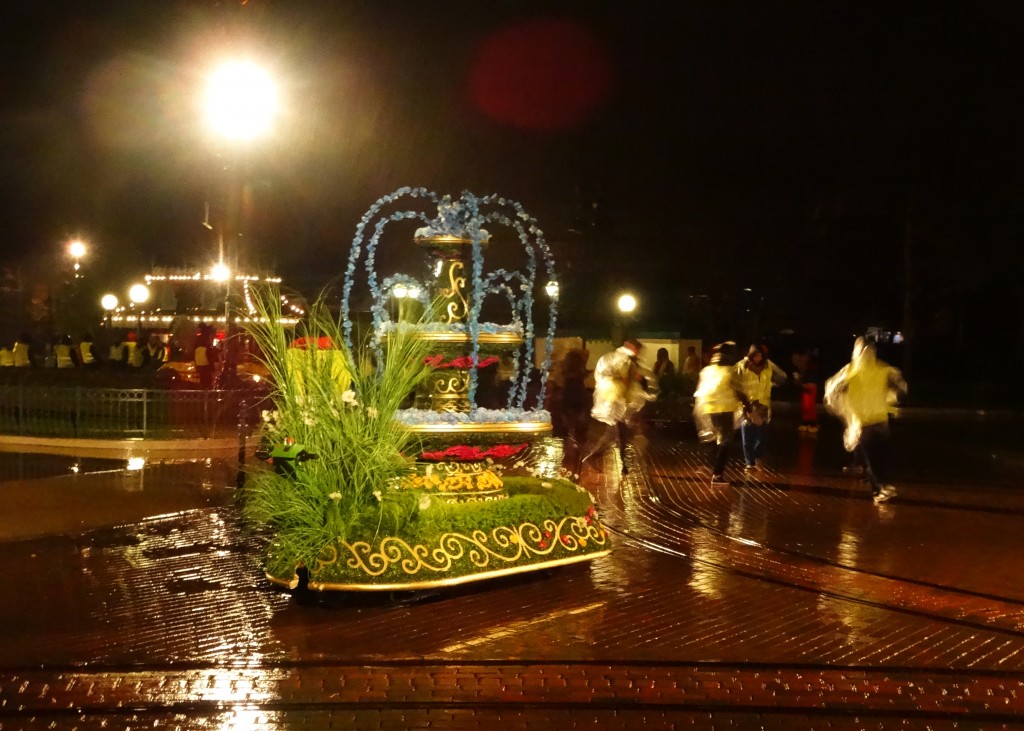 Nous remercions très chaleureusement les intervenants, travaillant dans l'ombre des parcs Disney, les équipes participant à l'organisation de cette saison.
Merci à Mathais Dugoujon et à toute l'équipe Communication. Et rendez-vous ce week-end !
We warmly thank stakeholders, working in the shadow of Disney parks, the teams participating in the Organization of this season.
Thanks Mathias Dugoujon and the team Communication. Now Rendez-vous this weekend!

source : DLP Welcome & Disneyland Paris News