Bonjour à tous, aujourd'hui nous revenons des 20 ans de Space Mountain célébré hier dans le parc Disneyland. En effet, après une réhabilitation technique de 6 mois (fermé depuis le 12 janvier 2015), les membres du Club Actionnaires d'Euro Disney et les sites de fans ont été conviés pour redécouvrir l'attraction et participer à une conférence sur les 20 ans de celle-ci.
Hello everyone, yesterday we celebrate 20 years of famous Space Mountain in the Disneyland Park. Indeed, after a technical rehabilitation of 6 months (closed since January 12, 2015), the members of the « lub shareholders of Euro Disney and fan websites were invited to rediscover attraction and attend a conference on 20 years.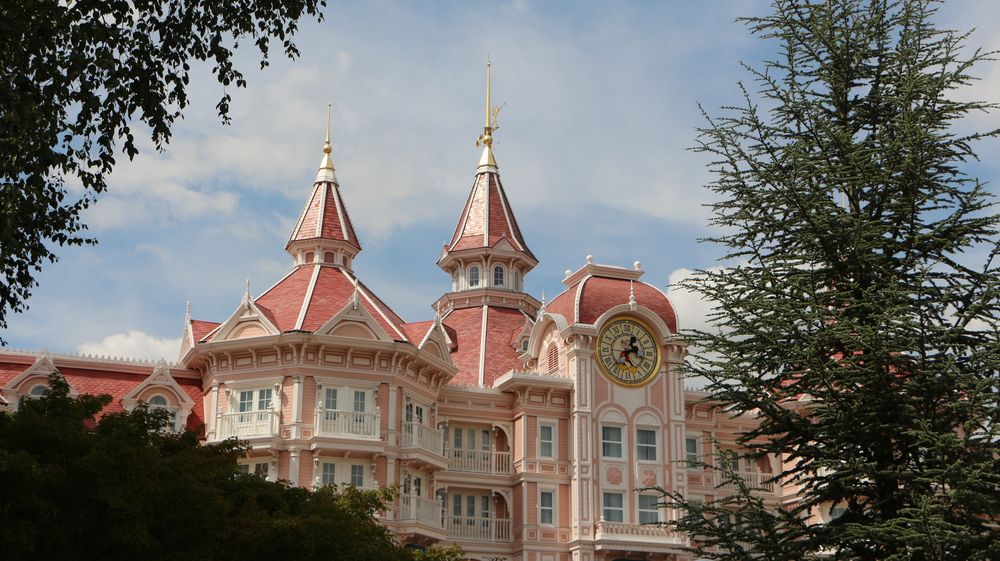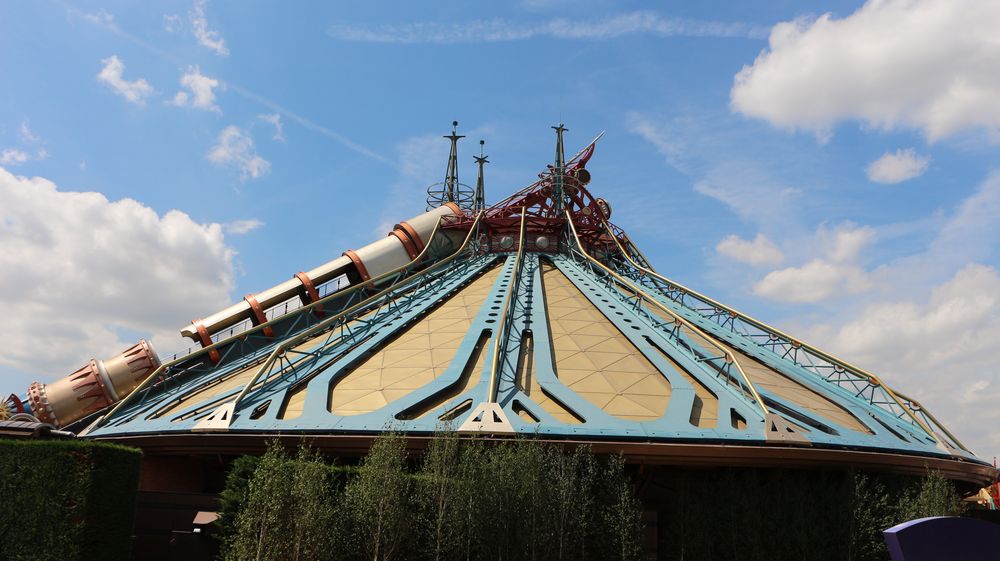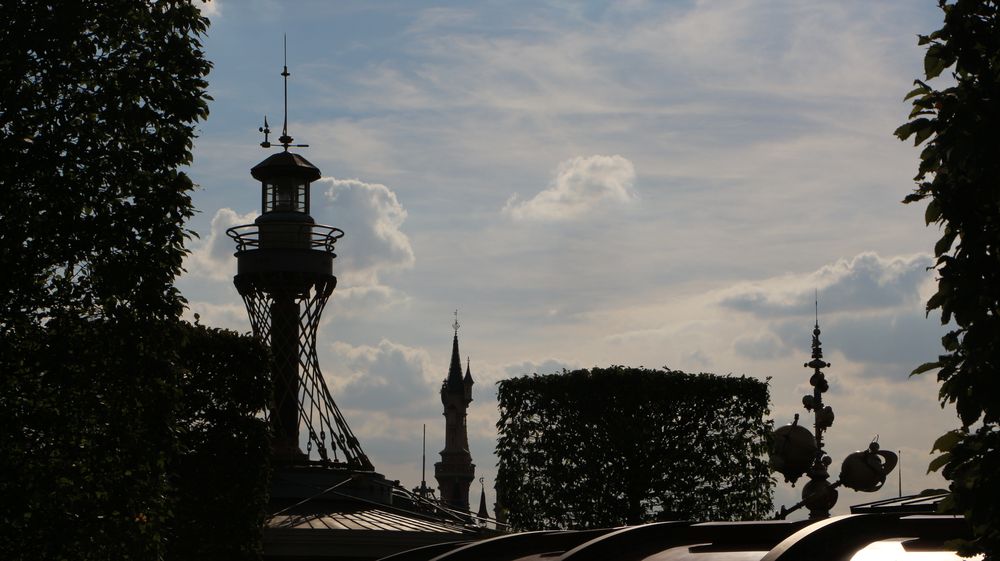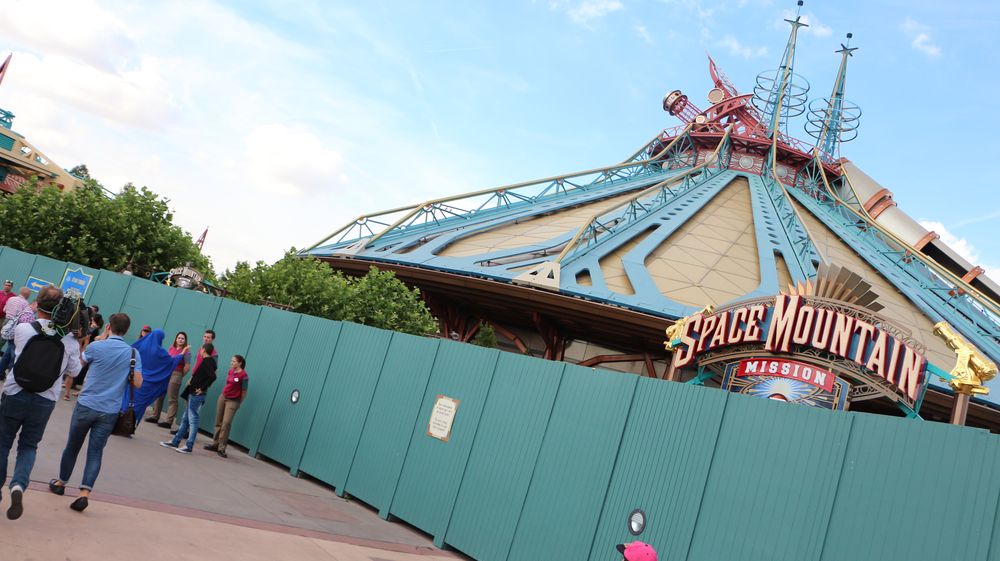 20 ans… 20 ans déjà que cette attraction mythique et mondiale de Disneyland Paris, fut construite sur notre vieux continent.
Pour cette réouverture qui sera effective samedi 25 juillet 2015, nous pouvons déjà vous dire que les rénovations techniques ont permis de nous offrir un voyage des plus étonnants. A vrai dire nous n'avons jamais connu l'attraction avec autant d'effets spéciaux. Avec le temps et l'usure, certains ont été perdus. Après de 6 mois de rénovation, ils sont tous de retour et cerise sur le gâteau, l'intégralité des projecteurs sont remplacés offrant un visuel de meilleure qualité. De plus, certaines projections ont été revues (comme la SuperNova) avec de nouveaux contrastes pour la rendre plus visible et faire ressortir les détails.
Au-delà des projections, les décors sont tous opérationnels avec leurs éclairages. En effet, Space Mountain est maintenant entièrement équipé de lumière LED. Les effets de fumée ont été mis en place sur le canon et devraient être effectifs dans la galaxie samedi.
L'audio embarqué quant à lui est toujours le même. Aucun changement.
20 years… 20 years already that this mythical coaster of Disneyland Paris was built on our old continent.
This reopening will be effective Saturday, July 25, 2015, we can already tell you that technical renovations helped give us a most amazing journey. Truth be told we never saw the attraction with as much special effects. With time and wear, some have been lost. After six months of renovation all is good and big surprise, completeness of the projectors are replaced for a better visual ow in HD. In addition, some projections have been revised (such as the SuperNova) with new contrasts to make it more visible and bring out the details.
Beyond projections, the decorations are all operational with their lighting. Indeed, Space Mountain is now fully equipped to LED light. The effects of smoke have been implemented on the barrel and should be effective in the Galaxy Saturday.
Audio embedded is still the same. No change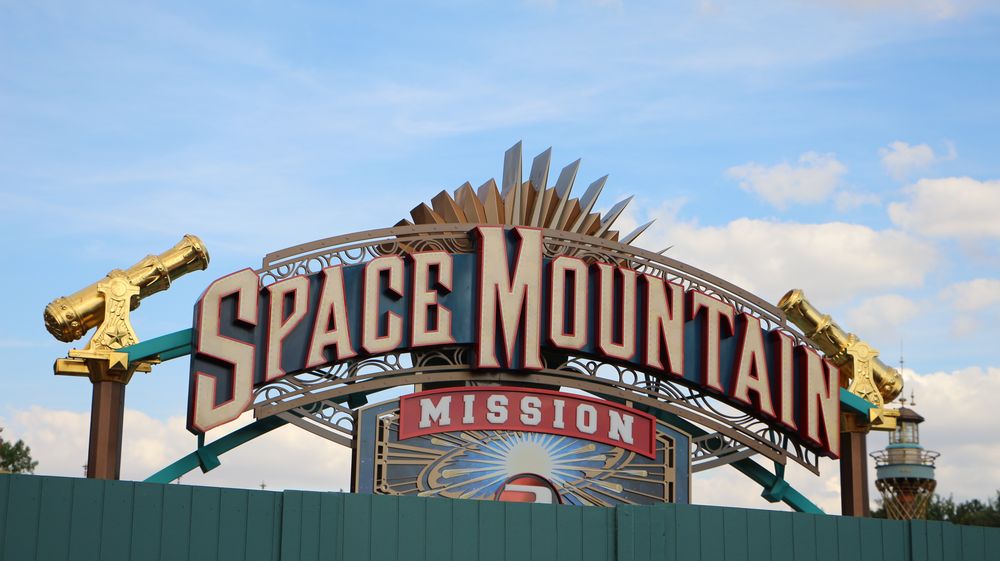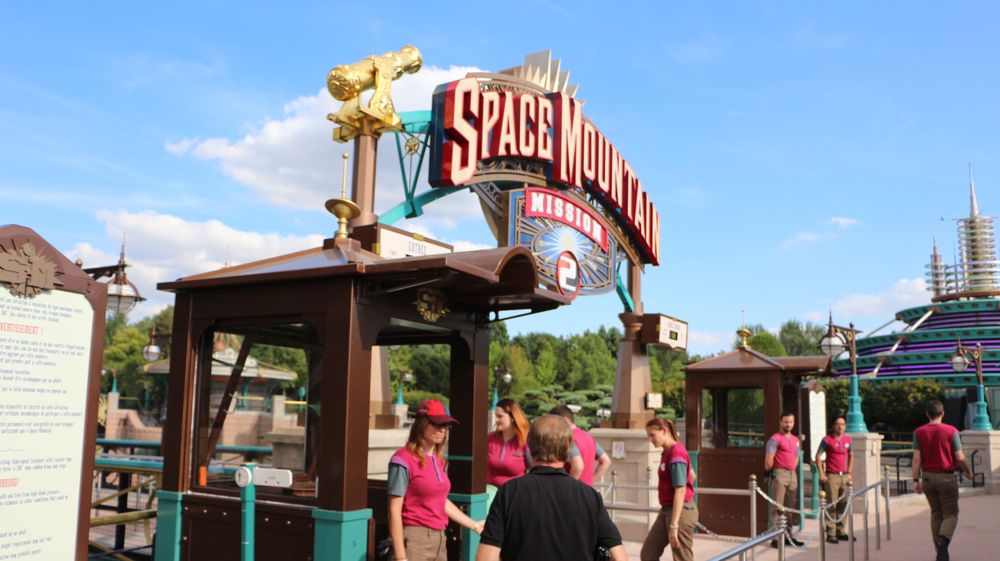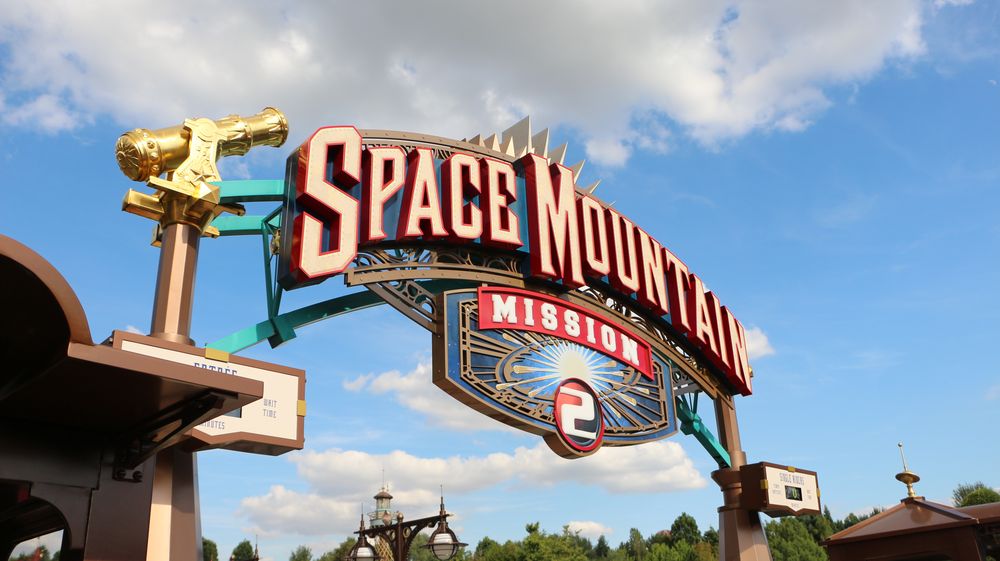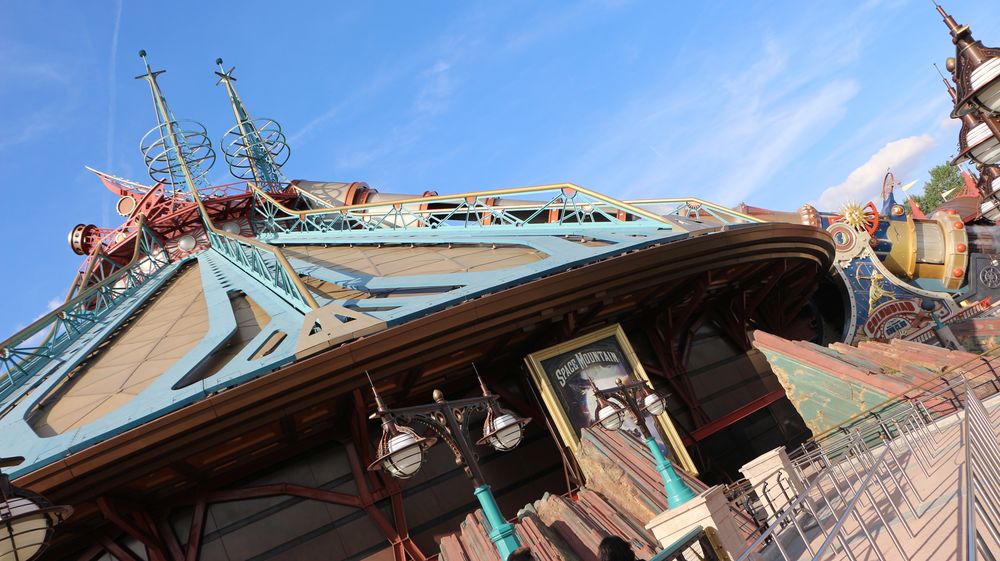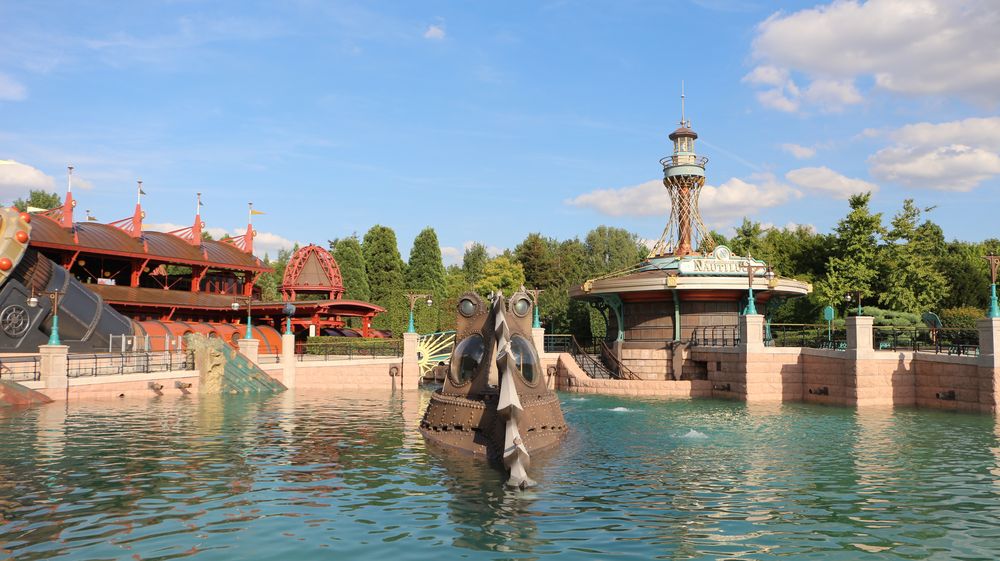 Des changements sont visibles dès l'entrée dans l'attraction. L'enseigne de a été restaurée et agrémentée d'une entrée single rider près de l'entrée normale. La Single Riders permet comme vous le savez, aux passagers désirant embarquer seuls de réduire leur temps d'attente. Et pour ces voyageurs solitaires cette nouvelle file d'attente est également impressionnante puisqu'elle passe sous le canon avant de rejoindre la mezzanine puis le quai d'embarquement.
Some Changes are visible upon entry into the attraction. The sign « Space Mountain Mission 2 » was restored and decorated, a new line « single rider » was added near the normal entrance. The queue passes under the Canon « Columbia » before joining the mezzanine and loading station.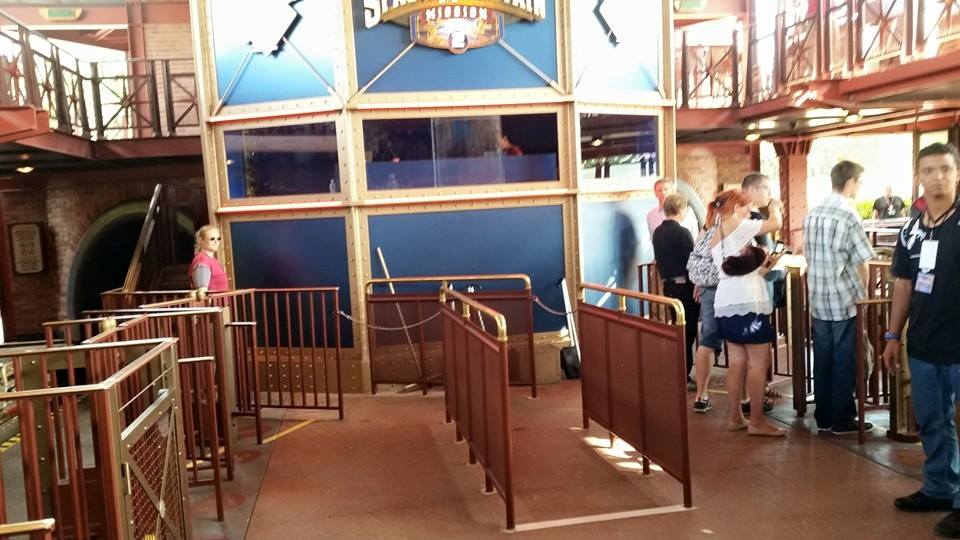 Pour la file d'attente standard, elle a été entièrement repeinte et est surtout plus lumineuse. Comme à l'intérieur de l'attraction, la file d'attente a été dépoussiérée et certains posters cosmiques ont été remplacés.
Comme nous le savons et avons vu dans nos précédents numéros, la gare a reçu de nombreuses retouches de peinture après nettoyage, donnant de fait une impression de neuf.
Dans la zone de Space Mountain, les bassins autour de l'attraction ont été repeints, nettoyés et les effets réactivés tout comme le Nautilus.
For the standard queue, it has been repainted and more brighter.
As we know and have seen in our previous articles, the station received many paint touch-ups after cleaning, the station gives an impression of new.
In the area of Space Mountain, the basins around the attraction have been repainted, cleaned and effects reactivated as the Nautilus.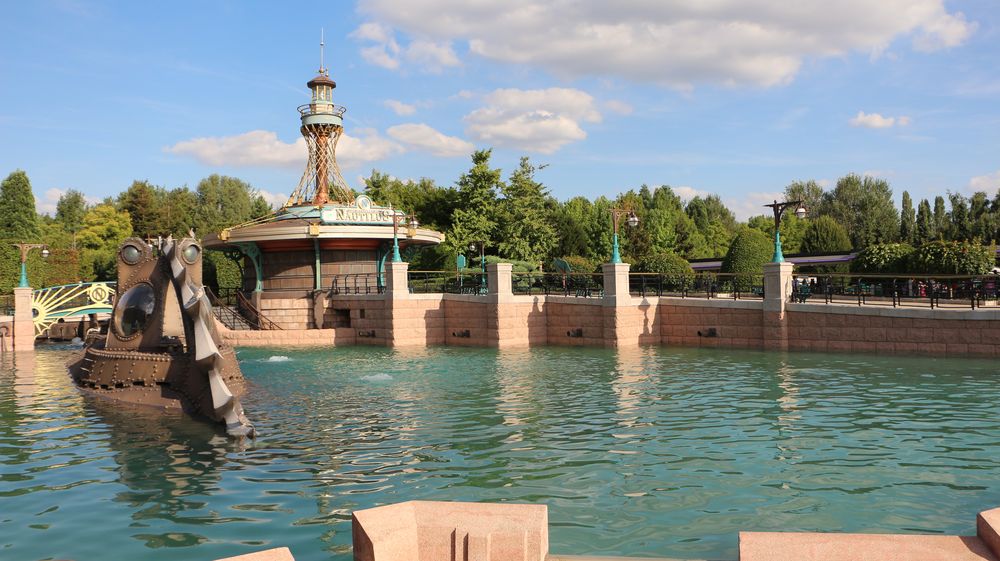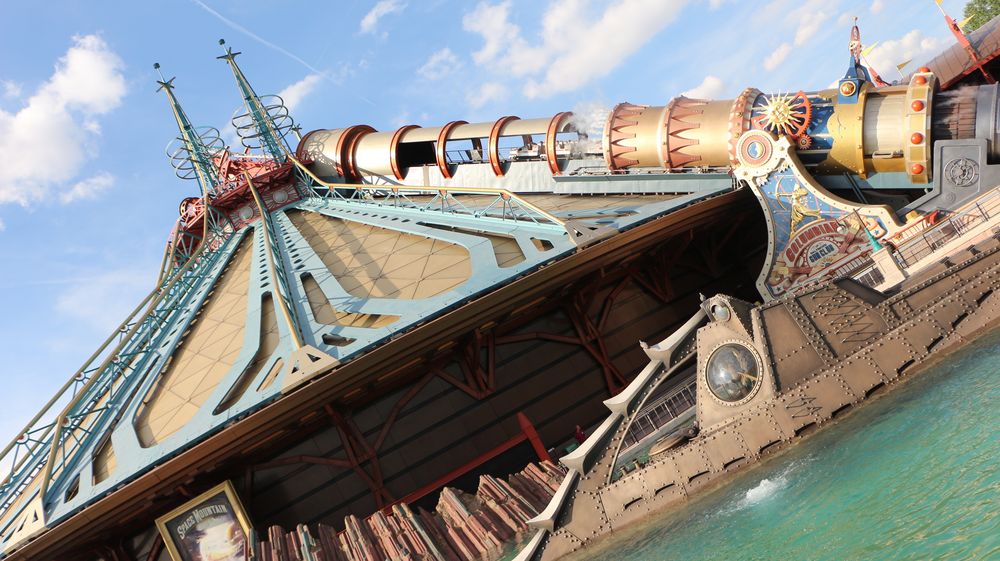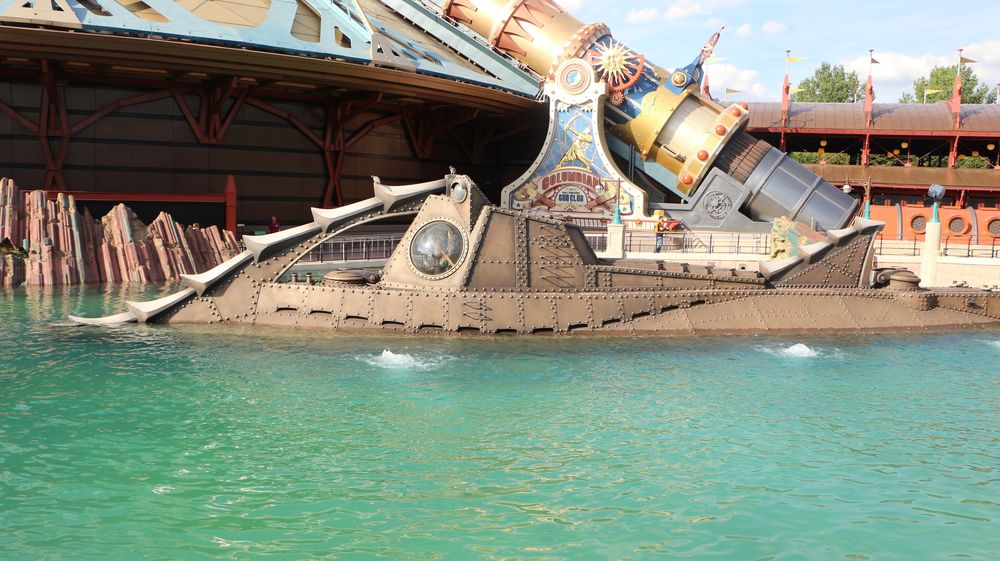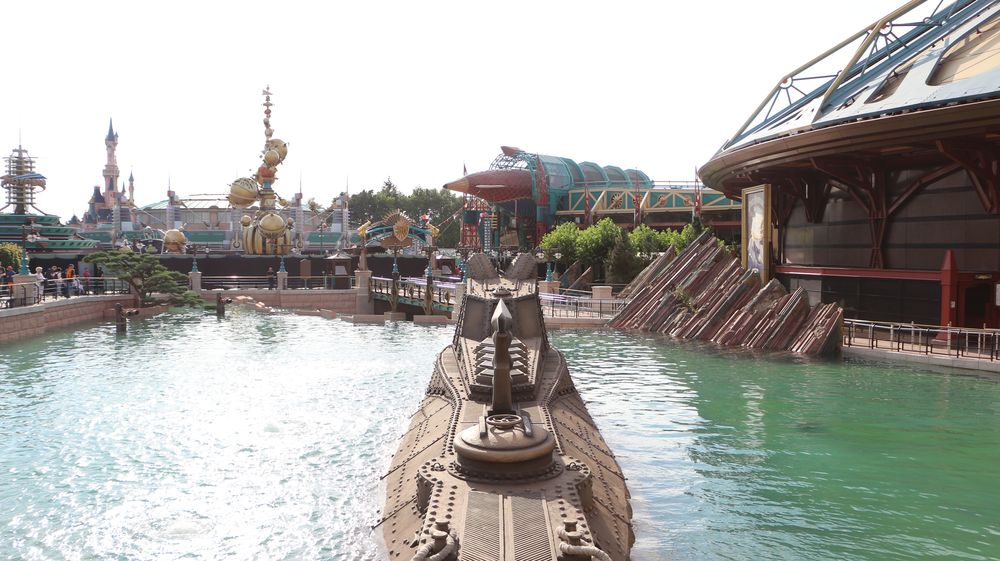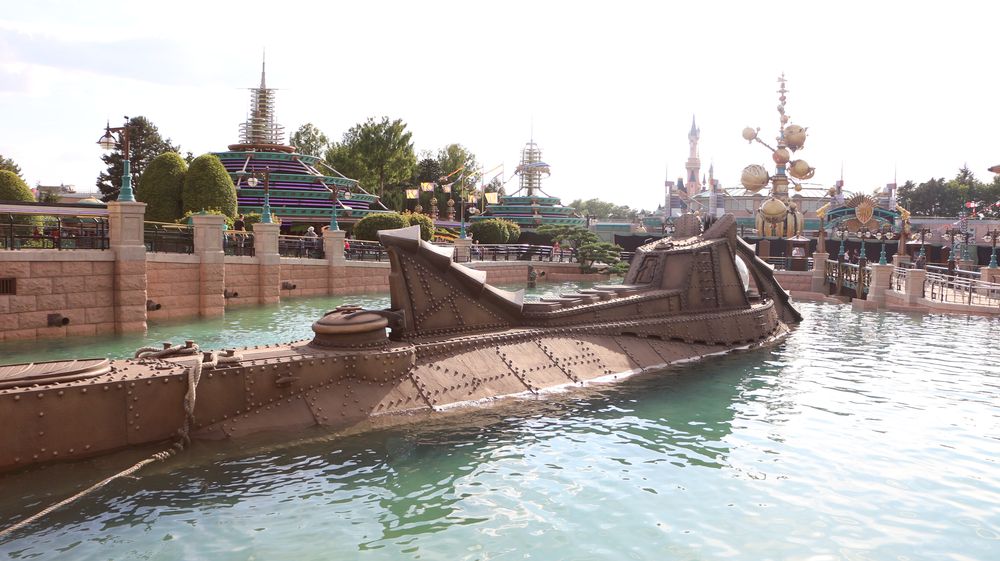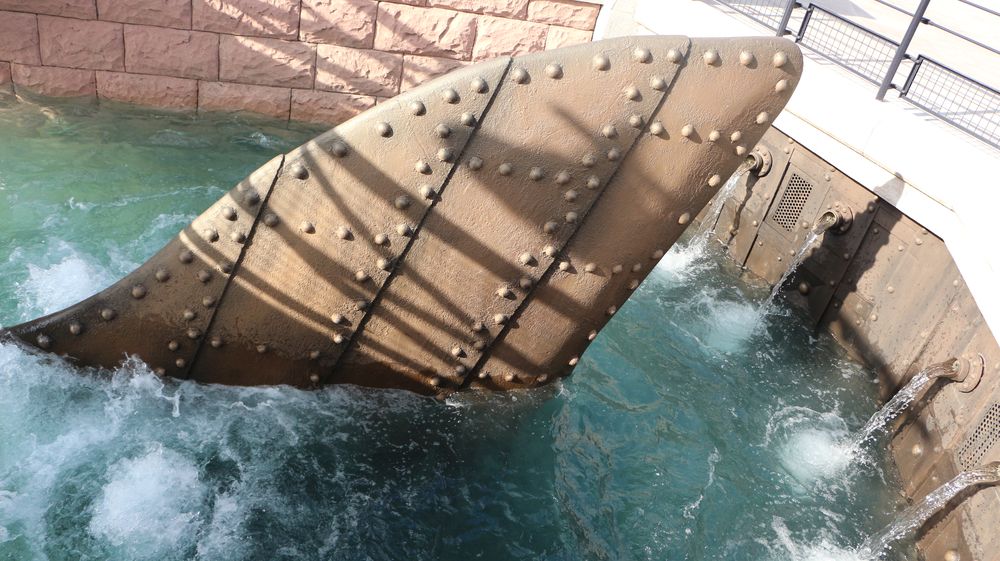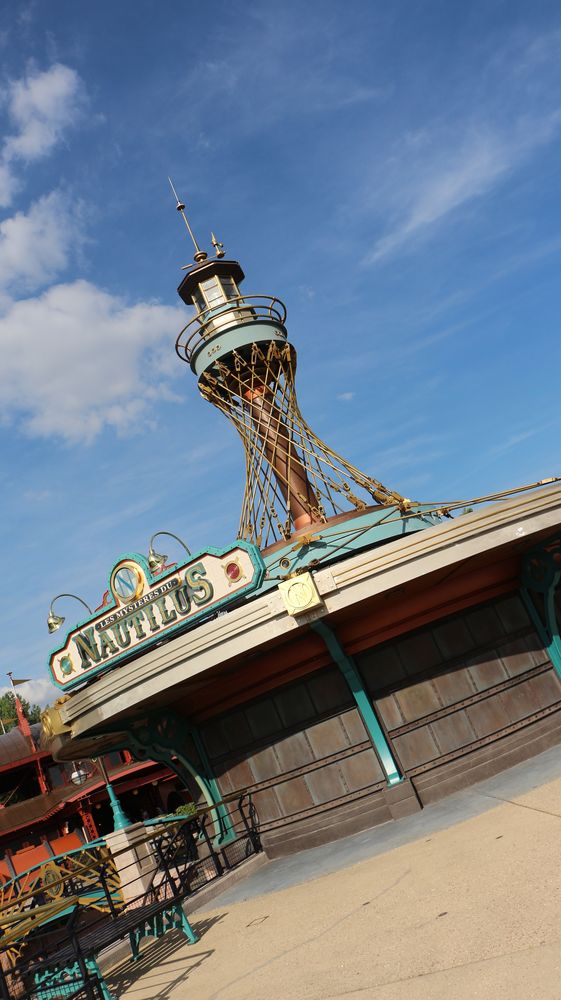 A la sortie de l'attraction, un nouveau sol en pavés a été posé allant du Discoveryland Theater à l'entrée du Nautilus. Cela dit, on remarquera que rien n'a été fait entre l'entrée et celle de Space Mountain.
At the exit of the attraction, a new floor pavers was laid from Discoveryland Theater at the entrance of the Nautilus. That said, it should be noted that nothing has been done between the entrance and Space Mountain.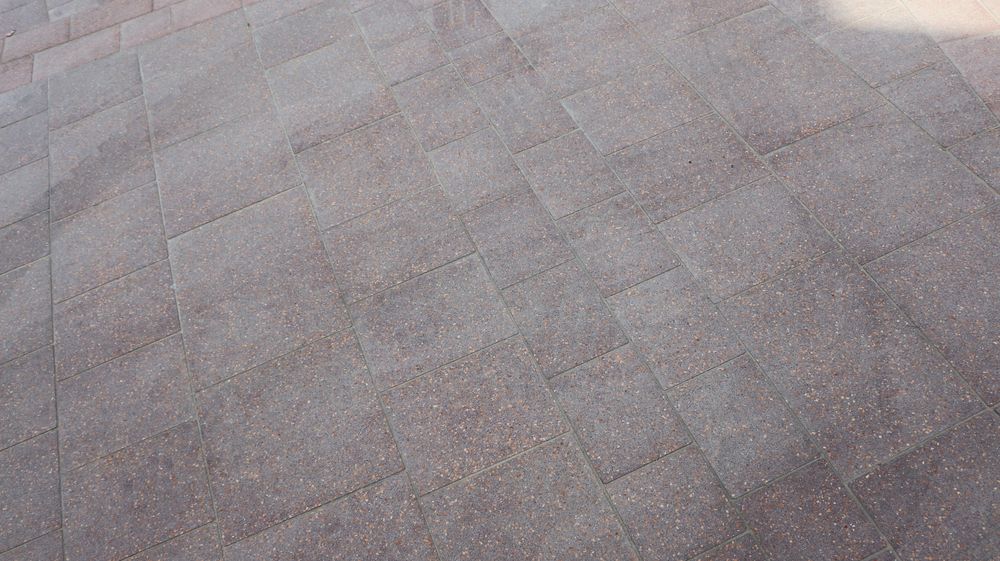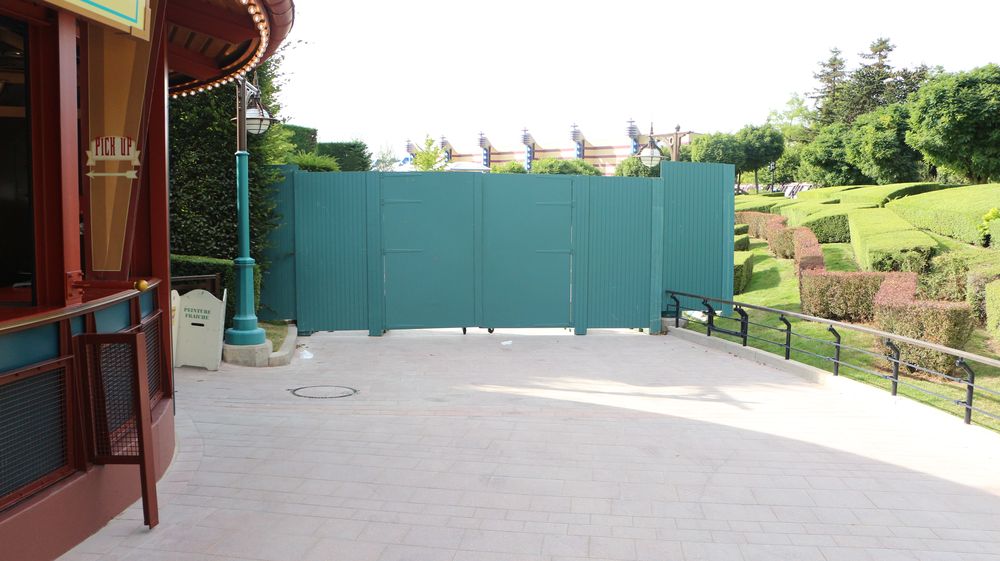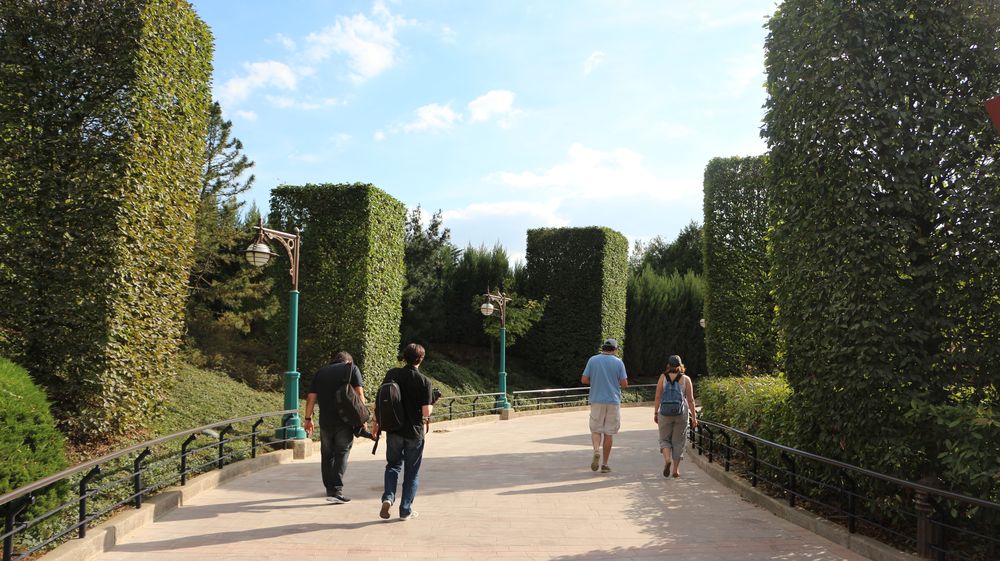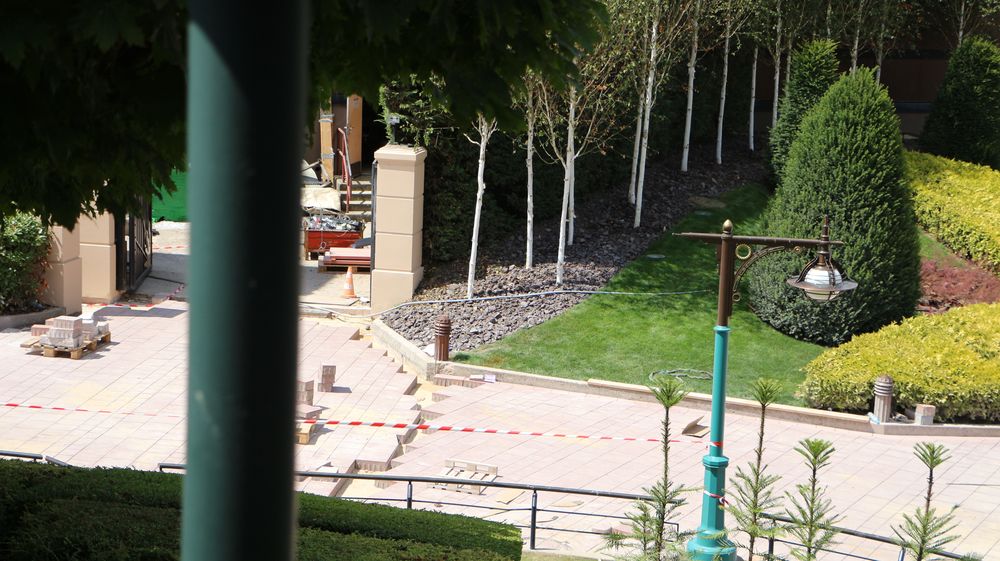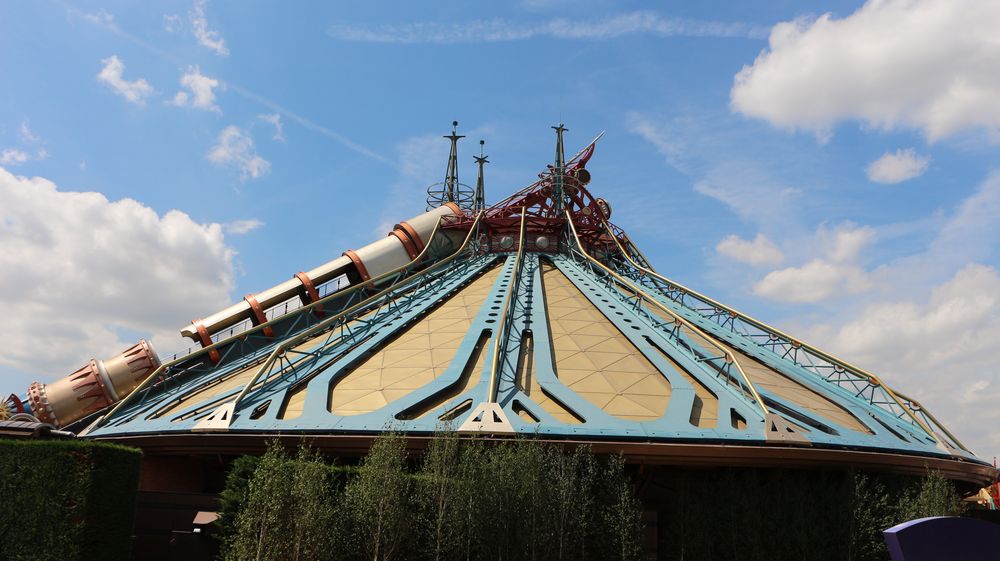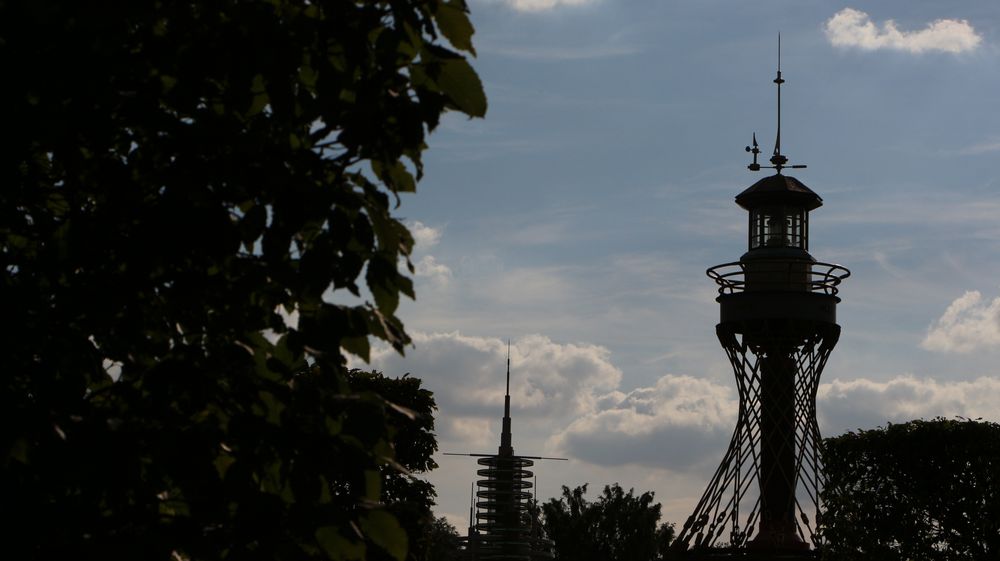 On notera également une nouvelle caisse pour Personnes à Mobilité Réduite, a été installée dans la boutique« Light Speed Photography » en sortie d'attraction.
It should be noted that a new Fund for people with reduced mobility, has been installed in the «Light Speed Photography» shop at the outlet of attraction.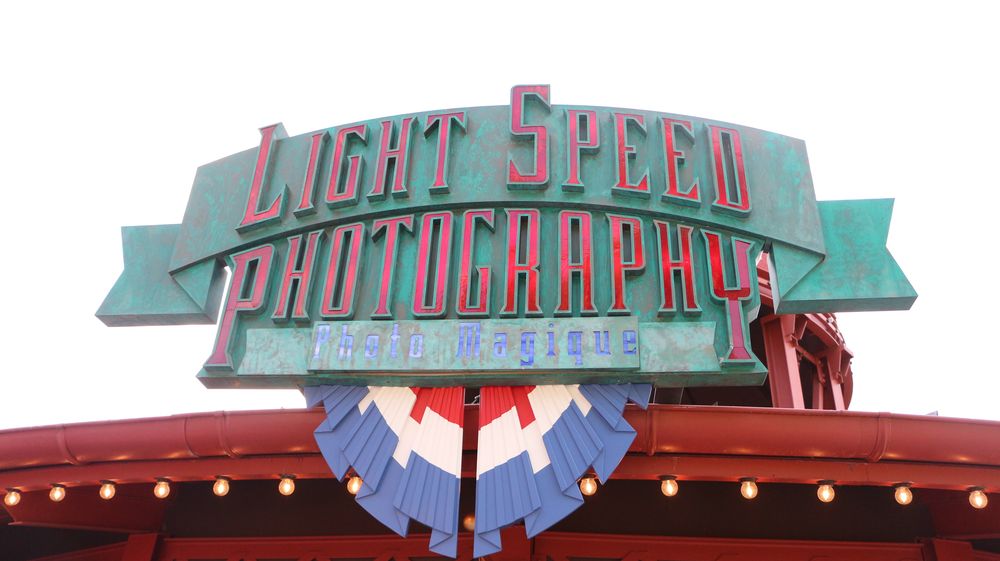 Après avoir testé ses changements dans l'attraction, une conférence sur l'histoire de Space Mountain a été présentée au Discoveryland Theater par Laurent Cayuela, Concepteur et scénariste à Walt Disney Imagineering Paris.
After testing its changes in the attraction, a conference on the history of Space Mountain was presented at Discoveryland Theater by Laurent Cayuela, Walt Disney Imagineering Paris writer and designer. (video in french)
Nous vous invitons à découvrir l'intégralité de la conférence en vidéo :
Et quoi de mieux pour clôturer un anniversaire qu'un cocktail et la remise d'un magnifique dossier exclusif sur les 20 ans de Space Mountain ?
And what better way to close a birthday than a cocktail and a gift of a beautiful exclusive folder on the 20th anniversary of Space Mountain?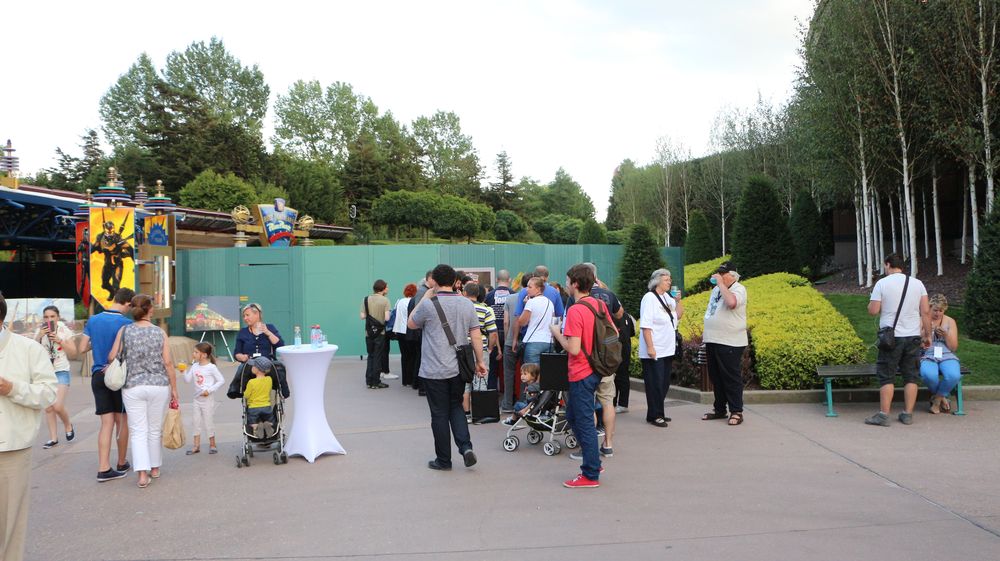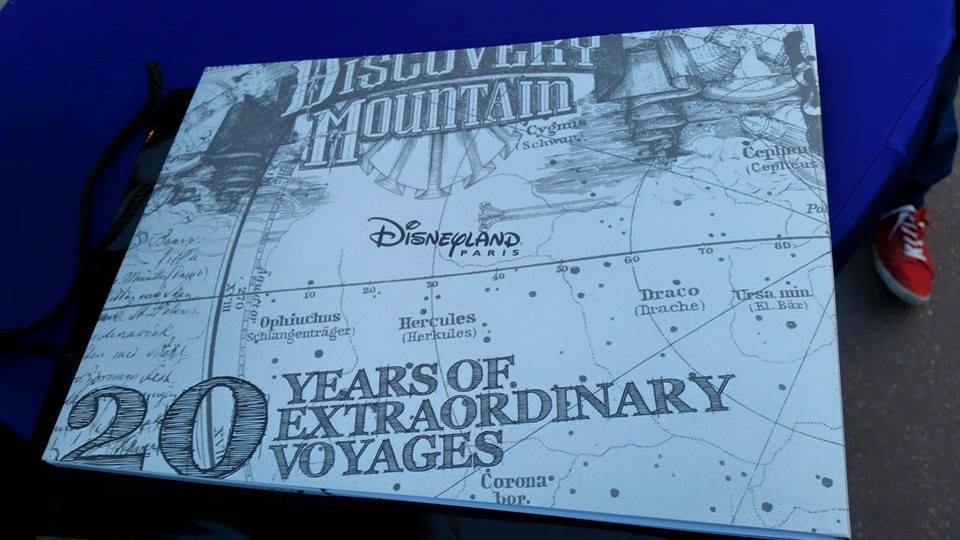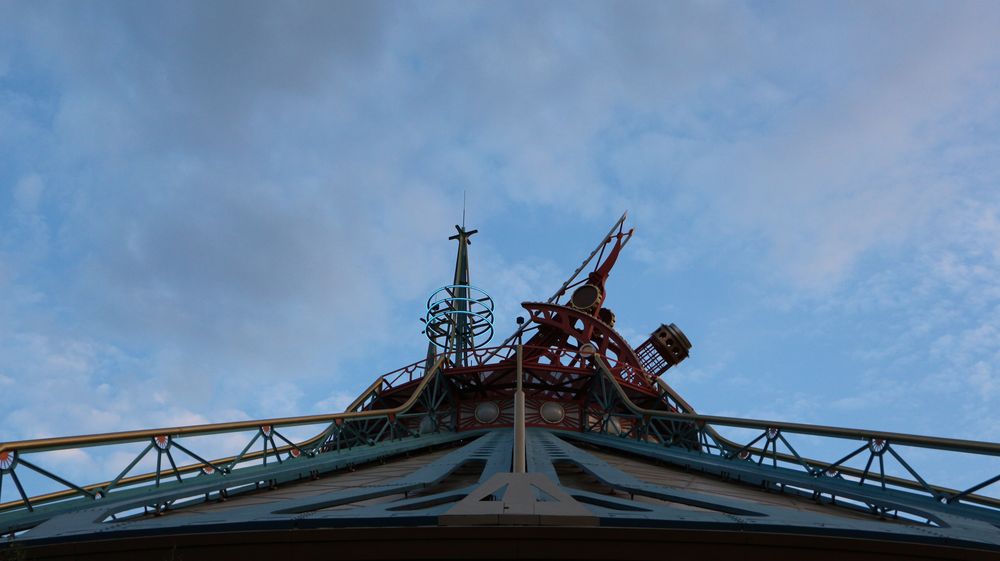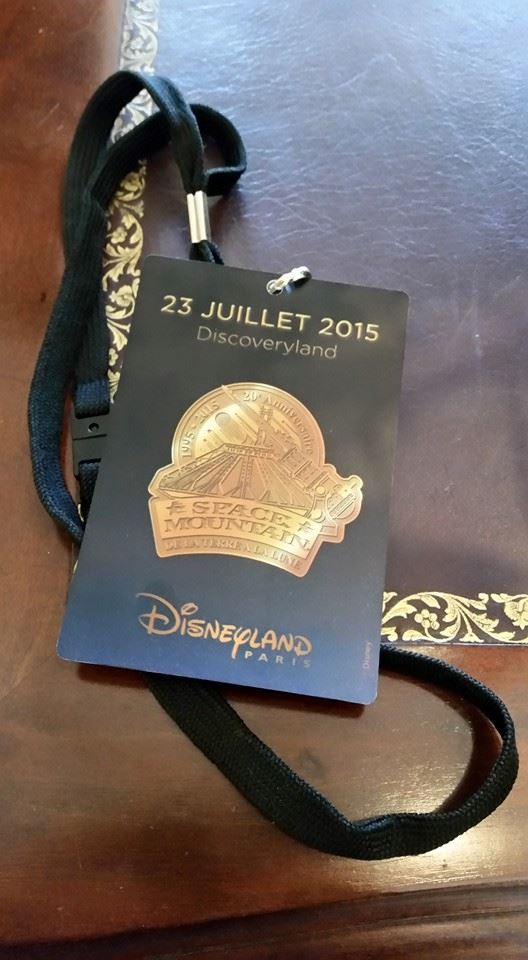 En conclusion, cette réhabilitation a permis sans surprise à Disney de remettre l'attraction sur les rails comme nous la connaissions depuis 2005. En effet, aucune annonce n'a été faite il ne fallait donc pas s'attendre à plus. Cela dit, avec l'approche du 25ème anniversaire en 2017 et la publication par Disney du plan de rénovations, on sait tous que le plus gros changement aura lieu pour la 2ème phase de réhabilitation début 2017 avec des changements plus importants comme l'arrivée de nouveaux trains. Changements facilités par la réhabilitation de cette année.
In conclusion, this rehabilitation has no surprise to Disney fan because disney don't make an announces to the attraction. Now the ride is exactly the same that april 2005 (opening date to the « Mission 2 »). That said, with the approach of the 25th anniversary in 2017 and the release by Disney of the renovation plan, known to all as the biggest change will take place for the second phase of rehabilitation beginning 2017 with more significant changes as the arrival of new trains. Changes facilitated by the rehabilitation of this year.

Autre nouveauté le Jedi Traning Academy.
On ne va pas s'éterniser là-dessus puisque de nombreux sites ont déjà parlé de cette nouvelle animation.
Another new « Jedi Traning Academy ».
We are not speak on it since many sites have already talked about this new animation.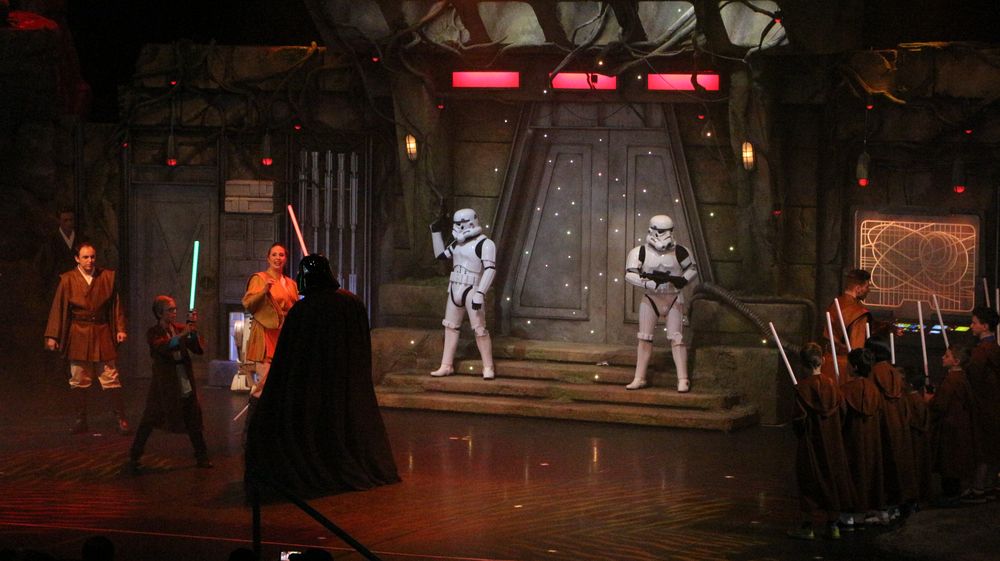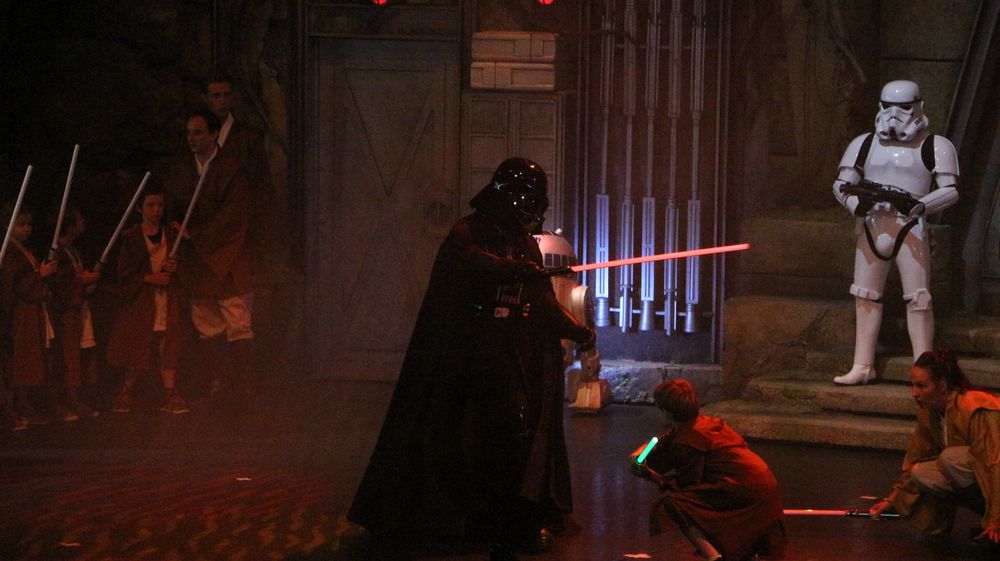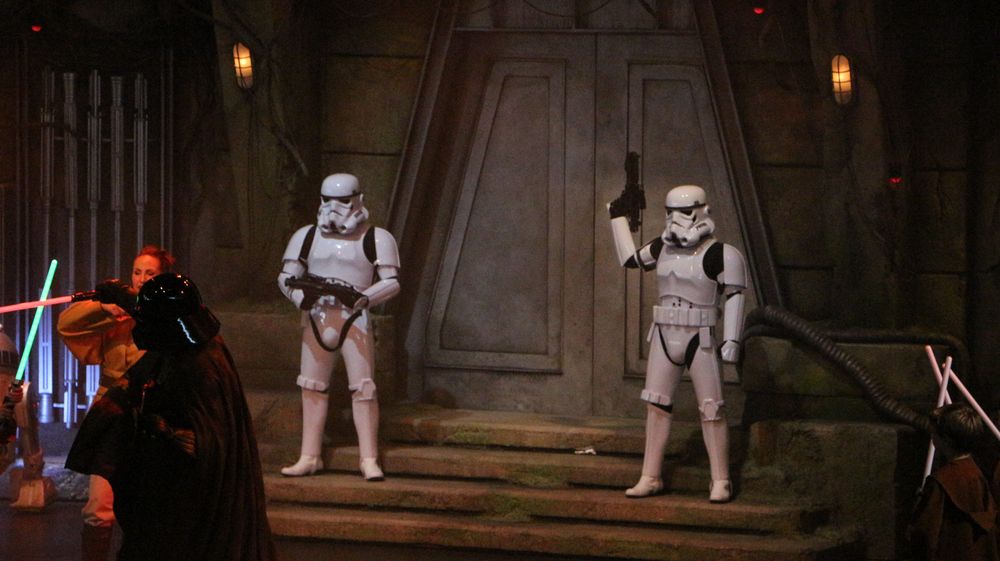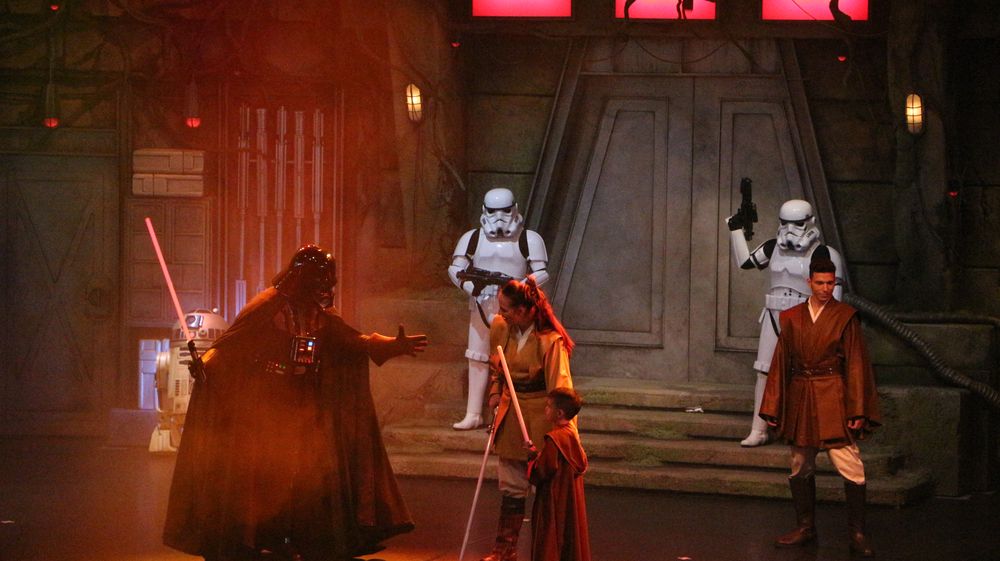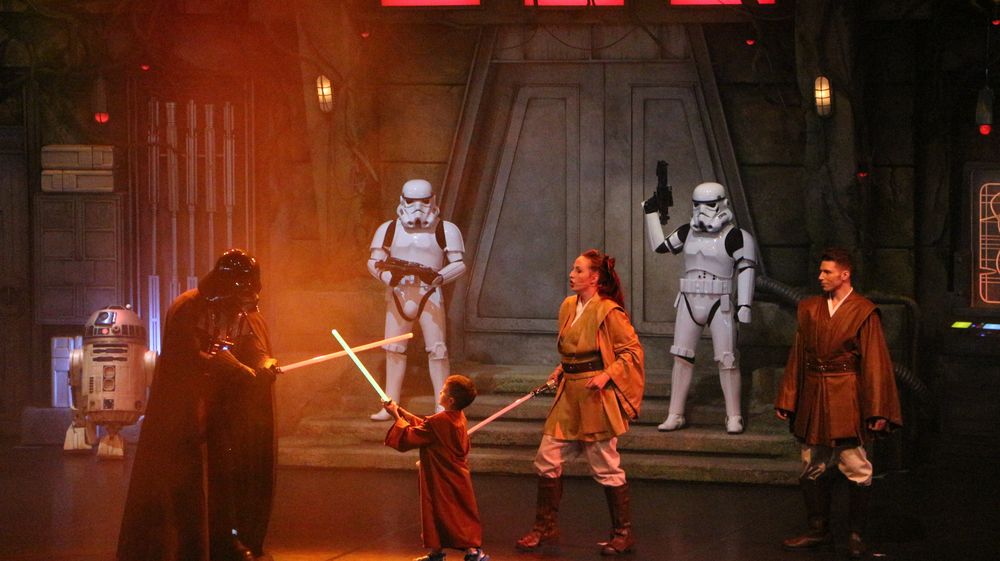 C'est un bon moyen de divertir les enfants et ils repartiront avec un magnifique souvenir.
Cela dit, c'est de l'animation pure à ne pas confondre avec un spectacle. Le hic est que mis à part les familles des enfants sur scène, ça n'a pas d'intérêt surtout quand on voit Dark Vador arriver sur scène pour seulement 5mn. Le personnage pourrait par exemple pendant les 20 minutes restantes être utilisé en point photos dans le land.
Et puis le vrai problème est que dans le parc c'est le deuxième spectacle qui s'adresse aux enfants après Frozen Sing-Along.
Certes la cible de Disney sont les familles et si enfants heureux, parents heureux, mais il faut aussi des spectacles à destination des adultes à l'image de Tarzan la Recontre ou Disney Dreams!. Le problème est celui-là pour nous. S'il y a un show de plus, centré sur les adultes, avec de vraies performances, le parc couvrira une offre avec des animations pour tous ces publics. On est bien d'accord, il manque tout de même des animations de rues.
It's a good way to entertain the children and they will come away with a beautiful memory. Having said that, it's an animation pure and should not be confused with a show . The problem is that apart from the families of the children on stage, it didn't interest especially when we see Darth Vader arrive onstage for only 5 minutes. The character could for example during the 20 minutes remaining be used at point photos in the land.
And then the real problem is that in the Park it is the second show aimed at children after Frozen sing-along.
Certainly the target of Disney are families and if children are happy the parents are happy too. But now Disney not propose of show for adults (at the image of Tarzan Encounter) without speaking Disney Dreams! The problem is that one for us. If there is a show more, focused on adults, with real performance, the Park will cover an offer with animations for all these audiences. Without speaking that it still lacks Street animations.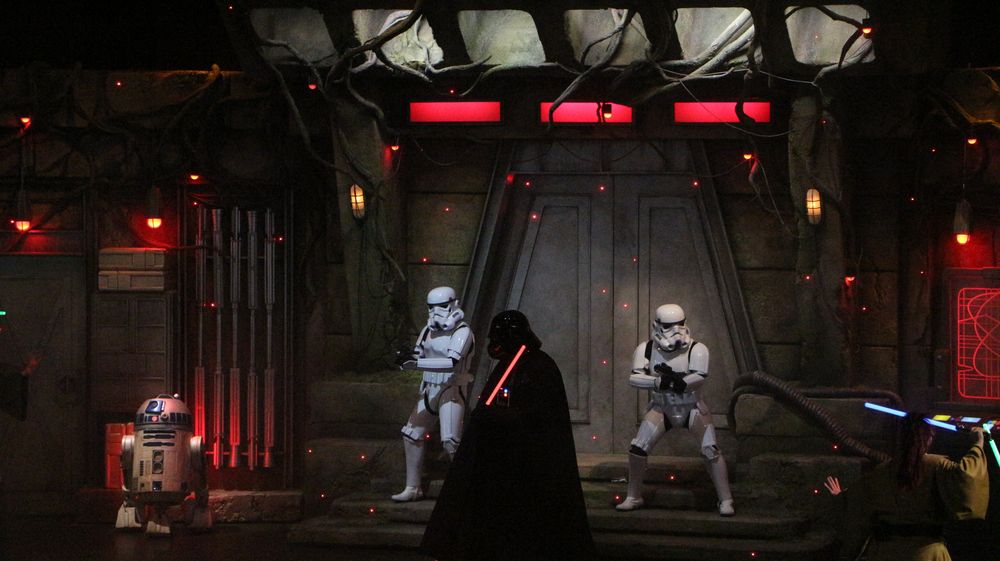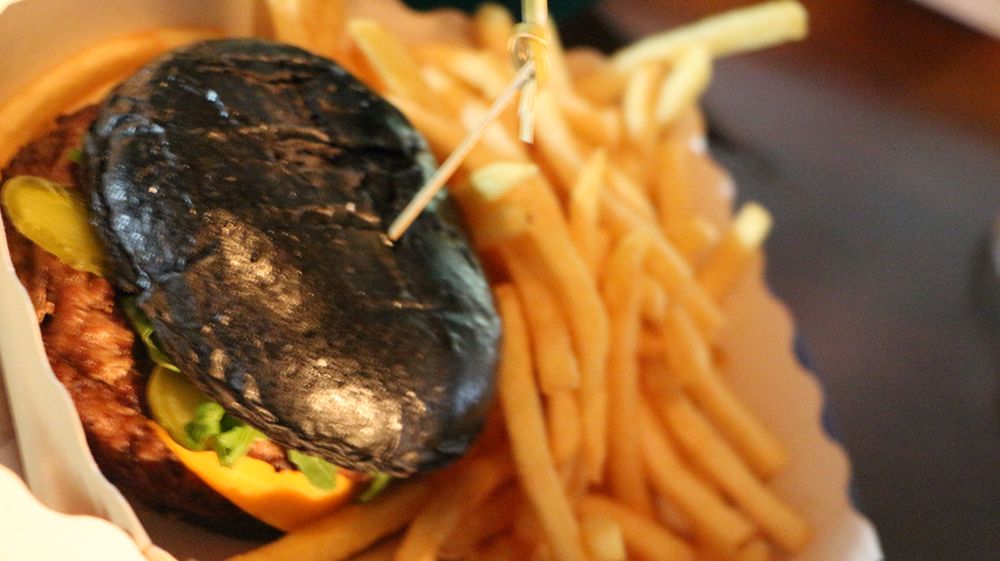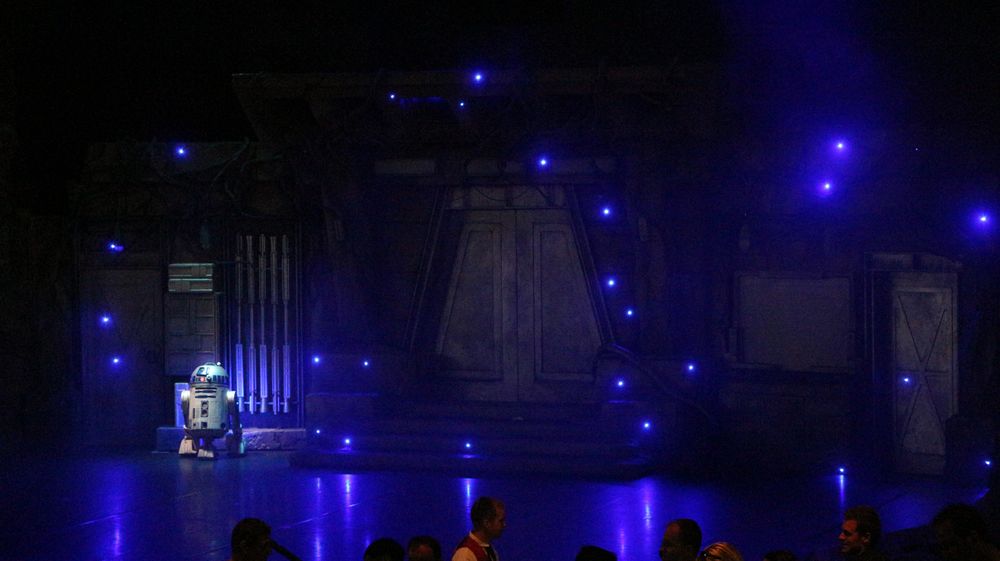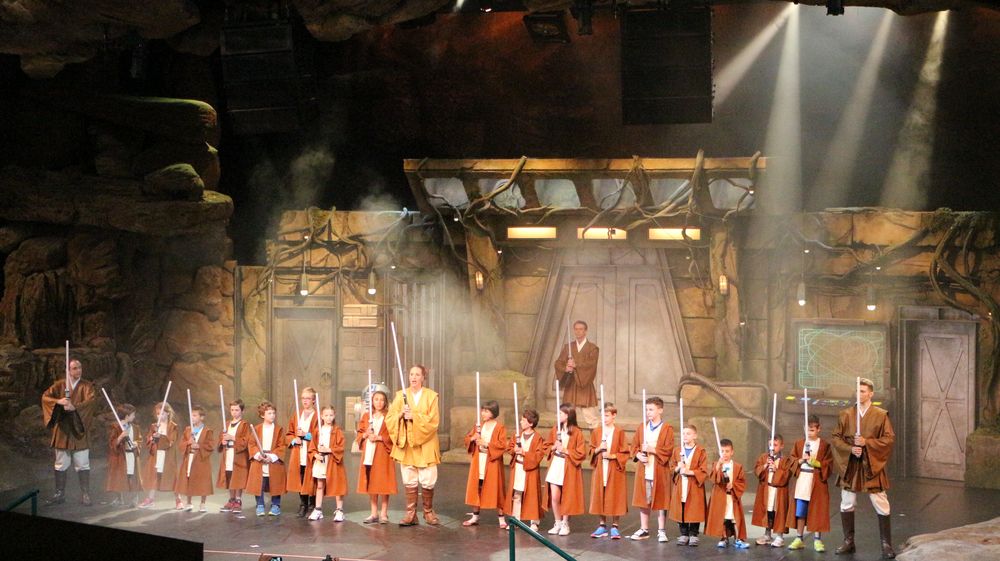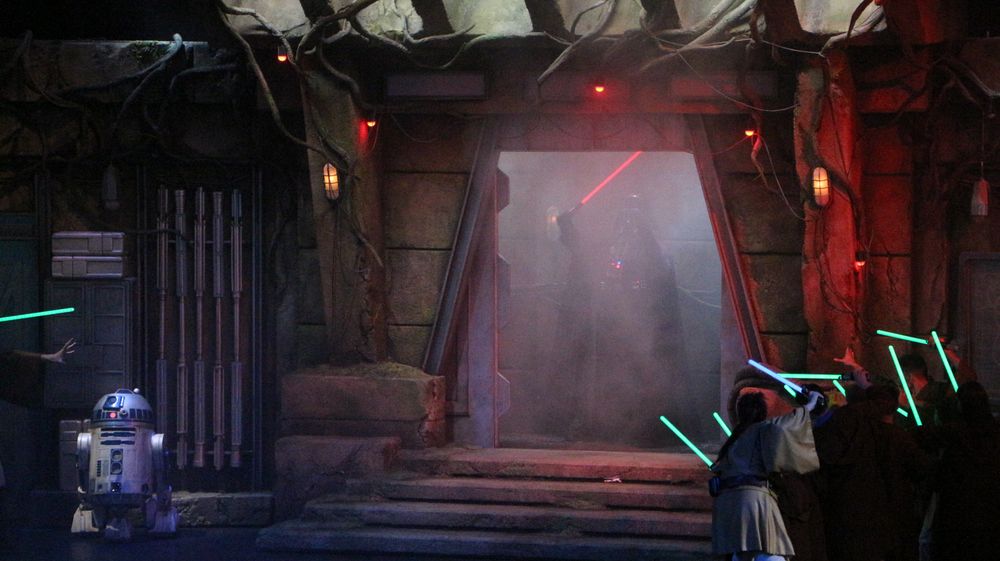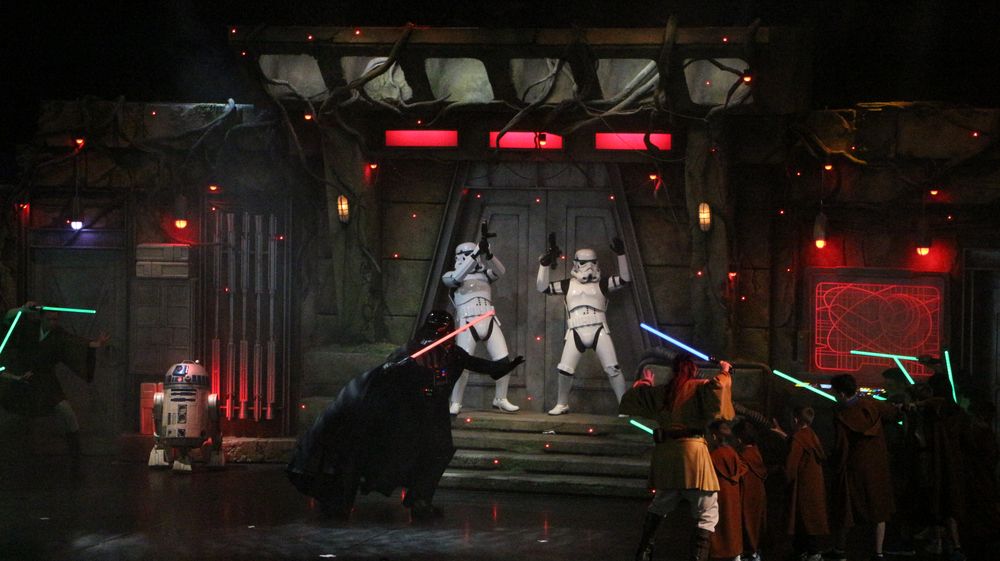 A Fantasyland des retouches de peintures sont en cour, l'épée d'Arthur est étonnement absente et on notera également l'absence d'un vitrail.
Fantasyland, paint touch-ups are in court, Arthur's sword is surprisingly absent and we also note the absence of a stained glass window.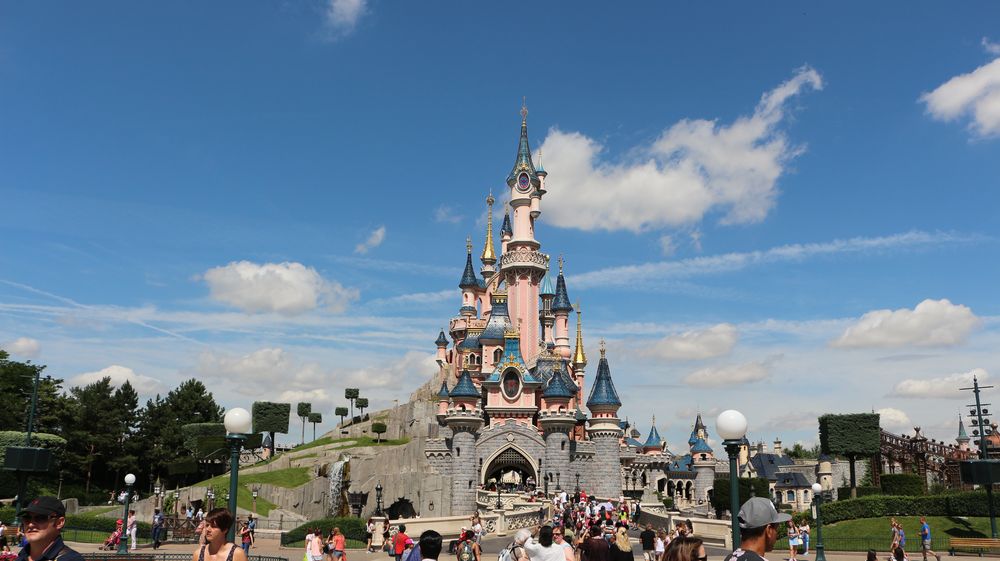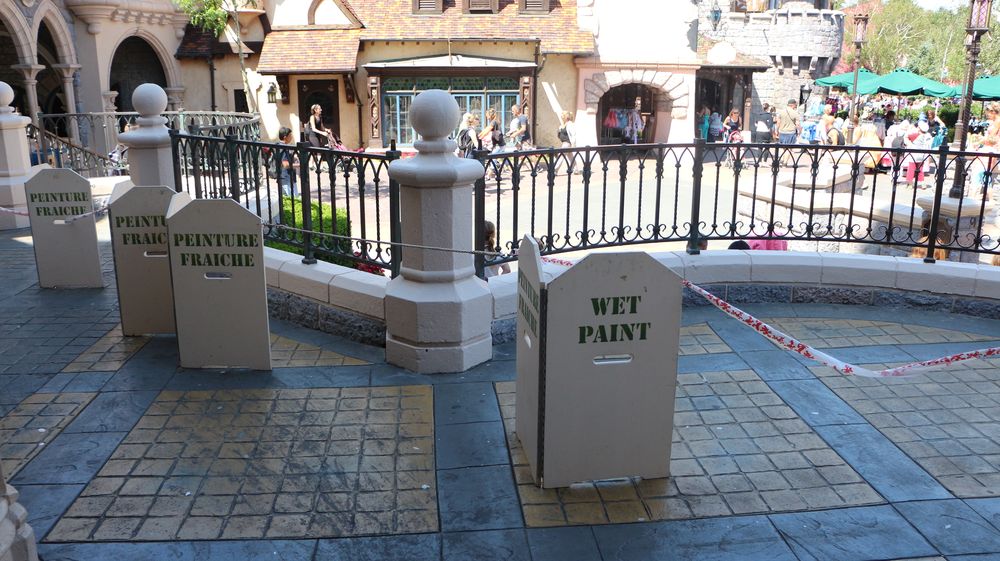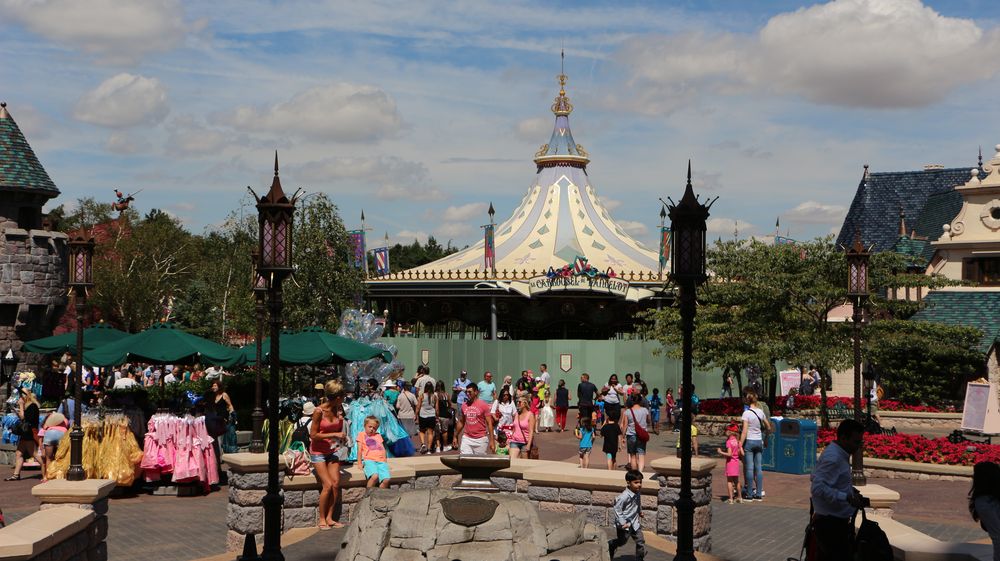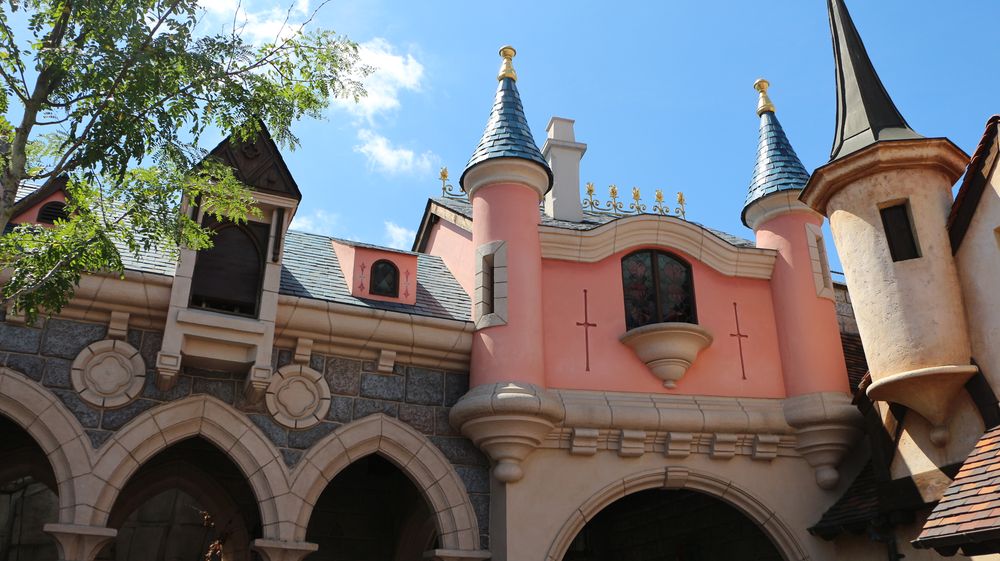 Le carrousel est près à ré-ouvrir, les tests sont en cour sur le manège et l'enseigne de celle-ci est de retour comme neuve.
The carousel is ready to reopen, the tests are in court on the carousel and the sign is of back like new.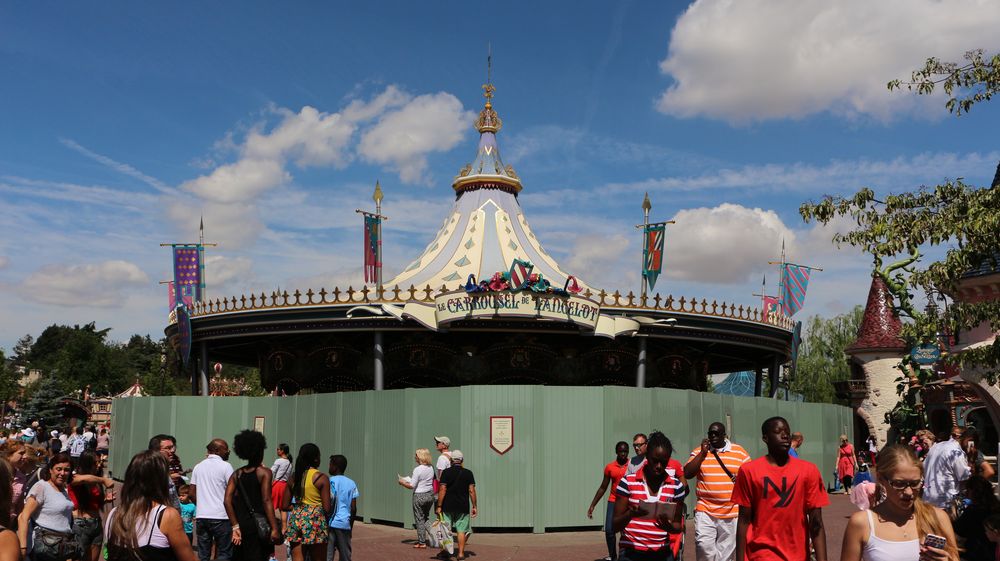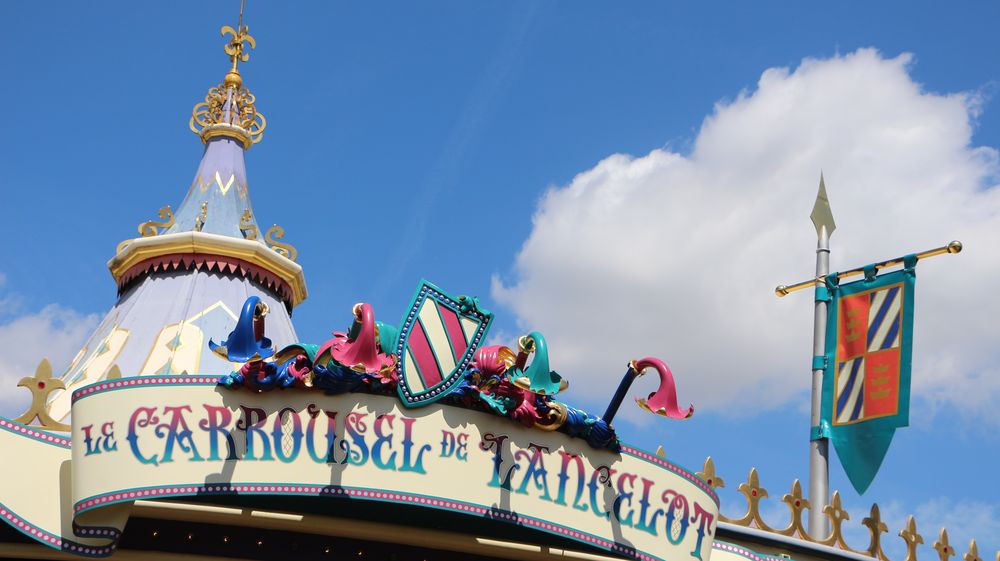 La rénovation des bassins de Fantasyland est terminée.
Superbe rendu final, il ne manque plus qu'Adventureland et Frontierland.
The renovation of the basins of Fantasyland is complete.
Superb final render, it lacks more than Adventureland and Frontierland.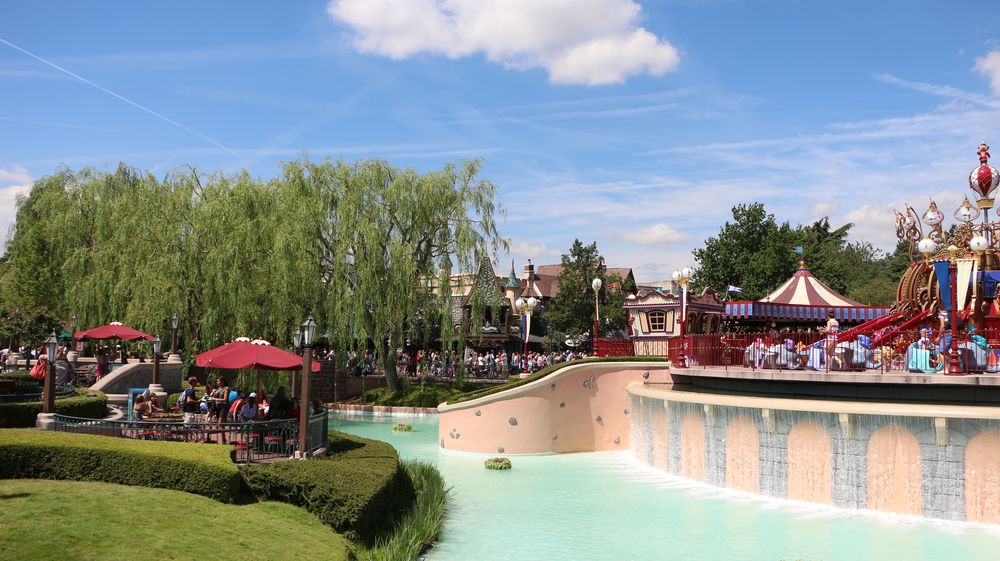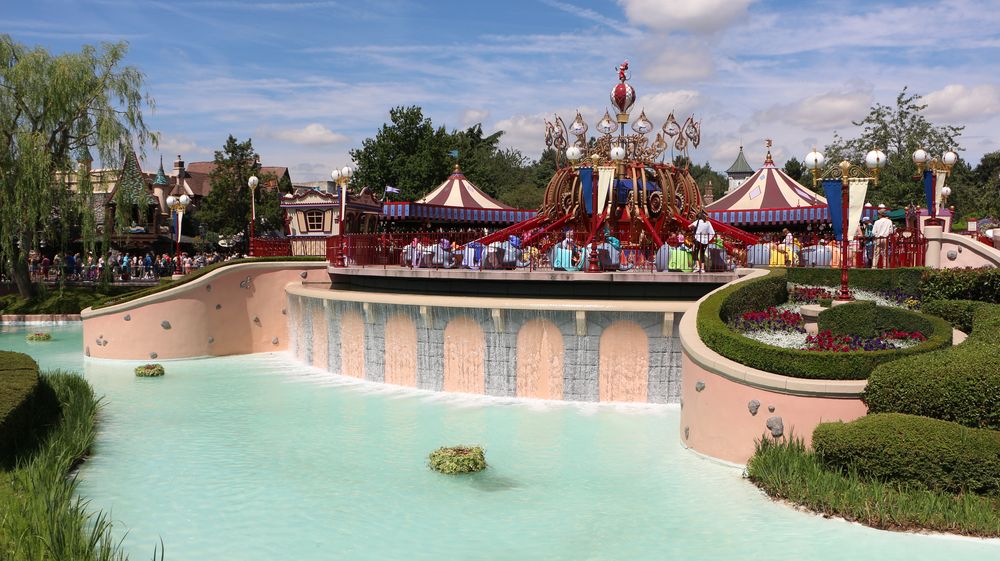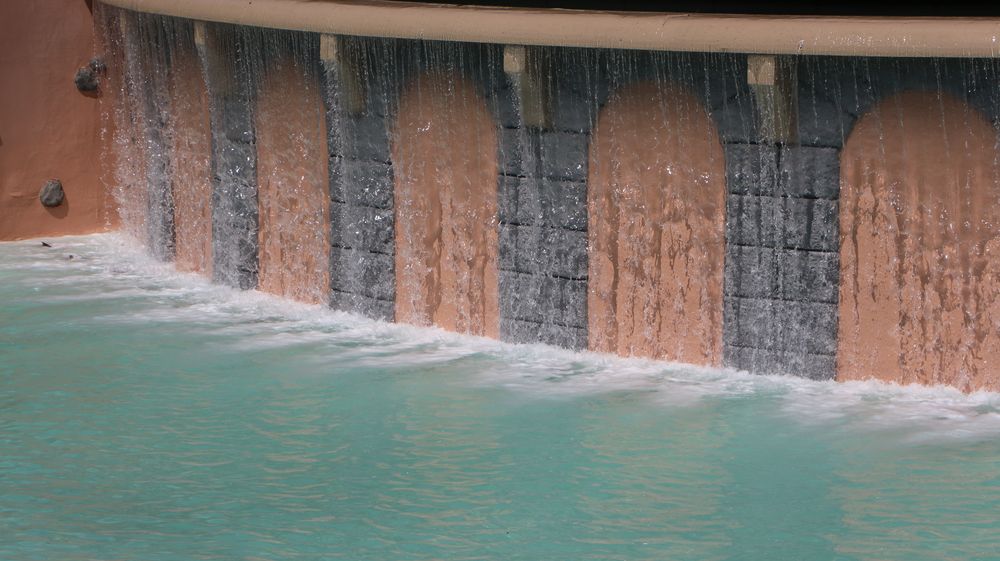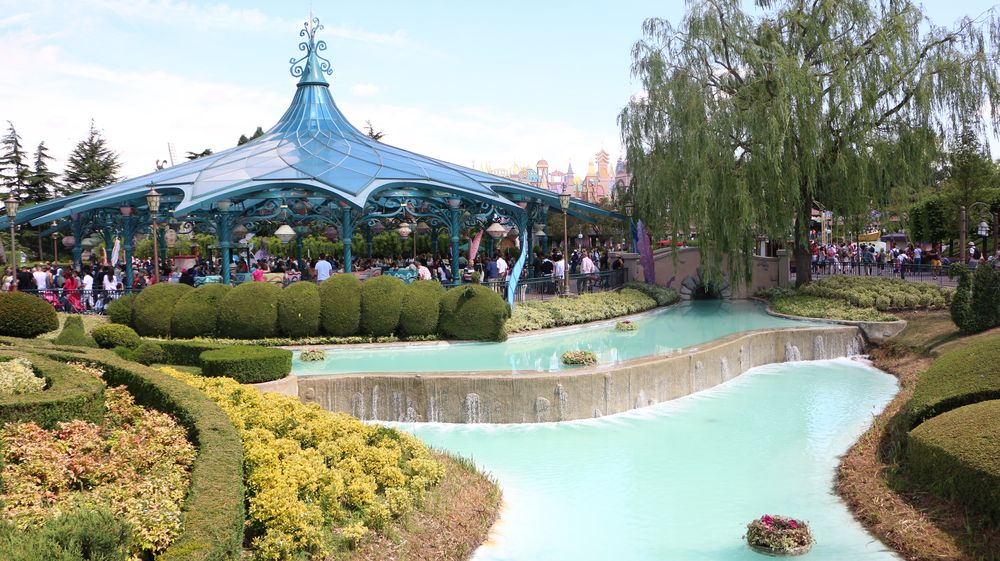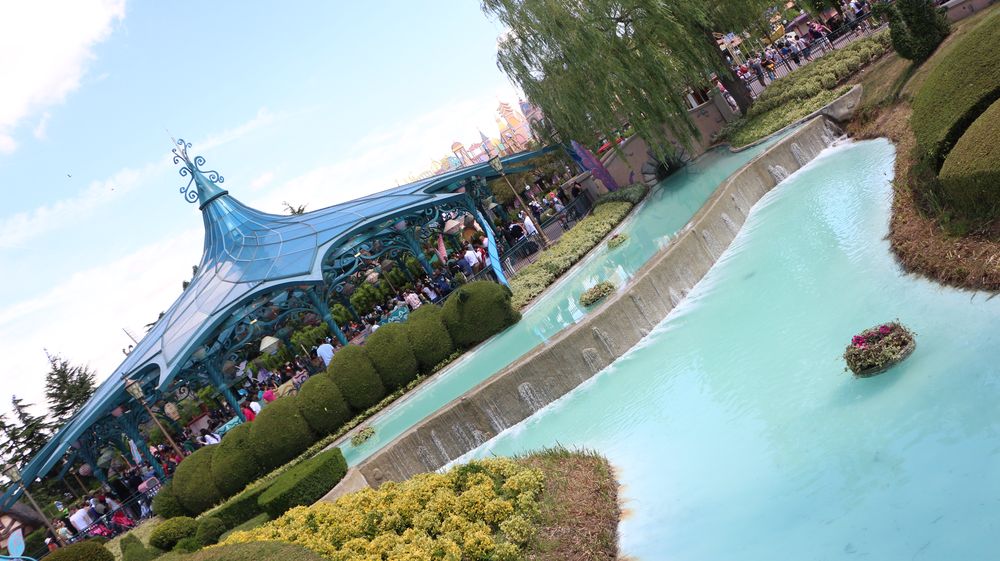 Une moitié de la toiture du Frontierland Depot (Disneyland Railroad) est sous filet de protections pour protéger les visiteur des tuiles. la gare a donc été rénové à moitié pour bien paraître à son entrée sur le coté de la fête givrée de la reine des neiges.
One half of the roof of the Frontierland Depot (Disneyland Railroad) is under net of protections to protect the visitors of tiles. The train station was renovated of half to look good at its entrance on the side of the Frozen Summer Fun Season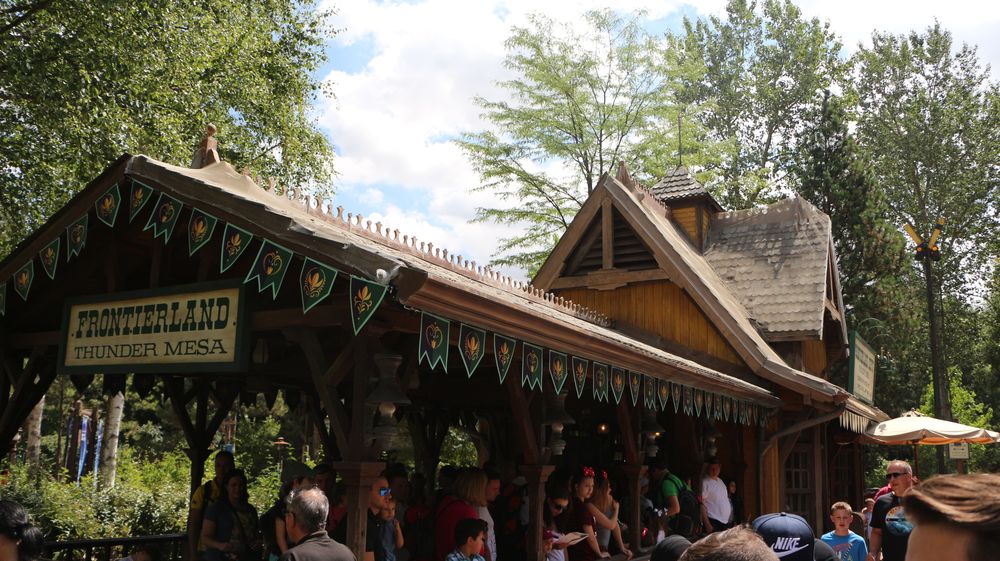 Main Street USA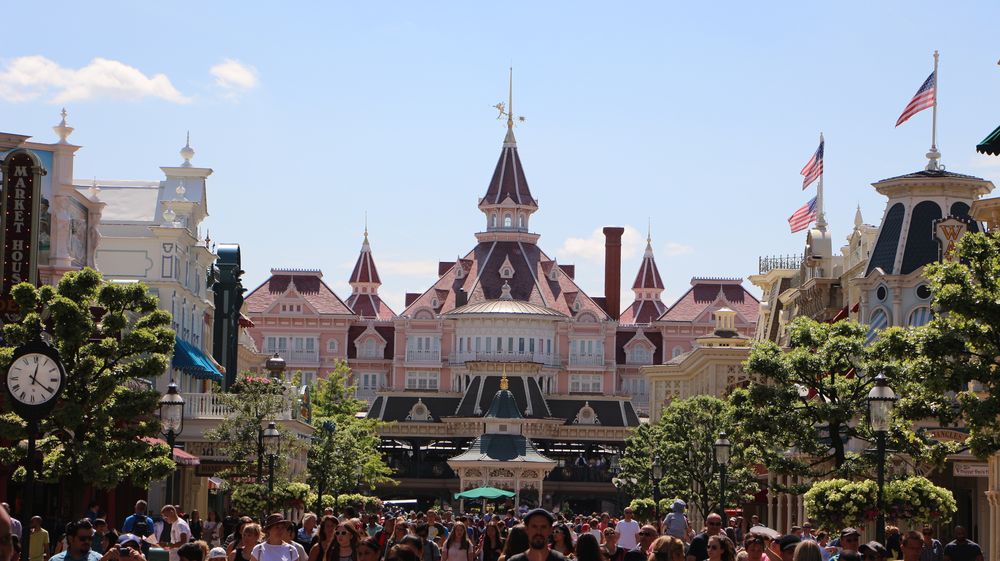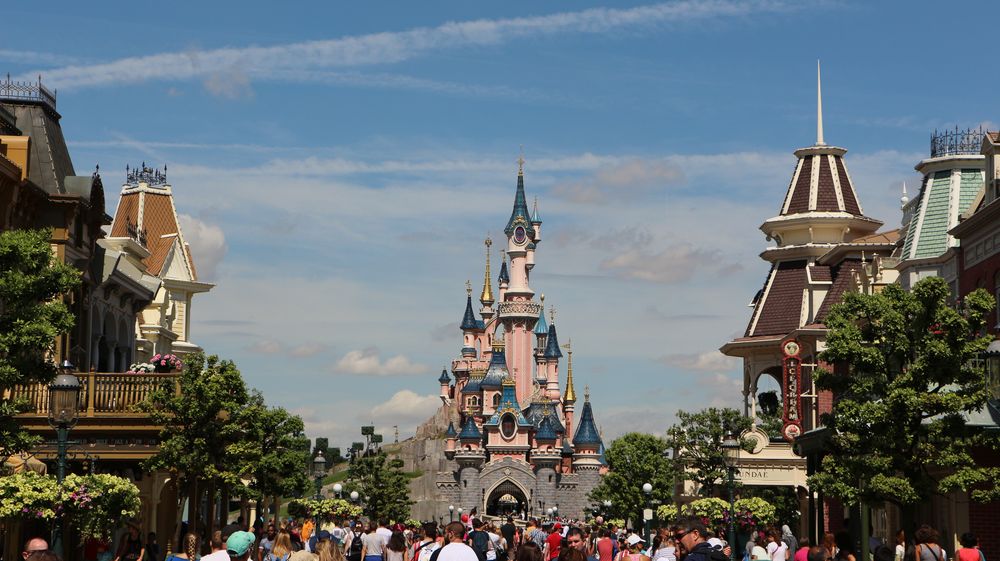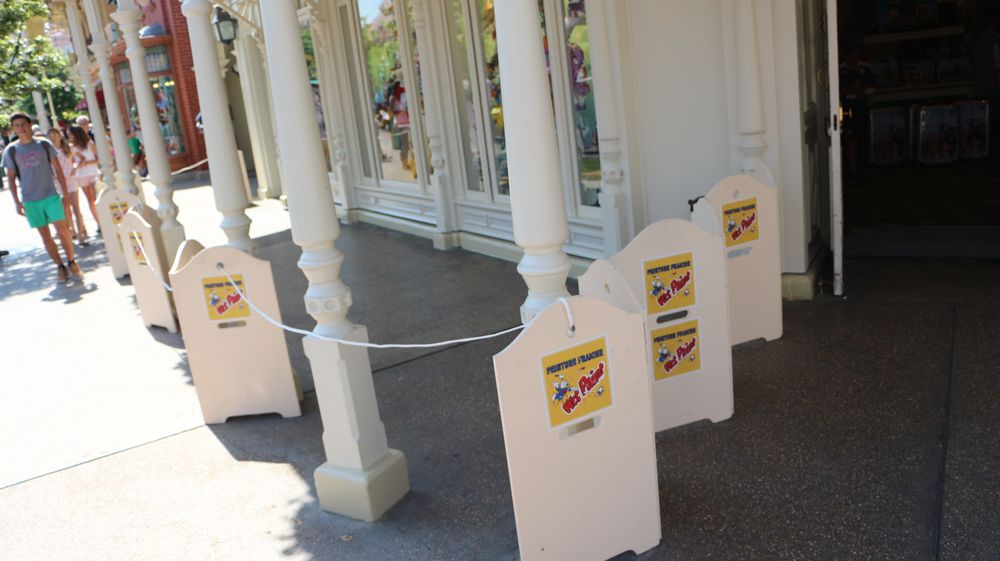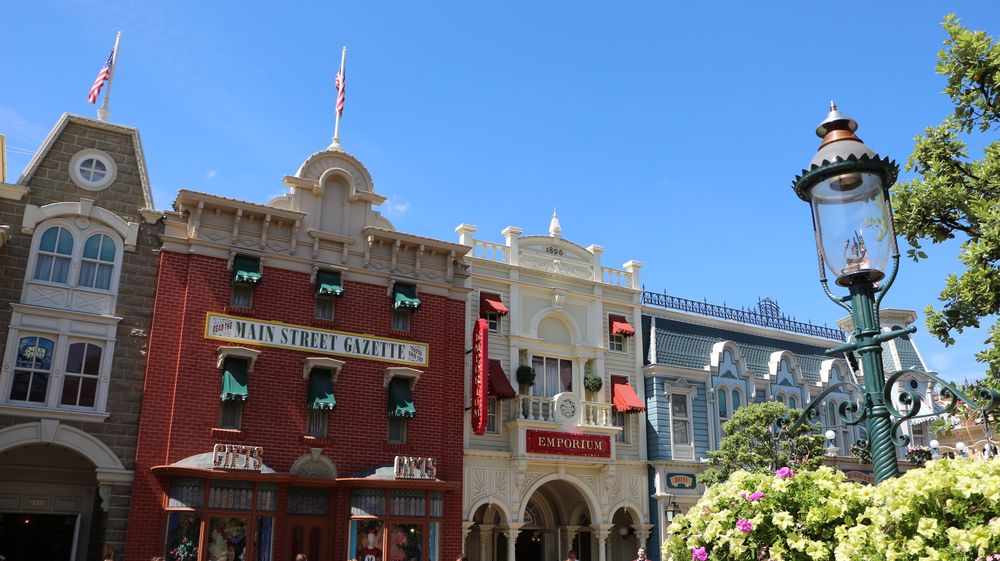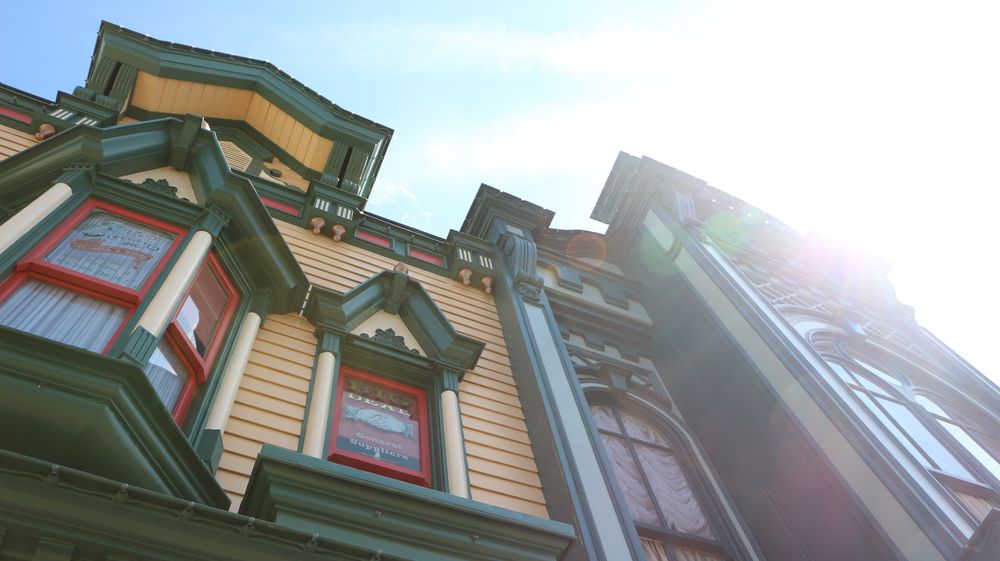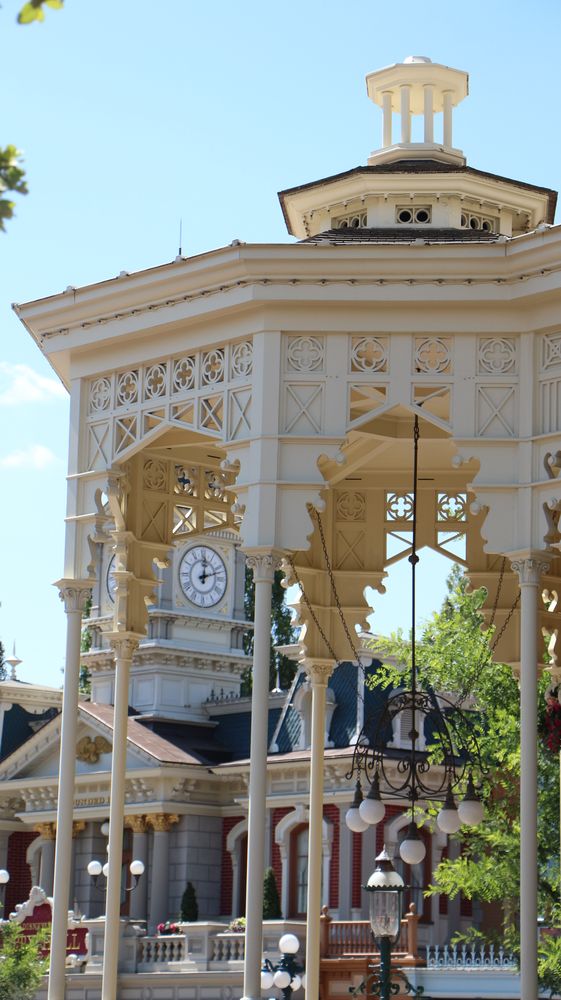 Les ambassadrices 2015-2016 de Disneyland accueillent 200 enfants de Paris pour passer une journée à Disneyland Paris et voir également la parade.
The ambassadresses 2015-2016 of Disneyland welcome 200 children from Paris to spend a day at Disneyland Paris and also see the parade.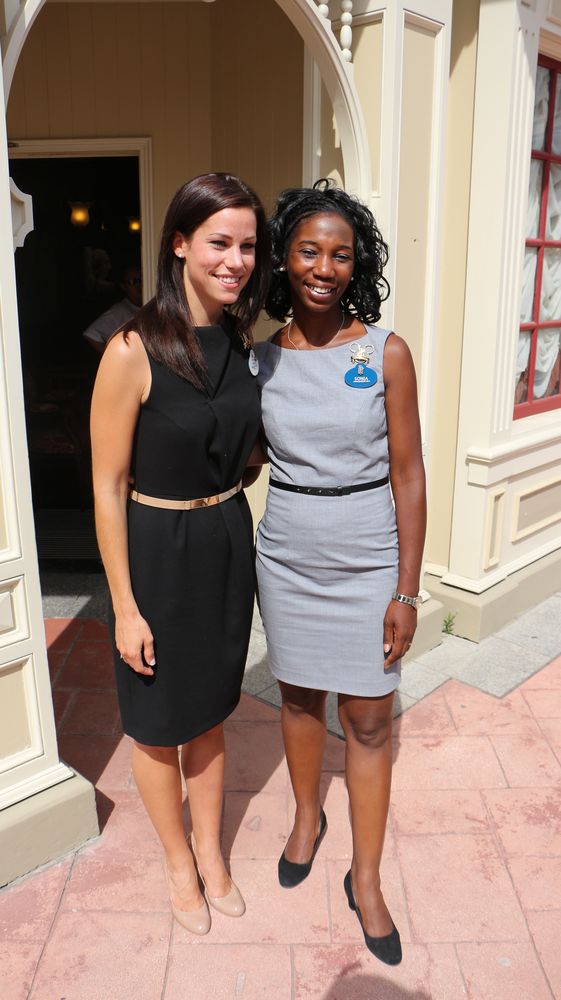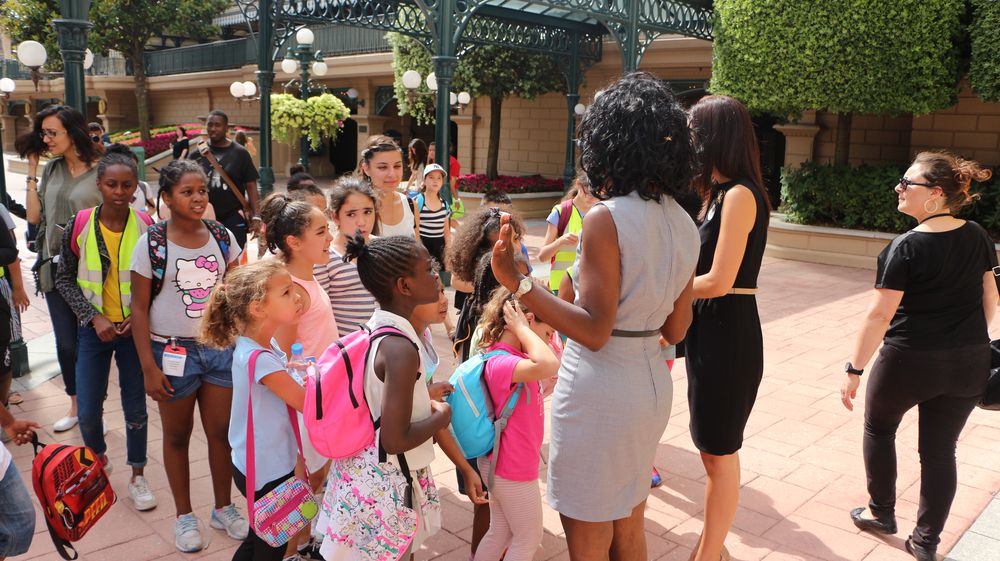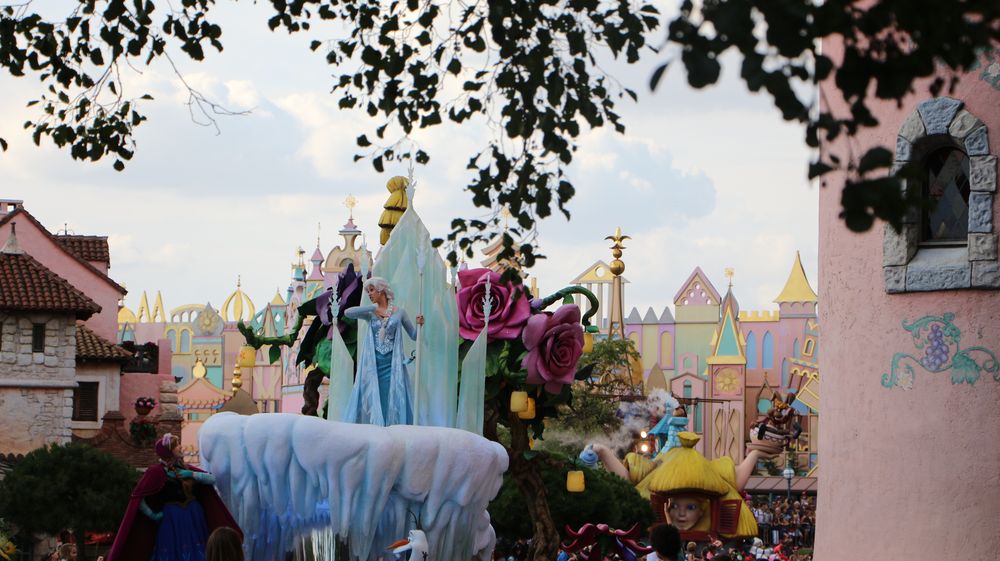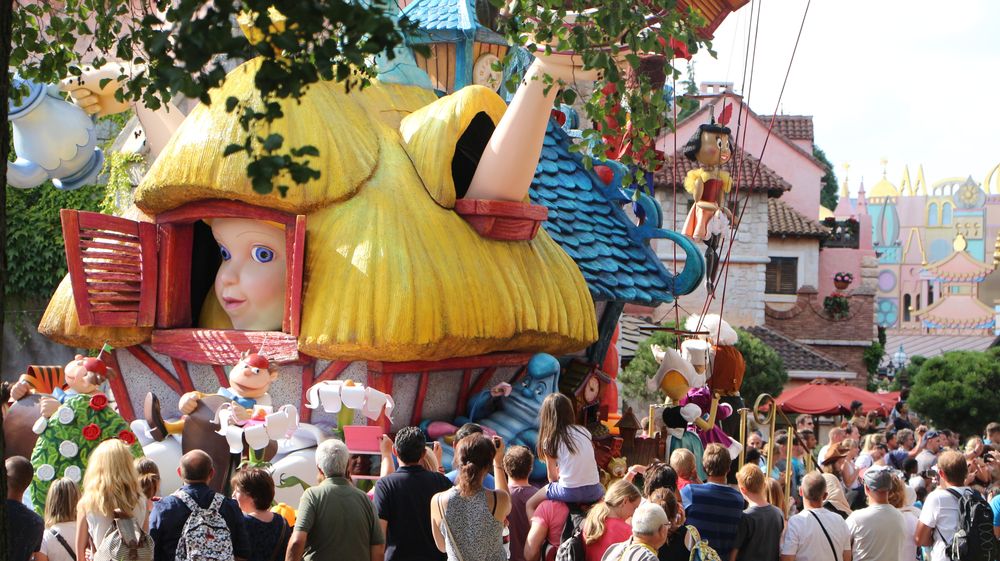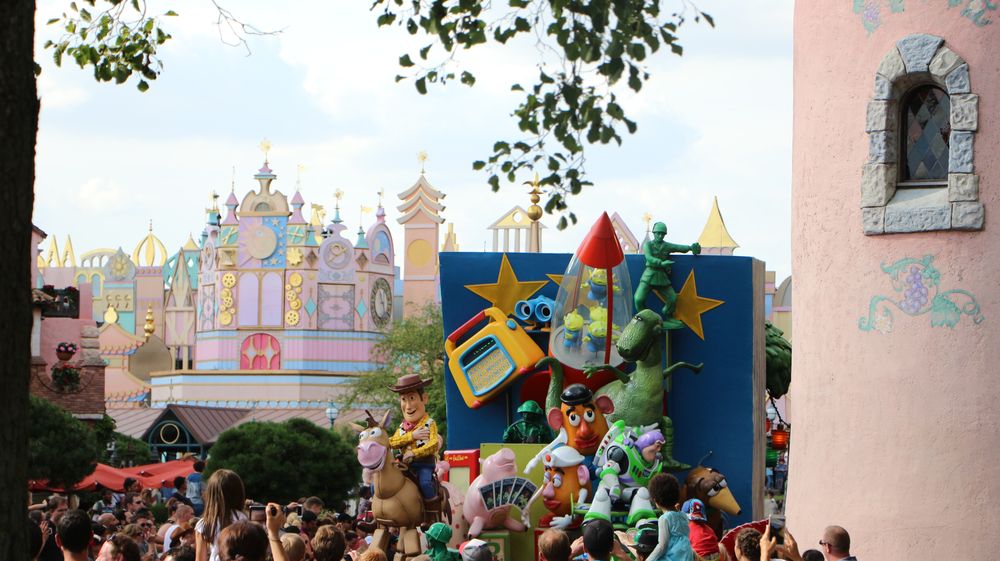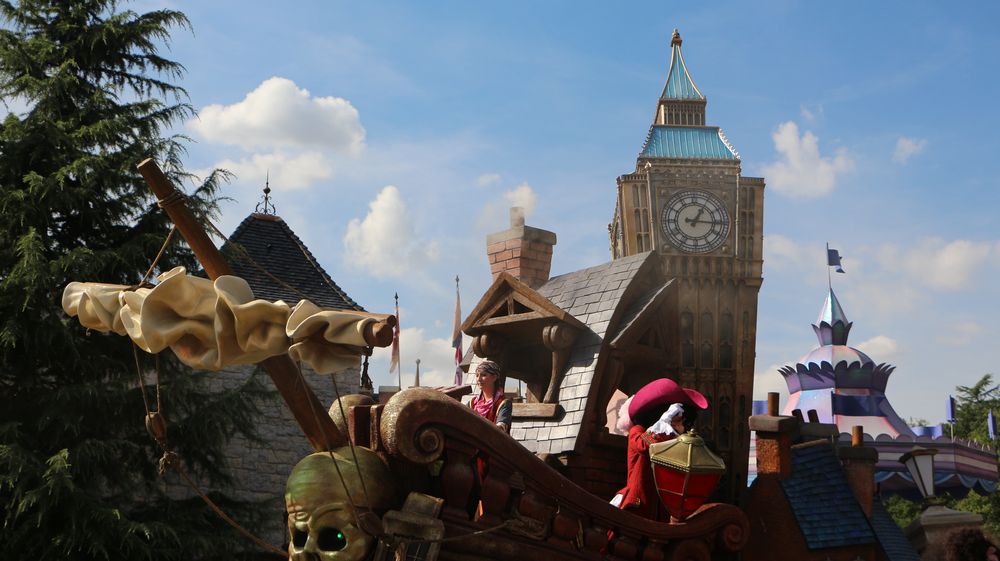 Et pour terminer, au Fantasia Garden la rénovation des sols se poursuit devant l'entrée du parc Disneyland.
And finally, the Fantasia garden soil renovation continues before the entrance of the Disneyland Park.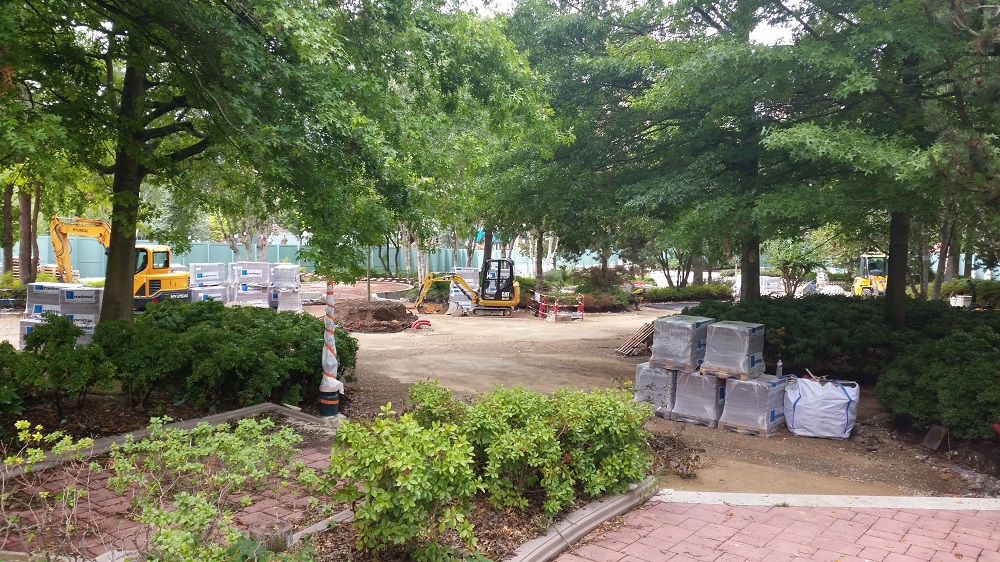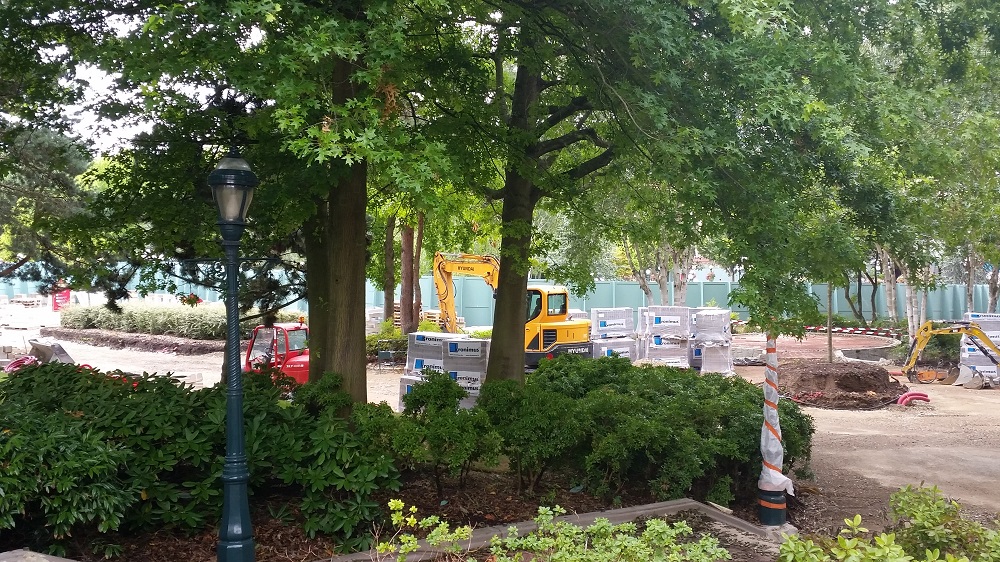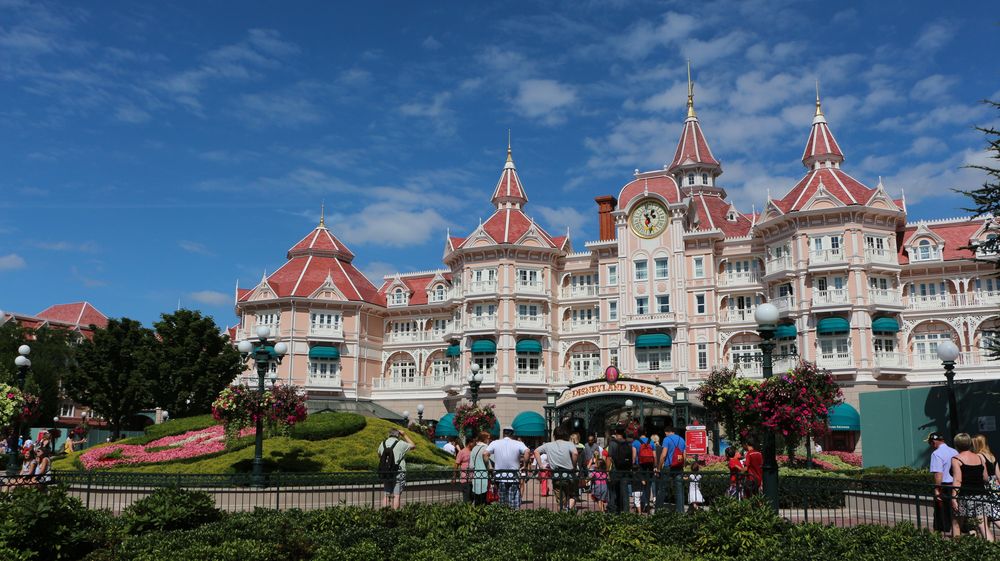 Merci à Mathias et Elisabetta !
Merci de votre fidélité.
A bientôt
Thank you for your loyalty.
See ya real soon.