Bonjour, aujourd'hui nous vous proposons un article concernant la nouvelle saison du festival Pirates et Princesses qui commencera le 31 mars et se terminera le 31 mai 2018.
Hello, today we offer an article about the new season of the Pirates and Princesses festival which will begin on March 31st and end on May 31st, 2018.
La saison est basée sur un principe simple, tout le monde, filles ou garçons, peuvent rejoindre l'une des deux équipes, celle des pirates ou celle des princesses !
Et pour cela, toute la saison est organisée autour d'un seul et même spectacle d'envergure : « Pirates et Princesses : à la croisée des chemins ». Ce spectacle de 100 performers (danseurs, acrobates et personnages) sera proposé 4 fois pars jours 7 jours sur 7.
La structure du spectacle est simple, 2 unités; une pirates, une princesses. Chacune d'elles part des deux extrémités du parcours de la parade. L'un partira de « it's a small world » avec un premier arrêt à « Royal Castle stage », alors que le second, partira de « main street » et fera un arrêt au centre du boulevard. Après se premier arrêt de 4 à 5 mn les deux unités repartiront jusqu'à Central Plaza.
Sur Central Plaza, 4 scènes sur les 4 parterres de fleurs, permettant durant ce dernier « Show Stop » de 4 à 6 minutes, d'offrir une nouvelle dance interactive avec les visiteurs. Puis, les deux unités poursuivront leurs chemins.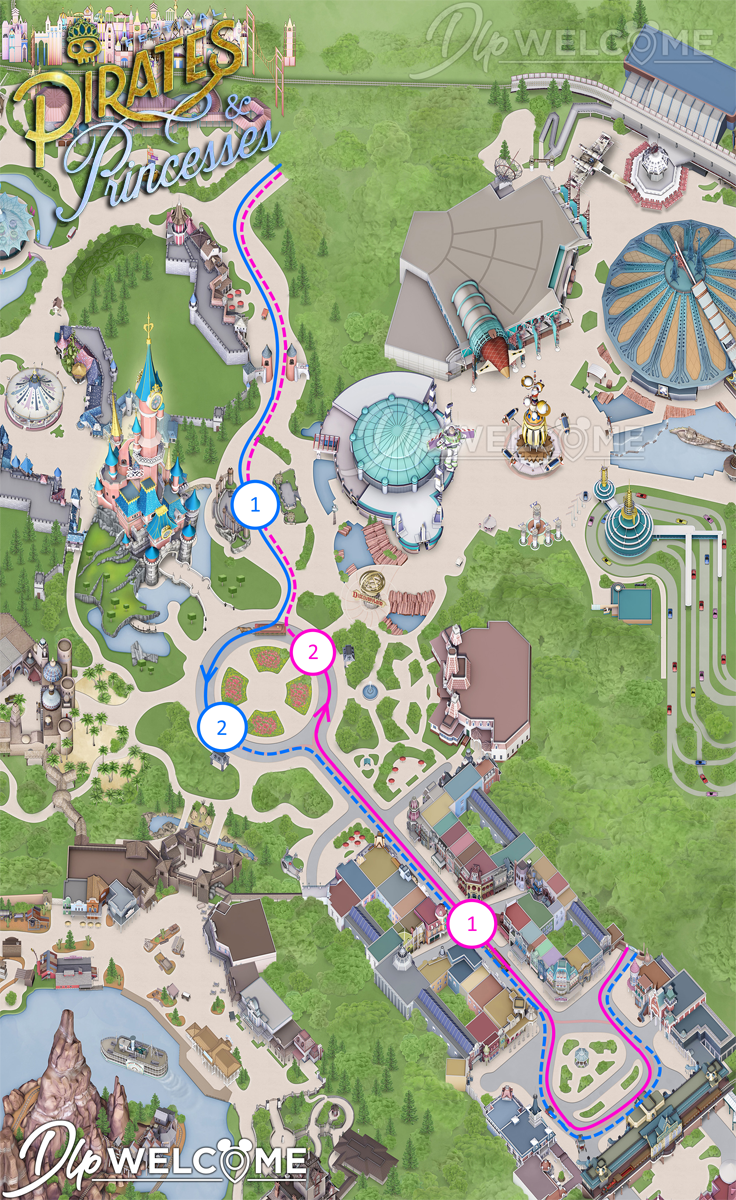 The season is based on a simple principle, everyone, girls or boys, can join one of the two teams, that of the pirates or that of the princesses!
And for this, the whole season is organized around one and the same large spectacle: « Pirates and Princesses: at the Crossroads ». This show of 100 performers (dancers, acrobats and characters) will be offered 4 times leave days 7 days a week.
The structure of the show is simple, 2 units; A pirate, a princess. Each of them is part of the two ends of the parade course. One will start from « It's a small World  » with a first stop at « Royal Castle stage « , while the second, start from « Main Street » and make a stop at the center of the Boulevard. After first stop from 4 to 5 minutes the two units will go back to Central Plaza.
On Central Plaza, 4 scenes on the 4 flower beds, allowing during the last « Show Stop » from 4 to 6 minutes, to offer a new interactive dance with the visitors. Then the two units will continue their paths.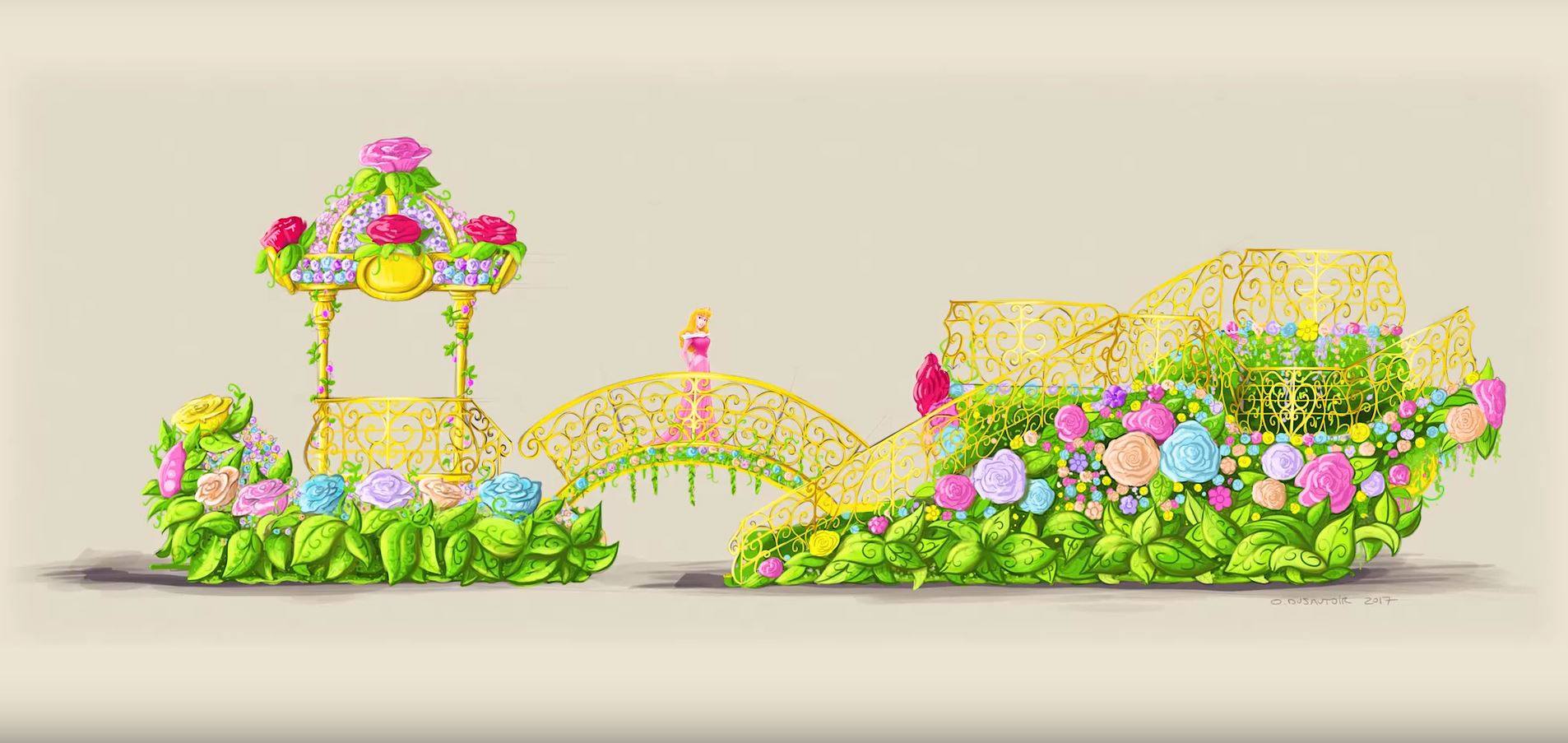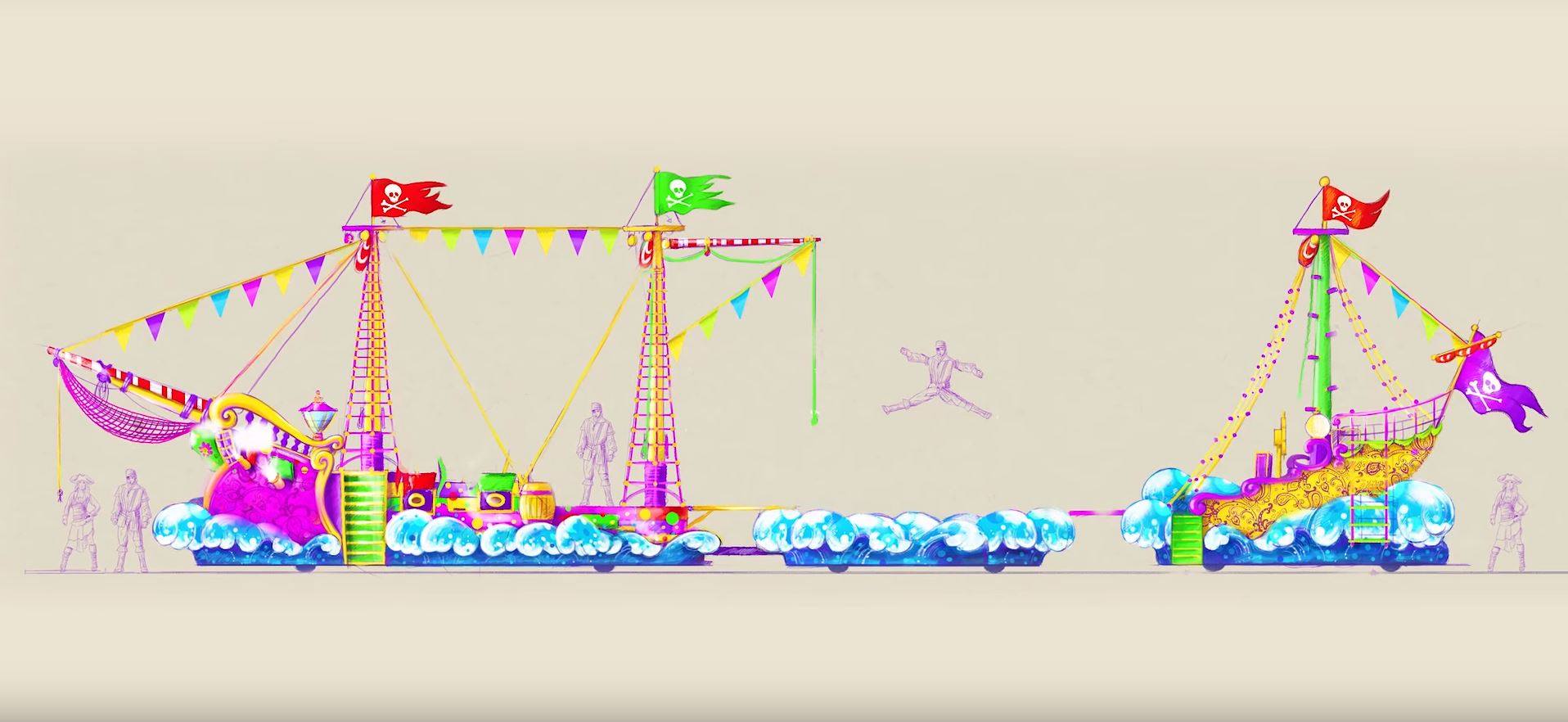 L'interactivité est l'élément central du spectacle. Les visiteurs seront mis à contribution avec une danse spécifique à chacune des deux équipes. Pour cela deux tutos ont été réalisés par Disney que l'on retrouve grâce à :
Interactivity is the central element of the show. Visitors will be put to work with a specific dance for each of the two teams. For this two tutorials have been made by Disney that can be found thanks to:
#TeamPrincesses

#TeamPirates

Il est par ailleurs Disney garanti que les visiteurs ne participant pas à l'interaction, ne se sentiront pas étranger au spectacle grâce aux acrobates, danses, personnages et ambiances.
Heureusement, car il est difficile de faire interagir le publique européen et il est même étonnant que Disney s'obstine dans cette voie dans les spectacles de Disneyland Paris.
Enfin, côté personnages, vous retrouverez Mickey Mouse avec 9 Princesses Disney avec Vaiana !
Côté Pirates nous retrouvons Minnie Mouse avec Capitaine Crochet, Monsieur Mouche, Jack Sparrow, Peter Pan ou encore Wendy accompagnés de 21 pirates accrobates. Tous nos héros auront pour l'occasion un nouveau costume. De quoi satisfaire le plus grand nombre des visiteurs toute la journée.
En plus de se spectacle, 2 autres animations ont été créées. La premiere est composée de Jack Sparrow qui veux recruter de jeunes pirates et la deuxième est composée d'un défilé de princesse Sofia ou encore Elena Avalor.

It is also Disney's guarantee that visitors who do not participate in the interaction will not feel a stranger to the show thanks to acrobats, dance, characters and moods. Fortunately, because it is difficult to make the European public interact and it is even astonishing that Disney persists in this way in the shows of Disneyland Paris.
Finally, on the characters side, you will find Mickey mouse with 9 Disney Princesses with Moana ! Pirate side we find Minnie mouse with Captain Hook, Jack Sparrow, Peter Pan or Wendy accompanied by 21 pirates accrobates. All our heroes will have for the occasion a new costume. Enough to satisfy the greatest number of visitors all day long.
In addition to the show, 2 other animations were created. The premiere is made up of Jack Sparrow who wants to recruit young pirates and the second one is made up of a parade of Princesses with princess Sofia and Princess Elena of Avalor.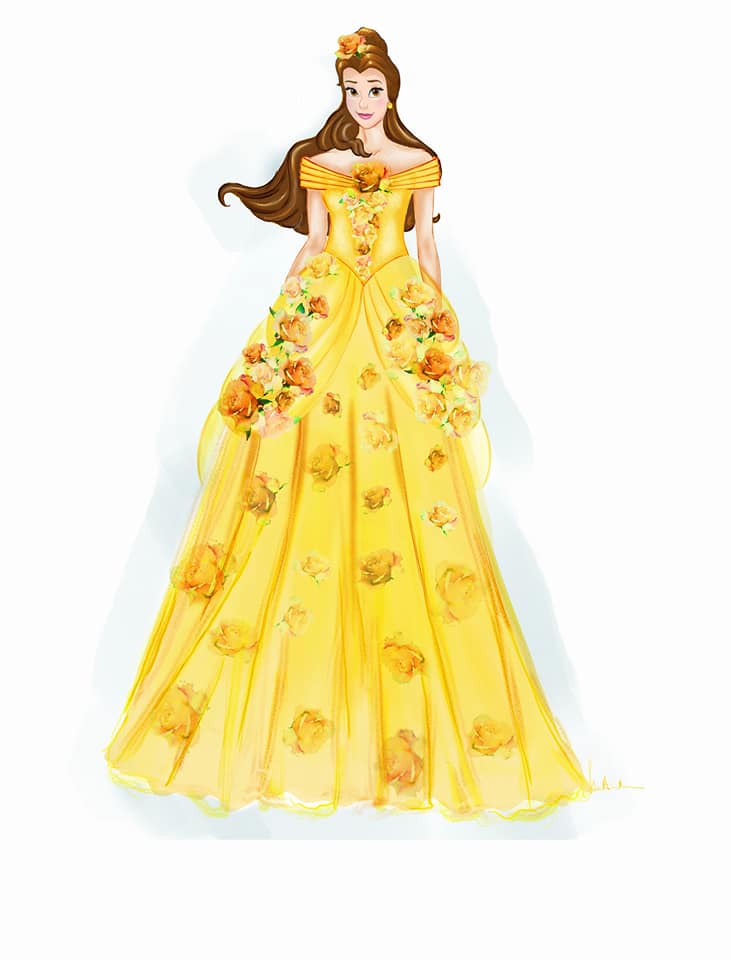 Pour cette première saison de Pirates et Princesses, il sera clairement visible pour les visiteurs des parcs depuis plusieurs années que la plupart des décorations de fleurs pour symboliser l'équipe des princesses proviennent des saison de printemps 2015 à 2017. Plus globalement, les décorations seront discrètes pour cette première édition.
Pour conclure, cette première édition de la saison Pirates et Princesses s'annonce être de bonne augure pour Disneyland Paris et les visiteurs. Mais on ne peut s'empêcher de penser que depuis la première édition de la saison de printemps en 2015, le nombre de spectacles et surtout de performers dans les spectacles en cette période de l'année ne cesse de diminuer d'une année sur l'autre.


For this first season of Pirates and princesses, it will be clearly visible to park visitors for several years that most of the flower decorations to symbolize the princesses ' team come from the Spring season 2015 to 2017. More generally, the decorations will be discreet for this first edition.
To conclude, this first edition of the Pirates and Princesses season promises to bode well for Disneyland Paris and the visitors. But one cannot help but think that since the first edition of the spring season in 2015, the number of performances and especially of the performances in the shows at this time of year continues to decline from one year to the next.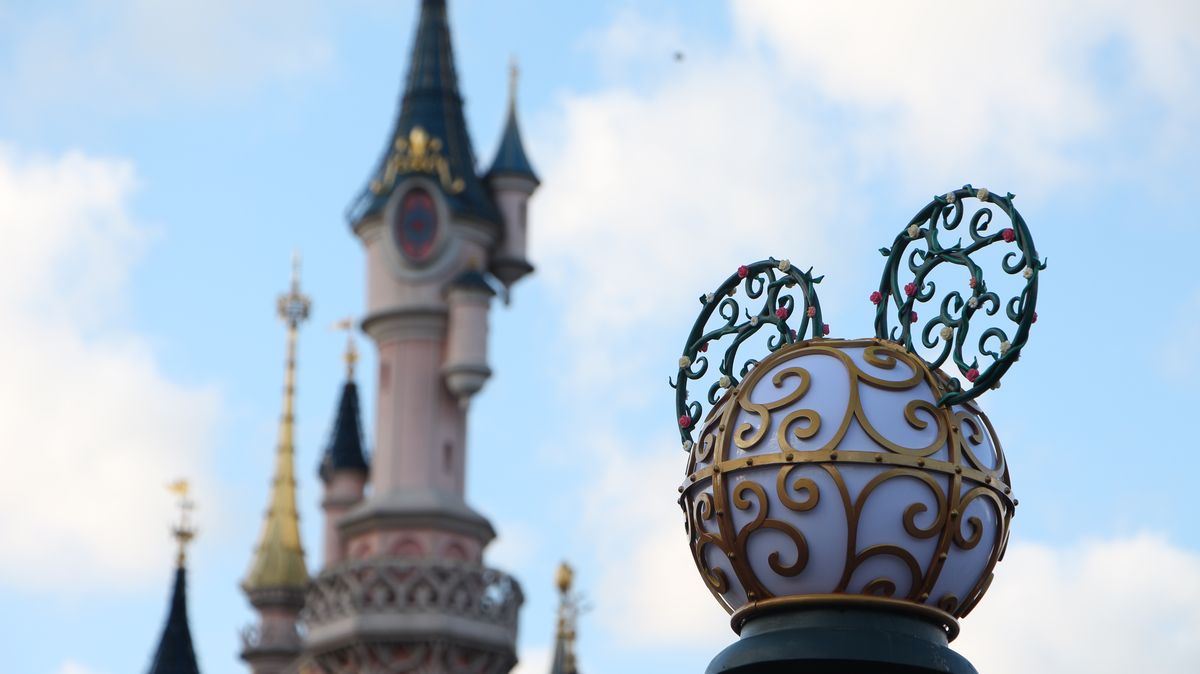 Rejoignez-nous sur /Join and follow us on :
– Facebook
– Twitter
– Instagram
Merci de votre fidélité.
A bientôt !
Thank you for your loyalty.
See ya real soon !