Disneyland Paris vient de rouvrir aux visiteurs sous une haie d'honneur et c'est une réussite !
Disneyland Paris has just reopen to guest with a guard of honor.
Mesures sanitaires renforcées et exemplaires, nombre de visiteurs limités, prix des billets d'entrée réadaptés, expérience visiteur maintenue malgré la refonte des protocoles Disneyland Paris à réussi son pari, avec des mesures strictes tout en gardant l'expérience visiteur.
Enforced and exemplary sanitary measures, limited number of guest, price of ticket readjusted and guest experience still here despite of brand new protocol and organization. Disneyland Paris has successfully accommodate guest experience and sanitary measures.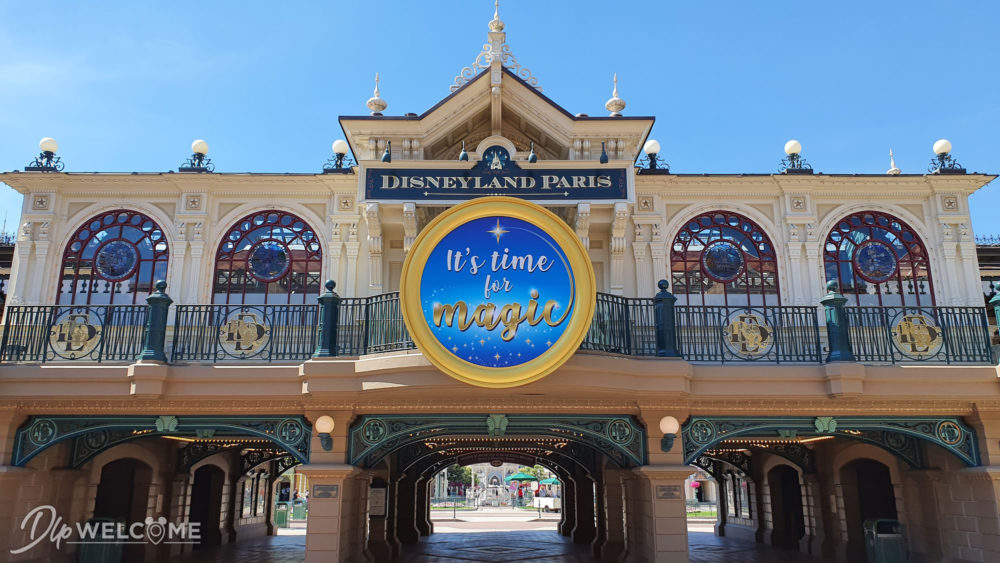 Mesures sanitaires exemplaires !
Pour visiter Disneyland Paris c'est simple, vous devez acheter et surtout enregistrer sur le site internet votre date de visite pour vous et les personnes qui vous accompagnent. C'est le seul moyen pour rentrer dans les parcs, car pour garantir la sécurité de tous, le nombre de visiteurs est limité. Ainsi, cet été les parcs Disney ont une capacité maximale d'accueil limitée au quart de la capacité d'accueil théorique. Ainsi les files d'attentes en seront moins grande !
Exemplary sanitary measures !
To visit Disneyland Paris, it's simple, you have to buy and mostly register yourself and your family on the official website for your date of visit. This is the only way to enter into the park, because to be a healthy place for all, the number of guest if limited. Indeed, the maximal capacity and been cut to reach the quarter of the normal capacity. Wait line will be shorter !
Que ce soit le positionnement de votre véhicule dans le parking des parcs réalisé par les employés avec une place sur deux pour garantir suffisamment d'espace entre deux familles pour une distanciation physique de plus de 1m. Que ce soit le contrôle des sacs à l'entrée du site avec le marquage au sol entre les groupes, ou que ce soit l'accueil aux guichets des parc avec gel marquage au sol et contrôle de votre réservation, vous attentez bien moins que durant une journée classique avant le Covid-19 ! Le mot d'ordre est simple. Limiter la file d'attente, notamment dans les espaces fréquentés. Et garantir distance et sécurité avec le port du masque obligatoire pour les personnes de 11 ans et plus et la possibilité de disposer de Gel à tout moment.
To begin your journey, the positioning of your vehicle in the car park of the parks will asked you to park one space in two to guarantee enough space between two families for a physical distance of more than 1 meter. At the control of bags at the entrance of the site, marking on the ground will distance one group from another. At the entrance, there is Hydroalcoholic gel, mark on the ground and control of your reservation. You should have little waiting, much less than on a classic day before the Covid-19! The watchword is simple. Limited line, especially in busy spaces. And guarantee distance and security with the wearing of the mandatory mask for people aged 11 and more and the possibility to sanitize your hands anywhere at any time.
Quelques chiffres :
20 kilomètres de marquages au sol,
2000 distributeurs de gel,
3 kilomètres de protections en plexiglass,
Si vous pensez que les mesures s'arrêtent là, vous vous trompez. Toutes les files d'attentes ont été entièrement balisées par des marquages au sol, de distributeur de gel en entrée, en zone d'embarquement et en sortie de chaque attraction et restaurant !
Pour les files d'attentes des attractions, les files sont généralement équipées de protection en plexiglas. En effet, quand deux files d'attentes sont collés et ne peuvent garantir plus de 1m de distance, cet équipement est nécessaire pour éviter cette proximité en plus des marquages au sol. Parallèlement les rambardes sont fréquemment désinfectées en journée.
Few numbers:
20 kilometers of marking on the ground
2000 Hydroalcoholic gel dispensers
3 kilometers of Plexiglas protection.
But there are more measures, all waiting lines have been fully cover of marking on the ground, there are Hydroalcoholic gel dispensers at the entrance and exit of each rides and restaurants.
For waiting live for attractions, serpentine queue, Plexiglas has been added. Indeed,
For attraction queues line, they are usually equipped with Plexiglas protection. Indeed, when two queues are too close and cannot guarantee more than 1 meter of distance, this equipment is here in addition to the markings on the ground. At the same time the railings are frequently disinfected during the day.
Et si vous croyez que Disneyland Paris a oublié de marquer les toilettes, vous vous trompez
And if you think Disneyland Paris forgot to mark the toilet, you're wrong
Être à Disneyland Paris sera plus sûre que de prendre les transports en communs ou de faire vos courses dans un supermarché! C'est dire les efforts et l'exemplarité dont fait preuve l'entreprise.
Being at Disneyland Paris will be safer than taking public transport or shopping in a supermarket! The effort and exemplarity of the company is incredible..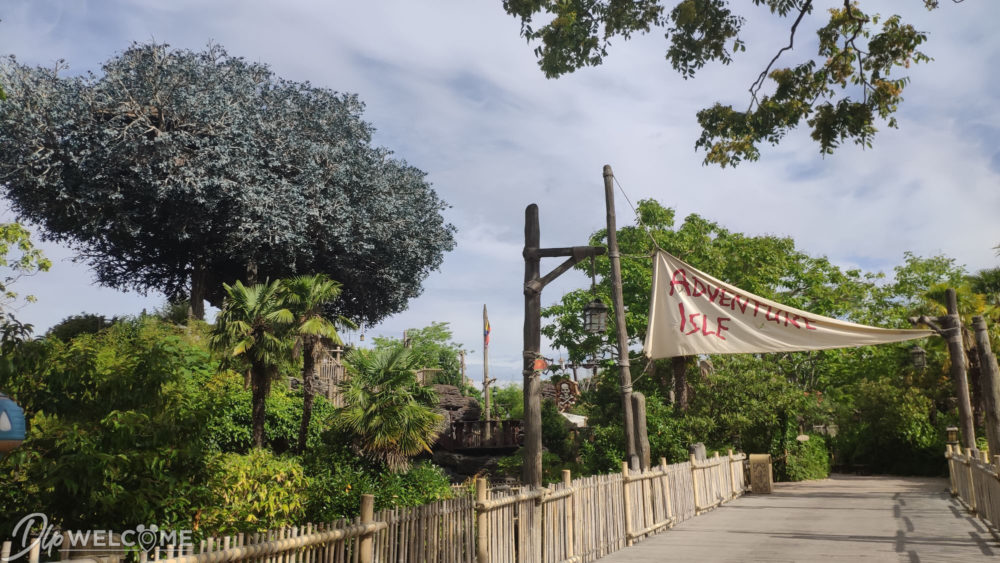 Attractions
Parmi les attractions il y en a une qui attire l'attention, le Disneyland Railroad qui fait son grand retour après 2 ans ! C'est un plaisir de pouvoir remontrer dans les trains et surtout, de les entendre.
Rides
Among the rides, there is one that attracts attention, the Disneyland Railroad which makes its big comeback after 2 years! It is a pleasure to be able to get back on the trains and, above all, to hear them in the park.
D'autres attractions tout autant populaires sont aussi ouverte pour les visiteurs comme Big Thunder Mountain ou vous remarquerez les équipements mis en place dans les files d'attentes.
Other popular attractions are also open to visitors such as Big Thunder Mountain where you will notice the configuration in the queues.
Enfin certaines autres attractions comme Peter Pan's Flight ou Pirates of the Caribbean sont de retour et plus resplendissantes que jamais avec des effets que nous n'avons pas vue en fonctionnement depuis plusieurs années.
Finally, other attractions like Peter Pan's Flight or Pirates of the Caribbean are back and more resplendent than ever with effects that we haven't seen in operation for several years.
C'est donc un semblant de normalité qui transparaît en arpentant les allées des deux parcs, malgré les fortes restrictions dans les attractions qui peuvent faire grimper les temps d'attente:
Star Tours passe de 40 personnes par cabine à 24 au maximum,
les ascenseurs de la Tour de la Terreur peuvent recevoir jusqu'à 14 personnes contre 21 auparavant,
Des embarquements par groupes séparés d'une rangée pour chaque montagne russe.
Mais l'arrêt des coupes-files Fastpass et des files Single rider permettent aux visiteurs d'avancer plus vite. Il est à noter que le port du masque est obligatoire comme la distanciation dans les allées des parcs comme dans les attractions.
It is therefore a beginning of normality that appears in the streets of the two parks, despite the strong restrictions in the attractions that can increase waiting times:
Star Tours increases from 40 people per cabin to a maximum of 24,
The tower of Terror elevators can accommodate up to 14 people compared to 21 previously.
Separate group boardings by one row for each Roller Coaster
But stopping the Fastpass and Single rider allows visitors to move faster in the queues. It should be noted that masks and social distance are mandatory in park streets and rides.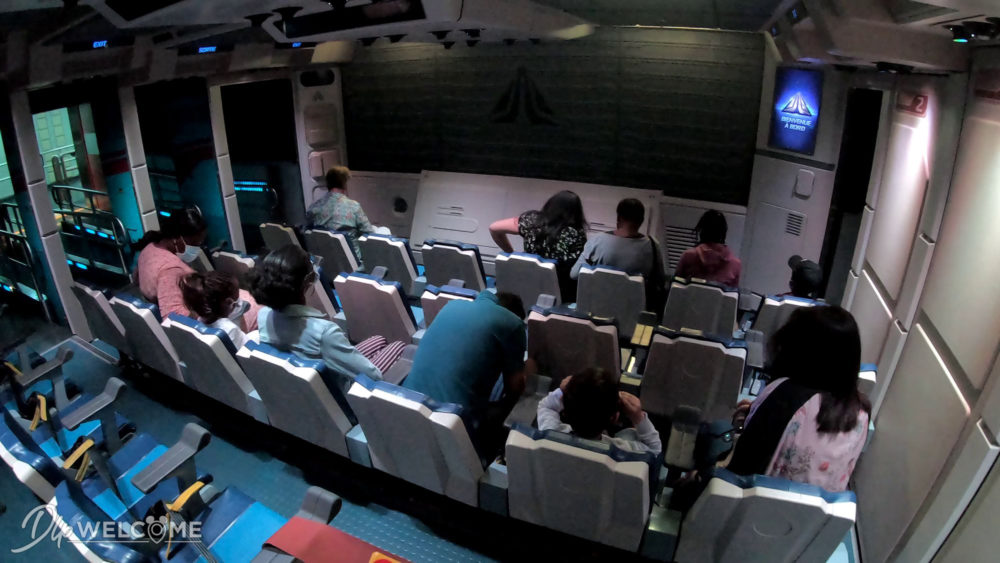 Le plus grand perdant est Phantom Manor, bien que sont parcours dans des véhicules de 2 personnes permettent de rester en pleine capacité, c'est les accès qui précèdent le parcours scénique qui posent problème. En effet, puisque qu'il ne peut y avoir plus de 6 groupes dans chaque ascenseurs, cette première étape est alors vecteur de file d'attente. Seul un embarquement direct dans chaque ascenseur pourrait limiter l'attente et non le positionnement dans le hall d'entrée puis dans l'ascenseur. Mais quoi qu'il en soit, on espère que le nombre restreint de visiteurs par jour évitera une envolée des temps d'attentes sur l'attraction.
The biggest loser is Phantom Manor, although the vehicles of 2 people allow to stay in full capacity, it is the accesses that precede the scenic course that cause problems. Indeed, with no more than 6 groups in each elevator, this first step can created queue. Only a direct boarding in each elevator could limit the wait and not the positioning in the lobby and then in the elevator. But we hoped that the limited number of visitors per day will avoid a surge in wait times on the ride.
Parcs
Les parcs sont avec cette réouverture dans un excellent état. La végétation est bien entretenue et en pleine floraison. Les bâtiments, comme la plupart dans Main Street USA ont été repeints et pour certains ont reçus des mini rénovations et travaux d'embellissement toujours en cours comme le remplacement des sols à Fantasyland.
Il en ressort est un parc Disneyland dans une forme olympique !
Parks
The parks are with this reopening in excellent condition. The vegetation is well maintained and in full bloom. Buildings, like most in Main Street USA have been repainted and for some have received mini renovations and beautification work still underway such as the replacement of the pavement in Fantasyland.
Personnages Disney
Les personnages Disney sont aussi de retour, Car venir à Disneyland sans voir le Big Boss, ce n'est pas possible !
Même pour les visiteurs n'aimant pas les rencontres de personnages, l'alternative proposée par Disney pourrait leur faire changer d'avis. Pour une attente modique, vous pouvez rencontrer les personnages pour les prendre en photo ou réaliser un Selfie ! Limiter les possibilités d'interaction tout en étant à bonne distance, voilà ce que propose Disney. C'est un moment qui se suffit à lui-même et qui permet à plus de visiteurs de plus voir les personnages qu'en temps normal. Résultat, la file d'attente avance plus vite et les visiteurs sont tout autant satisfait ! Le combo gagnant est trouvé.
Disney Characters
The Disney characters are also back, because coming to Disneyland without seeing the Big Boss, it's not possible!
Even for visitors who don't like character encounters, Disney's alternative could change their minds the most recalcitrant. For a small wait, you can meet the characters to take a picture of them or take a selfie! Limiting the possibilities of interaction while being at a good distance, this is what Disney offers. It is a moment that is self-sufficient and allows more visitors to see the characters than in normal times. As a result, the queue is moving faster and visitors are just as satisfied! The winning combo is found.
Marvel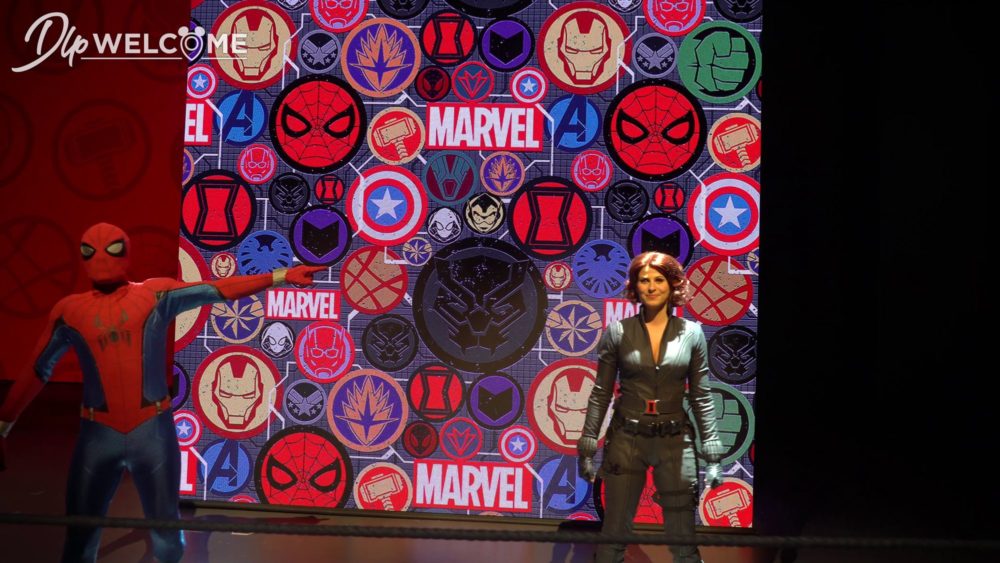 Princesses
Meet Mickey
Main Street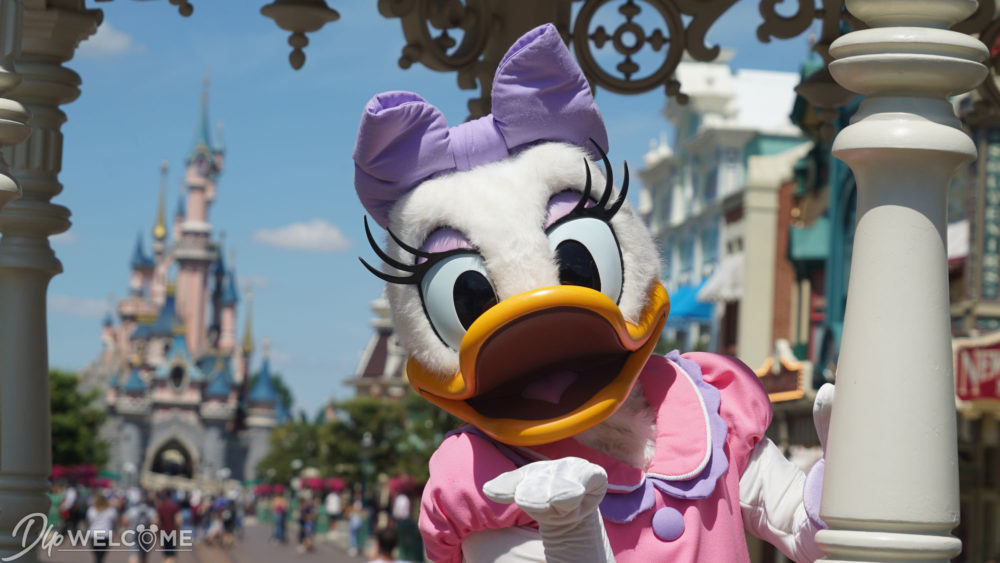 Star Wars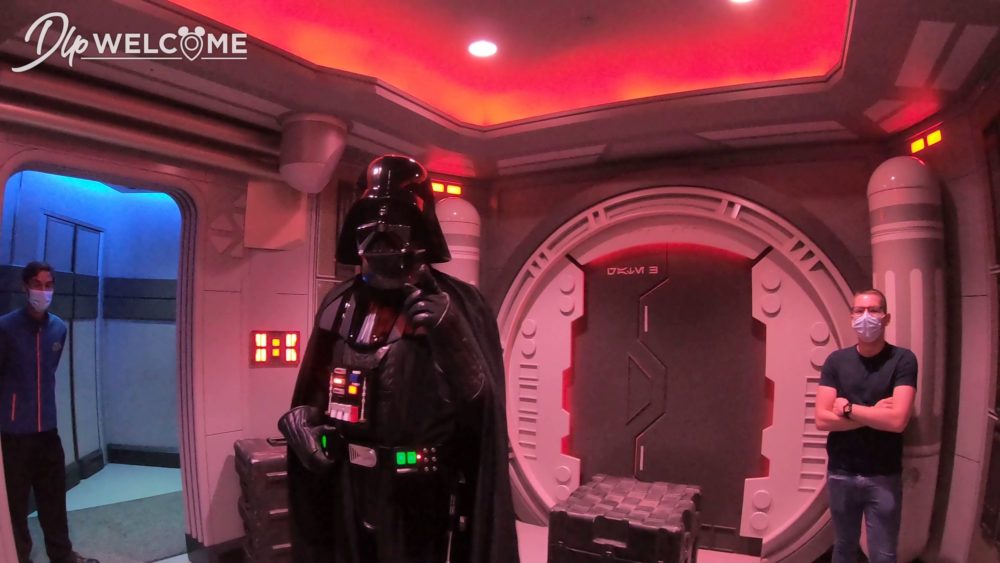 Welcome & Good Bye
Certains points photos nécessitent une réservation par l'application Lineberty pour le parc Walt Disney Studios. Vous aurez besoin de cette application pour, par exemple. voir Olaf ou Anna, Elsa et Kristoff. On regrette encore une fois que les réservations de Disneyland passent par une application qui n'est pas Disney. L'entreprise à pourtant tout pour le faire en interne.
Some photo points require reservations through the Lineberty app for Walt Disney Studios Park. You'll need this app for, for example. see Olaf or Anna, Elsa and Kristoff. We regret once again that Disneyland bookings go through an app that is not Disney. The company has everything to do it in house.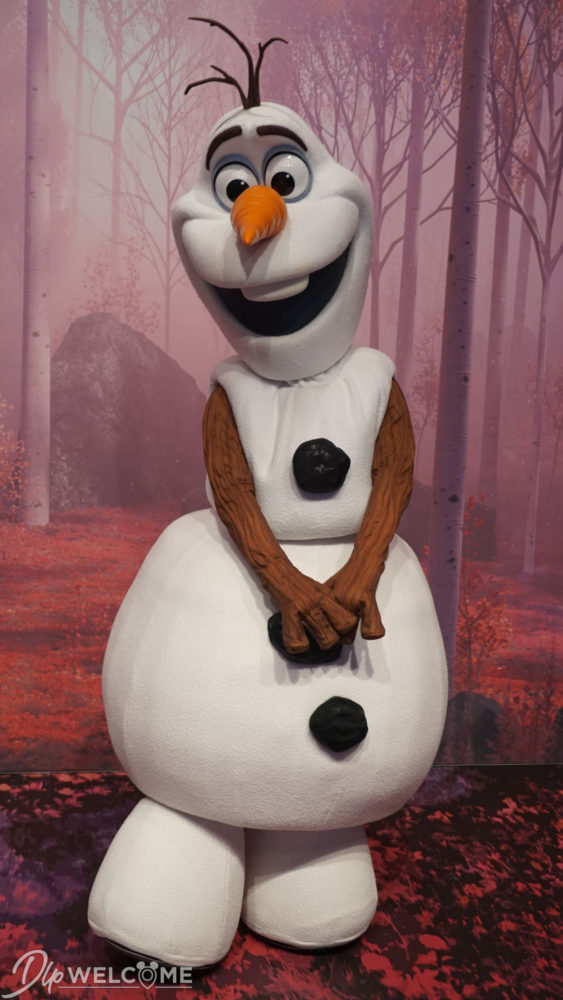 Restaurants
Les Fast Food ont vu leurs options réduites (pas de supplément Frite par exemple) et pour d'autres le dessert retiré des menus entrainant une diminution de 1€ à Studio 1. C'est choix permettent à l'entreprise de maximiser l'efficacité des préparations des commandes et de diminuer le temps d'attente.
L'attente dans les Fast food commence en extérieur avec une file d'attente dédié au restaurant. Un employé est alors en charge de s'assurer que les visiteurs se désinfectent bien les mains avant disposer les visiteurs dans une des files des différentes caisses pour passer commande.
Fast Foods have had their options reduced (no fries supplement for example) and for others the dessert removed resulting in a decrease of 1€ on menus at Studio 1. This is choices allow the company to maximize the efficiency of order preparations and reduce wait times.
The wait in fast food starts outdoors with a queue dedicated to the restaurant. An employee is then in charge of ensuring that visitors disinfect their hands before disposing them in one of the queues to place an order.
Pour les restaurants à volonté, comme le Plaza Garden, vous aurez la même procédure d'entrée qui est commune à tous les restaurants. La grande différence est qu'aucun visiteur ne doit aller se servir au comptoir. Ici votre serveur prend la commande des entrées, plats et desserts sur une carte pour la quantité désirée. C'est ici que l'offre à volonté fonctionne. Si vous voulez 4 plats différents ou 4 fois le même plat en même temps, vous les aurez !
Vous avez au total 15 plats différents qui vous seront proposés. L'offre est variée et surtout la qualité est supérieure à l'ancienne offre (avant le covid). La diminution des choix et les assiettes déjà préparées on permit de proposer des aliments plus qualitatifs et mieux travaillés en cuisine. Cette expérience nous a agréablement surpris !
Enfin l'un des points commun à chaque restauration, est la réduction du nombre de table pour les mesures de distanciations et la désinfection systématique de chaque table et sièges entre chaque groupes de visiteurs.
For all-you-can-eat restaurants, such as the Plaza Garden, you will have the same entrance procedure that is common to all restaurants. The big difference is that no visitor should go to the counter to serve. Here your waiter takes the order of starters, dishes and desserts on a menu for the desired quantity. This is where the all-you-can-eat offer works. If you want 4 different dishes or 4 times the same dish at the same time, you will have them!
You have a total of 15 different dishes that will be offered to you. The offer is varied and above all the quality is superior to the old offer (before the covid-19). The reduction of choices and the plates already prepared made it possible to offer more quality foods and better worked in the kitchen. This experience pleasantly surprised us!
Finally, one of the common features of each restoration is the reduction of the number of tables for distance measurements and the systematic disinfection of each table and seat between each group of visitors.
Hotel
Côté hôtellerie, seul l'hôtel Disney's Newport Bay Club assurera l'hébergement jusque début septembre.
For the Disney Hotels, only Disney's Newport Bay Club provide accommodation until early September.

Un retour (presque) à la normale célébré chaque matin en chanson sur les parcs pour accueillir les nouveaux visiteurs.
An almost normal return celebrated every morning in song about the parks to welcome new visitors.
Après quatre mois de fermeture, soit 123 jours, Disneyland Paris a accueilli ses premiers visiteurs post-confinement en toute sécurité sanitaire. Il ne reste plus qu'à réserver sa journée de visite !
After four months of closure, or 123 days, Disneyland Paris welcomed its first post-confinement visitors in complete safety. All that's left is to book your day of visiting!

Merci de votre fidélité.
A bientôt !
Thank you for your loyalty.
See ya real soon !
Rejoignez-nous sur /Join and follow us on :