Bonjour, Aujourd'hui nous vous proposons un article exceptionnel sur Pairi Daiza. Un jardin des mondes somptueux situé à moins de 3h de Paris !
Hello everyone, Today we make you an exceptional article about Pairi Daiza Resort. A sumptuous « garden of the worlds » located less than 3 hours from Paris!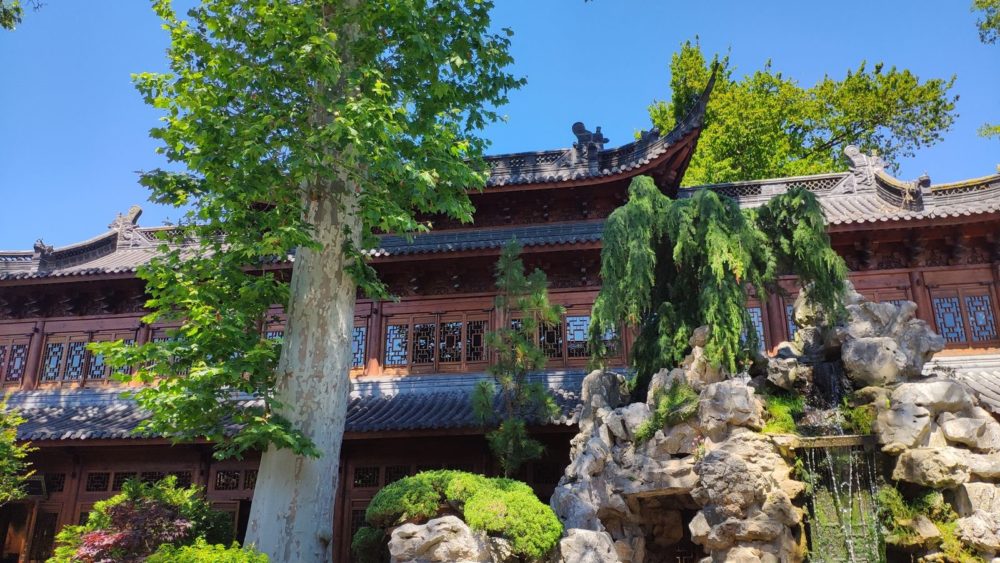 Pairi Daiza s'étend sur plus de 65 hectares et chose étonnante, ce paradis sur terre existe depuis 25 ans ! Quel ne fut pas notre surprise de découvrir pour la première fois ce site unique en Europe.
Parce que nous avons à cœur le bien-être animal, l'idée de découvrir des animaux dans des enclos nous est difficile depuis que nous avons découvert les safaris de parcs animaliers comme les 44 hectare de Disney's Animal Kingdom en Floride et surtout les 142 hectares de Six Flags Wild Safari à Six Flags Great Adventure dans le New Jersey. Pairi Daiza ne parait pas être un paradis pour nos amis les bêtes. Mais c'était sans compter sur notre expérience sur place qui nous à convaincu que le bien être animal pouvait aussi exister dans un parc zoologique.
Quelques unes des récompenses 2019 de Pairi Daiza :
2018-2019: « Meilleur Parc Zoologique d'Europe » aux Diamond ThemePark – Awards, les « Oscars » des Parcs d'attractions et Jardins zoologiques.
Plus bel habitat animalier
Plus belle naissance ( Sungai petit orang-outan de Sumatra né le 30 octobre 2018)
Meilleure « Présentation d'animaux » pour le Bain des éléphants
3 étoiles au Guide Vert Michelin
Pairi Daiza covers more than 65 hectares and amazingly, this paradise on earth has been around since 25 years! What was our surprise to discover for the first time this unique site in Europe.
Because we care about animal welfare, the idea of discovering animals in pens has been difficult for us since we discovered park safaris, like Disney's Animal Kingdom's 44 hectares in Florida and especially the 142 hectares of Six Flags Wild Safari at Six Flags Great Adventure in New Jersey. Pairi Daiza doesn't look like a same paradise for our animal friends. But it was without counting on our experience on the spot that convinced us that animal welfare could also exist in a zoo.
Some of Pairi Daiza's 2019 awards:
● 2018-2019 « Best Zoological Park in Europe » at the Diamond ThemePark Awards, the « Oscars » of Theme Parks and Zoological Gardens.
● More beautiful animal habitat
● Most Beautiful Birth ( Sungai little Sumatran orangutan born October 30, 2018)
● »Best Animal Presentation » for elephant bathing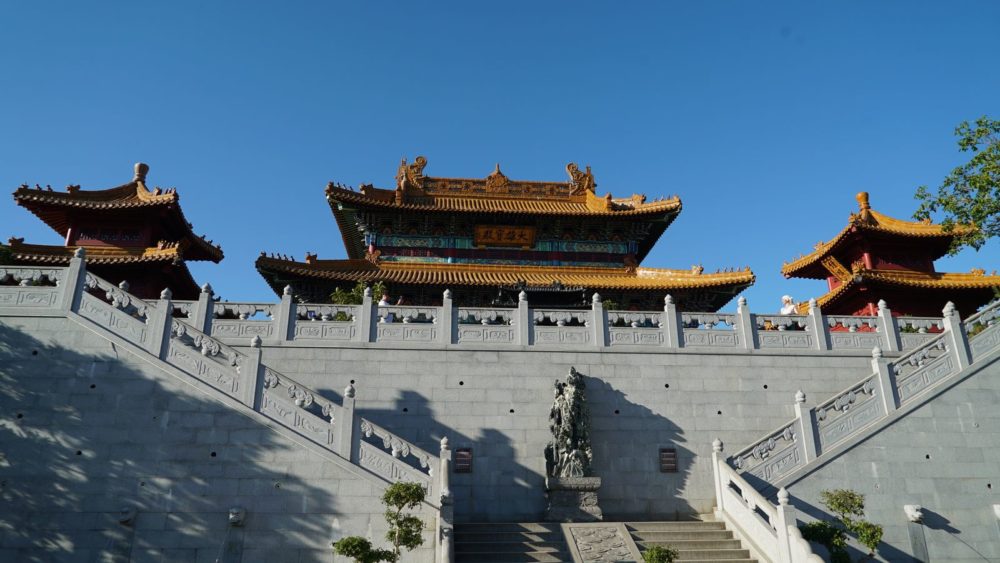 Pour découvrir ce lieu unique en Europe, nous avons décidé de séjourner en demi-pension dans son nouvel hôtel Padding Bear dans la zone Canadienne de Colombie britannique. Cette zone est comporte également des cottages amérindiens Native Village et des maisons troglodytes Full Moon Lodge. Les maisons et cottages offre une vue sur les enclos avec les ours pour l'un et les ours et loups pour le second. Notre logement était situé dans le bâtiment principal offrant une vue sur la zone de type bord de mer avec le bar, le restaurant Octopus et les otaries.
To discover this unique place in Europe, we decided to stay half-board at its new Padding Bear hotel in the Canadian area of British Columbia. This area is also home to Native American cottages Native Village and cave houses Full Moon Lodge. The houses and cottages offer a view of the pens with bears for one and bears and wolves for the second. Our accommodation was located in the main building offering views of the seaside area with the sea lions and the bar, Octopus restaurant and shop.
Et surprise, des marmottes nous observent dans notre cage confortable faisant office de bar de l'hôtel.
Les chambres sont spacieuses, modernes, confortables, silencieuses et dans un style minimaliste. Chaque séjour est obligatoirement associé à une demi-pension, diner et petit-déjeuner dans le restaurant Octopus.
Surprisingly, marmots watch us in our comfortable cage serving as the hotel's bar.
The rooms are spacious, modern, comfortable, quiet and in a minimalist style. Each stay is obligatory associated with half-board, dinner and breakfast in the Octopus restaurant.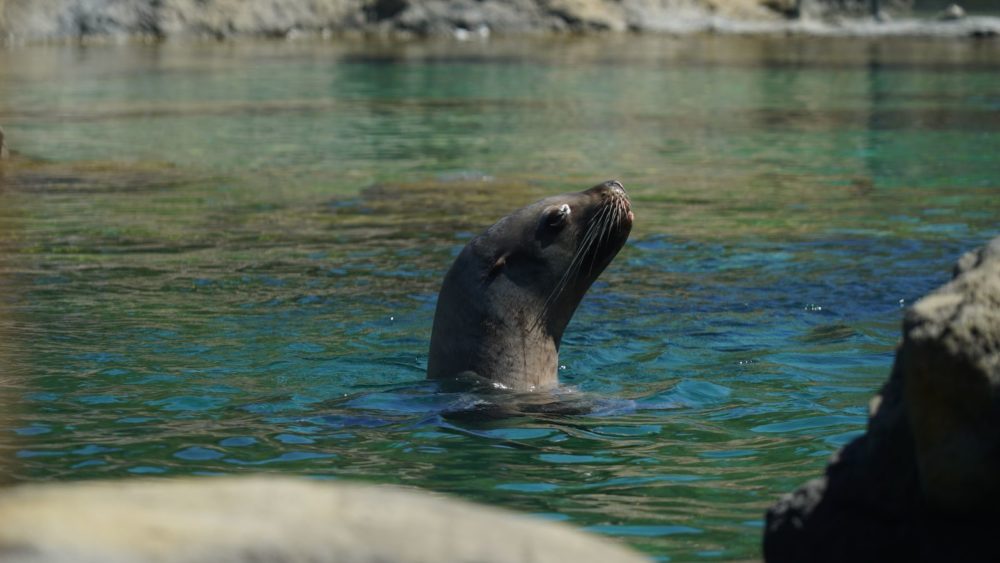 Le restaurant Octopus offre une carte gourmande aux mets de qualités avec un service agréable dans un cadre raffiné. Les produits sont tous cuisinés sur place, frais et dans le thème canadien.
Pour le petit déjeuner, les produits sont là aussi de qualité. Jus de fruit frais avec des compositions originales (framboise, orange-poire), des choix sucrés et salés en nombre au buffet. Et la cerise sur le gateau, une rencontre avec des rapaces don un Pygargue à tête blanche.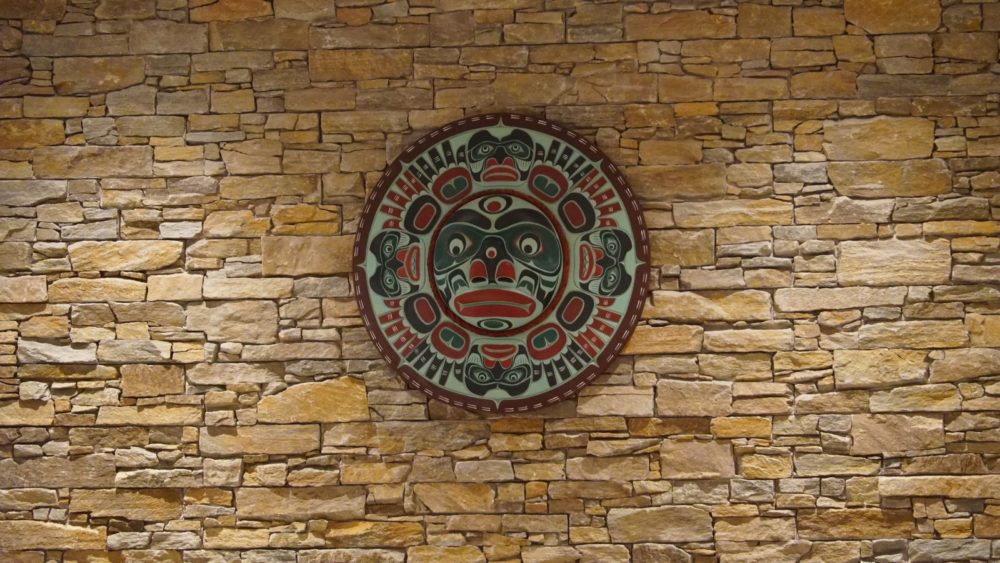 The Octopus restaurant offers a gourmet menu with quality dishes with a pleasant service in a refined setting. The products are all cooked on-site, fresh and in the Canadian theme.
For breakfast, the products are also of quality. Fresh fruit juice with original compositions (raspberry, orange and pear), sweet and savoury choices in numberated at the buffet. And we can encounter with an american Raptors.
L'avantage de loger sur site est indéniable, au-delà du service hôtelier quatre étoiles présent en chambre, et du très bon restaurant, c'est également un confort pour se détendre durant les longues journées de visite et de découvrir 24h/24 toute la zone Last Frontier réservée aux résidents après la fermeture du parc. Car oui….. qui vous dit que les loups dorment à minuit ?
The advantage of staying on site is undeniable, beyond the four-star hotel service in the room, and the very good restaurant, it is also a comfort to relax during the long days of visiting and discover 24 hours per day the whole new « Last Frontier » area for the residents after the park closes. Because yes….. who tells you wolves sleep at midnight?
Maintenant que vous avez vu la zone hôtelière, découvrons Le Jardin des Mondes !
Le parc se décompose en huit jardins, et c'est autant d'univers à découvrir. Car là ou l'univers de Last Frontier doit laisser le temps aux plantes de prendre racines depuis son ouverture le 22 juin dernier, le reste du parc est, quant à lui, bien en ancré dans des mondes plus exotiques les uns que les autres.
Now that you've seen the hotel area, let's discover The Garden of the Worlds!
The park include eight gardens, and there are as many universes to discover. Because where the world of Last Frontier must give the plants time to take root since its opening on June 22, the rest of the park is well anchored in exotic worlds.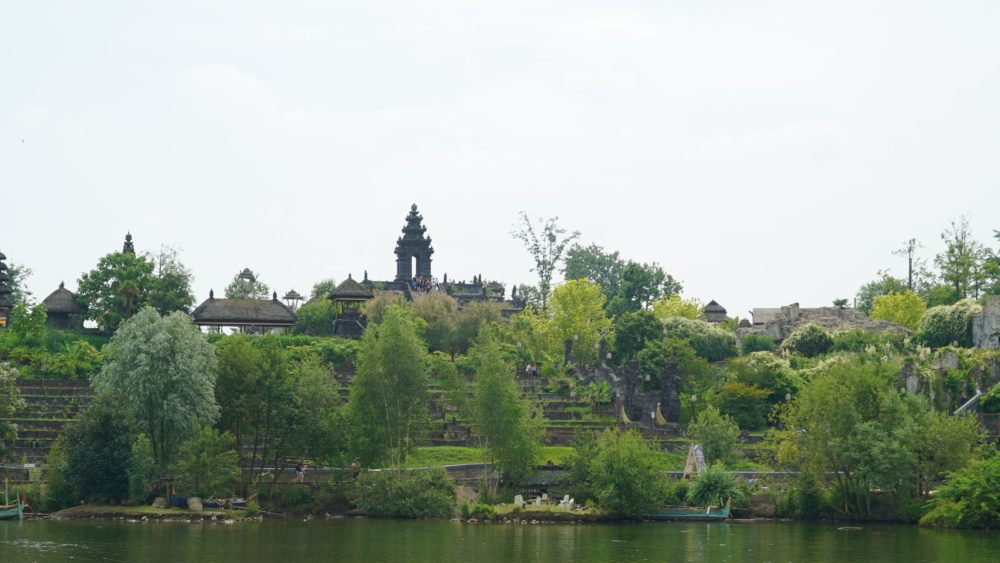 Le Royaume de Ganesha
Bienvenue dans un royaume millénaire où la joie de l'eau et la sérénité des animaux ne font qu'un.
Entre temples d'Angkor, d'Indonésie et de Thaïlande, vous pourrez voir évoluer les éléphant d'Asie, les tigres blancs ou encore les Orang-outang.
Ganesha's Kingdom
Welcome to a thousand-year-old kingdom where the joy of water and the serenity of animals are one.
Between temples of Angkor, Indonesia and Thailand, you can see Asian elephants, white tigers or Orangutan.
L'Asie et ses rizières, un paysage iconique que le parc met en lumière en entrant dans ce jardin. Tandis que les buffles d'eau d'inde mâchent d'un air nonchalant sous les eaux fraîches descendant des plantations d'un temple hindouiste (Pura Agung Santi Buwana). Les tigres et léopards profitent quant à eux du soleil dans les temples d'Angkor.
Asia and its rice fields, an iconic landscape that the park highlights as it enters this garden. While indiawater buffaloes chew nonchalantly under fresh water descending from the plantations of a Hindu temple (Pura Agung Santi Buwana). Tigers and leopards enjoy the sun in the temples of Angkor.
C'est sur la partie supérieure des rizières que surplombe Pura Bunga : le temple des fleurs. Dominant le site il offre une vue extraordinaire sur le parc et ses animaux. Chose plus surprenante, vous retrouverez en son sein un véritable temple fait de marbre sculpté débouchant sur dans l'habitat des Orang-outang.
Un des points remarquables du parc réside dans les habitacle des animaux. Chaque habitat, que ce soit celui des Pandas, Orang-outang ou de Gorilles est isolé phonétiquement, limité quand au nombre de visiteurs dans le bâtiment et il est clairement affiché de ne pas utiliser des appareils avec des flashs. Ainsi l'animal est le moins « dérangé » possible dans sont habitacle adapté et il est libre de se déplacer, que ce soit en intérieur ou en extérieur à sa convenance.
It is on the upper part of the rice fields that the Pura Bunga: the temple of flowers. Overlooking the site it offers an extraordinary view of the park and its animals. More surprisingly, you will find within it a real temple made of carved marble leading to the habitat of the Orangutans.
One of the remarkable points of the park is the interior for the animals. Every habitat, whether that of the Pandas, Orangutan or Gorillas is isolated from others sounds, limited to the number of visitors in the building and it is clearly displayed not to use devices with flashes. Thus the animal is as less « disturbed » as possible in its adapted cabin and it is free to move, whether indoors or outdoors at its convenience.
Enfin le Palais d'Ani s'offre à nous avec ses 8 hectares dédié aux éléphants d'Asie et ses trois éléphanteaux. Un vaste territoire entre palais et atelier d'artisans.
Finally, the Palais d'Ani is open to us with its 8 hectares dedicated to the Asian elephants and its three elephants. A vast territory between palaces and craftsmen's workshop.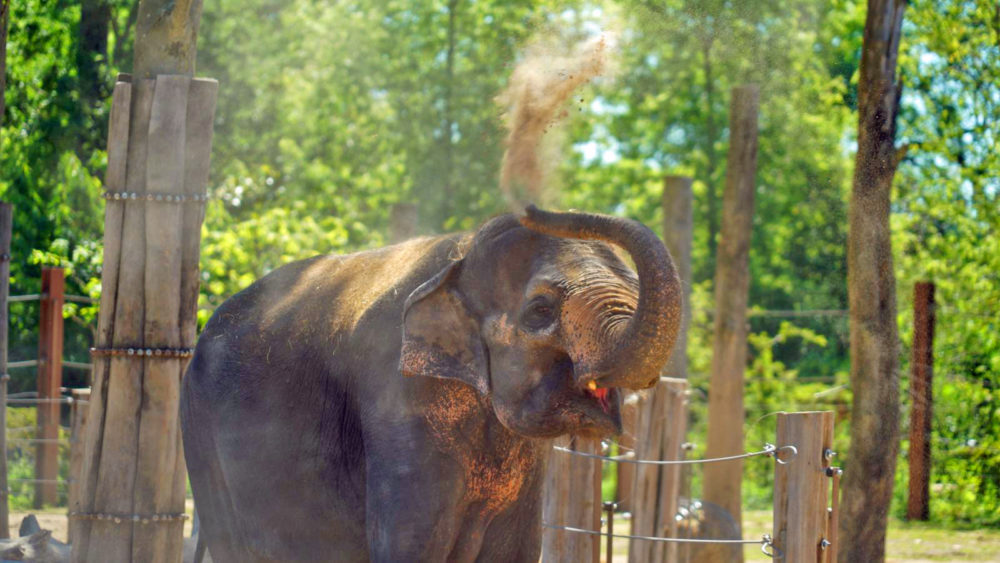 La Terre des Origines
Girafe, lions, rhinocéros , gazelles, éléphants, hippopotame, singes, gorilles, lémuriens et bien d'autres. Nous voici sur des contrés chaudes où herbivore se côtoient dans un mélange de paysages arides et humides avec une cascade géante.
Les lions se prélassant dans une plaine où un avion s'est échoué à proximité d'un village africain.
The Land of Origins
Giraffe, lions, rhinoceros, gazelles, elephants, hippopotamus, monkeys, gorillas, lemurs and many others. Here we are on hot countries where herbivore rub shoulders in a mixture of arid and humid landscapes with a giant waterfall.
Lions sleep in a plain where a plane ran aground near an African village.
Il n'y a pas de doute, l'aventure est au rendez-vous notamment avec deux grands volcans où deux groupes de gorilles ont élus domicile, chacun sur son territoire. Pour séparer ces deux tribus, une ile, où des lémuriens vous tiendront compagnie quand ils s'amuseront à monter sur vous en toute sécurité.
There is no doubt, the adventure is at the rendezvous especially with two large volcanoes where two groups of gorillas have chosen home, each on its territory. To separate these two tribes, an island, where lemurs will keep you company when they have fun riding on you safely.
Pour les explorateurs, un bateau rempli de reptiles comme des serpents, des araignées, des lézards ou des crocodiles vous attend avant d'atterrir sur un village flottant.
For explorers, a boat filled with reptiles like snakes, spiders, lizards or crocodiles awaits you before landing on a floating village.
Le Royaume du Milieu
La chine dans toute sa splendeur, dans des jardins et une succession de panoramas qui vous dépayseront, et vous surprendront, en vous invitant à la méditation. C'est un mélange entre sagesse et fantaisie, le tout accompagné par espèces emblématiques.
The Middle Kingdom
China in all its splendour, in gardens and a succession of panoramas that will disorient you, and surprise you, inviting you to meditation. It is a mixture of wisdom and fantasy, all accompanied by emblematic species.
Pandas géants, pandas roux, ours à collier, panthère des neiges, poissons exotiques, singes du Japon ou encore les cerfs du Père David (2000 spécimens dans le monde) vous attendent entre les vingt pavillons, maisons de thés, temple et palais des délices.
Giant pandas, red pandas, collared bears, snow panthers, exotic fish, monkeys from Japan and Even the deer of Father David (2000 specimens only in the world) await you between the twenty pavilions, tea houses, temple and palace of delights.
Les pavillons, le temple et le palais des délices sont des demeures importées de Chine pour être assemblées à Pairi Daiza.
The pavilions, temple and palace of delights are mansions imported from China to be assembled in Pairi Daiza.
La Terre du Froid
This universe is currently in the middle of an expansion to become a real area. At present there is a seaplane, a restaurant, the park's steam train maintenance centre with some queens, bison and other rodents.
The Land of the Cold

Cet univers est actuellement en plein travaux d'extension pour devenir une véritable zone. Pour l'heure y sont présents un hydravion, un restaurant, le centre de maintenance du train à vapeur du parc avec quelques reines, bisons et autres rongeurs.
Cambron entre ciel et mer
Bienvenue dans la partie historique à l'origine du parc et dont la zone fait référence à la ville où est implanté le parc. Ici, animaux de la ferme et volatiles sous des serres dont une de 7000 m² se côtoient dans un cadre rustique de petit bourg fleuri où un véritable train à vapeur n'est jamais loin pour faire le tour du parc.
Cambron Town : between Sky and Sea
Welcome to the historic part of the park, whose area refers to the city where the park is located. Here, farm animals and birds under greenhouses including one of 7,000-square-metre rub shoulders in a rustic setting of small flowery village where a real steam train is never far to go around the park.
c'est en surplombant un « front de mer » avec son phare, qu'une ancienne demeure bourgeoise accueille les visiteurs pour découvrir un aquarium proposant une odyssée entre voyage du capitaine Nemo et exploration maritime.
it is overlooking a « waterfront » with its lighthouse that an old bourgeois mansion welcomes visitors to discover an aquarium offering an odyssey between Captain Nemo's voyage and maritime exploration.
Cap Austral

Enfin, le dernier monde offre une petite escale en Australie où kangourous, pélicans, oiseaux tropicaux et les célèbres koalas vous accueillent.
Finally, the last world offers a small stopover in Australia where kangaroos, pelicans, tropical birds and the famous koalas welcome you.
Pairi Daiza est sans nul doute un lieu plein de surprises pour lequel un long weekend sera nécéssaire pour pleinement apprécier la beauté des jardins et la sérénité des animaux. Tout est réuni pour le dépaysement des visiteurs.
Ce jardin des mondes est sans conteste une destination qualitative, voir plus sur certains points, que Disney's Animal Kingdom en Floride. Plus largement elle se place parmi les plus grands du secteur du loisir pour l'expérience globale offerte à ses visiteurs.

Nous y retournerons à Pairi Daiza avec plaisir c'est certain !
Pairi Daiza is undoubtedly a place full of surprises for which a long weekend will be necessary to fully appreciate the beauty of the gardens and the serenity of the animals. Everything is put together for the change of scenery of visitors.
This garden of the worlds is undoubtedly a qualitative destination, or even more so on some points, than Disney's Animal Kingdom in Florida. More broadly it ranks among the largest in the leisure sector for the global experience offered to its visitors.
We will definitely return to Pairi Daiza!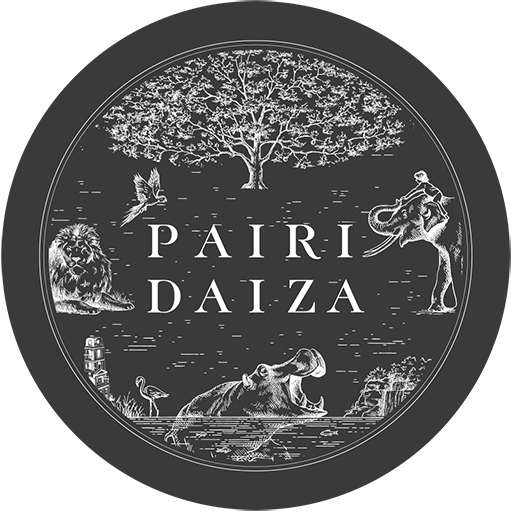 Merci de votre fidélité.
A bientôt !
Thank you for your loyalty.
See ya real soon !
Rejoignez-nous sur /Join and follow us on :