Dites adieu au système FastPass gratuit. Aujourd'hui à Disneyland Paris, le coupe file est entièrement payant. Il vous faut débourser entre 8€ et 15€ par personne et par attraction pour faire un tour. Le nombre d'attractions bénéficiant du Premier Access évoluera tout comme son prix qui n'est pas fixe et peut évoluer en fonction de l'attrait et des saisons.
Pour tout comprendre sur le fonctionnement du nouveau système, regardez notre video !
Say goodbye to the free FastPass system. Today at Disneyland Paris, the skip-the-line is now a paying service. You have to pay between 8€ and 15€ (9$ to 16$ tax included) per person and per ride. The number of attractions with the Premier Access will evolve as well as its price which is not fixed and can evolve according to the attraction and the seasons.
How to use this new system? watch our video!
Après plus de 20 ans d'exitance le Service FastPass à prit fin en mars 2020. Disney est clairement conscient de l'image qu'il a auprès des familles, celui dont le parc principal n'a pas eu de nouvelles extensions depuis plus de 20 ans et dont les files d'attentes ne font que grossir grâce à l'augmentation des visiteurs qui n'est pas captée par de nouvelles attractions.
Parallèlement, Disney voit bien le succès de la vente de pass coupes files dans les parcs de la concurrence. Rien qu'à Universal Orlando Resort, en fonction du jour et de la période de l'année, cela commence de 109.99$ et peut monter jusqu'à 309.99$ hors taxe et hors billet d'entrée (un coupe file illimité pour les deux parcs à thème de la destination pour une personne).
Ainsi Disney est confronté depuis longtemps à deux dilemmes, la nécessité de diminuer le temps d'attente, et gagner de l'argent là où les parcs concurrents en France et à l'étranger le font déjà.
Le résultat est donc le Disney Premier Access, une option non obligatoire offrant une possibilité de coupe files dont la plus grande partie des visiteurs ne l'utiliseront pas permettant à Disney de répondre à ses dilemmes.

After more than 20 years of exitance, the FastPass Service ended in March 2020. Disney is clearly aware of its image to families, the one whose main park has not had any new expansions for over 20 years and whose queues are only growing due to increase of visitors not absorbed by new attractions.
At the same time, Disney sees the success of the sale of skip-the-line passes in others parks. At Universal Orlando Resort, depending on the day and time of year, it starts at $ 109.99 and can go up to $ 309.99 excluding tax and entrance ticket (unlimited skip the line for both theme parks of the Resort for one person).
Consequently, Disney has long been confronted with two dilemmas the need to reduce waiting time, and to earn money where any other parks are already doing it.
The result is Disney Premier Access, a non-compulsory option offering the possibility of skip-the-line which the majority of visitors will not use, allowing Disney to respond to its dilemmas.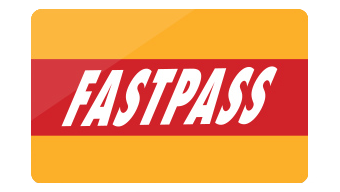 Ce que l'on peut retenir de l'arrivée du Disney Premier Access et de l'arrêt du système FastPass
Point Positif :
L'arrêt du système gratuit FastPass permet de rendre toute la capacité horaire de l'attraction à la file d'attente standard (stand-by) et d'en réduire le temps d'attente. (Exemple : diviser par 3 le temps d'attente à Peter Pan ou encore par 2 au Big Thunder Mountain).
Le nouveau système ne pousse pas les visiteurs à enchainer les coupes files payant des attractions, ce qui préserve un temps d'attente bas de la file d'attente stand-by.
Le système FastPass s'adressait à une minorité de visiteurs connaisseur du système discriminant la majorité des visiteurs.
La part des visiteurs utilisant de Premier Access ne sera jamais aussi conséquente que le système FastPass.
Pas de réservation d'un créneau horaire trop décalé entre la réservation et l'entrée dans la file d'attente dédié. La possibilité de réserver un coupe file durant toute la journée.
Premier Access permet de rendre le coupe file payant accessible à un maximum de visiteurs contrairement au Ultimate FastPass de 90€ à 150€ par personne.
Premier Access est dans la même gamme de prix que le Super FastPass (45€ pour 3 attractions par personne).
Point Négatif :
Un système qui sera plus utilisé par plus de visiteurs en période de forte affluence impactant d'autant plus la file d'attente normale.
Disneyland rentre dans une politique de gestion des coupes files payants comme la concurrence.
Le sentiment d'être obligé de prendre un Disney Premier Access quand une attraction passe en « Standby Pass ».
Le Premier Access est vu comme une aide payante ponctuelle qui n'est pas destiné à être utilisée à outrance par un grand nombre de visiteurs comme le FastPass.
FASTPASS et Disney Premier Access, c'est deux systèmes et approches différents aussi bien sur le fonctionnement, qu'économiquement et de par le nombre de visiteurs concernés.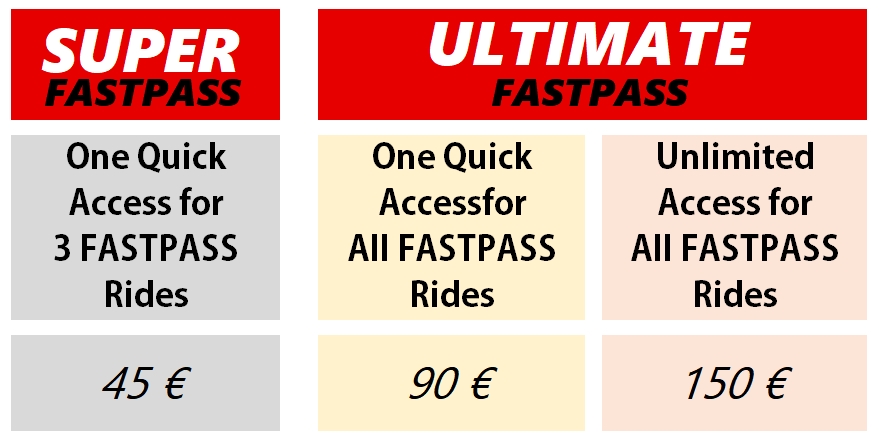 What we can note about the arrival of Disney Premier Access and the shutdown of the FastPass system
Positive Points:
The shutdown of the free FastPass system mark the return to all attraction's hourly capacity on the stand-by line and to reduce the waiting time. (Example: divide by 3 the waiting time at Peter Pan or by 2 at Big Thunder Mountain).
The new system does not encourage visitors to pay skip-the-line after one and that reduces the waiting time for the stand-by line.
The FastPass system was dedicated to a minority of visitors familiar with the system discriminating a majority of visitors.
The proportion of visitors using Premier Access will never be as high as the FastPass system.
No booking of a time slot too late in the day between the booking and entry into the dedicated queue. The possibility of booking a skip-the-line throughout the day.
Premier Access makes paying skip the line accessible to as many visitors as possible, unlike the Ultimate FastPass of €90 to €150 per person (exclusive product to Paris : $100 to $165 with tax)
Premier Access is in the same price range as the Super FastPass : €45 for 3 attractions per person (exclusive product to Paris : $52 with tax)
Negative Points:
A system that will be used more by more visitors during periods of high season, having an even greater impact on the normal queue.
Disneyland come into a policy of managing pricing like other parks and resort in the world.
The feeling that is it mandatory to take a Disney Premier Access when an attraction goes into « Standby Pass ». (Pass exclusive to Paris)
Premier Access is seen as one-time paid assistance that is not intended to be overused by a large number of visitors such as the FastPass.
FASTPASS and Disney Premier Access are two different systems and approaches on operationally and economically and in terms of the number of visitors concerned.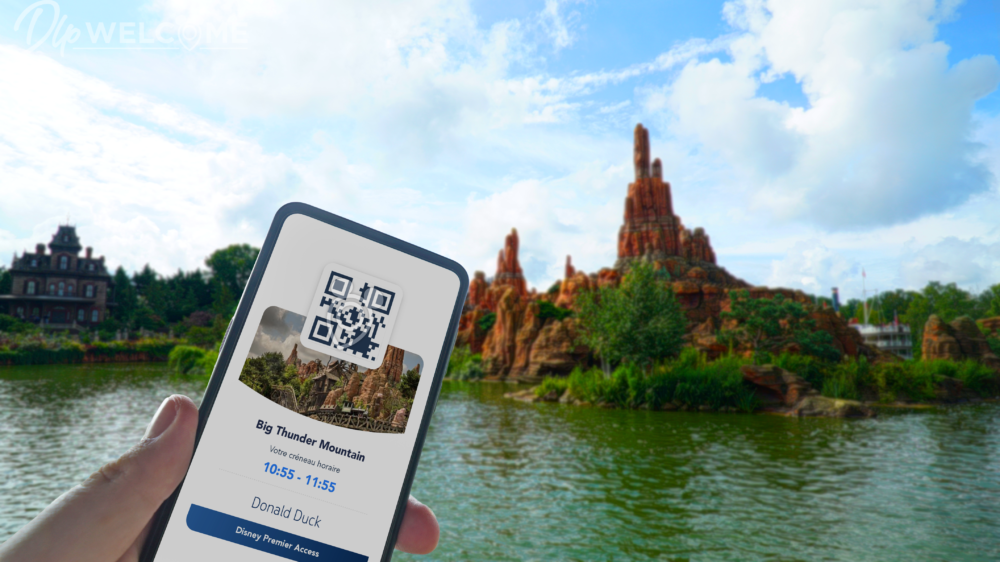 Le véritable problème du Disney Premier Access est le « Standby Pass »
Vous l'aurez compris et vous le comprendrez durant votre visite, le Premier Access n'est en rien un frein pour votre journée. Et comme tout, plus le parc sera plein de visiteurs, plus le système sera utilisé. Mais le véritable problème réside dans l'activation du « Standby Pass » sur les grosses journées. Le service « Standby Pass » peut être activé, en fonction des besoins, sur certaines attractions de façon indépendante afin de contenir les files d'attente physiques à un seuil « maitrisable ». L'objectif n'est pas de supprimer le temps d'attente mais de passer une partie de cette attente physiquement hors de la file d'attente. Ce dispositif est instauré en prévision des jours de très grosses affluences, de 11h à 17h, en excluant les premières et dernières heures d'activité de la journée.
Sur le papier, le « Standby Pass » une excellente idée… mais sur le terrain ce n'est pas le cas :
Des visiteurs qui attendent devant l'entrée de l'attraction,
Les visiteurs qui n'utilisent pas l'application et de smartphone car jusqu'à présent il n'y en a pas d'utilité, et le temps de d'installer l'application et de créer son compte, les visiteurs perdent leur créneau de réservation à 11h, 13h et 15h.
Mais il y a aussi l'engorgement des attractions environnantes.
Il s'agit dun véritable cercle vicieux qui vont faire monter le temps d'attente à toutes les attractions environnantes avec le retour de tous les visiteurs de l'attraction qui passe en mode « Standby Pass ».
Malgré, ce désastre annoncé et observé sur Crush's Coaster depuis près d'un mois, le système va être étendu sur d'autres attractions. Ainsi, après avoir réservé, vous attendrez donc votre créneau, et vous attendez aussi dans une file d'attente une fois que vous avez franchis l'entrée. Ce qui correspond à 40mn d'attente en moyenne dans Crush's Coaster après avoir attendu avec son billet « Standby Pass » l'accès à l'attraction. Vous attendrez donc deux fois.
Ce système « Standby Pass » reflète tous les désagréments que peut causer un systême FastPass qui intègre la totalité de la capacité horaire d'une attraction, mais aussi, poussera les visiteurs qui n'arrivent pas à faire son attraction dans la journée à dépenser son argent dans le Disney Premier Access pour éliminer sa frustration d'avoir dépenser plus de 100€ dans un billet d'entrée sans faire un minimum d'attraction.
Ainsi une attraction comme Buzz Lightyear laser Blast pourrait avec sa grande capacité horaire faire monter de 10 minutes en moyenne les autres attractions de Discoveryland si elle venait à accueillir et activer le dispositif « Standby Pass ».
Le Disney Premier Access ne pose aucun problème, il résout les problèmes de temps d'attente aux attractions en les diminuant drastiquement d'au moins de moitié, tout en offrant une option payante qui répondra à l'envie d'une très faible minorité de visiteur d'utiliser cette option payante. Mais le « Standby Pass » quant à lui, est un élément destructeur de l'expérience visiteur, qui contraindra bon nombre de visiteur de passer par l'option payante de Premier Access soit pour faire l'attraction qui était réservé aux « Standby Pass », soit pour faire les attractions avoisinantes qui auront capté tous les visiteurs de cette même attraction avec des temps d'attente augmentés.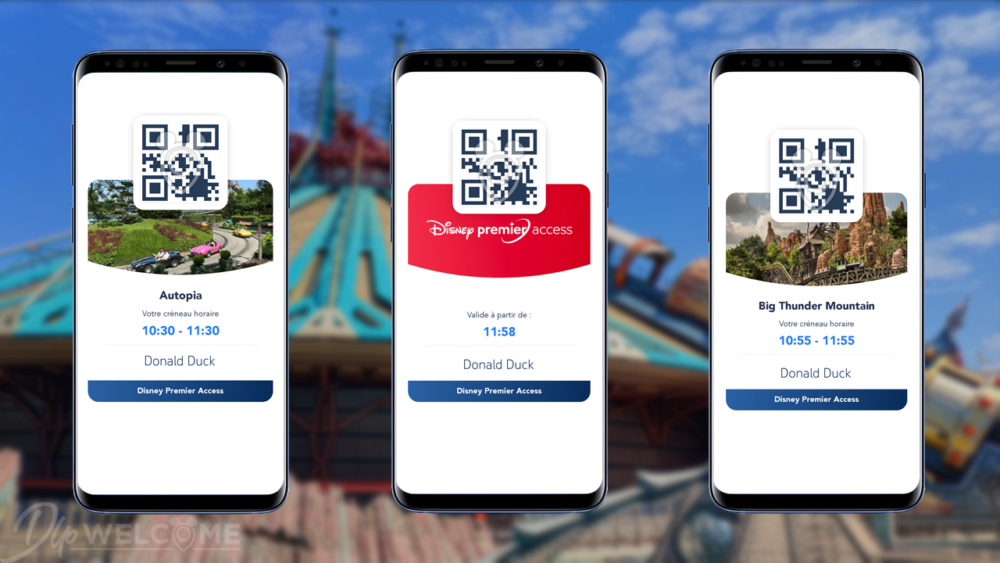 The real problem with Disney Premier Access is the « Standby Pass »
You have understood and you will understand it during your visit, the Premier Access is in no way to curb your day. But the more you have visitors the day in the park, the more the Premier Access system will be used. But the real problem is the activation of the « Standby Pass » on big days. The « Standby Pass » service can be activated, as needed, on certain attractions independently in order to contain standby line at a « controllable » threshold. The goal is not to remove the wait time but to physically spend some of that wait out of the line. This service is introduced in anticipation of days of very large crowds from 11am to 5pm by excluding the first and last hours of activity of the day.
In the office of the CEO, the « Standby Pass » is a great idea… but in the park this is not the case:
Visitors waiting in front of the entrance of the attraction,
Visitors who do not use the application and smartphone because so far there is no use for it, and the time to install the application and create his account, visitors lose their booking slot at 11am, 1pm and 3pm.
But there is also the congestion of the surrounding attractions.
This is a real vicious circle that will increase the waiting time to all the surrounding attractions with the return of all visitors to the attraction that goes into « Standby Pass » mode.
Despite, this disaster announced and observed on Crush's Coaster for almost a month, the system will be extended to other attractions. So, after booking, you'll wait for your slot, and you'll also wait in a queue once you've crossed the entrance. This corresponds to 40 minutes of waiting on average in Crush's Coaster after waiting with his ticket « Standby Pass » for access to the attraction. So you will wait twice.

This « Standby Pass » service reflects all the inconvenience that can cause a FastPass system that integrates the entire hourly capacity of an attraction. But also, will push visitors who can't make its attraction in the day to spend their money in the Disney Premier Access to eliminate their frustration of having spent more than €100 in an entrance ticket.
As well, an attraction like Buzz Lightyear Laser Blast could with its large hourly capacity make the other attractions of Discoveryland rise by an average of 15 minutes if it were to host and activate the « Standby Pass » device.
The Disney Premier Access poses no problem, it solves the problems of waiting time at attractions by drastically reducing them by at least half, while offering a paid option that will meet the desire of a very small minority of visitors to use this paid option. But the Parisian « Standby Pass » is a destructive element of the visitor experience. The service which will force many visitors to go through the paid option of Premier Access either to make the attraction that was reserved for « Standby Pass », or to make the neighboring attractions that will have captured all visitors of this same attraction with increased waiting times.


Merci de votre fidélité.
A bientôt !
Thank you for your loyalty.
See ya real soon !
Rejoignez-nous sur /Join and follow us on :